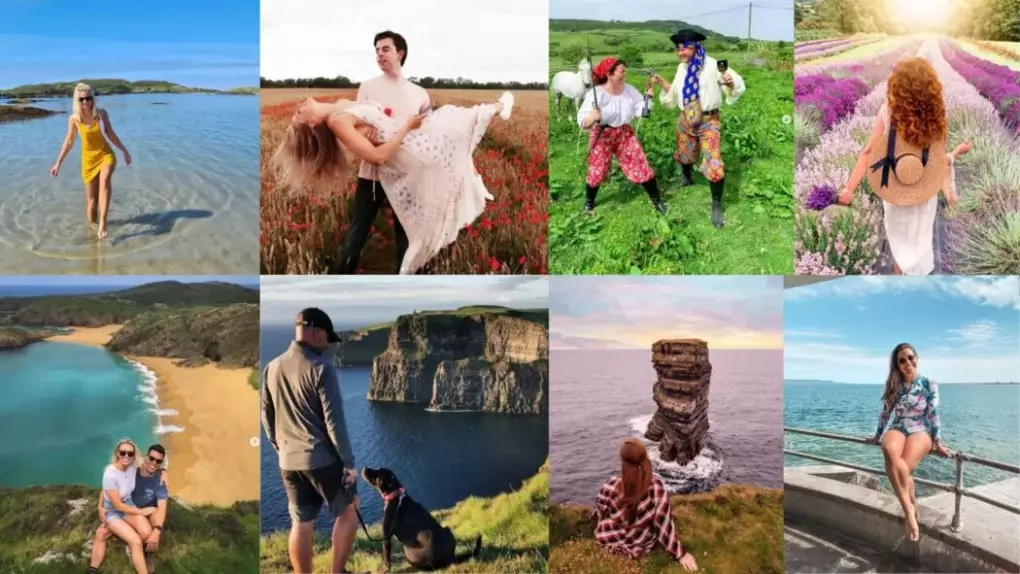 With the whole of Ireland opting to take staycations this summer rather than risking overseas travel, I thought it was about time I put together a list of the best Irish travel content accounts from Instagrammers to travel bloggers to up-and-coming YouTubers.
This isn't a list of the BIGGEST creators (with the most followers) but rather a list of the BEST, with all of these guys being recommended and loved by many. If you're looking to check out Ireland's top travel bloggers for 2020...keep reading!
And if you want to start your own travel blog, read my ultimate guide here or check out my YouTube channel dedicated to teaching people how to make money blogging.
Top Irish Staycation Instagrammers
I want to start the list with Irish travel content creators who mainly share on Instagram rather than on an actual blog or YouTube. These guys share beautiful photos of Ireland and share excellent Ireland staycation tips in their stories as they show off the best of Ireland.
@tomstours
Let's get this list started with Tom because Tom's hilarious and honestly there aren't too many lads doing travel content in Ireland for some reason. Tom is a guide who normally spends his days guiding around enthusiastic groups of tourists to all his favourite spots around Ireland. He is incredibly knowledgable, especially about West Cork, and knows all the best beaches and hikes – which he brings his trusty companion Archer on with him.
The past few months he has taken to van life and has taken his loyal followers on adventures all around the South and West coast of Ireland. Beautiful photos with a fun commentary – love watching Toms stories every day!
https://www.instagram.com/p/CC_ml5RHXyX/
@thetextbooktravels
Do these guys ever stop smiling and having fun? I only started following @thetextbooktravels this summer but absolutely love their fun stories, beautiful photos of Ireland, and their passion for travel in this lovely little island we call home.
Déanna & Kilian, who both have full-time jobs and just travel whenever they've time off, are quickly growing a loyal following on Instagram as people tune in to see what sort of staycation adventures they get up yo next. Right now they're on an epic Wild Atlantic Way road trip so be sure to watch their stories as they make their way south.
https://www.instagram.com/p/CEL7ddFJE-E/
@all_about_rosalilla
When I asked my Instagram followers to send me their favourite Ireland staycation-inspiring Instagrammers, this is probably the name that came up most. And to be honest, I've been hearing about this account from people ALL SUMMER LONG!
This fun travel account is run by Nicola Lavin who, as her bio clearly states, is "exploring the world after spending 18 years bedbound due to Lyme disease." And boy is he making up for lost time! Nicola is currently working on a "Rediscover Ireland" series and is showing off all the best places to visit on your staycation from Wicklow to Galway to the beaches of Donegal!
https://www.instagram.com/p/CCsUUyvDx9X/
@thisgirlswanderlust_
This Girls Wanderlust is an Instagram account and travel blog run by Irish gal Brenda who aims to show people you can still travel with a chronic illness having been diagnosed back in 2018 aged just 34.
You will find a mix of Ireland and international travel content, ranging from fields in Kerry to UNESCO heritage sites in Jordan and beyond. Brenda is one of the few on this list that also has a travel blog, packed full of excellent travel guides to help you plan your trips both home and abroad.
https://www.instagram.com/p/CC5leE2M9FV/
@allaroundireland
All Around Ireland is an Instagram and Travel blog that is, you guessed it, dedicated to travel all around Ireland. Run by travel writer and photographer Kerry Kissane and Jose, the photography (mainly of the West of Ireland) will have you believing Ireland really is the most beautiful country in the world to be stuck in. And I guess it is! 😉
https://www.instagram.com/p/CBLnvZ3nIxF/
@i_come_undone
Diary of a Dublin Girl, this aesthetically appealing Instagram account run bu Sarah Hanrahan really is….very pretty. As Sarah has made it her job to plan trips and experiences around Ireland, it makes sense that her posts are full of fun ideas for staycations in Ireland.
From a quick dip in the sea in Dublin to finding some more unknown walks and hikes near the capital, this account is great one to follow for anyone living in Dublin!
https://www.instagram.com/p/CC9M3nClyME/
@belle_azzure
Digital marketer with Google by day, content creator by night! Dearbhla is showing off the best of Ireland from Cavan to Donegal and she somehow seems to luck out with the weather wherever she goes!
A mix of travel, fashion and fitness (from Ireland and abroad), this bride to be is another fun account to follow for inspiration.
https://www.instagram.com/p/CC8_BXZnY3q/
@foxy.wanderer
I've been following Victoria for many years now and honestly her content is more creative and more inspiring by the day. If you're looking for a little bit of magic every day, this is a fantastic account to follow and feel inspired by.
There's a lot of pink, a lot of flowers, flowy dresses, beautifully curly red hair and of course photos from all over Ireland that make Ireland look like some sort of fairytale location. I mean…just look at this snap from Wexford Lavender Farm below!
https://www.instagram.com/p/CC3nbuCnDK-/
@ouririshstory
Our Irish Story is an account run by Siobhán that documents her family life living in the South West of Ireland. Think cute thatched cottages, cycling through fields of barley, summer picnics, fields of flowers, and just endless dreamy photos of life in the Irish countryside – or what it would be like if it never rained! 😉
https://www.instagram.com/p/CDtY4MNHvgh/
@niamhs_adventure
Niamh from "Niamh's Adventure" calls Kerry home but most certainly doesn't limit her staycation adventures to Kerry…although it definitely is her speciality! From hiking to finding deserted beaches, ruined castles, and off-the-beaten-track gems, another fab account to follow for staycation inspo.
https://www.instagram.com/p/CDyAQjMHl3T/
@flightofancee
These two bring a bit of cheekiness and luxury to Irish travel content. Think cheeky photoshoots wrapped up in duvets, van life with a touch of class, fun poses, fun locations and a mix of both Irish travel content and inspiration from around the world.
https://www.instagram.com/p/CEM0pAjhiIb/
@sunscribestravel
Last but definitely not least on my list of top Ireland staycation Instagram accounts is Keelin from SunScribes Travel. If you're looking for Kerry travel tips, don't even bother checking out anyone else's account as this account should be your go-to. She also quickly growing a following on Tik Tok due to her fun Kerry travel videos, which is actually how I discovered her!
Some of her photos from Kerry make Ireland look like the South of France!
https://www.instagram.com/p/CDrT4TFBN-H/
@issy_escapades
If you are looking for Ireland staycation inspiration but you want a little more luxury and tips for cute boutique hotels to stay in, then definitely follow Isabelle. She shares a mix of Ireland content and dreamy photos from her overseas travels and with over 12,000 followers on Instagram I can see Issy's Escapades are a firm fave with many.
https://www.instagram.com/p/CEC1l47nEGF/
Best Irish Family Travel Accounts
Next, it's on to the best family travel creators, a mix of Instagrammers and bloggers, who produce excellent family travel content to inspire travel around Ireland and abroad.
@wherearewegoingtomorrowtravel
Top of my list of family travel accounts to follow is @wherearewegoingtomorrowtravel as there is no other family on this list that has quite literally travelled the world with their kids. Gillian and Mick, who are from Ireland (and back living here now) were living in Australia when they decided to pack it all in and take their two kids Sophie and Chloe on a world tour to over 30 countries. Pretty amazing, right?
Now they're back in Ireland and are off on mini staycations and adventures around Ireland almost every weekend – and Gillian shares so many amazing tips in her Insta stories so families can get ideas and copy her well-planned itineraries.
https://www.instagram.com/p/CECpmAGhIHy/
@lifewithtinyhumans
This another wonderful Ireland family travel account run by Emma and featuring her beautiful three kids. This account focuses almost exclusively on Ireland and family travel but also includes food, lifestyle and ideas for activities with kids.
With a following of over 30,000 loyal fans, I can tell there are already lots of people in Ireland that love following this families adventures.
https://www.instagram.com/p/CCgypjbHWRq/
@saucepankids
Saucepan Kids, run by Debbie, is an award-winning travel blog dedicated to family travel both at home and abroad. Right now, like most bloggers, the focus is on Ireland and staycations from Connemara to Wexford and beyond.
While you will find lots of fun travel snaps on their Instagram, their blog is the one to really dive into as it's packed with excellent travel guides to help you plan your trips away in detail.
@bumblesofrice
Bumbles of Rice is a fairly well established family travel site and Instagram account run by Sinead Fox. It documents the travels and adventures (from trips away to short day trips) of her family of 3 kids and the blog is about travel, food and family life.
https://www.instagram.com/p/CC1jpCQnVqT/
@thefamilyedit
The Family Edit Blog is another beautifully put together and aesthetically appealing Instagram account that I simply have to share. They have highlight reels from pretty much every county in Ireland, so wherever you're planning to go, they can probably help you out with it.
https://www.instagram.com/p/CC1a9UznT8l/
@transatlantic_leonards
This lovely Instagram account run by Kristina documents the travels of her family (including a set of twins!) around Ireland. Their aim is to visit all 32 counties on the island of Ireland and I feel they're gonna reach that goal fairly fast seeing as they have already visited 24 counties! This blog is all about adventure, and kid-friendly adventures at that, so perfect for some family-travel inspiration.
https://www.instagram.com/p/CD69nYAlC2n/
@clionaoconnor_
With over 44,000 followers on Instagram, it's fair to say Cliona already has a very dedicated following. Her Instagram documents family life, eating healthy and her travels around Ireland alongside her beautiful family.
https://www.instagram.com/p/CDEze8xJZdU/
@aroundtheworldin18years
This Instagram is run by The Callaghan Posse, a family of four currently showing you the best of Ireland. You'll usually find a fun mix of international travel content and Irish staycations here, as the Callaghans are keen to show their kids the world!
https://www.instagram.com/p/Bu_UaaHnho7/
@celtandkiwi
Celt and Kiwi is a super cute blog run by family bloggers Tiernan and Rachel, and their beautiful daughter Wendy. Their blog aims to show off the beauty of Ireland to people arriving from abroad and also teaches people about visas and how to live in Ireland.
Their photography is very beautiful, full of cute portraits of little Wendy off exploring Ireland.
https://www.instagram.com/p/CECpPA9F8HT/
Accounts By The Irish Abroad
@stephmylife
When I asked you guys what other travel bloggers you follow, the majority of people pointed me to Steph and Tim, from @stephmylife, who I was lucky enough to meet while living in Bali. Steph, also from Cork, has spent the past few years living in Asia and travelling the world – spending the last few months of lockdown on a beach in Malaysia.
Steph offers incredibly detailed travel guides, saving plans and coding courses on her site, and anyone that has stumbled upon her Instagram will know that her photography and editing is pure dreamy.
https://www.instagram.com/p/CDRPJIXpcjE/
@taketheriskfamily
An Irish family that packed up their lives and moved overseas to Tenerife. if you want to see what it's like to live abroad in endless sunshine, this is a fun and very bright and sunny account to follow. Their photography is very beautiful, with lots of light and sunshine in every shot!
https://www.instagram.com/p/CBLGH-XIrUN/
@ungracefulguide
I freaking LOVE these guys. Came across them late last year I think, and absolutely loved following their pretty while adventures through India and Sri Lanka, mainly because these guys SERIOUSLY know how to travel on a budget.
Originally from Dublin, and coming home soon as the ungraceful two become the ungraceful THREE, this pair are hilarious to follow and their travels, their stories and their posts are unlike anyone else you will find on Instagram.
https://www.instagram.com/p/CDs9KiAHCrA/
@twoirishexpats
Mark and Sarah, the two Irish expats, are a particularly interesting couple to follow. Originally hailing from Cork, they currently both live and work in Iraq and have big plans to someday buy a boat and spend two years sailing around the world.
https://www.instagram.com/p/CBDX9dmhizn/
@agirlwhoblooms
A Girl Who Blooms, run by Sioban and Joe, is probably one of the largest travel Instagram accounts in Ireland. This very talented travel couple usually reside in Bali while travelling the world and collaborating with luxury hotels, but have been back in Ireland since March and are sharing content from their home county of Waterford.
https://www.instagram.com/p/CDylWUcHZPg/
@teeny.tiny.travels
Teeny Tiny Travels was suggested by a few people and I simply had to include her on this list. Martina is a travel-loving girl from the west of Ireland, working as a chef on superyachts which takes her around the world. Her staycation content is super fun, and you can just tell she would be mad craic to hang out with.
https://www.instagram.com/p/CAc4C-qBXJ0/
Top Irish Travel Bloggers
This section is for established travel bloggers, who have excellent blogs worthy of your time to help you plan your travels both in Ireland and abroad. Many of these bloggers will also have a significant following on social media too, mainly Instagram, Facebook or YouTube.
Nadia's Daily Self
Nadia's Daily Self is a blog name synonymous with Irish travel writing. Nadia is a freelance travel writer for many national publications in Ireland and had written for the Irish Independent, Stellar Magazine, Image and more.
Mixing fashion, food, travel and lots of wine, Nadia's followers love how down-to-earth and adventurous she, always up for surfing, adult summer camps, and even multi-day hikes through the Dublin mountains. Be sure to check out her blog for excellent staycation guides with a touch of adventure and a side of luxury.
https://www.instagram.com/p/CC5xryogxCf/
The Travel Expert
Sarah from The Travel Expert is probably one of the best-known travel bloggers in Ireland. Her blog is very well established and a go-to guide for many when looking for holiday information, discounts and specials and advice on many European destinations.
She also runs a fast-growing FB page and community, who go to her for up-to-date travel information about travelling abroad and staycations ideas.
https://www.instagram.com/p/CENQfrHHjWp/
Where is Tara
Tara is another long-established travel blogger in Ireland who has also won numerous national awards for her colourful Instagram account. When not travelling, she works as a pharmacist and shares a mix of travel and lifestyle content on her Instagram and blog.
https://www.instagram.com/p/CDHK5rPhW97/
Stone Family Travel
There is no better woman to get advice on family travel from, especially family travel on a budget, than a Mum to 7 than brings her children on holidays abroad to all sorts of exciting destinations. Corrina is the QUEEN of budget travel ideas and is also one of the most creative Mums I know.
https://www.instagram.com/p/B_Vkp4UHcv4/
On The Q T
OnTheQT is the brainchild of Cork native Stephanie Lynch, an enthusiastic travel writer and entrepreneur who also hosts a travel show on Cork radio station Red FM. Stephanie mainly shares travel info about Cork, and the rest of Ireland, with the off guide to destinations further afield.
https://www.instagram.com/p/CC1uQRRpJFb/
Look Left Blog
Look Left is a long-established travel blog run by Gil Sousa, a Portuguese native who has called Cork home for over 7 years. Look Left is a mix of detailed itineraries for destinations around Europe, articles about fun day trips and train travel and beautiful travel photography.
https://www.instagram.com/p/B7gnz62ncWO/
Melanie May
Melanie May is a well-known food, travel and automotive writer who has written for many national print publications and also blogs over at MelanieMay.com. You will normally find her Snow boarding in Switzerland or driving a newly released landrover across Spain, but right now she's staying home in Ireland and focusing on food and staycation content.
https://www.instagram.com/p/CEJy3xRHGo8/
Journalist On The Run
Well….that's me. Would be a crime to leave my own blog off the list! :p
https://www.instagram.com/p/CBwWxbGjR13/
Up and Coming Irish Creators
@staycationireland
A fun new travel account set up to focus 100% on travel in Ireland.
https://www.instagram.com/p/CDbjDUqHaqX/
@lostwithlisa
A fun new travel account run by Lisa who says she aims to visit a country for every year of her life but for now, like many others, if focusing on sharing lovely travel content including lots from West Cork.
https://www.instagram.com/p/CDYxTRVprvp/
@live.adventure.travel
Run by Laura, this is a beautiful photography-focused Instagram account and travel blog. Laura says she is dedicating the year to "capturing the raw beauty and fun of living in Ireland." The blog is packed full of travel guides, including lots focused on things to do in Dublin.
https://www.instagram.com/p/CEMwT0HgV-l/
@travelwithtrish
Trish is a mighty woman on a mission to see the world! A single Mum and teacher, she has travelled to 5 continents and brought her daughter along to 37 countries on 4 continents already! Right now they're back living in Galway and showing off Ireland.
https://www.instagram.com/p/BynnTCZC8ct/
@ainesadventures
Lots of people suggested adding Aine to this list and after checking out her gorgeous Insta account I can see why. A mental health nurse who travels around Ireland in her spare time in her self built Ford Transit Van, Aine's photography is magical and she's always off on some hiking, surfing or outdoor adventure.
https://www.instagram.com/p/CDltn14gPW1/
@tourdejess
Tour De Jess is yet another account that many Irish followers suggested make this list! Sharing all things Ireland and adventure, her account is full of beautiful photos of raw Ireland – just the way we like it.
https://www.instagram.com/p/CDbL95UhLRN/
@itsthelifeofrobyn
Robyn deserves to be on this list for her photography and editing alone as it is TOP CLASS. She makes ordinary-looking Irish towns and villages look pure dreamy! Worth a follow for staycation inspiration!
https://www.instagram.com/p/CEMgQmvFhvi/
@bossabroad
Boss Abroad is the new travel account of Fashion Blogger, Stylist and Presenter Lorna Duffy – often to be seen on our screens in the Ireland AM show on Virgin Media TV. Lorna is showing off some incredible staycation trips as well as fun hikes close to her home in Dublin.
https://www.instagram.com/p/CD1npMFHDtJ/
@katieshannonwalsh
Katie is a travel mad creator who has already travelled to almost 50 countries around the world. Grounded in Ireland for now, she's showing off some beautiful hotels and staycation spots with a touch of luxury.
https://www.instagram.com/p/CD9sL_-HVZo/
@officialboarder
While these guys have a fab Instagram, it's their YouTube channel that you really need to check out as they share fun travel videos of all their staycation adventures around Ireland. Leah-Lou and Lea have some amazing guides to Northern Ireland which you must check out!
https://www.instagram.com/p/CDtmDXlsAAF/
@alphaadventurers
Alpha Adventures is a travel blog by Irish couple Alan and Aoife which documents their world travels including detailed guides to interesting locations like Russia, countries across South America and travel across Canada.
https://www.instagram.com/p/CCl0TbDjDt5/
@stephfs
From sea swimming in Dublin to dreamy trips to Itay, I always love seeing Stephs pics show up on my Instagram feed for a bout of travel inspo. A fellow SUP lover, her account is super bright and colourful and her blog documents her travels including the time she spent living in China!
https://www.instagram.com/p/CDM4xKDJswz/