With many things to do in Bali, it's no surprise the Island gets over 6.5 million visitors every year. Bali has quickly gone from a quiet surfers paradise to an affordable solo girl's destination, digital nomad hub and one of the best cities to retire in Asia
After living in Bali for a few months, I shared a detailed guide about things to know before visiting Bali for the first time, including Indonesia's laws for tourists and why I believe Bali is one of the best cities in Asia to live, travel, work, and party!
There are a lot of things to do in Bali like visiting the temples, exploring the beaches, and there's also off the beaten track things to do in Bali – which I highly recommend.
Note that some of these amazing things to do in Bali are actually not in Bali (mainland), but a short boat trip away!
17 of the Best Things to Do in Bali
1. Watch the sunset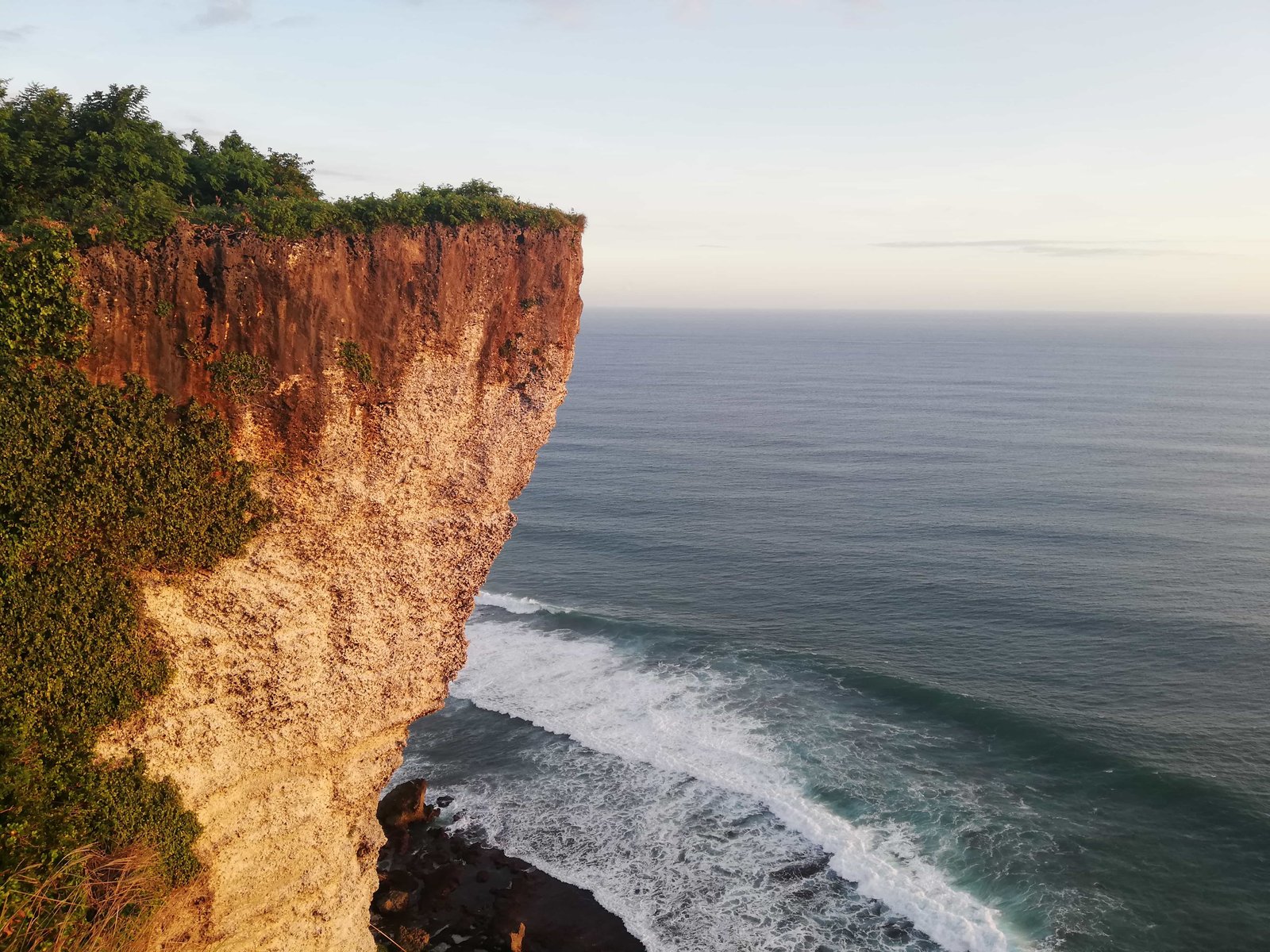 If there is one thing the beautiful island of Bali does incredibly well, it is a stunning sunset. You will be spoilt for choice when it comes to celebrating another day on the Island of the Gods, however, not to worry as we have the perfect spot for you. Situated on the western coast of the Uluwatu peninsula is one of Bali's best-kept secrets, the Karang Boma sunset cliff.

This secluded cliffside, the viewpoint is perfect for any and all adventurers, whether you are with a gang of friends or are traveling solo. The sunset cliff is a popular spot for locals, with groups of Balinese friends frequenting the stunning views, picnic baskets, and even camping equipment in hand. However, despite the jaw-dropping views, you will get from the cliff, it is still not a popular spot with tourists (yet).

In order to get to the Karang Boma cliff, you will need to either ride a scooter or hire a taxi to drop you off and pick you up. If you do get a taxi to the cliff, make sure and take the drivers number and let them know you will be needing a return ride, as this will make your journey home a lot easier. The cliff is about an hours ride from Canggu, so it is a long ride home, however, there is a small warung at the entrance that serves delicious food.

Entrance to the sunset cliff is 10k IDR and there is a chance you will be asked if you have a drone camera. Say "no" to this question, as they will charge you an extra 150k IDR if you admit to it and it may be too windy to fly your drone anyway.
Recommended by Gemma of Highlands 2 Hammocks
---
2. Say a prayer at Uluwatu Temple
Uluwatu Temple is situated high up on a steep cliff approximately 70 meters above sea level, the temple is just stunning with the waves crashing against the rocks below. This Balinese temple to the sea gods is part of a series of temples built to protect the island from evil spirits.
The best time to visit the temple is just before sunrise, this way you can see the gorgeous sunset over the Bukit Peninsula. If you do want to do this, I recommend getting there early as this is a very popular time to go and the place will be packed with tourists wanting to see the gorgeous view.
The other reason sunset is a good time to visit is because you can then also see the Kecak Dance performance. In this dance, the performers act out a scene from Ramayana with a trance chant and include fire dancing as well as intricate costumes.
To enter the temple, keep in mind there is a dress code. You are required to wear a long dress or pants, and also ensure your shoulders are covered. However, sarongs are available at the temple if you don't have appropriate clothing.
Tip: Beware of the cheeky little monkeys that surround the temples. These little guys love to steal from tourists. Be sure to put sunglasses and hats away so the monkeys won't take them from you.
Entry to the temple is 50,000 IDR and tickets to the Kecak dance performance are 100,000 IDR.
Recommended by Melissa of Thrifty Family Travels
---
3. Go beach hopping in Uluwatu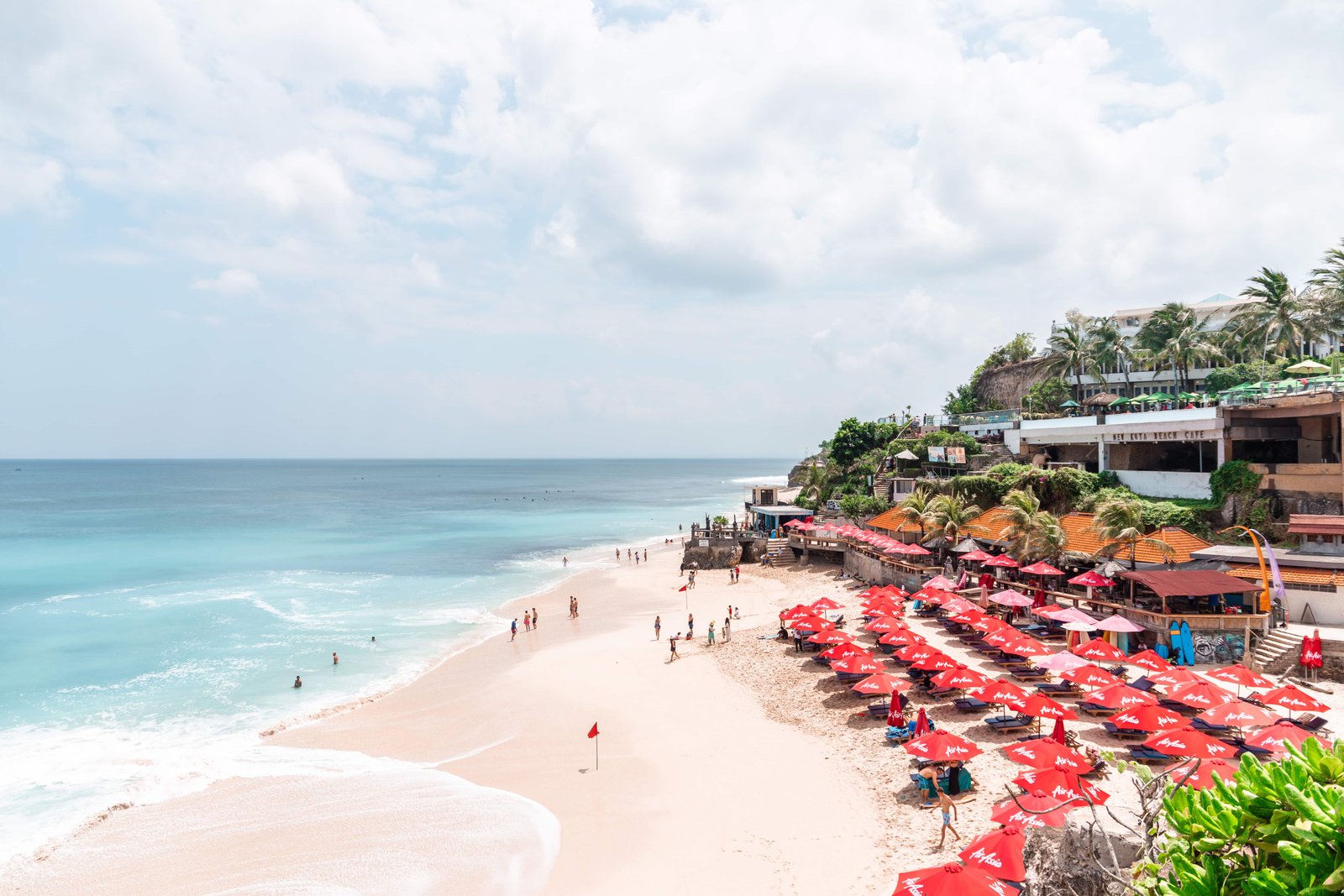 When visiting the island paradise of Bali, hopping to some of the best beaches is a must for any traveler's Bali Bucketlist. The beaches of Uluwatu on the Bukit Peninsula are not just for surfers, there are plenty of hidden gems and an abundance of white sand that will please any beach-lover! In addition, the west-coast beaches on the Bukit Peninsula offer some of the best sunset locations on the whole island!
Hiring a driver or a scooter for a day trip to Uluwatu will help you see all the best beaches, but two days is preferred. As the Bukit Peninsula is so big, there are plenty of beaches filtered throughout the coast. If you are looking for a private beach to spend the day at a beach club, then check out Sundays Beach Club and Karma Beach Club. However, for those adventurous travelers, Tegal Wangi Beach, Green Bowl Beach and Nyang Nyang Beach are perfect spots to explore!
For those who just want to relax on the beach and maybe go for a swim, then Melasti Beach, Pandawa Beach, Padang Padang Beach, and Dreamland Beach are the beaches for you! As Uluwatu is a surfer's haven, the best beaches for surfing are Uluwatu Beach, Bingin Beach and Balangan Beach. And then, for those looking for a quieter spot, Thomas Beach is the least-crowded place on the peninsula. There is an abundance of choices, and a beach suited for everyone in Uluwatu.
Recommended by Breanna of Chalkie and The Chippy
---
4. Find the Nungnung Waterfall
A Bali bucket list would not be complete without seeing some of the best waterfalls Bali has to offer. Bali is a natural paradise with hundreds of waterfalls located in lush environments. One of my personal favorite waterfalls in Bali is definitely the Nungnung waterfall. Located a little over an hour from the popular town of Ubud, Nungnung waterfall is one of the more accessible waterfalls in Bali. Some waterfalls might take over two hours to arrive on the motorbike.
Nungnung waterfall is still a hidden gem of the region, receiving only very few visitors daily. There are very few tours that go to Nungung waterfalls because it is difficult to arrive with a big van. As a result, there is a possibility you might have the whole entire waterfall to yourself. Step too close to the waterfall and you will literally feel like you are drowning. The 50-meter beast has no mercy. You will truly feel the power of nature at the Nungnung waterfall. Open your eyes and you will see nothing but greenery around you. This is what a proper waterfall experience should feel like. Before you go, read up on the Nungnung waterfall guide to make sure you have everything you need.
Recommended by Sean of Living out Lau
---
5. Cooking Class in Ubud
A great way to learn about Bali culture and Balinese way of life is to take part in a cooking class. The class I took with Paon Bali Cooking Class in Ubud was very well run and started with a tour through the Ubud markets. Here we saw where the locals buy their food and learned about how they use the different products available.
Then we were driven to the family compound where we took part in helping prepare dishes that we would enjoy for lunch. This was a lot of fun chatting about the different ingredients we were using and they made it easy for us to put together. I learned so many cooking techniques and how the Balinese make their food full of flavor.
Enjoying lunch together with the rest of the cooking class group was a great way to connect and the food was so delicious. The food was plentiful plus we felt great pride in what we had learned to cook. At the end of the class, they gave us a booklet of recipes to take home so we could make the recipes at home. Highly recommend taking part in a cooking class in Ubud.
Recommended by Kate of Rolling Along With Kids
---
6. Shop at Ubud's Art Market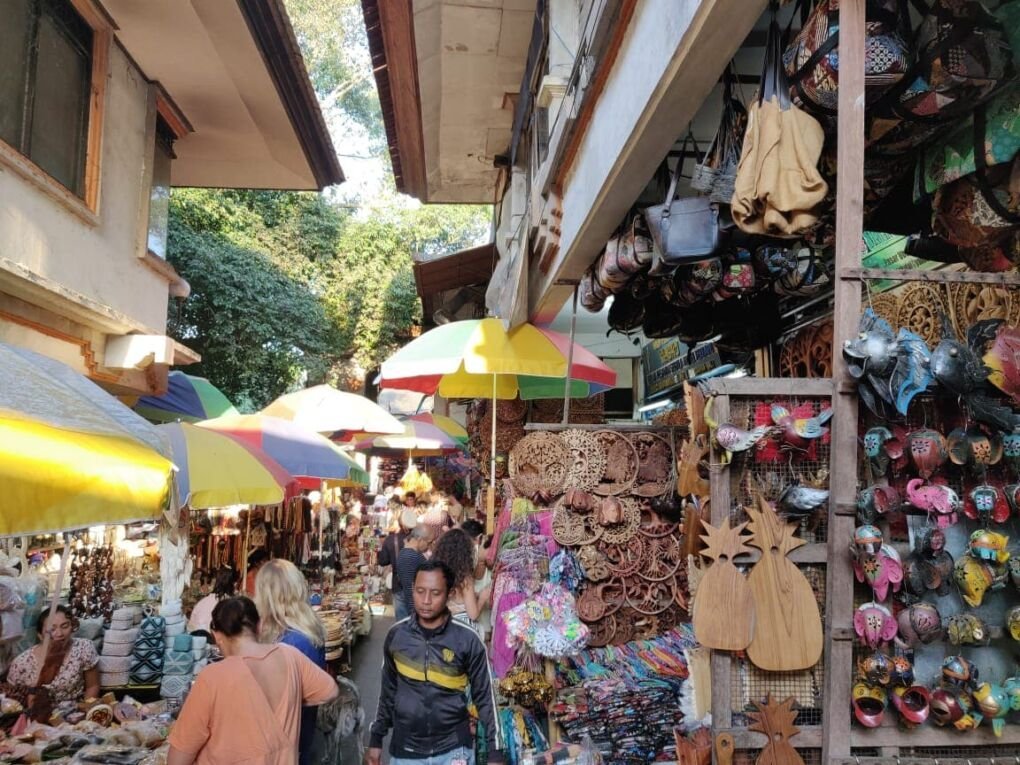 Bali is a land of local artisans and that means that there is rarely a dearth of beautiful goods to shop for! Most of the lanes surrounding key tourist spots have shops selling various different types of products. While you could always shop in any of these areas, one place that is my absolute favorite when it comes to shopping in Bali is the Ubud Art Market.

The Ubud Art Market is situated on the main street in Central Ubud, right opposite the Royal Ubud Palace. It is also close to the Monkey Forest and not too far away from the Tegalalang Rice Plantations. The market has hundreds of shops selling all kinds of locally produced items such as clothes, bags, wooden utensils, paintings, ukuleles, coasters, paintings, sarongs, crochet, silver jewelry, etc. Given the fact that plenty of people visit this market, the shopkeepers here are not clingy and won't put you off.

In order to make the most of your shopping experience here, look for locally produced items instead of falling for shopkeepers selling the usual touristy goods like T-shirts and keychains. My favorite items were the Ikat and Batik fabrics and some intricately decorated coasters that I have been only able to find in Bali. I also found a number of unique items in the shops hidden deep inside these lanes.

This market opens a little after sunrise and is bustling with activity right up to sunset. If you are staying in Ubud itself, it is advisable to visit this market as early in the morning as possible before the crowds start pouring in. However, whether you visit this place in the morning or not, a thumb rule would be to bargain heavily, starting at a price that is roughly less than half of that quoted to you.
Recommended by Vrushali of Couple of Journeys
---
7. Visit the iconic Handara Gates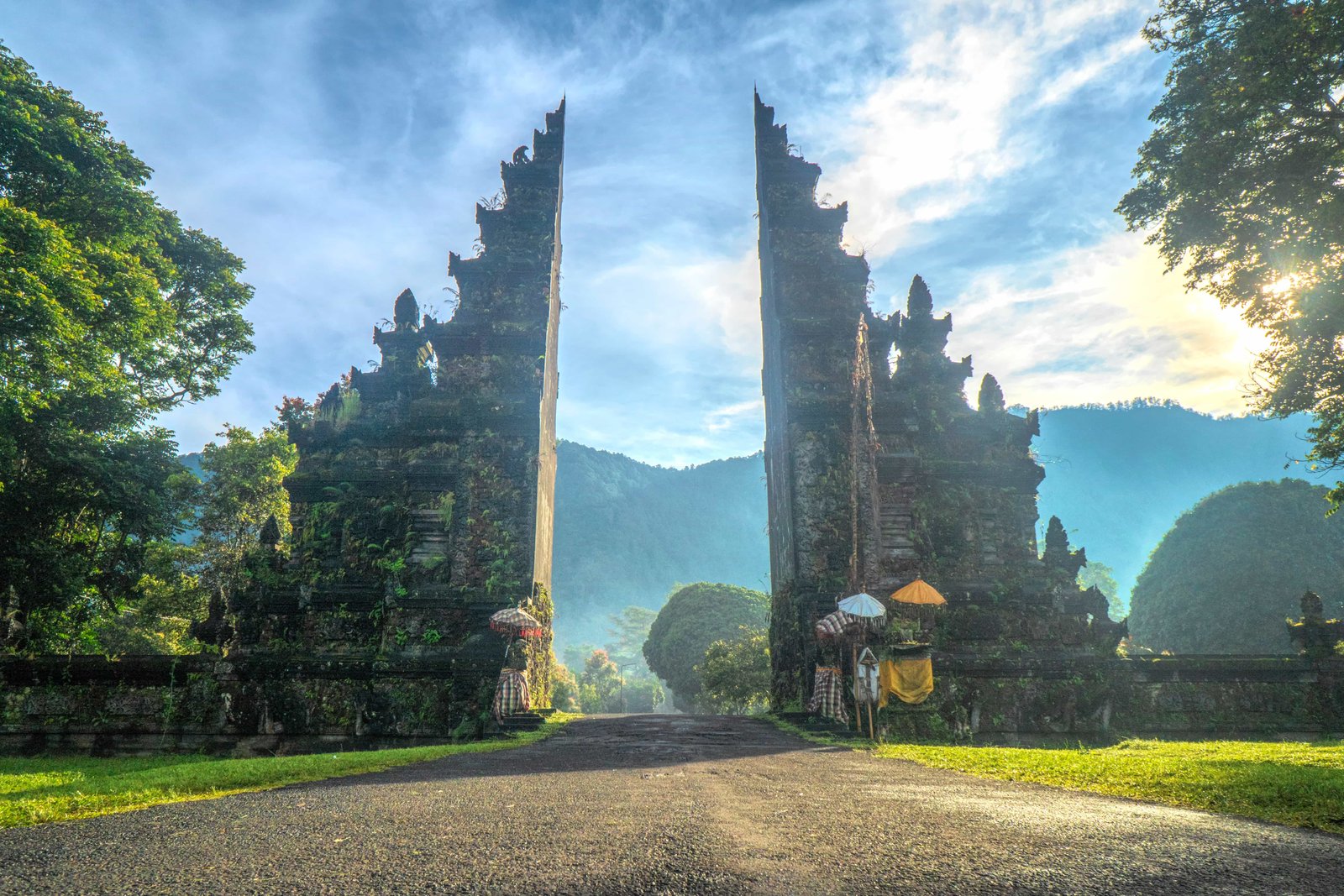 One of Bali's top tourist locations that you might recognize is the "gates from Instagram". The gates are actually the entrance to Handara Golf and Resort, which is surrounded by lush green mountains, crater lakes and an equatorial rain forest that create dramatic backdrops into the well-maintained creeping bentgrass greens.
---
8. Go cafe hopping in Canggu
No trip to Bali is complete without a day of cafe hopping to all of Canggu's best. Scratch that, you'll probably need a month to visit all of the best cafes in Canggu, but a solid day of Cafe hopping with gives you a taste of the best. Whether you're looking for Insta-worthy smoothie bowls or Insta-worthy cafe scenes, Canggu has got you covered. Canggu's cafes have gained quite the reputation over the years, especially amongst the traveler and digital nomad community. Flaunting vegan menus, matcha, and turmeric "milk" lattes, and freshly brewed kombucha, you can get your healthy fix without breaking the bank.
There are plenty of options to choose from, but a few of my favorites include Crate Cafe, Milk & Madu, Shady Shack, and Betelnut. Packed with brunch-ers at all times, at Crate Cafe you'll find a menu of delicious brekkie items, all priced under $4 USD. My favorites are the Bowlarama smoothie bowl and the salmon and avocado toast.
If you make your way to Milk & Madu, a personal favorite amongst the digital nomad crowd, then the ginger chai latte is an absolute must. They also offer great pizza deals for those dining for dinner. For dessert, make your way to Betelnut for the best selection of cheesecakes.
Recommended bt Taylor of Taverna Travels
---
9. Diving at Liberty Shipwreck
For many first-timers visiting Bali, diving remains a much sought-after thing to do. Whether it be snorkeling in the azure waters, diving, or doing a PADI course, Bali is one of the cheapest and most beautiful destinations to do all of these. But one place is more popular for diving than the rest in Bali, and that is the Liberty Shipwreck in Bali. In 1942 this US Army Cargo ship was destroyed by Japan, and the ship had submerged near the Bali island. Now the Liberty Shipwreck is a popular diving site.
If you go diving at the Liberty Shipwreck, you will find it mostly crowded with tons of divers, both professional and amateurs, waiting for their turn to dive. But don't worry as the divers are spread out through the day. If you are a PADI certified diver, you can just go to the site, rent some diving gear,
and then do as many dives as you like. If you are an amateur, you should go with the diving experts who flock the beach near the shipwreck or you can book this dive from the many diving centers in Ubud, too. The water near the Liberty Shipwreck is filled with fishes, and you would be able to
see these colorful beauties as soon as you as dip your head underwater. Don't miss this experience on your Bali trip.
Recommended by Priyanka of On my Canvas
---
10. Visit Pura Gunung Kawi Temple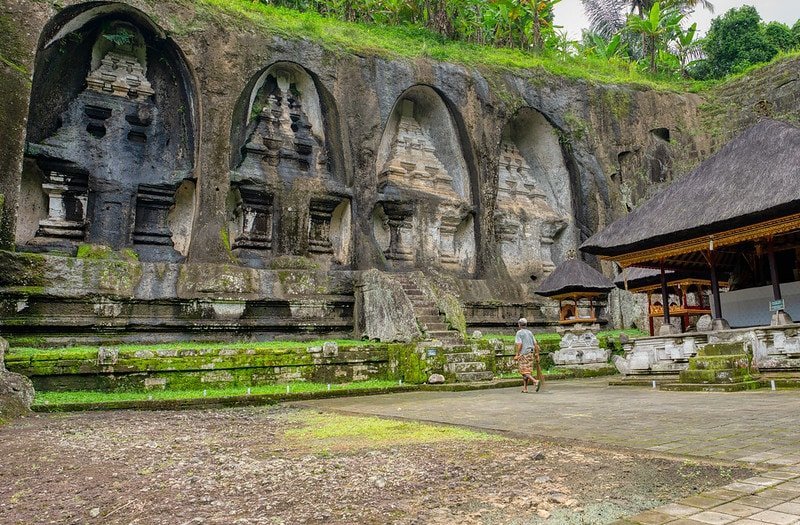 There are numerous temples sites situated all over the island, offering a glimpse into Balinese culture as none of the other sites on the island do. Believed to have been built as far back as the 11th century, it is certainly worth the time and effort required to visit any of these temples. They have the purpose of serving as memorials to members of the Balinese Royalty of the time, as houses of worship as well as a place for the locals to gather and meet. The most famous temples, often the busiest too, are Tanah Lot, Uluwatu, and Besakih Temple. However, my favorite amongst them is Pura Gunung Kawi temple. Carved into rocks and set within a lush forest, it is one of the most ancient sites on the island almost guaranteed to make your temple hopping experience an activity well done.
Recommended by Rai of A Rai of Flight
---
11. Speed Boating on the Lake of Pura Ulun Danu Beratan
There are many fun things to do in Bali for all travelers. Speed boating on the lake of the Ulun Danu Beratan Temple or Lake Beratan can be an enchanting experience during your first-timers visiting Bali. Pura Ulun Danu Beratan is one of the most beautiful water temple located on the Lake Beratan in North Bali. Boating surrounding this clear watered lake will give you the chance to see the extreme beauty of the entire temple and the scenic area. The peaceful scenery with the mountain views is to admire while speed boating around the whole Beratan Lake.
The atmosphere around the Lake Beratan is serene always, approximately 1200 m above the sea level. The natural Beratan Lake is known as Holy Mountain Lake for its purity. You can also enjoy the best sunrise from the lake while enjoying the boating. It is best to stay in any nearby hotel of the temple in Bedugul. Early morning you can have some scenic landscape from the lakeside of the Beratan Temple. The entrance ticket is a must for the temple entrance, and boating admission ticket is also different.
Recommended by Nafisa of My Own Way To Travel
---
12. Surfing and drinks at a Kuta rooftop bar
Admittedly, Kuta is not the nicest part of Bali, actually, it is far from it. It's touristy, hectic and quite dirty. So while I can not recommend to base yourself in Kuta, it is definitely worth a visit as you will find a few gems here that should not be missed during your time in Bali. In fact, one of my favorite spots is right in the center of Kuta; the Seven Rooftop Bar. It is on top of the Kuta Bex Hotel and free to visit for anyone (not only hotel guests). It has a pool and beautiful views of the ocean. Considering the location, food and drinks up there are pretty reasonable as well. Since it is not very well advertised, it is barely ever crowded which makes it the perfect place for a few drinks and dinner while watching the beautiful Bali-sunset.
Apart from that, Kuta beach is brilliant for surfers, especially for beginners. I can highly recommend Odyssey Surf School. They have very patient instructors and you are guaranteed to stand up on your very first day of surfing! The lessons take 2 hours which is the perfect time to tire you out. Afterward, you can head up to the seven rooftop bar which is conveniently located just a few minutes down the road from Odyssey Surf School. There is nothing better than ending your day with a cocktail in the pool while watching the sun dip below the horizon.
Recommended by Valerie of Valerie's' Adventure Time
---
13. See the underwater statues in Gili Islands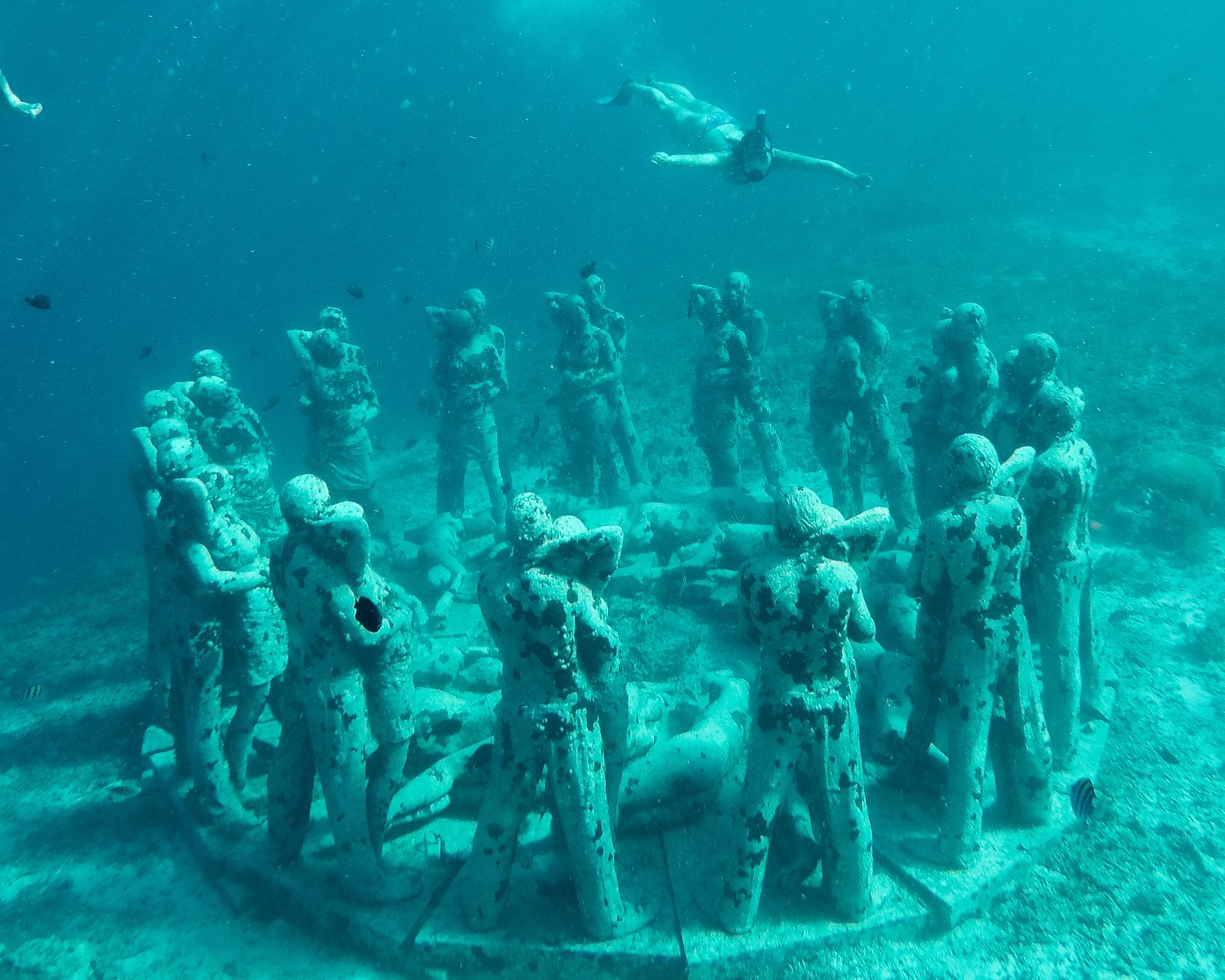 Visiting the underwater statues just off the Gili Islands is an absolute must-do activity during any trip to Bali. Easily accessible by ferry from Bali's mainland, the three stunning islands of Gili Trawangan, Gili Meno, and Gili Air are well worth the three-hour boat journey. Beyond their beautiful shores, there are several underwater art installations to make the already excellent snorkeling opportunities yet more exciting.
By swimming about 20m out to sea from the coast of Gili Meno, you'll find the 'Nest' – a circular structure of people by sculptor and underwater photographer Jason DeCaires Taylor. This beautiful ring of bodies acts as both a brilliant art installation and an interesting attempt to improve the coral and marine life in the area. Although closest to Gili Meno, it's possible to visit this from any of the Gili Islands with an organized snorkeling trip or kayak.
Beyond this, another installation of incredible metalwork (including two scooters!) can be found just off the shores of Gili Trawangan. Swim out from the pier outside Villa Ombok Hotel, and lookout for a small yellow floating pontoon – the structures are below this so get ready to feast your eyes! Just like the Nest, the metalwork attracts a huge variety of brightly colored fish, so ensure to take a snorkel and underwater camera with you.
Recommended by Annie from Off Goes Annie
---
The Nusa Islands are a trio of Islands located just 30 minutes off the coast of Bali. Then perfect Nusa islands itinerary including Nusa Lembongan, Nusa Ceningan, and Nusa Penida.
14a. Exploring Nusa Penida
Bali is obviously a super popular place, with a ton of iconic once in a lifetime experiences like visiting Nusa Penida is a lovely island off the coast of Bali. Reachable by a speedboat from Sanur to Nusa Penida, I recommend that you book your tour online for cheaper prices or book through a mainland hostel or hotel.
While Nusa Penida is still somewhat on the backpacker trail, it's a breath of fresh air compared to the hustle and bustle of mainland Bali. I'd recommend at least three days here, to explore and relish the island at your own pace. Don't miss the famous Atuh Beach, the "T-Rex" beach (AKA Kelingking Secret Point Beach, which you've probably already seen on Instagram), and snorkeling! Nusa Penida is partly famous for the awesome snorkeling opportunities nearby, which you can book through your accommodation.
---
15. Climb Mount Batur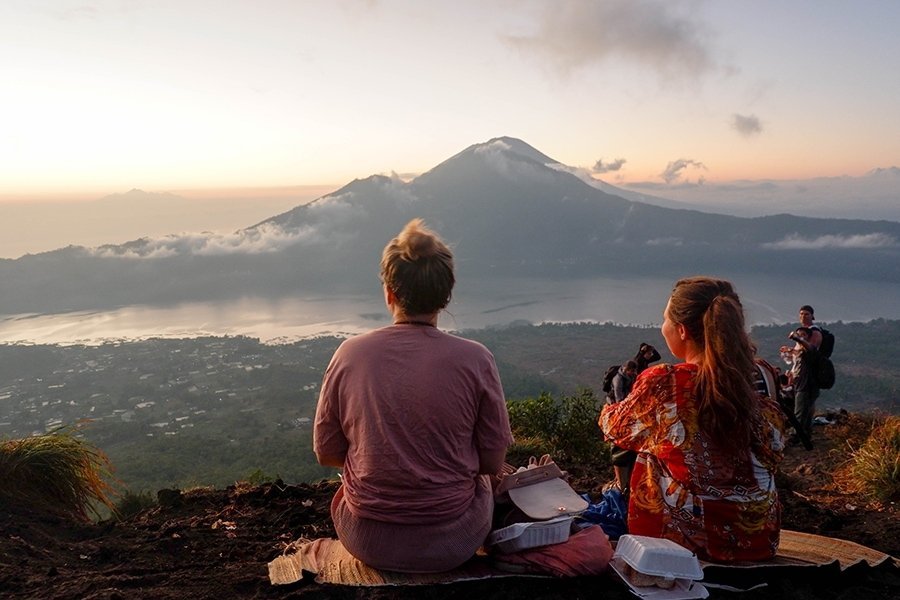 Climbing Mount Batur for sunrise is without a doubt one of the top things to do on your Bali itinerary, and it should be on anyone's bucket list for the Indonesian island. Tours leave from all over the island, but the most popular leaving point is Ubud.
Daily tours to Mount Batur leave at about 1 am and drive the hour's journey to the base of the volcano. Once there, you'll be given a torch and breakfast pack, and be able to make your way up the side of it. It gets increasingly colder as you ascend the volcano, but the hiking will keep you warm. The hike isn't too strenuous, but is a little bit tricky in the dark – but just follow the crowd and keep going – it's worth it at the top!
At the top of the volcano, you'll get the chance to find somewhere to watch the sunrise and eat your packed breakfast. Watch out for the monkeys – there are a lot of them at the top of the volcano and they will try to steal your food! The sunrise is absolutely magical – you can see all over the island, as well as Mount Agung, Bali's other famous volcano. After sunrise, you'll go back down in the light and back to your car, with the option to stop at rice terraces and waterfalls on your way back to Ubud.
Remember to pack something warm for the wait at the top of the volcano (it's guaranteed to be the coldest you'll feel in Bali!), good hiking shoes, water and of course, your camera!
Recommended by Claire of Claire's Footsteps
16. Chase waterfalls in North Munduk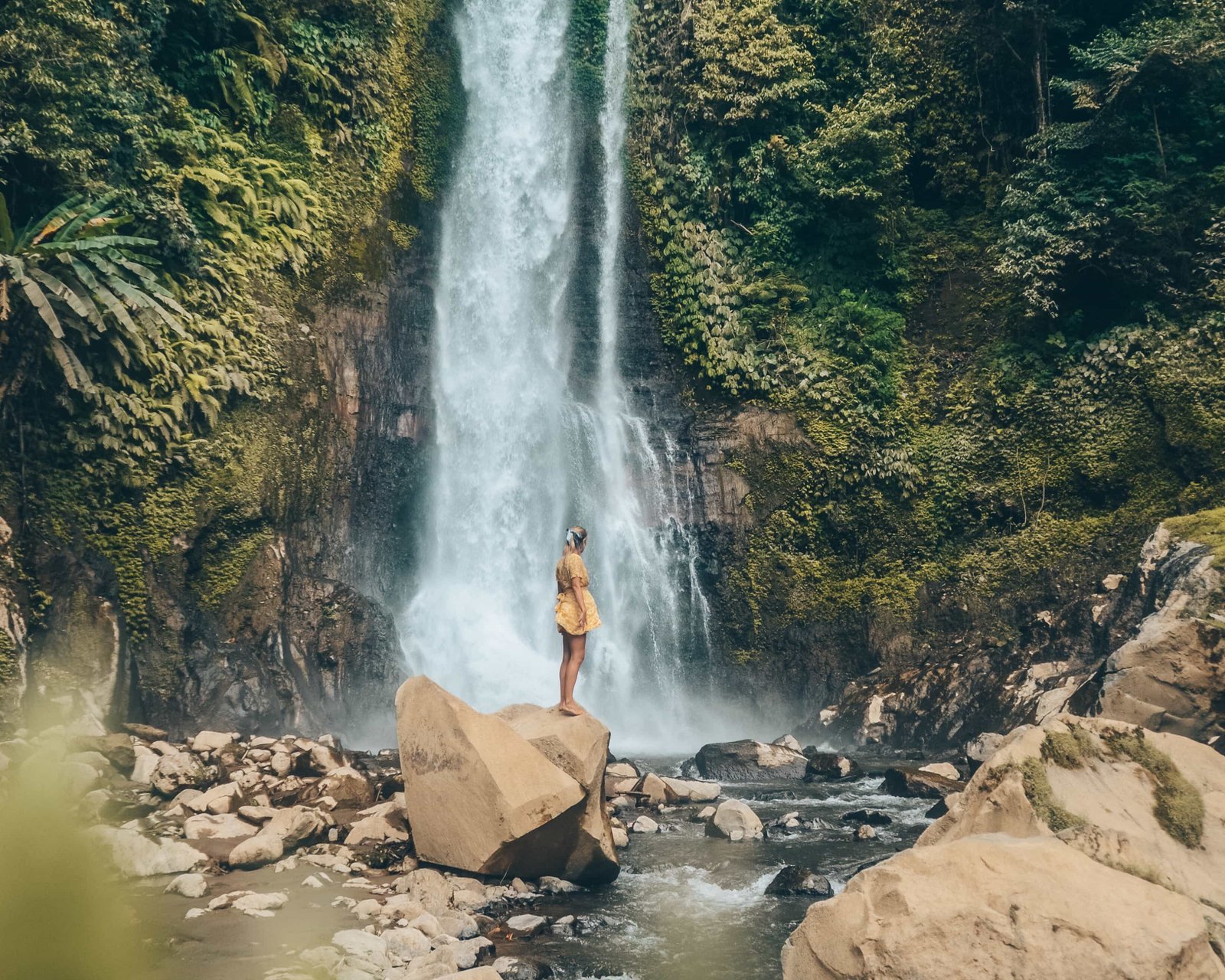 Munduk was one of the most incredible places I visited during my few weeks in Bali. I had been to many of the waterfalls near Ubud and further South and found these quite busy unless you go early. Munduk is a few hours' drive from Ubud and a totally different world. I would recommend making some friends if you are traveling solo, taking a small bag and exploring up North for a few days.
Aling Aling is a trio of waterfalls. They consist of a small waterfall called Kroya Waterfall. Then as you continue walking you will come to Kembar waterfall. And finally, you will reach the huge Aling Aling waterfall. Make sure to bring swimwear, as you may get wet here. However, remember that there is an extra cost if you would like to swim in these waterfalls. Entry costs IDR 10,000 to 20,000 per waterfall.
Git Git Waterfall is easier to reach and equally as impressive. Entry for this waterfall costs IDR 20,000.
Sekumpul Waterfall is surrounded by lush greenery and very beautiful.
During your trip to Bali I really would recommend getting a car and heading to Munduk for a few nights, and treat yourself to a stay at the STUNNING Munduk Moding Plantation Hotel.
Recommended by Hanna of Solar Powered Blonde
Find your bliss in an Infinity Pool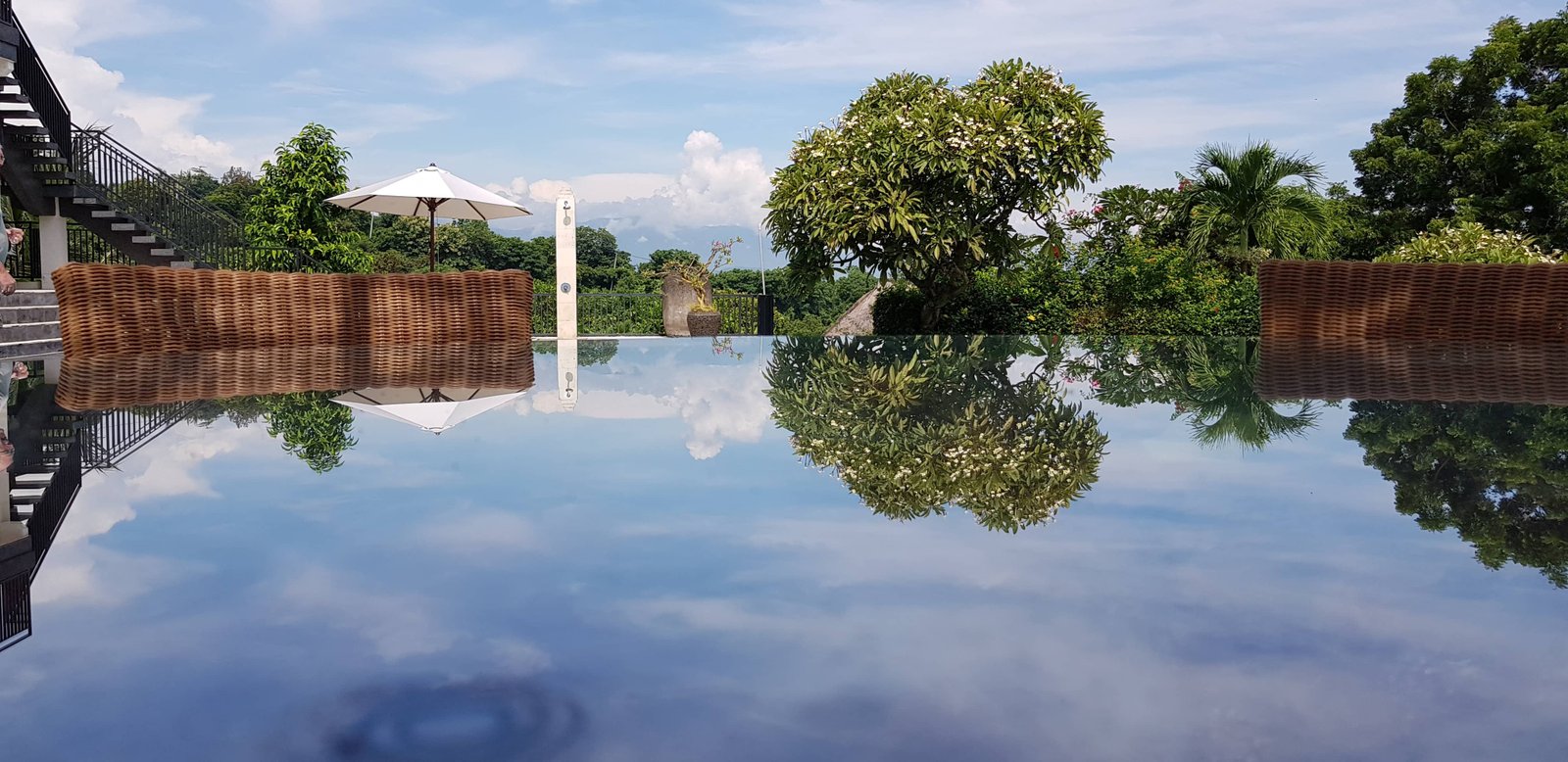 Of all of the amazing things to do in Bali, figuring out where to stay should be high on your list. The reason why deciding where to stay is so important is because you can stay in some pretty amazing places for a really low cost.
If you have ever wanted to stay at an incredible infinity pool resort overlooking rice terraces or waterfalls, Bali is the place to do it. Our favorite places to find low cost, gorgeous resorts are in Ubud. Ubud is only a 40-minute drive north from the international airport in Bali. It isn't close to any beaches, but the charm of the town makes up for its' lack of beaches.
There are many different simple guesthouses that you can stay at or you can go bigger and stay at an all-inclusive eco-lodge. If you are looking to experience a yoga retreat or a wellness retreat, Ubud is also the place to do it. There is a surplus of different resorts that offer wellness or yoga packages, you are bound to have a hard time deciding which is the best to pick. Of all the amazing things there are to do in Bali, make sure that you factor in spending some time deciding on where you are going to stay.
Recommended by Jessica of Unearth the Voyage
---
More Bali Inspiration
Best Travel Insurance for Bali
Use travel insurance while visiting Bali so you are covered for theft and medical expenses. There are a lot of places of interest in Bali, and it's best to have peace of mind while swimming, hiking and trying some of the best food in the world.
Find out why I recommend World Nomads, check out my World Nomads Insurance review.
Disclaimer: This article contains affiliate links. This means that if you make a booking after clicking on a link, I may receive a small commission at no extra cost to you!