Being able to travel without regard to other people's schedules is undoubtedly one of the essential benefits of internet-based jobs. You can take the work wherever you go, and do it from a fancy European city such as Paris, a sandy beach in the Caribbean, or even a Buddhist monastery, provided they have Wi-Fi there. Have you spotted a glaring problem with this idea yet?
Whether you want to admit it or not, aside from incorrigible workaholics, nobody looks forward to working while on holiday. Your motivation is likely to drop significantly if you have to stay in your room and miss the fantastic weather or give up on seeing something you want because you're about to miss a deadline. That's why it's a good idea to find a pleasant coworking space — it promotes productivity and it gets you out of your apartment.
If there is one thing that's bound to give you plenty of grief when you decide to use the perks of the fact that you work online, it's the lack of coworking spaces at the location. Unfortunately, Hakone is one of the most amazing places with the lowest number of available coworking spaces. And, you know — it's a truth universally acknowledged that an American in a foreign country must be in want of Wi-Fi. Once again, Google is your best friend, so here are three best — and one worst — coworking spaces (or alternatives) in Hakone.
Our Favorite Coworking Space Is Hakone Honbako
The book hotel, Hakone Honbako, is located 4 min on foot from Nakagora Station and a 12-min walk from the Hakone Museum of Art.
The hotel boasts an impressive collection of books, which are all at your disposal when you check-in. There are plenty of places to read, and it's incredibly calm and peaceful, so it's a great place to work in. There are many reading spots in the lobby, which looks like a little library, and the seating is really comfy.
While not officially so, it is considered an "adults only" hotel, so there is no noise connected with little children running around. There is no TV, so the distractions are at a minimum. The staff is lovely and always helpful.
There is free parking on the premises if you're driving. If you're traveling with your furry friend, though, we have some bad news — the place is not pet-friendly.
Even though coworking space is not the primary function of Hakone Honbako, the hotel is a great place to work in. The environment is quiet and peaceful, and there are some incredibly comfortable armchairs scattered around the place, which makes sitting much easier on your back. There is free Wi-Fi, and you can chill with a cup of coffee, enjoy the view from the lobby, and get some work done.
Basics
Pricing

49,000 yen for 2 people per night

High-Speed Internet
Yes
Open Hours
Ergonomics
Comfortable Chairs
Yes
Standing Desk
No
Workspaces
Dedicated Desks
No
Conference Rooms
No
Private Offices
No
Phone booths
No
Coliving
Yes
Two Other Great Places for Work in Hakone
If you're not staying in Hakone Honbako, you may not find the hotel so convenient. There are some alternatives, of course, but none of them are legit coworking spaces. That being said, many cafes in Hakone are work-friendly – you just have to know where to look for them. Don't forget to order a new drink every once in a while! So, here's our pick for the two places in Hakone you can work at.
Naraya Cafe
Timuny
There is an extra tip included too!
Naraya Cafe
Naraya Cafe is a cute little cafe that serves excellent coffee. It is situated on the slope behind Main Street. Google maps are a bit unclear in this area, but you can't miss them since they're right up to the train station.
The only complaint we have about this place is the size of their coffee – it's delicious, but there are only about two mouthfuls of it. The food is excellent, though, and they even offer some gluten-free options! It's great if you have to work for a longer time since you don't have to go out to get a delicious snack.
The place itself is pretty cozy and peaceful. You'll see many people reading (and some even taking a nap!) in the café, which makes the atmosphere very work-friendly because of the low levels of noise. Naraya overlooks beautiful scenery, and there's a lot of greenery around, so it can provide you with a lot of inspiration for creative work.
There is another bonus – once you're done with work, you can treat yourself to a relaxing foot bath. Just don't forget to bring your own towel, or you'll have to buy one.
Timuny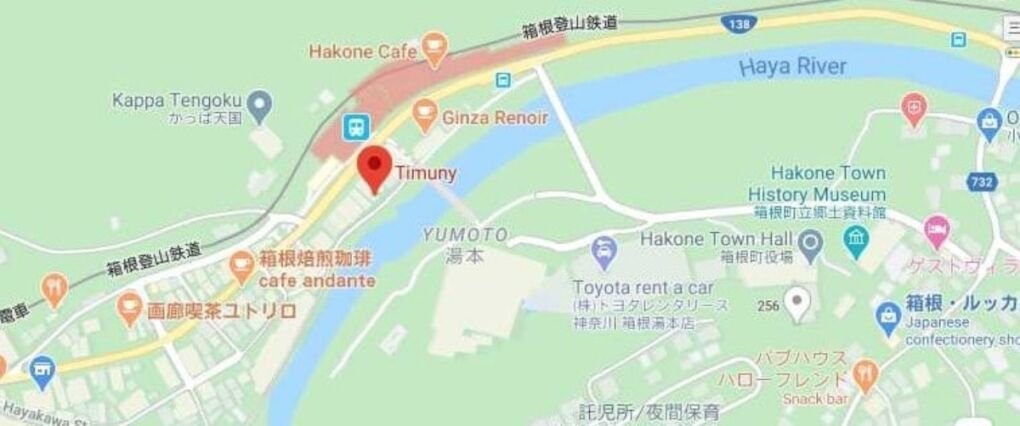 Timuny is a very cozy little place overlooking the river. It is situated to the right of the footbridge, just 3 minute walk from the Hakone-Yumoto Station.
It's a good place for coffee lovers – they have four types of coffee beans, so you can pick and choose. There is a smokers' room on the upper floor. It's not used a lot, and even when it is, most of the smoke stays up there. Still, if you're particularly sensitive, this is something to have in mind. It's vegan-friendly. For those of you who get homesick a lot, they offer a superb grilled-cheese sandwich!
It's nice and peaceful, with a great, inspiring view, and they offer free Wi-Fi. The downside to this café is that there aren't many available power outlets. You can ask the staff to charge your laptop for you while you're having lunch, though, so it's not too big of an obstacle. Still, you'll want to make sure your laptop battery is reliable and charge it before you come to the café.
Name
Naraya
Timuny
High-Speed Internet
Yes
Yes
Comfortable Chairs
Yes
Yes
Open hours
Every day 10:30 am – 6:00 pm
Mon – Tue 10:00 am – 7:00 pm

Thu – Sun 10:00 am – 7:00 pm
An Extra Tip
If none of these options work for you, you can always get a good travel stand desk. Some models weigh less than 4 lbs​【1,8 kg】, so they're convenient to carry around. There are several benefits to this option:
It's good for your back;
You can take it basically everywhere with you;
You can set up your own little office wherever you go.
So, if you don't like any of the other ideas, you can always take your desk wherever you want and work from there.
Ninja Cafe Fuma Is Incredible – But Not a Great Place to Cowork in Hakone
Ninja Cafe Fuma is a great place to visit when you're in Hakone. You'll have a ninja making and serving your food, and you can even have a shuriken-throwing practice! There is a corner with ninja merchandise as well. The owner speaks fluent English, the food is great, and there are some vegetarian options as well.
It's great for children – but not so great for working. The most important issues are:
The shuriken throwing
The flashy food preparation process
The level of noise
The children running around being thrilled with the ninja staff
These are all factors that contribute to the annihilation of your ability to focus. The seating is hardly comfortable, and there are no power outlets available to customers. So if you have to work, go to basically any other place and, when you're done, come back to Ninja Cafe Fuma to practice your ninja skills.
If you enjoyed Hakone and can not get enough of Japan, why not explore another destination? We recommend Osaka as the best place to stay in Japan for digital nomads, but there are lots of others to choose from for an epic adventure of a lifetime.