Co-living, as a concept, is a fairly modern approach to working for digital nomads. One of the great advantages, of course, is being able to live and work anywhere in the world while sharing space with like-minded people from different backgrounds. And, to be honest, what could be better than choosing to spend time in a place like Bali?
The option also allows you to save some money, as coliving is generally cheaper than a hotel or formal rental option.
For many, it ranks as one of the best places to live in Asia, set in a truly magical atmosphere. Here are just ten of the best coliving and coworking spaces available in Bali.
12 Best Coworking & Coliving Spaces in Bali
TRIBAL Bali — Best Overall Coliving & Coworking
Price: ~ $13.37 per month
Location: Canggu
Features: Coworking spaces, outdoor pool, coffee
Room Types: Male and female dorms
Organized Activities: Happy hour, in-house experiences, workshops, TRIBAL tours
Other Locations: None
Ratings: Hostelworld (9.6 out of 20 – 29 reviews); Google (4.7 out of 5 – 88 reviews); Booking.com (9.5 out of 10 – 17 reviews)
When it comes to coliving and coworking spaces, there is nothing quite like TRIBAL Bali. This is Bali's first-ever custom-designed coworking hostel, located in the scenic Pererenan area in Canggu. With it's motto—"Work", "Rest", and "Play"—it is the ultimate living space for solo travelers, backpackers, remote workers, and digital nomads seeking a relaxed, work-friendly space in this beautiful country.
At TRIBAL, there is plenty for you to enjoy. This includes everything from dedicated coworking spaces to the spacious dorms and an outdoor pool, which is perfect for escaping the Bali heat. You'll also be treated to locally-roasted coffee and a delicious all-day brunch menu. And if you're in the mood to explore, you'll find plenty of bars, cafés, shops just a stone's throw away.
What we liked: The workshops and TRIBAL tours make it easy to network with fellow remote workers and digital nomads.
Check Availability | Hostelworld.com and Booking.com
Luxury Traditional Villas Ubud — Best Luxury Coliving & Coworking
Price: ~ $1,030 per month
Location: Ubud
Features: Chill-out area, meeting rooms, outdoor space, cable TV
Room Types: Standard, Deluxe, Bungalow
Organized Activities: Community meals, movie nights, cultural walks and tours, game nights
Other Locations: None
Ratings: coliving.com (5.0 out of 5 – 47 reviews)
The town of Ubud is popular with most travelers. Set inland, it features jungle and amazing Balinese temples as a setting, making it somewhat of a cultural center for the local people. This coliving space has developed a great balance of villas and studios to choose from, all at a reasonable price.
There's a communal pool and kitchen area, but many residents enjoy the shared dinner events and social outings on offer. The best part is that each room offers a king-sized bed and en-suite bathroom facilities for the ultimate comfort.
Note: The villa option is slightly off-site, just a few yards down the road.
What we liked: The lush garden setting for the villa and buildings invites calm relaxation, even when you're working. There's a quaint feeling of isolation here.
Check Availability | Coliving.com
The Paica Exotic Jungle Villa — Best Jungle Villa Accommodation
Price: ~ $200 per month
Location: Jalan Wayan Gebyag, Denpasar
Features: Co-working on the roof, chill-out area, dining area
Room Types: Single, basic, 3-person, 4-person, jungle view suite
Organized Activities: None
Other Locations: none
Ratings: coliving.com (4.9 out of 5 – 24 reviews)
The Paica is an immensely popular jungle front coliving space that offers one of the best reputations for its services in Bali. There are 14 rooms set in the green tropical jungle forests of Bali.
One of the key features sold at this location is its isolation from the main bustle of the town. You cannot hear any traffic, so it really does set itself quite apart with the idea that you're in a place of peace while in a relatively densely populated part of the world.
Yet, you are just a stone's throw away from Canggu and other tourist hubs, so if you feel the need to get out into the shops or tourist areas, you could simply take a break and head that way. If you're ok with a minimum stay of one month, this is the option best suited to you.
What we liked: The absolute quiet, especially being free from the sounds of a town or city.
Check Availability | Coliving.com
Natural Tropical House w/ Coworking + Outdoor Areas — Best Tropical House w/ Private Rooms
Price: ~ $567
Location: Amanlane (Seminyak)
Features: Terrace, outdoor space, co-working areas, pool
Room Types: Private
Organized Activities: Pancake nights, coffee instructionals, SEO workshops
Other Locations: None
Ratings: coliving.com (4.9 out of 5 – 56 reviews)
Just a few miles from the Seminyak Shopping Village and 15 minutes from the beach, this coliving and coworking space is highly sought after. It happens to be in one of the most popular parts of Seminyak, surrounded by lots of eateries and social hubs.
Lots of digital nomads and entrepreneurs can be found staying here. The common areas invite both work and engagement. Best of all, the social events here aren't exclusive to members. Other guests from the local public are also welcome.
Think SEO workshops, pancake nights, and coffee appreciation courses. The proprietors here believe in upskilling as much as working and playing.
If you're keen on keeping up a physical regime, there's a jogging track two minutes away. The quiet apartment embraces a minimalist living approach. Staying here includes a pass for the co-working space, which is a separate area.
What we liked: Pancake nights are a novel social event that invites fun and a pleasant sugar high.
Check Availability | Coliving.com
Luxury Tropical Villa w/ Coworking + Pool + Outdoor Areas — Best Suites Accommodation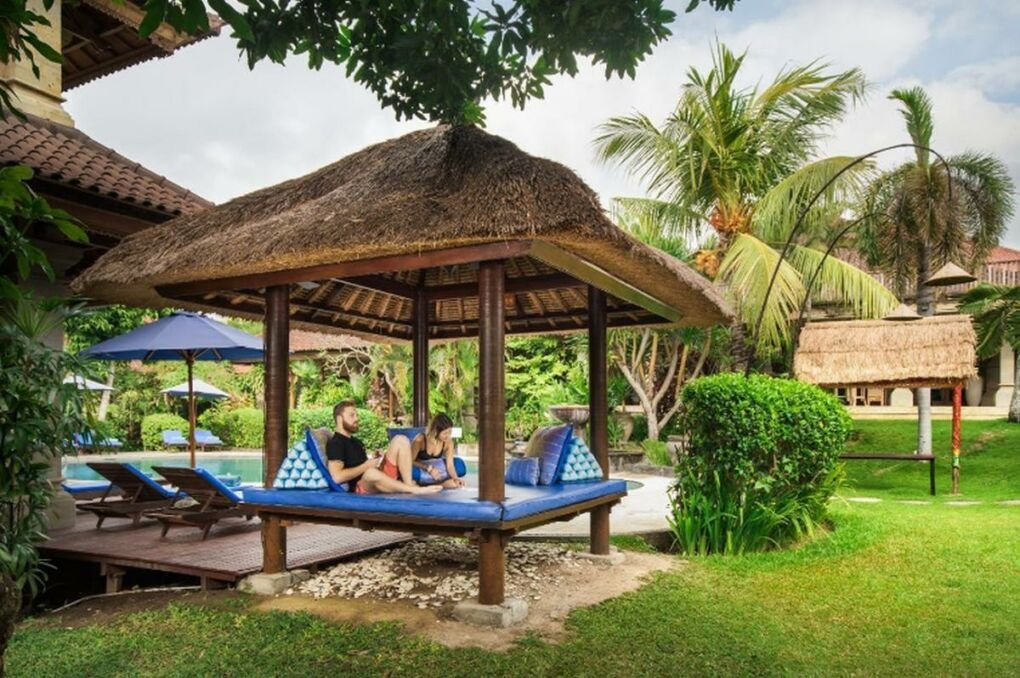 Price: ~$1,260
Location: Gianyar
Features: Co-working areas, pool, Cable TV, Dining area, meeting room
Room Types: Family suite, garden/terrace suite, deluxe garden suite
Organized Activities: None
Other Locations: None
Ratings: coliving.com (4.9 out of 5 – 41 reviews)
The focus here started out with the entrepreneur in mind. Gathering like-minded business venturers was key while simultaneously providing a luxurious, relaxing setting. There are 17 suites, all designed as luxury accommodations, with outdoor showers or indoor tubs to choose from.
Outside, coconut palms and flowering trees create a colorful and exhilarating atmosphere, with no traffic sounds or city bustle to intrude. Five separate balconies offer a space to relax or work privately, and an on-site chef provides delicious meals and snacks. Take a dip in the swimming pool, which is a nice break from the heat.
The conference room can be booked for workshops, meetings, and briefings. When not in use, you can also use it as a workspace. And when you're looking to fade into some words, a free library is on-site for inspiration or escape – you decide.
What we liked: The free library is a nice touch, but the main draw is the expansive garden area, which is peaceful, relaxing, and energizing.
Check Availability | Coliving.com
Tanaga CoLiving— Best Hotel for Medium Budgets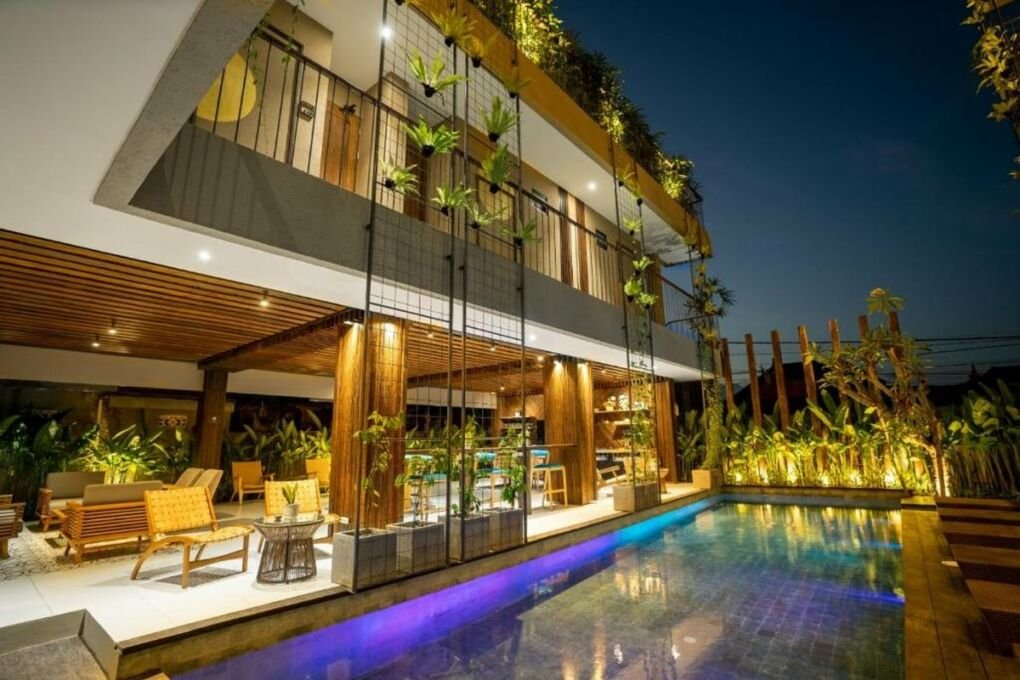 Price: ~ $41 per night
Location: Seminyak
Features: Swimming pool, room service, airport shuttle
Room Types: standard double, standard twin
Organized Activities: None
Other Locations: None
Ratings: coliving.com (9.3 out of 10 – 15 reviews); Google (5 out of 5 – 46 reviews)
This hotel offers an air-conditioned room and the benefit of a 24-hour front desk in case you need any assistance. Room service is another plus for a hotel context. At least sometimes, you may want to take advantage of a quiet dinner in your own room.
One mile in each direction from this awesome co-living space are stunning beaches. One is Double Six Beach, and the other is Seminyak Beach. So, when you're really looking for a beach break that's close to your accommodation, few co-living spaces are going to top that.
As a bonus, the hotel also has a pool of its own, in case you're feeling too tired to walk that mile.
What we liked: The proximity to a beach makes this one ideal for those who love to hit the waves and sand.
Check Availability | Booking.com
Matra CoWorking & CoLiving
Price: ~$25 per day
Location: Canggu
Features: Pool, shuttle, restaurant, breakfast
Room Types: Deluxe twin room
Organized Activities: None
Other Locations: None
Ratings: coliving.com (9.5 out of 10 – 12 reviews); Google (4.6 out of 5 – 135 reviews)
Not all co-living spaces feature their own restaurant, but this one does. The guest house also has its own ATM.
You can share a communal kitchen if you prefer to prepare your own food, especially if you plan to use the pool and other shared spaces for meals and relaxation. Matra is also about a mile from a beach, so the occasional walk will be pleasant and rewarding. You may even be interested in becoming a regular at the Vue Beach Club down the road for any social events.
What we liked: The on-site restaurant is convenient, and the guest house can include breakfast as part of your accommodation.
Check Availability | Booking.com
Dojo Bali Coliving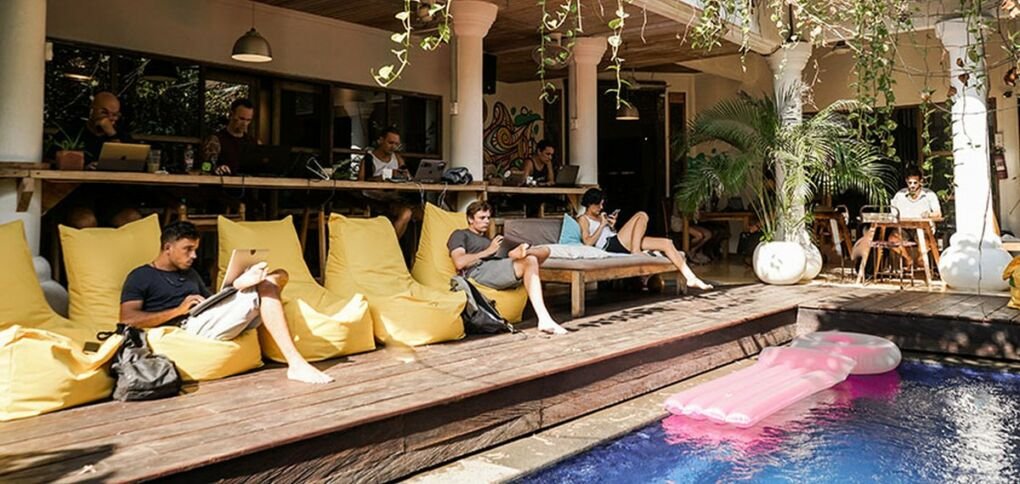 Price: ~$1,260 per month
Location: Canggu
Features: Airport shuttle, surf lessons, yoga
Room Types: Queen, Queen Wooden Bungalow, King, King wooden bungalow
Organized Activities: Speed networking, workshops, pitch yourself, wine-making tours
Other Locations: None
Ratings: Google (4.5 out of 5 – 447 reviews)
The choice of accommodation to suit your need is probably one of the best bonuses here. There are large bungalows, all of which have private balconies. But if you're looking to be less elaborate, there are also smaller, very comfortable rooms, all with exquisite bedding and facilities.
The almost prerequisite pool is available to all residents, as is the wonderful garden and lawn. There is a robust calendar of events to participate in as well. Aside from the technical learning workshops, a fun session called Pitch Yourself! It is a highlight. This is where you can pitch your creative ideas to the other residents for feedback and objective input.
What we liked: The fun events calendar that everyone can share makes this a really dynamic and interesting place to stay.
Check Availability | Dojo Bali
Paradise CoWorking Villa
Price: ~$476 per night
Location: Jimbaran
Features: pool, airport shuttle, pets allowed, room service
Room Types: Family suite, garden/terrace suite, deluxe garden suite
Organized Activities: None
Other Locations: None
Ratings: booking.com (4.9 out of 5 – 41 reviews)
Jimbaran is a town known for its fishing history. Today it is a coastal resort town with a long beach, calm waters, and a surrounding tropical forest. It's a little farther from the beach than some of the others on this list, but it makes up for that with incredible top-end luxury.
There are just 10 bedrooms available, all with fast wi-fi, air conditioning, and en-suite bathrooms. One other unique aspect is the pet-friendly tag, which is ideal for those who travel with their pets.
This is for a really luxury-focused traveler who enjoys the top-end service that this price tag brings.
What we liked: It's pet-friendly, so chances are you meet a dog or two and make new friends.
Check Availability | Booking.com
Bestah Coliving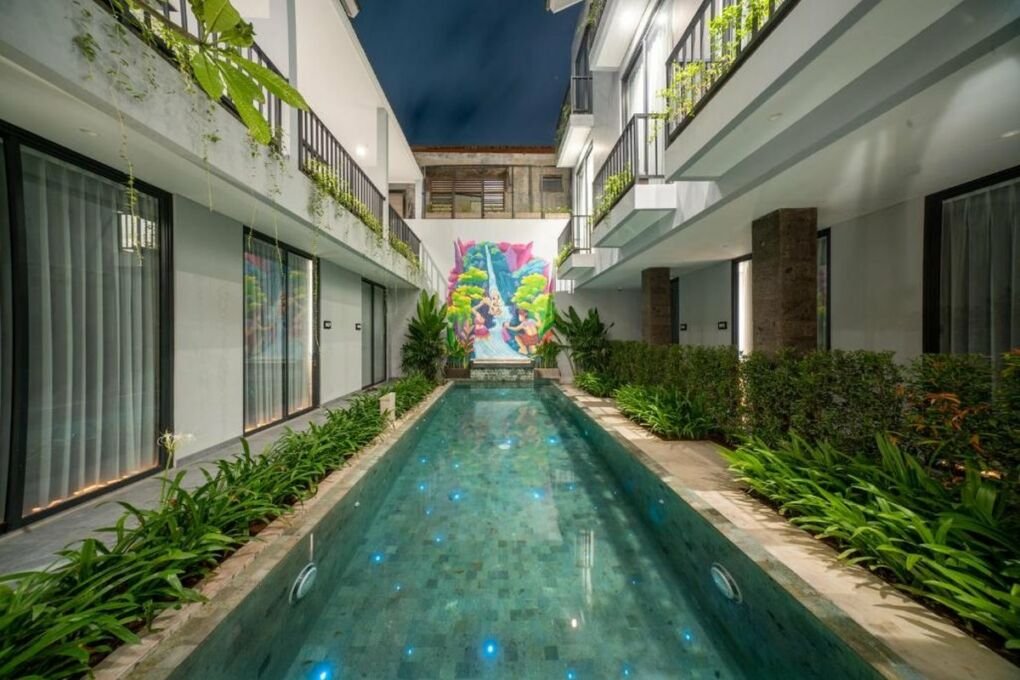 Price: ~$25 per night
Location: Sanur
Features: Swimming pool, shuttle
Room Types: Standard double, double with pool view
Organized Activities: None
Other Locations: None
Ratings: booking..com (9 out of 10 – 5 reviews); Google (4.9 out of 5 – 77 reviews)
This is a great budget option, which may be on your checklist if you're staying for a long period of time. The cost-effective $25 per night goes a long way, especially given the fact that you're still in the heart of all the action.
You're roughly two miles from both Matahari Terbit and Padang Galak beaches. Workspace and socializing can be found around the pool and garden areas, as well as a terrace specifically designated for deep work. For great food, try the Sector Bar & Restaurant nearby.
What we liked: Proximity to the beach and a cool terrace to break away from or from work.
Check Availability | Booking.com
Outsite Bali – Pererenan
Price: ~$1,281 per month
Location: Pererenan
Features: Workspace, shared kitchen, outdoor chill space, pool
Room Types: Private room, studio, suite
Organized Activities: Meditation, massages
Other Locations: USA, Europe
Ratings: Google (4.3 out of 5 – 30 reviews)
For a very authentic Bali setting, it's hard to beat Outsite. Palm trees and rice terraces create the view of a veritable tropical paradise, while the mind can wander freely or focus intently. Much of this complex is designed around well-being and healing, so activities like sound baths, yoga, and meditation can be engaged at any time.
The pool sits in the center of the complex and makes for yet another space in which to work or connect with like-minded entrepreneurs and workers.
If you'd like to get out once in a while, there are plenty of local shops and cafes within walking distance. Pererenan Beach is also just a few minutes away, and renting a scooter to get there is easy and hassle-free. You can use the same scooter to get to the most popular social hangouts, where people from all over the world gather. Outsite is one of several partner workspaces around the world.
What we liked: Gorgeous setting with lots of opportunities for mindful and spiritual activities.
Check Availability | Outsite Bali
Bali Bustle – Kuta
Price: ~$31 per day
Location: Kuta
Features: pool, gym, access to co-working space, cafe
Room Types: Double room
Organized Activities: Weekly yoga
Other Locations: None
Ratings: Airbnb (4.63 out of 5 – 19 reviews); Google (4.7 out of 5 – 238 reviews)
Looking for a spot in the capital? It's hard to beat the friendliness and modern feel of this great coliving space. For the perfect stay, consider renting a scooter. That way, you're just ten minutes from Seminyak and many other destination daytime getaways.
But if you're just looking to work and live comfortably, all the facilities are here, including a pool and gym. There are even hangout spaces on the rooftop, as well as on each floor. You'll never be crowded or in want of a corner to work or socialize in.
Once a week, you can head to the roof for a yoga class, which is ideal for getting away from work for just a little bit.
What we liked: Lots of activity in the immediate vicinity and an on-site cafe.
Check Availability | Airbnb.com
Stay at the Best Coworking Space in Bali
Aside from being a tourist hotspot for its wonderful climate, beaches, and surfing, Bali's growing reputation for being a vibrant and bustling resort island makes it ideal for young professionals looking to connect.
All these co-living spaces are extraordinary in their own right and for their own reasons. But all will provide a suitably vibrant and, or relaxing atmosphere in which to work, meet and play.
Take a look at this additional article if you're looking for more places to live in Indonesia.