Don't you just love traveling? Meeting new people and cultures and admiring landscapes and architecture in a new place can make you feel like all your problems are unimportant and small. You can relax and simply enjoy your free time. If you love staying and working in Japan and would like to explore the country, even more, we recommend staying in Tokyo, which is one of the best cities to live in Asia for Digital Nomads.
If you're a digital nomad, you know why this could be a problem—getting too caught up in the new and exciting environment can make you less focused on your work. As your lifestyle depends on your ability to stay focused, you need to find a way to be productive, even with all the distractions.
One of the most efficient ways to stay grounded and motivated is to find a coworking space you like. A productive environment will influence your creativity and motivation, so you can finish your daily tasks much faster and be free to explore the beauties of Hiroshima.
It's not always easy to find something you like, though. For many people, the excess of choice is worse than the lack of it. But don't worry—here is a list of the best and worst coworking spaces in Hiroshima to help you decide.
Shake Hands Is Our Favorite Place to Cowork in Hiroshima
Source: Coworker.com
Located in the center of the city, Shake Hands is within walking distance from the Hiroshima Museum of Art, Hiroshima Castle, Shukkeien, Peace Memorial Park, and many other attractions. There are many cafés and restaurants in the area as well, so you don't have to limit your options to sandwiches.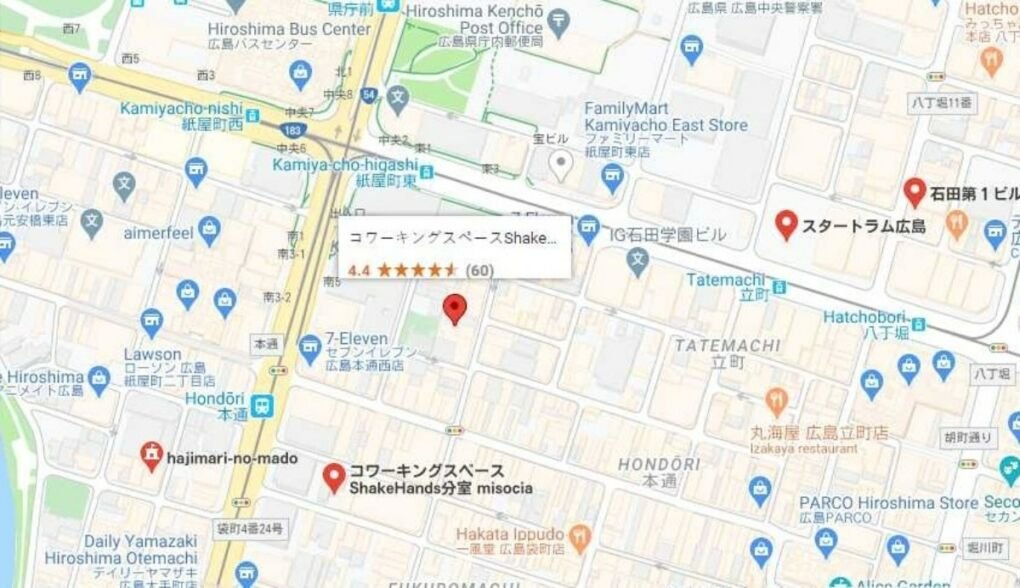 Wi-Fi is fast and reliable, which is awesome for all of us who get unbearably tense upon seeing the little "loading" circle on our screens. Shake Hands offers printing equipment, projectors, and microphones at an extra fee. They don't charge much for the additional services, but it's something to keep in mind if you need to use the equipment. Scanning is free of charge.
The interior of Shake Hands is inspiring and conducive to hard work. The place is decorated in bright colors, and there are a lot of plants scattered around. The greenery and the colors help you stay optimistic and in a good mood. There is plenty of natural light, which makes it easier to focus and remain productive. When you get tired, you can pick a book from the library to take your mind off work for a while, or you can just grab a cup of coffee and chill out in the lounge area.
They hold different events and seminars. While the events are for the members exclusively, the seminars are open to non-members as well. This creates fantastic opportunities to meet new people and expand your connections.
There is an onsite café with a wide choice of free drinks, including cocoa, blend and iced coffee, Coca-Cola, mango yogurt, ginger ale, and many more. They charge extra for beer (alcoholic and non-alcoholic) and food.
Basics
Pricing

Per day: JPY 1,200
Per month: JPY 12,800

High-Speed Internet
Yes
Open Hours

Monday – Sunday: 7 am – 11 pm

Ergonomics
Comfortable Chairs
Yes
Standing Desk
No
Workspaces
Dedicated Desks
Yes
Conference Rooms
Yes
Private Offices
Yes
Phone booths
Yes
Coliving
No
Six Coworking Spaces We Also Loved
We loved Shake Hands, but to each their own. If you don't find Shake Hands that impressive, don't worry—there are plenty more fish in the sea. Here are six other cool coworking spaces in Hiroshima.
Fabbit
Hajimari-no-mado
So@r business port
Port.inc
Regus (5 locations)
Good Office (iioffice)
Fabbit
Source: Coworker.com
Located by the Hiroshima station, Fabbit is at a convenient spot, no matter where you're staying. This place is well-connected to all parts of the city, and it is within walking distance of the city center and all its attractions.
They provide high-speed Wi-Fi and printing equipment. There are Skype rooms and phone booths, which are great for everybody who needs privacy and peace to work, such as online teachers, remote learners, and so on.
Fabbit organizes events and outings for its community, and the members can use the community app to stay in touch.
Personal lockers are at your disposal if you need them, and so is a library. When you need a break and want to relax, just grab a book and head for the lounge—it's bright and comfy, and you'll be able to enjoy a good novel with a tasty cup of coffee.
Coffee and tea are free, but there are fancier coffee drinks available for purchase if they're more to your liking. After all, if we can't indulge in an extra-large Mochaccino, how can we be expected to survive the day?
Open hours

Monday – Friday: 9 am – 6 pm
Saturday: Closed
Sunday: Closed

Price
Per day
JPY 1,000
Per month
JPY 13,000
Hajimari-no-mado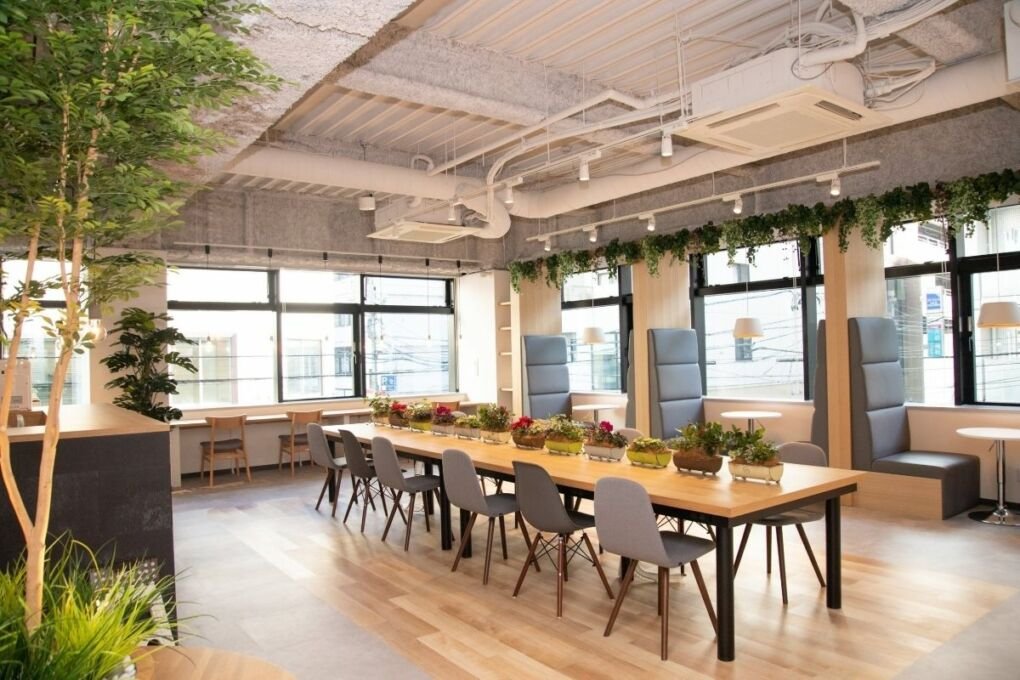 Source: Hajimari-no-mado
As another coworking space in the heart of the city, Hajimari-no-mado is close to all the essential landmarks of Hiroshima. It is a minute's walk away from the Peace Memorial Park and five minutes from the Atomic Bomb Dome.
If you're just passing by, you can get a daily pass or a pass for two hours, but you can only stay during reception hours. If you get a monthly membership, the place is open to you 24 hours a day, 365 days a year.
There is printing equipment you can use for a small extra charge if you need to, but the massage chairs are free. You can only use the lockers if you're a member, and they come at a 3,000 yen extra fee.
If you want to drop in, we recommend you call in advance because Hajimari-no-mado is a popular space that fills up quickly.
Open hours

Monday – Friday: 9 am – 7 pm
Saturday: Closed
Sunday: Closed

Price
Per two hours
JPY 500
Per day
JPY 1,000
Per month
JPY 12,000
So@r business port

Source: So@r
So@r is a five minutes walk from central park and within walking distance from the Children's Museum. They provide reasonably good internet, but we don't recommend it if you need to upload videos or hold an online class.
You can use their printing equipment at an extra charge. They offer a bicycle-sharing option, which is free for up to 6 hours. This is an excellent option if you want to go sightseeing but don't want to take public transport for fear of missing out on something. It's also good for your health, especially after a long day of work at your desk.
There is a lobby you can go to relax when you're taking a break or want to meet a friend who has stopped by.
Open hours

Monday – Friday: 9 am – 7 pm
Saturday: Closed
Sunday: Closed

Price
Per hour
First hour: JPY 300

Every next hour: JPY 200

Per day
JPY 1,000
Per ten days
JPY 2,000
Per month
JPY 8,000
Port.inc
Source: Port.inc
Port.inc is in the city center, right across the river from the Museum of Art and the Hiroshima Castle. They have a stable wired and wireless internet connection.
You can use printing equipment, projectors, and fax for a fee. Port.inc also provides secretary services, which is fantastic for those of you who feel like you're spending more time on trivialities than on your actual job. If you need to design a logo for your company, they do that as well.
There is also a café corner for the moments when you just need a break. It serves delicious coffee, and there are comfy sofas you relax in while you sip your drink.
Open hours

Monday – Friday: 9 am – 7 pm
Saturday: 10 am – 6 pm
Sunday: Closed

Price
Per hour
JPY 330
Per day
JPY 1,100
Per month
JPY 8,800
Regus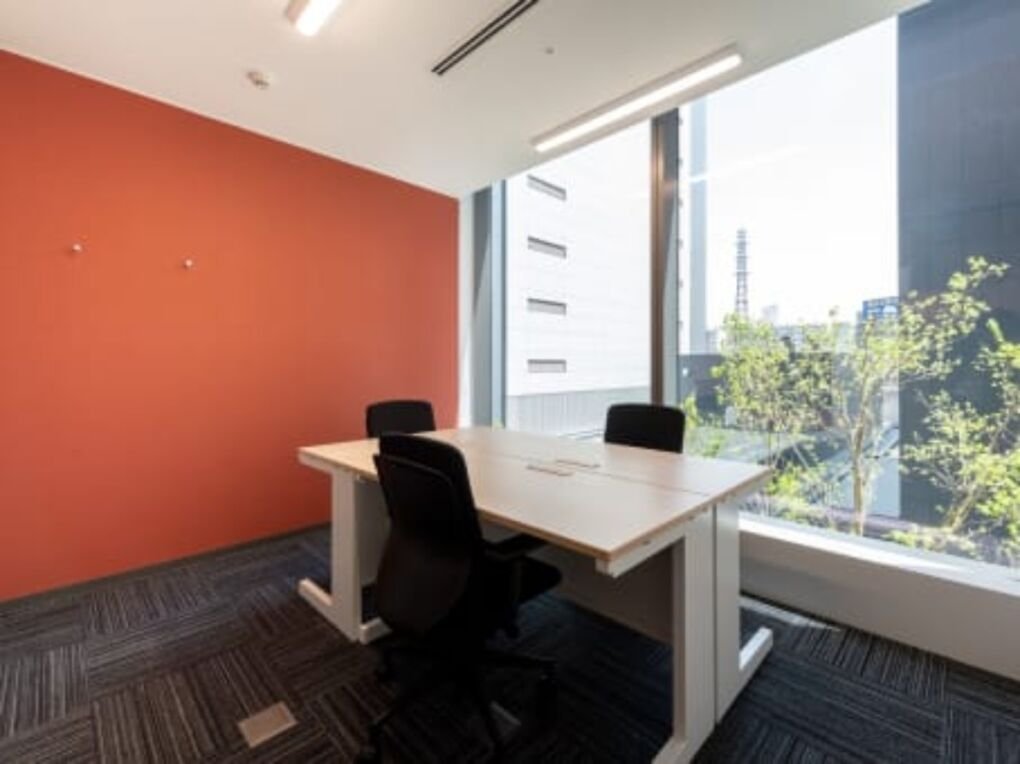 Source: Regus
There are five Regus locations in Hiroshima:
Ekimae Business Center
Inari Ohashi Business Center
High Building 21 Center
Shin-Hiroshima Building Center
Hiroshima Otemachi
The good thing about Regus is that it is everywhere. No matter where your accommodation is, you will easily reach a Regus or two. All of their spaces look roughly the same—traditional office spaces, if a little bit on the colder side. They provide high-speed Wi-Fi and peace and quiet. If those are the only things you're looking for, Regus is the place for you.
On the flip side, Regus is always expensive. Their pricing system is strange, and it differs depending on the location you want to visit. Some other things vary from place to place as well—added benefits include free coffee in one location but not in another.
All in all, Regus is a bit of a gamble either way. They provide the basics without getting too involved, so if that's your thing, go for it.
Open hours

Monday – Friday: 8:30 am – 6 pm
Saturday: Closed
Sunday: Closed

Price
On request
Good Office (iioffice)
Source: Good Office
With a slightly less central location than the other coworking spaces on this list, Good Office is right next to Higashisenda Park and ten minutes on foot from the City Hall.
It's a lovely and tranquil coworking space, surrounded by greenery and protected from outside noise. If you like to have a bit of space, Good Office is what you want—it's spacious, clean, and tidy, making it laughably easy to focus on the task at hand.
There are various types of desks and chairs, so you'll be able to find something that suits you, and the Wi-Fi is fantastic (which suits everybody). You won't have to worry about the connection breaking during a crucial moment, a conference call, or something similar.
The best of all is the fact that when you need a break, you can just take a leisurely stroll through the beautiful park that's just outside of the building and stretch your legs. They provide free coffee and tea, and there is a kitchen you can use.
If you're interested, be aware that you'll need to book a desk online, so don't just show up unannounced.
Open hours

Monday – Friday: 10 am – 6 pm
Saturday: 10 am – 6 pm
Sunday: 10 am – 6 pm

Price
Per two hours
JPY 600
Per day
JPY 1,500
Poliphony Is Our Least Favorite Space to Cowork in Hiroshima
Source: Poliphony
Poliphony is not actually a coworking space—it's a nursery. The idea is that both children and the parents stay at the same place for a while so that the children can gradually adapt to the fact that their parents are not around them all the time.
Of course, this means that the parents need to not be in the same room as the children all the time. See where I'm going with this?
They took a couple of rooms and adapted them to the parents' needs, so now there are a nap room and an office, which you can use for coworking. Unfortunately, the Wi-Fi is not great.
This is incredibly convenient if you have little kids and you're working part-time, so you can afford not to be as focused as you should. Unfortunately, the atmosphere is not conducive to work at all. Even if you don't have any kids and just want to use the space, you won't be able to concentrate. The parents are always coming and going, and everybody is chatting about how well or poorly their kids are adapting to the new situation. Most of the time, you can hear the children as well—even though the staff will try to persuade you that you can't.
All things considered, while this is an excellent idea for the children and the parents, the atmosphere is simply not productive enough for the rest of us.
Basics
Pricing
On-demand
High-Speed Internet
Yes
Open Hours

Monday – Sunday: 7 am – 11 pm

Ergonomics
Comfortable Chairs
Yes
Standing Desk
No
Workspaces
Dedicated Desks
No
Conference Rooms
No
Private Offices
No
Phone booths
No
Coliving
No
What to Do in Hiroshima
If you're traveling to the land of the rising sun, it's probably difficult to pick your main destination. Tokyo, Kyoto, and Hakone are all well-known tourist attractions and are some of the best places to live in Japan, with enough history, culture, and beautiful sites to satisfy even the most ardent of travelers.
Hiroshima, on the other hand, is often unjustly overlooked. There is so much the city can offer. Its history is rich and fascinating. The Hiroshima castle, built in the 16th century and rebuilt after World War II, was home to the daimyo—Japanese feudal lords—of the Hiroshima han. It is now a must-see historical museum. If you prefer newer history, you know that it was particularly painful for Japan, and there is an Atomic Bomb Dome in Hiroshima to prove it.
If you're more interested in the culture, you can't neglect the Buddhist temples and Shinto shrines. Mitaki-dera will take your breath away with the sheer beauty of the buildings, sculptures, and surroundings. You can't not visit Gokoku-jinja—it's an integral part of the life of every resident of Hiroshima. They celebrate Hatsumode (the first few days of the year) and Shichi-Go-San (the traditional rite of passage for children) there.
The parks are nothing short of amazing. Momijidani Park is a gorgeous, magical place that makes you feel calm and happy. Shukkeien, a historic Japanese garden, is a thing of beauty as well. Both of these places have a kind of enchanting atmosphere that pulls you in and makes you forget about your worries and your strife.