Known as the cultural capital of Bali, Ubud is a place everyone should visit in their lifetime. It is overflowing with museums, cultural landmarks, and breathtaking sites, but the truly amazing thing about it is the nature that surrounds it.
In a place such as this, it's incredibly easy to let all your worries disappear and to focus only on the environment, the culture, and the people surrounding you. Finding the best place to live in Indonesia seems to be the least of your worries. For a digital nomad, this is a trap to be avoided at all costs—their lifestyle depends on their ability to work hard first and play hard later.
One of the best ways to stay productive is to find a functional coworking space. It's much easier to focus on work if the environment is encouraging you to work instead of distracting you. Luckily, there are some fantastic coworking places in Ubud, and here are our top picks.
Hubud Is Our Number One Pick for Coworking in Ubud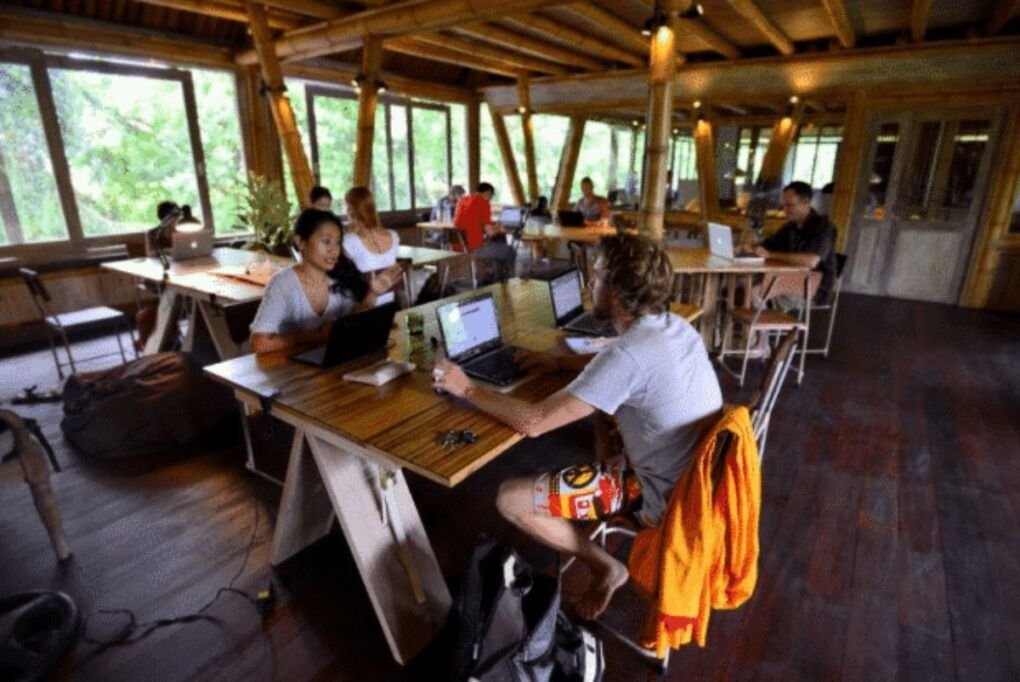 Source: Hubud: Ubud coworking community space
If you want a coworking space that is conducive to hard work, has a large and extremely social community, and is absolutely gorgeous, you've come to the right place. Hubud is all this and more.
Located across the street from the Sacred Monkey Forest Sanctuary, it is like an oasis of wilderness right in the center of the city. The bamboo construction gives it a tree-house vibe, and the surrounding vegetation makes you believe you're in a Tarzan movie.
If you're an animal lover, this is where you want to be. The space is cat and dog-friendly, and if you work by the window, you can see monkeys climbing the telephone wires!
The community of Hubud is a thing in itself. They are social and open, and you'll definitely feel welcome. There is an incredible number of events, workshops, lectures, or just casual gatherings organized on a weekly basis. The H-Pass (membership card and community connect card in one) allows you to get a discount for about 30 restaurants, bars, pubs, hotels, and other goods and services in Bali.
With all the perks, it's easy to forget about actual work, but don't worry—Hubud transforms work into pleasure. Facilities as fantastic as these will encourage you to work and create. Here are some of the things Hubud offers:
Hammocks, beanbags, ergonomic chairs, and standing desks
Free tea and coffee
Onsite canteen
Podcasting and Skype rooms
Personal lockers
A library
Printing equipment
Co-living
All this and more—friendly staff, great food, and a cool chill-out area—make Hubud the best place to cowork in Ubud. Don't hesitate to give it a go!
Basics
Pricing

Per day: IDR 229,000
Per month: IDR 2,943,000 (for unlimited access)

High-Speed Internet
Yes
Open Hours

Monday – Friday: 24 hours
Saturday: 9 am – 12 am
Sunday: 9 am – 12 am

Ergonomics
Comfortable Chairs
Yes
Standing Desk
Yes
Workspaces
Dedicated Desks
Yes
Conference Rooms
Yes
Private Offices
Yes
Phone booths
Yes
Coliving
Yes
Here Are Seven Other Coworking Spaces We Loved
Hubud is excellent, but it might be inconvenient if your accommodation is too far away. Maybe it's just not to your taste. Don't worry; we got you covered. Here are seven other impressive coworking spaces in Ubud.
Outpost Ubud Coworking
Outpost Ubud Penestanan Coworking & Coliving
Tempatkita Coworking Space
Hustlers Villa – Coliving & Coworking Bali
IGDORE Indonesia
Campus Ubud Coworking
The Onion Collective: Passion Lab
Outpost
Outpost boasts two locations in Ubud, and both are excellent. Here are the details for each.
Outpost Ubud Coworking
Source: Outpost
Outpost Ubud Coworking is a fantastic place for co-living and coworking. It is located about 10 minutes on foot from the Blanco Renaissance Museum. It's adjusted to the nomad lifestyle, and it is incredibly comfortable.
The co-living space is great in itself, with king-size beds and en-suite bathrooms. The only shared areas are the kitchen, the lounge, and the yard.
When it comes to coworking, Outpost doesn't disappoint. It provides high-speed Wi-Fi, and the space is air-conditioned. There are plenty of events organized for the members, who also have their own slack channel.
Outpost provides standing desks, beanbags, and ergo chairs, so the space is quite comfortable, even for long work hours. There are printing equipment, sound recording equipment, and computers if you need them.
Coffee and water come free of charge, but if you crave something fancier, there is a café on the premises. When you want to take a break and relax, you can enjoy the great lounge area, the swimming pool, and the pool table.
With a daily pass, you can only use the space during the reception hours, but a weekly or monthly pass will give you unlimited access to the premises. Any pass you get for this location is also valid for the other Outpost location in Ubud.
Open hours
24/7
Price
Per day
IDR 235,700
Per day
IDR 1,415,000
Per month
IDR 3,272,000
Outpost Ubud Penestanan Coworking & Coliving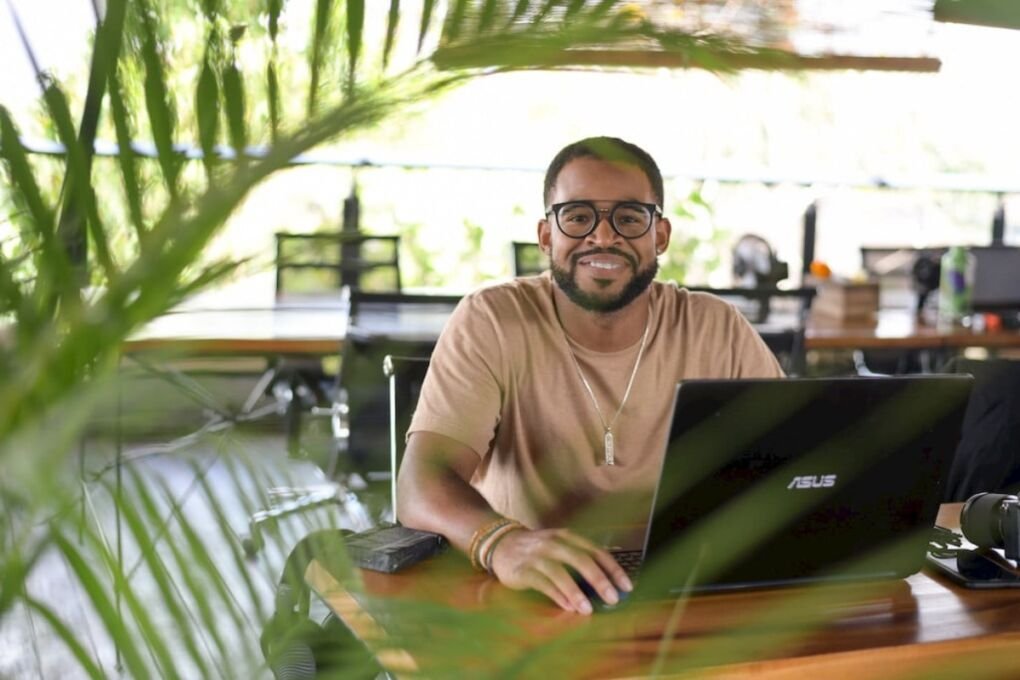 Source: Outpost
The other Outpost space is located at Jalan Penestanan, Sayan, Kecamatan. Outpost Penestanan is significantly more chill than the first location. The events they organize tend to be on the more relaxed side, with more parkour and salsa and fewer programming 101s.
The community is social and cheerful, and they have their own slack channel and Facebook group. Outpost organizes a lot of outings, like community lunches and drinks. There are enough workshops and events to satisfy even the most active among you.
The Wi-Fi is excellent, and there is air-conditioning, so the space is kept at a pleasant temperature. With beanbags, hammocks, ergo chairs, and standing desks, it's quite comfortable and adaptable to individual work styles.
There are Skype rooms, a kitchen, and a laundry service, as well as free parking on the premises. Outpost Penestanan also provides printing equipment and projectors.
Coffee and tea are free, but you have to pay for fancier drinks. The onsite restaurant is excellent, with many options suited for different dieting regimens, with vegan and gluten-free menus included.
If you need to relax after a long day of work, there is a chill-out area, a swimming pool, and a yoga studio, and you can even get a massage! The place is dog-friendly, so you can take your little buddy with you to act as stress relief during challenging moments.
There are so many perks to this beautiful coworking space, so try it out if you have the chance.
Open hours
24/7
Price
Per day
IDR 220,000
Per month
IDR 2,700,000
Tempatkita Coworking Space
Source: tempatkita
Tempatkita Coworking Space is another beautiful and relaxing place where you can work. It is located halfway between Museum Rudana and Njana Tilem Museum.
They offer excellent, uncommonly stable Wi-Fi. It's quite a cozy place, with bean bags everywhere, but they have no standing desks. The aesthetics of the space are pleasing and inspiring, with a gorgeous little pool and wooden elements of the construction.
They have a kitchen and a Skype room. There are free coffee and tea, and alcoholic beverages that you can buy on site. There is an onsite café in case you're craving a large, creamy mochaccino—but they'll charge extra.
Open hours
24/7
Price
Per hour
IDR 30,000
Per day
IDR 122,500
Per week
IDR 420,000
Per month
IDR 1,750,000
Long term
Three months: IDR 1,567,500/month

Six months: IDR 1,485,000/month

A year: IDR 1,402,500/month
Hustlers Villa—Coliving & Coworking Bali
Source: Hustlers Villa
Hustlers Villa is another coworking space that prides itself on the community it managed to build. They host all sorts of fun events and workshops for their members and organize community lunches and nights out. The members have a Facebook group to keep them connected.
No matter what your preferred style of working is—at a desk, on a couch, or lying down—you'll find something that suits you well. There are standing desks and, ergo-chairs, and if you are a less traditional cookie, there are bean bags and hammocks as well.
The equipment they provide for their members is genuinely astounding. They offer printers, projectors, and computers, of course, but they also have green screens and drones!
There is a kitchen available, as well as showers and laundry service. There is a retail store on the premises, which is especially convenient as the Villa is also a co-living space. The onsite restaurant is impressive, with options such as vegan and halal menus.
Tea and coffee are free, and there is a barista to whip something up for you if you want—but for this pleasure, you have to pay extra.
Hustlers Villa is cat and dog-friendly, so you can bring your furry friend to keep you company while you work. There are plenty of board games you can enjoy with other nomads, and there is a library for the times when you want to find your inner Belle. You can even get a massage when you feel too tense from all the hard work you've been doing. What's not to like?
Open hours
24/7
Price
Per day
IDR 120,000
Per week
IDR 714,000
Per month
IDR 1,750,000
Long term
Three months: IDR 1,610,000/month

Six months: IDR 1,540,000/month
IGDORE Indonesia
Source: Coworker
IGDORE Indonesia is located less than two minutes walk from Bali Shell and about five minutes on foot from the Agung Rai Museum of Art.
It's a nice, quiet coworking space. It has fast and reliable Wi-Fi as well as ergonomic chairs, but no standing desks or beanbags, so the options are a bit limited. The outdoor chill-out area is fine but a bit cramped. They provide printing equipment and offer free coffee and drinking water to their guests.
You can use their kitchen, and there is a cute little library to browse through.
All in all, it wouldn't be our first pick, but IGDORE is a decent enough coworking space to frequent if your living arrangements are nearby.
Open hours
Monday – Friday: 9 am – 5 pm

Weekend: 9 am – 5 pm

Price
Per day
IDR 150,000
Per week
IDR 700,000
Per month
IDR 2,700,000
Long term
Three months: IDR 2,376,000/month

Six months: IDR 2,295,000/month
Campus Ubud Coworking
Source: Campus Ubud Coworking
If you're an artistic person who does creative work, Campus Ubud Coworking is the space you want. The interior is beautifully decorated, with large prints of Raider-White tarot cards hanging from the walls, among other gorgeous art pieces. There are also murals on the walls and fun little sculptures scattered around. The coworking space is a piece of art itself.
They have stable Wi-Fi, standing desks, and ergo chairs, as well as printers and projectors. There are Skype and podcast rooms you can use.
What makes the space unique, though, is the fact that they offer childcare. You can actually bring your kid with you, and they'll take care of him or her. This is a fantastic option for moms and dads who don't want to give up on the nomad lifestyle, as well as for those who have to work on vacation.
The onsite café and restaurant are great and offer many healthy options. If you follow a special diet, you'll probably appreciate menus for vegetarians and vegans, as well as halal and paleo menus.
Open hours
Monday – Saturday: 8 am – 10:30 pm
Price
Per day
IDR 150,000
The Onion Collective: Passion Lab
Source: The Onion Collective
Passion Lab is situated a mere 10 minutes walk from the Sacred Monkey Forest Sanctuary, and it's just down the street from the Agung Rai Museum of Art.
It's great if you dread bromads, who can be found in all the other coworking spaces, and want to avoid them at all costs. The internet is fantastic—it is fast and reliable, and it holds a constant speed of 80 Mbps for download and 20 Mbps for upload, with a 4ms ping. You can do more internet-demanding work—for example, video conferencing or online teaching—with no worry that the Wi-Fi will break at an inopportune moment.
They offer podcasting and Skype rooms, a 3D printer, and free coffee. There isn't a restaurant onsite, but there are many in the surrounding area, and you can order the food and have them bring it to your table.
Finally, this is easily the cheapest option in Ubud, so it's great if you are on a budget!
Open hours
Every day: 8:30 am – 8 pm
Price
Per day
IDR 50,000
Per week
IDR 300,000
Per month
IDR 1,000,000
Laduma Ubud Is Our Least Favorite Space to Cowork in the Town
Source: TripAdvisor
Many people choose to cowork in Laduma because of its pleasant atmosphere and great food. It is a cozy, romantic, relaxing place with a great view, and as such, can be conducive for work, especially for nomads who earn their living doing something creative. If you happen to be there around twilight, you'll be rewarded with possibly the most inspiring sunset ever. It might just be the place for you if you're in an artistic line of work, and you can ignore the following downsides:
Lack of power outlets
Slow Wi-Fi
Uncomfortable chairs
Distracting atmosphere
You can find power outlets there, but not all tables have them close. That means you'd need to grab the ones that do before somebody else does, or you'll only be able to work for however long it takes your laptop battery to die.
The Wi-Fi is 3.6 Roentgen—not great, not terrible. It turns into a full-blown nuclear disaster as soon as there are more than a few people using it. You can make do if your job doesn't require a stable connection, but if you need a steady flow of data, you'll only get frustrated.
Chairs are meant for a restaurant, and they're pretty good as far as their original purpose is considered. You can have a meal and a drink without feeling uncomfortable, and you can stay for a few hours without any issues. If you want to work for six or more hours, it's a different story. Once you're done with work, your back will be killing you.
When it comes to the atmosphere, it's a great place to take your S.O. for a romantic date or to just chill and maybe read a book. Many of us are likely to be distracted by the constant comings and goings, though, and this is a popular restaurant. You may not be able to avoid accidentally overhearing other people's personal conversations, and that can be distracting as well.
All in all, while Laduma is a cute restaurant that you absolutely should visit when in Ubud, it's not all that great for coworking.
Basics
Pricing

You pay only for drinks and meals

High-Speed Internet
No
Open Hours

Monday – Friday: 8 am – 10 pm
Saturday: 8 am – 10 pm
Sunday: 8 am – 10 pm

Ergonomics
Comfortable Chairs
No
Standing Desk
No
Workspaces
Dedicated Desks
No
Conference Rooms
No
Private Offices
No
Phone booths
No
Coliving
No
If you're interested in finding even more of the best modern coliving and coworking spots in Indonesia outside of Ubud, rest assured, we've got your back.