Shanghai, also known as the New York of Asia, is the biggest city in China and one of the best places to live in Asia. Digital nomads love to start their exploration of China in Shanghai because of its colonial history and international culture. A popular expat destination, Shanghai is a cosmopolitan city where almost everyone speaks English which makes it one of the best places to live in China for expats.
March to May is the best period to be a digital nomad here since the weather is pleasant compared to the cold winters and rainy summers. If it's your first time in Shanghai, take a look at this travel vlog. With over 100 coworking spaces in Shanghai, you will have no trouble finding the one that suits your needs. Here are our suggestions for spaces to try and avoid.
Agora Space Is Our Favorite Place to Cowork in Shanghai
Image source: Agora Space Facebook
Agora Space is located in the Xuhui District, 15 minutes from Hongqiao, one of the four major stations in Shanghai.
We love that instead of open space, Agora Space has several rooms with 10–20 desks and private offices on three floors. The underground area used to be a bomb shelter, and now it's full of gorgeous paintings, bean bags, and ergonomic furniture. Agora Space also offers a daycare area for children and an outdoor terrace perfect for brainstorming and lunch.
All their routers have built-in VPNs, so the Internet is fast and works without a glitch. The space also has rooms for monthly rent, with prices depending on whether you want a private bathroom or a kitchen.
Basics
Pricing
CNY 1,160 per month
High-Speed Internet
100 megabit fiber
Open Hours

Monday – Friday: 24 hours
Saturday: 24 hours
Sunday: 24 hours

Ergonomics
Comfortable Chairs
Yes
Standing Desk
Yes
Workspaces
Dedicated Desks
Yes
Conference Rooms
Yes
Private Offices
Yes
Phone booths
Yes
Coliving
Yes
Linckia Is Our Least Favorite Place to Cowork in Shanghai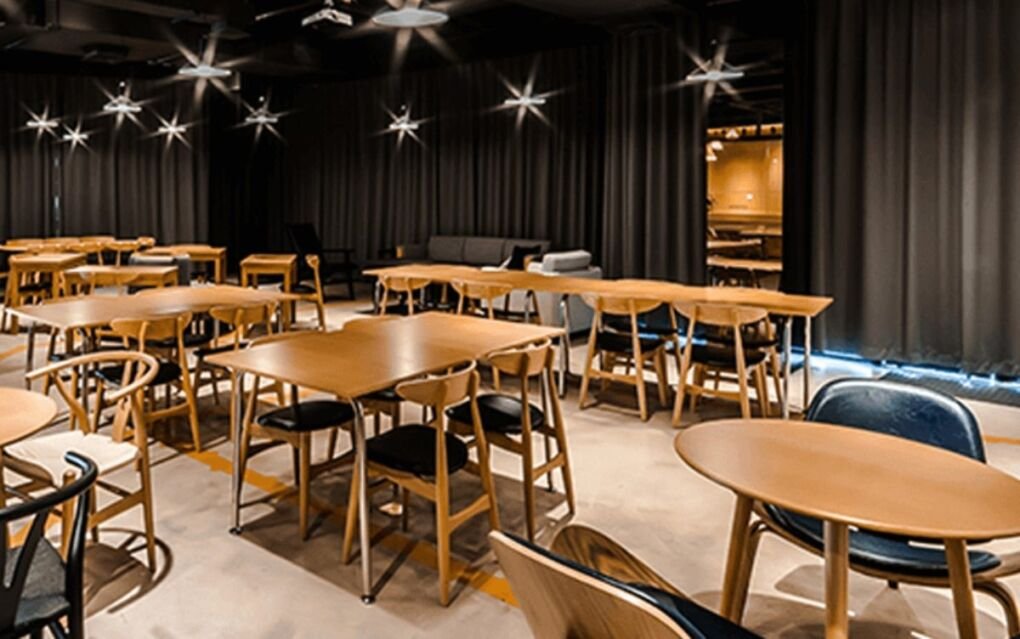 Image source: Linckia Website
Linckia is in the Yangpu District, a Shanghai area full of universities and residential buildings. There are a lot of eateries around, while the Tiantian Changba Tea Garden is barely 20 minutes away.
While this coworking space has private offices and conference rooms, it lacks some basic things like ergonomic chairs. It can get crowded surprisingly fast, as students from the local universities come here to study, so make sure to bring your earphones. Linckia may not be a great place for individual work, but it's a big space perfect for events and presentations. A Skype room and phone booths give it extra points, but not enough to spend all your working hours there.
Basics
Pricing
CNY 1,000 per month
High-Speed Internet
100 megabit fiber
Open Hours

Monday – Friday: 9 am – 11:30 pm
Saturday: 9 am – 9 pm
Sunday: 9 am – 9 pm

Ergonomics
Comfortable Chairs
No
Standing Desk
No
Workspaces
Dedicated Desks
Yes
Conference Rooms
Yes
Private Offices
Yes
Phone booths
Yes
Coliving
No
Five Coworking Spaces in Shanghai We Also Love
If you are in Shanghai, make sure to check these coworking spaces:
 XNODE
WeWork
MIXPACE Wonderwall
KrSpace
Arcc Offices
XNODE
Image source: XNODE Website
XNODE is in the Jing'An District, one of the central districts in Shanghai.
If you are looking to make friends in the startup community, XNODE is the right place. This coworking space gathers people, innovators, and startups in one place and helps them team up on projects. Lots of natural light and a café on-site will help you stay awake and focused on your work. Conference rooms and private offices are also available, and dedicated desks are wide enough to offer privacy in large spaces. Pay attention to events if you are looking for new business opportunities.
WeWork
Image source: WeWork Website
WeWork is located in the Huangpu District and has coworking spaces all over Shanghai.
Being in the city's central districts attracts a lot of foreigners, which is what makes WeWork an ideal place for networking. Besides offering private offices and dedicated desks, this space also has hot desks in the nooks. Although ergonomic chairs are scarce. Luckily, if you bring your travel stand desk, you can work standing up. This coworking space has a ping pong table, and the lounge area is perfect for having free beer or coffee.
MIXPACE Wonderwall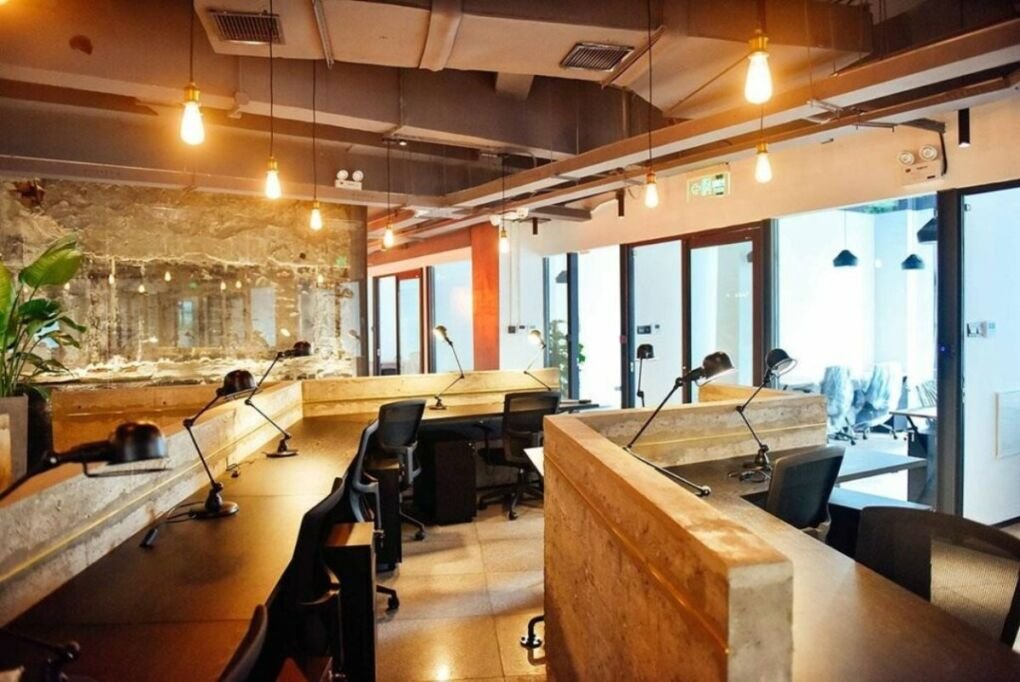 Image Source: Mixpace Wonderwall Website
MIXPACE Wonderwall is on West Nanjing Road in Wonderwall, a historical building in Shanghai. Metro lines 2, 12, and 13 stop near Wonderwall.
The first thing you notice in this coworking space is the modern design full of wood. This space has several perks, including standing desks, a nursing room, and a shower room. With CNY 2,700 for a desk per month, this is among the pricier coworking spaces in Shanghai, but the quiet and comfortable atmosphere is worth it. MIXPACE is pet-friendly, so you can bring your furry friend with you to keep you company.
KrSpace
Image source: KrSpace website
KrSpace is located in the quiet Changning District, close to metro lines 2, 3, and 4.
With bike storage and 24/7 access, KrSpace is popular among digital nomads and locals. The staff will welcome you with complimentary coffee and tea, and you can buy snacks at the café. Private offices are equipped with ergonomic chairs, while hot desks have regular ones that are a bit uncomfortable. Projectors are available in conference rooms and upon request for the common area during events and workshops.
Arcc Offices
Image source: Arcc Offices Website
Arcc Offices occupies the 12th floor of the Platinum Tower in Shanghai's Xintiandi District. It is a couple of minutes away from the Huangpi South metro station, and it has a great view over Taipingqiao Park and the lake.
The staff is friendly, and the lounge area is perfect for meeting new people. This space offers dedicated server space with data security protocols in place for a fee. If you want to impress your clients or partners, Arcc Offices' modern design will certainly win you a few points.
Here Are Other Coworking Spaces in Shanghai: