Internet-based work offers plenty of advantages. There's no need to leave your home and suffer terrible weather just to get to work. You're not bound to one place and can instead work wherever you please. You're the master of your time as you set up your own schedule.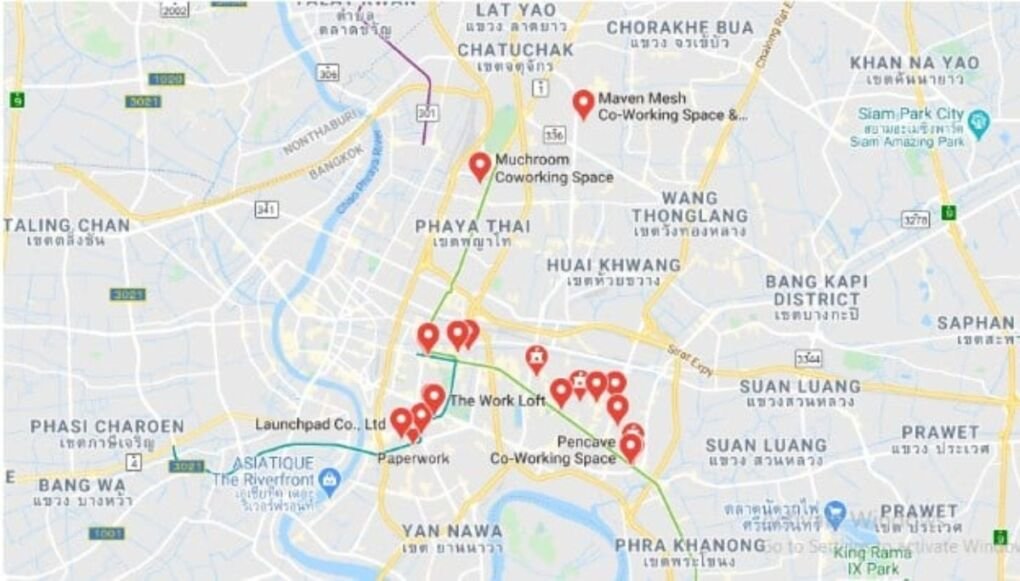 Simply put, it allows you to take the opportunities you would otherwise have to miss. You can travel around in search of inspiration, or you may simply decide to bring some work with you when you go on vacation. The workaholics among you don't even have to leave work to go on holiday — they can have their cake and eat it too!
Read More: Find out what the most fun things to do in Bangkok are to add to your itinerary.
Pros and Cons of Working From Home
To be perfectly honest, though, some of these advantages get old in no time. You don't have to deal with traffic and bad weather, but you get a bit lonely without any colleagues to keep you company. Your time is your own, but more often than not, you'll find yourself distracted by amazingly diverse issues.
You'll be hungry, and your fridge is just a few paces away. You'll get a sudden urge to brush your teeth. And, well, seeing that your focus is a bit off today, you might just take a short nap and do the work a tiny bit later.
You don't have to take days off work to travel, true. Still, when you do take your work with you on holiday, doesn't it seem like an awful waste to spend half a day locked up in your hotel room?
A clever solution to all the problems associated with working from home is a coworking space. It allows you to go out on the days you feel a bit restless. When you get stuck, a change of environment might be enough to get your productivity back on track. Coworking spaces are often organized and decorated in a way that boosts mood and motivation, so that is an additional plus. And most importantly, they keep you from being cooped up in your room when on vacation.
Discover Great Coworking Spaces in Bangkok
When you're in Bangkok, the last thing you'll want to do is stay in your apartment. Work or no work, you'll want to go out and experience one of the best places to live in Thailand. So, you see, finding a great coworking space is imperative for a pleasant work holiday.
In a city of that size, it might be a bit intimidating even to try to find a good place to work as it is the most visited city, which is one of the interesting things to know about Thailand. That is why this article offers you a list of the eight best coworking spaces in Bangkok, organized by their proximity to the most popular tourist areas.
The Hive Is Our Favorite Coworking Space in Bangkok
Source: The Hive (Thonglor)
The Hive is situated only 5 minutes by car from Thonglor BTS station, and it's probably one of the largest and fanciest coworking spaces you'll see. It occupies five floors, and there is a lounge area on the rooftop. The environment is beautiful and cozy, with plenty of sunlight and gentle color schemes, so it's a great place to work.
Aside from the basics, they offer personal lockers, printers, scanners, photocopiers, and free beer and coffee. The Hive is open from 8 am to 8 pm, Mondays through Fridays, but it doesn't work on weekends. They charge 350 THB/day.
Basics
Pricing

Per day: THB 350
Per month: THB 3,600

High-Speed Internet
Yes
Open Hours

Monday – Friday: 8 am – 8 pm
Saturday: Closed
Sunday: Closed

Ergonomics
Comfortable Chairs
Yes
Standing Desk
Yes
Workspaces
Dedicated Desks
Yes
Conference Rooms
Yes
Private Offices
Yes
Phone booths
Yes
Coliving
No
We Loved These Coworking Spaces Too
If you don't love The Hive as much as we do, that's perfectly fine. There are many more wonderful coworking spaces in Bangkok. Here are our favorites:
Poolsub Space
Hubba
Kliquedesk
E88
ONEDAY|Forward
Cluster
Coworking Spaces in Riverside
Riverside is probably the most peaceful area of Bangkok. The traffic is less troublesome than in other, busier areas. It's practically an oasis in the middle of an extremely urban environment. Unfortunately, coworking spaces are scarce there, so here's our top pick.
Poolsub Space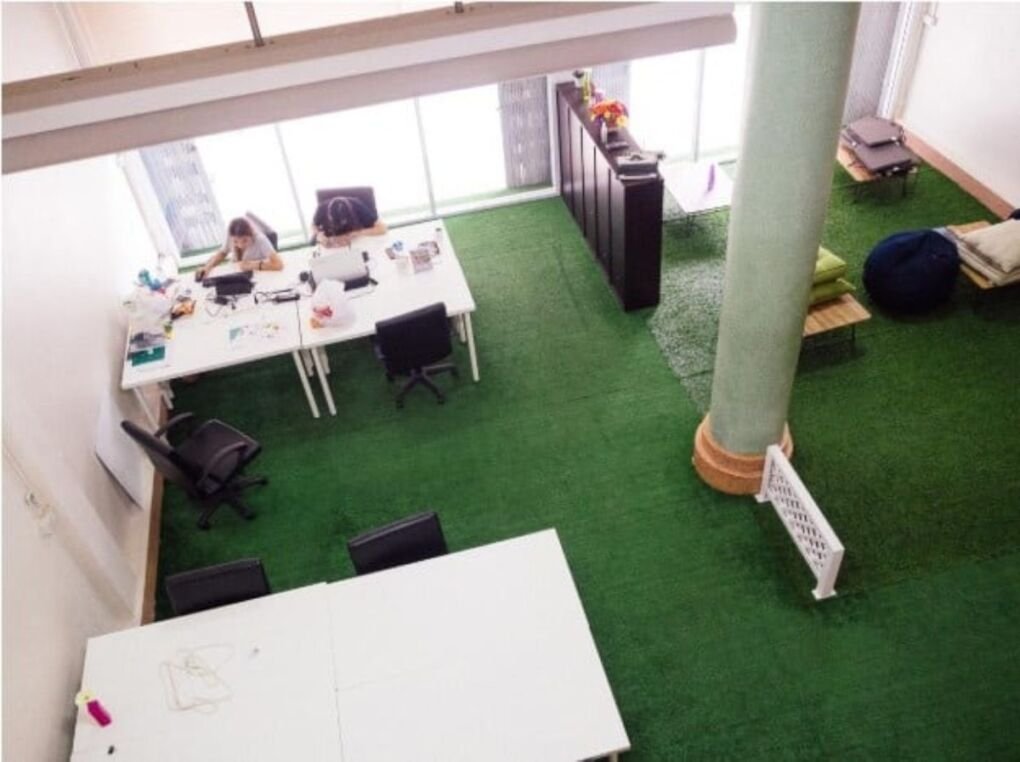 Source: Poolsub Space
On the right side of the Chao Phraya River, Poolsub Space boasts a super convenient location for anybody staying in the Riverside area. They work Monday through Saturday, from 8 am to 8 pm, but are closed on Sundays. The prices start at 750 THB/day, and the space is pet-friendly.
When you get tired of all the hard work, there are options to pick from. They offer:
Free snacks;
Free tea and coffee;
An outdoor terrace and a chill-out area.
Everyone needs a break from time to time, right?
Coworking Spaces on Sukhumvit Road
If you're staying somewhere in the Sukhumvit Road area, you're probably enjoying the nightlife. You may not be sure where to go to get some work done, though. Some of the best coworking spaces Bangkok has to offer are in this area. Here are the most important ones.
Hubba
Source: HUBBA Thailand
Now, Hubba can be found in three locations. The first is about ten minutes from Ekkamai station. Prepare to be amazed: this coworking space offers a trampoline. If that is not enough for you, fine. It also provides standing desks, bean bags, scanning and printing equipment, and a separate Skype room. There's an outdoor terrace, a chill-out area, and free beer. This is the only Hubba that accepts credit cards, and it works Monday through Sunday, from 9 am to 10 pm.
The second Hubba is at the Habito Mall Phra Khanong Nuea, and it's open 24 hrs/a day, seven days a week. Finally, the third is at the Siam Discovery. This one is open 24 hrs/a day, Monday through Friday.
For all three Hubbas, the prices start at 290 THB/day.
Kliquedesk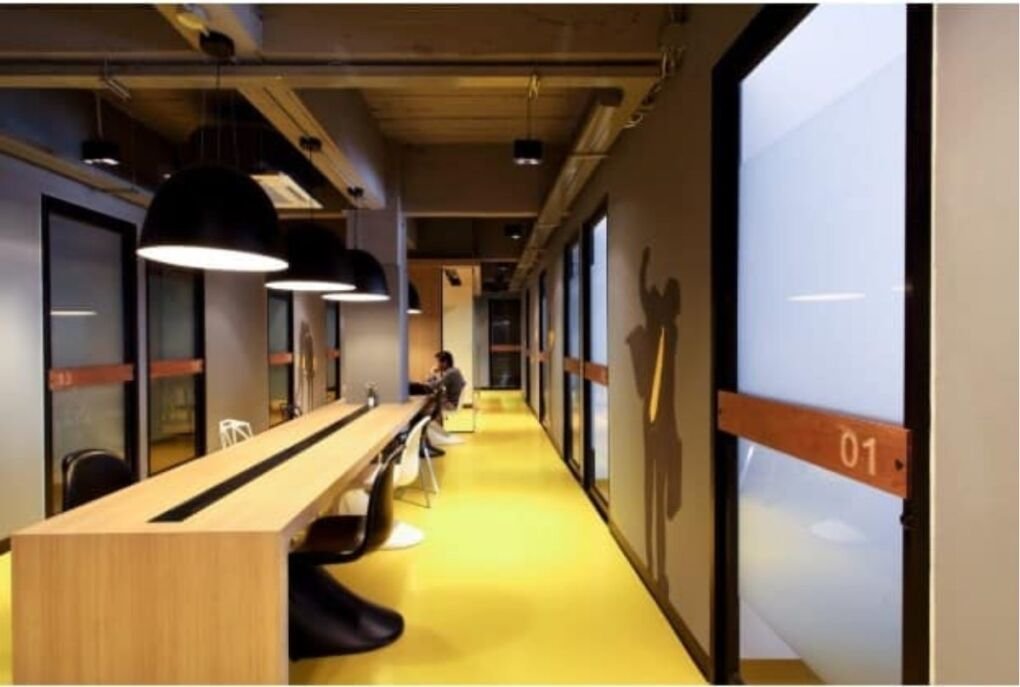 Source: Kliquedesk
Conveniently placed, Kliquedesk is only a five-minute walk from Sukhumvit downtown. It is also close to Nana BTS station. They offer free parking on-premise, ergonomic chairs, and free coffee.
The interior is painted bright yellow, which makes it a bit unusual in comparison to other coworking spaces, which usually favor neutral colors. Still, yellow is said to improve mood and increase optimism. So, if you've been feeling a bit down, this is the place that is most likely to cheer you up.
They are open from 9 am to 7 pm, Mondays through Saturdays, and charge 300 THB/day.
E88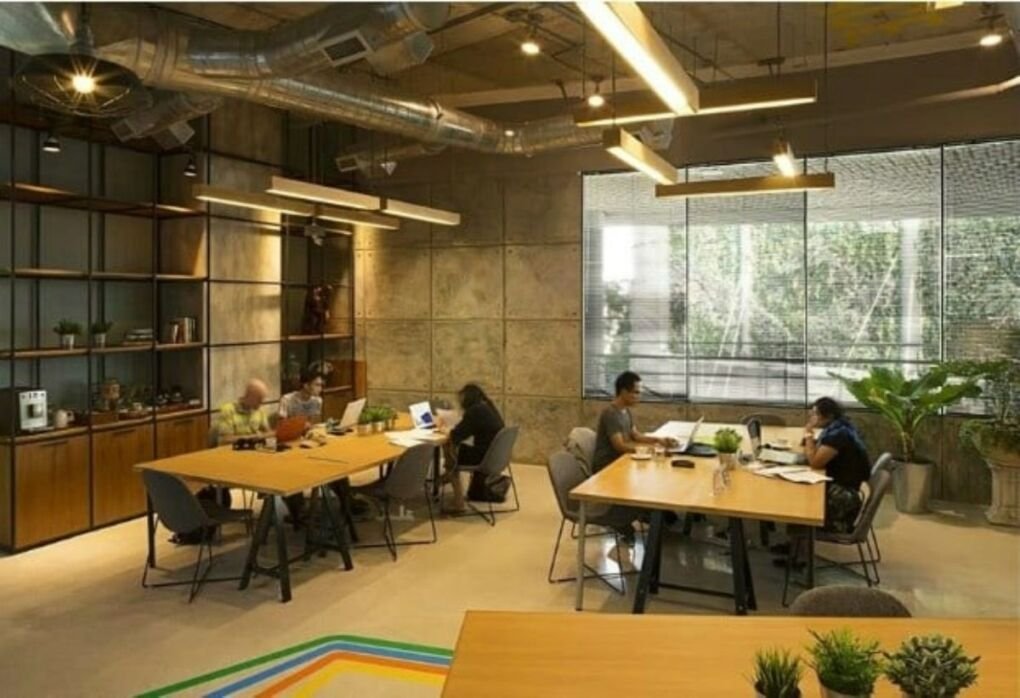 Source: E88 Bangkok
E88 is located in—you've guessed it—the E88 Building. They offer printing equipment, personal lockers, and free coffee and drinking water. The location of the coworking space is great because the building has a large parking lot, and there are restaurants nearby for when you start feeling peckish.
The interior is interesting, with a few pops of color here and there and little plants scattered around on shelves. There is plenty of space, and the lighting is excellent.
Here you can pay 150 THB for two hours or 300 THB/per day. They are open every day from 9 am to 10 pm.
ONEDAY|Forward
Source: ONEDAY
ONEDAY|Forward is a part of a hostel, so it's convenient if you want to go out of your room but don't feel like actually going somewhere else. If you don't stay at the hostel, this coworking space is probably worth visiting even if you don't have to work.
Simply put, it's beautiful. It's all earthy and green, and it's decorated with lots of plants in the corners, on the shelves, by the computer, and hanging from the ceiling. The atmosphere is great for creative work.
Other than pure beauty, this coworking space offers a ping-pong table, library, and kitchen. There is a chill-out area and free coffee.
They are open 24 hours a day, seven days a week. The price per day is 350 THB.
Cluster
Source: CLUSTER Office
Cluster is situated in SSP Tower in Ekkamai. They provide an extremely pleasant environment, 24-hour security, printing equipment, and a comfy chill-out area. There is a library and free coffee and tea.
Opening hours are every day from 9 am to 6 pm, and the monthly membership will cost you 2,500 THB.