Usually, when planning a trip, the preferred time to visit Ireland is in the Summer.
Despite the rain, the locals are always friendly, and it's an off-tourist season, so seeing attractions is much easier… Winter in Dublin also makes for a significantly more affordable trip with fewer tourists and a more relaxing atmosphere. Make sure to dress warmly and bring an extra beanie to enjoy everything Ireland offers in the winter.
Here's the best information for the best time to go to Ireland, tips on what to do in Winter, and the best places to visit on your trip.
Next read: For an affordable stay in this stunning city, discover the best hostels in Dublin.
Weather in Winter in Dublin, Ireland
You can bank on more rainy days than not during Dublin winter; however, snow is rare. It may rain for the whole day or drizzle during parts of it, but don't let that impact your day, as most activities are indoors. On average, there are 31 days of rainfall during the winter months. The season starts with 2.9 inches and ends with 2 inches but rarely exceeds 4.7 inches of rainfall.
Winter in Ireland occurs in December, January, and February, which include the darkest and shortest days of the year. The average temperatures in Dublin in winter range from 30ºF to 40ºF. For some, this may not be the best time of year to visit Ireland; however, winter offers a beauty that the warmer months simply cannot provide.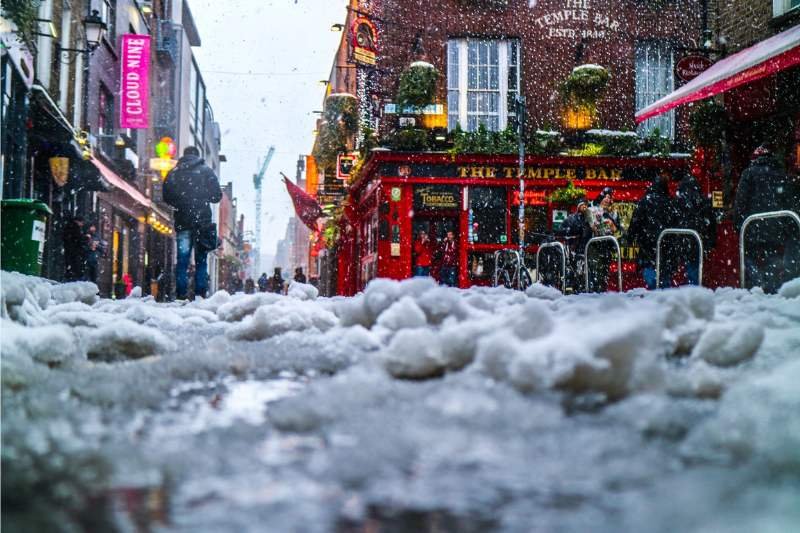 Top Activities in Dublin in Winter
While winter brings cooler temperatures, there are still plenty of exciting activities and adventures.
You'll be in a winter wonderland, whether you're gazing at terrific Christmas lights or visiting museums. And don't no Dublin trip would be complete without tasting some of the world's most famous beers and whiskeys. Winter really is one of the best times to travel to Ireland.
Taste Irish Whiskey at Jameson Distillery Bow St.
Combat the cold by embarking on an exciting whiskey tour at Jameson Distillery Bow St. Irish whiskey was and still is one of the most iconic distilled drinks in Europe because it was one of the first available. Ireland has been creating whiskey for over 200 years, so it's a no-brainer to explore this aspect of Dublin's history.
The distillery serves as a museum with interactive exhibits, guided tours, and premium whiskey-tasting experiences. You can get yourself a customized whiskey bottle with a personalized label printed on it, making it the perfect festive season gift.
Gaze at Art in the National Gallery of Ireland
Various Irish and European artworks call the National Gallery of Ireland in Merrion Square Park home. It was founded in 1854 and holds about 2,500 paintings and 10,000 artworks, including sculptures, drawings, and prints.
Some of the finest works in the gallery's collection include The Marriage of Strongbow and Aoife by Maclise and The Meeting on the Turret Stairs by Burton. Other artists works can be viewed, including Rembrandt, Van Gogh and Titian. Visiting the gallery is free but make sure to book your free ticket in advance. It is open from 9:30 until 17:30 from Monday to Saturday and Sunday from 12:00 until 17:30.
Marvel at the Christmas Markets
Dublin lights up during December with hundreds of sparkling lights. A great way to enjoy the festive season is to immerse yourself in the magical atmosphere by strolling around the Christmas markets. You will encounter artwork, unique crafts and gifts, and delicious food.
One of the most popular Christmas markets is the Dublin Castle Christmas Market, which features thirty traditional alpine stores in the courtyard. Mistletown Christmas Festival, Christmas Bazaar Market, and Swords Castle Christmas Market are a few other stunning options that you explore when in Dublin.
Top Places to Visit in Dublin in Winter
Explore St. Patrick's Cathedral
This must-see building is one of few structures still available from medieval times and is one of the most popular attractions to visit during winter because of its historic value. It was created between 1220 and 1260 to honor Ireland's patron, Saint Patrick.
The Discovery Space exhibit is a new feature in the building with iPads that play music and provides interesting information about the site's heritage. The Cathedral is covered in marble amd has several dozen magnificent stained-glass windows. It is 323 feet high and 174 feet wide accompanied by memorable bronze doors at the entrance. Self-guided tours last 40 minutes, but there is an option to go on a guided tour.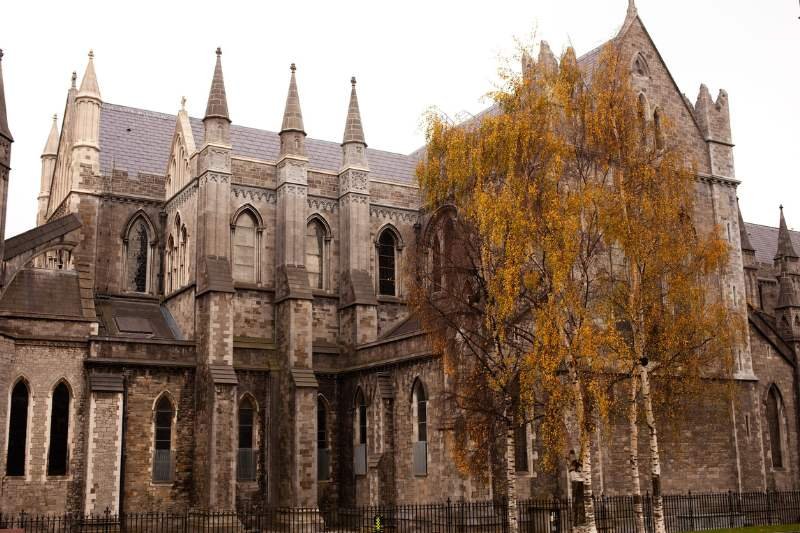 Dine at a Snug Restaurant
Take a break from the cold by dining at a comfortable restaurant or a unique pub in Dublin city with hearty meals and crackling fires. Visit Etto, meaning 'little,' for a romantic dinner near the Dublin National Gallery. This snug, warm environment offers excellent company and delicious meals.
The Old Spot offers classic, timeless pub grub and delicious beer. The popular meals include pies, burgers, and beer-battered fish and chips. This relaxed atmosphere with a fire is a must for groups of friends and families.
Mr. Fox is a modern restaurant offering unique creations in a laid-back atmosphere. Local, seasonal produce is used to create a set menu. Reservations are recommended even though walk-ins are possible.
Discover the Dublin Zoo
An evening walk in the Dublin Zoo is a must and is a lovely outing for families and friends to enjoy together. It is one of Dublin's most popular attractions, holding more than 400 exquisite species of endangered animals, including gorillas, wolves, and the scimitar-horned oryx.
There's a breathtaking Wild Lights exhibition transforming the zoo into a dreamy destination in winter, opening from 17:00 to 22:00 during October and November and an hour earlier for December and January.
Visit the Guinness Storehouse
The Guinness Storehouse in St. James's Gate serves as a fermentation plant for the famous Guinness brewery. It hosts over a million people a year to explore the history of Guinness and offers a complimentary pint of beer.
A guided tour is recommended to learn about dark ruby beer and what goes into making it. You can also learn about their marketing campaigns and slogans on this tour. The tour ends with a visit to the Gravity Bar to sip on a chilled pint of beer.
Top Tip: If you like the sound of the Guinnes Storehouse, consider reading about unique food adventures in Dublin.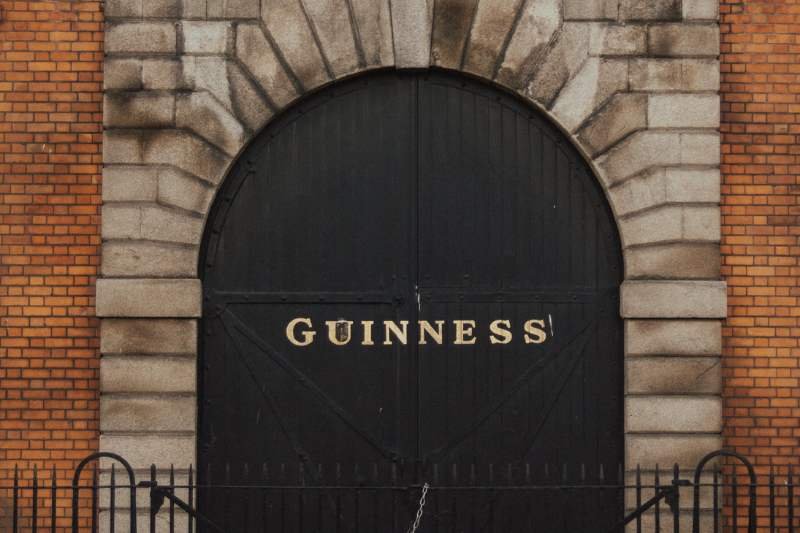 Explore Dublin's Historic Castle
Built in 1204, this is one of the most notable buildings in Ireland. The castle was built on a historic Viking settlement and served as administrative quarters for hundreds of years. The original castle was created as a medieval fortress but got damaged due to a devastating fire in 1648.
As a result of its reconstruction, many of the Viking and medieval features have been preserved, including curtain walls and steps leading into a moat.
Castle tours are about 70 minutes long, and you can attend any day of the week between 09:45 am to 17:45. A walking tour of the city is also a lovely way to explore the castle and surrounding attractions.
FAQs
1. When is the Best Time to Visit Dublin, Ireland?
The best time of the year to visit Dublin is between June and August for the warmer weather and summer festivals. This, however, is the most expensive time to visit Ireland, with high accommodation rates and airline tickets, as many tourists flock to experience the same benefits.
On the contrary, visiting Dublin in winter allows you to avoid breaking the bank and skipping the crowds to enjoy a memorable experience of Ireland. The winter months also offer a cozy festive season that can allow for quality time spent with friends and family.
So if you don't mind colder temperatures and a little rain, you'll be able to enjoy all the things to do in Dublin at an affordable price in.
2. What to Wear in Dublin in Winter?
When considering what to wear in Dublin in the winter, your travel wardrobe should include thick sweaters, long coats, and plenty of layers. Jeans or thick trousers are recommended to keep the cold and rain away. Darker, neutral shades of clothing that can be worn on multiple occasions are advised to avoid creating a heavy load of luggage.
Long sleeve tops and hoodies are recommended to layer up. Don't forget to include a heavy-duty umbrella and a long waterproof jacket for rainy days in Dublin. Thermal undergarments are suggested, but this is not necessary, as you can get by with just layering.
A beanie, a thick scarf, and some gloves will add that extra layer of warmth to keep you nice and cozy.
3. Do I Need a Car to Visit Dublin?
The city has excellent and reliable public transport, extending far into the suburbs. You also have quick access to other European countries with a short flight. Find out more information about purchasing a Leap Card to get around Dublin quickly.