Known as the City of Eternal Spring, Medellin is the second-largest city in Colombia that has turned into a modern metropolis in the last two decades. Metrocable is one of the most popular landmarks here, taking visitors over barrios and lush Aburrá Valley.

Medellin used to be one of the most dangerous cities in the world less than a decade ago, thanks to Pablo Escobar and his drug cartel. Today, this city has left its dark past behind and has become one of the favorite destinations for digital nomads and expats and is considered one of the best places to live in Columbia.
The low cost of living, mild climate, and lots of coffee shops and coworking spaces attract foreigners from all over the world to create their work base here. Inexpensive public transportation and medical care, as well as friendly locals, are also incentives to come and live here. If it's your first time in Medellin, take a look at this travel vlog.
In recent years, Medellin has become one of the favorite South American destinations for digital nomads. It has over 40 coworking spaces, and here are the ones that stand out.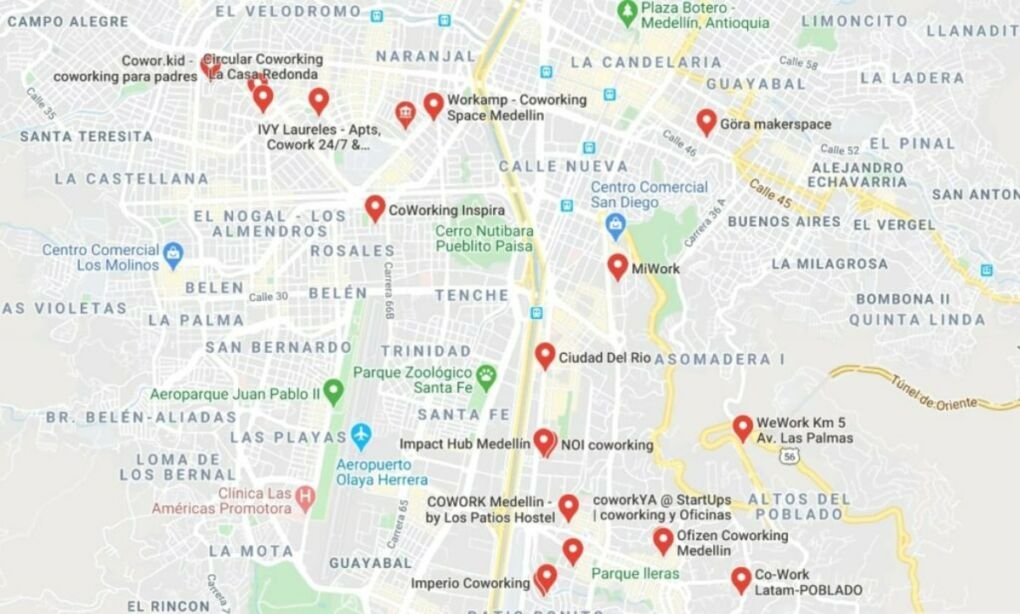 Tinkko Milla De Oro Is Our Favorite Place to Cowork in Medellin
Image source: Tinkko Milla de Oro Facebook
Tinkko Milla de Oro occupies the 15th and 16th floors of the Golden Mile building in the most popular neighborhood in the city — El Poblado. Metro-A line and bus Gascuña 2 are a few minutes away on Avenida El Poblado. Starbucks is on the first floor of the same building, and there are many affordable hostels in the area, like The Black Sheep Hostel and Rango Boutique Hostel.
The space is well lit, and you can even book a seat by the windows and enjoy the view of the whole Medellin. Ergonomic chairs and standing desks will make sure you are comfortable and without back pain even after hours of working. With a 3D printer, Chromecast, scanner, printer, and projector, this is a great working space for business meetings, workshops, and presentations.
The lounge and chill-out area are perfect to de-stress, while the onsite café serves excellent coffee for a reasonable price. If you want to meet other coworkers, stop by their signature Tinkko Nights event to mingle.
Basics
Pricing

COP 55,125 per day
COP 495,500 per month

High-Speed Internet
100 megabit fiber
Open Hours

Monday – Friday: 7 am – 8 pm
Saturday: 7 am – 2 pm
Sunday: Closed

Ergonomics
Comfortable Chairs
Yes
Standing Desk
Yes
Workspaces
Dedicated Desks
Yes
Conference Rooms
Yes
Private Offices
Yes
Phone Booths
Yes
Coliving
No
Imperio Coworking Is Our Least Favorite Place to Cowork in Medellin

Image source: Imperio Coworking Facebook
Imperio Coworking is located in the south of Patio Bonito District, some 25 minutes away from the Medellin downtown by Metro-A line. This is a commercial sector with shopping centers, restaurants, and hotels. It is also only 10 minutes away from one of the most beautiful parks in the city Parque Lineal La Presidenta.
This coworking space is far from nonfunctional and has the potential to turn into a prime coworking space one day. It seems too small and narrow because of the badly positioned workstations. The lack of ergonomic furniture is another downside, and frequent breaks to stretch can ruin productivity and posture. The presence of high-profile coworking spaces in the area may inspire upgrades in the future. For now, a pet-friendly policy and TED talks are the most attractive aspects of this coworking space.
Basics
Pricing

COP 50,000 per day
COP 150,000 per week
COP 450,000 per month

High-Speed Internet
100 megabit fiber
Open Hours

Monday – Friday: 7 am – 8 pm
Saturday: 7 am – 1 pm
Sunday: Closed

Ergonomics
Comfortable Chairs
No
Standing Desk
No
Workspaces
Dedicated Desks
Yes
Conference Rooms
Yes
Private Offices
Yes
Phone booths
No
Coliving
No
Four Coworking Spaces in Medellin We Also Love
Medellin has over 40 coworking spaces, and here are the best of them:
Selina Cowork
Los Patios CO-WORKING
Quokka Café Coworking
Factoria Coworking & Hacker Center
Selina Cowork in Las Lomas
Image source: Selina Cowork
Selina Cowork is part of a hostel in the Medellin entertainment area, not far away from city landmarks. El Poblado Park is 15 minutes away, and the neighborhood is full of nightlife venues, shopping centers, and eateries. The hostel and coworking space are part of the franchise present in Brazil, the USA, Greece, and other countries all over the world.
Available co-living accommodation saves time and money, although private rooms could be bigger. It's equipped to host TEDx, workshops, and various other events. There are also an outdoor terrace, a Skype room, and a lounge area ready to use. The lack of standing desks is surprising for a place that has amenities like a library, yoga studio, and meditation room.
This won't be an issue if you bring a travel stand desk to work standing up and spare your back from too much sitting. If you like to stay close to your pets, they allow both cats and dogs.
Los Patios CO-WORKING in Manila
Image source: Los Patios Hostel
Los Patios CO-WORKING is a modern and well-equipped space within the hostel in the Manila neighborhood. This working space is 5 minutes away from public transportation, located in one of the most vibrant areas of Medellin. Parque El Poblado is close by, and the area is full of restaurants of all profiles. Medellin Modern Art Museum is five, and Santa Fe Zoo is around 25 minutes away on foot.
We love Los Patios because it's all about connecting people through hosting events and building a friendly network of digital nomads. Besides the indoor desks and several meeting rooms, a large rooftop is also available for work. Narciso Café has some of the best coffee in Medellin, and you get 10% off for being a coworking space member. Ergonomic furniture and the gym will keep you in shape, while foosball, pool, and ping pong tables cover the entertainment. They even have a vegan and gluten-free menu!
Quokka Café Coworking in Astorga
Image source: Quokka Café Coworking Facebook
Quokka Café Coworking offers a peaceful spot to work in the touristy El Poblado area. Coffee lovers will enjoy the Toucan Coffee Museum with tasting tours, while Criminal Taqueria is one of the best spots to eat. Astorga neighborhood is perfect for those who like to party all night since clubs stay open until 4 am.
The great thing about Quokka is that it has a huge open space full of nature, perfect for brainstorming. It's not hard to feel at home when the staff is welcoming and ready to help with anything you need. The podcasting room is a nice touch, although sometimes the space can be too noisy to record anything. A large patio is perfect for networking and collaborative work or just for taking a break and having coffee. Eateries down the street are a good way to stretch your legs and have lunch.
Factoria Coworking & Hacker Center in Astorga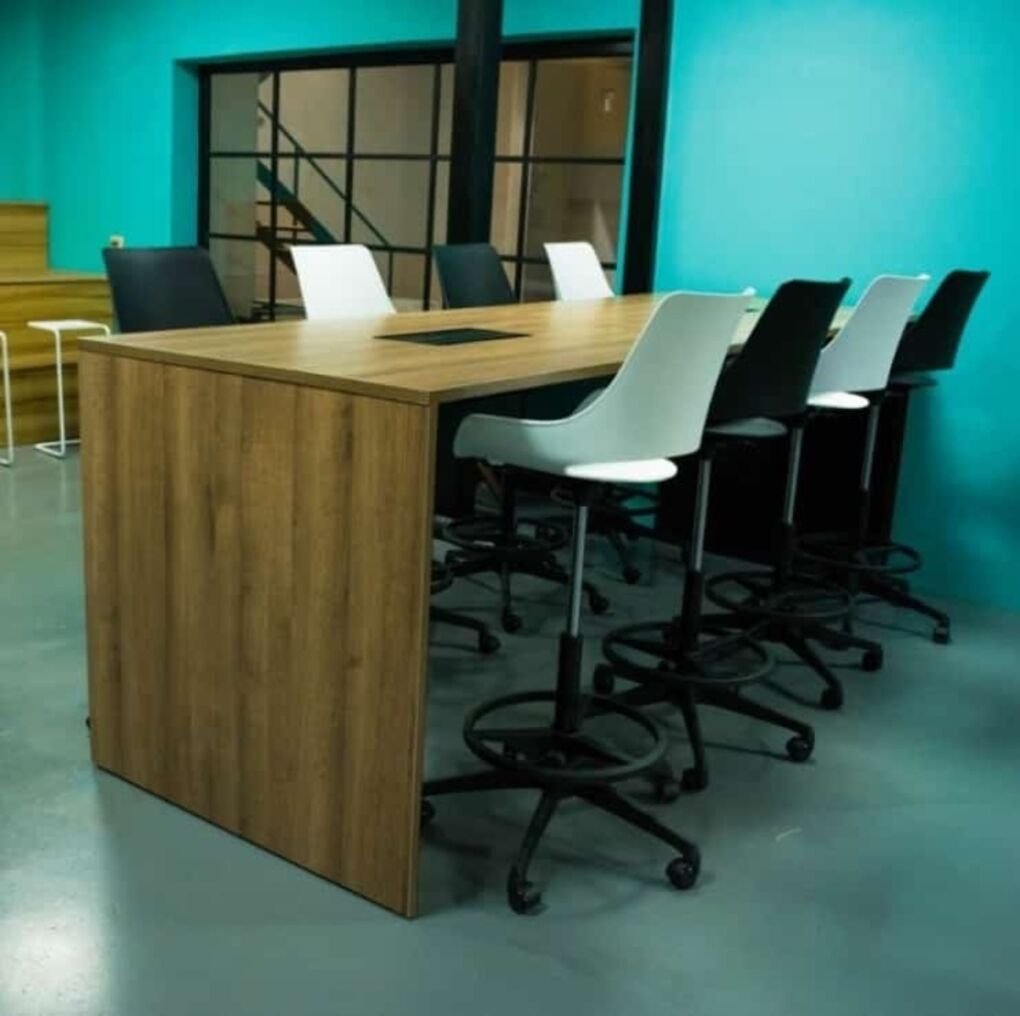 Image source: Factoria Coworking & Hacker Center Instagram
Factoria Coworking & Hacker Center is 10 minutes away from the metro and just a few minutes away from Parque de la Bailarina. Just like other coworking spaces in El Poblado, everything is close by and easy to explore—museums, the zoo, and many eateries.
The main focus of Factoria is to provide resources for entrepreneurs, startups, and companies. We like that this space is focused on gathering people and exchanging ideas by sponsoring meetups and other networking events. The lack of parking space is disappointing, but you can park two blocks away, by the church, for free. If you need to recharge, try the Relax Zone with the nap and meditation rooms.
Other Coworking Spaces in Medellin: