Since buying my drone, one the most asked questions I get from travel bloggers and fellow travel addicts is "What is the best drone for travel?". While others are shocked or impressed I travel the world with a drone, most creatives want in on the action and are hoping to purchase one themselves. I thought it's about time I wrote an article about what drone I use, what drones my friends use, and to compare them side by side to help you decide what is the best drone for backpacking and travel photography.
I'm going to talk about my own travel drone, they type of photos and videos I have taken with it, how easy it is to travel with, cost and ease to use. I will then suggest which one I personally think is best, and compare a few that my friends use when they travel. Them, the decision is up to you!
Note: This post contains affiliate links. That means that if you purchase anything, it won't cost you any more but I will make a small commission from the sale. This helps me to keep the site going! 🙂
What drone do I use?
I use the DJI Phantom Standard 3. This is now quite an old model but back when I bought it, it was one of the best travel drones out there. This drone is much bigger and heavier (over 1kg) than the newer drones, but I still think it is much more stable and can fly a lot better in windy weather.
On a press trip to France, mine was able to handle the windy weather much better than the Mavic, and has flown in some crazy weather conditions in Mexico too.
It's pretty cheap to buy, just €600, but you'll have to spend more if you want to buy an extra battery as the battery on drones are USELESS lasting just 20 minutes.Most people go ahead and buy at least one spare battery.
I've made some incredible travel videos with my drone, with my videos currently reaching over 1 million people a month on Facebook and many of them going viral. I feel a lot of this is thanks to my fun drone shots, which have really helped me build my social media following and have landed me some amazing press trips and hotel stays. This is a great drone if you don't travel full-time, of if you ware looking for a drone just to use in your home country.
What is the best drone for backpacking?
DJI MAVIC
I'm going to admit straight out that the drone I personally have, despite coming to 22 countries with me over the past year, is NOT the best drone for travel or backpacking! It's just too big and that's the bottom line. Two of my friends and fellow writers for this blog both have the DJI Mavic and I think the Mavic is the one that most travel bloggers travel with and everyone can do nothing but praise. It is MUCH smaller than the DJI Phantom (be it the 3 or the 4) and you can buy extras such as a pack of 3 spare batteries which is a total lifesaver. It is more expensive, coming in at over €1,000, but I believe it to be a great investment. Like the Phantom, the battery life is only 20 minutes, but you would be surprised how much amazing footage you can get in that time.
Some great benefits / features the DJI Mavic has include a "Follow Me" function where you can get it to follow a person or object, for example you can get it to follow you cycling along a road, or kayaking along a river. You can also do incredible pan outs, where the drone will focus on you then pan out away from you up to 100 or 200 metres into the air, making for spectacular and dramatic video shots.
DJI Spark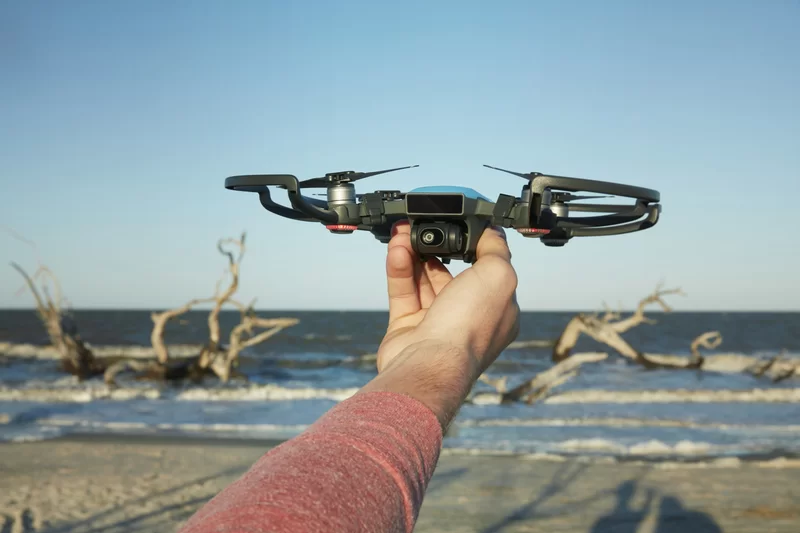 This is probably the best drone for backpacking it you're a total newbie to drones, great for people who want to take fun photos and videos when they travel but don't necessarily need a professional level drone. The DJI Spark is TINY….which make it a top contender for best travel drone. Seriously, it's about the same size as a smart phone and is so small you can put it away in its case and carry it in your handbag or jacket pocket!
My friend Carolyn from The Healthy Voyager had this drone on recent trip to Sri Lanka and i must say I was kind of jealous of how easy it is to use and, even more unique, that she could charge the drone on the go using an external battery pack!! This is probably the only drone that is small enough to charge with a USB cord, which means you could charge it many times in one day while travelling. Carolyn also uses some of her shots in her travel show for NATIONAL TV in the US. Guess if it's good enough for that, it's good enough for YouTube! You can also control the Spark with your phone so no need to buy (and pack!) and separate controller.
The only downside is that it won't fly as high or as far as the Mavic or Phantom, and definitely could not cope with more than a light breeze. Still a fun drone for beginners and the easiest and lightest drone for backpacking or long travel trips.