If you're an expat moving to South Africa, you need to understand that not only does the cost of living in South Africa differ from city to city but the amount you earn is also affected by this.
I will break down what my monthly expenses for living in South Africa, these are my personal costs of living in Pretoria, and I'll also share my friend's costs of living in Cape Town. Plus anything else you should consider when budgeting for when you move to South Africa.
I've shared many breakdowns before like the cost of living in Bali for 3 months and visiting Cappadocia in Turkey.
What is the average cost of living in South Africa per month?
Based on my personal experience, the average cost of living in South Africa per month in 2021 is R8,000 for a single person living in one of the major cities – excluding rent.
According to the Household Affordability Index Report, many South Africans are living below the food poverty line, with more than half the population living on less than R1,230 (86 USD) per month and R41 (2.80 USD) a day.
This data is concerning if you take the cost of food and basic utilities into consideration.
2021 Cost of Living in South Africa: Monthly Expenses
How much do you need to live comfortably in South Africa?
Cost of Property Prices in South Africa (to Buy or Rent)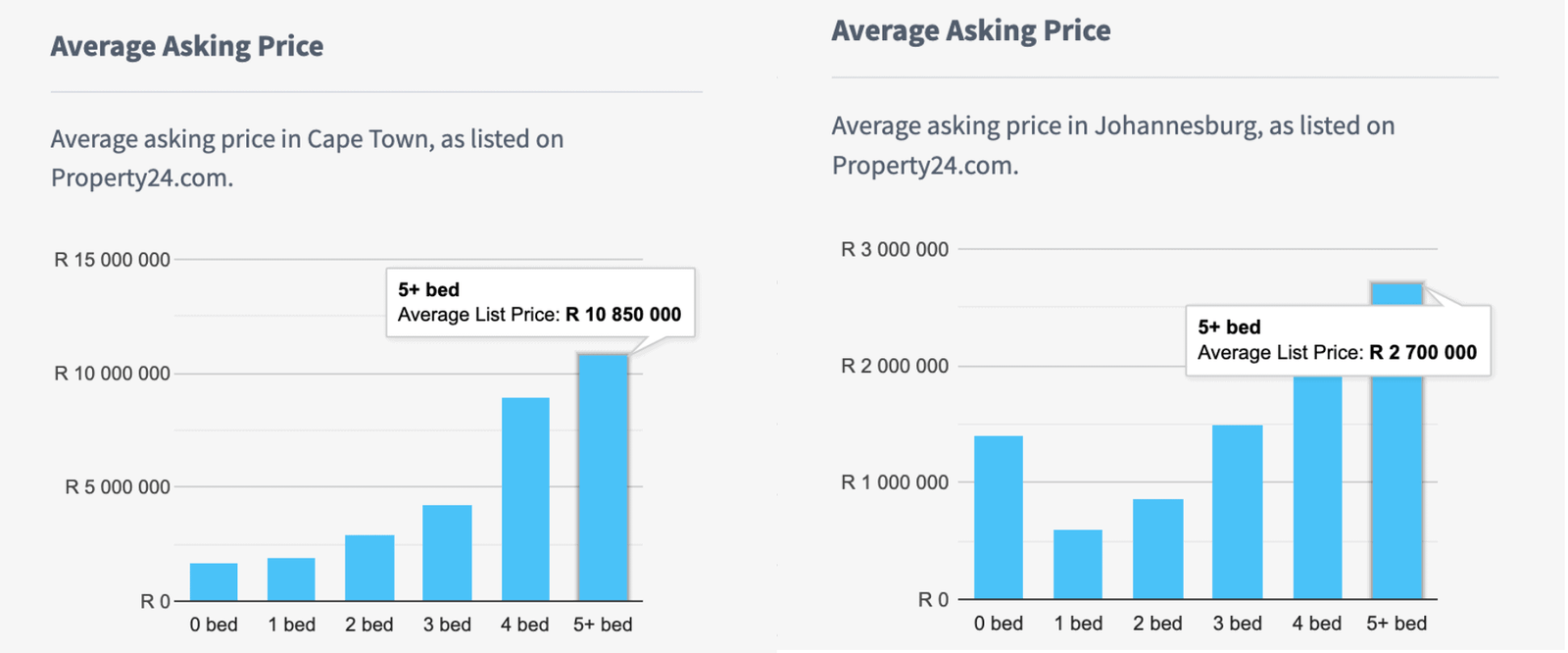 Depending on which city or town you choose to live in South Africa, accommodation will probably be one of the most expensive things you pay for. It is not uncommon for South Africans to spend half of their monthly salary on rent.
When it comes to choosing the best place to live for expats in South Africa, One way to save on rent is to compromise on distance. Rents tend to drop the further you get from the city's center.
But keep in mind that most neighborhoods outside the major cities don't offer easy access to public transport like buses or train lines to the city, so you might need a car which has extra costs.
I own property so I don't have to pay rent but I am required to pay rates and taxes (also known as council taxes). These taxes cover basic services that are provided by the local municipality like water, maintenance of roads, street lights, refuse, sewerage, and firefighting.
An additional cost I pay as a homeowner in South Africa is estate levies – these costs are for the management of my complex – security company, gardening services, repairs, and maintenance. These costs are only applicable to people who buy a sectional title property in a complex (gated community) or a flat.
If you're planning on living in South Africa for more than 3 years and you have the means, consider buying a house in which you rent out rooms – becoming a landlord and subletting is a great way to save and finance a property in South Africa. I've shared many tips for buying and selling a home in South Africa on my Property Investment Podcast, check it out HERE.
Cost of Monthly Utilities in South Africa
As far as your basic utilities go, you can expect costs to stay pretty consistent!
In most cases, water, electricity, and internet are not included in your monthly rental. Most people make use of prepaid electricity where you load an amount of your choice, and as you consume electricity, credit is deducted from their prepaid balances, similar to loading a gift card or using a debit card.
Water costs are included in your rates and taxes bill and vary every month based on your meter readings.
South Africa has the most expensive home internet connection in the world. Most fork out a staggering R1,273.84 per month on average to get access to 100 Mbps speeds of uncapped residential line internet packages. Hopefully, infrastructure will be improved and the cost of wifi will decrease.
Cost of Transportation in South Africa
Your transportation costs will depend greatly on whether you choose to have a car. Having a car and driving in South Africa makes life easier but the reality is that most cannot afford this.
At the moment, the price of 1 litre of petrol in South Africa is about R17 (1.50 USD). Additional costs for owning a car include insurance, car tracking services (you need this because we have high crime rates), and maintenance.
Public Transport is dominated by minibus taxis (rideshares) which most people use to commute to work. On average South Africans can spend R1500 per month on traveling from the outskirts to main cities for work purposes.

Trains aren't reliable and available in most cities. Uber is available in major metropolitans but obviously more expensive than minibusses.
Cost of Insurance in South Africa
When you live In South Africa there are different types of insurance you might need. Insurance costs vary based on your age, location, and provider.
Health Insurance (also known as Medical Aid): Many medical-related expenses – from doctor's visits to hospital visits, surgeries, or medicinal purchases.
Car Insurance: Needed for unforeseen vehicle emergencies. Not mandatory as most South Africans don't have car insurance but I highly recommend that you get it.
Home Contents Insurance: Protection of valuable possessions in your house.
Building Insurance: if you own a property, it's recommended that you get building insurance. This insurance is mandatory if you're still paying off your home, but if you purchase the property cash then it's optional at the discretion of the owner.
Cost of Food in South Africa
Food is very expensive in South Africa. Food delivery apps are an easy trap to fall into with food in South Africa (especially if you're working from home or you live alone). To be honest, cooking saves you money!
In South Africa, personally, the most affordable grocery stores are Pick n Pay and Makro. Woolworths and Checkers are slightly more expensive, and Spar is the most expensive.
They have different rewards and daily deals and in most cases, I go to certain stores for certain things. I always bulk buy cleaning supplies, non-perishable foods like spices, oils at Makro then I'll check online for deals and go where things are affordable. It's really up to you and I'd also like to add that I don't eat meat so this makes a huge difference to my monthly food costs.
The average monthly cost of groceries whilst living in South Africa is R2500 – R3500 per month per household. It could be more, it depends on the number of dependents and dietary requirements.

"The sustained high cost of core staple foods like maize meal, flour, sugar beans, samp, cooking oil, potatoes, and onions is worrying." – Home Affordability Index
Here are some of the average prices for food and drink in South Africa:
| Food | Price (ZAR) | Price (USD) |
| --- | --- | --- |
| Bread | 14.99 | 1.05 |
| 2L Milk | 29.99 | 2.10 |
| 18 eggs | 45.99 | 3.50 |
Cost of Entertainment in South Africa
Depending on your hobbies, interests, and where you live, your cost of entertainment will vary every month.
Some South Africans have DSTV (known as Cable in other countries) which airs more than 200 television and audio/radio stations. There are different packages ranging from R295 – R900.
Personally, I spend R169 on Netflix and R99 on Spotify.
2021 Cost of Living in South Africa: Yearly Expenses
There are annual costs of living in South Africa to add to your budget.
Tax in South Africa
South Africans pay taxes based on an income scale that changes annually on 1 March. This is the 2022 tax year (1 March 2021 – 28 February 2022).
| ​Taxable income (R) | Rates of tax (R) |
| --- | --- |
| R1 - R216 200 | 18% of taxable income |
| R216 201 - R337 800 | R38 916 + 26% of taxable income above R216 200 |
| R337 801 - 467 500 | R70 532 + 31% of taxable income above R337 800 |
| R467 501 - R613 600 | R110 739 + 36% of taxable income above R467 500 |
| R613 601 - R782 200 | R163 335 + 39% of taxable income above R613 600 |
| R782 201 - R 1 626 600 | R229 089 + 41% of taxable income above R782 200 |
| R1 656 601 and above | R587 593 + 45% of taxable income above R1 656 600 |
Things to know about taxes in South Africa:
If you are an expat in South Africa (non-South African passport holder), you have to pay tax on money earned in SA. Non-South Africans who stay for a period of three years or longer will be deemed full residents and be required to pay tax on all income, both generated overseas and in South Africa.
If you are a South African expat who lives abroad (South African passport holder), you have to pay taxes too. Read more about

South African Expat Taxes

.
TV License
A TV Licence is a document that gives you legal permission to own or watch television in South Africa. The money is used to fund the public broadcaster – South African Broadcasting Corporation (SABC) that provides 19 radio stations, as well as six television, broadcasts to the general public in different languages.
SABC plays an important role in the country as not everyone has access to the internet. TV License is an annual cost and in 2021 it was R265 (18 USD).
My Total Cost of Living in South Africa per Month
I'm sharing the cost comparison of living In Pretoria vs. Cape Town. Please keep In mind that both cities have different neighborhoods, service providers and Costs will not be the same for two people in the same city. My friend and I both have 4 bedroom homes in different cities, these are our costs:
| Expense | Lerato - Pretoria | Friend - Cape Town |
| --- | --- | --- |
| Rent | R0 | R0 |
| Rates and Taxes | R900 | R4 300 |
| Estate Levies | R2462 | R0 |
| Prepaid Electricity | R1 500 | R2 800 |
| Groceries | R2 500 | R3 000 |
| Petrol (Gas) | R700 | R1 472 |
| Medical Aid (Health Insurance) | R3070 | R6 890 |
| Car Insurance & Tracker | R1 065 | 1230 |
| Wifi | R450 | R1 650 |
| Total | R12 647 | R21 342 |
Is South Africa cheap or expensive?
Everybody's situation is different, so at the end of the day, I recognize that I have been very fortunate. I don't want to sugarcoat how expensive the cost of living in South Africa is especially for people with low income or no work.
To answer the question – How much do you need to live comfortably in South Africa? You need about R15 000 – R20 000 per month to afford the basics. This also depends on your number of dependents, accommodation situation (living alone, sharing an apartment, and utilities) and lifestyle (gym membership, smoker, alcohol drinker etc).
I hope this post helped you get a better understanding of the cost of living in South Africa. If you're thinking of moving here, feel free to drop any questions you have in the comments!
Travel Insurance for South Africa
Use travel insurance while visiting South Africa so you are covered for theft and medical expenses. There are a lot of adventurous activities to do in South Africa, and it's best to have peace of mind while driving, hiking, and trying some of the best food in the world.
Find out why I recommend World Nomads, check out my World Nomads Insurance Review.
Disclaimer: This article contains affiliate links. This means that if you make a booking after clicking on a link, I may receive a small commission at no extra cost to you!