Sitting on the Red River, Hanoi is one of the world's oldest capitals and, from our experience, one of the best places to live in Vietnam. This enchanting city represents a curious fusion of ancient Eastern and contemporary Western cultures. Towering skyscrapers have rapidly changed the city's look and feel, but culturally significant sites remain intact. This has made it appealing to tourists and digital nomads alike. Check out what it's like to be a digital nomad in Hanoi.
Figuring out which of the best places to visit in Vietnam might be the least of your concern. Read on to discover the best coworking spaces if you're planning on working during your visit.
The Vietnamese capital has welcomed this surge of location-independent workers. Coworking spaces are popping up around the city. Here are our top picks.
Toong Is Our Favorite Coworking Space in Hanoi
Image source: Toong Asia
Toong is a chain of coworking spaces in Vietnam. There are as many as five locations in Hanoi alone. Each of their spaces has a different theme going on, but they all serve a blend of Vietnamese tradition and contemporary office culture. It is one of the oldest chains of coworking spaces in Vietnam.
Their first Hanoi-based space, Toong Trang Thi, is our favorite. This place is located in the middle of the historical center of Hanoi. It's only a couple of minutes on foot from the famous Hoan Kiem Lake. If you're staying anywhere in the Old Quarter, you won't have any trouble accessing it. When you see the building where Toong Trang Thi is nestled, you won't believe there are office spaces inside. It's a beautiful old French villa repurposed for coworking. Enter it, climb a fancy circular staircase, and voilà — you're in the most stylish coworking space in Hanoi.
Their offices take up two floors of the villa. There are both private offices and open-concept areas to choose from. If you go for the open area, you won't have to sit elbow-to-elbow, even when it's crowded. The desks are long and wide. Plenty of greenery gives it a homey feel. Huge overhanging ferns and green walls make for a pleasant sight. The overall design is gothic-oriental, with ornamental wood carvings, figurines, and cushions. The staff is hospitable, and the community is multicultural — a digital nomad's dream!
Basics
Pricing

VND 150,000 per day
VND 1,900,000 per month

High-Speed Internet
Yes
Open Hours

Monday – Friday: 8 am – 8 pm
Saturday: 8 am – 8 pm
Sunday: 8 am – 8 pm

Ergonomics
Comfortable Chairs
Yes
Standing Desk
Yes
Workspaces
Dedicated Desks
Yes
Conference Rooms
Yes
Private Offices
Yes
Phone booths
Yes
Coliving
No
iHouse Is Our Least Favorite Coworking Space in Hanoi
Image source: iHouse
iHouse is in yet another old Hanoi villa turned into an office space. This one is set in the Cau Giay district, in a narrow street that is not so easy to access. Another thing that might make it even harder to find this place is the fact that there are no signs or boards with the name. If you don't check the exact address, you will pass by this villa thinking it is a private residence.
The owners advertise it as a garden-inspired coworking space filled with plants and daylight. Too bad that you might also end up sitting on a garden chair. Many of their chairs are completely unsuited for work, and the desks are not much better. The view of the garden and the porch are indeed beautiful. If you decide you like the view and the atmosphere of the place, you might be able to work around the uncomfortable ergonomics. Attach a travel stand desk to any ordinary desk and work standing up. The daily coworking space features only a couple of desks. Dedicated desks are not an option here. Some guests reported a dreary condition and unkempt surfaces.
One good thing about the place is the outdoor terrace. It is surrounded by trees, and guests can recline in their hammocks. Another benefit is that it's open until late evening hours. iHouse is perfect for rest, but for work — not so much.
Basics
Pricing

VND 120,000 per day
VND 1,400,000 per month

High-Speed Internet
Yes
Open Hours

Monday – Friday: 8:30 am – 10:30 pm
Saturday: 8:30 am – 10:30 pm
Sunday: 8:30 am – 10:30 pm

Ergonomics
Comfortable Chairs
No
Standing Desk
No
Workspaces
Dedicated Desks
No
Conference Rooms
Yes
Private Offices
Yes
Phone booths
No
Coliving
No
2 Other Coworking Spaces in Hanoi We Like
Here are two other places to cowork in Hanoi:
HanoiHub
The Learning Hub
HanoiHub in Ba Dinh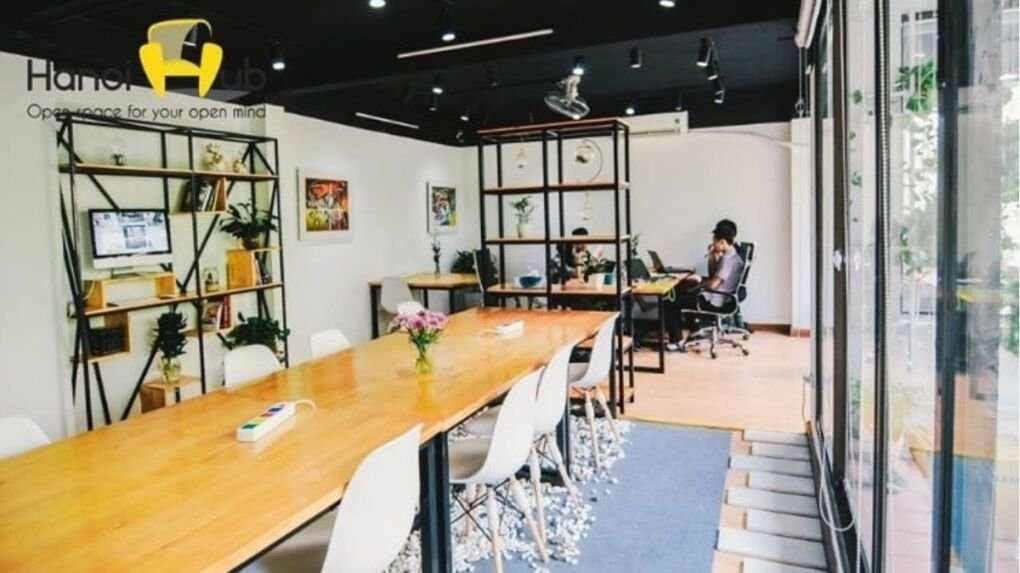 Image source: Hanoi Hub
If you're not a fan of big crowds and touristy streets, you may like the Ba Dinh district. It's close to the Old Quarter but not as crammed with people. Hanoi Hub is a coworker's haven in Lang Ha street in Ba Dinh. They have another location on Thuc Khang street, but this one is more popular.
HanoiHub is a bright and perky nook for anyone who needs more positive energy in their work zone. Cheerful yellow and warm orange tones dominate the rooms and make them appear more spacious. Plenty of natural light and potted plants scattered around the place contribute to the casual, laid-back vibe. There are both private offices and an open space area. A wide variety of seating options are available, from bean bags to standing desks. Light study music plays in the background and helps visitors concentrate on the task at hand.
There's also a relaxation room if you want to clear your head before or after hard work. It features a mini library stuffed with books and comics. There are also PC and Mac computers at the guests' disposal. Coworking spaces are largely non-smoking areas. This one has a balcony where smokers can puff on their cigarettes while enjoying the beautiful view. The staff is friendly and cordial and makes you feel at home.
What We Don't Like About This Place
The kitchen is adjacent to the hall, and the smell coming from it may annoy some customers.
The Learning Hub in the Old Quarter
Image source: The Learning Hub
The Learning Hub is another cozy space near Hoan Kiem Lake on Ngo Quyen street. Be careful not to miss the building. There is only a tiny green logo displayed near the entrance. The location is well-connected, and there are plenty of cool spots around, such as the Opera House. Many local Vietnamese food places are in the vicinity. We recommend you try the famous Trang Tiem ice cream in the neighborhood.
The Learning Hub is a quiet place despite it being in the city center. It is bright and luminous and isn't crammed with unnecessary decoration. There's everything you may need — open and private rooms fully equipped, beanbags, and comfy chairs. They serve free coffee and tea all they long, and there are also snacks. The staff is friendly and accommodating. For a central location like this, The Learning Hub is surprisingly affordable, starting from VND 20,000 per hour.
The community that gathers here is great. The second time you come, you'll already feel like a part of it. On weekends when the place is closed for work, they organize various community events, such as movie nights, dinners, and workshops. Internal exchange fairs they host are a great opportunity to exchange ideas about various projects participants are working on.
More coworking places in Hanoi
We listed our favorites, but there are many more coworking spaces in Hanoi to explore. These include:
Up-Co
Got your coworking space covered but do not know where to live yet in Vietnam? We have curated a list of the best places to live in Vietnam, which features a stunning range of options.