Hawaii is one of the world's most sought-after travel destinations. With its combination of fabulous hiking spots, breathtaking views and some of the best surfing you'll find, it's no wonder it's so popular. The laid-back lifestyle of the state is only part of the charm. With the beach right in front of you, how could you not want to relax?
Hawaii's Polynesian culture is very imminent within the state. You can see it in the mouth-watering street food and in the traditional dances. All of this culture is juxtaposed against the modern, glossy allure of their infrastructure. Hawaiian cities are becoming more modernized, though they still preserve their way of life.
Hawaii is divided into eight distinct islands, each boasting its own landscape, culture, energy, and nightlife. All of these things are what make it one of the best tropical vacation spots.
Why Visit Hawaii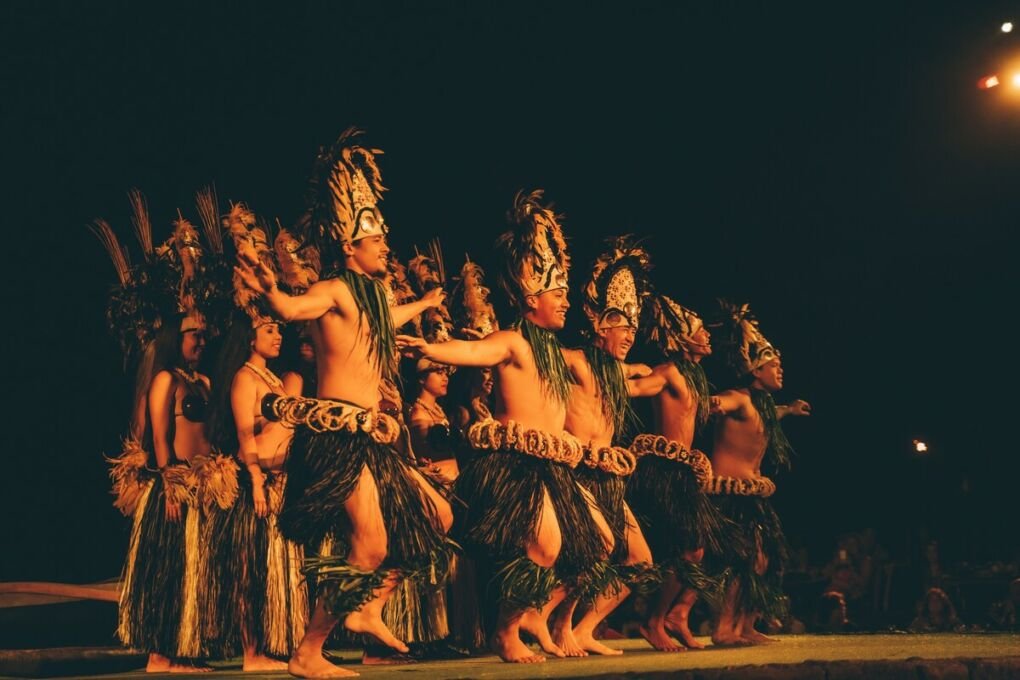 Most people don't need to be convinced to visit Hawaii, it's on everyone's wish list for a reason. It's a destination that caters to you and your needs. If a relaxed, stress-free vacation is what you want, then Hawaii is the place for you. If you want some adventure and endless fun in the sun, then it's also for you.
The number one thing locals recommend you do when visiting is to go to Hawaii Volcanoes National Park. This is your chance to see not one, but two active volcanoes up close. The park has miles of lava tubes and amazing geology, you may be lucky enough to see one of the volcanoes erupt.
Is Hawaii Dangerous?
Hawaii is regarded as one of the safest places to travel to. However, it's a tropical destination, and if this is your first time in the tropics, you may have some reservations and questions on how to navigate it.
One of the major things that locals advise against is swimming alone in the water or in secluded beaches. Ensure that there are lifeguards present when you go swimming, as Hawaii is known to have powerful rip currents. It's happened where people were taken by rip currents and struggled to swim against it, so don't take the chance no matter how good of a swimmer you are.
Dangerous Areas In Hawaii
Hilo
Hilo has a crime rate that's 70% higher than the national average. It's seen as one of the most dangerous places in Hawaii and in the United States. Property crime is the most popular in Hilo, so if you find yourself there, keep your belongings close and ensure that you've left all valuables in the hotel.
The town is also known for drunk drivers, so be wary when on the roads. They're narrow, and it often rains in Hilo. If you happen to be spending time there, refrain from walking about at night, you may fall victim to mugging.
Makaha
Makaha is seen as a paradise for surfers as it has impeccable beaches, and there are even a number of surfing events that are hosted in this town. However, this region is known for crime. There's a one-in-28 chance of falling victim to a crime in Mahaka.
This town has the highest crime rate in Hawaii, and most people avoid it for that reason. The Honolulu Police are quite prominent in the area, although that might not stop you from falling victim to a petty crime.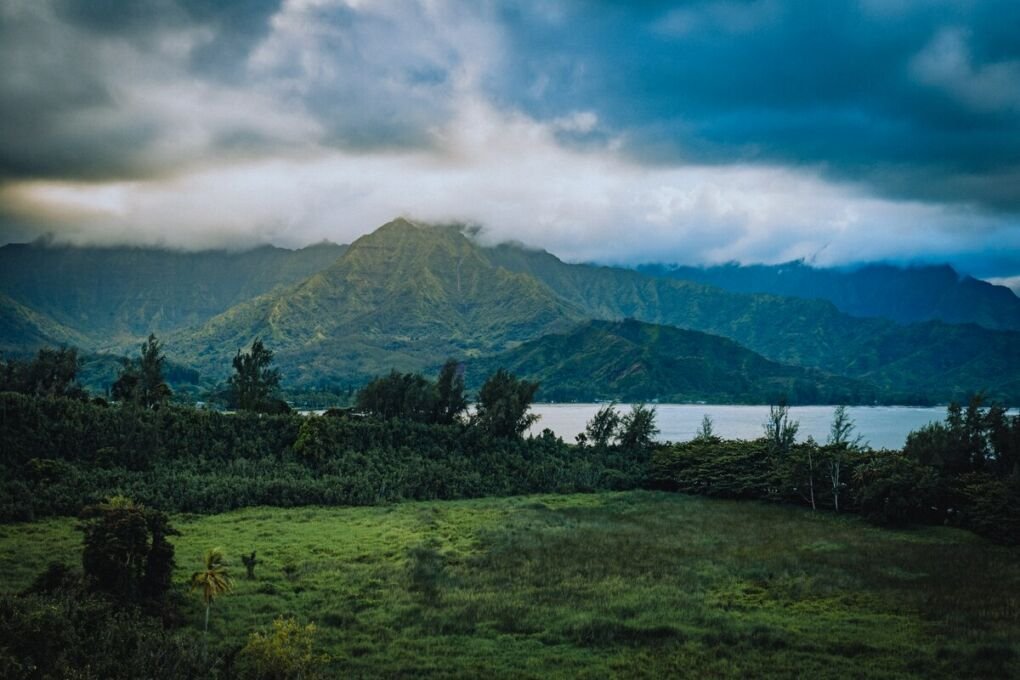 Is It Safe To Live In Hawaii?
Hawaii is generally seen as safe, and it just takes a bit of insight and common sense to navigate it. Popular attractions in Oahu are risky as petty criminals target tourists there due to the crowds of people. The state of Hawaii has lower crime rates than the national average, and isn't known for violent crime. Honolulu is said to be one of the safest places to live.
Due to its size, there are certain districts that are safer than others. It's important to note that Hawaii's biggest threat to tourists is the ocean. Between the currents and the marine life, it's recommended to stay in the designated zones.
Safe Areas in Hawaii
Honolulu
The capital city of Hawaii is Honolulu, and it's also the largest. There are multiple neighborhoods in this city, each flaunting their uniqueness. If you find yourself in the business district, places like the Hawaii State Library and Honolulu Hale (city hall) are worth passing by due to their beautiful stature.
For a bit of history, you should check out Iolani Palace. It used to be the residence of Hawaii's last rulers, and inside you can see how they lived as well as artifacts like crown jewels. For some shopping and a quick bite, head to the world's largest open-air mall, the Ala Moana Center.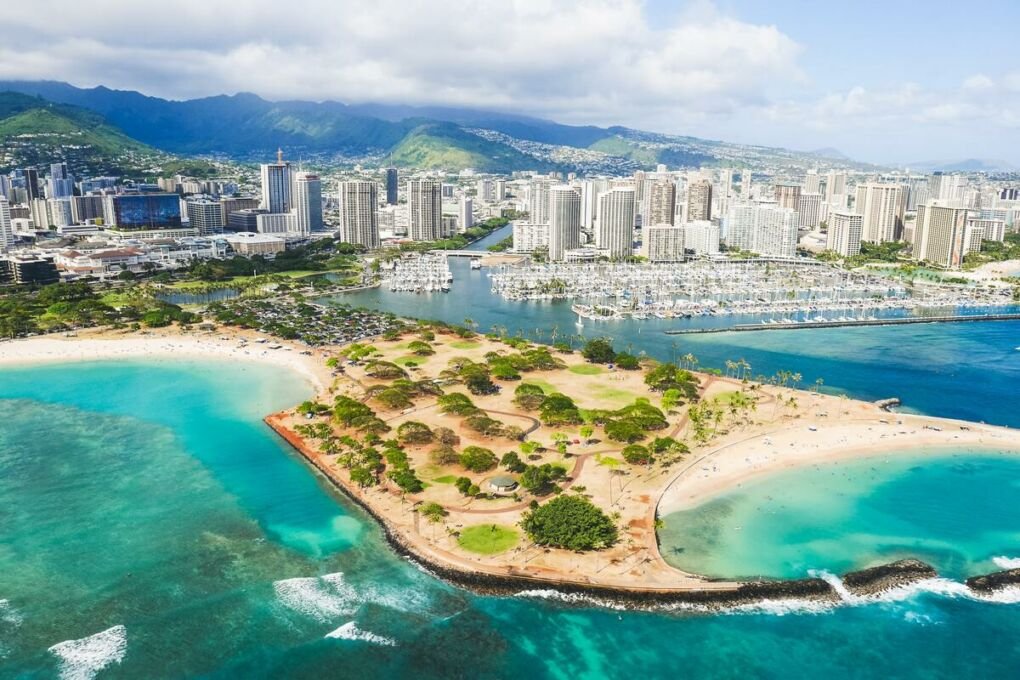 Maui
Due to its scenic drives and amazing water sports, Maui is one of the most popular destinations for tourists. With its lovely beaches you can snorkel, surf and paddle board in the majestic water.
If you're looking to shop, then Lahaina is the place for you. With numerous boutiques, jewelry stores and art galleries, it's a magnificent way to spend your day. For a walk in nature, the Iao Valley State Park offers lush green mountains, perfect for a hike. The rock formations, known as the Iao Needle, rise and fall into each other, creating a visually stunning view.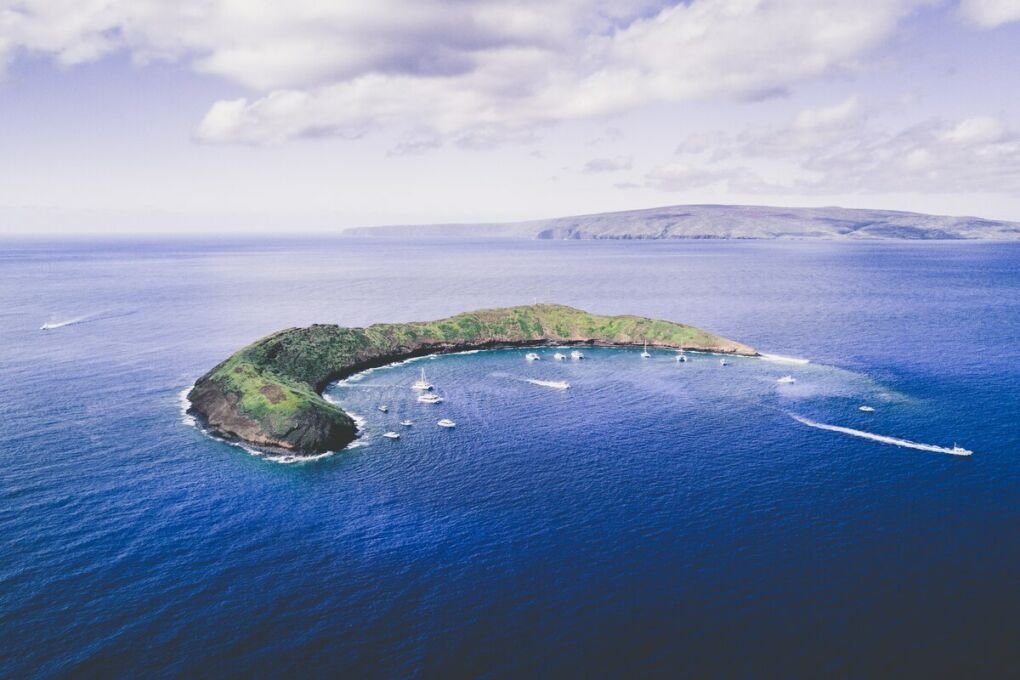 Kauai
Boasting cascading waterfalls, beautiful mountains, and gleaming beaches, Kauai will surely make a lasting impression. It's not a big island, but it certainly has a big personality. To truly take in the view of the island and see it in all of its glory, you can take a helicopter over the island.
One of the truly magnificent features of this island is the Napali Coast, with its red and green valleys that can be explored by boat or kayaking. A lot of people also head to the Napali Coast State Wilderness Park to hike up the mountains and enjoy the waterfalls.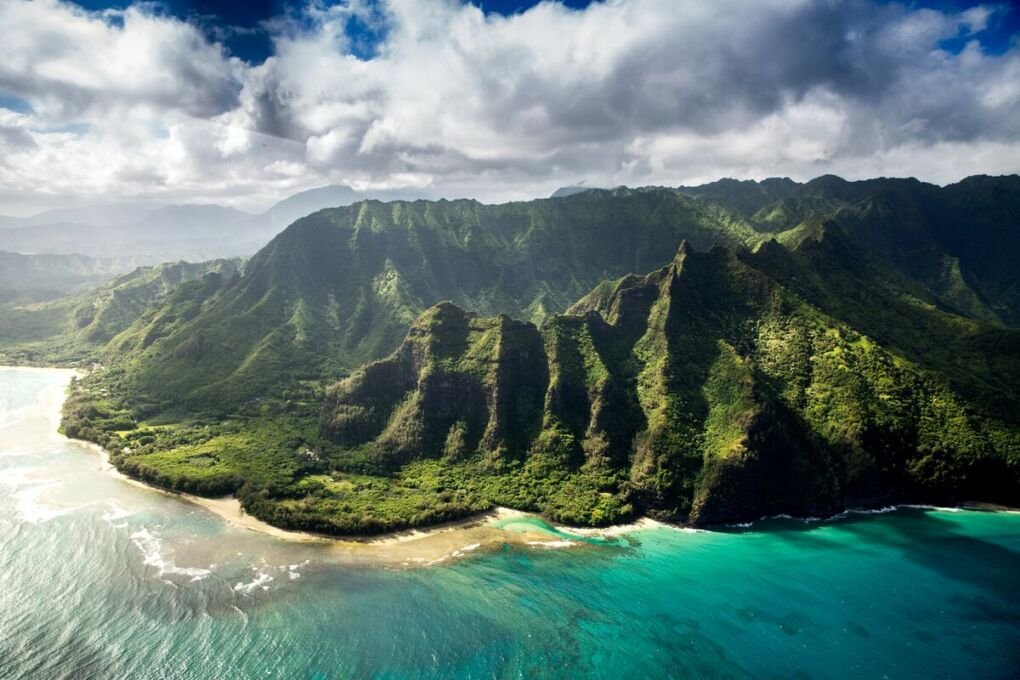 Warnings and Dangers in Hawaii
Most people find Hawaii to be a stunning tropical paradise, but unfortunately, there are some risks as with any other travel location. Like most places, Hawaii has its amazing and beautiful locations while simultaneously having the more dangerous and unsavory places.
Violent crimes aren't common in this state, but the most recurrent is aggravated assault. Gun violence, homicide and gang related violence are all uncommon in this state, however uncommon doesn't mean nonexistent. It's recommended that you ask about any areas you're thinking of going into at your hotel so that they can give you local insight. Researching those places will also help keep you a step ahead.
Overall Travel Risk (3/10)
The overall travel risk for Hawaii is low because the state doesn't have any major safety concerns. The concerns surrounding Hawaii are the normal ones that you'd expect when traveling.
Violent crimes may be uncommon in the state but they have been known to occur. Crimes such as armed robbery and murder are usually linked to drug trade. Avoid secluded areas such as train tracks or beneath freeways, as addicts are known to gather there and you don't want to find yourself in an unsafe situation like that.
Tourists don't usually fall victim to the rare violent crimes in the state. You can rest easy knowing that hotel security gets praised for their vigilance and precision. You should still be vigilant though, especially at night.
Risk of Scams
The risk of scams is quite moderate in Hawaii. You may fall victim to paying for items that are meant to be free. Scammers are everywhere and you won't be able to avoid them. It helps to ask questions in order to ensure that you're not being duped.
Ignore overly pushy people trying to sell you any items or offering exclusive tours, they're almost always a scammer. Catfishing has also become more evident in the state, so be careful when engaging with people on social media and always verify who you're speaking to and arrange for meetings to be in crowded areas.
Taxis
The risk of taxi scams is quite low. Taxis are very safe and the drivers are usually very helpful and vigilant. You can request a taxi for the full day if you know that you'll be busy with numerous things and you don't want to have to hail a taxi yourself.
The transport system in Hawaii is quite good and very reliable. Aside from walking, you'll likely be using a taxi or a bus to get around. That being said, be vigilant as some drivers may attempt to overcharge you.
Natural Disaster
As you know, Hawaii has active volcanoes and volcanic activity may result in an earthquake. The state has been known to be devastated by earthquakes. In early August of 2023 Hawaii suffered a series of wildfires that devastated the land and claimed the lives of many people.
Hawaii is situated on the "Ring of Fire" which is an area that is likely to have earthquakes. During the months of October to May, tsunamis are also more likely in the state. Keep an eye on weather reports and familiarize yourself with all emergency information that can help you in these situations.
Risk of Pickpockets
The risk of pickpockets is quite moderate in most parts of Hawaii, although it's high in tourist hotspots. The best way to avoid being pickpocketed is not to keep any valuable items in your pockets.
Ensure that your bag is in the front of your body, especially when you're in crowded areas. Be sure to ignore people who may try to distract you by being particularly outlandish or pretending to have lost something. You may want to be helpful, but you could end up being the sucker at the end of the day.
Tips for Staying Safe in Hawaii
Hawaii is home to many people from various cultural backgrounds. It's easy to offend someone because you may misunderstand each other or assume something. This may lead to confrontations which can sometimes turn violent, so try to avoid being obviously offensive and respect the culture everywhere you go.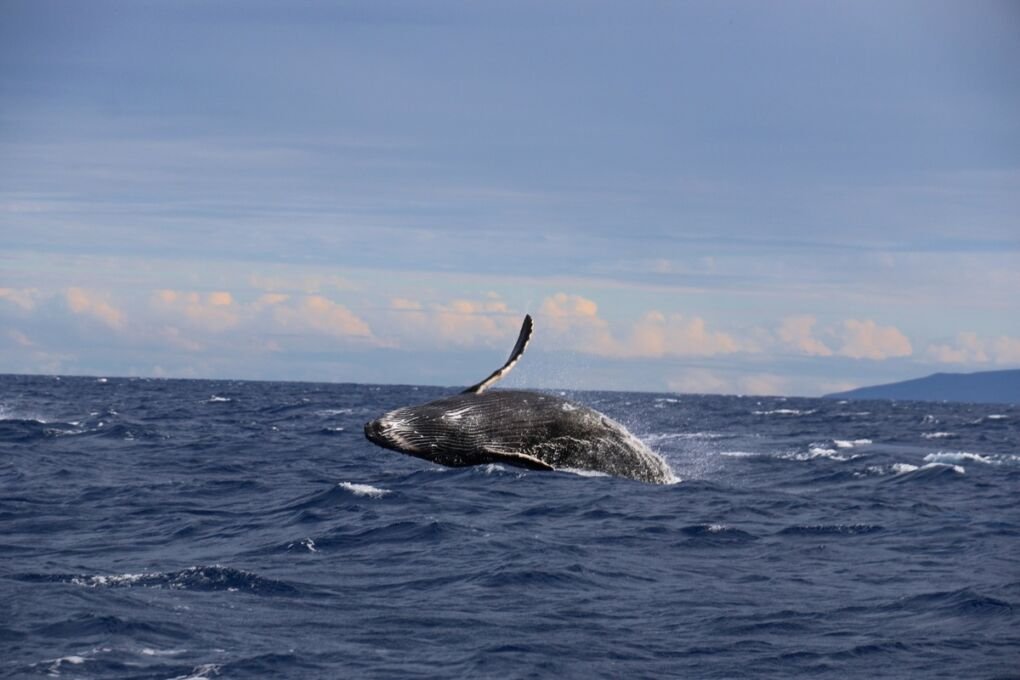 You may be looking to bring home something invaluable and unique, just make sure that it's not a lava rock or lava sand from the beaches. It's against the law to take these things, and the Hawaiians believe that if you take them, you'll be cursed. Now, you may not believe in superstitions, but you certainly don't want to end up in jail over a rock.
To help you keep your head above water, here are some safety tips to keep in mind:
Don't leave things in the car. If you rent a car on your trip, don't leave anything in the car, as it will only entice thieves to break into it and rifle through the vehicle.
Avoid walking alone at night. It can be quite unsafe for you to be alone in the evenings. If you find yourself alone, ensure that you know your way.
Take only what you need. When going out for the day, take only the amount of cash that you need for certain activities and food. You can take a little extra but don't find yourself with more cash on hand than you need.
Watch your step. Be aware of any trespassing signs and ensure that you adhere to them. Respect any sacred land that you come across, and respect the locals if they tell you not to go somewhere.
Check the weather, especially before going on a hike. You don't want to be caught in heavy rain while you're on the top of a mountain. Similarly, always wear sunscreen and have water on hand.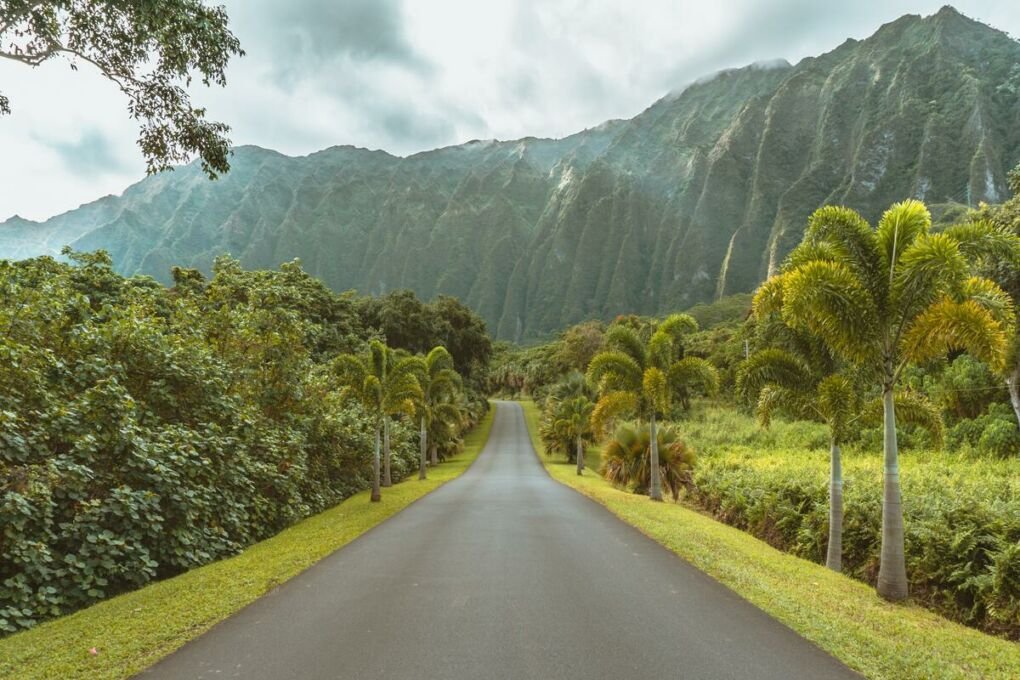 Is Hawaii Safe│Frequently Asked Questions
Is Hawaii Safe For Solo Female Travel?
If you're a solo traveler, the state will truly be a paradise for you. There aren't any major concerns for those who'll be alone. Just remember to stick to the basic safety procedures and always keep in communication with those back home. Overall, female travelers can feel comfortable there. Of course, regardless of gender, be cautious with your belongings.
Is Tap Water Safe To Drink?
Yes, it is. Hawaii's main source of water is groundwater, and they also have onshore aquifers. The water is safe for consumption, though different islands gather their freshwater differently, so you can just ask a local if you want to give the water a try.
Which Island Is The Safest?
Each of the Hawaiian islands is regarded as safe, however, Kauai is said to be the safest. Kauai has the least amount of incidents, although Maui is also said to be safe due to its low crime rates.