Few people know the country as a bucket list destination, but it should be! Yet, your welfare is always a concern, which raises the question: is Namibia safe for tourists?
This golden desert delight offers wildlife, curious small towns, and friendly German locals. It is one of the youngest nations, as it only gained independence from South Africa in 1990.
Namibia forms part of the "four corners of Africa," shared with Botswana, Zambia, and Zimbabwe. They have this title due to being the only countries in the world that meet at a quadripoint.
Namibia shares a border with the beloved yet unsafe South Africa. This may send you a noticeable red flag. So, does this neighbor suffer a similar status? Namibia is one of the most natural African countries, and it would be a shame to call it dangerous.
Why Visit Namibia
If you're looking for the epitome of natural beauty, Namibia is a land of wild, untainted wonder.
It's easy to fall in love with the place. You'll experience quaint towns, endless Namib dunes, Atlantic beaches, and impressive wildlife. You can also visit Namibia at any time of the year.
Namibian culture also beckons a visit. It's home to the ancient San, Himba, Kavango, Ovambo, and Herero tribes. The country is also a German colony, where you'll notice their influences in colonial architecture and delicious cuisine.
This picturesque destination promises a holiday packed with thrilling activities. You can enjoy safari tours, sandboarding, quad biking, 4×4 tours, kayaking, and mesmerizing beaches.
Is Namibia Dangerous?
Namibia shines as a stress-free zone because it is one of the safest countries in Africa. According to visionofhumanity.org, it holds the world's 56th position on the 2023 Global Peace Index. For perspective, the USA ranks 131 out of the 163 listed countries.
Like any destination, there are risks of petty crime in the more populated cities. The more pressing safety issues are due to the gravel roads that come with small towns. The malaria risks of Northern Namibia also pose a threat. It is also possible to encounter unruly wild animals on safari tours.
Dangerous Areas in Namibia
Parts of Windhoek, Swakopmund, and Walvis Bay
Since you'll likely travel within these major cities, they have the most chance of danger. Although there aren't many extreme cases, these towns have the highest possibility of pickpocketing, theft, and armed mugging.
Downtown shopping areas, busy markets, and ATMs are the most hazardous. As a precaution, you should not adventure in alleyways and abandoned places. Township areas like Katutura, Mondesa, and Kuisebmund should be avoided unless you're with a tour guide.
Daytime is almost entirely safe, but you must still be cautious about your belongings and surroundings – as you would in any foreign country.
As usual, danger lurks at night and is the most high-risk circumstance. If you're a concerned solo traveler, you only need to refrain from wandering at night, avoid uncommon areas, and stay aware of your surroundings.
Omaheke and Northern Namibia
Some Namibian regions are malaria and leishmaniasis hotspots. You'll need a vaccination or preventative medication to visit the northern parts. This includes Omaheke, Caprivi, Kunene River, and Kavango. Insect repellent will be your best travel buddy.
Are you a traveler who likes to go off the beaten path? Namibia has limited medical facilities outside major urban areas, especially the northern regions. You may need transport to South Africa for severe cases of sickness. Please ensure you have travel insurance in case of emergencies.
Is it Safe to Live in Namibia?
Criminal activities are not likely on well-traveled routes. The only tourist-related crimes happen in metropolitan areas. Luckily, you can avoid these dangers.
As for residential living, there has been a significant increase in crime over the last few years, rising by 7% between 2021 and 2022. The most dangerous residential areas are Khomas, Oshana, and Otjozondjupa.
In 2022, the local Namibian news agency, NBC News, reported 98,640 criminal cases, including 324 murders and 2743 robberies. Although these statistics are alarming, they are significantly less than the crime levels in South Africa. As such, Namibia is a worthy destination for expats seeking refuge.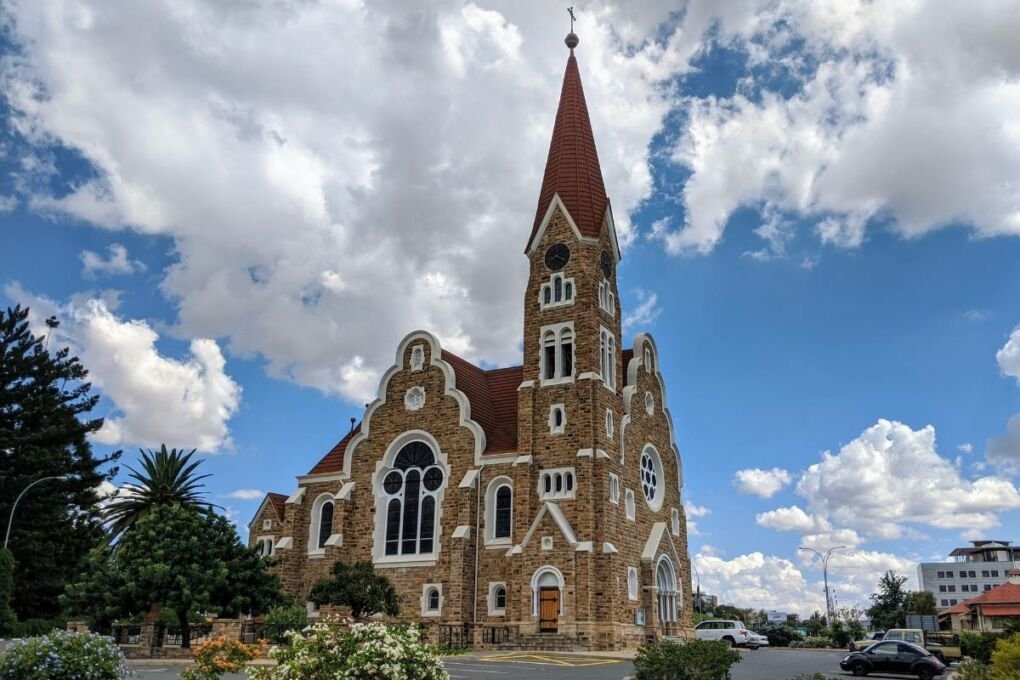 Safest Areas in Namibia
Klein Windhoek
Klein Windhoek is a stunning central residential area with classy, well-kept buildings. It is one of the safest places in central Windhoek. Whether you're looking to move to Namibia or booking accommodation, this area will have you feeling ultra mellow.
Klein Windhoek has various shops, restaurants, cafes, and convenience stores. Staying here makes living easy, especially considering Namibia has many small towns that can't offer the same comforts.
If you're looking for other safe areas in Windhoek, you can find peace in the residences of Ludwigsdorf, Hochland Park, and Eros Park.
Public Areas in Swakopmund
Swakopmund is another fantastic touring opportunity for your African holiday. It is a coastal town with signature German colonial architecture and beachside activities. It is also the ideal location to catch a day trip to the Namib Desert, home to Sossusvlei's glorious red dunes.
All public areas are safe, especially the waterfront and tourist routes. Mile 4 and Mile 6 are the safest beaches. As for residential areas, you can let your guard down in Vineta, Tamariskia, Ocean View, and Kramersdorf.
You should note that public areas bring more chances of dodgy criminal activity at night, but if you remain in typical hangouts and use trusted transport, you will be more than alright.
Public Areas in Walvis Bay
Walvis Bay is another coastal area just a mere 30 minutes from Swakopmund, which would easily extend your Namibian itinerary. This town is equally safe as its neighbor, meaning you should exercise the same safety measures.
Walvis Bay also has public area patrol services that prioritize your well-being. The safe parts include public spots, such as the waterfront, the lagoon, and Flamingo Park. The safest residential areas are Meersig, Fairways, and Narraville.
The town has adorable seals and pink flamingos, among other birdlife, making your stay here ultra entertaining.
Warnings & Dangers in Namibia
The low crime rates of Namibia beckon a joyful, peaceful visit – jam-packed with inspiring experiences. All the safaris, desert tours, and cultural experiences pose no risk to your welfare. All you really need to worry about is driving and wild animal encounters.
If you dream of an immersed African adventure, Namibia is your number one safety bet with all the benefits of raw, untainted beauty.
Although there is the slight danger of the night, it is all rewarded by the clear starry sky that comes with small towns. Namibia is one of the best places in the world to see the Milky Way.
Overall Travel Risk 3/10
The only Namibian travel concerns are petty theft, driving, public transport, safari safety, and insect-borne diseases in northern Namibia. These are minor problems with a low chance of happening; general precautions make it even less so.
As for health concerns, you should only drink tap water if you boil it first and avoid raw foods.
Hospitals are limited in the small towns of Namibia, so if you get severely sick, you'll possibly need transport to South African facilities. You definitely need travel health insurance when you visit.
Hopefully, nothing strange happens, but cure is the best prevention. Understanding these risks will leave you well-protected and clued up on how to stop possible danger.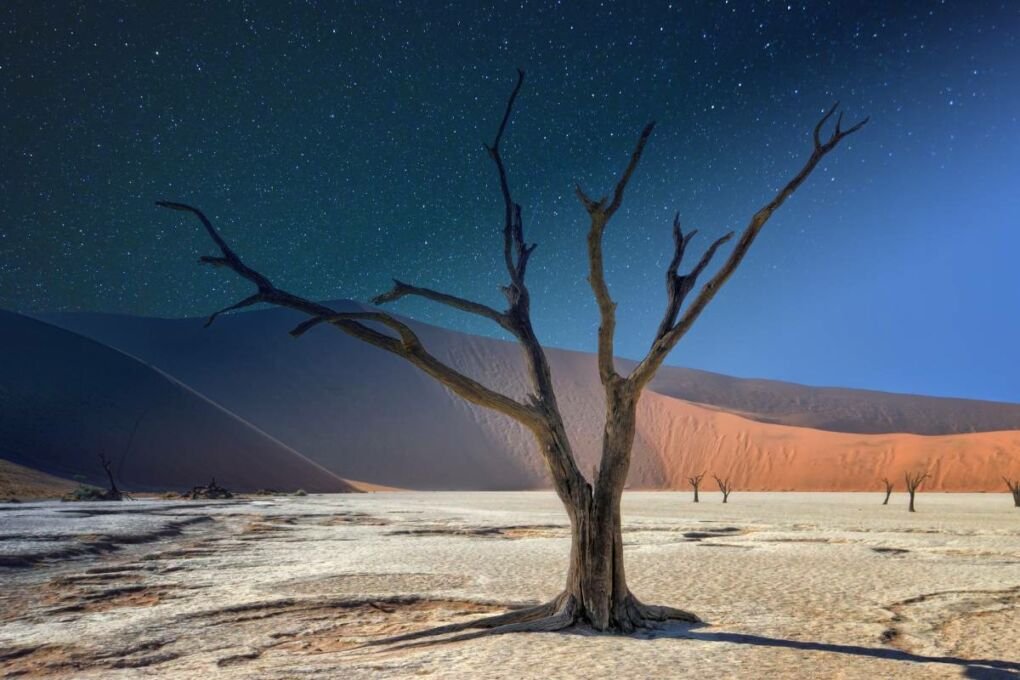 Pickpocketing & Theft
All it takes to avoid this issue is to stay aware of your surroundings. Pickpocketing and petty theft are hardly ever violent. If this were to happen, it would be at night in a dodgy area of town. Most tourist criminal cases occur at ATMs, bustling markets, and townships.
Namibian criminals that target you will most likely try their luck by distracting you. If a stranger approaches, they're likely up to no good.
Another way thieves get hold of your belongings includes breaking car windows and grabbing a stray bag. You'll need to lock your cars, keep your belongings close, and zip your bag up when exploring the city.
Driving & Public Transport
When visiting Namibia, you'll notice that there are minibus taxis for public transport. Taxis are notorious for unsafe driving and like to stop wherever they please to pick up passengers. They are often the source of collisions, so stay attentive to the road when one is near.
Since taxis don't drive safely, you should limit your transport options to rental cars, tours, and transport trusted by your hotel. There are also many cases of tourist theft in unofficial taxis.
Namibia also has many unpaved areas. When you drive, you should go slowly, maintain a fair following distance, and avoid sudden movements. This is especially necessary in windy and rainy conditions.
Wildlife Safety
You won't want to miss out on seeing the vast Namibian wildlife. The national parks are home to four of the Big Five, including rhinos, lions, leopards, and elephants. You'll also see giraffes, zebras, and many buck species. Encountering these animals is beyond magical, but they are untamed, which requires caution.
Always listen to your tour guide and their instructions. They are well-versed in keeping you safe and know all the protocols if anything goes wrong.
You'll likely go on tour in an open vehicle. All you need to do is remain seated and avoid hanging your arms outside when taking photos.
Mosquitos & Diseases
If you're only visiting the main tourist hubs like Windhoek, Swakopmund, and the Skeleton Coast, malaria is not a concern.
The only places you're at risk are the northern parts, like Omaheke, Caprivi, Kunene River, and Kavango. Here, you'll need to get a malaria vaccination before traveling.
Another insect-caused disease is leishmaniasis, spread by female sandflies. Luckily, this is also only a northern area problem.
There are many pesky desert bugs. To keep your trip pleasant, you'll still want to use plenty of insect repellent – especially in the Namibian wet season between November and April.
Tips for Staying Safe in Namibia
Namibia promises an easy-going holiday for all travelers. Here are some helpful tips to keep your trip running smoothly:
Keep your car locked and windows shut: When driving, you should keep everything locked as an extra safety measure. Once parked, you should do the same. Also, don't leave your belongings visible to prying eyes.
Drive safely: There are many gravel roads and sometimes unruly taxis. Namibian coastal roads are known to get windy, so please keep both hands on the wheel!
Be wary of scams and strangers: Although rare, criminals targeting tourists may approach you with a fictional story. They try to distract you while another person picks your pockets.
Use public and reputable ATMs: The main danger zones are where you draw or exchange money. You'll need to stay alert and only use trusted sources.
Bring plenty of sunblock: Namibia is in a desert, so sunburn and heat rash are a serious possibility.
Is Namibia Safe | Frequently Asked Questions
Is Namibia Safer Than South Africa?
Namibia may have been under South African governance before, but now it's an independent country far safer than its neighbor. Namibia is a magnificent alternative for an African holiday, especially for solo female travelers.
A Namibian trip offers similar benefits to South Africa. This includes national parks, game reserves, affordable accommodation, desert tours, and cultural diversity. Namibia is a fantastic option if you dream of seeing the Big Five on a safari or experiencing African culture in a safer environment.
Which is Safer, Botswana or Namibia?
Botswana takes the cake for being the least dangerous. In 2023, Botswana ranked 42nd on the Global Peace Index (Namibia was 56th), which is very impressive when viewed against the 163 compared countries.
Botswana has safaris, deserts, tourist activities, and wallet-savvy accommodations like its southern neighbors. Although Botswana is safer, it is worth visiting multiple countries to have a full-on Southern Africa adventure.
Is Namibia Cheaper Than South Africa?
Besides being safer, Namibia is also cheaper than South Africa. Namibia also accepts the South African rand. However, South Africa does not allow Namibian dollars. The exchange rates of rands and Namibian dollars are 99% equal when converting US dollars.
On average, a couple can enjoy a comfortable holiday in South Africa for about US$1,200 (around R23,600) a week. The budget includes activities, food, accommodation, and transport. In Namibia, you're looking at US$1,030 (around R20,000) a week.
What to Avoid in Namibia?
The top tip for a safe Namibian holiday is to avoid wandering around at night. Early evenings are still safe, but the dark is where danger lurks. If you'd like to visit the nearby bars, go with friends or fellow tourists to the safer parts of town.
Avoid strangers who approach you and public taxis to stop the chances of pickpocketing. You should always keep your valuables close, bags zipped, and hidden away when stored in your car.