A fun little tale on how I came to love Maboneng Precint Johannesburg – and why you shouldn't make quick judgements!
My flight from Johannesburg takes off in exactly 15 minutes. The flight goes from Joburg (as it's known locally) to Addis Ababa in Ethiopia then on to Dublin. Should land in rainy and cold Dublin at 6am Monday morning. Back to reality, as they say. Here's the catch….I will not be on it.
My time in South Africa should have come to an end today, with my 5 friends and I having road tripped around this incredible country for the last 16 days. After a few days of deep thought, and a final decision yesterday, I decided South Africa will have to put up with me for a little longer as I'm simply not ready to go home. In a strange way, I actually already feel like I'm home. Having lived here in South Africa for 12 months when I was just 18, and having totally fell in love with the country and its' people back then, coming back a decade later honestly just feels like I have returned home after a very, very long vacation!
So where am I right now, if not in the airport queuing up to a board a plane as I should be? I'm sitting in Curiocity Backpackers Hostel in the Maboneng Precinct, one of the oldest areas in inner city Johannesburg. That's right, I'm sitting alone in a hostel in a city known by people around the world to be one the most dangerous cities on earth. For the past 16 days, we have been warned by everyone who crossed our paths to be careful in Joburg. We were told to lock all doors, to never open the back of the car leaving valuables or backpacks on show. Never slow down at Stop signs or traffic lights and no matter what you do…do not drive into the city after dark. So paranoid were we about all this advice that we made 100% sure that we would be in Joburg before dusk and locked all car doors for the duration of our South African road trip! Can a neighbourhood in Joburg be one of the top places to visit in South Africa?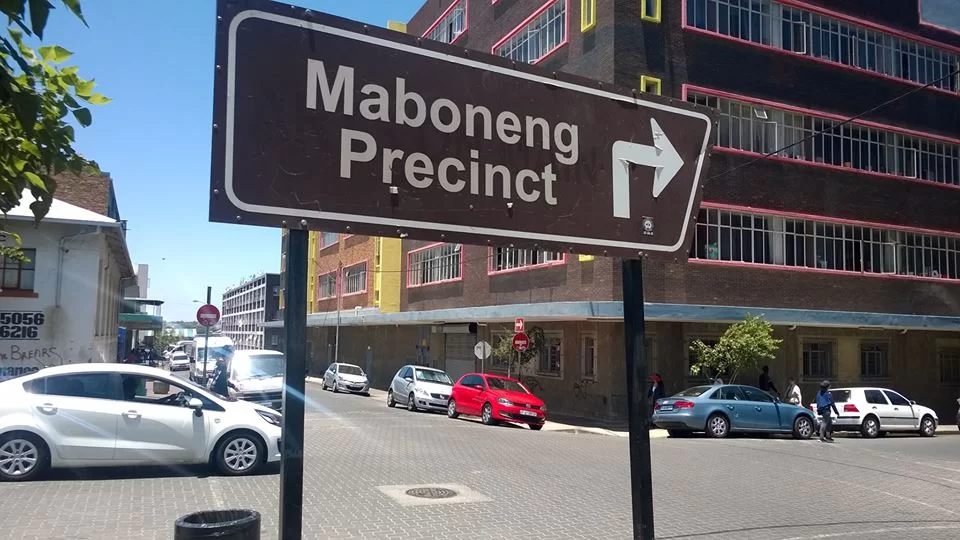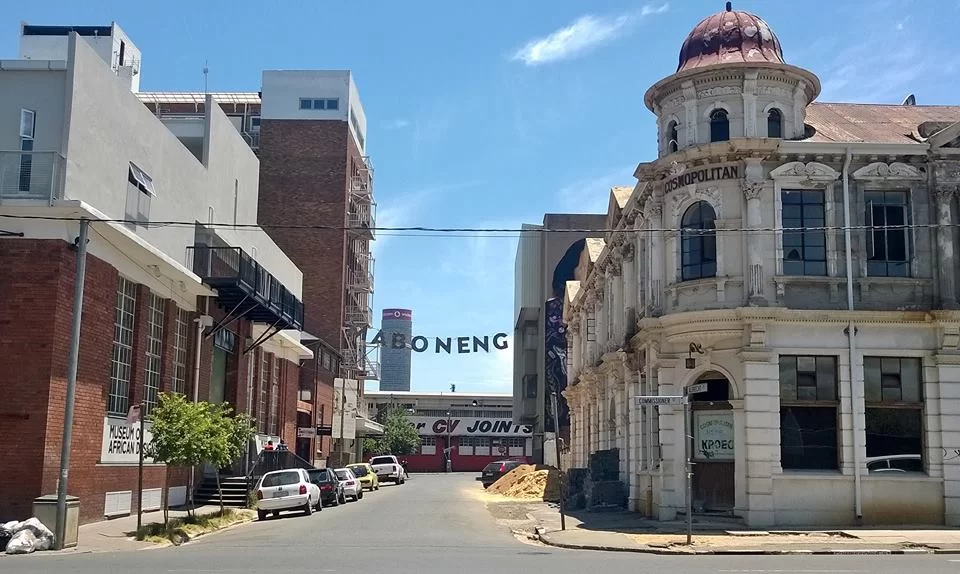 It took almost 8 hours to drive from Lesotho (where we spent the last few days) to Johannesburg. As I was driving, I went straight to the Maboneng Precinct (meaning 'Place of Light') where my hostel is located. It has a very high rating on Hostelworld, and lots of people recommended it so I could only assume it was in a good area. However, as we drove off the highway and turned down side street after side street, slowly creeping our way towards an area we promised we would never go, things started to take a turn for the worse.
Everywhere we looked there were dirty grey buildings. Even the skyscrapers, which looked impressive from afar, seemed more like a modern form of Brutalism architecture when viewed up close. Everything looked dirty and there was smoke wherever we looked. On every street corner we drove down, there were 6 – 7 fires, with people burning rubbish wherever we looked. Honestly, it was worse that anything we could have imagined. We couldn't believe this could be real, and I was equally shocked and scared that my hostel was apparently located in this district. There is NO WAY this part of the city could be safe.
We pulled the car over, but left the engine running. I hopped out of the drivers seat, Dan hopped over the gear stick and planted himself where I had just been sitting. I grabbed my backpack, and half hugged my friends as my eyes darted around the street, trying to take in my surroundings. Before I had made it across the street, my friends had already whizzed off, no doubt glad their hotel casino complex would be a far cry from this.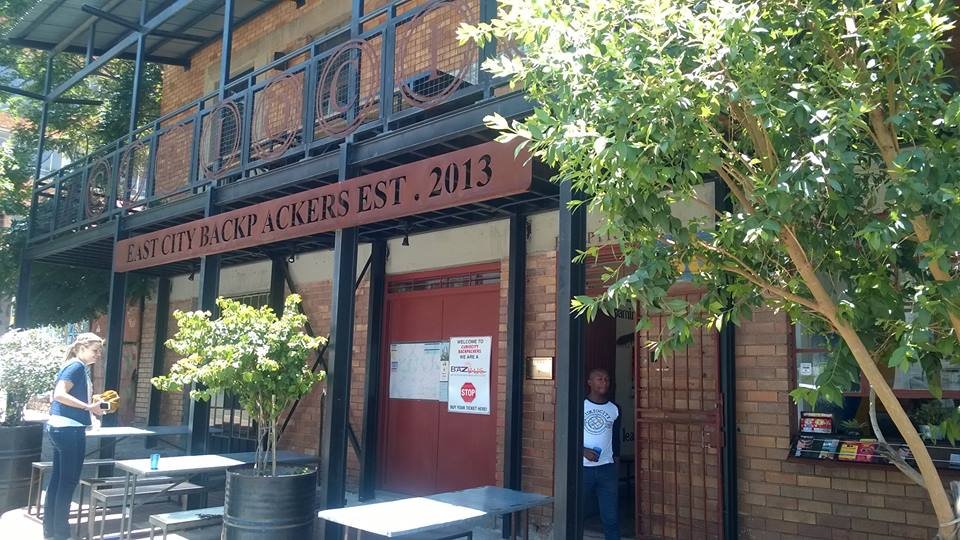 Maboneng Precint Johannesburg – Why I loved it
Once inside the hostel, within mere minutes, my opinion of the area quickly began to change and I gave myself an invisible quick up the ass for letting extremely negative first impressions get the better of me. My hostel was full of life, both locals and backpackers…a real first on our trip. The all-female dormitory was super clean, airy and big with a high roof and lots of space. There's a hot tub out back, a bar with pool table and table football and unique maps, quotes and paintings adorning all the walls. I befriended two German girls (there are Germans EVERYWHERE) in South Africa, and we grabbed a few Savannah Ciders and sat outside on the same street I had feared about 20 minutes earlier.
It was time to get educated on the area and to form our own opinions of much-feared inner city Joburg. It turns out there is an ongoing bin strike in Joburg, meaning days and days of rubbish has piled up on street corners. This left the locals with no real choice but to spend the evenings burning a weeks worth of rubbish on the street corners. That was one mystery solved! While the area definitely has it's dodgy spots, it turns out that the Maboneng Precinct is actually a total hipster paradise, full of urban street art and galleries, chic cafes, converted food trucks and upper class restaurants and jazz bars.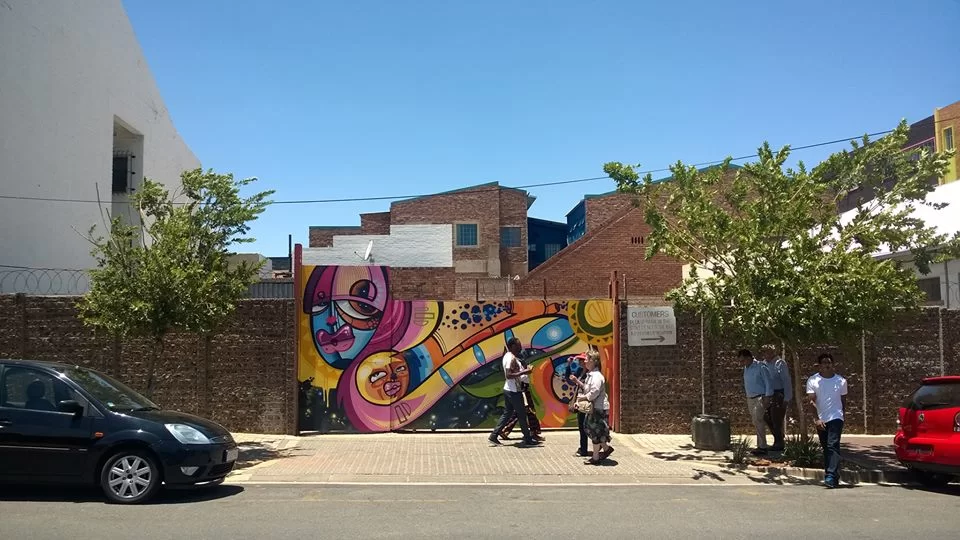 This morning I wandered down the street, alone, to check out what the area had to offer. If you had told me two weeks ago that I would be walking around inner city Joburg with handbag sitting casually on one shoulder, strolling around by myself, I would have told you you're mad. As I sat in the sunshine, enjoying a Chai Latte and Bagel with creamy avocado outside the Little Addis Cafe, I had to pinch myself and ask if this is real?! I kept smiling to myself as the world passed by me then decided to write down on my napkin exactly what I saw and heard over a ten minute period, just to give you a proper idea of the area. Here's what I wrote, word for word:
"South African fashionistas wearing locally stitched multi coloured designs stroll the streets – iPhone in one hand, freshly made green health juice in the other. Upper class joburgians arguing over which parking attendent they are supposed to tip and where to park their car. A mother and child walking at a fast pace, wearing matching floor length green dresses, on their way to church. Tourists sitting outside Little Addis Cafe, fighting over limited WiFi. A menu full of unfamiliar words and diet terms such as 'avo' (avocado) or 'banting' (a fad diet in South Africa involving low-carb, high fat foods). A sign pinned to the local art gallery advertising CrossFit classes while music floats across the road from a giant truck now converted into a cafe. A big group of cyclists pass, smiling with the knowledge that they had the courage to tour on bike an area most people will never have the courage to go to."
There are of course areas that are unsafe, and walking home alone at night, like any city, is a big no-no. Similar to other big cities, and other parts of South Africa, one should always be careful with your most prized possessions. Dangerous areas and horror stories aside, I would highly recommend a few days in this city and in particular a visit to the Maboneng Precinct. It's vibrant street scenes, live music and colourful characters are a photographers dream while the culture and history, and museums and art houses, will open your eyes to whole new perspective on the rainbow nation.
If you arrive on a Sunday, be sure to pop by Market on Main for some of the best food you will have the pleasure to taste while in South Africa. Nearly all restaurants and eateries in the district have a stand to show off their freshly cooked delicacies so it gives visitors a chance to taste a variety of foods in one place. There are also lots of tables and benches outside and interesting drink coolers and cocktails should you be so inclined.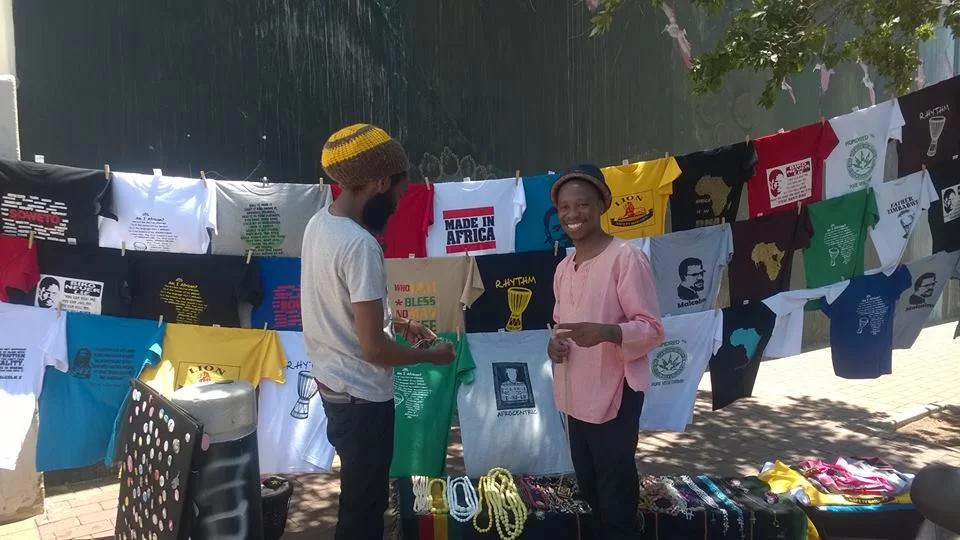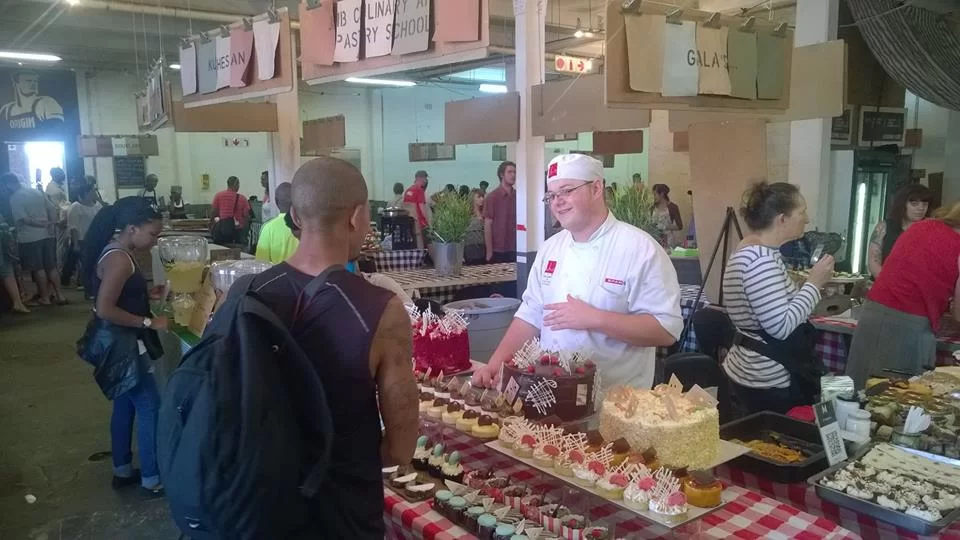 I've only been here 24 hours, but can tell that there is so much more to Johannesburg that I would ever have dreamed possible.