Mossel Bay is a harbor town in the heart Garden Route in South Africa. There are many fun things to do in Mossel Bay, the region is known for its pristine white sand beaches, wildlife and their mussels are rated to be among the finest in the world.
The peninsula of Mossel Bay lies at a unique confluence between the warm Indian Ocean and the Outeniqua mountains creating a shallow bay where whales, sharks, seals, and dolphins frolic.
The town boasts over 320 days of sunshine per year and receives most of its rainfall at night – allowing for maximum activity during the day, from surfing to whale and dolphin watching.
If you're wondering what to do in Mossel Bay, you've come to the right place. This guide includes how to get to Mossel Bay, fun things to do in Mossel Bay and where to stay in this amazing part of South Africa
---
Planning a trip to South Africa? Read this first
---
Where is Mossel Bay
Mossel Bay is situated halfway between Cape Town and Port Elizabeth, making it an ideal stopover for visitors to the Western and Eastern Cape Provinces.
How to get to Mossel Bay
Depending on where you are traveling from, Mossel Bay is reachable by rail, plane, bus or car.
Traveling from Johannesburg to Mossel Bay
The distance between Johannesburg and Mossel Bay is 1230 KM. There are daily flights from Johannesburg to Mossel Bay. Scheduled flights serving the Garden Route region use the George Airport (GRJ), which is 40 km east of Mossel Bay's CBD. A flight from Johannesburg to George takes1 hour and 55 mins.
Traveling from Cape Town to Mossel Bay
The distance from Cape Town to Mossel Bay is 344 km. There are daily flights from Cape Town to Mossel Bay. A flight from Johannesburg to George takes 50 minutes. Scheduled flights serving the Garden Route region use the George Airport (GRJ). When you arrive in George, you need to rent a car or take a bus to Mossel Bay.
disThere is also a Cape Town to Mossel Bay Bus. This is The cheapest way for traveling from Cape Town to Mossel Bay and it takes 5 hours and costs R 210 – R 370.
Best time to visit Mossel Bay
Like in most cities around the world, winter is low season in Mossel Bay (and most destinations), meaning you'll have more of the city to yourself and won't have to compete with hordes of tourists for entry to exhibits, monuments or when making restaurant reservations. Not to mention the fact that accommodation and flights are cheaper than in peak season.
The temperature in Mossel Bay in Winter
In Winter (June – August) the average temperature is 64 F/18° C (high) and 46 F/7°C (low). It also rains a lot and for a city where outdoor activities are the main attractions, most people are discouraged to visit. In Mossel Bay, most things weather-dependent but I didn't let this affect my decision to visit the city.
The temperature in Mossel Bay in Summer
Summer in Mossel Bay is usually warm, dry, and it is windy year-round. Over the course of the year, the temperature typically varies from 48°F to 76°F and is rarely below 41°F or above 84°F.
Fun Things to do in Mossel Bay
Visit the Dias Museum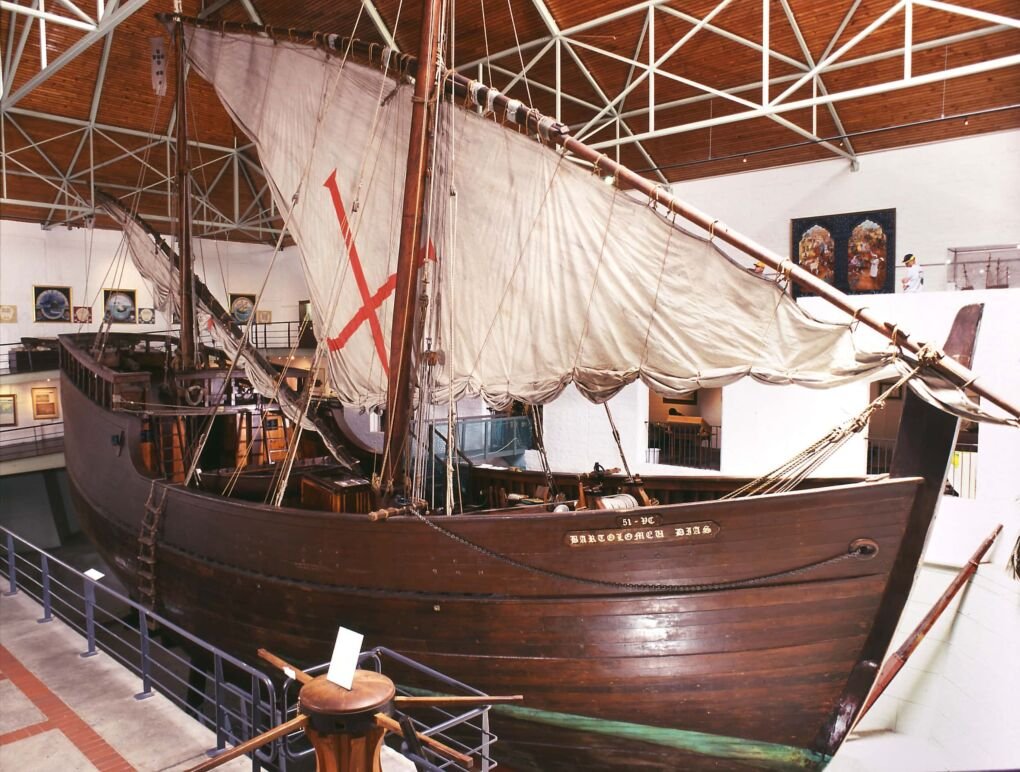 Bartolomeu Dias was a Portuguese explorer who landed close to the site of the current Dias Museum Complex.
He was the first European to sail around the southernmost tip of Africa in 1488, before, setting up the route from Europe to Asia later on. He named Mossel Bay "Angra dos Vaqueirosâ" (the Bay of Cowherds).
At the Bartolomeu Dias Museum Complex, you can learn about his life, adventures and see some replicas of his ship.
Go White Shark Parasailing
Parasailing is an outdoor water activity where a person gets towed behind a boat while attached to a parachute.
The Post Office Tree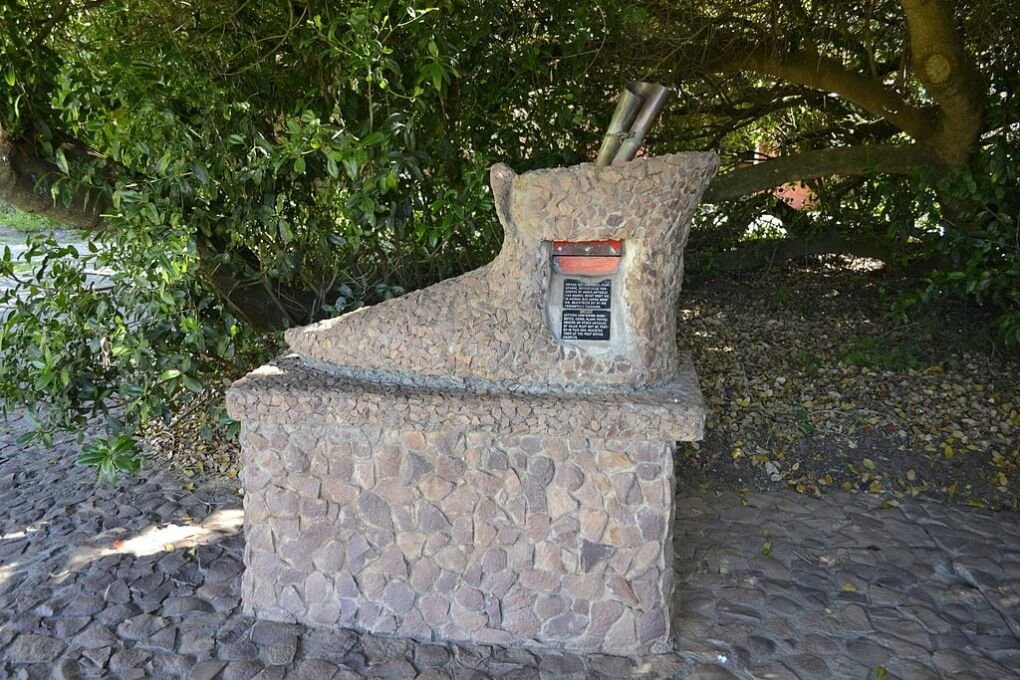 This ancient milkwood tree is believed to be the country's very first mailbox. It was first used as a post box in 1500 by a Portuguese sea captain named Pêro de Ataíde lost much of his fleet in a storm off the Southern Cape.
Before returning to India, he wrote a message reporting the damage and warning of rough waters and he tucked the message in a boot dangling from a milkwood tree near a spring where sailors often drew water.
Miraculously, the message was retrieved by its intended recipient, Joao de Nova, the very next year.
Today a large post office box shaped like a giant boot has been constructed beneath the tree, where people can send letters anywhere in the world and receive a special stamp.
Hike the St. Blaize Trail
The St. Blaize Trail is a popular 13.5 km trail that follows the 30-meter contour along the cliffs westwards from the Cape St. Blaize Lighthouse and ends at Dana Bay.
It begins at the Cave below the Lighthouse, and ends on the beach at Dana Bay (it can be run in either direction, or do an out & back run), and is clearly marked in white with the sign of the Oystercatcher, as it forms part of the greater Oystercatcher trail starting at the Gourits river mouth.
Admire the views from the Cape St Blaize Lighthouse
The 19th-century Cape St. Blaize Lighthouse is a circular cast-iron towner painted in white. Its southern shores are lined with awesome cliffs that loom above the thundering surf below and the relentless force of the elements has cut out massive caverns.
Ancient Khoi found shelter in the Cape St. Blaize Cave and an archaeological dig revealed that early dwellers of the cave might have largely survived on the abundant shellfish. The lighthouse was erected in 1864 and until recently, it was one of the only two lighthouses manned 24 hours daily on the South African Coastline.
Until the late 1970s, a clockwork system was originally used to turn the lens and it required a lightkeeper to climb up the tower and wind it up every three hours!
All the navigational aids and joining plants are fully automated now, but a senior lightkeeper and two lightkeepers are still employed.
Visit the Great Brak River Museum

Head to the Great Brak River Museum to lean the full story of the village during its "Heydays" from 1859 to 1920.
There are also various books for sale that will tell you more about the history of the Great Brak River and other villages in the area. The tour also offers a visit to the last remaining operable 1920's hydropower station in South Africa.
Shark Cage Diving in Mossel Bay
Fancy a meeting the most feared animal on Earth? See majestic great white sharks up close during a cage dive or watch from a boat as these powerful creatures launch themselves into the air while on the hunt for food (seals in most cases).
With over 500 species there is no exact figure of sharks in our oceans. The Great White Shark is the most common and oldest species of sharks and can be found in the water surrounding South Africa and Australia.
For Shark Cage Diving in Mossel Bay, divers are locked inside a metal cage used to prevent sharks from making contact. Shark cage diving enables divers to monitor sharks for scientific, commercial or recreational purposes, and sometimes interact with them. This became a tourist activity in the early 2000s and today shark tourism is popular around the world.
Make your own Gin
Head to the Inverroche Gin School @ Cafe Gannet where visitors have to craft their own unique bottle of gin, sample gins from the leading artisanal producer in South Africa and learn more about local fynbos. Guests receive a cocktail upon arrival, they will learn the process of making gin and also take their creation.
Fun things to do in Mossel Bay with Kids
South Africa is home to many archaeological sites like the Cradle of Humankind – one of the world's most important fossil sites where the oldest modern human skull was found. This site in Mossel Bay is known as the archeological site of the earliest artifacts of modern human beings. Its one of the most fun things to do in Mossel Bay with kids, not only is it educational but
Splash at Diaz Waterpark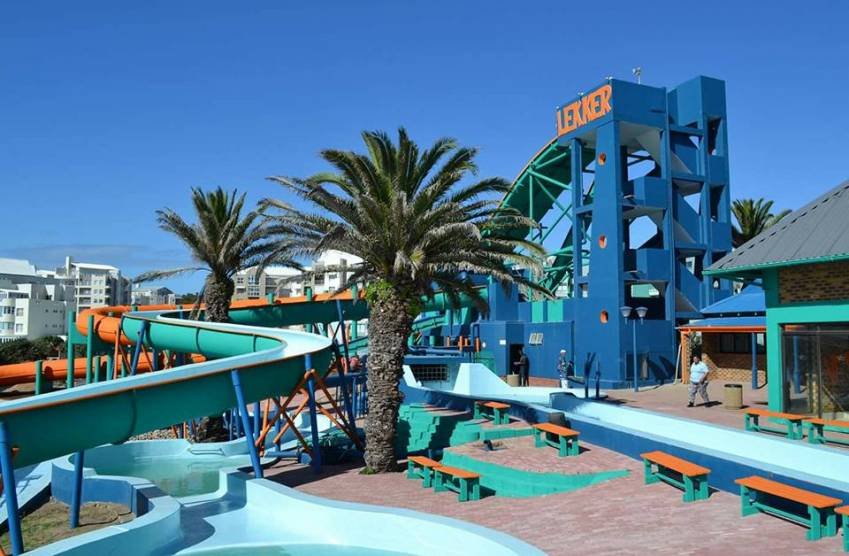 Diaz Water Park is a fantastic family attraction located at the Diaz Hotel. The water park has various super tubes as well as a heated pool, offering fun for all ages. There are braai and picnic facilities available for leisurely lunches.
Sandboarding in Mossel Bay
The coastal region of Mossel Bay is one of the best places for sandboarding in South Africa. Sandboarding is similar to snowboarding, you have to stand with two feet strapped onto a board and sliding or carving arcs down a sand dune.
Explore Mossel Bay by Train
The Diaz Express has routes on the existing Transnet rail network in the Garden Route region of South Africa. The train between George and the seaside resort of Mossel Bay. The train offers unsurpassed scenery, history, visits to quaint crafts shops and art galleries with gastronomic experiences.
Go Fishing
The best Mossel Bay fishing spots are:
Haaibankies: you will find lots of small bankfish.

Steenbras and Garricks – Santos beach delivers good white steenbras during the summer. Shad bites there at night and lots of big stingrays can be seen around.
Blacktail – Klein Brak or Tergniet offer nice blacktail and the like.
Wildeperd, Bloukop, and Kolstert – Reebok abound with these.
Elwe – Banke/Dias Strand, just before the De Bakke holiday resort. On the beach, the best bait would be live mullet, also belman and steenbras caught from this beach. From the rocks, anything goes and anything can be caught.
Leervis and Kob – The Dana Bay stretch of beach is also good with nice catches made.
Where to stay in Mossel Bay
Set on a Cliffside overlooking the Indian Ocean, the Pinnacle Point Beach, and Golf Estate is an amazing place to stay at when visiting the famous Garden Route.
My lodge for the stay was a 4-bedroom and 4 bathroom suite which measures approximately 64 square meters. Entering my room for the first time, I could immediately see how the property gave off a more "serviced apartment" feel.
Think of it as a luxurious condominium unit with additional amenities. My suite was dominated with white – from the wallpaper down to the cupboards – which gave a lighter ambiance to the overall surroundings.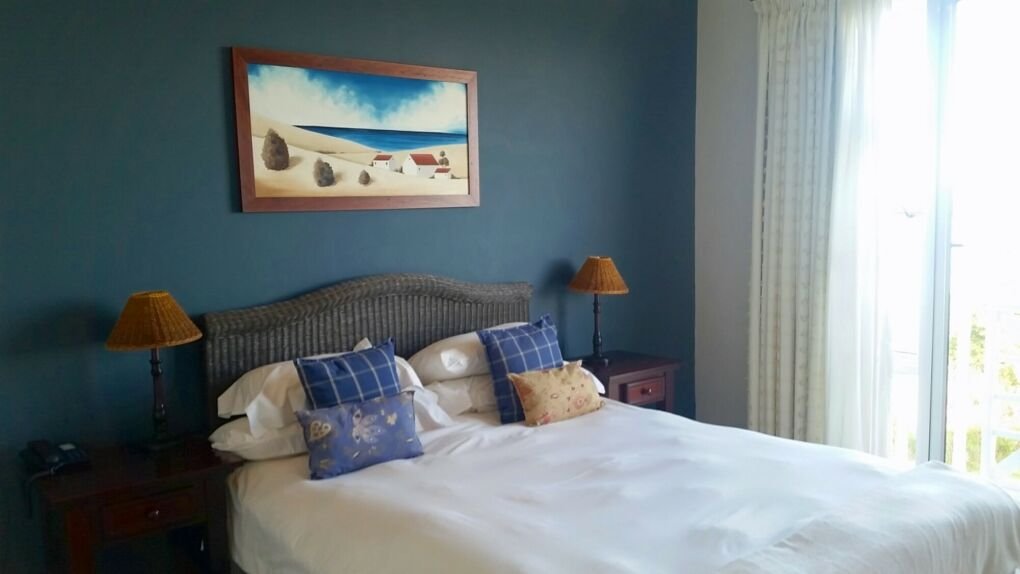 This property has plenty of facilities and amenities to keep guests entertained – unfortunately, they don't have WiFi in their rooms but the breathtaking views make up for this inconvenience.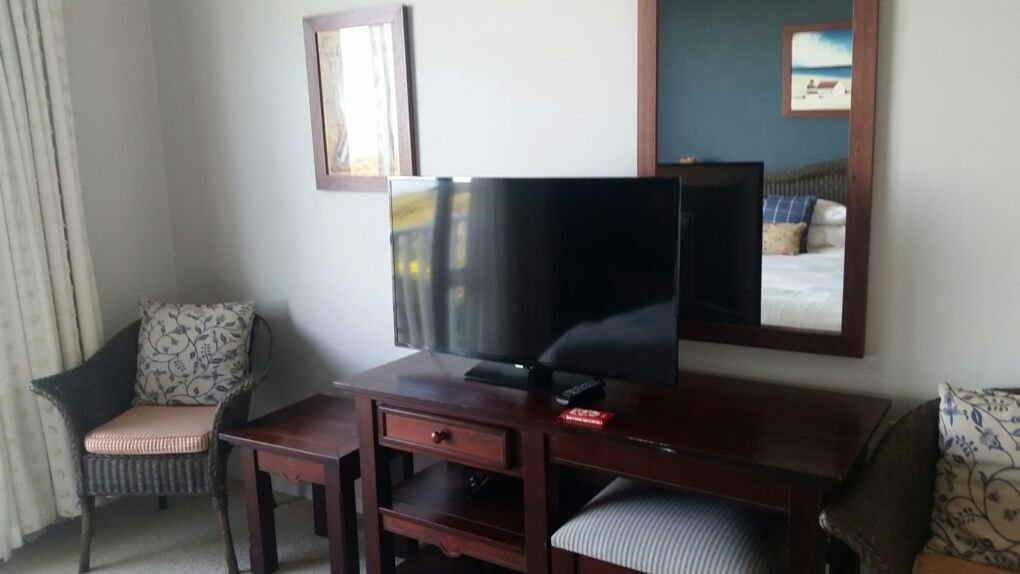 The kitchen area was well-stocked with pots and pans, plates, cutlery, and glasses to allow for an intimate dinner with friends. The washing machine comes loaded with laundry detergent and has a dryer function so that you won't need to destroy the nice ambiance by finding a space to hang your clothes for drying.
For those who are into golf and lack the time to go to the nearest country club, this is your best bet for a swing or two right in the heart of town. (I'd like to believe most guests stay here to play golf.) Of all the facilities, I must say that I loved the Living Room the most. There is no shortage of amenities here to keep guests entertained.
Other than tea-making capabilities; there is a TV and fireplace. I could totally imagine myself lounging around here all day surrounded by plush Italian furnishings all day. Breakfast features a modest buffet spread consisting of salads, yogurt, fruits, cereal, and porridge while there is a list of revolving items that are made to order.
[maxbutton id="1″ url="https://www.booking.com/hotel/za/pinnacle-point-lodge-113-mosselbay.en.html?aid=1558524&no_rooms=1&group_adults=2″ ]
Built-in 1846, this elegant hotel is a 5-minute walk from Santos Beach and overlooks Mossel Bay Harbour. It offers a terrace and a pool, both with Indian Ocean views.
The rooms and suites at the Protea Hotel Mossel Bay have air conditioning, a TV and a tea/coffee maker. The suites also have 1 bedroom, a kitchenette, a separate lounge and a private balcony with harbor views.
The trendy Café Gannet Seafood Restaurant offers an a' la carte menu and specializes in fresh seafood, including Mossel Bay mussels, sole, and wild coastal oysters. Guests can also enjoy alfresco dining on the outdoor terrace. After dinner, the Hotel Mossel offers the Blue Oyster Cocktail Bar, which overlooks the Indian Ocean.
[maxbutton id="1″ url="https://www.booking.com/hotel/za/protea-mossel-bay.en.html?aid=1558524&no_rooms=1&group_adults=2″ ]
---
AMAZING South Africa Travel Guides
---
Travel Insurance for South Africa
Use travel insurance while visiting South Africa so you are covered for theft and medical expenses. There are a lot of adventurous activities to do in SA, and it's best to have peace of mind while diving, hiking and trying some of the best food in the world.
Find out why I recommend World Nomads, check out my World Nomads Insurance review.
Disclaimer: This article contains affiliate links. This means that if you make a booking after clicking on a link, I may receive a small commission at no extra cost to you!