So you are heading to Johannesburg, South Africa, or better known as 'Jozi' by the locals. With a buzzing cosmopolitan atmosphere, it has so much to offer in terms of history, culture, food, fashion, and nightlife. It's South Africa's 'City of Gold' with vibrant energy and people from all corners of the world. When it comes down to convenience, safety and privacy – then Airbnb Johannesburg is the best route. It doesn't matter if you 're on a conservative budget or searching to splash out on something a little more luxurious.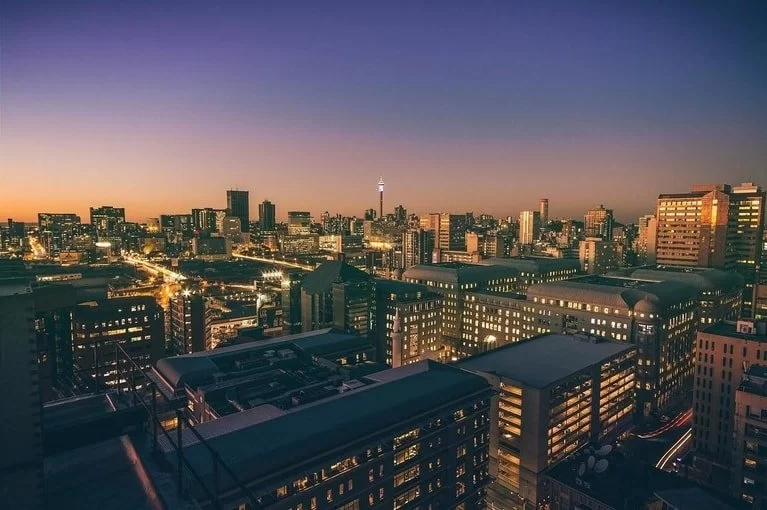 When it comes to Johannesburg, location is everything. To help you make your choice, here is the list of the most popular areas, what they offer and some of the best and most affordable Airbnb apartments in Johannesburg available. Don't forget to sign up to Airbnb here and get $30 off your very first stay!
Airbnb Johannesburg: Top Places To Stay
Sandton
For shopaholics, Sandton is Joburg's wealthy business district and home to headquarters of many top businesses. The streets are surrounded by impressively large buildings, sophisticated hotels and endless shopping malls all showcased along designer stores, delightful coffee shops and exclusive restaurants. It also offers public transport and very easy access to the Gautrain.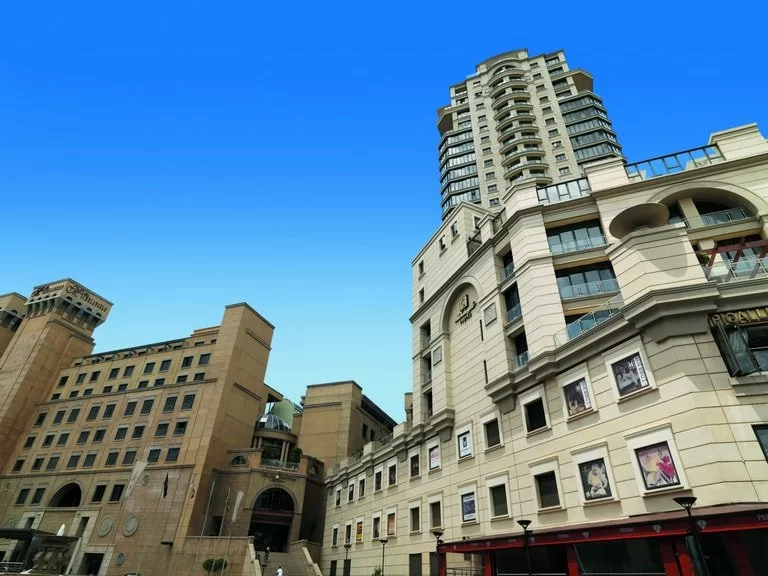 Airbnb Sandton: Luxury Wifi Unit in Executive Suites
This beautiful self-catering apartment is located in the heart of Sandton City, perfect for a single business traveller or couple who wants to be at the centre of the business and shopping hub.
The apartment is fully equipped with modern finishes with secure basement parking, 24 hour security, uncapped Wifi, a spacious bedroom, full en suite bathroom, fully fitted kitchen, light and airy lounge and balcony.
The location is very convenient within walking distance from Sandton City to explore the streets and only 2km away from Sandton Shopping Centre.
Why we love it? We love the fact that there is a stunning outside deck area plus a pool to splash in on a hot summer's day!
Price: R550 per night.
Parkhurst
Parkhurst is known as one of Jozi's 'leafy suburbs' and caters for the more 'outdoorsy' person. Offering lots of tree-lined suburban streets, lush green parks and not to mention the Johannesburg Zoo and Emerentia Dam, this neighbourhood will have you out and about for sure.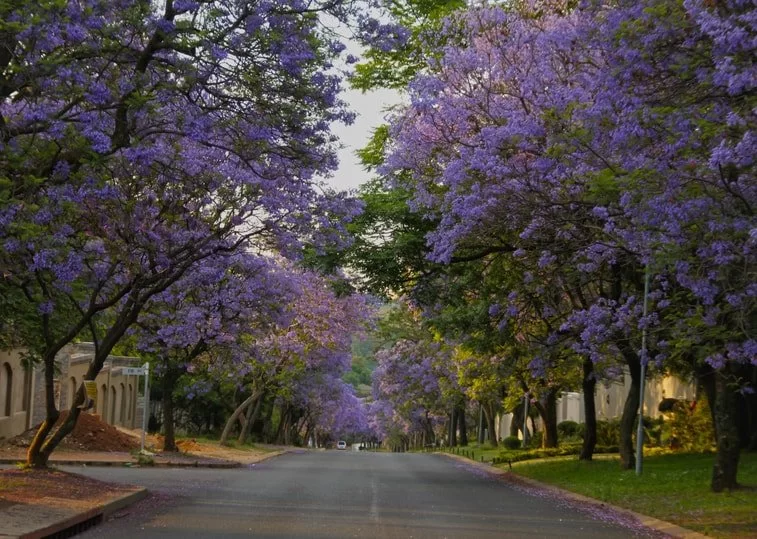 Parkhurst Airbnb: Sunny, Private Cottage
A little home away from home, this sunny private cottage is the perfect getaway for a couple looking to enjoy a comfortable and private space in a very safe and well sought after neighbourhood.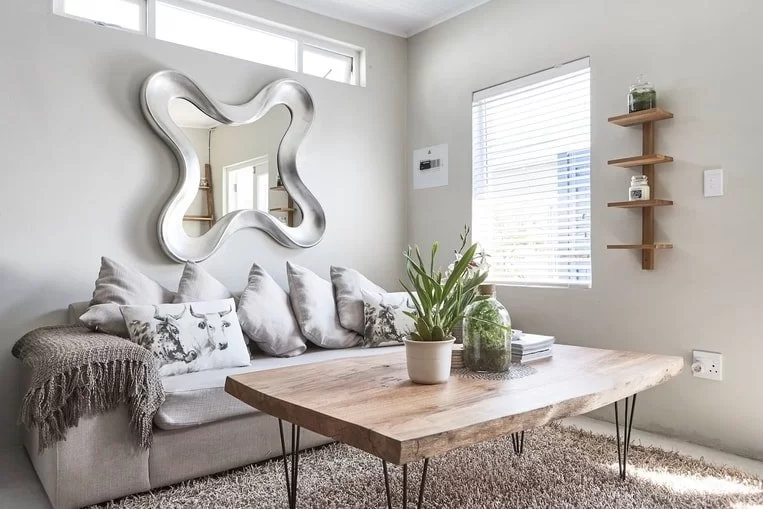 The cottage is secluded from the main house and beautifully decorated with a modern open plan kitchen and spacious lounge leading to a private little garden. A perfect clean, white bathroom and bedroom with cupboard space further adds to the comfort of guests.
A stone-throw away from the popular 4th Avenue boasting fantastic restaurants and bars to indulge in. Uber is the most convenient and easiest way to travel and explore the other amenities Parkhurst has to offer.
Why we love it? Tarryn and Carl (the hosts) go out of their way to make guests feel as comfortable as possible. They even provide a booklet of 'things to do' in and around the area. Also, if you are travelling with your fur baby, the cottage is pet friendly.
Price: R505 per night
Rosebank
Between Joburg's city centre and Sandton is Rosebank, a more grounded and creative suburb and also home of The Rosebank Mall. On Sundays, market-lovers can enjoy the famous Rooftop Market at the mall offering a variety of delicious bites, crafts, books, antiques, jewellery and funky handmade clothing.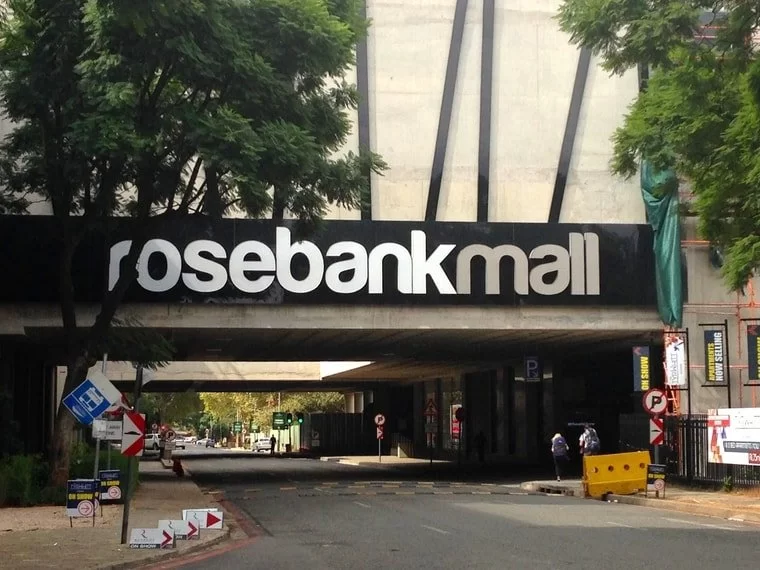 Airbnb Rosebank: Studio Apartment Next Door Rosebank Mall
Location is what makes this studio apartment the place to stay in Rosebank situated right next to the Rosebank Mall. Ideal for a young professional or couple who wants to experience the vibrant community and culture of this popular suburb.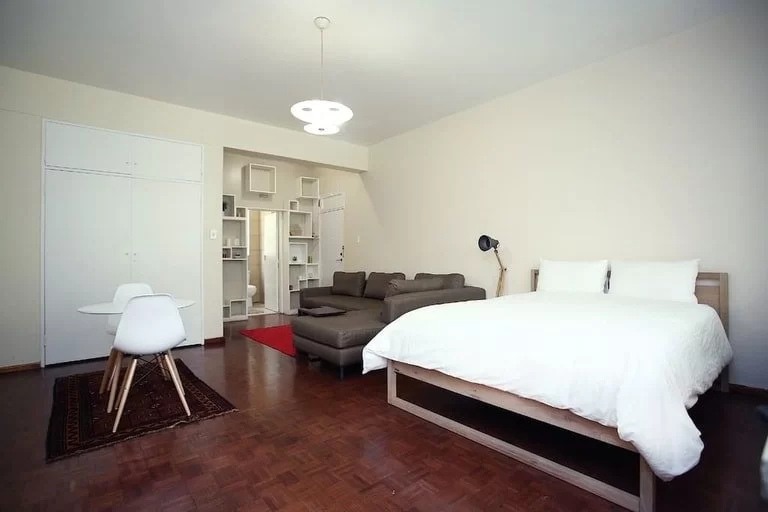 Quite spacious for a studio – it offers a lot of comfort including a queen size bed, fully equipped kitchen, comfy couches, DSTV, ADSL and an enclosed balcony with garden views.
You can explore the streets and neighbourhood by foot, including restaurants, shops and the Gautrain to travel outside of Rosebank.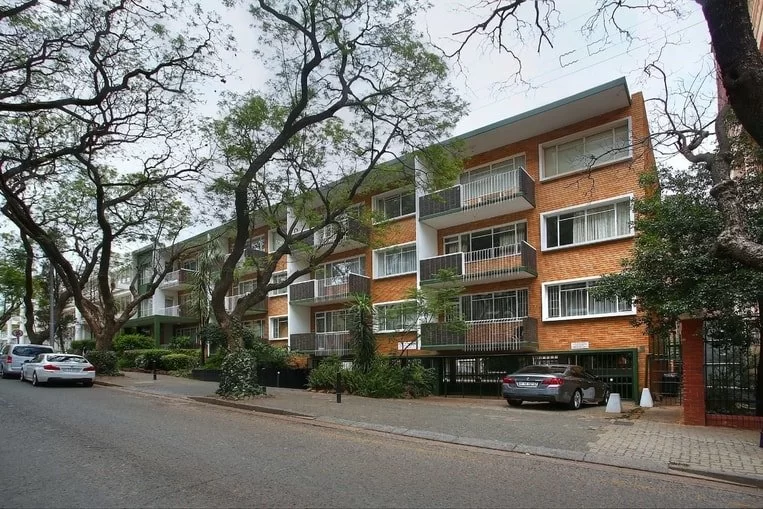 Why we love it? Attention all coffee lovers: you have a Starbucks as your next door neighbour!
Price: R450 per night
Greenside & Melville
For the night-owls, areas like Greenside and Melville offers a variety of trendy bars and restaurants. Greenside is an old suburb with a vast variety of unique restaurants and bars.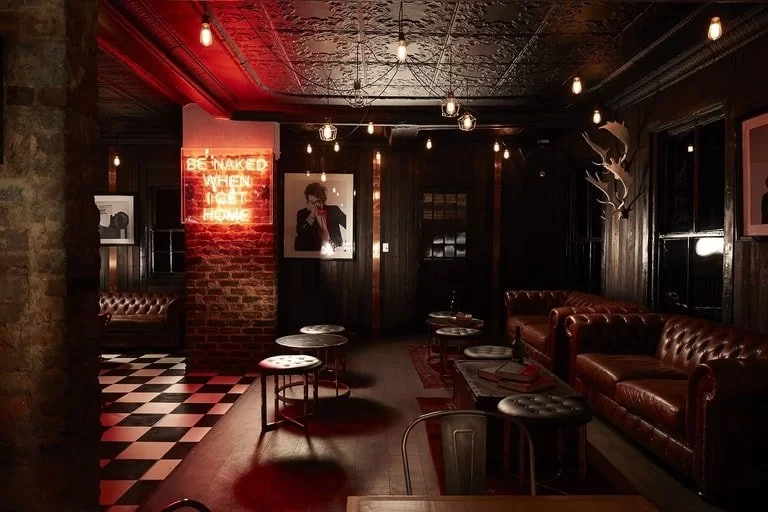 Melville is a popular nightspot for people who enjoy the alternative side of life. As the bathroom-wall saying goes, 'If you're looking for a good time…'. Well, Melville's number might just be written below that.
Airbnb Greenside: Stylish and Secure Urban Retreat
For the artsy people who appreciate creative interior decor, this stylish and urban garden flat is perfect for a solo traveller or couple wanting to get a taste of Greenside's voguish atmosphere.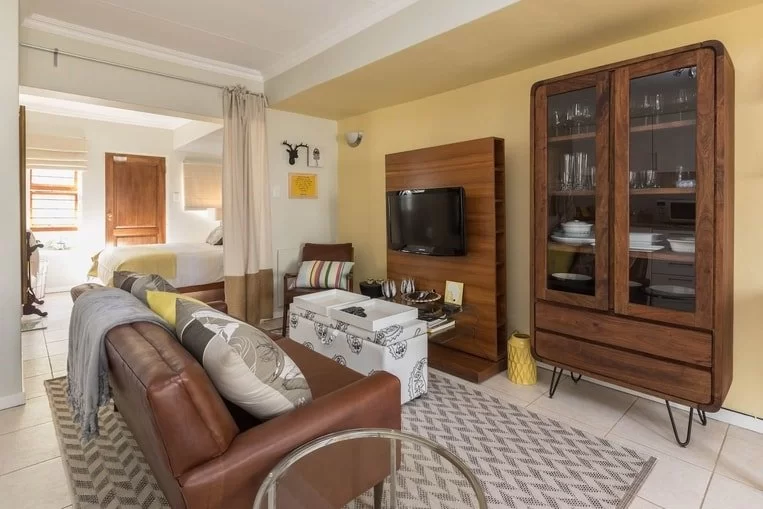 The flat offers spacious lounge and fully equipped kitchenette, uncapped Wifi, ensuite bathroom and comfortable bedroom leading to a private outside courtyard are, perfect for enjoying your morning coffee. Light and cosy with artistic, attention-grabbing furniture and finishes.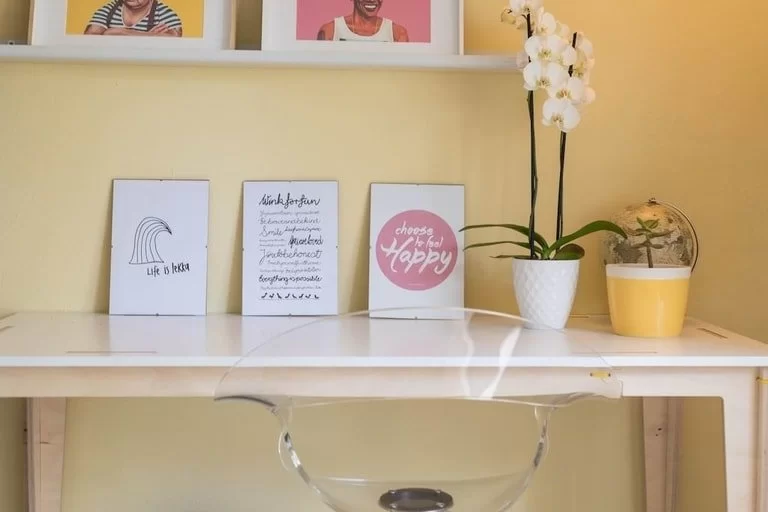 The flat is situated in a quiet and tranquil street, just a stone-throw away from the hip and happening Gleneagle's strip – overflowing with trendy bars and restaurants buzzing from 5pm to early mornings.
Why we love it? The flat is 100% eco-friendly, including non-toxic mosquito repellent and toiletries, recycling bags, solar-heated water and an organic herb and vegetable garden.
Price: R510 per night
Airbnb Melville: Modern Charm for Gourmets
This self-catering gem is perfect for a couple to enjoy a little romantic getaway during winter time but still want to explore the exciting nightlife Melville has to offer.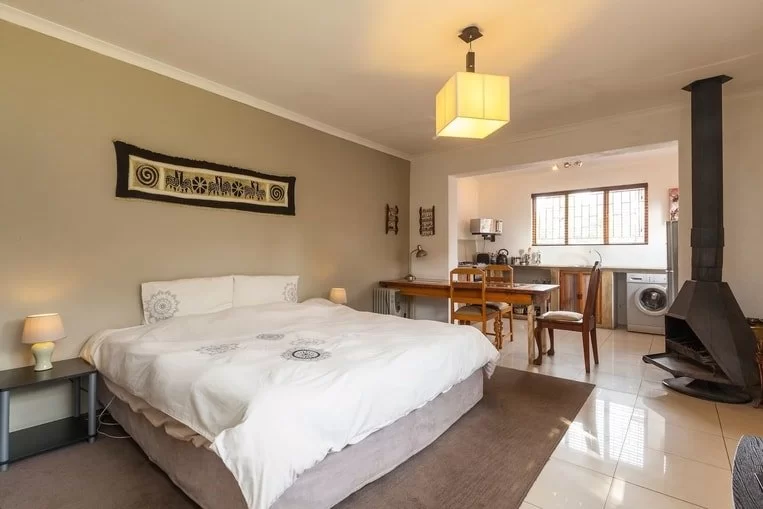 The flat offers everything 'gourmet' and luxurious, including white porcelain tiles, a cosy fireplace, electric blankets, king size bed, jet-spa bath, HDTV with full DSTV and Playstation as well as a 100Mbs Fibre line.
A fully equipped kitchen will have you 'cooking up a storm' every chance you get. The kitchen consists of a 5 burner gas hob full size fridge/freezer, concrete countertops with a double washing sink to a dining table made from a recycled Oregon Pine door.
It is conveniently situated in a safe neighbourhood and the popular restaurants and bars in 7th Avenue are just around the block.
Why we love it? Apart from all the luxuries, Steven, the host, is a foreign news journalist who has travelled around Africa and has some interesting stories to share with guests. Gogo, the friendly and helpful housecleaner, also seems to be quite a hit!
Price: R359 per night
Braamfontein & Maboneng
Closer to Johannesburg CBD, areas like Braamfontein and Maboneng are known as Joburg's 'hipsters paradise' with a unique and innovative edge as well as an eclectic nightlife including quirky pubs, art galleries, trendy shops and all things underground.
Airbnb Johannesburg: Sunny 2 Bed Penthouse With Balcony
Suited for 4 guests, this sunny 2 bedroom penthouse is situated in the heart of the trendy Braamfontein district, perfect for a couple of friends looking to have a good time in Jozi's City Centre.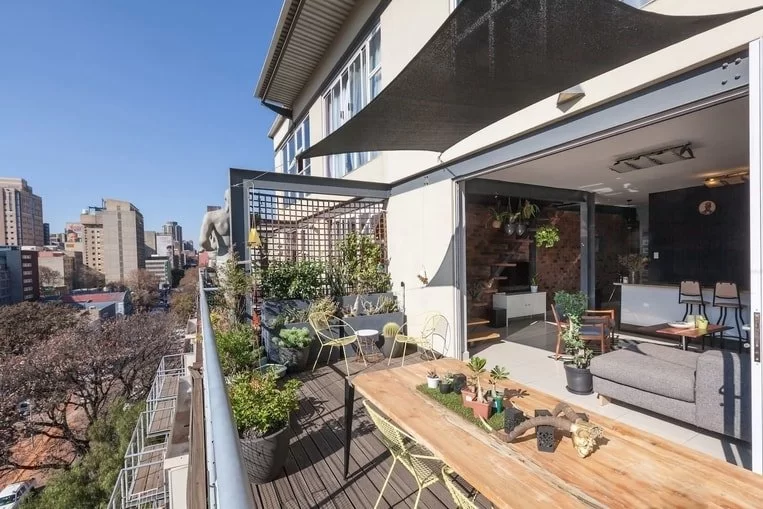 Apart from the funky interior alluding to an authentic urban feel, the apartment has so many perks: 24 hour security, underground parking, a projector with a build in screen to watch movies and a large shaded balcony to have sundowners whilst enjoying the views of the 'City of Gold'.
There are two bedrooms, one with large windows and amazing city views and en suite bathroom. The second bedroom has its own bathroom downstairs. Fully fitted open-plan kitchen and lounge creating a light and airy atmosphere.
Why we love it? To further add to guests' convenience, breakfast items such as orange juice, coffee, eggs and bread are provided – also coming in quite handy with a little hangover!
Price: R850
Airbnb Maboneng: Maboneng Gem – Studio Loft
Maboneng expresses urban living and this loft apartment is at the centre of it all. Perfect for a solo traveller or couple who appreciate the creative energy of this neighbourhood, also known as the playground for many Joburg artists.
The flat is newly renovated and decorated with white, red and grey furniture and finishes and offers a king size bed, fully equipped kitchenette and uncapped high speed Fibre internet.
The building also has a lot to offer including restaurants, a small movie theatre as well as a studio playhouse.
Why we love it? The price!! Also, the area is a cultural oasis for visitors, locals and entrepreneurs and has a great mix of art galleries, restaurants and vibey rooftop bars.
Price: R288 per night
Johannesburg is so much more than just South Africa's biggest urban forest. It is a city entrenched with a deeply-rooted history and culture and it's diversity will never leave you feeling bored. Jozi simply has a magical buzz about it.
You will simply have to come and see for yourself why some of the neighbourhoods in Jozi make it onto the list of top places to visit in South Africa. We hope you'll enjoy checking out some of these amazing spots that will add to your enjoyment and experience!