The thing that surprised me most on arrival in Indonesia was how expensive beer and wine was compared to other destinations in Southeast Asia. While beer isn't too bad, wine is simply outrageous, with bottom shelf bottles you wouldn't touch back home costing over US $25. Alcohol prices in Bali tend to shock most, unless you're coming direct from Australia and Europe, in which case just about everything still feels cheap as chips. If you're planning to back some wine in your suitcase, you might want to check out my Bali packing list for other suggestions!
PRO TIP: If you're planning to travel to Bali, be it on a budget or on a luxury tour, I can't emphasise enough how important it is to have decent travel insurance – especially if you plan on riding a bike or scooter! I always use World Nomads, as they're known as the best insurer for backpackers and long term travellers.
Why is alcohol in Bali so expensive??
Indonesia has one of the highest rates of import tax in the world, making it difficult (and very expensive) to import anything into the country. Since 2015, Alcohol has had an import tax rate of 150% – which means that a bottle of alcohol that would cost $20 in Australia might cost over $80 here in Bali.
Alcohol Prices In Bali – How much does a beer cost?
Beer is probably the cheapest thing to drink in Bali. Your average .33 litre bottle will set you back about US $1.5 (or 25,000 rupiahs in local currency) if you purchase it in the local corner store or supermarket. A simple beach bar with bean bags, like the ones that dot the beaches around Canggu, will cost slightly more at around, setting you back between $2 or $3. In the fancy beach all-day clubs in Canggu, Seminyak and Bali (such as Potato Beach Club or Finns Beach Club) a beer starts from about 50,000 rupiah or $3.
In some smaller venues and beach bars, or even at the larger clubs during Happy Hour (normally after sunset form 6 or 7pm), you can get large bottles of Bintang for between 30,000 and 50,000 rupiah – with many doing buy one, get one free deals every night of the week.
Average cost of a beer in Bali:
$2 US / $3 AUS / €1.50
Alcohol Prices In Bali – How much do spirits cost?
Drinking delicious cocktails on the beach has always been popular in Bali so it's no surprise that the cost of spirits seems to keep going up! In the nicer beach bars and clubs around Canggu and Seminyak, the standard price of a cocktail is between 100,000 and 120,000 rupiah, which is about $11 Australian, $9 US, or about €7. While this is definitely cheaper than what you would pay back home, it's pretty pricey compared to other destinations in Southeast Asia.
A basic vodka and coke won't cost quite as much, but is still very expensive. Even if you buy the bottle of vodka yourself in the supermarket, your eyes will pop out when you see the price tag of 450,000 + for a 750ml bottle. That's about $45 Australian or €28!!
Imported spirits are expensive in Bali because of the high tax levied on anything with alcohol. This means even supermarket prices are unreasonably high!
Average cost of spirits in Bali:
$9 US / $11 AUS / €7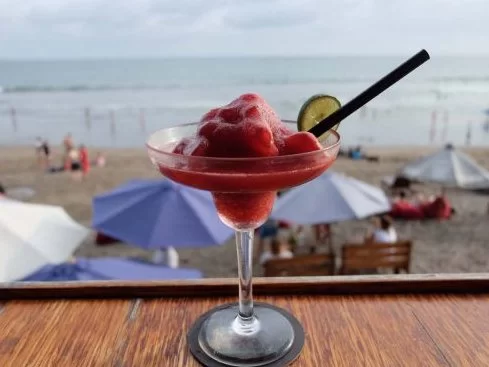 Alcohol Prices In Bali – Why is wine like GOLD?
I honestly can't explain it, but I've never travelled to s country where most things are cheap as chips but wine is absolutely outrageously expensive. A country where a super fancy Mojito will set you back the same as a very, very standard (and probably awful) glass of Chardonnay. A place where even very large supermarkets have an abysmal selection of wines, and the ones you recognize (which you would not be caught dead buying or drinking back home) start from the insane price of €20 + ($30 Australian) for a lousy bottle.
They do have local wine, and yes, it's pretty awful. And even though it's made in Indonesia, it still comes with the hefty price tag of $20+ a bottle.
Average cost of wine in Bali: (per glass)
$10 US / $13 AUS / €6
Like this post? Please PIN IT!