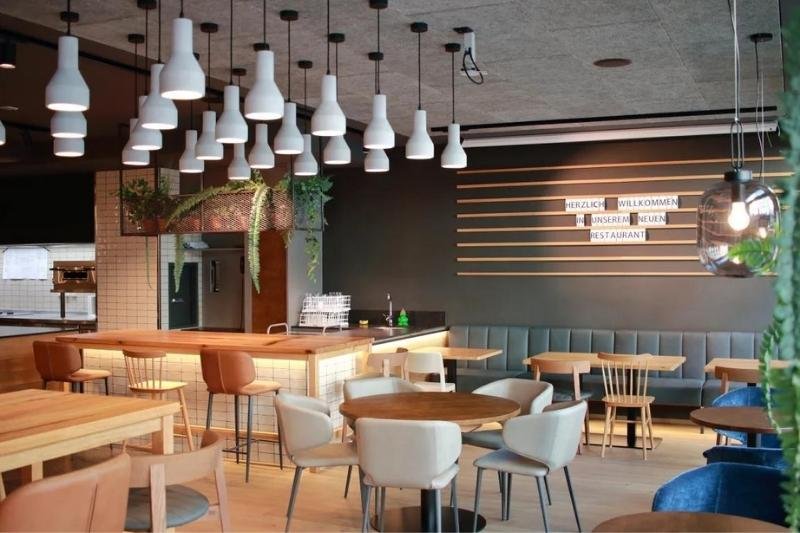 Munich is on everyone's mind these days, thanks to the growing popularity of Oktoberfest, the world's largest and best beer festival. You're probably looking for the best hostels in Munich during this time but are finding housing hard to come by.
This is understandable, considering the festival attracts over six million visitors each year. Whether you're visiting Munich for a day or a week, it's important to book ahead.
If you're on the hunt for somewhere to stay during this world-famous Volksfest, check out our list of some of the best hostels in Munich.
This list is also great if you're visiting at any time of the year and are looking for something cheap and cheerful. You're guaranteed friends, fun, and beer-drinking buddies in metropolitan Munich.
With so many fun things to do in this vibrant city (besides Oktoberfest), it's no wonder Munich hostels are in high demand.
Cheap Hostels in Munich
Without further ado, here's a list of the best hostels in Munich.
Wombat's City Hostel Hauptbahnhof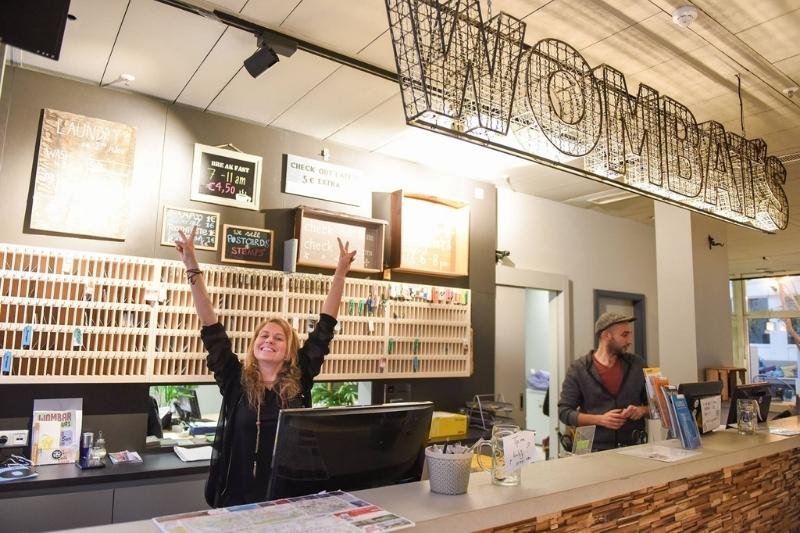 Wombat's constantly features at the top of every "best of" hostel list. Wombat's has locations in bustling Berlin, Budapest, London, Vienna, and Munich. Prices are significantly higher at the Munich location during the weeks of Oktoberfest, but, as of this writing, there were still beds available at this centrally located hostel.
In addition to a fully-stocked bar and an all-you-can-eat breakfast, Wombat's City Hostel Hauptbahnhof has a supply of earplugs, condoms, laundry bags, and flip flops for purchase.
Lockers are available to keep your stuff safe as you play a game of pool or lounge around in a hammock or bean bag in the glass-ceilinged courtyard. If getting out and about is more your style, check out the day trips and activities offered by the hostel.
Address | Senefelderstraße 1, 80336 München, Germany
Wombat's City Hostel Werksvietel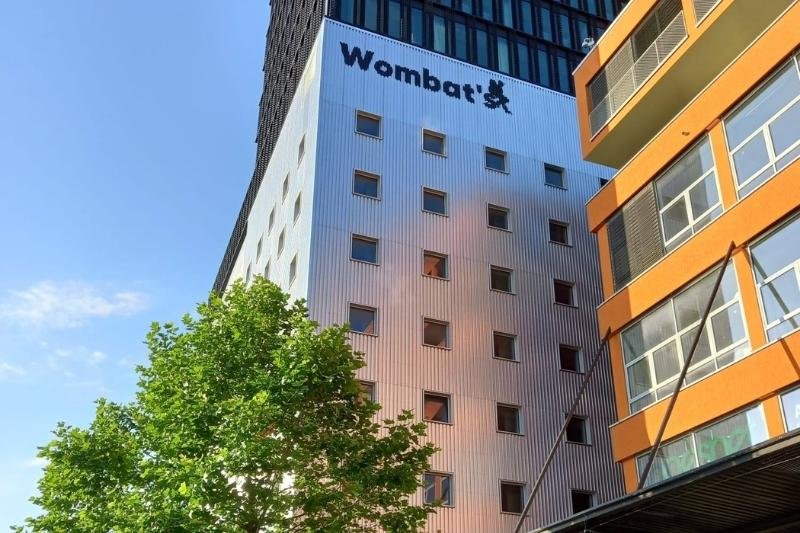 Wombat's City Hostel Werksviertel has had many faces in Munich. It was first a factory site, an amusement park, and then transitioned into a thriving new suburb. Afterward, the hostel has been situated in a thriving new neighborhood.
You'll find an assortment of cultural and recreational activities, like sports and the arts, in this buzzing area.
This Munich hostel, located around 1.8 kilometers from the Deutsches Museum, has plenty for art and history buffs. The Bavarian National Museum is also 2.3 kilometers away.
Even if you don't want to go out after Oktoberfest, the hostel's evening programs will keep you entertained.
Free Wi-Fi keeps you in touch with loved ones, and playing billiards allows you to unwind while honing your cue skills.
With a 24-hour front desk, you can head to reception for any queries you may have.
Certain rooms at the hostel contain safety deposit boxes for your personal belongings. Plus, each room includes a private bathroom with a shower, so you won't have to use a communal bathroom.
Lastly, you can begin your days here with a continental breakfast to fuel you up.
Address | Atelierstraße 20, 81671 München, Germany
Euro Youth Hostel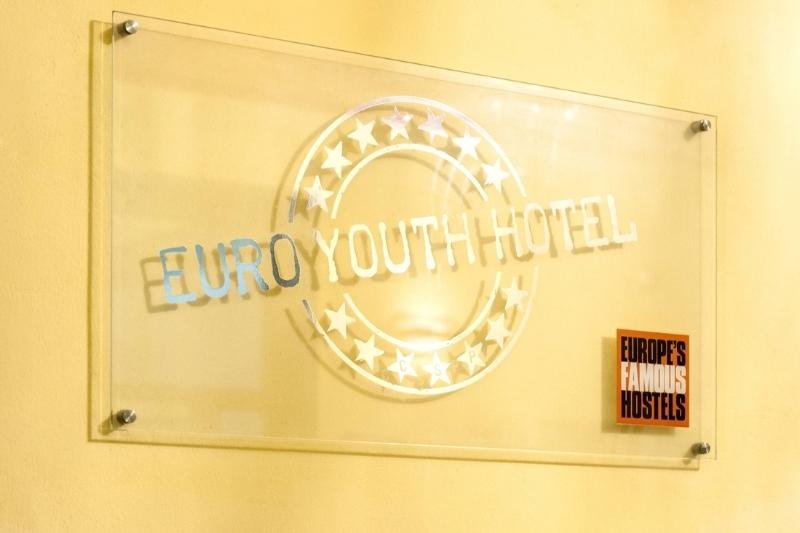 The Euro Youth Hotel is located near the main train station (or "Hauptbahnhof") in downtown Munich, making it convenient.
Originally a luxury hotel, the building survived the destruction of WWII and still has some of the ambiances of the era, with old-timey chandeliers dangling from the ceiling and a creaky staircase leading to the upper floors.
But despite its old-world atmosphere, the Euro Youth Hotel is known for its comfy, well-kept rooms, well-attended happy hour, and the free high-speed Wi-Fi in all the rooms. Today, it's one of the best youth hostels Munich has to offer.
Address | Senefelderstraße 5, 80336 München, Germany
The Tent, Munich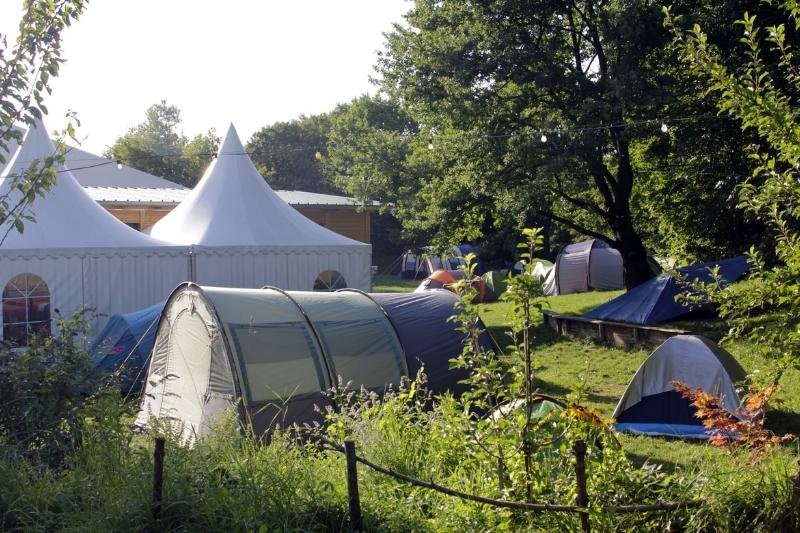 Part campsite, part hostel, The Tent Hostel, Munich is youth-only accommodation. It is a warm-weather hostel where you can sleep on bunk beds in tents and clean up in shared bathrooms with showers.
There's a cafeteria that serves up breakfast for a small fee and a guest kitchen for foodies who want to cook their own meals.
If you're more of the hang-out-and-drink-your-dinner ilk, there's a beer garden, too. Laundry facilities and bike rentals are available for guests. Surprisingly, free Wi-Fi is available as well.
Address | In den Kirschen 30, 80992 München, Germany
HI Munich Park Youth Hostel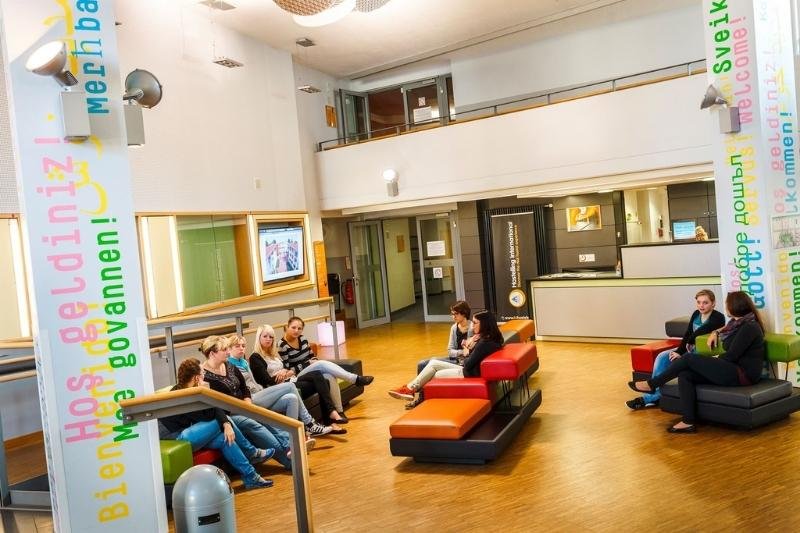 The HI Munich Park Hostel offers family-friendly accommodation (including a playroom for the kiddies) and has handicapped-accessible rooms and facilities.
Guests are offered three meals a day, and a small on-site bistro has coffee, soft drinks, and snacks. If your little ones are tagging along with you, this hostel is ideal.
Address | Miesingstraße 4, 81379 München, Germany
YMCA Youth Hostel
The YMCA is an internationally recognized organization that has a newly renovated youth hostel in Munich.
Adults can stay at the facility but are charged a higher price than travelers under 26. Comfortable, modern rooms from twins to quads are equipped with air conditioning, showers, and Wi-Fi.
The hostel offers a continental breakfast and is close to public transportation. If you've already checked out but you want to hop on the S-Bahn for the day to explore the city, there is a storage room available where you can stash your luggage and head out to take some spectacular selfies in Marienplatz.
Address | Landwehrstraße 13, 80336 München, Germany
Meininger Munich City Center
Directly across from the world-famous Augustiner Bräustuben, this Munich location of the Meininger hostel chain is within walking distance of many of the city's hot spots.
The hostel offers the typical amenities like free Wi-Fi and bedding, but it also has a guest kitchen, a breakfast buffet, and rental bicycles and allows you to bring your pets! So, if you can't bear to travel without Fluffy or Fido, be sure to book your shared room or a bed in one of Meininger's dormitories.
Address | Landsberger Straße 20, 80339 München, Germany
Jaeger Hostel, Munich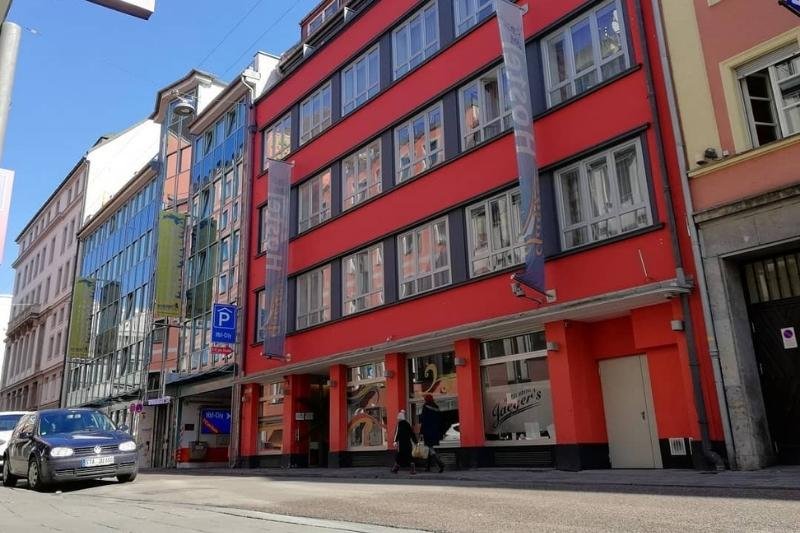 Jaeger's Hostel also has a steam room…thus, it HAS to be one of the best hostels in Munich! Is it just me, or do the hostels in Munich make you want to forego traditional, overpriced hotels for accommodations with laundry facilities, job boards, and book exchanges like you can find at Jaeger's?
This hip hostel caters to travelers on weekend getaways, group vacations, stag nights, and business trips.
Address | Senefelderstraße 3, 80336 München, Germany
Smart Stay Hostel Munich City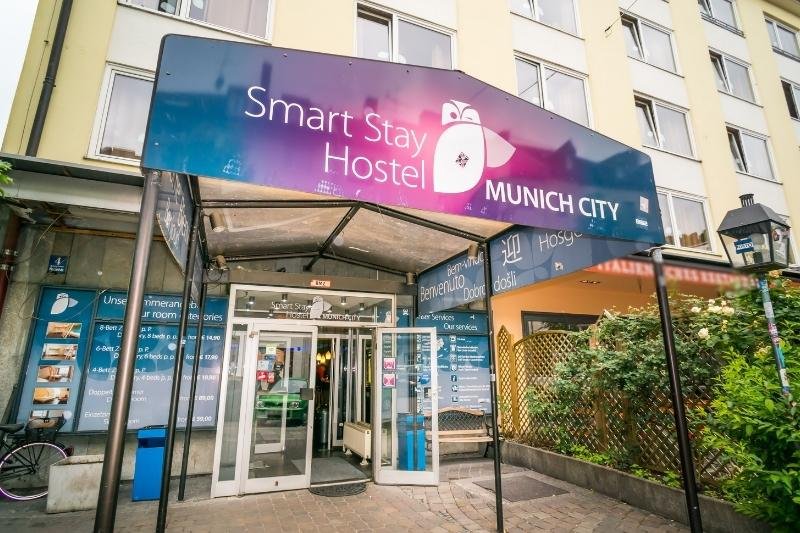 The Smart Stay Hostel Munich City is in the heart of downtown and is one of the best-located hostels in Munich. This location is one of three Smart Stays in Munich and one of five in Germany.
It offers all of the things you would expect from a hostel chain, like fresh linens, luggage lockers, and free Wi-Fi, but its proximity to the center of the city is its biggest draw. The Smart Stay caters to groups and offers discounts through its website.
Address | Schützenstraße 7, 80335 München, Germany
The 4You Hostel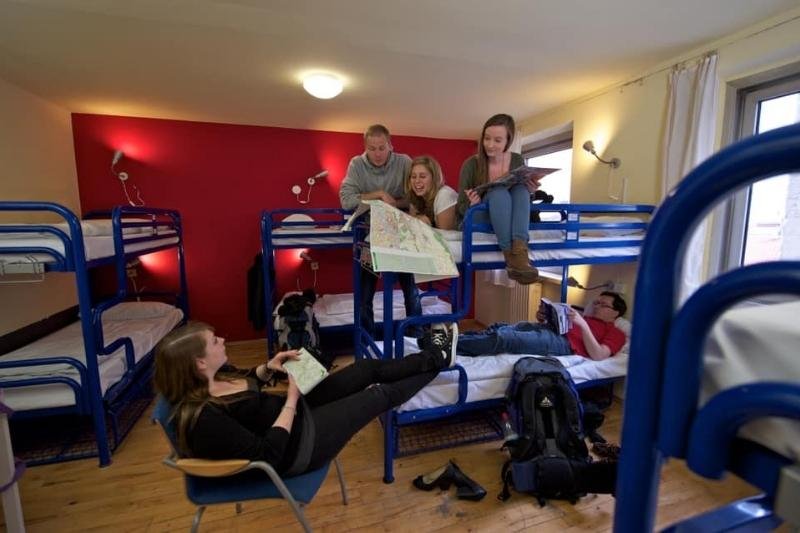 The eco-friendly 4You Hostel is just a three-minute walk from Munich's main train station and features stylish and modern rooms. Keep entertained with cable TV in your room, or connect to the internet in 4You's lobby. Their daily breakfast buffets from 07:00 to 10:00 serve you traditional German delights, filling you up for the day.
If you're a non-smoker, you'll appreciate the non-smoking hostel's clean wooden floored rooms. You'll also have your choice of a private or communal bathroom, depending on your booking.
You may book a wide variety of trips and activities at the 4You Hostel & Hotel Munich.
The hostel is in a great location: It's only a 10-minute walk away from Karlsplatz and 10 minutes from Oktoberfest via public transport.
Note: Love beer? Check out this post of Germany's beer-brewing town of Heidelberg, and save it for the next time you're looking for things to do in Germany.
Address | Hirtenstraße 18, 80335 München, Germany
Augustin Hotel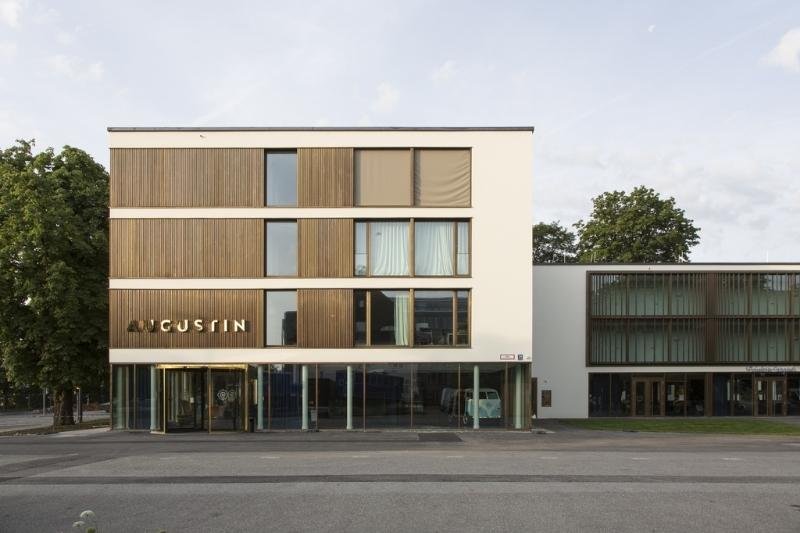 While the Augustin Hotel is not immediately in Munich's city center, it's only two stations away (via the U-Bahn station's Schwanthalerhöhe). It's also directly in front of the Theresienwiese, making it a great location for Oktoberfest-goers.
With a 24-hour reception, you can approach their staff with any questions you have about Munich's restaurants and its nightlife scene.
You may be far from home, but you can still keep in touch with loved ones thanks to the free Wi-Fi provided throughout the house.
In the mornings, Augustin Hostel serves you a delicious breakfast buffet in their Fräulein Wagner restaurant for €11 daily. Their restaurant also serves lunch Mondays through Fridays and nutritious dinners on select days.
This is not a bare-bones hostel, and you'll see this as you'll be provided with fresh, clean towels to dry off with, linen, and bedding to sleep in. Every room has its own bathroom, which has two showers, twin sinks, and a separate toilet for your exclusive use.
Your bed comes with its own lamp, a power outlet, and a USB port, suitable for charging or late-night reading.
As with any decent hostel, you'll have your own locker to secure your personal belongings with your room key.
With an electrical socket and USB adapter, you'll be able to charge your precious devices in your locker.
Address | Parking lot, Am Bavariapark 16, 80339 München, Germany
a&o Hostel München Hauptbahnhof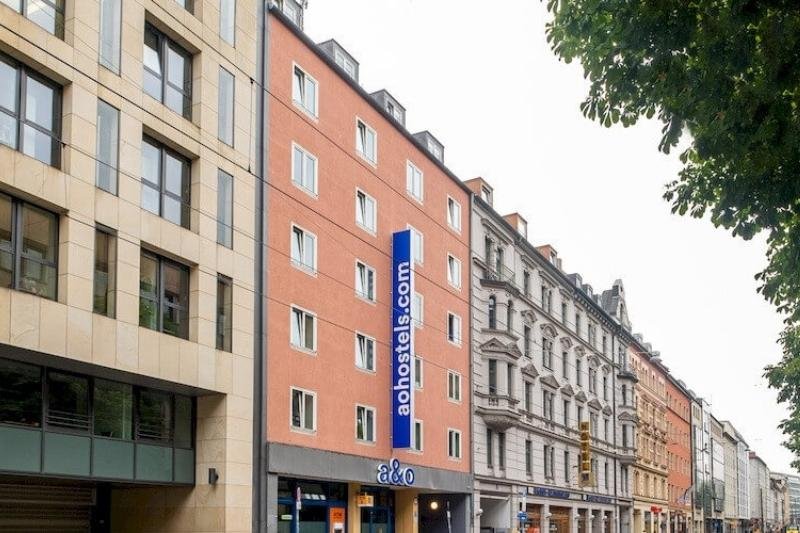 With Munich Main Station only a 5-minute walk from this minimalist hotel, the a&o München Hauptbahnhof is perfectly centrally located. This makes it easy for you to get around town.
Your comfortable room comes with a private bathroom, so you can take your time lathering up in the mornings.
In addition, their front desk is open 24 hours a day, so you can contact them whenever you need to. Plus, you can use free Wi-Fi to browse the internet on your devices without having to leave your room. Get social and hang out with other travelers in the lobby while cheering your favorite sports team on TV.
The chic a&o München Hauptbahnhof also has a bar where you can enjoy a refreshing beverage while striking up a conversation with someone new.
Lastly, a major plus is the hotel's luggage storage room and secure safe, which you don't have to pay for.
Address | Bayerstraße 75, 80335 München, Germany
a&o München Hackerbrücke
The quiet and modern a&o München Hackerbrücke is located just one train stop from Münich Central Station. Being a 7-minute drive from the Theresienwiese Oktoberfest grounds, this is a perfect Munich hostel for Oktoberfest-goers.
The Donnersbergerbrücke Train Station is 500m away, providing you transport across Munich to let you paint the town red.
Take advantage of the fun evening events that are occasionally held here and mingle with other guests.
Another way to entertain yourself is viewing sports with fellow visitors in the hostel's lobby and bar. If you prefer a change of scenery, step outside to the rooftop terrace and take in the views.
Every morning, the a&o München Hackerbrücke serves a breakfast buffet, allowing you to fuel up for the day. You'll have a good time here because it's surrounded by pubs, restaurants, and classic beer gardens.
Address | Arnulfstraße 102, 80636 München, Germany
a&o München Laim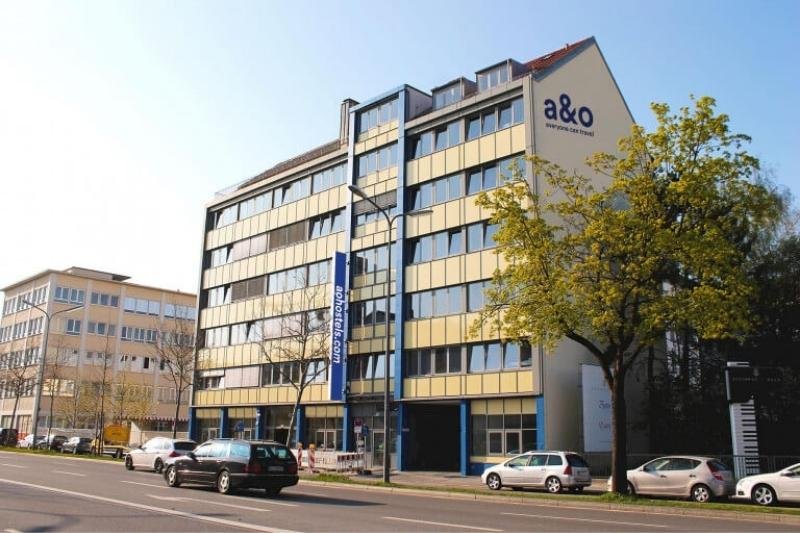 This hotel is conveniently located just next to the Munich-Laim Train Station and offers big, bright rooms with free Wi-Fi to keep up with social media. It is also about 4 kilometers from the center of Munich, making it somewhat easy to get around.
All of the rooms at a&o München Laim have parquet floors and a lively color design that give it a fresh look. If you're staying in a shared room, rest assured your belongings will be safe in their secure lockers.
If you're staying in a shared room, rest assured your belongings will be safe in their secure lockers.
In the communal lounge, you can socialize with other guests or play billiards or table football. If you want to try something new, you can play on the Wii player and sing with a karaoke machine to put your singing skills to the test. Alternatively, you can watch sports channels in the lobby and bar while drinking a beverage.
The Munich Main Train Station is 4.5 kilometers away, whereas the A8 motorway is 6 kilometers away, making it easy for you to get around from this hostel.
Make sure to inquire about their rich breakfast buffet. It is available for an additional cost and is a wonderful place to fill up on food for the rest of the day.
Address | Landsberger Str. 338, 80687 München, Germany
Pandion Boardinghouse
These chic central-Munich flats are about 2 kilometers from Munich Central Station and the Oktoberfest beer festival venue. This makes it an excellent hostel for Oktoberfest in Munich.
Pandion Boardinghouse offers you all of the conveniences of a small apartment complex without the usual hostel atmosphere.
If you enjoy cooking, you'll appreciate the kitchenette, which allows you to prepare a light meal during your stay. The flats at Pandion Boardinghouse also have a lounge room and flat-screen TV, giving the feel of home away from home.
Furthermore, Pandion Boardinghouse is only a 3-minute walk from Donnersbergerbrücke S-Bahn Train Station, making it easy for you to travel around town.
You'll also be close to the Old Town, which is 3 km away, the Olympic Park, the child-friendly Sealife Aquarium, and Munich Airport. This is great if you want to explore your surroundings a bit more.
Address | Lilli-Palmer-Straße 7, 80636 München, Germany
Arthotel Munich
The Arthotel Munich is a 3-star hostel located a short 5-minute walk from Munich Central Station and the Oktoberfest grounds. Like other Munich hostels on this list, it's a great spot post the festival.
This non-smoking hotel provides soundproofed rooms for blasting music, free Wi-Fi for posting Oktoberfest photos, and a daily breakfast buffet to get you ready for the day.
You'll notice that lively pop art lines the walls of Arthotel Munich, giving it a colorful air.
Your large room at the Arthotel Munich features minibars for storing drinks and light snacks, as well as TVs for watching your favorite shows. You won't have to share a bathroom on this trip because each room has a private bathroom with a hairdryer. Depending on the room you choose, air conditioning may be available to keep you cool in the heat.
Arthotel Munich serves you a hearty breakfast buffet in their bright breakfast area, which has huge windows, giving it a light, open vibe. In the evenings, the lively Bar Art serves drinks and food as you socialize with other guests.
What also makes this a convenient hostel is that if you're leaving town, you can take a direct S-Bahn train to Munich Airport.
Address | Paul-Heyse-Straße 10, 80336 München, Germany
What to Look for in Munich Hostels
Now that you know about the best hostels Munich has to offer, let's look at what you need in a hostel. From being centrally located to offering good security, here are important considerations when looking at hostels.
Central Location
You want a hostel close to all amenities. Think of the Munich Hauptbahnhof for transportation, malls, and essential services.
Not only will it make it convenient to access different places, but it helps keep your transportation costs low. Plus, if you're looking at hostels, it's because you're already trying to save money while enjoying your trip. So why not maximize this by picking a centrally located hostel in Munich?
Reputation
Staying in a hostel with a good reputation is better than staying in a hostel no one's heard of before. Let's face it: it takes years in operation and good service to build a good reputation. Especially in the hospitality industry.
You want to be assured your stay will be a comfortable and secure one. Reputable Munich hostels have incredible operations, good practices, and great customer service.
Security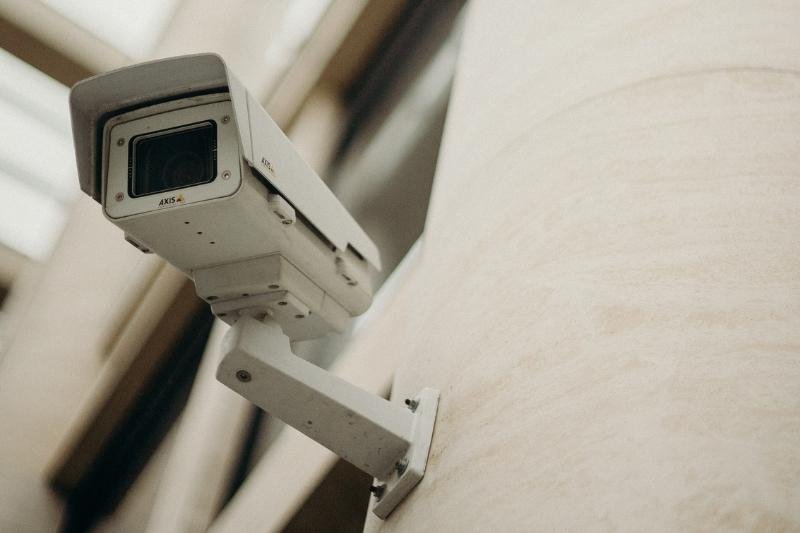 Affordable accommodation like a hostel doesn't mean lax security.
As with any place to stay in lodging, you want to feel safe and secure. This means your Munich hostel should be in a safe area, close to a police station or hospital.
It's also important to stay in accommodation with a security system with cameras in place, as well as door locks on rooms.
Lastly, you want your hostel in Munich to have controlled access and logbooks of visitors. This way, security and management know who's been to the hostel.
Secure Lockers
Related to security, staying in a hostel with lockers is key.
Many people travel with their precious (and pricey) gadgets and would hate to lose them or—even worse—have them stolen.
You can avoid finding yourself in a similar situation by choosing a Munich hostel with secure lockers and storage. If you aren't sure, visit the hostel's website or check out reviews online. Other guests are sure to have said something about lockers in online reviews.
Meals
While eggs, toast, and coffee aren't bad for breakfast (they're actually good), you may want some variety on your plate. Think fresh fruit, yogurt, and cereal. It's also a good idea to wash it down with a cup of OJ if you will.
Another great option is a hostel serving a buffet-style breakfast. This way, you can load up on croissants, muffins, snacks, and more for the rest of your day. It also helps you considerably cut down on food spending for the rest of your day.
While you can't expect Michelin-starred food at a hostel, being served nutritious meals helps.
Tip: Look for hostels that offer free food like all-day coffee or free dinners. These not only help save you money, but they also enable a more social environment.
Cleanliness
You can't sleep tight when bed bugs bite.
While they are more affordable than hotels, super cheap hostels are often riddled with bed bugs, dirty showers, and a slew of other messy problems. This can ruin your trip to Munich because you'll feel uneasy and won't enjoy your stay.
Check out the hostel's website for information on their cleaning practices. Alternatively, you can also read user reviews online. This will help you make a more informed opinion on where to stay in Munich.
Good Wi-Fi
A Munich hostel with free Wi-Fi is always a plus.
Free Wi-Fi allows you to share travel pictures on social media and keep connected with loved ones. In fact, we use the internet for everything these days, so Wi-Fi can be considered a necessity, not a perk.
While many hostels have Wi-Fi, some only have Wi-Fi in certain areas. These include the common room, for example.
If the hostel you're eyeing does not have proper Wi-Fi, you may want to look at alternatives. This is especially true if you haven't bought an international sim for data connectivity.
Tip: Using a VPN while surfing on your phone or laptop can help keep your data private when doing online banking or even going through your emails.
Other Amenities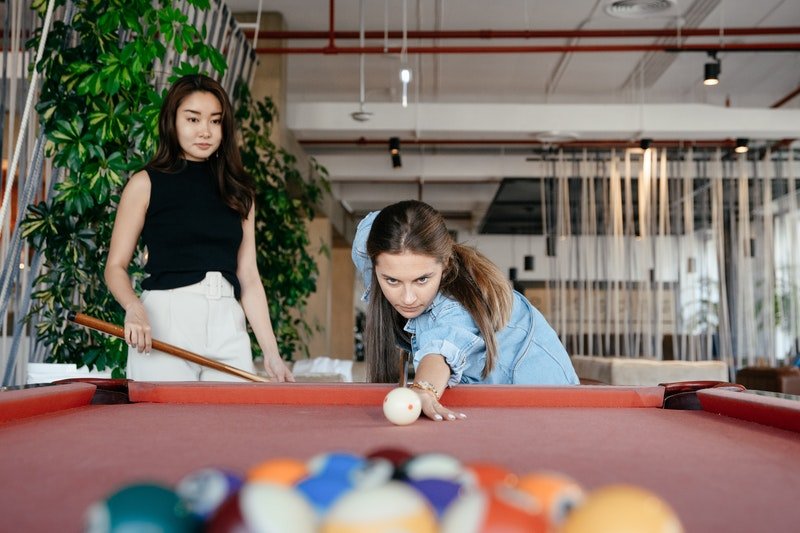 Apart from fast, reliable Wi-Fi, there are other amenities to look out for.
You want a comfortable bed to sleep in, with a table and chair or a reading room to possibly do some work in (not judging). Cleaning services are important, especially in keeping your room, the common areas, and bathrooms neat and tidy.
Speaking of bathrooms, you want a shower with good water pressure and hot, running water. Nothing sucks more than waking up to cold water (unless cold showers are your thing).
Staying in a hostel is a great way to meet new people. So ensure your hostel has fun, interactive spaces, like a pool table, to socialize with fellow global citizens.
Lastly, you may want a hostel with a communal kitchen to prepare your own meals. If that's the case, check with the hostel (or online reviews) before booking.
Check-out Times
It may not be a big deal to some, but sleepy heads will appreciate a later check-out time. Preferably one after 10:00 (which is standard in the industry).
Getting a few extra winks is helpful when traveling, especially if you'll come in late the night before after partying or hanging out with new friends.
Great Staff
Knowledgeable, friendly, and helpful staff will make your Munich hostel stay a lot more enjoyable.
While a hostel is essentially an affordable place to rest your head, it's essential to find one that offers you a pleasant environment. Great hostel staff might mean the difference between a memorable stay or a nightmare from hell.
Value for Money
You want your Munich hostel to be well worth your money.
Check to see if it offers you the right mix of affordability and overall experience to justify its value. Because everyone's perception of value differs, this is a matter of personal preference.
FAQs on Munich Hostels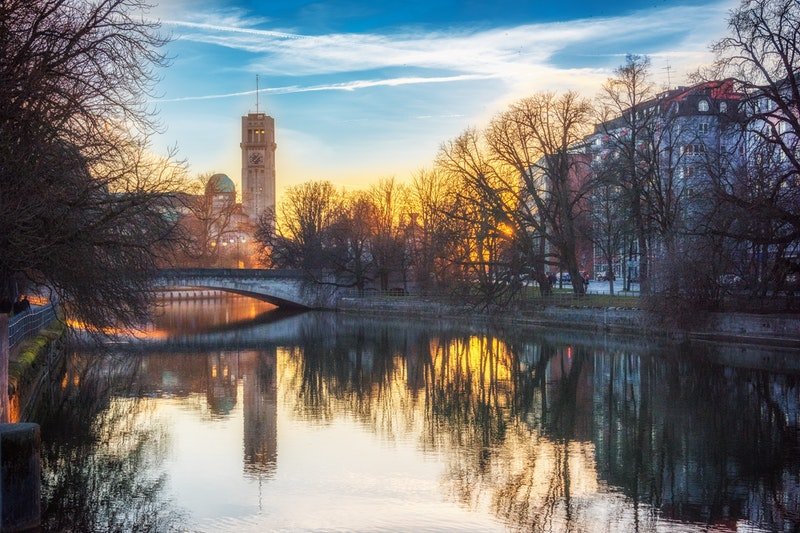 It can be challenging deciding which hostel to book—especially in a city you've never visited before. Luckily, there are questions that people have frequently asked about hostels in Munich, and you can find the answers below.
1. How Are Munich's Hostels?
Hostels in Munich are spacious and lively. They also cater well to backpackers, with ample storage and backpacker-friendly amenities.
Because many people visit the Bavarian capital, there are lots of hostels you can choose from. Plus, many of them are pleasant environments to stay in and mingle with other travelers.
2. What Are the Best Hostels in Munich for Solo Travelers?
Speaking of mingling with other travelers, a few stand out for meeting new people. These are the Euro Youth Hostel, Wombats City Hostel, Munich, The 4You Hostel, and the laidback a&o München Laim.
3. Should I Get Travelers Insurance If I Stay At A Hostel?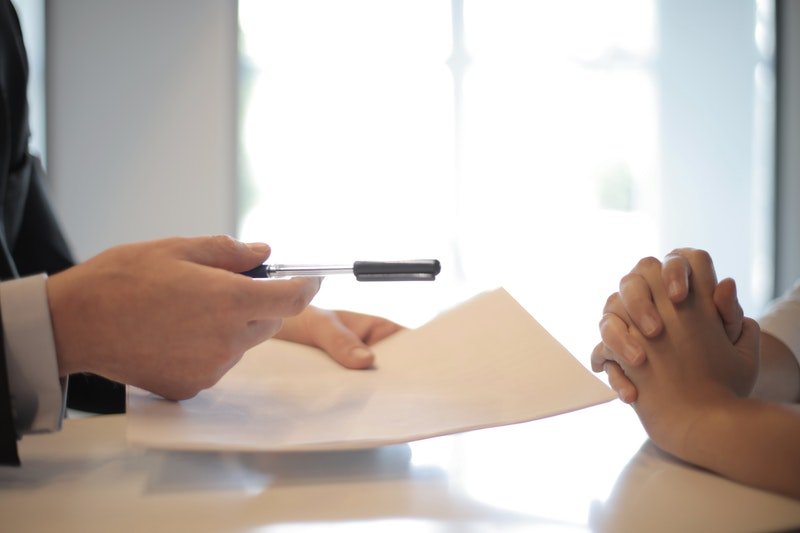 Yes, absolutely. No matter where you're staying—hotel or hostel—traveler's insurance is always a good idea.
Travel insurance offers you a safety net. It can cover you for canceled trips or last-minute assistance to travel home. Plus, travel insurance covers unforeseen medical bills in the event that you are injured on your trip.
Lastly, travelers insurance insures your belongings if they get lost or stolen too.
All of these can dampen your mood but are things that could happen while traveling.
4. Where Can I Get Travelers Insurance?
Numerous sites offer insurance for travelers, but I recommend Worldnomads. You can purchase international travel insurance or travel safety services through Worldnomads.com.
5. Which Munich Hostels Are Party-Friendly?
The best hostels to get your groove on are Wombats City Hostel, Euro Youth Hostel, Jaeger's Munich, and the hip 4You Hostel Munich.
6. How Much Do Hostels in Munich Cost?
While hostels are generally more affordable than hotels, Munich can be pricey, and that somewhat extends to its hostels.
Generally speaking, the prices for hostels can range from as low as around $10 (€9.78) to approximately $230 (€225) per night.
Note that hostel prices vary per location and according to the amenities offered.
7. Where Do I Find A Munich Hostel To Stay In?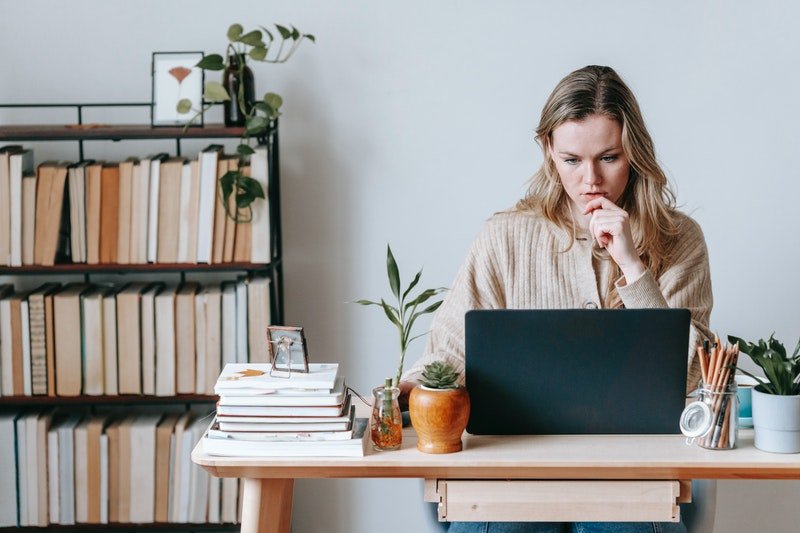 You can easily find a suitable hostel on sites like Hostelworld.com and Booking.com. Kayak.com and Tripadvisor.com are great sites too.
8. Which Hostels Are in Munich's City Center?
Thankfully, many hostels in Munich are centrally located. These include reputable hostels from Wombats, Euro Youth, Jaeger's, and The 4You Hostel, which are within a 2km radius of Munich's City Center.
The rest of the hostels on this list are more than 2km from the city center.
9. Hostels in Munich: How Safe Are They?
Munich is a safe city in general, and this applies to its hostels too.
As with traveling anywhere, there's the risk of theft. There's a German saying that "Opportunity makes the thief", so ensure you keep your valuables safe in a locker.
Final Thoughts on the Best Hostels in Munich
Staying in a hostel is a wonderful and unforgettable experience, and Munich hostels are no different. This comprehensive list features the best hostels Munich has to offer, so you can focus on the most important part of your trip: exploring and having fun.
While Munich hostels are fantastic, it's important for you to pick one based on your needs and circumstances.
Have fun, and remember to follow these travel tips for Germany before embarking on your Deutschland adventure.