Bali is the ultimate travel destination for thousands of holiday makers every year. With the perfect mix of culture, natural wonders, world class waves, and of course, an incredible nightlife – Bali has it all. But what if you're a solo traveller keen to make friends or socialise at night? Here's my guide to Bali nightlife for singles including the best bars and clubs to meet people and make friends for life (or just the night!)
The selection of bars and clubs in Bali is second to none so if you are travelling solo or hitting town to meet that special someone for the night, check out our hit list of Bali's top bars for meeting other singles.
If Tinder isn't your thing, and you prefer a good old-fashioned meeting in a bar read on. We've done the research. So check it out!
Bali nightlife for singles
Wondering what destination in Bali to pick, that's best for nightlife? Bali's most popular spots for a happening nightlife is either Kuta, Seminyak or Canggu. Kuta is more for hard core clubbing and all night parties, while Canggu only has 1 or 2 small but an endless choice of hip beach bars and sunset hangout spots.
Uluwatu is slowly entering the scene, however the place tends to shut down around 12am which sometimes isn't long enough to meet that special one.
Bars in Canggu
Canggu has taken off in recent years. Canggu is a host of all things social and vibrant, a pumping hub of all your dreams and there are endless fun things to do here. But where can you go to meet other singles in the area? There is almost too much choice. Let us walk you through town.
Luigis
Begin your night at a hot new favourite – Luigi's. Serving up amazing pizza and shaking some brave-juice-cocktails, this is ideal to kick start your evening and one of the most fun restaurants in Canggu. Throughout the night the team will be mingling in the crowd and dishing out free Limoncello shots. What a great icebreaker. Plus they have big party nights every Monday and many of the hostels in Canggu encourage their guests to come here each Monday.
X-bar
Next up on the circuit to victory is the newly risen X-Bar. This once minimart hangout for locals is now a Canggu favourite and pulls in the crowd. Their cheap cocktails and heavy-handed bartenders will give you all the Dutch courage needed. Enjoy the live music and boogie up to that one catching your eye. If you're solo grab a beer at minimart and take a highest on the picnic bench out the. front – it's impossible not to make friends here.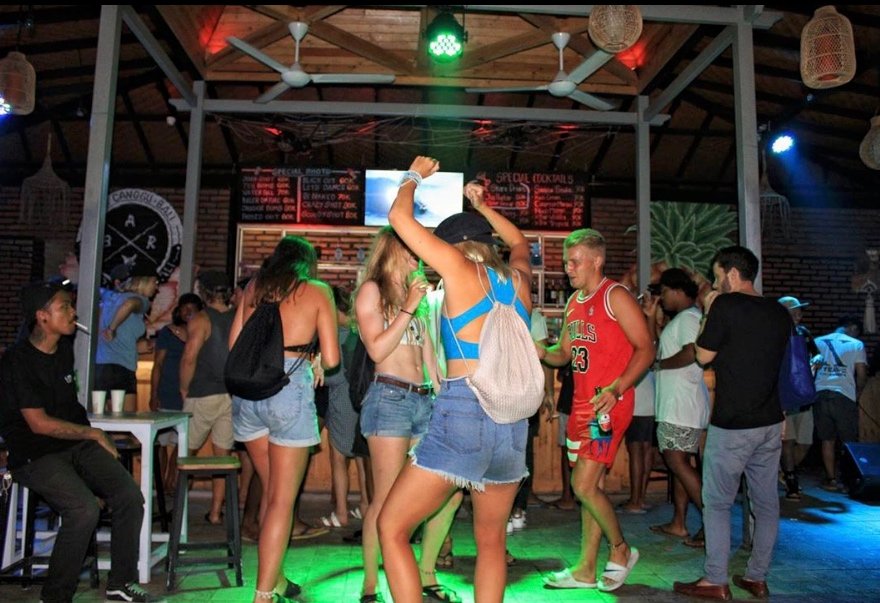 Old Mans
If this isn't your scene, continue down Batu Bolong strip until you meet the infamous Old Mans. This original party place of Canggu will not disappoint in Bali's nightlife for meeting singles. Any night of the week provides DJ beats to dance the night away to. Check out Wednesday's or Friday's for the biggest crowds to pick from. The "Dirty Old Wednesdays" is a hostel favourite with their beer pong spectacle.
This is the perfect way to meet other singles up for fun, and if you get there early for their sunset happy hour you're sure to meet some cool people sitting by the bar enjoying two for one beers or cocktails from 5pm to 6pm each evening – the cornerstone of Bali Nightlife for singles! Join in with a team that needs an extra player or be part of the massive audience on the side-lines. A great night for all.+
Sandbar
As the night draws on you may still need some time to complete your selection. Don't panic, there is still time! Get down to the beach and take in the wonder that is Sandbar.
Speakers set in sand with the beach as your dance floor. This is the end of the night club which normally runs until 4am or later. Sandbar even has a tattoo tent set up, ready for the impromptu matching ink with your newfound friend.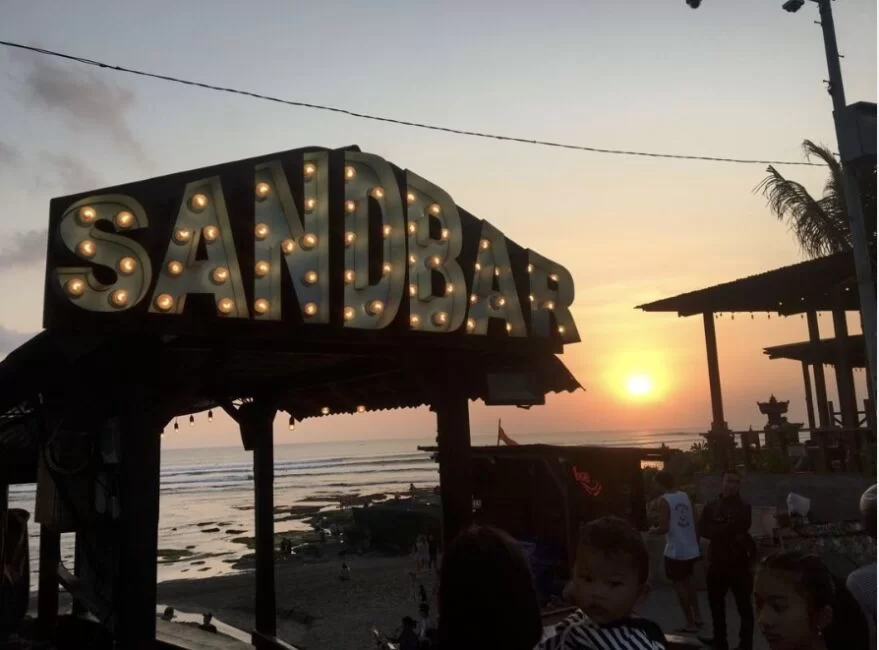 The Seminyak Slammer's
Seminyak is the neighbouring town, has an equally lively nightlife but does tend to draw in more of the big spenders.
Motel Mexicola
Let's begin with Motel Mexicola, a sister of Canggu's Luigi's hangout. Most famous for hosting glamorous parties, Motel Mexicola is great for mingling and sharing stories over rounds of tequila slammers. While actually not a motel, maybe you can try your luck on finding another sleepover spot.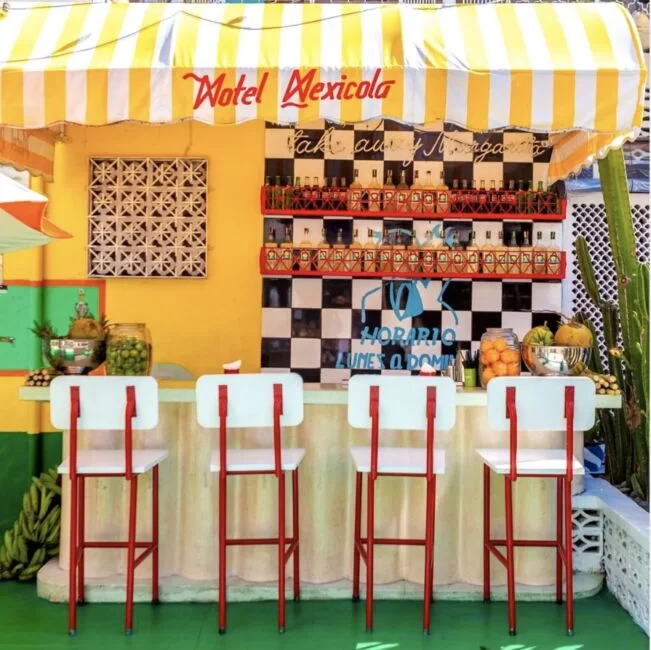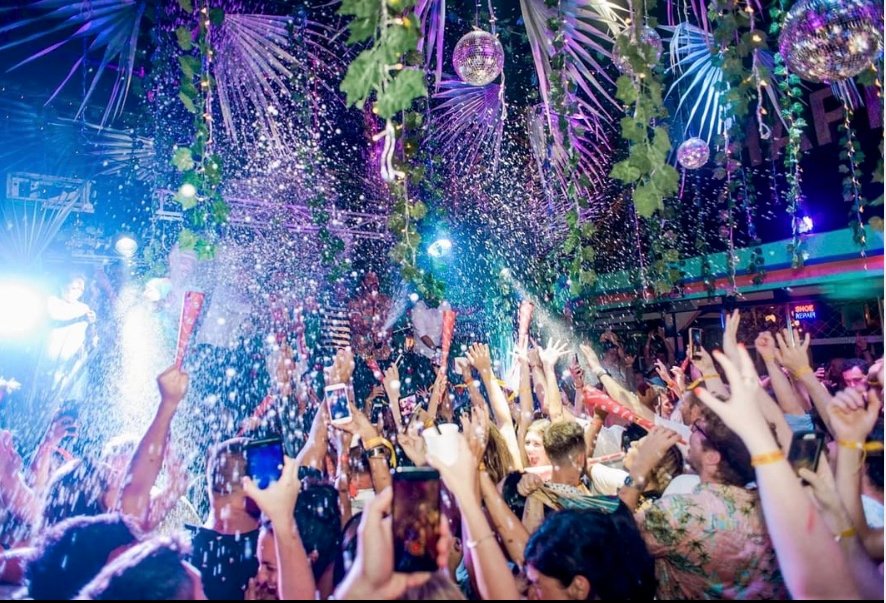 La Fave
A sure favourite for meeting singles in Seminyak is La Favela. This club offers three floors of varying music, stunning interior designs and a mix bag of patrons. Self-branded as the underground club scene of Bali, La Favela is a solid haunt for regulars and travellers. Its free entry ensures there is plenty of choice on the dance floor and at the bar.
Los Gringos
If you are after something a little bit smaller check out Los Gringo's a short walk away. Continuing the Mexican theme throughout Seminyak this bar serves up enough tequila for the whole of Bali. A new spot on the radar but people are definitely packing in, even on the tables for a dirty dance.
Bali Joe's
And then we have Bali Joe's, one of Bali's best gay bar's around. Filled with drag queens and live music performances, this is fun for everyone.
Gay bars are famous for being the most fun around. Perhaps it's the no inhibitions vibe that you find globally that makes for an amazing night out. Gather the troops, even if it is just for a drink, and experience the finest queen's around town.
The Kuta Zoo Race
And finally, we can't leave out Kuta. Once the party place of Bali, Kuta has recently taken a quieter turn since the closure of the largest club on the island, Skygarden. But there is still a nightlife to be had depending on what you are looking for.
Bounty Club
Kuta remains' the favourite place for a lot of Aussies, teens on schoolies and the local beach boys. This is evident when stumbling into Bounty.
A traditional party club serving up cheap drinks and promising dance floors full of hungry partygoers. Find the backroom karaoke and make the most of the extended happy hour buy 1 get 1 deal.
Apache
For those a little less commercial, hit up Apache – a Reggae style club fuelled by the loose locals. This spot is popular with the local beach boys looking for a good time after a day of surfing. You'll easily be able to pick up a discounted surf lesson from this bar.
Max Warung
If you really do want to fully immerse yourself into the local culture hit up Max Warung in the heart of Kuta. This bar sells ridiculously cheap cocktails that may or may not be infused with arak. Just be mindful of what you are getting yourself in for. The locals are demons on the arak and tend to handle the drink a lot better than tourists.
There you have it. A detailed guide of Bali Nightlife for singles – bars ideal for making friends and having fun! The mingling is what makes the night out fun. So, get those hips grooving and turn the flirt on. Enjoy your night!