If you're looking for the best hostels in Cork then keep reading. But first let me tell you why I love this amazing place and why it's the perfect spot for backpackers! The majority of tourists who come to Ireland generally hit up Dublin or go to the famous spots on the west coast of the island, but personally I can never figure out why Cork isn't one of the main spots to visit. It's especially backpacker friendly as the locals in Cork are some of the friendliest in the world and will go out of their way to help you as you go about your travels!
Things To Do While in Cork
Let's start with Cork City – an incredible place! And if you don't believe me, might you believe Lonely Planet? Because according to them, "Cork City is one of the top 10 cities in the world to visit". This city truly has something for everyone, but my favourite thing about the place is the craic you can have there (non-Irish readers, craic's just another word for having a damn good time and a laugh). There's so many great bars and the locals you'll meet in them are always happy to chat. I highly recommend you head to An Spailpin Fanac for some real traditional Irish music any night of the week and sip on a good beer.
Outside of the nightlife, there's plenty of things to do in Cork to fill your days. Go for a little stroll around the beautiful campus of University College Cork and drop into the Glucksman Gallery, which is popular for both its creative learning and access to the visual arts. You can also head to the Shandon Belles at the 18th century St. Anne's Church and catch some amazing views of the city from above. Or if you're a cinema buff you can watch a movie at the awesome and unique Triskel cinema. One of my favourite things to do is head to the Blackrock Castle Observatory to watch the stars at night.
Once you've made it to Cork City the sky's the limit. From here, there's so many more awesome places to visit and things to see. You can take a trip to Blarney Castle and kiss the famous Blarney Stone – well if you've no one else to kiss, why not!
If you're into sailing, summer season in Kinsale is the place for you. And if history's more your thing, then you can head to Beal na Blath and visit the spot where the famous soldier and one of Ireland's heroes, Michael Collins was killed during the Irish Civil War.
There are also some less touristy spots which are well worth a look, and you may very well have them all to yourself if you're lucky – something which can't be said of many of Ireland's most popular tourist attractions. One of my favourite quieter spots is Nohovol Cove, a beautiful rocky cove in the county's west. If you want more reasons to visit Cork you might want to check out our article on reasons to visit Cork this summer.
Basically, if you're backpacking in Cork you won't be bored for a minute! But more to the point, and now that I've convinced you to go (I hope), what are the best hostels in Cork City to stay at while you're there? Here's my top three!
Top Three Hostels in Cork City
Bru Bar and Hostel
Bru Bar and Hostel is located only a few minutes walk from the city centre. What's great about this place is the friendly and electric atmosphere. The drink deals are also a bargain. As a guest at the hostel, you can take advantage of the discounts available at Bru Bar, where you get money off Heineken Lager and Orchard Thieves Cider. Plus, it's happy hour every day from 5 to 8pm where you can get 4euro pints – an absolute steal in Ireland! They also have live music not one, not two, but seven nights a week making it the perfect place to get your groove on. Bru Bar and Hostel isn't one of those hostels that locks you out if you come back late from a night out either – they actually encourage you to keep the party going in their residents bar which stays open late into the night. It's definitely one of the best hostels in Cork for solo travelers as it's super easy to pick up friends in such an environment!
As for the hostel itself, the design is super quirky and modern. There's a heap of room options including privates to dorms and they also have weekly rates available if you're staying a minimum of 2 weeks. And if you still aren't convinced, there's a free breakfast included, a TV/DVD room and plenty of board games. Bru Hostel was voted the 7th best hostel in the whole entire world by Hostelworld! Impressive!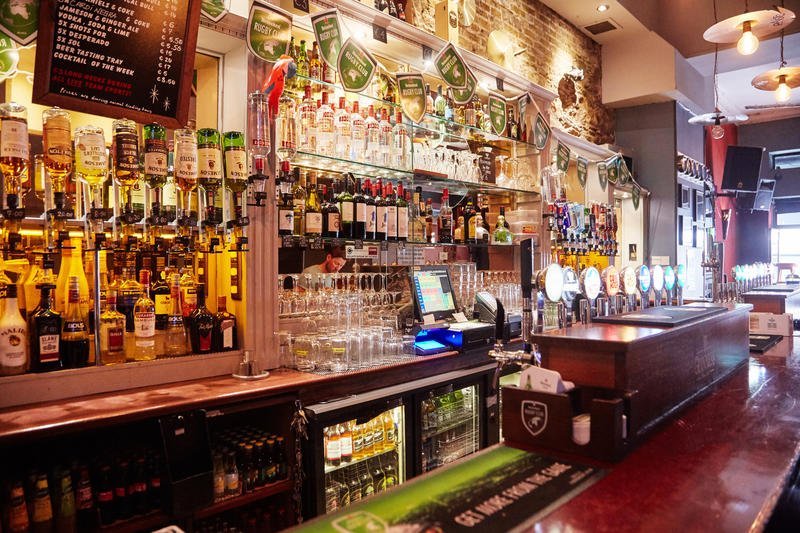 Sheila's Hostel Cork
You'll easily spot Sheila's Cork Hostel by the bright blue of its exterior walls. The hostel is conveniently located in the city and is within walking distance of the main attractions such as Cork City Gaol, Shandon Steeple and The English Market.
Their reception is open all day and all night and they offer all types of rooms including 4/6/8 bed dorms to private en-suites and family rooms. As well as offering some great discounts for local cafes and restaurants, the hostel provides a huge TV with access to NETFLIX, a sauna and a shop that's always open to satisfy your cravings!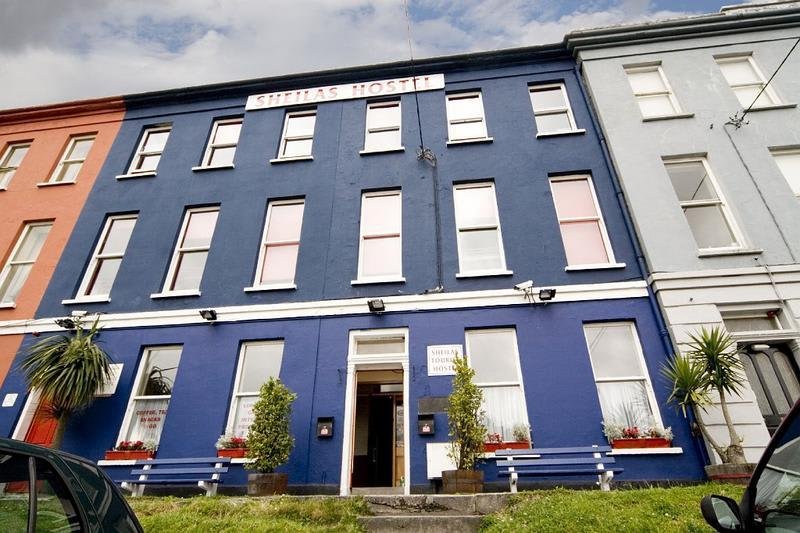 Kinlay House
Kinlay House is last on our list of best hostels in Cork. The location of the hostel is in a quiet area but is still close enough to the city. It's the perfect budget hostel offering great value for money with lots of character as well as clean and cozy rooms. The place is suitable for every type of traveler and they offer both dorms and privates.
There's a great little common room and kitchen area in the hostel where you can meet other travelers. A free simple breakfast of tea and toast is included with your stay too. The staff are always on hand to help with anything you need and they offer discounts on Paddywagon tours from the city to visit top spots including the Cliffs of Moher and the Ring of Kerry and Dingle.