If you are thinking about moving to Morocco, we are here to give insight into some of the best cities to live in. We're sure you'll agree that it's one of the best places to live in Africa. Whether you are a solo traveler, digital nomad, or retired couple looking for a place to live, Morocco has a city for you.
Morocco is a vibrant, colorful country that is steeped in a rich cultural history. The architecture is influenced by the history of settler migration and military conquest. It is a diverse country borrowing from the traditions of settlers and colonial powers like France and Spain. Visitors to Morocco are either fascinated or dissuaded by the culture shock, but the country has a lot to offer.
Best Places to Live in Morocco for…
Expats: Tangier
English Speakers: Casablanca
Digital Nomads: Marrakech
Solo Travelers: Chefchaouen
Couples: Dakhla
Groups: Fes
Top 10 Places to Live in Morocco
1. Agadir
Best City for Beach Lovers
Cost of Living: $$
This city is located in the foothills of the Anti-Atlas Mountains. It boasts a seaside promenade overlooking the Atlantic Ocean. Agadir is the perfect city if you are looking for a relaxing place to live.
Tip: Keep in mind that the cost of living here is a bit high.
Who Would Like to Live There: Beach lovers
Pros:
The city has a mild climate and summers aren't too hot.
There are many historical ruins to explore.
It is not overpopulated.
Cons:
Not good for families with small children.
The cost of living is rising as the city is experiencing economic growth.
Residents aren't welcoming toward foreigners.
2. Marrakech
Best City for Digital Nomads
Cost of Living: $
Located on the foothills of the Atlas Mountains, Marrakech is the trendiest city in Morocco. The city is a UNESCO World Heritage Site and has a contrasting architecture with ancient walled markets ( a must-see item on any African bucket list) next to French-colonial-style houses. Marrakech not only blends cultures, but also urban life and nature.
Tip: Marrakechis are known to be friendly, so try make friends with locals who can show you around the city.
Who Would Like to Live There: Digital Nomads, Trendsetters
Pros:
Residents are welcoming to foreigners.
Some of the best architecture in the country.
Bustling nightlife.
Cons:
Many scams in the city.
Not the safest for solo female travelers.
Summers are very hot.
3. Casablanca
Best City for English Speakers
Cost of Living: $
Made famous by the 1942 film, Casablanca is a picturesque city that overlooks the Atlantic Ocean. It is the largest financial center in Africa and has a buzzing city life.
Tip: Try the wide array of foods in restaurants and markets.
Who Would Like to Live There: English speakers, Romantics
Pros:
The city's food and architecture are diverse.
It is affordable to live in the city centre.
Being a coastal city, it has amazing weather.
Cons:
Traffic is very dangerous in the city for cars and pedestrians.
Infrastructure is not well maintained.
High crime rates especially at night.
4. Rabat
Best City for Xenophiles
Cost of Living:$
Morocco's capital city is a vibrant historical region that showcases the country's heritage and traditions. The city is home to many historical sites such as the Hassan Tower and Oudaias Kasbah, making it a favorite amongst those who love to immerse themselves in a country's culture.
Tip: Rabat is one of the cleanest cities in Morocco because the King tends to spend most of his time there.
Who Would Like to Live There: Xenophiles, Digital nomads
Pros:
Rich in cultural history.
Safer than other Moroccan cities.
The city is not very crowded.
Cons:
The quality of education is low.
It may be difficult to communicate with locals.
Not a very family-friendly city.
5. Kenitra
Best City for Retired Couples
Cost of Living:$
Kenitra is known as a commuter city as many of its residents travel to Rabat daily for work. It is quieter than the capital and is a shipping center for fruit, fish, timber, and metals like lead and zinc.
Tip: If you are looking to start any kind of business project, this might be the city for you.
Who Would Like to Live There: Retired couples
Pros:
Less noisy than other Moroccan cities.
It is a booming business city.
Beautiful scenery with a forest, lake, and beach.
Cons:
There are a few neighborhoods that are not safe.
The climate is humid.
Poor healthcare system.
6. Tangier
Best City for Expats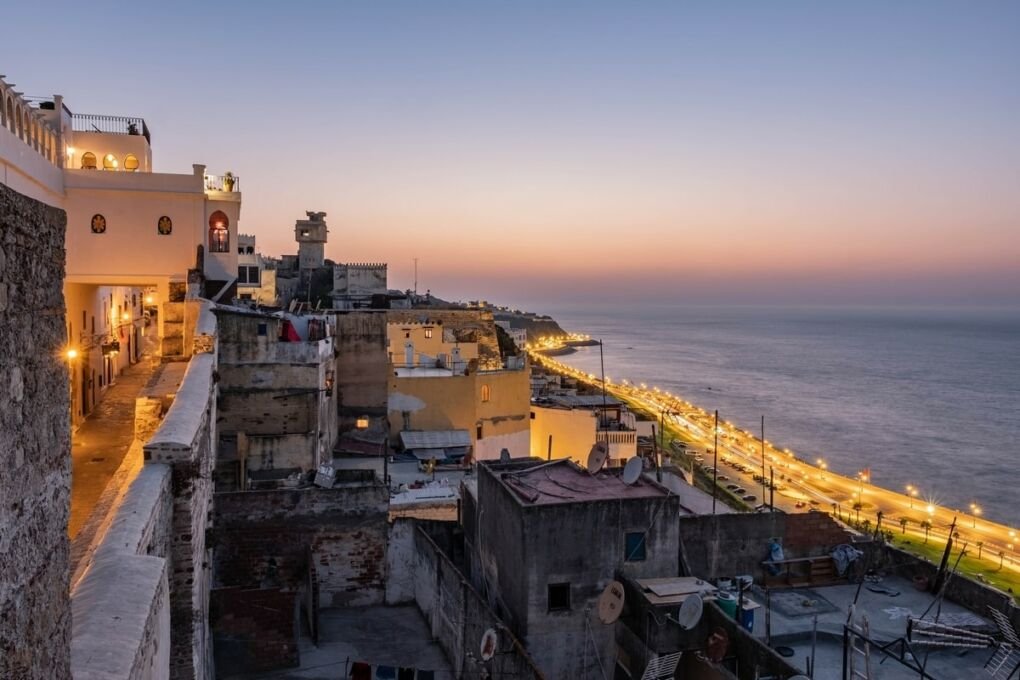 Cost of Living: $
Over the years, Tangier has fascinated many creatives and foreigners, making it one of the more modern cities in Morocco. The city is the second industrial center of Morocco and attracts many expats and English speakers.
Tip: Visit the Grand Souk – this market has a lively atmosphere and fresh products.
Who Would Like to Live There: Expats, Foodies
Pros:
Has an international feel to it.
There is a big food and drink culture.
It is not as chaotic and busy as other Moroccan cities.
Cons:
Houses tend to be poorly insulated.
Getting a taxi is tough.
Wi-fi is very slow.
7. Tetouan
Best City for Artists
Cost of Living: $$
Tetouan is an energetic city known for its artistic heritage. The city's school of traditional arts and crafts, Dar Sanaa, is one of the best in the country and it showcases the country's neo-Arabic architecture.
Tip: Learn some simple phrases in Arabic so you can communicate with people better.
Who Would Like to Live There: Creatives
Pros:
It has a rich artistic heritage.
The city is very clean.
High quality of education.
Cons:
The weather is unpredictable.
Not many leisure activities.
Winters are cold.
8. Chefchaouen
Best City for Adventurers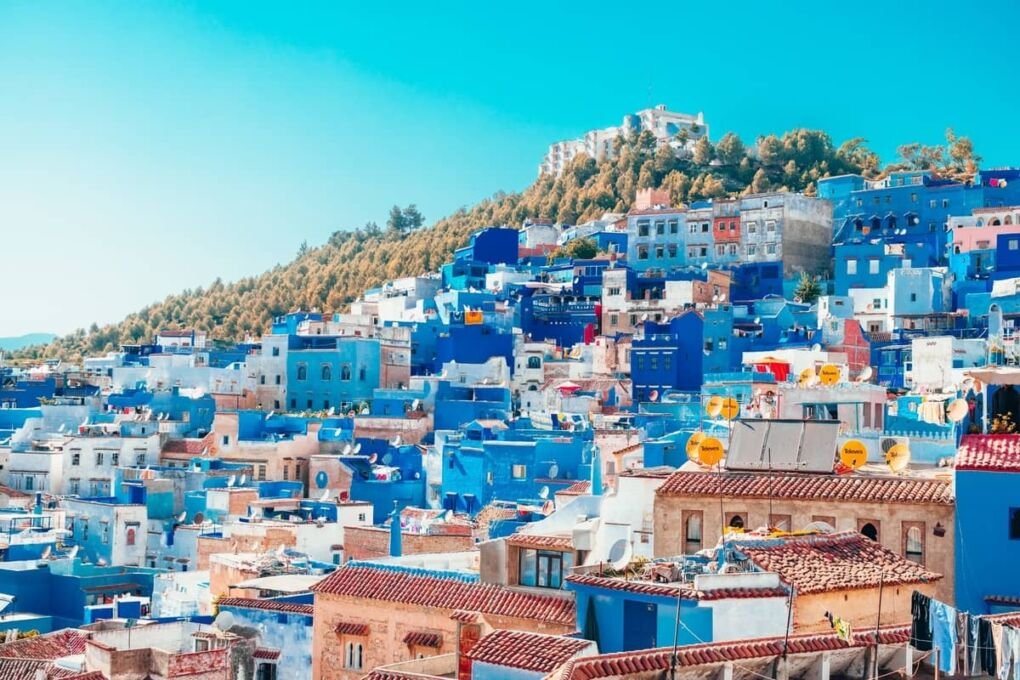 Cost of Living: $
Known as the "blue pearl of Morocco" Chefchaouen's buildings are all a brilliant blue color that reflects through the streets. Neatly nestled within the Rif Mountains, this city is a quiet getaway from the bustling urban life of cities like Marrakech and Fes.
Tip: Wander the streets in the early morning before the day travelers arrive.
Who Would Like to Live There: Adventurers
Pros:
It is not busy or crowded.
Astounding views.
The local residents don't try to hassle you.
Cons:
It is very cold in winter.
Not many foreigners live in the city.
Communication with the local residents is difficult.
9. Dakhla
Best City for Couples
Cost of Living: $
Famous for its white dunes, Dakhla is a small desert city located in Western Sahara. It is known for its fisheries which are its most important resource. It is a small, quiet city perfect for anyone who wants to get away from the busyness of urban life.
Tip: It is not recommended to go off-roading until you are familiar with the region as some places are still mined.
Who Would Like to Live There: Couples
Pros:
A big lagoon where people often kite surf.
The city has a mild tropical desert climate.
The local residents are friendly and welcoming.
Cons:
Not technologically advanced.
There is a risk of political conflict.
It is a dry city.
10. Fes
Best City for Academics
Cost of Living:$
Fes is the oldest city in Morocco and is home to many historical and cultural sites including the world's oldest university. It is well known for its medieval Marinid architecture and vibrant souks. Living in Fes is like taking a step back in time.
Tip: Pack light as the souks have good, affordable clothing to buy once you arrive.
Who Would Like to Live There: Academics, younger people
Pros:
Many restaurants and bars you can visit.
Affordable cost of living.
There are many cultural and historical.
Cons:
High temperatures in summer.
Pickpocketing is a common occurrence.
Road conditions are poor.
FAQs
1. Is It Safe in Morocco?
Some cities are safer than others, but the more populated cities tend to have higher crime rates. It is especially not safe for women traveling alone.
2. What Currency Do They Use in Morocco?
The Moroccan Dirham (MAD) is the currency used in Morocco.
3. What Language Do They Speak in Morocco?
Most citizens speak Arabic, Standard Moroccan Berber, and French.
4. How to Travel Around Morocco?
The safest way to travel around Morocco is via plane (to other cities) or using shared grand taxis or buses (for around the city).