As the birthplace of modern democracy, Greece occupies a special place in the history books, and she is more than worthy of it. Greek culture and civilization have existed for thousands of years, evident in ruins scattered all over the country.
Have you ever wanted to live on a Mediterranean island? Well, now is your chance. Mainland Greece and her islands have an old spirit lingering around them. Add the beautiful Mediterranean climate and beautiful scenery, and Greece is an incredible destination for those looking for a change of pace.
This guide will show you the 10 best places to live in Greece and give you all the information to pick the right one.
Top Tip: You can even find some of these cities on our best places to live in Europe list.
Best Places to Live in Greece for…
Expats: Santorini
English Speakers: Athens
Digital Nomads: Corfu
Solo Travelers: Mykonos
Couples: Thessaloniki
Groups: Paros
Top 10 Places to Live in Greece
1. Athens
Cost of Living: $$$
Athens is the capital city of Greece and was arguably the most important Greek city-state in years gone by. Athens combines a unique charm from its ancient roots and the conveniences of a modern European capital city. To make it even more attractive, Athens is considered one of the best places to live in the Balkans as well.
Tip: Make time to visit the Acropolis to see Greek antiquity's most incredible Architectural feats.
Who Would Like to Live There: English Speakers
Pros:
Greece has some of the best ancient ruins to explore
Athens is the hottest capital in Europe, so sunhats and good vibes are the norm.
It is a major city, so it has all the amenities you need
Cons:
Property is far more expensive than in other Greek cities
Extremely crowded during tourism season
It's not a pedestrian-friendly city
2. Chania, Crete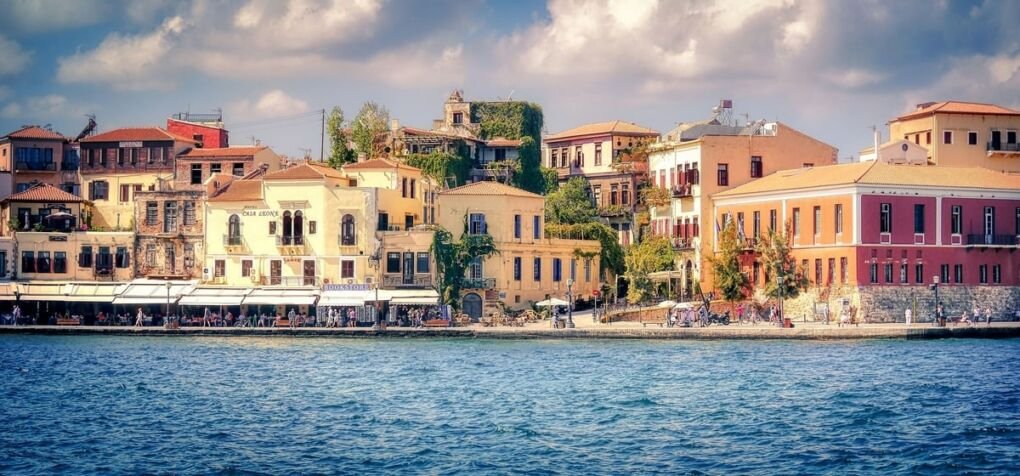 Cost of Living: $$
The island of Crete is the biggest in Greece, and Chania is the jewel on its crown. It has uniquely Turkish, Venetian, and (Greek) traditional architecture. With its winding alleys filled with bougainvillea and jasmine, the Old Town is a place where anyone would love to get lost.
Tip: Make sure to visit one of the "secret villages" in Crete to travel back in time without needing a time machine.
Who Would Like to Live There: Solo travelers or groups searching for a good time.
Pros:
It's a lot more relaxed than mainland Greece
There is a strong sense of community
Excellent quality of life due to having "nice-to-haves" despite still being a "chilled" environment
Cons:
Crete as a whole is a religious place, and religious holidays are taken seriously
Bureaucracy will wear you down, especially with paperwork
There are a lot of stray animals, which may be hard to stomach
3. Santorini
Cost of Living: $$$
Located on the Aegean sea, the island of Santorini is famous for its stunning white towns and dramatic mountain scenery. Santorini is one of the most iconic destinations in all of the Mediterranean.
Tip: Make sure to visit the Akrotiri for an opportunity to see an excavation of a preserved Bronze Age settlement.
Who Would Like to Live There: Expats
Pros:
The internet speeds are excellent for a Greek island.
There's a large assortment of activities and places to explore.
It's relatively easy to make friends and connections.
Cons:
It's expensive because of the high tourist traffic.
Due to the high volume of tourists, bookings for luxurious restaurants and such are necessary.
The healthcare facilities on the island are subpar.
4. Mykonos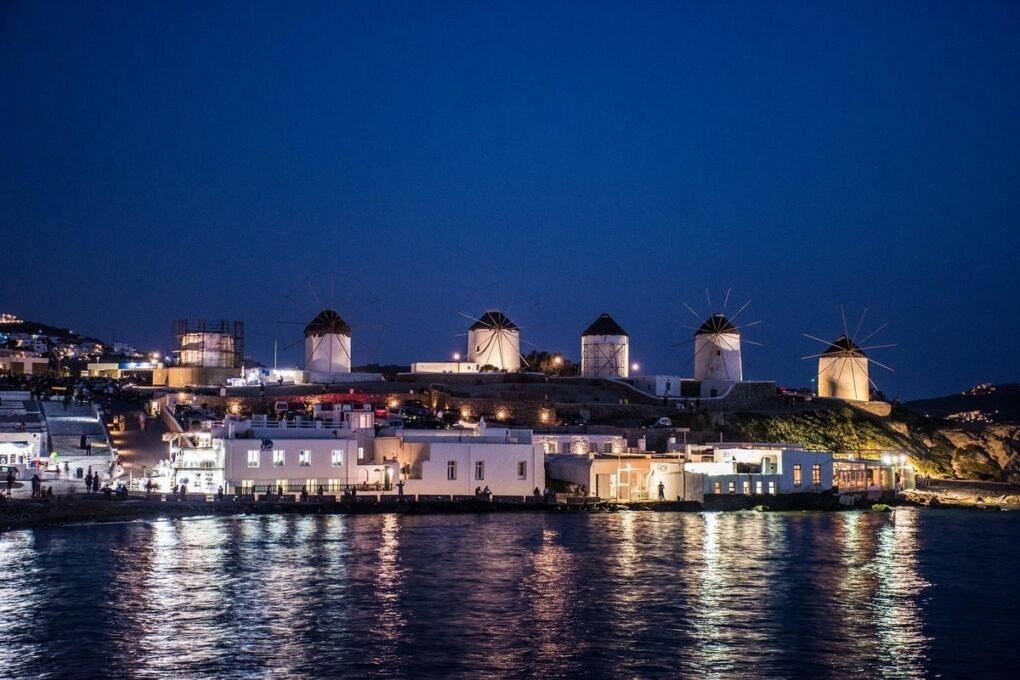 Cost of Living: $$
Mykonos is a beautiful island in the Aegean Sea, famous as a party destination in the summer. It is also uncharacteristically very LGBTQ+ friendly, unlike other more conservative places in Greece.
Tip: Rent an ATV to get around in style.
Who Would Like to Live There: Solo Travelers
Pros:
English is widely and well-spoken
The nightlife scene is incredible
LGTBQ+-friendly and tolerant
Cons:
It's costly
The public transport infrastructure isn't great
It's extremely windy
5. Thessaloniki
Cost of Living: $$
Thessaloniki is a port city in the Thermaic gulf that still has remains of Byzantine, Roman, and Ottoman history. Unlike Athens, which can feel very "European", Thessaloniki retains authentic character. Thessaloniki has the essence of a small Greek town with the modern amenities you would typically have to sacrifice for such authenticity.
Tip: Visit the ruins of the Roman Emperor Galerius' 4th-century palace.
Who Would Like to Live There: Couples
Pros:
There's a great shopping district
Every historical period the town has been through has its own museum
It has a national park, known as the Axios Delta National Park, and it's a birdwatcher's paradise.
Cons:
The language barrier is quite big
Public transport infrastructure is not great.
Fewer employment opportunities
6. Corfu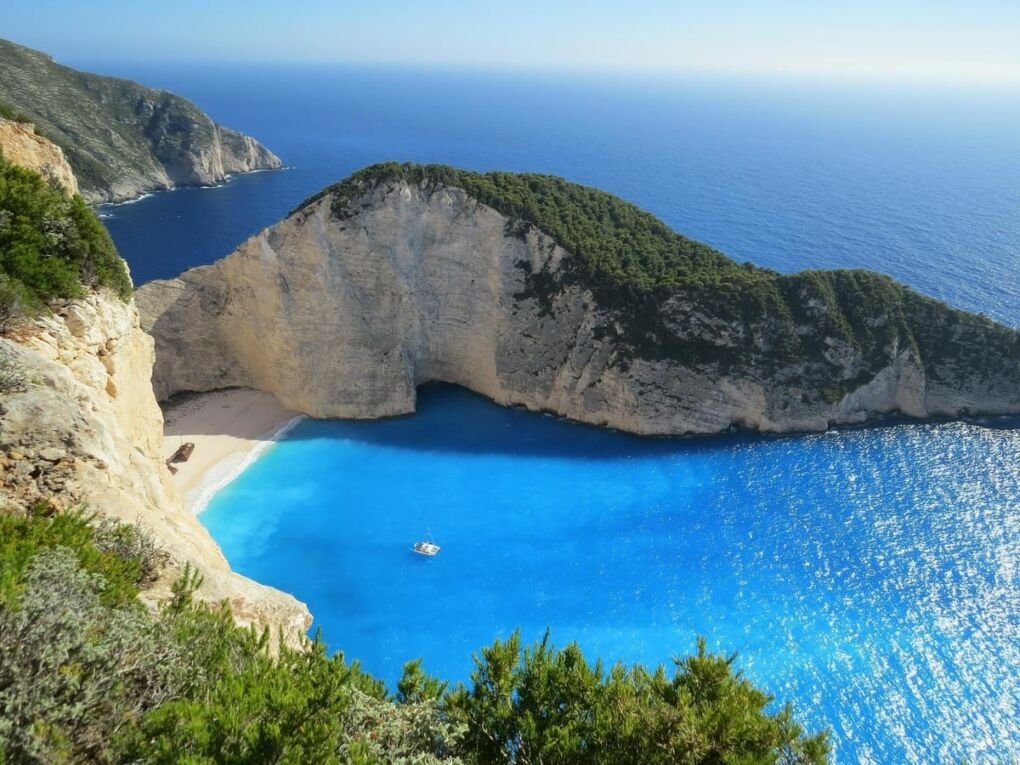 Cost of Living: $$
Corfu is a town with cultural diversity that gives it a unique exotic feel in an already-exotic country. The city has hosted many invading armies throughout the years, and they have all left their mark on the town.
Tip: Don't miss out on the chance to go diving for an opportunity to get up close and personal with majestic coral reefs and long-forgotten shipwrecks.
Who Would Like to Live There: Digital Nomads
Pros:
The Old Town is recognized as a Unesco World Heritage site.
It has beautiful rugged, untouched beaches that have very few equals.
There are areas reserved exclusively for pedestrians and cyclists.
Cons:
Three municipalities administer the Corfu region, so that can get confusing for foreigners.
The economy is primarily tourism and agriculture-driven.
Pricing increases substantially in the summer.
7. Patras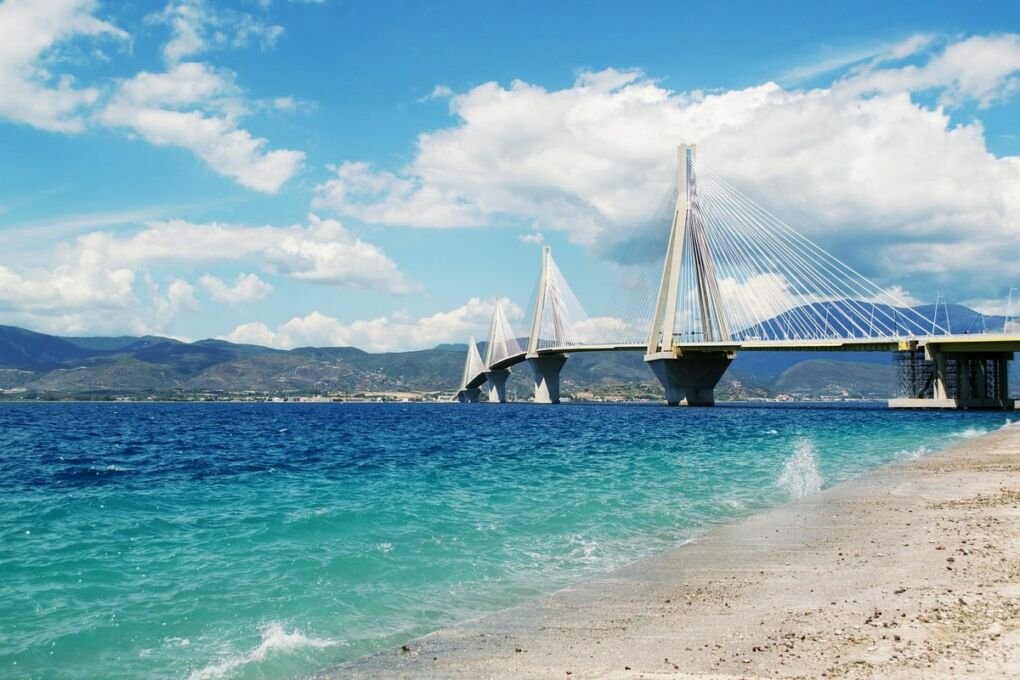 Cost of Living: $$
Patras is the third-largest city in Greece and the regional capital of Western Europe. Patras is known for its vibrant nightlife and club scene, capped off by the annual Patras carnival on the 17th of January.
Tip:  Don't mistakenly miss out on the Old Town just because it is a small part of the city confined to a single corner, unlike most Greek towns.
Who Would Like to Live There: Solo Travelers and Groups
Pros:
Incredible nightlife and social atmosphere
Patras is a commercial hub so picking up extra work isn't too hard.
Excellent internet connectivity and speeds
Cons:
Patras isn't a family-friendly environment
There is no airport in Patras so you either have to travel to Athens or to nearby Italy for a flight.
Patras can feel like a very modern city, lacking that "Greek experience" you may be looking for.
8. Rhodes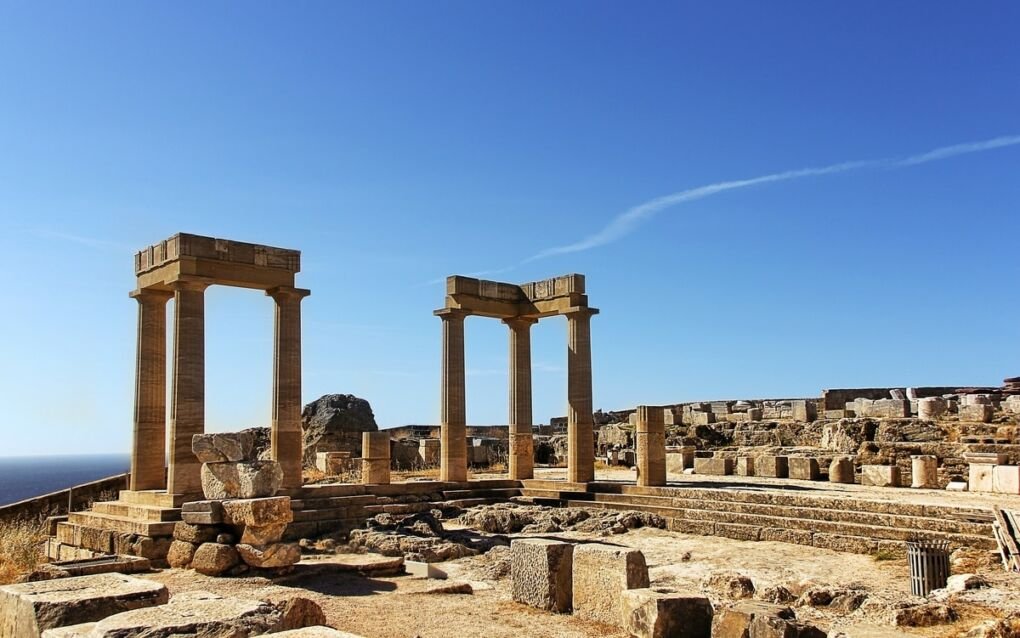 Cost of Living: $$
Due to its strategic geographic location, Rhodes was historically a maritime power of note in the region. The city is a designated Unesco World Heritage site because of its history and well-maintained Gothic and Ottoman structures.
Tip: Don't miss out on the opportunity to visit the medieval Exhibit of the Palace of the Grand Masters, which houses works of art and historical artifacts.
Who Would Like to Live There: Digital Nomads
Pros:
An accessible environment to do business
Rhodes is spacious
There are great secondary and higher education institutions.
Cons:
A hostile environment for the LGBTQ+ community
The medical facilities are not up to standard.
The cost of living is relatively high.
9. Paros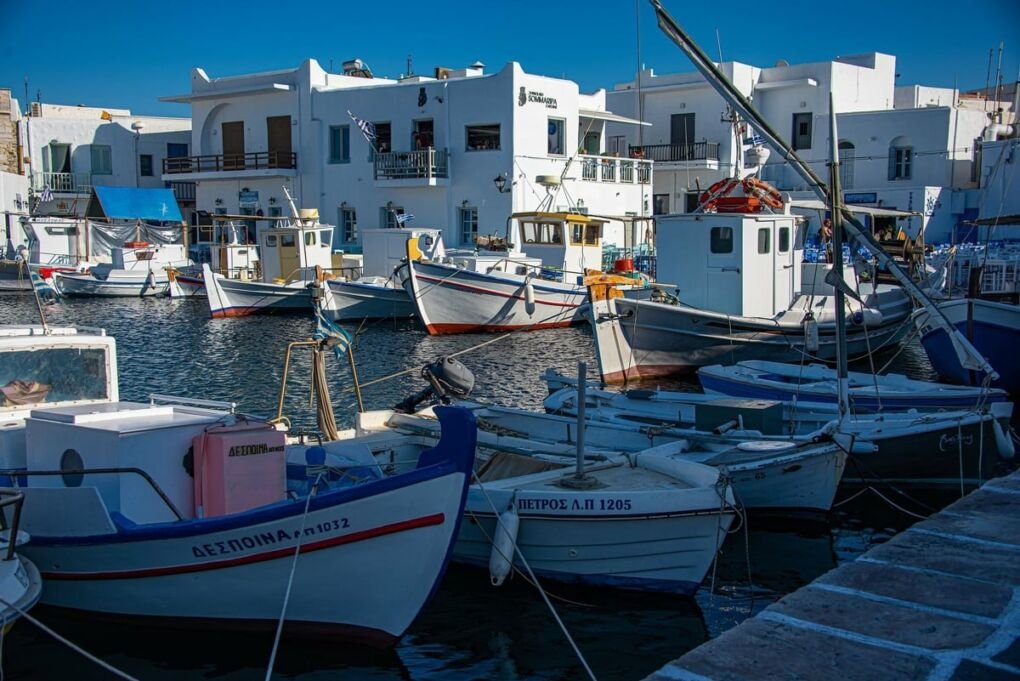 Cost of Living: $$
Located in the Aegean Sea, the island of Paros is best known for its beautiful beaches and traditional Greek villages. Paros retains an authenticity that other, more mainstream, Greek islands have lost. The jewel in Paros's crown is Kolymbithres Beach which boasts moon-like granite rock formations that the wind and sea have sculpted over millennia.
Tip: The Panagia Ekatontapiliani is a Byzantine church from the 4th century A.D that is worth visiting.
Who Would Like to Live There: Groups
Pros:
Paros is near other islands that you can visit with ease from there
Caters to outdoor enthusiasts, elderly couples, and beach-goers looking for a vibe
Paros has beautiful villages that give you a distinctly local experience that other islands can't match.
Cons:
You may have to travel to nearby Athens for particular medical needs
You have to search for beautiful spots actively. They aren't at your convenience
The people are rather conservative traditional; this may clash with certain lifestyles.
10. Nafplion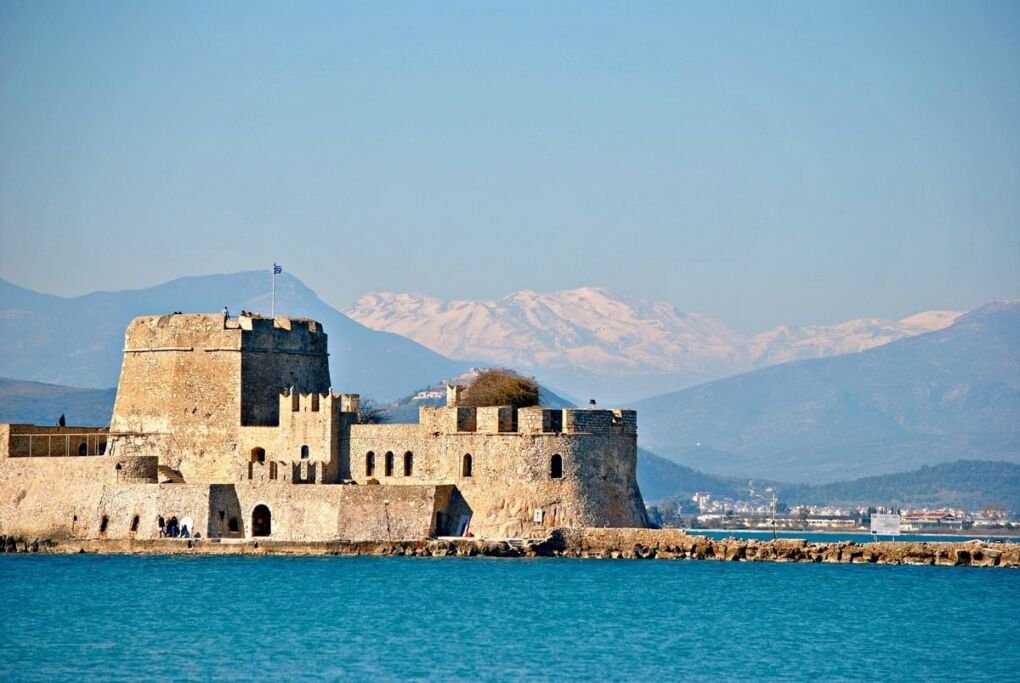 Cost of Living: $$
As the first capital city of modern Greece, Nafplion has the perfect blend of historical significance, stunning architecture, and coastal beauty. Stately neoclassical buildings, Byzantine churches, Turkish fountains and mosques a stone's throw away from a beautiful coastline and beaches can highlight any trip to Greece.
Tip: Do not miss out on wine tasting at Karonis wine shop where there's a selection of 500 Greek labels with some dating back to 1990.
Who Would Like to Live There: Couples
Pros:
Nafplion is centrally located, making it the perfect base to visit various historical sites and cities from
Plenty of medieval and Byzantine castles.
A well-balanced city with a bit of everything to quench whatever adventure you are looking for
Cons:
There's a big culture shock because most visitors are domestic tourists.
The city has a casual attitude towards everything, which may be unsettling.
You need to learn the language.