Saudi Arabia is renowned for its diverse topography, rich cultural heritage, and ancient sites. From dunes and stunning coral reefs to the vibrant buzz of the cities, the Kingdom of Saudi Arabia is a wondrous destination.
But the question is: which city best satisfies your travel requirements and crosses off the most items on your bucket list? Let's take a deep dive into the top ten Saudi Arabian cities to plan your move to the country!
Next Read: Is Saudi Arabia Safe for Solo Female Travellers
Best Places to Live in Saudi Arabia for…
Expats: Jeddah
English Speakers: Riyadh
Digital Nomads: Medina
Solo Travelers: Medina
Couples: Dammam
Groups: Ha'il
Top 10 Places to Live in Saudi Arabia
1. Riyadh
Best Place to Live for Digital Nomads
Cost of Living: $$$
Riyadh is one of Saudi Arabia's most captivating and largest cities. Besides being the capital city, Riyadh is a sight to behold, with its burst of ancient and contemporary architectural structures making it a cultural haven for travellers.
The city's evocative souks, ancient buildings, and riveting museums all showcase the country's centuries-old history. It is also a modern metropolis with gleaming high-rises and a thriving contemporary art scene.
Tip: Take a trip to Masmak fort and King Abdul-Aziz Historical Center to explore the country's storied history.
Who Would Like to Live There: Solo Travelers, Expats, Digital Nomads, and English Speakers.
Pros:
Affordable travel costs
No restrictions on religious practices in private
Multilingual destination
Cons:
Slow business during Ramadan
Expensive internet services
Pricey accommodation
2. Jeddah
Best Place to Live for Expats
Cost of Living: $$$
Jeddah is a captivating global paradise. The city is the entry point to Mecca and has breathtaking waterfronts, magnificent mosques, and conventional souks. Because of the range of activities it provides, Jeddah is a city that never sleeps.
It offers a blend of modern and traditional lifestyles in its affluent shopping centres, festivals, and historical landmarks. You can stroll along a posh Corniche, cruise the city's stormy shores, and take in the historical and cultural sites to get the full flavour of this city.
Tip: Head to the AlShallal Theme Park for a thrilling roller coaster ride.
Who Would Like to Live There: Expats and Digital Nomads
Pros:
Safe for tourists
Affordable utility costs
Extensive retail options
Cons:
Women are not allowed to drive
Significant air pollution
Not LGBTQ+ friendly
3. Dammam
Best Place to Live for Couples
Cost of Living: $$$
Dammam features serene landscapes, sandy beaches, luscious parks, and airy waterfronts. It is the fifth most populous city in Saudi Arabia and is home to the country's first street-art exhibition.
Through its charming historical landmarks, the city displays the country's natural beauty. Dammam is a perfect place for those seeking a balance between commercial and opulent lifestyles.
Tip: For fun-filled family activities, visit GP Karting for some fast-paced entertainment, or test your mettle at Al Khobar's Gravity Trampoline Park.
Who Would Like to Live There: Expats and Couples.
Pros:
Plenty of job opportunities
Low crime rate
Warm climate
Cons:
Cultural and language barriers
Traffic congestions
Significant air pollution
4. Dhahran
Best Place to Live for Families
Cost of Living: $$$
Dhahran is the administrative hub of Saudi Arabia, as it was where the first oil field was discovered. The city makes up about 36% of the kingdom and is home to many expatriates from all over the world.
Dhahran features beautiful beaches, parks, museums, and resorts. It is a very commercial metropolis that has gated communities and is connected to various other cities in the country through an expansive road network.
Tip: For a grand cultural experience, check out The King Abdulaziz Center for World Culture (Ithra).
Who Would Like to Live There: Expats, Families, Couples.
Pros:
High employment rate
Modern lifestyle
Safe and comfortable environment
Cons:
Strict Shari laws
Cost of living is high
Fewer activities compared to other cities
Next Read: How to carry money abroad
5. Jubail
Best Place to Live for Solo Travellers
Cost of Living: $$$
Emerging from the sand, this industrial city took Saudi Arabia by storm. Jubail was built on a desert, but its use of modern technology has made it a livable environment comprising amenities like education and medical facilities and business centres.
The city's main attraction is its well-maintained beaches. People from far and wide visit the seaside for vacations with family and friends. Another attraction is the Corniche Jubail, which offers a clear view of the Arabian Gulf from its promenade.
Tip: If you like sandy beaches, take a dip at Fanateer Beach or Al Nakheel Beach.
Who Would Like to Live There: Families, Expats, Couples, Solo Travellers
Pros:
Relaxed lifestyle
Shorter working hours
Modern amenities
Cons:
No direct flights to the city
Overcrowded compounds
Conservative culture
6. Ha'il
Best Place to Live for Groups
Cost of Living: $$$
Ha'il is an agricultural city comprising breathtaking water wells, ancient castles and rock art dating back to the Paleolithic period. The city falls under the list of UNESCO world heritage sites.
Going back thousands of years ago, it served as a camel route for caravan trade and agriculture. Today, the city blends traditional and modern lifestyles.
Tip: Immerse yourself in local heritage and visit the A'arif Fort.
Who Would Like to Live There: Groups and Families.
Pros:
Job opportunities
Best landscapes
Rich in agriculture
Cons:
Intense weather
Fewer women's rights
No support for the LGBTQ+ community
7. Medina
Best Place to Live for Pilgrims
Cost of Living: $$$
Beautiful hills and a massive lava field surround the city of Medina. In the middle of the city, Muhammad constructed the Prophet's Mosque. In contrast to Mecca, Madina welcomes tourists who wish to visit and stay there.
The mosque, however, is closed to non-Muslims. Some of the ancient architecture that still exists now is a stunning representation of the country's rich history.
Tip: Explore the city's heritage by visiting the Prophet's mosque and Jannatul Baqi.
Who Would Like to Live There: Solo Travellers and Pilgrims.
Pros:
Conservative lifestyle
Close to Jeddah
Low crime rate
Cons:
Away from the sea
Limited job vacancies
Unreliable water sources
8. Qatif
Best Place to Live for Travelling Explorers
Cost of Living: $$$
Qatif is famous for its historical castles and traditional souks (markets). The coastal oasis region is surrounded by smaller towns and villages and is on the western shore of the Persian Gulf.
It is one of the best places for groups to travel because of the beautiful agricultural scenery, historic architecture, and abundant aquatic life.
Tip: Head over to Qatif's famous Thursday Market, Suq Alkhamees, to get jewellery, spice and all things nice.
Who Would Like to Live There: Groups and Solo Travellers.
Pros:
Breathtaking coastal views
Great public education
High-quality healthcare
Cons:
Highly polluted
Expensive healthcare
Increased crime rate
9. Abha
Best Place to Live for Scenery Chasers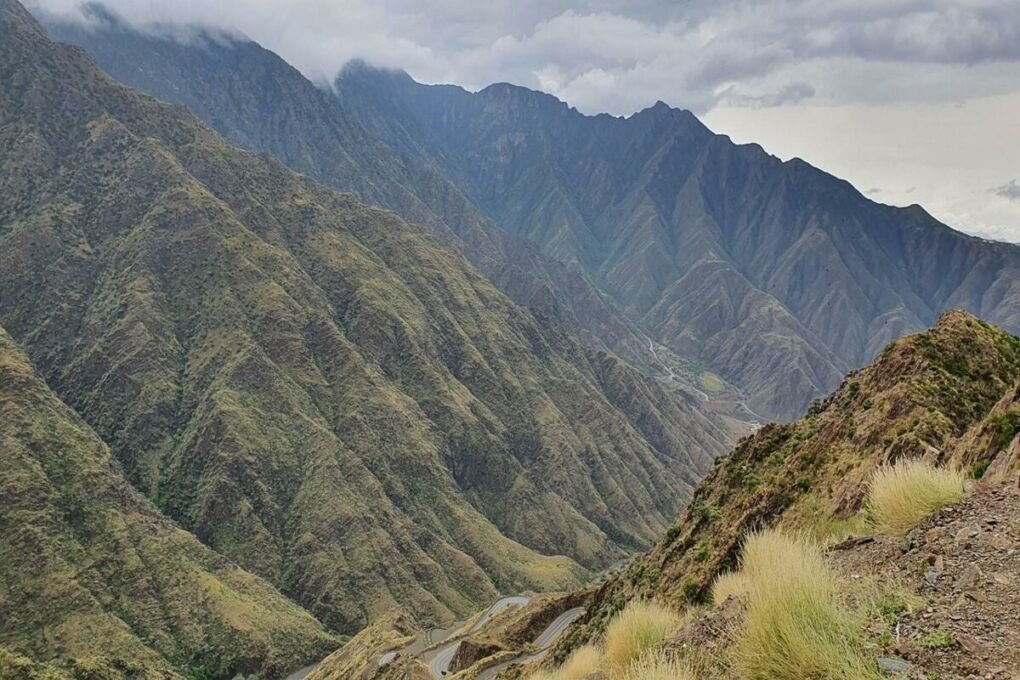 Cost of Living: $$$
Abha is one of the most well-known tourist sites in Saudi Arabia. Due to its elevation above sea level, the city is referred to as the "Bride of the Mountain".
It is a peaceful location with mild weather all year long. The city is composed of historical landmarks such as the Abha Palace Hotel and the Abha Great Mosque.
Tip: Visit the Aseer National Park for an adventure-filled hiking trip.
Who Would Like to Live There: Expats, Solo Travellers, Groups, Couples.
Pros:
Mild climate
Low crime rate
Rich agricultural life
Cons:
Lack of entertainment
Small city
Conservative dress code
10. Tabuk
Best Place to Live for History Buffs
Cost of Living: $$$
Tabuk is rich in archaeological sites comprising forts, palaces, Aramaic inscriptions, and pilgrimage routes. It is a great place for history and architecture enthusiasts and is considered an open-air museum.
Although it is famous for its historical sites, Tabuk is well-equipped with modern amenities for residents and visitors.
Tip: Dive into the history of Tabuk and head over to the remains of the Hejaz Railway.
Who Would Like to Live There: Solo Travellers and Groups.
Pros:
Amazing historical sites
Great beaches and mountains
A wide variety of cuisines
Cons:
Long travel time to and from beneficial activities
Slow internet
Dangerous roads