The best time to visit Victoria Falls depends on the country you visit and the time of the year, there is a variety of Victoria Falls activities, viewing points, and costs to visit Victoria Falls.
The combination of its height and width creates a massive single sheet of flowing water. This makes it the largest waterfall in the world. Victoria Falls is the name given to both the small town in western Zimbabwe as well as the magnificent waterfall. The large cascading body of water is one of the seven natural wonders of the world and a true marvel to witness.
You'd imagine that looking on at such an awesome sight would be a difficult task to achieve. However, there are plenty of ways to experience the marvel first-hand. With Mango flight specials and other epic travel deals, visiting Victoria Falls has never been easier.
All that's left to do now is to decide when you want to go – and which side of the waterfall you want to be.
Discover Victoria Falls
Local people call Victoria Falls "Mosi-oa-Tunya" which translates into "the smoke that thunders". The iconic spectacle is a special sight (and site) for both locals and international travelers alike.
What is Victoria Falls
Victoria Falls is a waterfall on the Zambezi River in Southern Africa. It is considered to be the world's largest waterfall due to its width of 1,708 meters. The noise of Victoria Falls can be heard from a distance of 40 km, while the spray and mist from the falling water are rising to a height of over 400 meters and can be seen from a distance of 50 km.
Where is Victoria Falls
The town of Victoria Falls lies in western Zimbabwe. The Zambezi River runs through the town and forms the boundary between Zambia and Zimbabwe, as well as the catchment of the famed Victoria Falls. If you plan to visit from the Zimbabwe side, then you'll access the falls from Victoria Falls National Park.
Another option is to visit from neighboring country Zambia, in which case you can gain entry to the falls from Zambezi National Park. Both sides have their unique selling points. For example, Zimbabwe's view is historically preferred, the water flows all year round, and most hotels are within walking distance of the falls.
On the other hand, visiting the Zambian side gives you an opportunity to get closer to the falls. You can also swim in Devil's Pool (during low season) and visit Livingstone Island.
How to get to Victoria Falls
Victoria Falls is accessible from Zimbabwe or Zambia by plane, train, or car. Due to the volatile political situation in Zimbabwe, most travelers choose to stay in Zambia and sometimes visit both sides. There is a border post that you can easily cross with a UniVisa that allows access to both countries.
From South Africa, you can fly directly to Livingstone in Zimbabwe or Kenneth Kaunda International Airport in the capital city of Zambia – Lusaka. Livingstone is 290 miles (470 km).
Victoria Falls in Zambia vs. Victoria Falls in Zimbabwe
Zimbabwe has a great choice of accommodation close to the falls.
Zambia has some incredible riverfront lodges along the Zambezi.
The Devil's Pool is only accessible from Zambia.
On the Zimbabwe side, the falls flow all year round.
Zambia's falls dry up around October / November.
Zimbabwe has more viewpoints, including the Main Falls
Facts about Victoria Falls
Victoria Falls is known to locals as Mosi-ao-Tunya which translates to the smoke that thunders.
David Livingstone was the first European to find the waterfall in 1855 and he re-named the falls in honor of Queen Victoria.
The waterfall lies on the border of Zimbabwe and Zambia in the heart of Southern Africa.
The waterfall is 1,708 meters wide and 108 meters high (one and a half times wider than Niagra Falls and twice as high.)
Without the Zambezi River, Victoria Falls simply wouldn't exist. The falls are part of the Zambezi's 2,574km stretch and they lie almost exactly halfway along with it.
The Zambezi River makes its way east from the falls across six countries and then out to the Indian Ocean.
South Africans don't need a visa to visit both Zambia and Zimbabwe.
Citizens from Australia, Canada, France, the United Kingdom, the United States of America and these 60 countries, qualify for a UniVisa on arrival to visit both countries for $50 (USD).
Victoria Falls Weather
When discussing the climate at Victoria Falls, locals refer to two main seasons – wet and dry season. The area experiences a tropical climate and follows a summer rainfall pattern. The temperatures get very high during the traditional summer season (September to April) and remain comfortably moderate during the winter (May to August).
The dry season occurs during the winter months. During this time, the water levels are low, and certain activities are made available to those daring enough to try, such a swim in Devil's Pools. Victoria Falls experiences wet season during summer when the river is full and the waterfall is particularly powerful. If your reason for traveling to Victoria Falls is to see the beauty of the natural wonder, then this is when you'll see the large sheets of water flowing at their fullest.
How High is Victoria Falls?
Did you know that Victoria Falls also provides a natural habitat for several unique species of plants and animals? This is easier to believe once you realize how large the waterfall truly is.
Although Victoria Falls is neither the widest nor the highest waterfall in the world, it is considered the largest. This is based on its combined width of 1,708 meters and its height of 108 meters. Seeing the spectacle in person is rather unbelievable!
Best Time To See Victoria Falls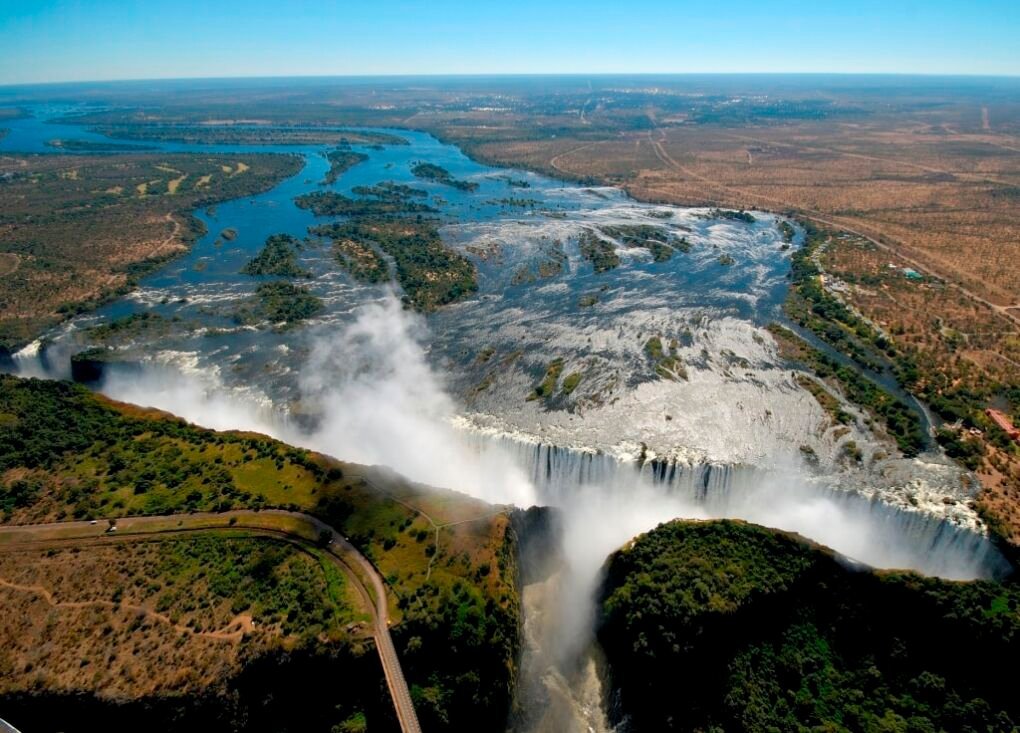 The best time to go to Victoria Falls depends largely on what activities you plan to partake in. Although the waterfall is most awe-inspiring during the rainy season, the dry season has its perks too.
Heavy rains and flood conditions sometimes occur in January and February. The Falls are at their most spectacular between February and May when the Zambezi River is at its annual peak flooding time. The dry season generally runs from May to October through the southern fall (Autumn).
I don't recommend visiting the Falls at the end of the dry winter period (October – December). This is when the water level is lowest and the weather is very hot and humid. However, you can safely enjoy a swim in the Devil's Pool during this time, or walk to the bottom of the First Gorge at the Zimbabwean side.
Visiting During Rainy Season
The rainy season is considered the best time to visit for viewing pleasure. The Zambezi River reaches its annual peak flooding between February until May. During this time you can expect torrential downpours and storms. As the river is full and the falls are gushing, certain activities are not permitted. Livingstone Island Devil's Pool access closes around January and remains closed until August.
As the spray of the falls is particularly strong during this time, ground access is very difficult. However, these are the best months for aerial viewing. Keep your camera charged (and waterproofed) to snap pictures of the powerful falls. Keep in mind that the rains bring mosquitos. It's important to take malaria precautions when visiting Victoria Falls during this time.
Visiting During Victoria Falls Dry Season
If you're an adventure junkie or want to experience the different activities around Victoria Falls, then the dry season would be your best bet. The ideal time for rafting is from August to December. Feel the rush of adrenaline as you navigate the white water of the Zambezi. The water levels are not flooding but manageable and fun.
Devil's Pool and Livingstone Island are also made accessible during the dry season from August until March. This is a great way to experience the natural wonder.
Another key consideration is whether or not you plan on enjoying the game viewing opportunities around Victoria Falls. Both Zimbabwe and Zambia have fantastic safari opportunities which are best enjoyed in the dry season as the animals are easier to spot.
However, if it's the view of the great falls that you're after, then avoid visiting in November (and early December) as the rock face can be quite dry.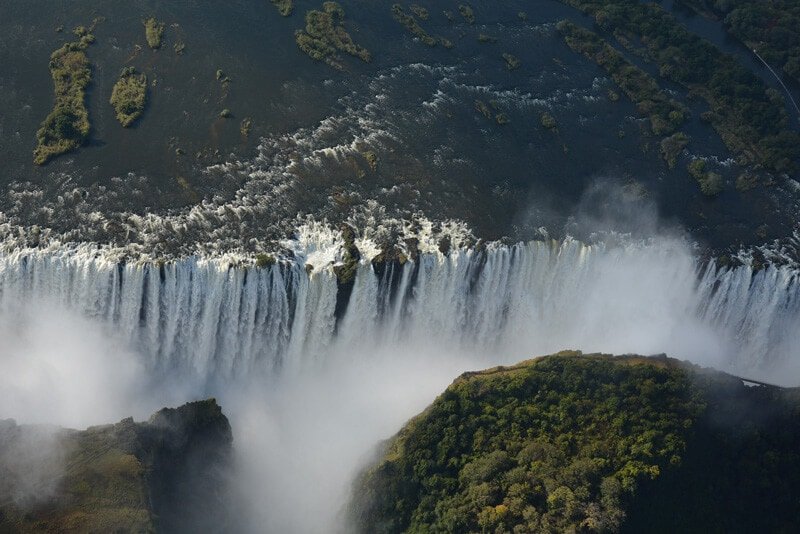 Victoria Falls Activities
There are many Victoria Falls Activities listed on many Southern African travelers' bucket list adventures, the falls are a one of a kind natural wonder of the world.
Bungee Jumping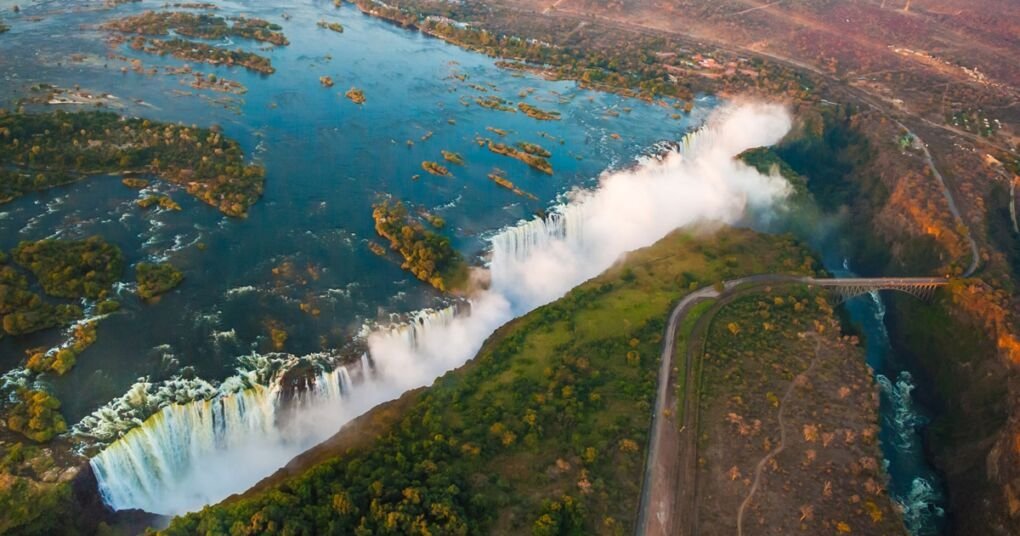 The Victoria Falls Bridge is home to one of the world's most scenic bungee jumps at a height of 111 meters (364 ft). Voted as one of the World's Top 5 best bungee jumping experiences.
Helicopter tour of the Falls
The helicopter tour offers outstanding views and a breathtaking experience every time!
Swim in the Devils Pool (Zambia Side)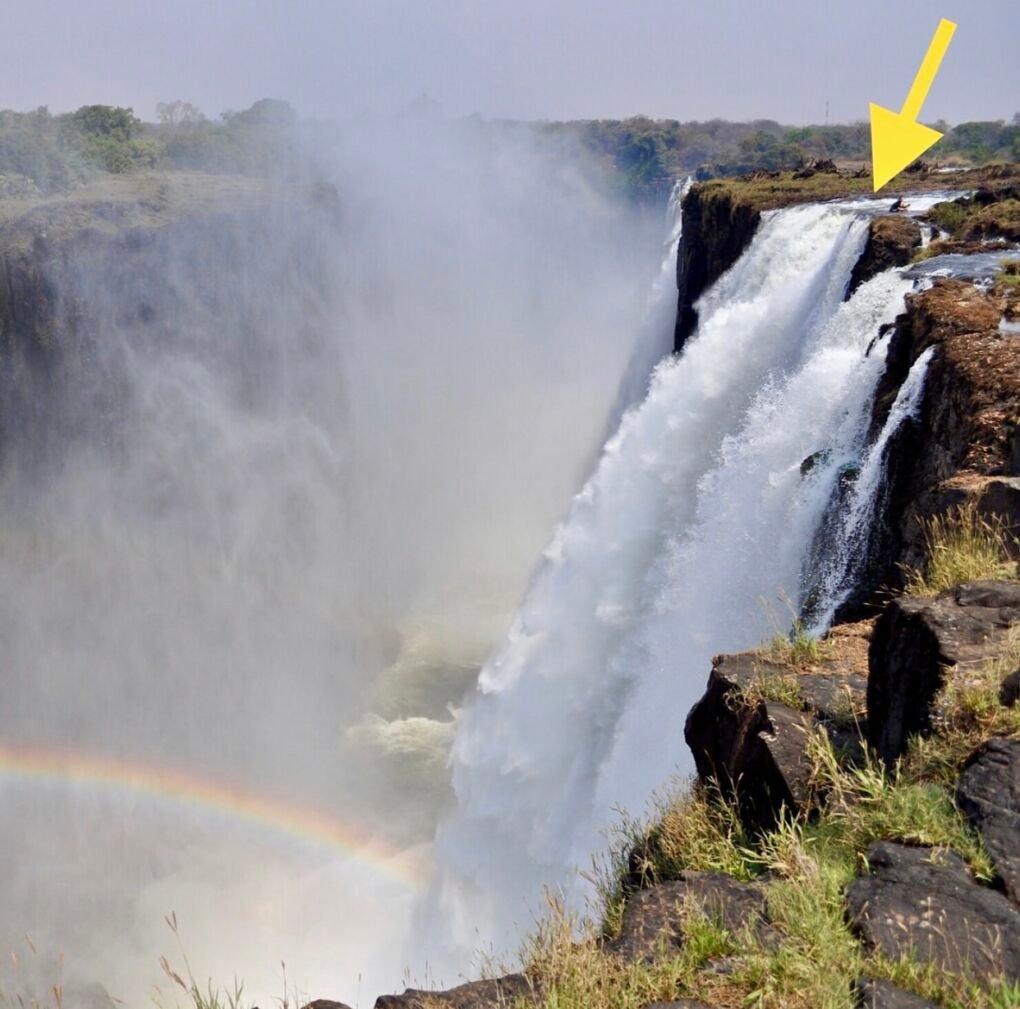 From September to December the flow of the Zambezi lessens and water levels drop. This allows daredevils to swim to the very edge of Victoria Falls in a naturally formed pool and look down into the chasm below. The pool is made by a rock wall that halts the current enough for a swim; it is ominously named 'Devil's Pool.'
Swimming isn't recommended if you aren't confident in your swimming abilities.
Because of the danger of hanging off the edge of a waterfall, access is limited to certain months of the year (when it is deemed safe with low water levels) and daily visitors as restricted to 12 at each time, with a maximum of 80 people per day. As it is located in Zambia, it will require you to take a day trips across the border to visit if you are staying in Zimbabwe.
Canoe Safari on Zambezi River
If you fancy taking a day trip from Victoria Falls, the Lower Zambezi National Park is easy to reach from the Zambia side of the falls and is where you can choose to take a boat safari, there are different options like a speedboat or canoe. I'd prefer a normal boat that simply floats while you keep your eyes peeled for the wildlife on the riverbanks.
White Water Rafting
The use of an inflatable raft to navigate a river or other body of water. This is often done on white water or different degrees of rough water. At least two people are needed for this activity.
Safari
Visiting Southern African and not going on safari would be a waste. For the best game viewing in Zambia, head to Lower Zambezi National Park and consider staying in a bush camp retreat as I did. If you're in Zimbabwe, visit Hwange National Park – the perfect option for those with time on their hands, located as it is 100km south of the Falls. Alternatively, the wildlife-packed Chobe National Park in neighboring Botswana is just an hour's drive from Vic Falls.
Sunset Cruise on the Zambezi
Sunset cruises are the perfect way to relax after a day filled with Victoria Falls Activities.
Victoria Falls Accommodation
There are many options for accommodation around the Victoria Falls area. With lodging options like hotels, hostels, backpackers, campsites, guesthouses, and resorts, you'll be spoilt for choices for a variety of budgets and tastes.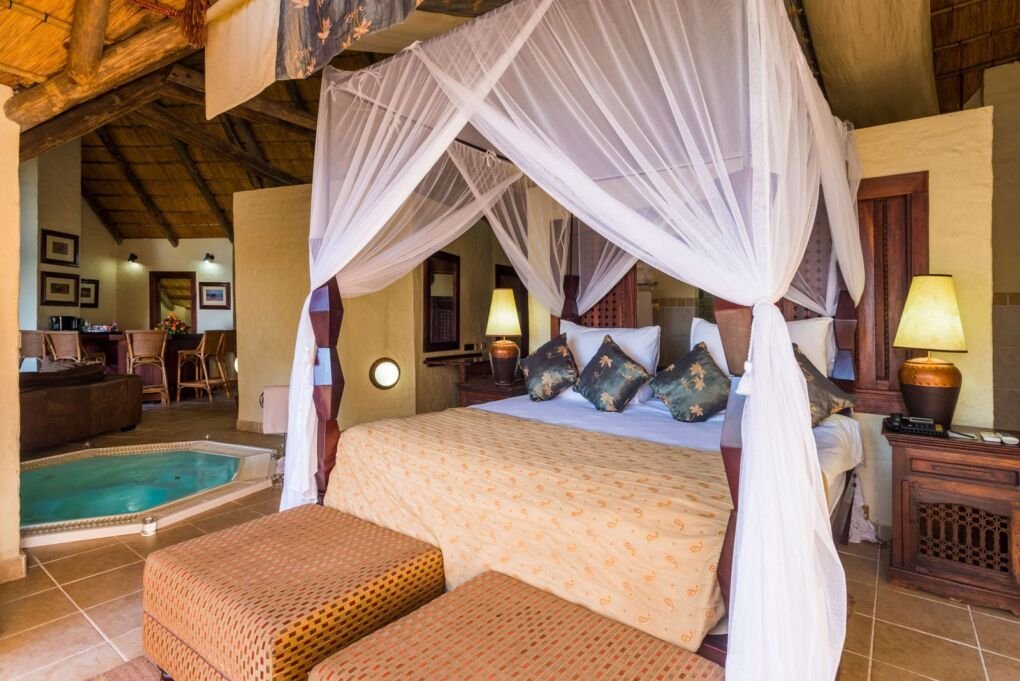 The David Livingstone Lodge and Spa provide guests with affordable luxury, family-oriented accommodation. This 4-star hotel is vibrant and colorful, which is reflective of the Zambian people themselves. With WIFI access in all of the rooms. The property overlooks the Mosi-Oa-Tunya National Park, which creates a tranquil environment and the perfect space for a Victoria Falls spa experience.
[maxbutton id="1″ url="https://www.booking.com/hotel/zm/david-livingstone-safari-lodge-and-spa.en.html?aid=1558524&no_rooms=1&group_adults=1″ ]
Moderate: Kanyemba Lodge
Kanyemba Lodge strives to provide a haven in which to enjoy the beauty and activities on offer in the Lower Zambezi. Catering for a maximum of 20 guests, the lodge comprises 6 stone and thatch "rondavel" chalets, each with their own large private deck overlooking the Zambezi River, full en-suite bathroom and walk-in wardrobe. My favorite thing about staying at the lodge was its unique activities near Vic Falls, exclusivity, and many opportunities to unwind and relax (no TV and WiFi in rooms).
[maxbutton id="1″ url="https://www.afristay.com/p/4432″ ]
The perfect for budget travelers. It has 6 spacious rooms – 1 Family Room, 2 Standard Twins, 1 Double Room and 2 Cottages with clean and well furnished en-suite bathrooms and they are all air-conditioned rooms. Cottages have cooking facilities for self-catering with a comfortable lounge area for relaxing and they are best for long term stay.
[maxbutton id="1″ url="https://www.booking.com/hotel/zm/gloria-s-bed-and-breakfast-accommodation.en.html?aid=1558524&no_rooms=1&group_adults=1″ ]
---
Victoria Falls Activities Prices
Prices vary on the time of the year and tour operator. As usual, I'd encourage you to shop around before booking tours.
How much my trip to Victoria Falls cost:
Accommodation at The David Livingstone Safari Lodge & Spa (two nights): $214
Helicopter Tour (60 minutes): $130
Bungee Jumping (60 minutes): $150
Food ($2 – $5 per meal): Total for 3 days and 2 nights = $40
---
Final Thoughts On When To Visit Victoria Falls
The best time to visit the falls will depend on what you hope to achieve. If you want to experience a combination of fantastic sightings and fun activities in Victoria Falls, then your mid-seasons will be best. Victoria Falls in December is great for rafting, and a trip between February and May is the best for the view. While your experience will largely depend on when you go and what activities you sign up for, there are a few guarantees… Expect to be blown away by the beauty of the falls, get close to nature, marvel at painted sunsets, and enjoy the friendly hospitality of the locals. Visiting Victoria Falls is an unforgettable experience and one that needs to be seen to be believed
---
More Amazing Zambia Travel Guides
---
Travel Insurance for Victoria Falls
Use travel insurance while visiting Zambia so you are covered for theft and medical expenses. There are a lot of adventurous things to do near Victoria Falls, and it's best to have peace of mind while diving, hiking, and trying some of the best food in the world.
Find out why I recommend World Nomads, check out my World Nomads Insurance review.
Disclaimer: This article contains affiliate links. This means that if you make a booking after clicking on a link, I may receive a small commission at no extra cost to you!