Located in the Philippines, Boracay is a small island full of resorts, hotels, restaurants, and cafés. Although there is still a long way to go to make this place ideal for expats and digital nomads, this island is taking small and sure steps in that direction.
Boracay is usually a weekend stop for digital nomads who stay in Manila, one of the best cities to live in the Philippines. Offering a peaceful beach setting and magnificent views of the sea for any type of traveler. Take a look at this travel vlog to get ideas for what to do and see in Boracay:
Those who use the island as their work base have to accept that the internet is slow and not meant for major uploads and downloads. On the plus side, since foreigners love to visit Boracay, you won't have a problem communicating with the locals since they know sufficient English. While you won't find a real coworking space here, coffee shops and eateries are adequate to replace them. Here are some of them you can work from and some that you should skip.
The Lazy Dog Bed & Breakfast Is the Nicest Place to Cowork in Boracay
Image source: The Lazy Dog Bed & Breakfast Facebook
The Lazy Dog Bed & Breakfast is located close to Bulabog Beach in the Balabag district. This is not an ideal coworking space, but you will find everything you need here to have a productive day.
The Wi-Fi is better than in some coffee shops but still not even close to the speeds you can find in Manila. If you don't have to send huge files or download anything big, you can do just fine with the internet here. In-house Whiskey's Café is perfect for working in peace in the shade of palm trees and drinking freshly squeezed juice. The chairs are far from ergonomic but comfortable to sit on for a while. To change position, you can use low walls as standing desks or sit down on the cushions and work at the coffee table.
We love that this hostel is true to its name, and dogs and cats are all around, sleeping or stopping by for pets. If you want to go for a walk or swim, you can leave your things in the lockers and not worry about them. In the evenings, guests from all over the world gather at the café and mingle, which is a great opportunity for networking.
Basics
Pricing estimates
Moderate
High-Speed Internet
No
Open Hours

Monday–Friday: 7 am–10 pm
Saturday: 7 am–10 pm
Sunday: 7 am–10 pm

Workspace
Comfortable Chairs
Yes
Standing Desk
Yes
Phone
No
Coliving
Yes
Little Wave Is Our Least Favorite Place to Cowork in Boracay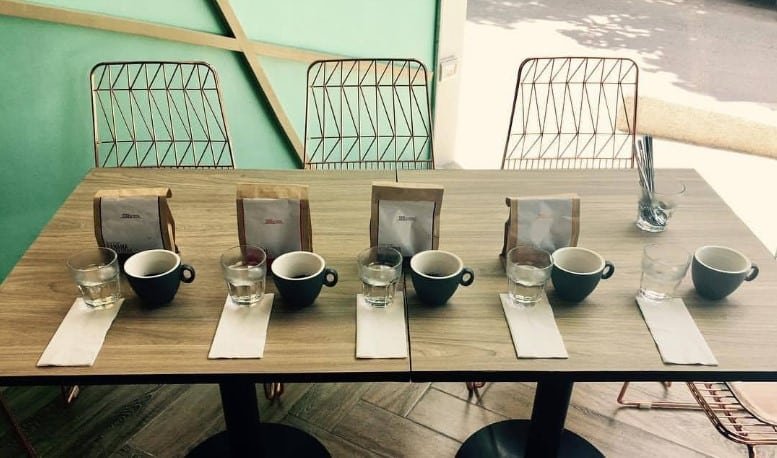 Image source: Little Wave Facebook
Little Wave is a small coffee shop in the Manoc-Manoc district, close to the main road on the island. It's located in a cluster of many eateries and cafés, so you don't have to go far to find a more comfortable place to work. Chairs are on the top of our list of the most uncomfortable, made from some sort of metal and without upholstery.
During our stay, the Wi-Fi was unreliable and disappeared from the list of available networks several times. This was a miscalculation on our part since we came here during the lunch hour, and too many people were connected.
We gave up working after a while and decided to enjoy the food with many vegetarian options. The salted egg coffee is their signature beverage and something we recommend you try when in Little Wave. The staff was friendly and stopped by our table a few times to make sure everything was in order with our food.
Basics
Pricing estimates
Moderate
High-Speed Internet
No
Open Hours

Monday–Friday: 8 am–10:30 pm
Saturday: 8 am–10:30 pm
Sunday: 8 am–10:30 pm

Workspace
Comfortable Chairs
No
Standing Desk
No
Phone
No
Coliving
No
Five Places to Cowork in Boracay's Balabag District We Also Enjoyed
No matter if you are having coffee, cake, or beer while you work, the following places are good enough to get the work done:
Starbucks
Titos
Tom N Toms
Sea Breeze
Coco Cafe
Starbucks
Image source: Starbucks Facebook
Starbucks is located in a three-story building, with the roof being the best part if you want to work while looking at the beach below. This is a familiar place with decent coffee and reliable but still slow Wi-Fi.
If you are lucky to come here when it's not crowded, you can take the comfortable seats by the wall. Otherwise, you will have to either make do with wooden chairs or use your travel stand desk as we did. The staff speaks several languages, so you won't have problems communicating with them. Too bad the internet connection is less than perfect, or we would come here to work every day.
Titos
Image source: Titos Facebook
Titos is the best place to try Filipino dishes and have lunch on the roof with a wonderful view of palms and the beach. The Wi-Fi will not falter even when the place is crowded, so you will have no problem working here until your food arrives.
We don't recommend staying here for long since the colorful chairs are far from comfortable, and our backs weren't that happy after an hour of sitting. If you plan to come here, note that Titos opens at noon, and you will hardly find it without guests. If you want to concentrate on work, it's best to find another place and come here only for the local cuisine.
Tom N Toms Coffee in Balabag
Image source: Tom N Toms Coffee Facebook
Tom N Toms Coffee is a Starbucks doppelganger — all with comfortable chairs and a great choice of coffee.
The Wi-Fi here is unreliable. Some days it works well, and you can finish your tasks without too much fuss, and others, it will be annoyingly slow and useless. The good thing is that Tom N Toms is not a loud place, and you can work without distractions from other patrons. The big plus is that they're open 24/7, so you can come here and work anytime you want (if the internet is operational).
The Sea Breeze Café in Balabag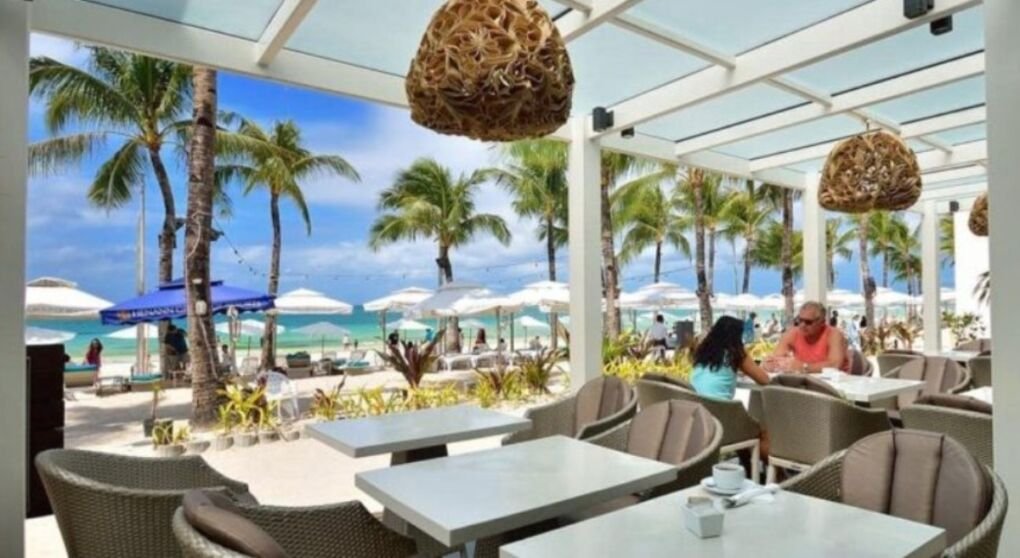 Image source: Sea Breeze website
Sea Breeze is part of the Henann Regency Resort & Spa on the Beachfront. This is a big space full of comfortable chairs and serving buffets for reasonable prices.
It is a good place to come for breakfast and start on the morning tasks since it's quiet. The internet was fine, but nothing to write home about, like everywhere else in Boracay. Avoid coming here to work in the afternoons since that is family time, and you will hardly be able to work from all the noise.
Coco Cafe in Balabag
Image source: Coco Café Facebook
Coco Cafe is one of the few air-conditioned coffee shops on the island, so working there was especially nice.
The tables aren't too close to each other, so you can have privacy, and no one can take a peek at your computer. We had some trouble connecting to the Wi-Fi, but once we did, it worked fine. We suggest you try their mango smoothie. It will help you start the day energized and ready to give your 100% at work.
Here Are Other Places to Cowork in Boracay: