Romania's capital Bucharest is an ever-evolving city that never loses its old in favor of the new. This mixture of old and new makes it one of the best places to live in Eastern Europe. It's an eclectic mixture of many different eras and zeitgeists. You can exit a glass business building and find yourself looking at a clunky communist architectural giant. Feel humbled by a beautiful tricentennial Orthodox church and admire the Belle Epoque splendor of "the Little Paris of the East."
If this is your first time visiting, check out this quick guide.
It's easy to get lost in time here, but when duty calls, we need to find a place to set up our workstation. Luckily for all of you who work on the go, Bucharest doesn't lack coworking spaces. 
Commons Unirii Is the Best Coworking Space in Bucharest
Source: commons.work
Commons has three locations in Bucharest, but this one is our favorite. It's in the very heart of the city on the prominent Unirii Square, and it spans three floors. With public transit stations nearby, it's easy to explore the Romanian capital from here. When you're done with work, you can also check out one of many cool cafes and restaurants in the neighborhood.
The place has a steampunk vibe to it. English-style lounge furniture, golden-frame paintings, and fireplaces blend perfectly with industrial-looking ceiling lights and massive wooden tables. You'll feel classy working from here at an affordable price. You can sip their free tea or hand-roasted South American coffee while working on your project or networking with the great community that gathers here.
If you and your team are in urgent need of a meeting room, you'll always find it here because they have several. As their facilities are spread across three floors, they have everything a remote worker may need:
Hot and dedicated desks
Private offices
Conference rooms
An outdoor terrace
A yoga studio, etc.
The people who visit the place come from diverse branches, and the crowd never fails to amuse them. Commons organizes many social opportunities for their visitors, from free breakfasts to get-togethers at the end of the workday. Whether you're a social butterfly or a loner, you'll feel at home here. You can come anytime, day or night, as the place is open 24/7.
Basics
Pricing

Per day – €18
Per month – €190

High-Speed Internet
Yes
Open Hours

Monday – Friday: 24 hours
Saturday: 24 hours
Sunday: 24 hours

Ergonomics
Comfortable Chairs
Yes
Standing Desk
No
Workspaces
Dedicated Desks
Yes
Conference Rooms
Yes
Private Offices
Yes
Phone booths
No
Coliving
No
Cubic Center Is Our Least Favorite Space to Cowork in Bucharest
Source: Cubic Center
Cubic Center is a huge business building with over 27,000 sqm of office space. They have offices for rent, and recently, they opened a coworking space there. The building is clean and ultra-modern, and the space doesn't lack anything. If you get hungry, you can head to the restaurant on the ground floor and grab a bite.
Cubic Center is our least favorite place on this list. Don't get us wrong—the space itself is amazing! What bothers us the most about it is that it is in a remote location just outside of Bucharest. It is a bit difficult to find and even access sometimes.
You need around 25 minutes from the Old Town on a good-traffic day. Even though the building is state-of-the-art, it's in a chaotic developing area and almost completely isolated. If this is something that doesn't bother you, we still recommend you try Cubic Center.
Basics
Pricing
Per month – €100
High-Speed Internet
Yes
Open Hours

Monday – Friday: 9 a.m. – 5 p.m
Saturday: Closed
Sunday: Closed

Ergonomics
Comfortable Chairs
Yes
Standing Desk
No
Workspaces
Dedicated Desks
Yes
Conference Rooms
Yes
Private Offices
Yes
Phone booths
No
Coliving
No
11 Coworking Spaces in Bucharest We Also Recommend
Bucharest is teeming with coworking spaces. Here are our other top picks:
TechHub
TheAtelier.ro
We Love Digital Unirii
Impact Hub
Omega House
V7 Startup Studio
Nod makerspace
Lucrativ
Ingenius Hub
Pura Vida
The Office HUB
TechHub in Sector 2
Source: TechHub Facebook
TechHub is in a convenient location on Strada Nicolae Filipescu in Sector 2. It's easily accessible by metro. We wouldn't recommend coming here by car as this is the crowded city center with little parking space available. There are plenty of cafes and restaurants nearby if you want to have lunch outside or go for after-work drinks.
This is a flexible space where the majority of furniture is movable. Aside from the open area, there are:
Several meeting rooms
A lounge zone
A fully stocked kitchen
As the place was primarily designed with techies in mind, it doesn't lack powerful equipment. There are even computers with dual monitors at your disposal.
The community is open and diverse. It makes everyone feel part of a large family by hosting regular networking events. People often randomly bring treats for everyone and even celebrate their birthdays in the hub by bringing cake for their fellow coworkers. The price of a hot desk is €105 per month, and members can access it 24/7.
TheAtelier.ro in Sector 3
Source: theatelier.ro
TheAtelier.ro coworking space is in the city's heart of hearts, right in the beautiful Old Town. It's surrounded by numerous food places you can choose from. There are plenty of cafes around, but you don't have to look anywhere further for a great cup of coffee—the ground floor is a small cafe bar.
This place is best suited for solo freelancers and passing travelers, as you can pay by the hour. When you take the stairs from the ground floor, you'll find yourself in an open area with plenty of tables, sockets, and USB ports. You can choose from different seating options. If you prefer to stand up, there are also standing desks available. They have a private meeting room for up to five people and a large conference room.
The people are friendly, and the atmosphere is generally laid-back. Considering the premium location, it's inexpensive to work from here— 8 RON per hour and 40 RON per day.
We Love Digital Unirii in Sector 3
Source: We Love Digital Unirii
We Love Digital is another coworking space in the center of Bucharest on the vast Unirii Square. That is as convenient a location as you can get, simple to find and access. There's a variety of food and beverage options within walking distance, and you can move around easily from this place using public transport.
The space is vast and can fit a lot of people. There's no need to worry about elbowing for space as desks are wide. Some of them even feature dividers that allow for more privacy. If you need even more privacy with your team, there are smaller separate offices for you. There's also a large conference room. If you want to organize any business event and are looking for a suitable space, you can contact We Love Digital.
The price for a hot desk is 45 RON per day and 450 RON per month. Members get 24-hour access.
What We Don't Like About We Love Digital Unirii
There are two things that bother us:
Their chairs are not the most comfortable. If this is a problem for you, but you'd still like to work here, you can bring a portable travel stand desk and work standing up.
There's not much natural light, but the place is still well-lit.
Impact Hub in Sector 3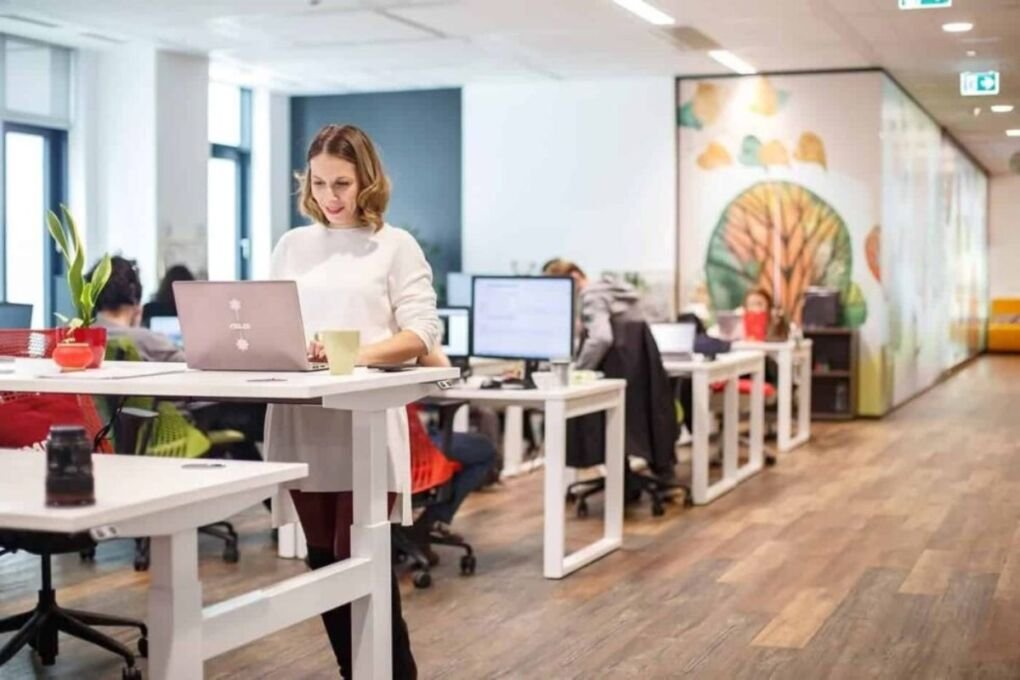 Source: Impact Hub Bucharest
Impact Hub is a global network of coworking spaces with over 100 locations worldwide. In Bucharest, there are three Impact Hub spaces, all in central locations. Our favorite is the hub on Timpuri Noi Square, and we'll focus on that one.
It's a large space with all the necessary equipment. You can sit in a beautifully designed open-concept area whose walls are decorated with colorful flower motifs or choose a more private office. There are many different seating options, from comfy office chairs and standing desks to cozy couches.
As Impact Hub is known to digital nomads around the world, this space hosts quite a mixed, international crowd. The Impact Hub community even has its own app and a Slack channel for members. You may join them for one of their regular drinks or lunches.
The price per month is 1,450 RON.
Omega House in Sector 2
Source: Omega House
Omega House is a community-oriented coworking space in Bucharest's Sector 2. It's a nice and quiet location with the Piata Romana metro station nearby. When you decide to take a well-deserved break from hard work, you can head to one of several parks in the neighborhood.
Depending on your preferences, you can set a workstation in one of the following:
The Music Hub—a large open area with jazz playing in the background
The Quiet Hub—for those who like to work in complete silence
There are also meeting and Skype rooms, a kitchen, and a lounge area. This space gives you access to a rich library with over 3,000 titles. They also offer coliving and have two separate areas for that purpose. Omega House turns into a social hub in the evenings with a variety of cool events they host.
The price for a hot desk is 8 RON per hour and 40 RON per day.
V7 Startup Studio in Sector 1
Source: v7startupstudio
V7 Startup Studio is close to the city center in Sector 1. There are numerous hotels and Airbnb options nearby if you wish to stay close to your coworking space. If you're into literature, you can also visit the National Museum of Romanian Literature, which is within walking distance. There's a public transport station in the vicinity, and if you're coming by bike, there's bike parking available.
This place was opened with startups and fresh entrepreneurs in mind. They can gather here, exchange ideas, and grow together. That doesn't mean that others can't join—V7's door is open for anyone who wants to work in an inviting, cozy setting. You'll enjoy all of their rooms adorned in soft pastel colors and supported by heavy wooden beams. Feel free to help yourself to free coffee and tea as well as to free snacks.
The price per day is €22 per day, and per month, it's €220.
Nod makerspace in Sector 3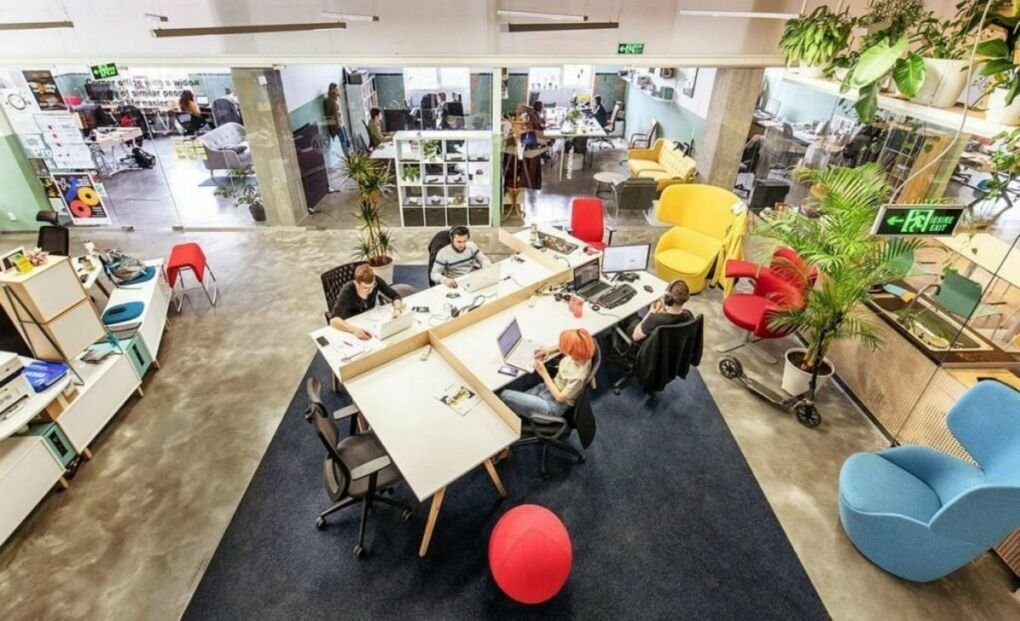 Source: Nod makerspace
Nod makerspace is yet another coworking space around the popular Unirii Square. There's quite a number of choices in the area. This one is especially great for all the creative types—designers, engineers, artists, etc.
It is not only a coworking space but also a workshop where you can roll up your sleeves and make stuff with your own two hands. They provide all the necessary equipment as well as a variety of materials.
They divide their spaces into the following categories to suit everyone:
The quiet
The casual
The active
The private
Whatever it is that you're working on, you'll be able to find the right spot to set your workstation here. When you need a break, you can play some ping pong or chill at the rooftop bar.
The price for this pleasure is 47 RON per day and 520 RON per month. It is open 24/7, so you can pop by anytime.
Lucrativ in Sector 2
Source: Lucrativ Facebook
Lucrativ is the most gorgeous place on our list. It's situated in a 100-year-old house repurposed for coworking. It's right next to the famous Foișorul de Foc (The Fire Tower). There are a bunch of restaurants and shops around, so you can either go there or order whatever you may need.
Lots of natural light coming through tall windows, potted plants everywhere, parquet flooring, colorful pictures, and murals—they all lend this spacious house an air of grandeur. You'll feel like royalty working from here. Lucrativ is best suited for creative people looking for inspiration while sipping excellent free coffee or tea.
If you become a member, you can enjoy this dazzling space 24/7. You can also rent the space for all kinds of events, or you can join those that Lucrativ curates. The price is €65 a day and €100 a week.
Ingenius Hub in Sector 2
Source: Ingenius Hub Facebook
Ingenius Hub is a small intimate coworking space in Sector 2. It is only a couple of minutes away from the metro station. It's super close to TechHub, so you can check out both spaces at once and decide which one you prefer.
This place is so small and cozy because it is a repurposed loft. It can only host around 30 people, and the whole space is one large open area. The owners kept the structure of the loft, so there are "pockets" half separated from the rest of the space that can seat up to six people. There is free coffee, tea, and drinkable water, and you can use the shared kitchen if you want to.
The price is €18 per day and €95 per month. As the space is small, you'd be better off paying for the whole month in advance.
Pura Vida in Sector 1
Source: Pura Vida Facebook
Pura Vida is located in the center of the city in an old historical building with a beautiful balcony view of the Old Town. It is the first coworking hub in the city center with the possibility of coliving. The location is top-notch—the space is at the corner of two popular pedestrian streets, Lipscani and Smârdan. 
You can choose to work in a large open area or sit on the balcony sipping coffee or tea. Speaking of tea, Pura Vida is also a tea house. Apart from these seating options, there is a separate relaxation area where you can chat and chill during your breaks. There's also a kitchen for guests.
Pura Vida organizes networking events every week. These include workshops, debates, get-togethers, etc.
For such a perfect location, the space is surprisingly cheap—only €5 per day and €30 per week.
The Office Hub in Sector 3
Source: The Office HUB
The Office HUB is the most traditional-looking coworking space of all the spaces on our list. If old-school offices are your preferred choice, head straight here. The place is easily accessible. It's on the first floor of a business building, and you can use free parking on the premises. There are parks and food places nearby. You can also eat in the restaurant on the ground floor of the same building.
This space is clean and bright with lots of daylight. Smokers can use a wide balcony. Apart from the main open-space area, there's also a meeting room for up to 12 people. The Office HUB is fully equipped with printers, lockers, scanners, and anything you might need.
The price is 70 RON per day and 160 RON per week.
What We Don't Like About the Office HUB
Even though the emphasis here is on professionalism and practicality, the space could use some decoration to make it less grim and depressing.