Okay, so you've packed your bags and prepared your passport, and your journey to one of the best cities in Columbia is about to begin. Chances are you've already packed an insect repellent, and you have a general idea of where to go and what to see once you've settled in Cartagena.
Have you remembered to research your coworking options?
A functional coworking space is a holy grail of the digital nomad lifestyle. When you find the right one, though, all your suffering and every temptation you resisted during your noble search will pay off. A good coworking space keeps you productive, organized, and responsible. It's a bit of a gamble to find the right one at the given location, so we're here to help. Here are the top four coworking spaces in Cartagena, plus one that you should probably avoid.
Cowork Cartagena Is Our Favorite Place to Cowork
Source: Cowork Cartagena
Cowork Cartagena is located in the city center, on the third floor of the Cartagena de Indias Convention Center. Public transport is a 5 minutes' walk away, and it's well-connected with other parts of the city.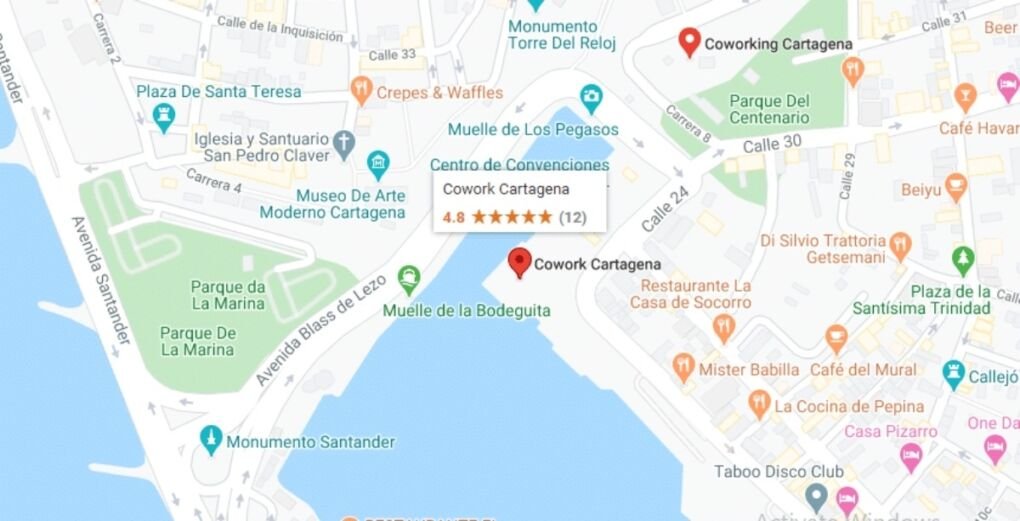 The staff is friendly and always happy to help. There is a fantastic lounge area on the terrace where you can chill out when you get tired after a long workday.
The place is comfortable, with a little something for every taste. There are hammocks and beanbags for those of you who enjoy a more relaxed approach to work. Of course, there are also standing desks and, ergo-chairs for the more traditional nomads.
Personal lockers are available, so you don't have to drag everything with you to your desk and make it unnecessarily cramped. They also provide printing equipment (including 3D printers), as well as video recording equipment. There is even a photo studio available.
They offer free coffee, tea, and water. If you're driving, there is an available — and free — parking lot.
Arcade games are there for the moments when you need a break from all the hard work, and they even have an organized sports team!
Basics
Pricing

17,250 COP per hour
57,500 COP per day
700,000 COP per month

High-Speed Internet
Yes
Open Hours

Monday – Friday: 7 am – 7 pm
Saturday: 7 am – 1 pm
Sunday: Closed

Ergonomics
Comfortable Chairs
Yes
Standing Desk
Yes
Workspaces
Dedicated Desks
Yes
Conference Rooms
Yes
Private Offices
Yes
Phone booths
No
Coliving
No
We Loved These Three Coworking Spaces Too
Of course, the fact that we like Cowork Cartagena the most doesn't necessarily mean that it will suit your taste, preferences, or convenience. If that's the case, here are three other great options to choose from.
Espacio Colectivo
Imanu Coworking
Selina Cartagena
Espacio Colectivo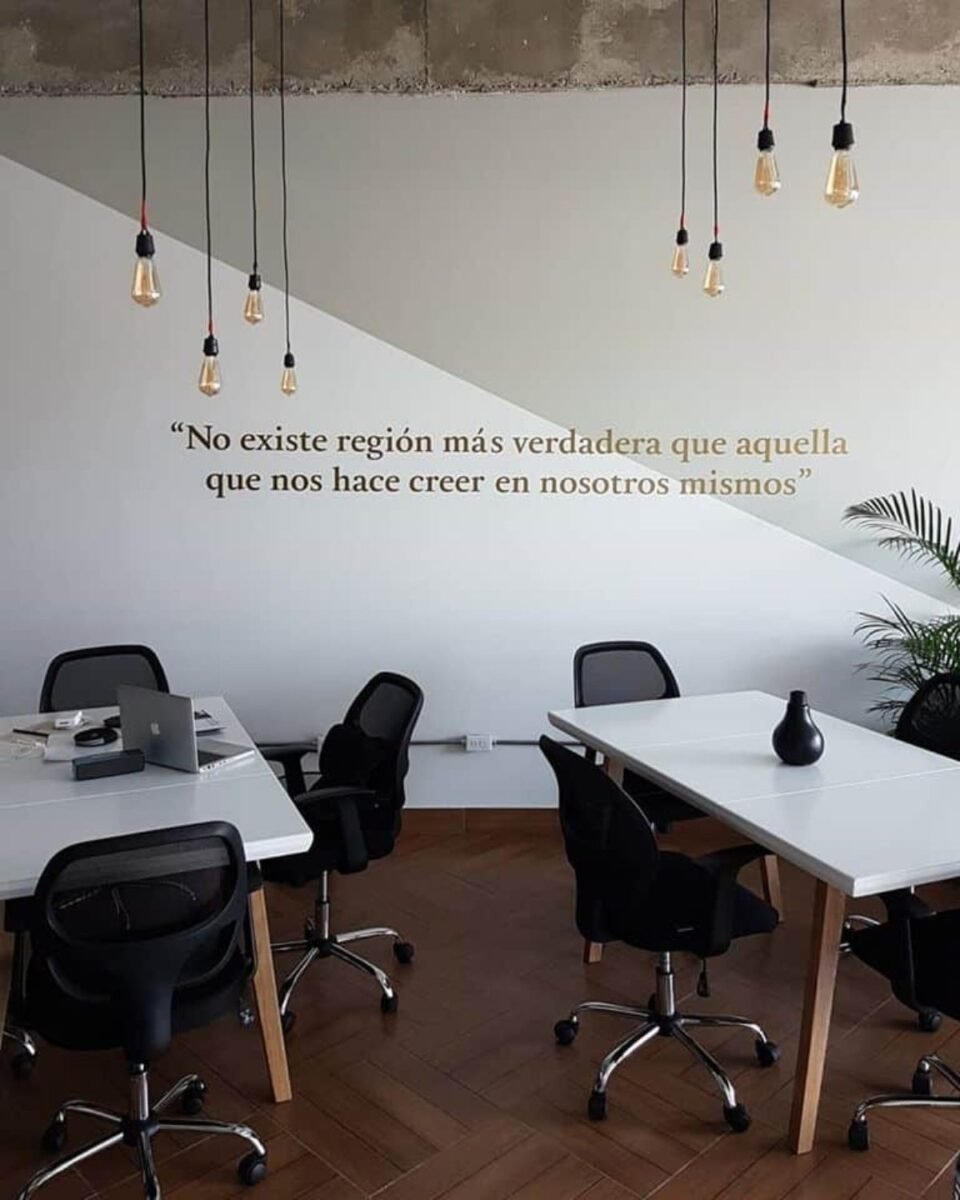 Source: Espacio Colectivo
Espacio Colectivo offers excellent Wi-Fi and a fantastic location close to the historical center of the city. Dedicated desks are available at a higher price than hotdesks, and there are private offices as well.
You can use a kitchen, and they serve delicious coffee for an extra charge. For those who travel around by car, there's free parking available. If you like to take your dog with you, you're welcome to do so, as the space is dog-friendly. If you're a cat person, tough luck—only dogs are allowed.
Espacio Colectivo includes co-living arrangements, which is great for anybody who wants to live in the company of like-minded people and enjoys the company of other nomads.
Open hours

Monday – Friday: 8 am – 10 pm
Saturday: 9 am – 3 pm
Sunday: Closed

Price
Per hour
15,000 COP
Per day
45,000 COP
Per month
500,000 COP
Imanu Coworking
Source: Imanu Coworking
Imanu coworking is one of the most aesthetically pleasing workspaces in Cartagena. There are standing desks and ergo chairs, so it's relatively comfortable as well.
They provide printing equipment, but you have to pay extra to use it. There is free parking on the premises.
Coffee and water are free, and coffee is really delicious.
Open hours

Monday – Friday: 7:30 am – 7 pm
Saturday: 8 am – 12 am
Sunday: Closed

Price
Per hour
30,000 COP
Per day
50,000 COP
Per month
400,000 COP
Selina Cartagena
Source: Selina.com
Selina is one of the most beautiful coworking spaces in Cartagena. It is a part of a hotel complex, which means that there are several benefits you might find interesting. For example, there is a yoga studio you can use if you get tired of working in one position the entire day. Since it's a hotel, you can also live there as well, which would save you some time.
They provide standing desks and comfy chairs. You can enjoy free tea and coffee, and there is also a kitchen at your disposal.
They host TEDx events, so if you're interested in experts talking about their experiences and daily situations connected to their jobs, you can book your ticket with the staff. You can bring your dog or cat to help you work, as the space is pet-friendly.
There are some downsides to Selina as well. Power outlets tend to be in the middle of the desk, which narrows down the space and makes the desk less comfortable. Aside from these difficulties, Selina is a great, pleasant place to work, so try it out if you get the chance.
Open hours
24/7
Price
Per day
45,000 COP
Per week
160,000 COP
Per month
420,000 COP
TuWork Is Our Least Favorite Space to Cowork in Cartagena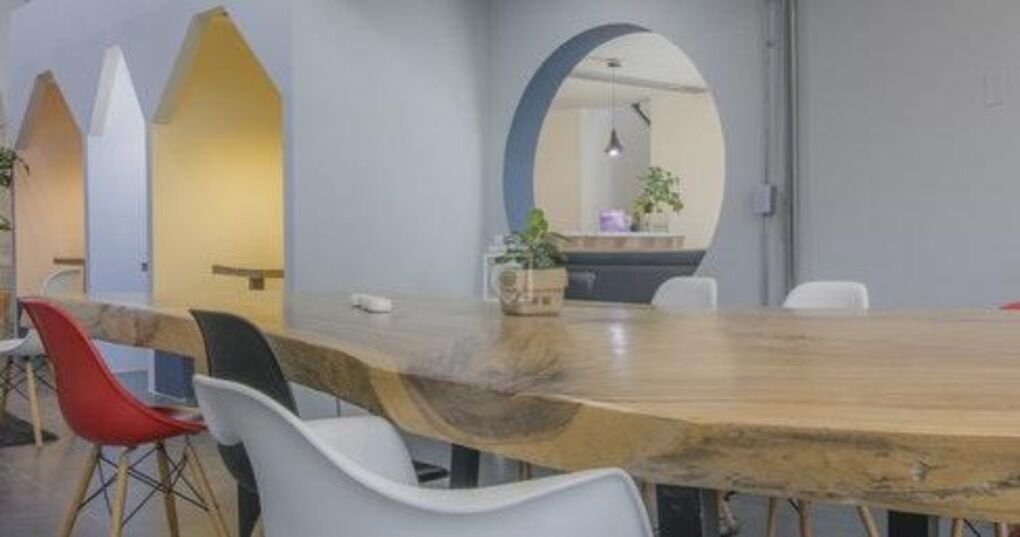 Source: TuWork
TuWork is not entirely bad. There are many good things about it. They offer a well-stocked library to their visitors, for example. Tea and coffee are available for free, and the place is cat-friendly.
What made us dislike this otherwise fine coworking space is the staff. Perhaps they just had a bad day, but they tend to be a bit rude and downright unpleasant at times. Still, many people are okay with this. If you don't particularly care about the staff and their relationship with you, you will probably find this place reasonably pleasant. If you seek a warm service, you might want to look for it somewhere else.
Basics
Pricing

10,000 COP per hour
45,000 COP per day
390,000 COP per month

High-Speed Internet
Yes
Open Hours

Monday – Friday: 7 am – 7:30 pm
Saturday: 7:30 am – 2:30 pm
Sunday: Closed

Ergonomics
Comfortable Chairs
Yes
Standing Desk
No
Workspaces
Dedicated Desks
Yes
Conference Rooms
Yes
Private Offices
Yes
Phone booths
Yes
Coliving
No
A functional coworking space is one of the essential needs of every digital nomad. It helps you keep your head in the game and get the work done much faster, which allows you to focus on the more pleasant aspects of your trip.
In a place as charming as Cartagena, why should you spend any more time on work than you absolutely have to? Now you know where to look once you've arrived at your location. Choose one of these great coworking spaces in Cartagena, and get the job done. Remember, all work and no play make all of us incredibly dull, so have fun and enjoy your stay!
Love visiting South America? If you are itching to plan your next trip but do not know where to go yet, have a look at our guide to the best places to live in South America.