Guatemala, a Central American gem south of Mexico, has a centuries-old culture and beautiful landscapes. It is an ethnically diverse country where you can hear Spanish mixing with various Mayan dialects on the streets. The archeological wonders of Guatemala, such as the famous Tikal monuments, are the primary tourist attraction in the country, together with lush nature and colonial architecture.
Looking for the best places to live in Mexico, or if are you seeking a beautiful retreat from urban life but still have to continue to work, you should consider Guatemala. The country is warming up to digital nomads and other remote workers. You can now find cozy coworking spaces in its two most famous cities: Guatemala City and Antigua. There is also a quirky space in a town west of the capital for the eco-conscious among you.
Best Coworking Spaces in Antigua, Guatemala
Antigua is the best place for digital nomads in Guatemala. It's a small city nestled between three large volcanoes. The place is known as the best-preserved Spanish colonial city. Its cobalt streets and mesmerizing colorful buildings are sure to enchant you. The fact that it's protected as a world heritage site by UNESCO can tell you a lot about its rich history and beauty.
If you're visiting Antigua for the first time, check out this digital nomad's experience.
Antigua has only a handful of dedicated coworking spaces. After you're done exploring the city and ready to get some work done, you can head to one of the following two:
Impact Hub
Selina
Impact Hub Is the Number One Coworking Space in Antigua (and the Whole of Guatemala)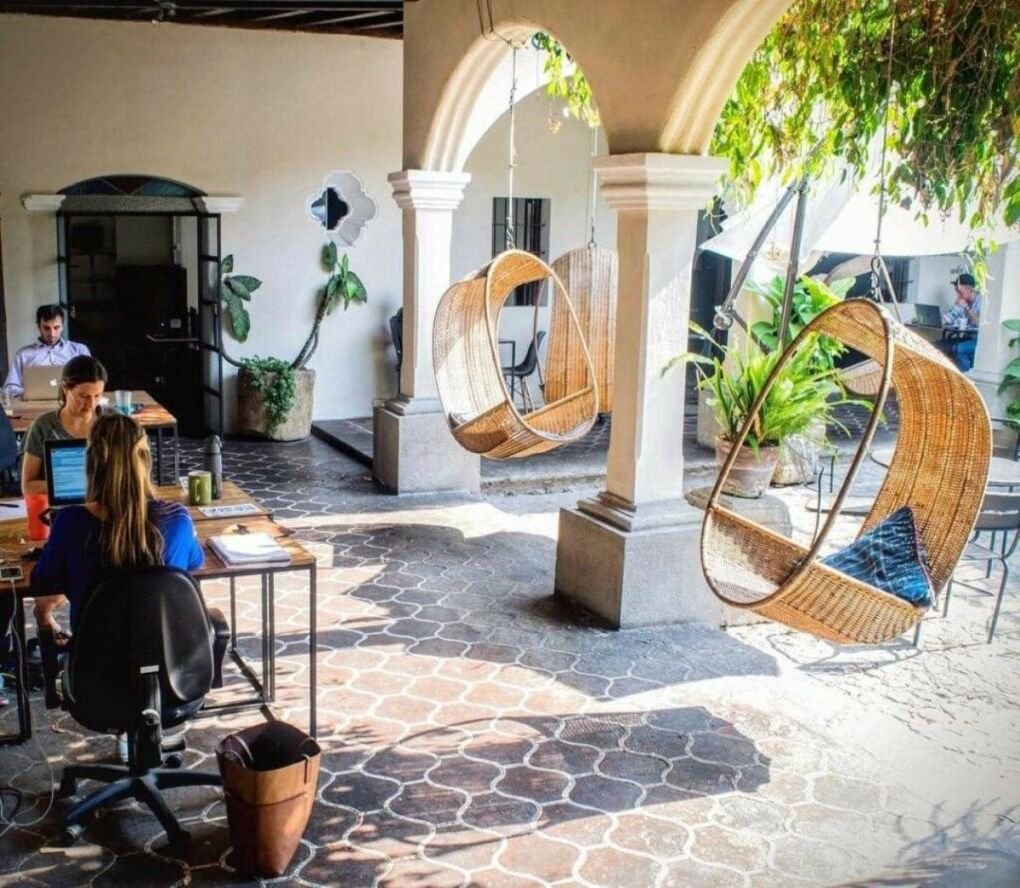 Source: impacthubantigua
Only a couple of blocks away from Central Park in Antigua, Impact Hub is a digital nomad's paradise. It's nestled inside a huge colonial house and offers indoor and outdoor coworking options. Impact Hub is a global coworking network with over 80 spaces around the world. It's generally well-loved by the community of remote workers on the go. This place is no exception, as it combines the multicultural hub vibe of the global coworking chain with local history and charm.
The place abounds in natural light, especially if you decide to work outdoors. There are two outdoor options:
A spacious courtyard
A roof terrace
The courtyard is filled with greenery and offers numerous seating options. You can even choose to recline in a hanging wicker seat. The terrace boasts the most wonderful view—you can see a volcano towering over old rooftops. This scene will make you tranquil and ready to get some work done. If you want to sit indoors, there's an open area as well as several private offices to rent.
Impact Hub is known to have the best Wi-Fi in Antigua, so if you need a reliable Internet connection, head straight here. There is free coffee and tea, as well as free drinking water and a fully stocked kitchen. The community that gathers here is friendly. It can get pretty social as they organize Friday get-togethers and monthly networking events.
Basics
Pricing

Per day – 80 GTQ
Per week – 400 GTQ
Per month – 800 GTQ

High-Speed Internet
Yes
Open Hours

Monday – Friday: 8 am – 7 pm
Saturday: 9 am – 2 pm
Sunday: Closed

Ergonomics
Comfortable Chairs
Yes
Standing Desk
No
Workspaces
Dedicated Desks
Yes
Conference Rooms
No
Private Offices
Yes
Phone booths
No
Coliving
Yes
Selina
Source: Selina (Antigua) Facebook
The Selina coworking space is placed inside the Selina hostel north of the famous baroque church, La Merced. This place is part of another international network, but it's not limited to coworking spaces. They are just one thing Selina offers aside from:
Accommodation
Places to connect and share experiences
Various activities for the community, etc.
Selina advertises itself as a lifestyle platform.
This place offers an open-plan area where you can choose between dedicated and hot desks. There are also tiny private phone booths where you can make a call without being disturbed by your fellow coworkers. They seem to value transparency here, so if you need a conference room for your team, and there is one, note that it's separated by glass walls from the open space.
It's not the most brightly lit space, but they made up for it by filling it with many different colors. The chairs come in blue, green, yellow, purple—you name it! A large mural in bright colors adorns one wall. It's a picture of a modern-looking young girl who oversees the hardworking crowd.
You can help yourself to free tea and coffee, and you'll also have access to the hostel bar and restaurant. When you get tired from all the work, ask around and find some company to join you at the pool table.
One of the coolest things about Selina is the fact that it's completely free to use on Mondays! On regular days, price plans start from as cheap as 50 GTQ. Another amazing thing about it is that it opens early and closes late in the evening every day.
What We Don't Like About Selina
Selina is a hip place, but there are two things they could work to improve—the space could use more natural light, and not all chairs are ergonomic.
Best Coworking Spaces in Guatemala City
Guatemala City, whose official name is Nueva Guatemala de la Asunción and the affectionate one Guate, is the capital of Guatemala. Even though it's the capital, tourists avoided it up until recently due to its bad reputation involving gangs and violence. Times are a-changin' for this chaotic city, and some of its zones, such as Zona 1 and Zona 4, are becoming increasingly tourist-friendly.
If you're traveling to Guate for the first time, check out this nomad's impression of the city.
Another indicator of the city's opening up to the world is the emergence of numerous coworking spaces. There are more of these spaces than in Antigua, but they're also more expensive.
Here are our top picks in Guatemala City:
Serendipity Lab
Chamba
Cowork Guatemala
OffiRent
Serendipity Lab in Zona 14
Source: Serendipity Lab Facebook
Serendipity Lab is in the heart of the capital in its upscale Zona 14. It's inside a shopping mall known as Plaza la Noria. This can come in handy if you need to spend a day there without losing time in traffic. No need to leave the mall as La Noria hosts a bunch of international and local cuisine restaurants where you can grab a bite. There's even a gym if you need to relieve stress and loosen up.
Serendipity Lab is mostly a large open area surrounded by huge windows that let in a lot of natural light. There are plenty of seating options, and you can choose from hot or dedicated desks. If you prefer to stand while you work, standing desks are also available. If you need to get together with your team, you can also rent a cozy meeting room.
When you feel like you need a break, you can get some free coffee and head to the lounge area fitted with comfy couches and armchairs. If you'd rather socialize a bit, find a person in a similar mood and enjoy the ping pong table together. Feeling like hitting that gym in the mall but don't know what to do with all your stuff? No worries—there are personal lockers available at Serendipity Lab.
The price per day is 99 GTQ. If you want a dedicated desk, you can only get it for a whole month for 1,800 GTQ. The space is open every day, so you don't have to find another place if you want to keep working on weekends.
Chamba in Zona 4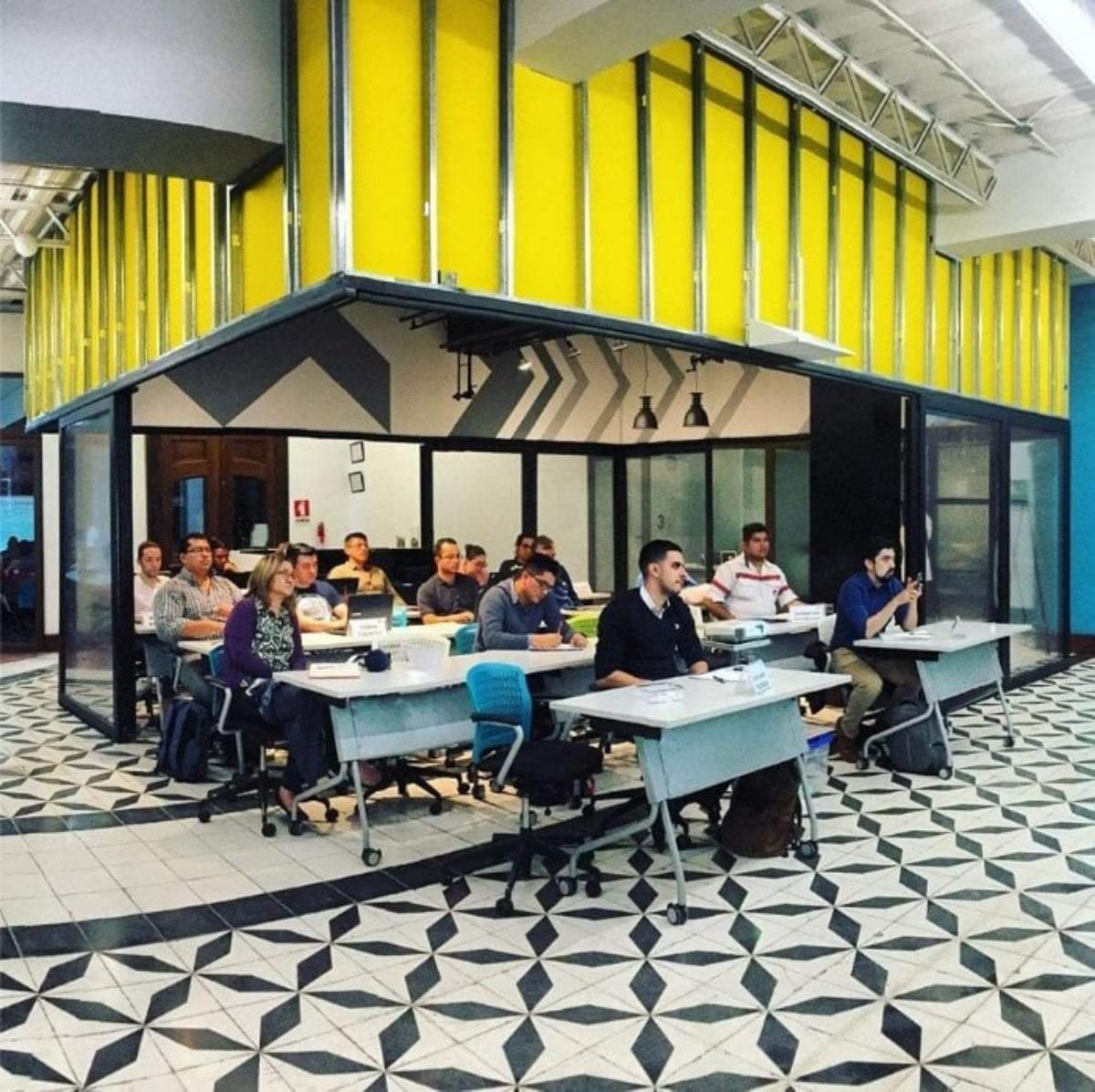 Source: Chamba Facebook
Chamba is a coworking space in Zona 4, surrounded by a variety of cafes and restaurants that are within steps from it. Chamba offers:
A large open-plan area
Meeting rooms
A relaxation zone
A shared kitchen
This is a pretty flexible space when it comes to the arrangement of desks. Both chairs and desks are on wheels, and you can easily rearrange them to suit your preferences. This comes in especially handy when there are seminars and workshops going on at Chamba. The space is modern and creatively decorated with plant walls opposing plain brick walls, carpeted and smooth floors, and plenty of light and color.
The whole place gives off a relaxed vibe. People eat at their desks if they want to, and no one bothers them. In fact, there's even a regular Wednesday event there called Eat and Learn. These are conferences that happen during lunchtime when you are encouraged to fill your stomach as they fill your head with useful information.
The relaxation zone is especially loungey. You can recline in one of their yellow bean bags or play ping pong. Guatemala seems to love ping pong.
For all of you who can't decide between Antigua and Guate, here's something cool—if you pay a monthly membership for Chamba, you can also use Impact Hub in Antigua (and the other way around). Two for the price of one! The monthly price here is 995 GTQ. These two places decided to make a pact and help out those workers who have some business in both cities (or just want to enjoy them both).
What We Don't Like About Chamba
Chamba is a super comfy space, but don't go there if you need perfect Wi-Fi. Theirs can be unstable at times. Another disadvantage of this place is that it isn't open on weekends.
Cowork Guatemala in Zona 10
Source: Cowork Guatemala Facebook
Cowork Guatemala is sleek and modern but also tucked in and comfy coworking space. It's in Zona 10 of Guatemala, known as the business district of the city. It's certainly one of the fancier parts of the capital. The space is inside the Edificio Interamerican World Financial Center building on the ground floor. Cowork is perfectly in sync with the building's business look.
This place welcomes all the business people on the go—entrepreneurs, small companies willing to share their workspace and ideas, freelancers, etc. People also come here to share their projects with others, so you may be able to find a business partner as well.
You can choose to sit in the open workspace or rent a private meeting room for your team. There are various chair and desk options—from small round tables and plastic chairs to standing desks and office chairs. Some of these may be better suited for cafes, but the place is usually not crowded, so you can take your pick. You can also go to the lounge area and recline on a wide leather couch.
Free coffee and water are at your disposal, and you can use the shared kitchen. The place is stocked with all the technical equipment. You can print, copy, or scan whatever you need and even use their PCs.
The daily price is 150 GTQ, and it goes up to 1,450 GTQ per month. Cowork is open Monday through Saturday from 9 a.m. to 8 p.m.
What We Don't Like About Cowork Guatemala
As we've mentioned, some of the chairs could be replaced by proper office chairs.
OffiRent in Zona 4
Source: OffiRent Facebook
OffiRent is yet another coworking space located in a busy mall. This mall is in Zona 4, and it features mostly clothes, electronics, and houseware stores, but there are also some fast food places. As the name itself reveals, these are offices for rent. OffiRent is a decent solution if you're staying in this area for a bit longer as you can't rent it per day, only per whole month.
The place is clean and spacious, with wide desks. Privacy and personal space are valued here, and there are desk dividers everywhere except in the meeting room. You can use the kitchen and help yourself to free coffee and water.
They often organize networking events for their members to help them bond and grow together professionally. The space is best suited for entrepreneurs. The price for a month is 1,099 GTQ.
What we don't like about OffiRent
There are a couple of things OffiRent could work to improve. These include:
Light—The desk dividers could be in brighter colors or semitransparent. They are too dark and massive and can make your workstation grim.
Bland decor—The space could use some colors or decorations to make it more inviting.
Working hours—It is closed on weekends and opens only until 5:30 p.m. on weekdays.
JungleLab Is the Most Unusual Coworking Space in Guatemala
Source: BrainHive
JungleLab is a project by a business planning and startup consultancy from London known as BrainHive Consulting. It's situated at Lake Atitlan in a small town called Panajachel. The town is well connected with Antigua and Guate and not too far away. This digital nomad retreat is only minutes away from the town center and at the edge of a jungle. If you choose this place, you'll be surrounded by nature but still close to everything you might need.
This is an eco-space built entirely from natural and recycled materials, so it's a bit rough around the edges. If you're a creature of comfort, this is not the place for you. Even though it's a nature retreat, it's still a serious coworking space with sound technical equipment and great Wi-Fi.
It's a perfect combo of rustic and digital, with pilas (Guatemalan washbasins) for washing your clothes but also an advanced virtual reality system at your disposal. If you find this place exciting but are worried about uncomfortable, makeshift ergonomics, you could bring a portable travel stand desk, attach it to any surface, and work standing up.
JungleLab is also a coliving space, which can house up to six people comfortably. Even more can fit if necessary. The best thing about this place is the community. People who come here are laid-back and sociable, so if you're an adventurous extrovert, this might be the right space for you.
You should know that Panajachel has an open community of digital nomads called CoCoHub. They are regulars at JungleLab. If you want to stay in Panajachel while in Guatemala, you can easily contact them for info about the best accommodation in town or anything else that might interest you.
Basics
Pricing

Per day – 20 USD
Per week – 80 USD
Per month – 300 USD

High-Speed Internet
Yes
Open Hours

Monday – Friday: 10 am – 6 pm
Saturday: Closed
Sunday: Closed

Ergonomics
Comfortable Chairs
Yes
Standing Desk
Yes
Workspaces
Dedicated Desks
No
Conference Rooms
Yes
Private Offices
Yes
Phone booths
No
Coliving
Yes
We hope you find the right place to set your workstation in Guatemala among these seven picks. There is certainly something for everyone. Just make sure to have an open mind and relax!
Tip: In the market for an exciting work-live adventure? Have a look at the 10 best coliving and coworking spaces in Mexico.