A trip to Mexico sounds like an exotic adventure. The ruins left behind by ancient civilizations, nature, and culture all combine into a unique experience worth going through.
You're probably planning on visiting Mexico City and possibly Guadalajara. If you're a bit of an adventurer and want to walk the path less trodden, you might decide to pay a visit to Oaxaca as well. Great choice as Oaxaca is one of the best places to live in Mexico. From the beautiful ethnobotanical garden filled with indigenous plants to Pueblos Mancomunados, which persevere despite the changing times, Oaxaca oozes the genuine Mexican spirit and traditions from every square meter. The ruins you can see there would be worth visiting even if there was nothing else to attract you.
With so many fascinating things around you, it's easy to lose sight of your daily life and responsibilities. It can be especially tough if you're a digital nomad and you have to work. Because staying focused in spite of the distractions can come as a bit of a challenge, it might be a good idea to come up with a strategy to keep you productive.
For many people, the best way to keep their heads in the game is to find a coworking space that boosts their motivation. In an organized environment, it's much easier to keep an organized mind. The chances are that your focus and productivity will hit their peaks if you move your laptop from your bed to a desk and surround yourself with fewer distractions.
Choosing the best coworking space can be a bit difficult, though, especially if you're visiting the place for the first time. To make your life a bit easier, we've compiled a list of the best coworking spaces in Oaxaca and everything you need to know about them.
enConjunto Is Our Favorite Coworking Space in Oaxaca
Source:best places to live in Mexico.
Located in the Union area, enConjunto is not exactly in the center of the city. Still, it is five minutes away from public transport, and they offer free parking, as well as car share. There are also bike parking and bike storage, and even plug-ins for electric cars and a Tesla charging station.
enConjunto is a coworking and co-living space. This is a fantastic thing because it can save you a lot of time. Who wants to commute anyway? If you can just walk downstairs from your room and start working, it makes everything much easier and much less of a chore.
The internet speed is excellent, and the connection is stable and reliable. For all of you who get a bit nervous every time the connection slows down, this is great news. If you do a job that demands good internet—online teaching, for example⁠—you can rest assured that there won't be any hiccups in this regard.
The space is incredibly comfortable, as well. It has ergonomic chairs, but there are also standing desks for those of you who get leg muscle cramps easily or for those who simply don't want to sit for a long time. If you like to be extra comfortable, there are bean bags and even hammocks. They even provide Bosu ball chairs, if that's more in accordance with your preferences. No matter what you like, you'll be comfortable in enConjunto—comfort at this workplace is second only to productivity.
enConjunto boasts a large and tight-knit community. They have a Facebook group, a Slack channel, and a community app to stay in touch. They organize workshops and events to boost the skills and knowledge of their members. The space offers mentorship, accelerator, and incubator programs. The members often have lunches and drinks together, and they even have a sports team. It is a great pleasure to cowork in a wonderful environment such as this one, and the community spirit in enConjunto is another of its many perks.
When it comes to the extra equipment, you'll find that they provide everything you may possibly need. Their offer includes:
Photo Studio
Computers (PCs and Macs)
Screen printer
Drone
Projectors
AR and VR Equipment
3D printer
Greenscreen
Chromecast
Sound and video recording equipment
Apple TV
Printers, scanners, and photocopiers
Dual / Single Monitors
Recording studio
Professional lighting equipment
Microphones
There are podcasting rooms, Skype rooms, and phone booths, so you can have some privacy if you need it to do your job. You can use the kitchen, the showers, and the personal lockers onsite.
If you have a kid who's traveling with you, you don't have to worry about them—enConjuncto provides childcare services as well. This is swell for all the working moms and dads or nomad parents since they don't have to research childcare options separately and think about dropping off and picking up their child from another location.
When you need a break, there are so many fun things to do. There is a yoga studio if you want to stretch those muscles that are doomed to one position for hours every day. There are a nap room and a meditation room if you'd like just to chill out a bit and clear your head. If you're a sports enthusiast, there is a swimming pool, a volleyball court, a ping pong table, a mini-golf course, and a gym. If you're not too sporty, but you'd still like to move it move it, there is a trampoline, and you can always do a karaoke show complete with your awesome dance moves. There are board games, arcade games, darts, and many options for co-playing, not just coworking. You can just grab a book from the library, or check out the gallery.
The place is pet-friendly, so your furry pall doesn't have to miss you too terribly. Coffee, wine, and beer are included in the price.
All in all, enConjuncto provides plenty of benefits, so make sure you check it out when you're in need of a coworking place in Oaxaca.
Basics
Pricing
Per day: MXN 150
High-Speed Internet
Yes
Open Hours

Monday – Friday: 8 am – 8 pm
Saturday: 8 am – 4 pm
Sunday: Closed

Ergonomics
Comfortable Chairs
Yes
Standing Desk
Yes
Workspaces
Dedicated Desks
Yes
Conference Rooms
Yes
Private Offices
Yes
Phone booths
Yes
Coliving
Yes
These Coworking Spaces Are Great Too
It takes all sorts of things to build the world, and not everybody appreciates the same things. If you don't like enConjunctio, here are some other excellent options!
Selina
Convivio
StartUp Mexico campus Oaxaca
Impact Hub Oaxaca
Centro de Imaginacion
Selina
Source: coworker.com
Located in the city center, Selina is a few minutes' walk from some of the main attractions, such as the Museum of Contemporary Art and Zocalo Oaxaca.
It's a breathtakingly beautiful coworking space. The interior is dominated by woodwork, and there are many murals around, including one of Einstein. The colors, the furniture, and the plants all fit together in flawless harmony. If you do a creative job or if you're an artistic soul, you'll appreciate Selina. It is truly inspiring. It puts you in a great mood and makes you feel motivated and productive.
The Wi-Fi is great, so that's one less thing to worry about. They offer ergonomic chairs and standing desks. While the range of seating options is not as wide as in enConjuncto, you still have some choices.
There is printing equipment you can use, and there are phone booths and a kitchen at your disposal.
The lounge is charming and pleasant, and you can just chill out with a cup of free coffee or tea when you need a break.
Selina is also a hotel and a really comfy one at that. If you stay at the hotel and work at the coworking space it provides, you can save a little time commuting.
Open hours

Monday – Friday: 9 am – 5 pm
Saturday: Closed
Sunday: Closed

Price
Per hour
MXN 65
Per day
MXN 285
Per week
MXN 1,300
Per month
MXN 2,200
Convivio
Source: Convivio
Convivio provides great internet and comfy seating. While the chairs are not ergonomic, there are standing desks and bean bags, which give you options to choose from.
They also offer extra equipment you can use, including projectors, microphones, and printing equipment. If you need privacy or need to attend a video conference or a virtual class, there are Skype rooms you can use.
The community here is cheerful and helpful. The members have their own Facebook group and a Slack channel, so they can stay in touch and exchange ideas. They often meet for lunches and drinks. Convivio organizes many events and workshops, and it hosts TedX events as well. If you're interested, you can get a discount as a member.
When you can't deal with work anymore and need a break or a distraction, you can take a look at the gallery or grab a novel from the library. The place is pet-friendly, so you can bring your four-legged monster to keep you company and boost your inspiration.
Snacks, tea, and coffee are free. There is also an onsite restaurant, and it's pretty good. They offer plenty of choices for different diet regimens, including Paleo, vegan, and gluten-free menus. This is super useful because you don't have to go far if you crave a bit more than a regular old sandwich.
All in all, it's a pleasant coworking space in the heart of the city, with an awesome community and good food, so it wouldn't hurt to check it out.
Open hours

Monday – Friday: 9 am – 7 pm
Saturday: Closed
Sunday: Closed

Price
Per day
MXN 200
Per month
MXN 1750
Startup Mexico Campus Oaxaca
Source: coworker.com
Startup Mexico is another pretty coworking space in the center of the city. It provides an excellent internet connection, which should save you some headaches. There are comfy seating options, including ergonomic chairs and standing desks.
They appreciate and take care of their community. The members have access to certain benefits, such as:
Slack channel for members
Community lunches and drinks
Pitching events
Facebook group for members
Toastmasters
Events and workshops
Mentorship programs
Accelerator programs
Incubator programs
This is a co-living space as well, and living and working in the same place can be a real time-saver.
You can use plenty of equipment if you need to, including printers, projectors, microphones, and even a drone. There are photo and recording studios, as well as sound and video recording equipment. Whatever your job requires, you're likely to find it here.
There is an onsite restaurant with vegan, vegetarian, gluten-free, paleo, and halal menus. They offer free tea and coffee, but there is an onsite cafe as well—because who doesn't crave an extra-large Mochaccino from time to time?
The place is wheelchair accessible. You can bring your dog to work with you, but if you're a cat owner—no such luck, cats are not allowed. They offer car share options and bike storage, which is helpful if you're looking for ways to travel around the city that don't include public transport.
Open hours

Monday – Friday: 8:30 am – 8:30 pm
Saturday: 9 am – 2 pm
Sunday: Closed

Price
Per day
MXN 100
Per week
MXN 400
Impact Hub Oaxaca
Located in the center of the city, Impact Hub is close to just about anything you might need or want to see. They offer high-speed Wi-Fi and ergonomic chairs but no standing desks. The options are a bit limited, so if you don't care for sitting all day long, you can always get a travel stand desk and bring it with you. They're an affordable option that's easy to carry around for situations such as this one— working from an otherwise perfectly respectable coworking space without a standing desk.
The space provides printing equipment if you need it. You can use personal lockers and a functional kitchen for the days when you feel inspired.
Coffee is free, and you can take it with you to the pretty little lounge space when you want to rest for a while. The place is pet-friendly, so it's a great option for all of us who can't bear the separation for half a day.
Open hours
Monday – Friday: 9 am – 7 pm

Saturday: Closed

Sunday: Closed

Price
Per day
MXN 100
Per week
MXN 400
Per month
MXN 1,500
Centro de Imaginacion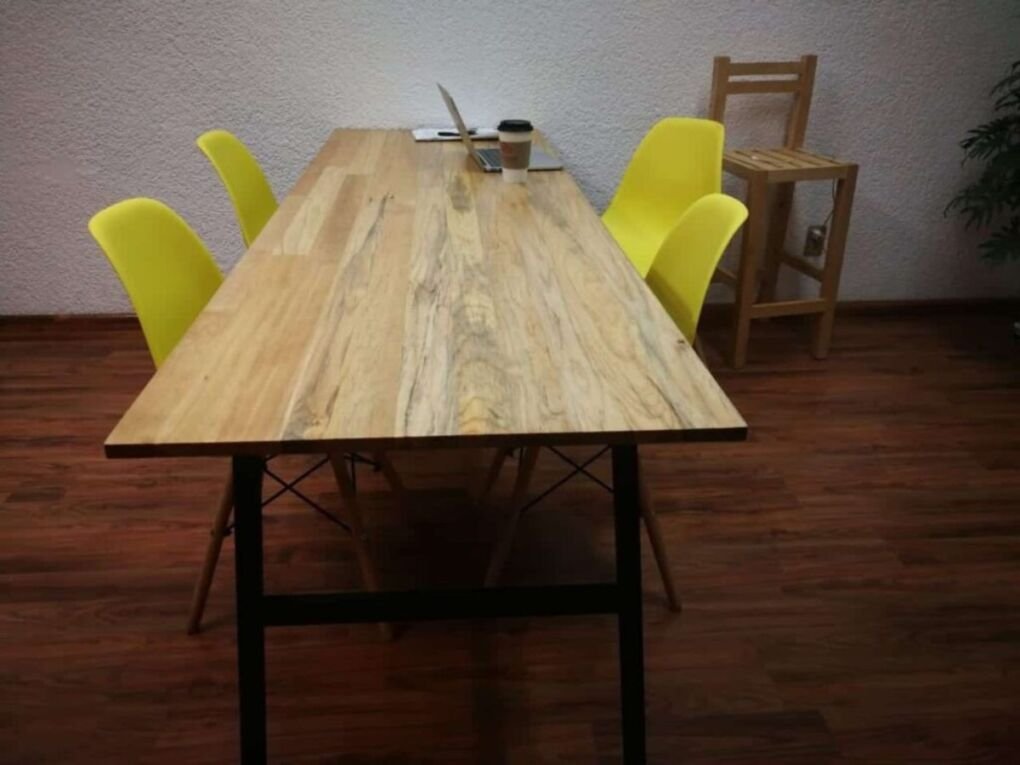 Source: coworker.com
Centro de Imaginacion is located in the Northern part of the city, but it is only a five minutes walk from public transport. It provides fast and reliable Wi-Fi, and the seating options include ergonomic chairs and standing desks, which are great for your back.
There are plenty of workshops, events, and programs they organize for their members. They put an emphasis on life-long learning and help their members discover and develop their interests and talents. They offer printing and video recording equipment. There is a podcasting room, as well.
When you want to take a break, you can go to the yoga studio or meditation room to chill out. If you need a power nap, there's a nap room too! They provide board games, which are always fun to play in a community like this one, and there is a library and an art gallery to check out if you're in the mood for some art.
Centro de Imaginacion is wheelchair accessible. There is free coffee, tea, and snacks. In case your coffee craving demands a barista, there is coffee for purchase as well.
Open hours

Monday – Friday: 9 am – 9 pm
Saturday: 9 am – 3 pm
Sunday: Closed

Price
Per day
MXN 100
Per week
MXN 500
Per month
MXN 1,500
e2 Office Center Is Our Least Favorite Coworking Space in Oaxaca
Source: e2 Office Center
It's not that the e2 Office Center is absolutely dreadful. It's really not—it's just our least favorite coworking space in Oaxaca.
They provide high-speed Wi-Fi, ergonomic chairs, and printing equipment. There is free coffee and a kitchen you are welcome to.
What we dislike about this space is the lack of comfort and content.
The chairs that they offer are comfy enough, but it's tough to work in one position for several hours. The atmosphere is not greatly conducive to work either, as they don't try to nurture their community.
There is absolutely nothing to do during a break. You can grab a cup of coffee and sit in the lounge, but unless you want to spend your breaks staring at your phone, you'll have to get out to find something interesting to do. It's always more difficult to go back to work once you've physically left the building, and it breaks your focus and motivation.
These are not serious issues. You can bring your travel stand desk to allow you a bit more freedom or take a book to work to take your mind off work when you need it to. Still, if there are so many places that can provide everything you need, why waste your time on the one that can't?
Basics
Pricing
Per month: MXN 1,000 and up
High-Speed Internet
Yes
Open Hours

Monday – Friday: 9 am – 5 pm
Saturday: Closed
Sunday: Closed

Ergonomics
Comfortable Chairs
Yes
Standing Desk
No
Workspaces
Dedicated Desks
Yes
Conference Rooms
Yes
Private Offices
Yes
Phone booths
No
Coliving
No