Sayulita, Mexico, is a true hidden gem of Latin America. Not many people are aware of its natural beauty, the turquoise blue sea, and unspoiled landscapes. But some are starting to take notice and are exploring ways to make the most of their time spent there.
No group of people is as diligent at finding exciting places to visit as digital nomads, and they deem that Sayulita will be the next big thing on the coworking map. Let's see what this spot has to offer in terms of coworking spaces at this moment.
Tip: Planning to make a permanent move to South America? Check out our guide on applying for visas.
The Only Dedicated Coworking Space in This Small Coastal Town Is Sayulita CoWork
Source: Sayulita CoWork
Sayulita CoWork is the first and, so far, the only dedicated coworking space in "Sayu", as the locals endearingly call this charming coastal town. Another entry on the "Sayolita's first and only" list is the fiber line internet supported by a battery backup that is available at CoWork. If you are looking for a steady Wi-Fi connection that will help you get your work done promptly and survive any power outages characteristic of this seaside town, this is the place for you.
The Sayulita CoWork offices are air-conditioned, so you won't have to worry about coming early and snatching a seat closest to one of the fans. You will be able to work at comfortable room temperatures and forget all about getting your sweaty fingers stuck to the keyboard.
This coworking space is located at the very center of the town, making it close-by to all the best bars, restaurants, and pubs for when you want to take a lunch break or have an after-hours drink. The place is also within walking distance of the beach. In fact, it is only three blocks away, so even if you are a first-time traveler, you won't have any problems finding your way to Sayulita CoWork!
You have shared hot desks and dedicated desks at your disposal there, as well as a private phone booth. Glass cubicles separate the desks to ensure everybody has their own privacy, even in a shared space. At present, Sayulita CoWork doesn't offer private offices, conference rooms, or event rooms.
If you become a monthly subscriber or a permanent guest, you will be granted a Smart-Entry system, which allows you to use the premises 24/7. The need for that kind of subscription will undoubtedly depend on your personal needs.
If you are a local or planning to move to or live in Sayulita for an extended period, take that option into consideration. If you are visiting this town for a couple of days or weeks, it may be more affordable for you to go for daily or weekly packages. That will also give you the freedom to explore some of the other places that made it on our list.
Sayulita CoWork is not without its flaws. This space doesn't host any events or meetups for its members, so unless you start chatting with another coworker yourself, you won't have other options for expanding your network here. The cubicles also offer protection only from view but not sound. You will always be able to hear what is happening in the neighboring cubes. This is not only distracting but also questions the purpose of the cubicles themselves.
Basics
Pricing

Per day: MXN 250 (hot desk)
Per week: MXN 1,250 (hot desk)
Per month: MXN 2,500 (hot desk)
Per day: MXN 400 (dedicated desk)
Per week: MXN 1,850 (dedicated desk)
Per month: MXN 3,500 (dedicated desk)
Per month: MXN 4,000 (dedicated desk — private single cube)

High-Speed Internet
100 megabit fiber
Open Hours

Monday — Friday: 10 am – 5 pm
Saturday: Closed
Sunday: Closed (24-hour member access)

Ergonomics
Comfortable Chairs
Yes
Standing Desk
No
Workspaces
Dedicated Desks
Yes
Conference Rooms
No
Private Offices
No
Conference room / Event rooms
No
Phone booths / Skype rooms
Yes
Coliving
No
Yah-Yah Cafe & Bagels Has the Most Delicious Coffee in Sayulita to Quench Your Caffeine Thirst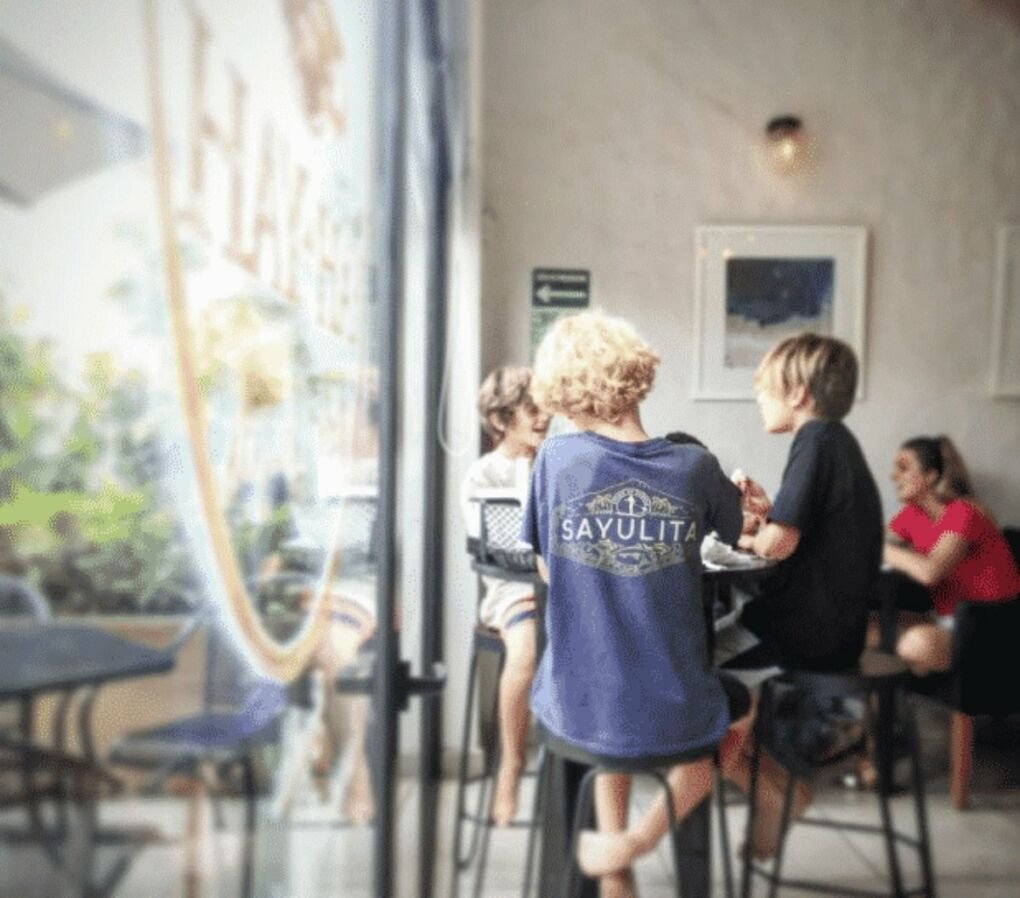 Source: Yah-Yah Cafe & Bagels
Yah-Yah Cafe & Bagels is one of the most beloved coffee shops in Sayulita. It is situated in the very heart of town, so it is easily accessible to every resident or traveler. What makes this place excellent for coworking is that it has free Wi-Fi, which has proven reliable time and time again. There is a quiet indoor area as well as a peaceful outdoor terrace. The traffic is never heavy in Sayulita as everything is within walking distance, so you can choose to work from the terrace at any time without distractions.
If your tasks tend to work up your appetite, you'll be pleased you have chosen to work from this charming cafe. They have a selection of homemade baked goods and delicacies on offer, as well as vegan, vegetarian, and gluten-free meals.
Their strongest point is, nevertheless, the coffee. It is made from freshly ground Mexican-grown beans. You can opt for a hot brew or iced coffee as well as decaf. Some of the most popular coffees here are:
Latte
Cappuccino
Americano
Mocha
Frappuccino
In case coffee is not your preference, you can also taste exquisite tea, Chai, and smoothie beverages at Yah-Yah Cafe & Bagels.
| | |
| --- | --- |
| Address | Calle Niños Heroes #3, Col. Centro |
| Working hours | Daily from 7 am – 6 pm |
ChocoBanana Is the Most Environmentally-Friendly Cafe in Sayulita
Source: Sayulita Life
ChocoBanana is another popular yet peaceful cafe that is well-suited for remote working. It has a stable Wi-Fi signal, and the internet is free of charge if you place an order with the cafe. The ground floor has numerous tables where you can set up shop for the day. The upper floor is an event terrace that can be used for larger meetings, something along the lines of an outdoor private office.
What makes this place stand out is its insistence on green living. The cafe offers superb, freshly ground, organic Nayarit coffee, both in-house and as takeouts. It has completely done away with using plastic coffee cups. At ChocoBanana, you are required to bring your own cup or mug in order to get some takeaway "black gold."
ChocoBanana promotes sustainability by not using plastic bags, straws, or styrofoam. They have reverted towards more biodegradable cups and lids in their locale. Not only that, but all the profits they make go to Ser Su Voz charity, which aims to help the environment.
Besides having fantastic coffee on offer, CB has many desserts that are made with local, organic eggs. They also come in vegan and vegetarian options. The most popular desserts in ChocoBanana are:
Muffins
Brownies
Banana bread
Lemon tarts
Choco-dipped bananas (the specialty of the house)
| | |
| --- | --- |
| Address | The Plaza Sayulita, Nayarit, Mexico |
| Working hours | Daily from 6 am – 6 pm |
| Coffee price (takeouts) | MXN 17 (if you bring your own cup) |
| Choco Bananas (Family pack of 10 pcs) | MXN 150 |
El Espresso Is Yet Another Cafe With Exceptional, Locally-Grown Coffee That You Can Sip While You Work
Source: Sayulita Life
If you happen to disagree with our previous two choices for coworking in Sayulita, but would still like to enjoy a good cup of coffee while you work on your projects, give El Espresso a try. Wi-Fi is free and quite stable. This coffee shop offers a unique mix of beans from different breeds of Mexican coffee from three regions:
Keep in mind that, in peak seasons, the tables could get a bit too squeezed together for any effective work to be done. In those periods, it may be best if you explored other coworking-friendly cafes in the area.
| | |
| --- | --- |
| Address | Av Revolución # 51, Centro |
| Working hours | Daily from 7 am – 10 pm |
El Break Cafe and Bar Could Be the Worst Place to Work From in Sayulita
Source: El Break Sayulita
El Break came out as our least favorite place to work from in Sayulita. Although it is an open-air cafe with a breathtaking view of the beach, we found that it has many drawbacks for coworking.
Since the weather is generally enjoyable in Sayulita, beachfront cafes are extremely popular and frequented, which makes it particularly distracting to work from them. Outdoor weddings are quite common too. There are a lot of locals going around and selling their products to the people in the cafe, which could interrupt your work significantly.
Since all of the desks are on the beach itself, there are also no available sockets to charge your laptop. Make sure it is charged to maximum capacity before you head out and invest in a quality external battery.
In case you do decide to give beach coworking a try, you will be pleased to learn that the food here is delicious. The cafe serves anything from breakfast to dinner, so you won't have to go to another place to have meals if you decide to stay here the whole day.
| | |
| --- | --- |
| Address | #1 Malecon, Sayulita |
| Working hours | Daily from 8 am – 10 pm |
Will You Be Visiting Sayulita Any Time Soon?
Sayulita is a beautiful Mexican coastal town that has exceptional, unspoiled nature at every turn. It is undoubtedly worth visiting at some point in your life. Giving coworking a go here might prove a difficult task, but it may also be entirely satisfactory, depending on what your needs are.
If you enjoy Mexico, there are so many other magnificent places to explore. Before planning your next trip, be sure to head over to our list of best places to live in Mexico.