Singapore is Southeast Asia's economic giant. A cultural hotbed and entrepreneurial paradise, it attracts millions of visitors a year. Many of them are digital nomads and business travelers looking to network in an international setting. Singapore is a strict country, and it is recommended to familiarise yourself with the laws for tourists before visiting. If you're visiting for the first time, check out this video.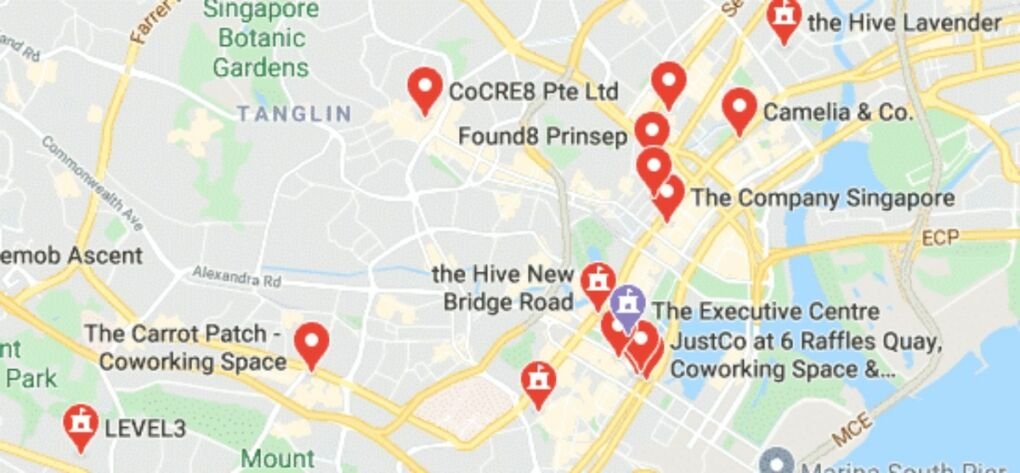 It's no wonder that Singapore is teeming with coworking spaces. There are over a hundred of them. We've reviewed the best and the worst.
The Hive (New Bridge Road) Is Our Favorite Location to Cowork in Singapore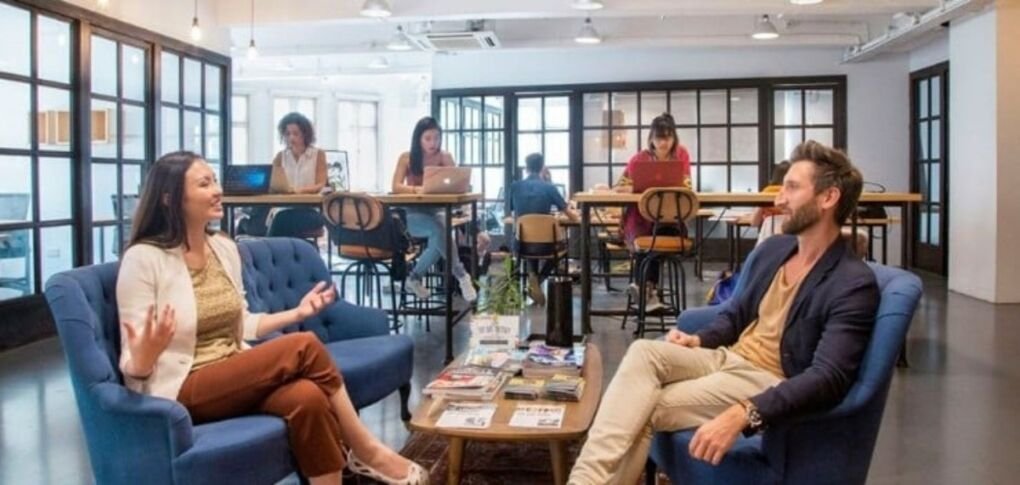 Image source: The Hive (New Bridge Road) Facebook
The Hive New Bridge Road sits between Boat Quay and Clarke Quay in the city's Downtown Core. With metro and bus stops nearby, it is easy to access and move around from. If you decide to eat out, there are also great lunch spots in the neighborhood.
It is a gorgeous, luminous place with various kinds of sitting and desk arrangements. From open spaces to office units of different sizes, The Hive has it all! There are also cozy lounge areas, a fully stocked kitchen, and the best of all — a rooftop terrace. You can join creative networking events there while you enjoy the inspiring view. The place is casual yet professional, which is the ideal environment to work from.
Basics
Pricing

$35 per day
$210 per month

High-Speed Internet
Yes
Open Hours

Monday – Friday: 8:30am – 6pm
Saturday: Closed
Sunday: Closed

Ergonomics
Comfortable Chairs
Yes
Standing Desk
Yes
Workspaces
Dedicated Desks
Yes
Conference Rooms
Yes
Private Offices
Yes
Phone booths
Yes
Coliving
No
JustCo at 120 Robinson Road Is Our Least Favorite Place to Cowork in Singapore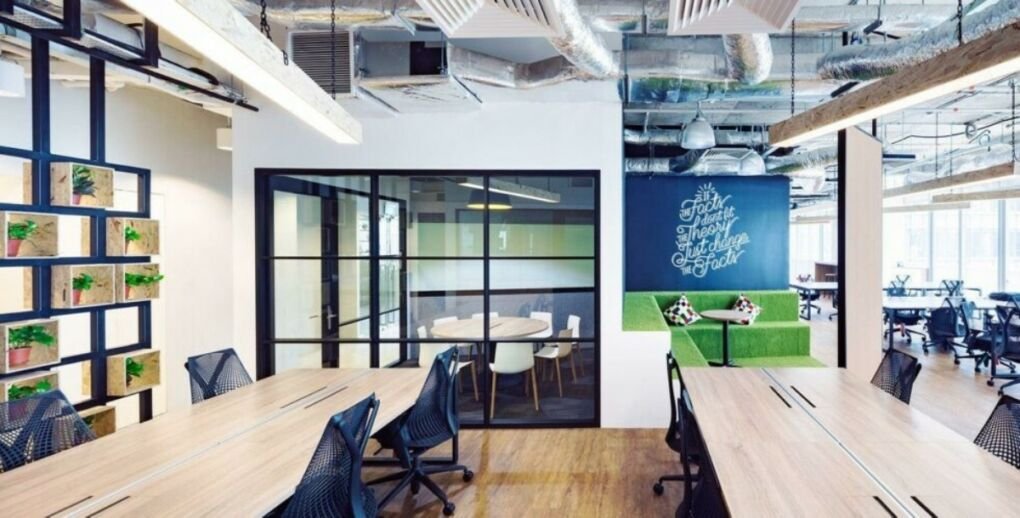 Image source: JustCo Global
JustCo Global has 17 coworking spaces in the central part of Singapore. This one, in particular, is located at the core of the Central Business District. The location is convenient as there is an array of great food places around, not to mention the famous Lau Pa Sat market.
Many of the JustCo coworking spaces are among the most popular ones downtown. JustCo At Robinson Road is an exception. Their guests consistently experience inconveniences that prompt them never to return. The most common ones are the following:
Unreliable Wi-Fi — Customers experience frequent connectivity issues.
Air-conditioning — It's too cold. One customer reported his team having to sit in their winter jackets.
Management issues — People report mysterious extra charges upon move-out, uncooperative management, and delays in refunding deposits.
Basics
Pricing
$98 per month
High-Speed Internet
Yes
Open Hours

Monday – Friday: 8:30am – 6pm
Saturday: Closed
Sunday: Closed

Ergonomics
Comfortable Chairs
Yes
Standing Desk
No
Workspaces
Dedicated Desks
No
Conference Rooms
Yes
Private Offices
No
Phone booths
No
Coliving
No
5 Coworking Spaces in Singapore We Also Love
Here are more coworking spaces to check out:
The Great Room Ngee Ann City
The Workshop
Found8 Prinsep
Distrii
The Working Capitol
The Great Room Ngee Ann City on Orchard Road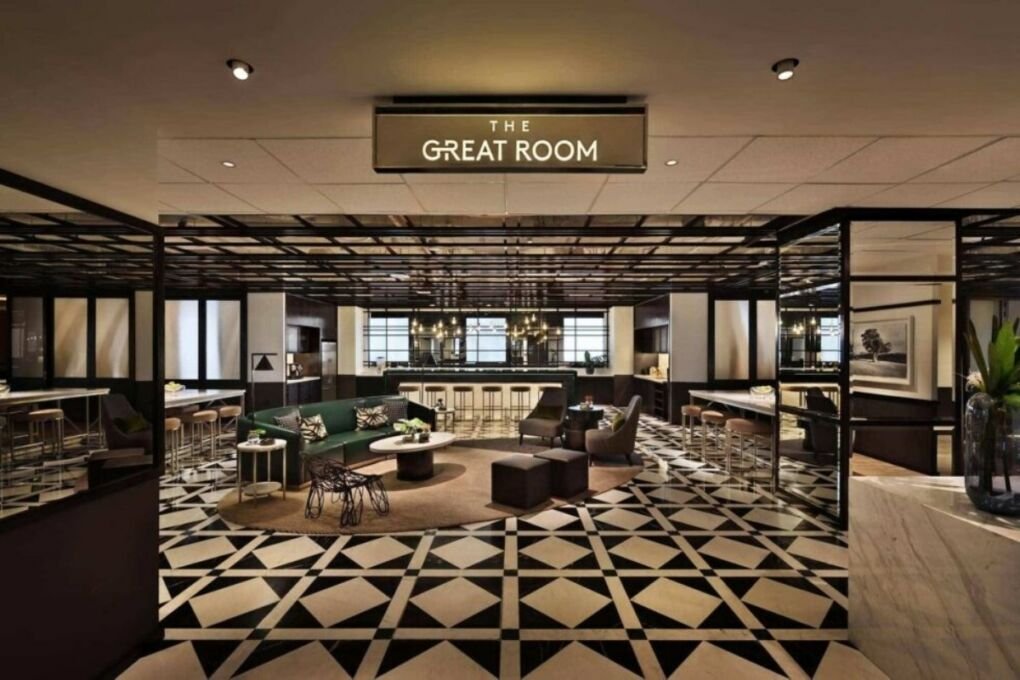 Source image: The Great Room
The Great Room Ngee Ann City got its name after the famous commercial and shopping center within the spitting distance of it. When you get sick of work, you can head there to explore shops, food places, cinemas, and more. There's also a metro station nearby.
The place could have been called The Great Gatsby. It's luxurious-looking and shiny, and Orchard road is one of the best places to stay in Singapore. You'll enjoy high-class leather furniture, dark wooden frames, and spotless mirrors all over the place. Everything about The Great Room screams classy and sleek. The staff is professional and hospitable. The service is top-notch. You'll feel pampered like Daisy Buchanan working here. The Great Room has other locations in the city. They are equally mesmerizing.
The Workshop in Ang Mo Kio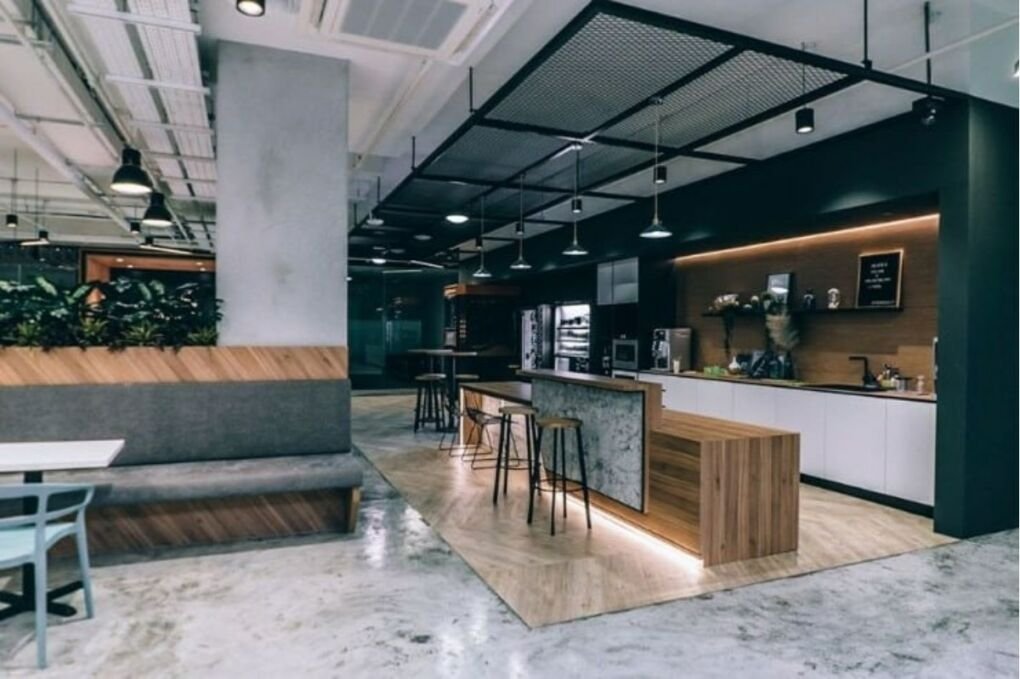 Image source: The Workshop Facebook
Located in Ang Mo Kio, this is probably your best option if you're looking for a place outside of the CBD zone. It's also one of the cheapest. That won't affect the quality of your time spent here. The Workshop is best suited for freelancers and creatives.
It is a pleasant working environment for those looking for something more casual than The Great Room and the like. The place is open 24/7 and fully equipped to meet all your needs. You can also rent a work pod for yourself or your team if you need more privacy.
What We Don't Like About the Workshop
The location can be a dealbreaker if you wish to spend more time in the central area of the city.
Found8 in Prinsep
Image source: Found8
Found8 in Prinsep Street is another cool and comfy location downtown. It's only minutes away from the Rochor metro station. Found8 also has a couple of locations in the city, but this one is our favorite.
This coworking hub is spacious with high ceilings. It gives off an industrial vibe and looks like a styled-up garage. Warm, non-intrusive lights and bright colors make it cheerful and easy on the eye. It features a chill area and even a football table if you want to unwind during your breaks from work. Found8 is great for networking and meeting new people in general.
What we don't like about Found8
Their chairs are comfy, but their desks — not so much. The desks here are narrow and low, and you need to hunch over to work. If you still fancy the place, you can get yourself a travel stand desk and work standing up.
Distrii in Downtown Core
Image source: Distrii Facebook
Distrii is a downtown coworking space in a huge state-of-the-art building Republic Plaza. This is a great location in the CBD zone, which is well-connected to the rest of the city. It spans as many as seven floors. They offer all kinds of rooms and offices. Some of them include foot massage mats and exercise bikes.
Distrii is a smart coworking space where you can do everything through their app. You can use it as a key to your personal office and locker, book meeting rooms, and much more. If you have a big team, head straight up here. They are bound to have an appropriate space for you.
What We Don't Like About Distrii
Their chairs are kind of minimalistic and uncomfortable. We get that a smart place like this one would prefer the minimalist interior design, but it should not be at the expense of comfort.
The Working Capitol at Keong Saik
Image source: The Working Capitol Facebook
This beautiful space lies near the prominent Keong Saik Road, lined with various restaurants, bars, and shops. You couldn't possibly miss it as it's situated in a charming historic building. That makes The Work Capitol unique in a sea of business-like, square spaces.
The design of the space is well thought out. It's modern but warm and elegant, and the colors complement each other perfectly. There is a magazine library, a cute cafe, and a rooftop bar for their members. All in all, a beautiful space, especially if your style is artsier and less corporate.
What We Don't Like About the Working Capitol
Their only flaw is not enough variety in the choice of beverages.
Honorable Mentions
There are so many coworking spaces in Singapore. It would be a shame not to mention a couple more of them to check out:
The Company
ClubCo
If you're looking for more than just a comfortable coworking space, why not consider these other options that offer the best coliving and coworking in Singapore?