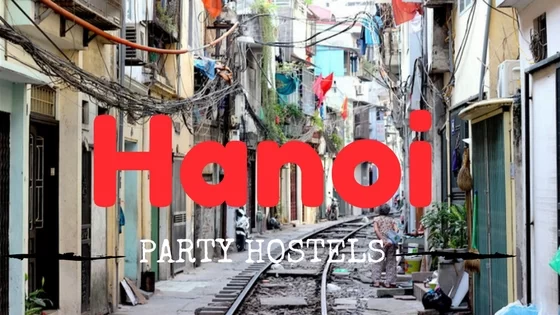 Hanoi is one of our favourite cities in Southeast Asia and one of the best places to visit in Vietnam. It's steeped in charm and offers a mix of both European and Asian cultures. The food is absolutely mouthwatering and there are endless fun things to do. If you're looking to make the most of your nights in this lively city, be sure to check into one of the top party hostels in Hanoi.
Most are located in the Old Quarter near to all the main bars (with the cheapest beer in the world!) and we've thrown in a mix of super lively party hostels with some quieter party hostels but all of which are great places to meet other like-minded travellers for drinks!!! Partying in Hanoi is always a blast and fun thing to add to your Vietnam itinerary if heading north.
Pro Tip: If you're planning to travel around Vietnam for a few weeks, I can't emphasise enough how important it is to have decent travel insurance – as you never know what could go wrong and accidents happen ALL the time in Vietnam…especially if you're on a bike. Just read my Koh Tao horror story to see what could happen. I always use World Nomads, as they're known as the best insurer for backpackers and long term travellers.
READ NEXT: Top Party Hostels in Cambodia
1. Hanoi Party Backpacker Hostel
Perfectly located in Hanoi's Old Quarter, you probably didn't even need us to add this to the list because the name pretty much gives it away.
But yes we can confirm in any case that this is really the spot to head to if you're down for a good night out or more. USD 5 a night for a bed and as much free beer as you can drink for 3 hours. Super cheap for those on a tight budget.
View this post on Instagram
2. Hanoi Backpackers Hostel – Downtown
Another awesome backpackers hostel to stay in and the biggest one in all of Vietnam. The Downtown version offers top entertainment with its awesome bar and constant nightly parties.
Located in the Old Quarter it's also located close to some other great pubs and clubs. This is also where Vietnam Backpackers Hostels start their infamous Castaway Tour to Halong Bay – the craziest party in Vietnam!
View this post on Instagram
3. Central Backpackers Hostel – Old Quarter
OK you might be getting confused by now. All of these hostels do share pretty much the same name. And they are all pretty awesome. Here we go again, another absolutely great Backpackers Hostel which also offers great parties every night.
It's hard for us to suggest the best one – you might have to just prolong your trip to Hanoi – not the worst idea in the world – and try them all!!!! Beds from a bargain USD 5.
View this post on Instagram
4. Hanoi Rocks Hostel
We hear ya – you wanna ROCK!!!! Situated in the Old Quarter, Hanoi Rocks Hostel is the perfect place for travellers looking for somewhere clean and modern to stay who also want to party.
The hostel has its own bar which offers free beer from 6pm and 10pm and there's also a late night club on its ground floor. Perfect place to spend the night and just walk on up to your bed after. Prices start from USD 4.
5. Nexy Hostel
Nexy Hostel is a luxury hostel located in the Old Quarter. We love its design which is a blend of both Vietnamese and contemporary. It has its own funky bar which makes it a great place to meet other travellers and grab something to eat to line your stomach before a crazy night on the town.
It also has its own games room with a pool table and foosball. Prices are a bit steeper than some of the other backpacker hostels and start at approximately USD 9. Well worth it if you want that extra comfort.
View this post on Instagram
6. Funky Jungle Hostel
Funky Jungle Hostel is a pretty – well funky place to stay!!!! With dorms at just USD 5 a night it's a great place for sociable backpackers on a budget looking for some fun.
Situated in the centre of the Old Quarter it rivals the other backpacker hostels by also offering two hours of free beer every evening. The staff are also super helpful and welcoming.
7. Hanoi Hostel
A charming little place to stay Hanoi Hostel is located close to many of the city's attractions such as Hoan Kiem lake, the night market and the Museum of Independence. Its staff are lovely and there is free coffee and tea all day as well as free breakfast and yes we were coming to it – free beer!!!!
Less of a crazy party hostel but more of a chilled relaxed place where you will definitely meet some other like minded travellers to continue the night with. Beds starting at approximately USD 5.
8. See you at Lily's
This hostel is located on a calm street just a few minutes away from the Old Quarter which is perfect for those who want to get a little bit of sleep away from the noise after a good session. What's great about it is their cool bar which offers drinks and shisha and is also a great place to meet people.
Again not a crazy party hostel but somewhere where you'll definitely meet other travellers to heat out with. The staff are really friendly and helpful and the breakfast is delicious considering the price. Beds from approximately USD 5.
9. Hanoi Rendezvous Hostel
Located in the heart of the Old Quarter this hostel is again a great place to meet some other travellers to party with. We love the hostel's funky design. They have their own bar and dorms start from only USD3.
View this post on Instagram