There are so many incredible day trips from Johannesburg that can enrich your trip to the city!
Most travelers who visit South Africa arrive at OR Tambo International Airport in Johannesburg then they travel to other parts of the country without exploring Johannesburg.
If you're planning to visit Johannesburg and have a few extra days, I highly recommend that you get out of the city for a while, and discover what South Africa has to offer outside the city of gold.
If you're spending some time in the city and you need Johannesburg Safety Tips or recommendations for things to do in Jozi, you've come to the right place!
Johannesburg is the largest city in the province of Gauteng. Previously known the PWV, which stands for Pretoria-Witwatersrand-Vereeniging, today the province goes by the name of Gauteng which translates to "Place of Gold" in Sesotho – one of South Africa's 11 official languages. The province accounts for only 1.5% of South Africa's land area.
Gauteng is the smallest province in South Africa, but also the richest and most populous! In Gauteng, the most popular cities and Johannesburg and Pretoria. The Johannesburg Metro and the City of Pretoria are diametrically opposed, and Pretoria provides a more laid-back, gentrified alternative and serves as a home base to many who commute daily to Johannesburg!
Facts about Johannesburg
Johannesburg is the second biggest city in Africa – Cairo in Egypt is #1
Johannesburg was founded in 1886 after gold was found on a local farm in 1884.
Johannesburg is also affectionately known locally as 'Joburg', 'Jozi', or 'Egoli'.
The province of Gauteng is home to 14 million people.
Its believed the city was named by two men, with the first name 'Johannes' in common.
Johannes is a Medieval Latin form of the name that usually appears as "John" and "Burg" – the second syllable, is the Afrikaans word derived from the Dutch 'village', similar in some ways to the English word 'burgh' meaning 'town'.
There is a town named Johannesberg in the Aschaffenburg district in the Regierungsbezirk of Lower Franconia in Bavaria, Germany.
Chris Hani-Baragwanath Hospital is the largest acute hospital in the world.
The TV tower in Johannesburg is a replica of the world's very first television tower in Stuttgart, Germany.
The most spoken first languages in Johannesburg are English, Afrikaans, isiZulu, and Sesotho.
The city has over 6 million trees – making it the world's largest man-made "Urban" forest.
Best time to visit Johannesburg
The best way to plan your day trips from Johannesburg is by visiting Joburg during the right season. If you're visiting for the festival/concert season, visit Johannesburg in spring or summer. If you want to avoid crowds, go to Johannesburg in winter or late December. If you want to go on a safari in Johannesburg, the best time is in winter or autumn before the heat gets unbearable.
March to May is the best time to visit Johannesburg as its low season – fewer crowds, prices drop and the weather is relatively warm and dry.
June is the coldest month and not the best time to visit Johannesburg.
Rainy season in Johannesburg is during our summer months (November to March).
It tends to get flooded during summer in Gauteng and I recommend traveling from Johannesburg to Cape Town, as the mother city has less rain in summer.
The Best Day Trips from Johannesburg
Use this interactive Google map to navigate to each of these day trips from Johannesburg:
The Cradle of Humankind
Is South Africa the Cradle of Humankind? Head to Maropeng and the Sterkfontein Caves to find the answer!
Located 50 kilometers northwest of Johannesburg. Maropeng is hidden in a mystical evergreen grassland, on top of a beautiful plateau in Maropeng, the Sterkfontein Caves have an invaluable architecture, historical, documentary and artistic value.
It was declared a UNESCO Heritage Site in 1999, The Cradle of Humankind is one of ten South African UNESCO World Heritage Sites. It is the world's richest hominin site, home to around 40% of the world's human ancestor fossils. The site currently occupies 47,000 hectares (180 sq mi) and it contains a complex of limestone caves.
The idea that Africa was the birthplace of humankind began to take hold when Professor Raymond Dart, of the University of the Witwatersrand, was given a tiny skull fossil found in the Taung Limeworks on 24 November 1924. It was the fossilized skull of a two- or three-year-old hominid (early human ancestor) child. He named it – and the species – Australopithecus africanus, meaning "Southern Ape of Africa", but it is more commonly known as the Taung Child.
Since then other famous discoveries including the almost perfect adult skull of an Australopithecus africanus which was discovered in April 1947 and named "Mrs. Ples" and "Little Foot" – Australopithecus (an early hominid, or human ancestor) foot bones among a box of sundry fossils stored at the caves was found in 1997.
After exploring the caves you can head to Maropeng Visitor's Centre for an informative journey back in time and learn about the evolution of life and the origins of humankind.
Distance from Johannesburg: 57KM (1-hour drive)
Sun City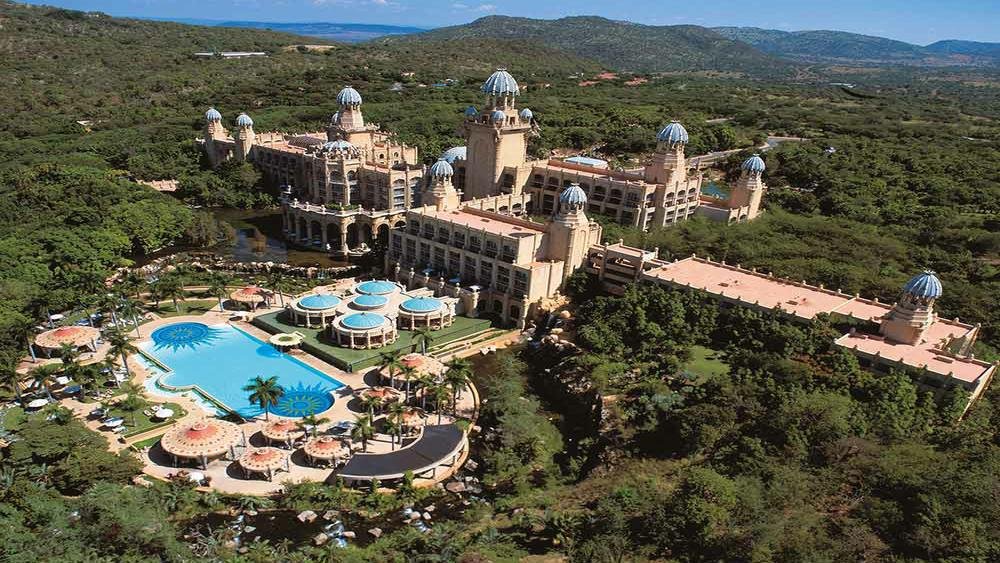 Deep in the rugged bushveld, in the heart of an ancient volcano, lies Sun City Resort, one of the best day trips from Johannesburg for families, couples, and solo travelers! The resort was opened in 1979 and its owned by hotel group Sun International.
Sun City was nicknamed Africa's 'Kingdom of Pleasure', as it combines a variety of entertainment facilities like casinos, hotels, spas, conference center, movie theater, golf courses, restaurants, and amazing boutiques.
One of the most popular attractions at Sun City is the roaring lagoon. Opened in December 1992, The Valley of Waves Sun City is a 6 500 square meter wave pool with hydraulic mechanisms that generate waves of nearly 2 meters high every 90 seconds.
This wonderland of waterscapes and adventure includes water slides and rides, and beach vibes!
Distance from Johannesburg to Sun City: 140 km (2.5 hours drive)
Pilanesburg National Park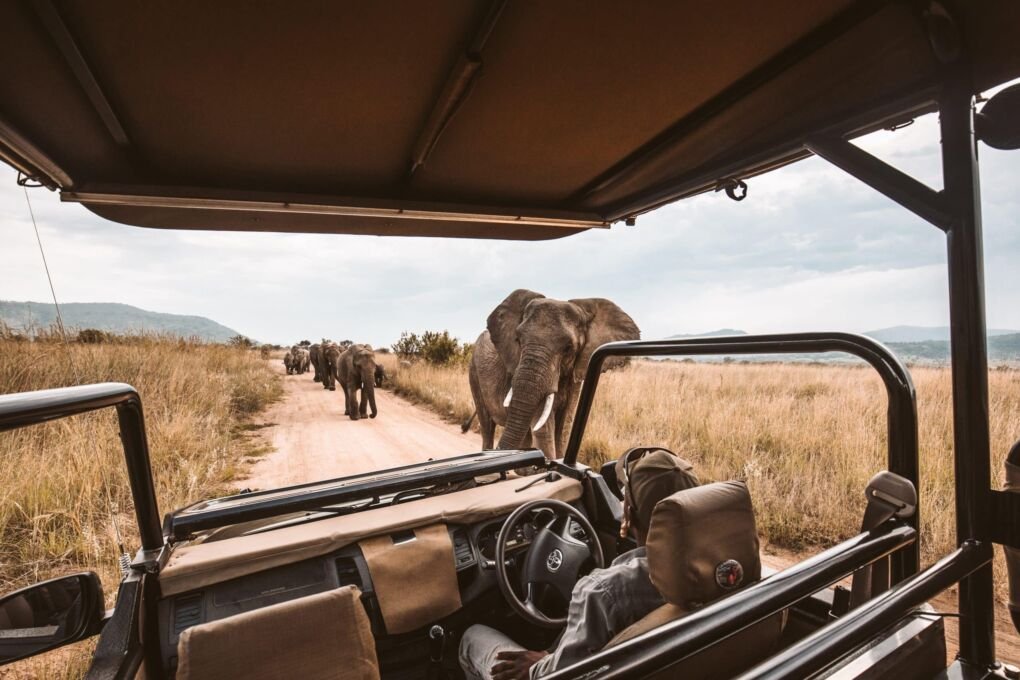 Pilanesburg National Park one of the most popular game reserves in North West province. Covering around 55,000 hectares, Pilanesburg is the fourth largest national park in South Africa. One way to enjoy this wildlife wonderland is through a hot air balloon, which gives a birds-eye view of the scenery as well as the reserve's rich fauna and flora.
While you're in the North West Province, pop in at The Cradle of Humankind, where fossils of some of the earliest known life forms on Earth have been found.
This malaria-free resort is one of the best day trips from Johannesburg is located a mere 2.5-hour drive away from Joburg city center. The Pilanesberg National Park is among the most celebrated game reserves in South Africa. Other than giving wildlife enthusiasts a chance to spot Africa's Big Five!
The most romantic Johannesburg Day Trip is a sunrise Pilanesburg Hot Air Balloon Safari. While this might be pricey, it promises to be a breathtaking and exciting adventure!
It's important to remember that hot air balloon rides are weather dependant and booking is essential and a minimum number of guests are required to conduct a flight.
Best tour of Pilanesburg from Johannesburg
Distance from Johannesburg: 190 km (2.5 hours drive)
Pretoria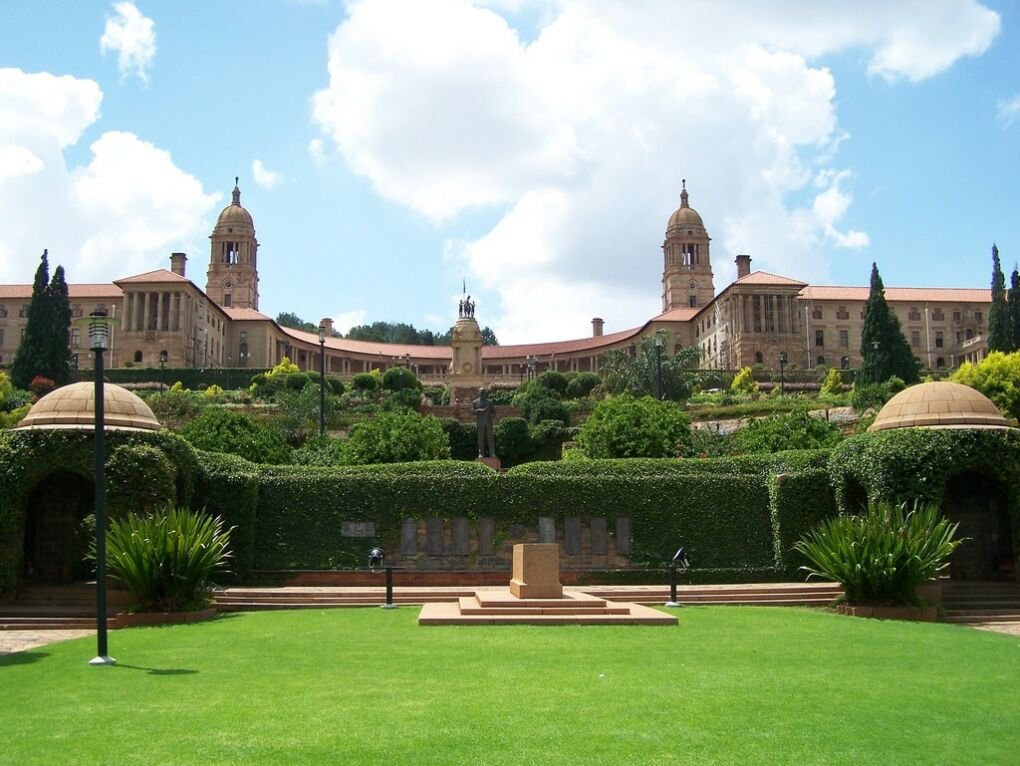 Pretoria has a long and fascinating history. Over the years, we've had several military forts built to help protect our cities surrounding Puget Sound, many of which are now preserved as public parks and nature reserves in Pretoria.
If you're considering day trips from Johannesburg, you have to visit Pretoria (now known as Tshwane). Pretoria is South Africa's administrative capital city and the city boasts the second-largest concentration of foreign embassies in the world after Washington, DC. Pretoria has so much to offer. With an AMAZING list of things to do in Pretoria – you won't run out of things to do in the Jakaranda City.
Distance from Johannesburg to Pretoria: 105 km (1.5 hours drive)
Best Tour of Pretoria from Johannesburg
I highly recommend taking this tour of Pretoria from Johannesburg. It's so helpful to visit with a knowledgable guide so that you can learn more about the administrative capital city and what happened there.
Cullinan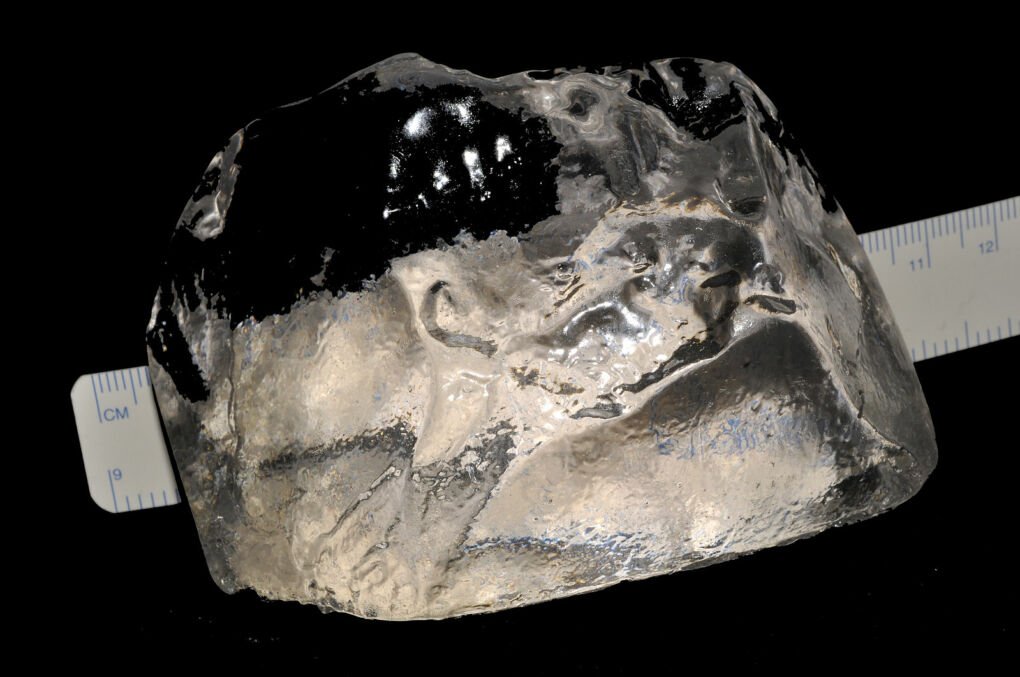 Cullinan is a mining town on the outskirts of Pretoria. This small town is where the world's largest diamond (3,106-carat) in the world was found in January 1905 at The Premier Mine – one of the seven diamond mines in South Africa.
Today the Great Star of Africa is displayed in the head of England's royal Sceptre while the Lesser Star of Africa, or Cullinan II weighing 317.4 carats, forms part of the British crown jewels' Imperial State Crown. Both South African-mined diamonds are exhibited at the Tower of London.
You can go on a mine tour and learn about the history of diamond mining in South Africa.
Distance from Johannesburg to Cullinan: 105 km (1.5 hours drive)
Magaliesberg
Magaliesberg is a modest but well-defined mountain range composed mainly of quartzites. It rises at a point south of the Pilanesberg to form a curved prominence that intersects suburban Pretoria before it peters out some 50 km to the east, just south of Bronkhorstspruit.
The mountains were formed over 2000 million years ago when massive intrusions of molten magma steadily formed a 65000 km² expanse of solid igneous rock over and between existing sedimentary layers.
The region has many dams, rivers, streams, waterfalls, springs, small wetlands, and groundwater recharge zone. Its one of the perfect day trips from Johannesburg for outdoor junkies. With many hiking trails, Magaliesberg Canopy Tours, horse riding and
Distance from Johannesburg to Magaliesberg by car: 61KM
Soweto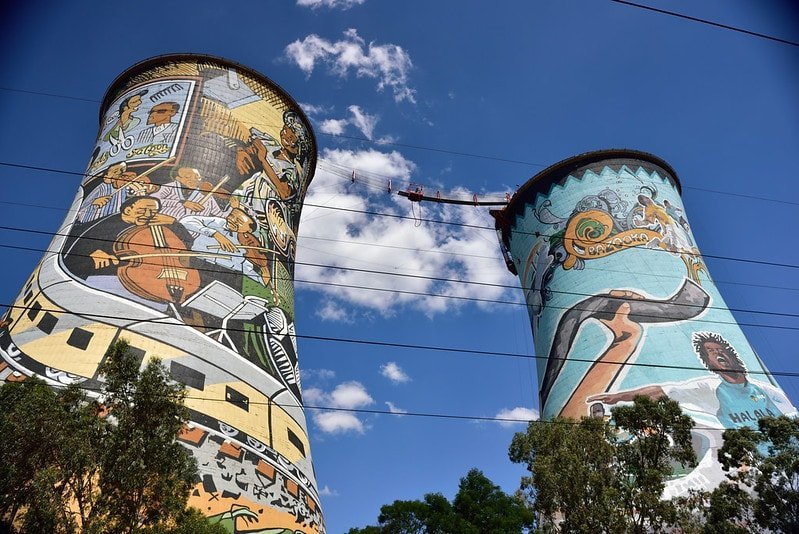 Soweto (South Western Townships) is located on the outskirts of Johannesburg. This historic township is the only place in the world to have two Nobel Peace Prize winners (Nelson Mandela and Archbishop Desmond Tutu) who had houses on the same street (Vilakazi Street).
Soweto was created in the 1930s when the Apartheid government started separating Blacks from Whites, creating black "townships". Soweto became the largest Black city in South Africa, but until 1976 its population could have status only as temporary residents, serving as a workforce for Johannesburg.
There are many fun things to do in Soweto like Bungee Jumping at the two cooling towers at Orlando Power Station – a decommissioned coal-fired power station in Soweto were commissioned at the end of the Second World War and served Johannesburg for over 50 years.
Today, the Orlando Towers have become one of the most distinctive landmarks in the neighborhood of Soweto and serves as a bungee jumping location for adventure junkies!
Distance from Johannesburg City Center to Soweto: 25 km (30 mins drive)
Take a Tour to Soweto
If you want to see Soweto, these tours are great options.
Dinokeng Game Reserve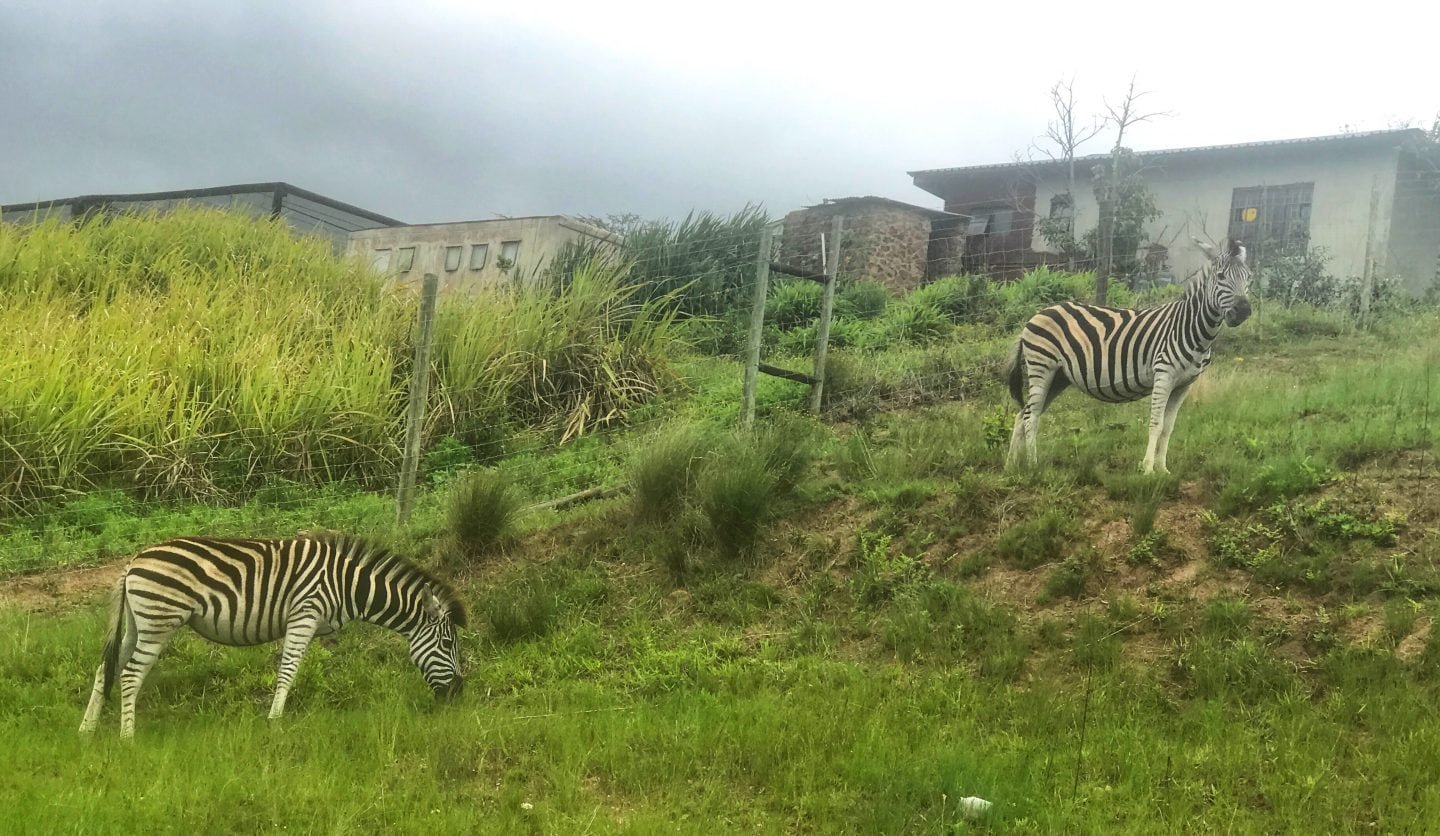 The Dinokeng Game Reserve is 18,500 hectares of the pristine African bush and is the only free-roaming Big Five Reserve near the Gauteng province. Dinokeng means "a place of rivers", and lies in the catchment area of two rivers that flow into the Olifants and Limpopo rivers and on to the Indian Ocean.
It was opened on 22 September 2011 after the introduction of four of the Big 5. The last of the Big 5, the buffalo, were introduced in late 2012 and they have settled into the game reserve well.
Today Dinokeng is the only reserve in the Gauteng Province that houses the Big 5 (elephant, lion, rhinoceros, buffalo, and leopard). It also boasts cheetah and brown hyena and a big variety of general plains game and giraffe.
Dinokeng is located near Roodeplaat Dam, where it augments water supply to northern Tshwane via the Montana, Wonderboom, and Magaliesberg reservoirs, and provides water directly to the residents of Doornpoort. The dam is a popular destination for birders, cyclists, rowers, boaters, and anglers.
If you want to go on a safari near Johannesburg, this is one of the best day trips from Johannesburg.
Distance from Johannesburg to Dinokeng Game Reserve: 61KM
Gold Reef City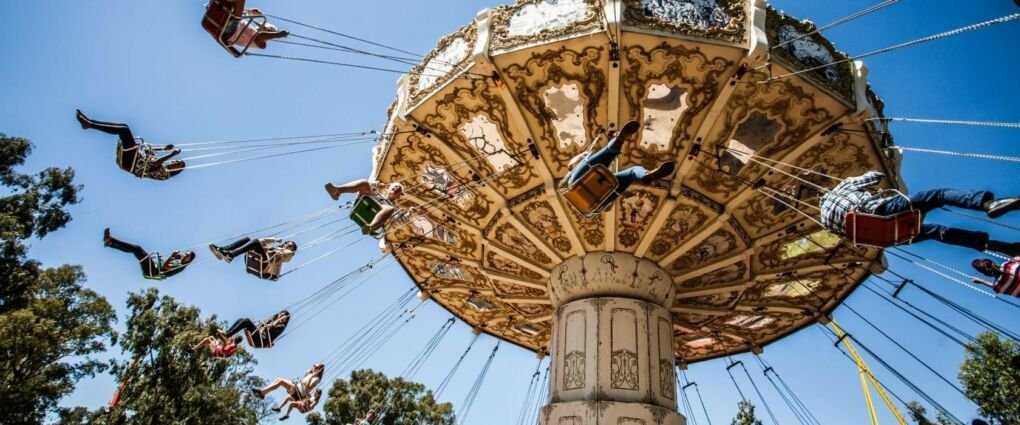 If you like theme parks, head to Gold Reef City for rides and historical exhibits. The amusement park was opened in 1886 and its located on an old gold mine which closed in 1971.
This is the ultimate day trip from Johannesburg for families and couples looking to have fun. The park will raise your adrenalin all day on their 30+ roller coaster rides. Gold Reef City also has a 24-hour casino that offers an energetic atmosphere, highly trained staff, and an abundance of gaming choices.
The Apartheid Museum is also located near Gold Reef City. The museum tells the story about how in 1948 the white elected National Party government initiated a process that turned over the lives of non-whites, damning them to a life of servitude, humiliation, and abuse.
Their liberation in 1994 with the election of Nelson Mandela, the prisoner who became the first black president, after spending 27 years in prison. You will walk out of the museum with an understanding of what South Africa was really like – the rise and fall of apartheid.
Distance from Johannesburg City Centre to Gold Reef City: 8km (15 mins)
Lion & Safari Park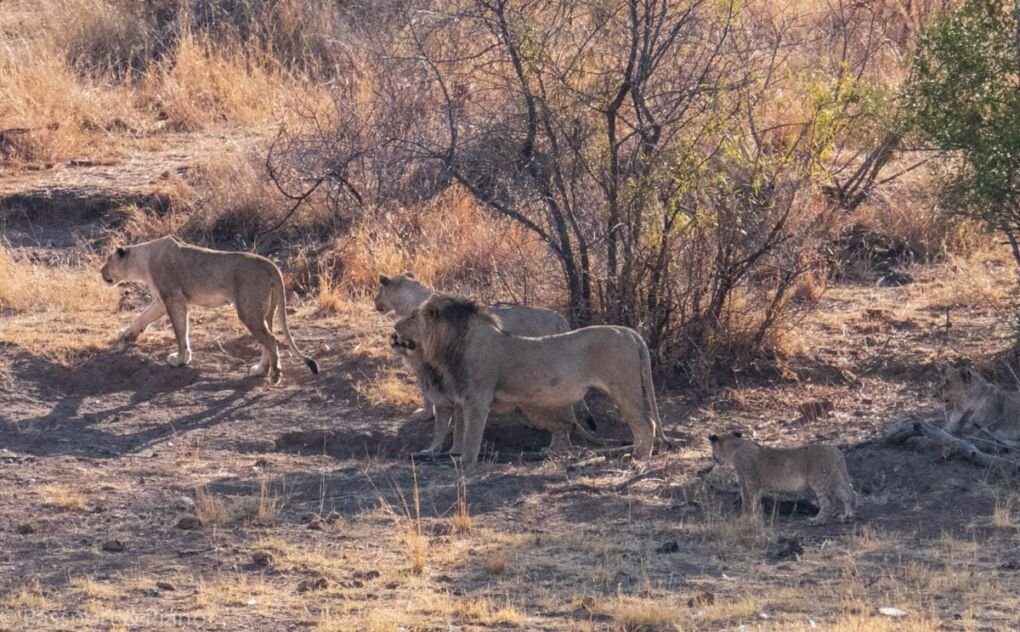 Located between Lanseria Airport and Fourways, Lion & Safari Park is one of the best Johannesburg day tours.
This top Johannesburg tourist attraction was open over 50 years ago and it's home to over 80 lions including the rare white lions, cheetahs, Cape wild dogs, brown hyenas, and spotted hyenas, black-backed jackals, and a wide variety of antelope which roam freely in the antelope area.
In 2015, Lion and Safari Park banned its controversial lion cub interaction and petting activities; but reopened this in 2016, and the park relocated to new premises of 600 hectares in the Cradle of Humankind in the North West province.
The park is open 365 days a year and offers both local and international prices!
Distance from Johannesburg and Lion Park: 58km (60 mins)
Travel Insurance for South Africa
Use travel insurance while visiting South Africa so you are covered for theft and medical expenses. There are a lot of adventurous activities to do in SA, and it's best to have peace of mind while driving, hiking, and trying some of the best food in the world.
Find out why I recommend World Nomads, check out my World Nomads Insurance review.
Disclaimer: This article contains affiliate links. This means that if you make a booking after clicking on a link, I may receive a small commission at no extra cost to you!