Planning on visiting Ireland? Wondering how much does a trip to Ireland cost?
Ireland is one of the most popular destinations in Europe, known its amazing landscape, friendly people, culture and pubs. The Emerald Isle has so much to offer!
Depending on where you choose to go in Ireland, It is also a country that can break the bank very quickly. BUT keep reading because this doesn't have to be the case because there are plenty of ways to visit Ireland affordably.
Most Ireland visitors head to popular cities like Dublin, Cork, and Galway, which are also more expensive, there are amazing lesser-known towns in counties like Donegal, Wicklow and Limerick.
This guide is based on the costs for a single person and I'm going to suggest an itinerary of 7 days in Ireland. Of course, you can spend much longer here (there are many things to see and do), so you can still use this guide to help you budget accordingly. If you are travelling as a couple, make sure to double these estimates (except for hotels).
---
More Guides to Irish Town and Cities
---
Below are some guidelines to help you estimate your daily travel costs in Ireland.
Average Daily Cost for visiting Ireland
With so many landmarks in Ireland, the average traveler spends about 150 – 200 € per day in Ireland. Those traveling on a smaller budget spend an average of around €80 -100 a day.
Most of the costs will be towards lodging and activities, but don't forget to budget extra for those "non-essentials."
Ireland Attractions and Museum Prices
There is never a shortage of things to do and see in Ireland. You can easily spend a few weeks and not see everything. You might be able to save some money by using the Dublin Pass – It grants you free access to over 30 top attractions, museums, and monuments, including the famous Dublin Castle, the Dublin hop-on hop-off bus tour, the Irish Emigration Museum, and many more!
Dublin Attractions and Museum Prices
Guinness Storehouse: €25

The Book of Kells: €13

Hugh Lane: Free

Dublin Castle: €9

Jameson Distillery Bow St: €25

St Patrick's Cathedral: €10

Dublin Zoo: €20

National Gallery of Ireland: Free
Cork Attractions and Museum Price
Blarney Castle & Gardens: €18

Fota Wildlife Park: €17

Shandon Bells & Tower St Anne's Church: €10

Butter Museum: €4
The Cheapest Times to Visit Ireland
Late May to August is one of the best times to visit Ireland in terms of weather. These months have less rain and more sunshine. The cheapest season to visit Ireland is in Winter, prices for activities stay the same but accommodation prices slightly decrease.
| Best Month to visit Ireland | Season | Crowds | Vacation in Ireland Cost |
| --- | --- | --- | --- |
| Visiting Ireland in January | Winter - Rains everyday and its cold AF! | Low | Moderate |
| Traveling to Ireland in February | Decreasing average rainfall but still cold | Low | Moderate |
| Visiting Ireland in March | Rain is often followed by sunny clear skies. In 2018 it snowed 🙁 | High - St. Patricks day festivities | High |
| Visiting Ireland in April | Occasional rain showers and sunny days | Moderate | High |
| Visiting Ireland in May | The "wet season" is over and with it comes the heat. | High | High |
| Visiting Ireland in June | The beginning of summer in Ireland | High | High |
| Visiting Ireland in July | Summer in Ireland: great weather | High | High |
| Visiting Ireland in August | Summer in Ireland | High | High |
| Visiting Ireland in September | Occasional rain showers and sunny days | Moderate | High |
| Visiting Ireland in October | Start of rainy reason | Moderate | High |
| Traveling to Ireland in November | Rains every day | Moderate | Moderate |
| Visiting Ireland in December | Winter + Wet season, might even snow | High | High |
Is Ireland Expensive to Visit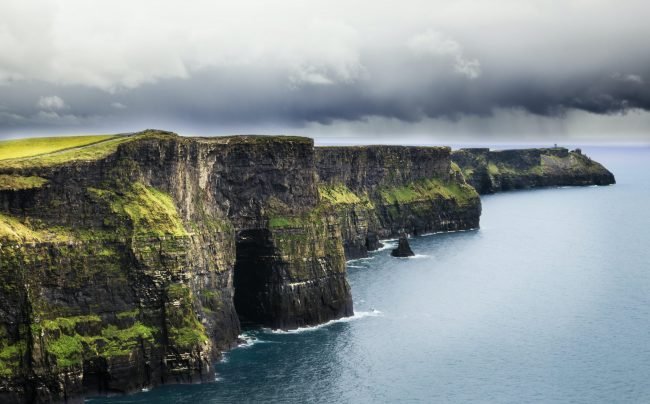 Ireland Trip Cost: Transportation
NB: The legal age to rent a vehicle in Ireland is 25!
Ireland might seem like a small country but a surprisingly large amount of visitors don't seem to realize how far apart each major city is. However, this will become immediately apparent as soon as you leave the airport (any of them) and realize it takes at least an hour to get to Dublin. So basically, you're going to be spending some money on transportation unless you are keen to walk about 20 miles each day.
Unlike most popular European countries and cities like Venice or Montecarlo, Ireland is not super walkable! Depending on which county you choose to visit, you may find yourself only using public transportation at least twice a day. For this reason, I recommend renting a car if you're going to leave Dublin.
Dublin has an okayish public transport system – avoid the meter taxis as they are ridiculously expensive and no, unfortunately, there is no uber! When exploring Dublin, I recommend purchasing a leap card and loading money on it, the card can be used on the buses, tram (the Luas), or trains.
If you leave Dublin, you should consider renting a car as each county has different bus schedules and trains. The most popular bus company that travels from Dublin to major parts of the country is Bus Éireann when you arrive at your destination, you will find smaller bus companies who service the areas.
Airfare from Johannesburg to Dublin: $657 (Return)
Major Airlines serving Ireland include Aer Lingus (the national airline of Ireland), American Airlines, Delta Airlines, Emirates, Etihad Airways, Qatar Airways, and more.
I booked my flight with Emirates and traveled from Johannesburg to Dubai (8 hours) then Dubai to Dublin (7 hours, 52 minutes). It's faster and sometimes cheaper to fly to London, then get a connecting flight to Dubin, the reason I chose not to do that was that South Africans need a Direct Airside Transit Visa (DATV) for London and I didnt want to spend $45 (R743) to pass through an airport.
Booking your flight to Ireland in advance always helps as does making sure you avoid high season (think St. Patrick's Day in March or Christmas time). There are five international airports in Ireland making it easy to compare flights offered by different airlines.
Dublin Airport – North of Dublin City on the east coast
Cork Airport – Just south of Cork City on the south coast
Shannon Airport – North of Limerick City on the west coast
Knock Airport (Ireland West Airport) – in County Mayo in the North West
Belfast Airport (Northern Ireland) – west of Belfast City in the North East
Ireland Hotel, Hostel, and Airbnb Prices
You should budget about €150/night per person for a decent hotel in Ireland. If you're a backpacker and choose to stay in a hostel, prices for a bed in a shared dorm room range from €20-€40/night.
If you want a private room, expect to pay €50-€100. Check out the latest prices at Booking.com as accommodation prices are always fluctuating.
The cost of accommodation for my trip to Ireland was $337 for two nights at Herbert Park Hotel in Dublin 4, $240 for 2 nights at an Airbnb in Cork, $102 for one night at The Heights Hotel Killarney, $103 for one night at Cul Cottage in Valentina Island.
Cost of Food in Ireland
Food in Ireland is not cheap with lunch prices ranging from $15 to $30 per person. If you want to save money on food costs in Ireland.
I recommend buying sandwiches or salads from Delis inside Convenience Stores like Spar or Londis or eating at Pubs and not stand-alone restaurants as they tend to be pricer.
The average cost of a pint of Guinness is €4.50-€10. In fact, the price of Guinness is cheaper outside of Ireland.
Ireland Trip Cost: Activities
Now that we've covered such basic needs as food, shelter, and transportation, it's time to cover the cost of actually doing things in Ireland.
There are many spectacular coasts and countrysides, museums, and castles to visit in Ireland. My 7-day Ireland Itinerary included stops in Dublin, Kilkenny, Wicklow, Cork, Donegal, and Belfast.
Travel Insurance for Ireland Travel
Use travel insurance while visiting Ireland so you are covered for theft and medical expenses.
My total trip to Ireland cost:
Airfare: $657 |

(R10,950)

Accommodation: $782 |

(R13,030)

Transport within Ireland: $450 (car rental and petrol for 7 days) |

(R7,500)

Activities: $364 |

(R6,067)

Travel Insurance: $40 |

(R667)

Total: $2253 |

(R38,214)
Ireland is generally an expensive country to live and visit, hence I recommend that you do the proper research on how to adequately budget.
If you are smart about where you spend your money and how you travel, your trip to Ireland costs can be minimal. If I didn't only stay at 4-5 star hotels, my costs for accommodation could've been less.
So how much money should you factor into your total Ireland trip cost? Well, that is honestly entirely up to you!
---
Are you planning a budget-friendly trip to Ireland? Here are some tips:
---
Disclaimer: This article contains affiliate links. This means that if you make a booking after clicking on a link, I may receive a small commission at no extra cost to you!