Driving from Tbilisi to Istanbul: The drive from the capital city of Georgia to Istanbul in Turkey is 1852 KM long and doable but not realistic to drive non-stop especially if you are travelling alone. I've shared my experience on how I drove from Tbilisi to Istanbul, how long it took, the stops I made and transportation method I used.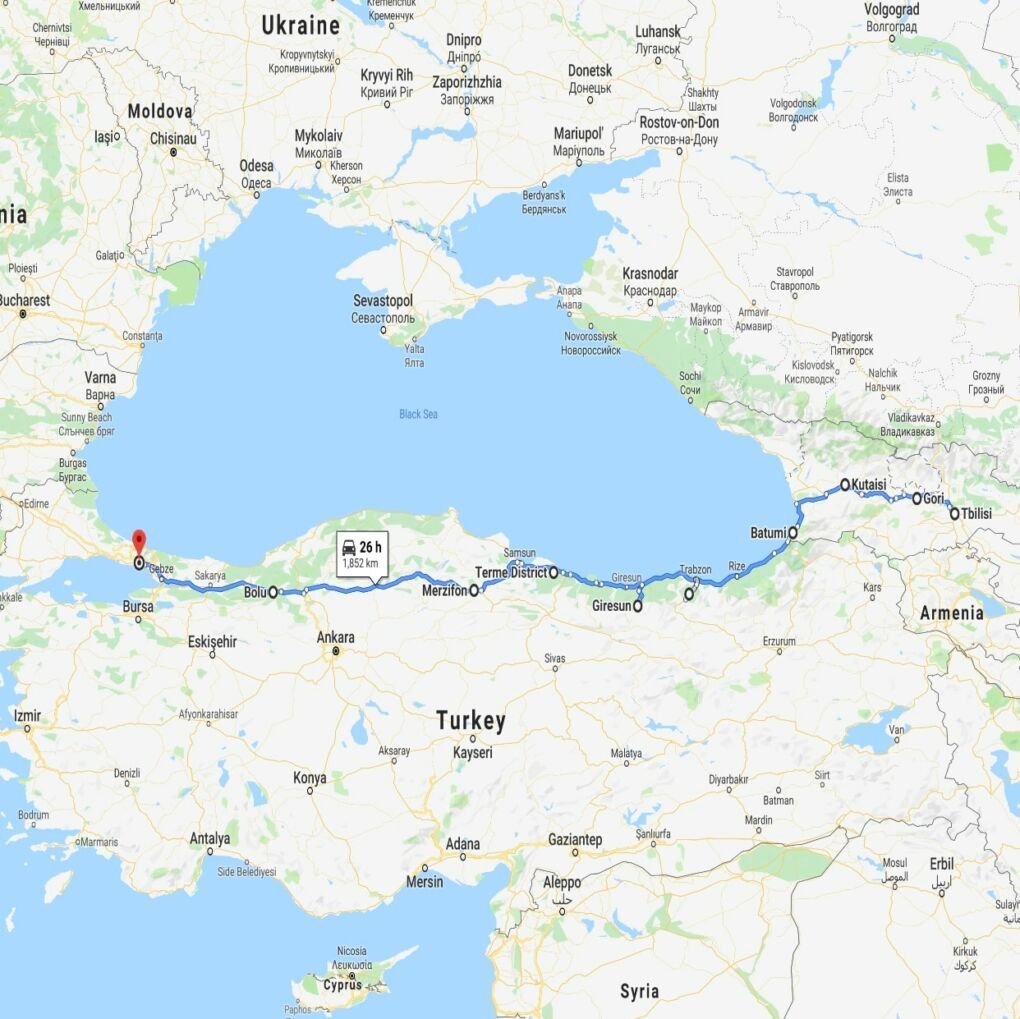 Note: Do not bring any medicine containing tramadol, codeine, temazepam, morphine or opiates to Central Asia. These are illegal in most of Central Asia and you will risk arrest.
Driving from Tbilisi to Istanbul in 3 days
Start in Tbilisi and drive 1.5 hours to Gori. Stay for 2-3 hours drive to Kutaisi and stay for 2-3 hours. Drive for 3 hours and 30 minutes and arrive in Batumi where you can spend the night. Get a bus to Trabzon in Turkey where I rented another car and explored the region before departing for Giresun where I spent 3 hours and reached my final destination for the day, Terme. Spend the night in Terme then drive through Mazifon to reach Bolu where I spent then night before driving for an additional 260 km (3 hours) to reach Istanbul.
How to travel from Tbilisi to Istanbul
You can rent a car and drive from Tbilisi to Batumi in Georgia. Get a bus from Batumi to Trabzon in Turkey where you can rent a car and continue with the rest of the road trip.
Alternatively, you can take a bus and stop at any town mentioned below as the bus stops at all of them. The cost for a bus from Tbilisi to Istanbul in May 2019 was €29 and the bus travels for 21 hours.
Stop 1: Gori (80 km from Tbilisi)
Gori is one of the oldest cities in Georgia, founded in the 7th century CE as Tontio. The city is mostly famous for being the birthplace of Joseph Stalin, whose statue was erected in Gori in the 1950s was one of the few to remain in Georgia after the country gained its independence from the Soviet Union four decades later. I'd suggest spending a few hours to see the popular attractions like Gori Fortress, Stalin Museum and churches before continuing with your road trip.
Fun Fact: When I first moved to Ireland, I lived in a town named Gorey in county Wexford. Gori means hill in English.
I highly recommend this one day tour from Tbilisi, I learned so much!
Stop 2: Kutaisi (150 km from Gori)
Kutaisi is Georgia's third largest city and is located on the west coast. The city serves as Georgia's legislative capital and the seat of the Georgian parliament. If you'd like to spend more time exploring Kutaisi, here's a 3 day itinerary to help you plan your trip.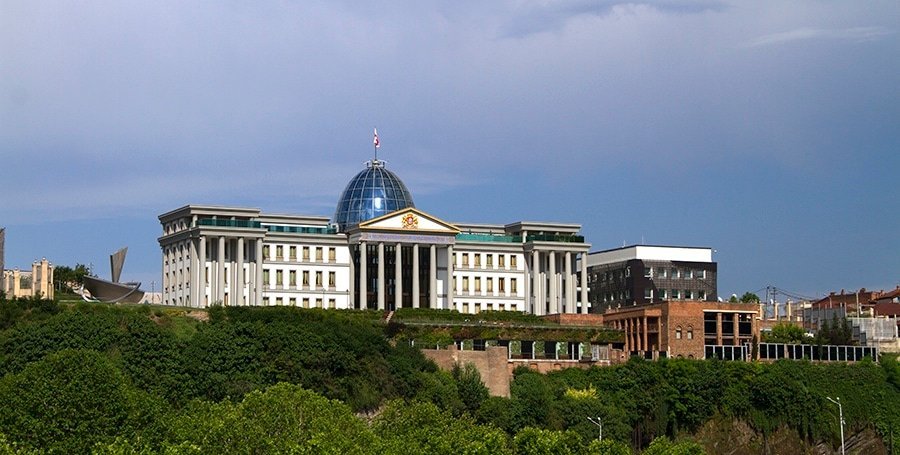 Suggested Tours:
Stop 3: Batumi (150 km from Kutaisi)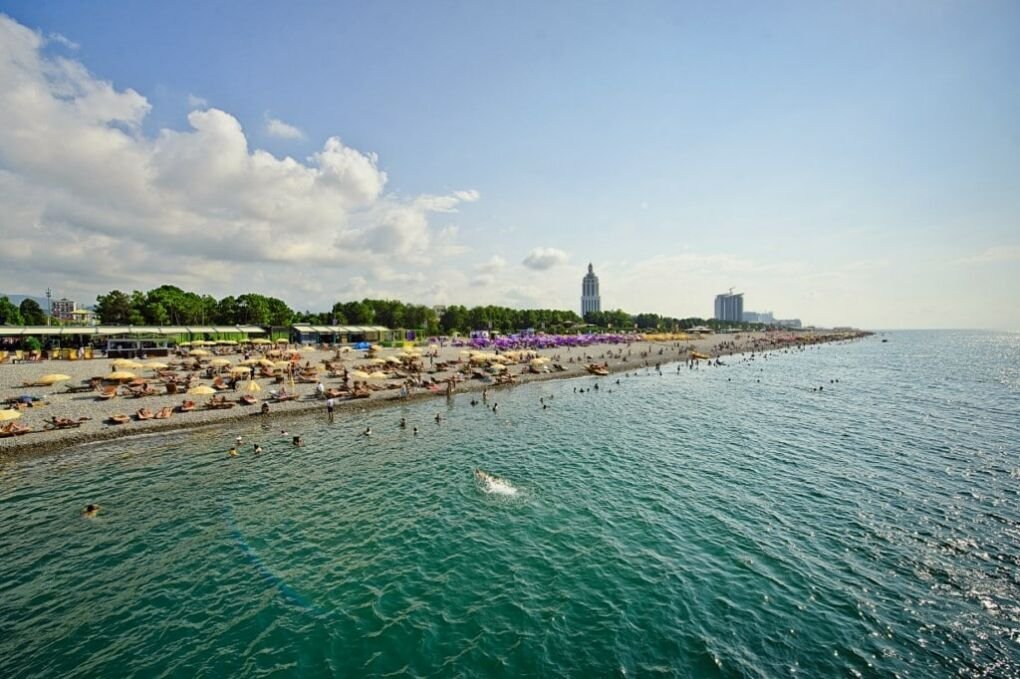 With so much to do, Batumi is a popular Black Sea resort and port city. It is the second largest city in Georgia and popular with ski lovers as it's the gateway to the Russian Caucasus that is home to the highest mountain in Europe, Mt Elbrus (200 km's from Batumi).
Batumi is also known as the Las Vegas of the Black Sea because gambling and cannabis are legal, unlike the neighbouring country Turkey. Batumi also has the coolest McDonald's in the WORLD with unique architecture and an exterior that is covered by 460 glass panels, while the entire building is surrounded by a reflecting pool whose flowing lines mimic the jazzy shapes from 1950s wallpaper. The interior features dining areas that look out onto the reflecting pool and an open-air patio featuring a surprisingly large expanse of vegetation.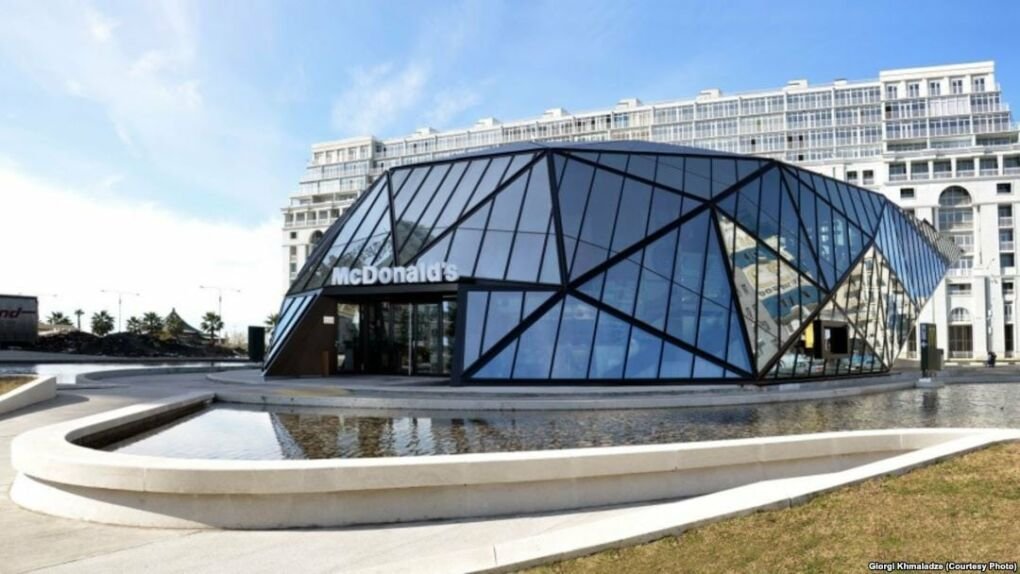 If you are visiting in August, head to the annual street art festival.
You will drive through an immigration point at the Turkish border. Make sure your Turkish e-visa printed from the official Turkish government website HERE.
Where to stay in Batumi
Luxury: Grand Gloria Hotel – This 5 star resort like hotel has an outdoor swimming pool, spacious rooms and is located right on the beach and the Seaside Boulevard. Europe Square is about 20 minutes walk.
Budget Chic: Hotel N16 – Only 3-minute walk from seafront, Hotel N16 offers accommodation in Batumi. Featuring WiFi in all rooms, the property is 800 m from Europe Square. Guests can enjoy the on-site bar.
Budget: Hostel at Sea – Located in Batumi, within 1.5 km of Ali and Nino Monument and 23 km of Petra Fortress, Hostel At Sea provides free WiFi. Boasting room service, this property also provides guests with a terrace. The property is situated in the Old Boulevard district and Colonnades is 100 m away.
Stop 4: Trabzon (260 km from Batumi)
Trabzon is a province of turkey located on the Black Sea Coast. Once an important stop on the Silk Road that was used for trade between a number of different kingdoms and empires, it remains the Black Sea's busiest port.
Did you know: The 4000 mile long Silk Road was used by Marco Polo when he traveled to China.
Things to see in Trabzon:
Aya Sofya Museum – A beautiful and picturesque church converted into a mosque and later into a museum that still has stunning frescoes within—just like its namesake in Istanbul. There is a peaceful open-air tea garden on the grounds.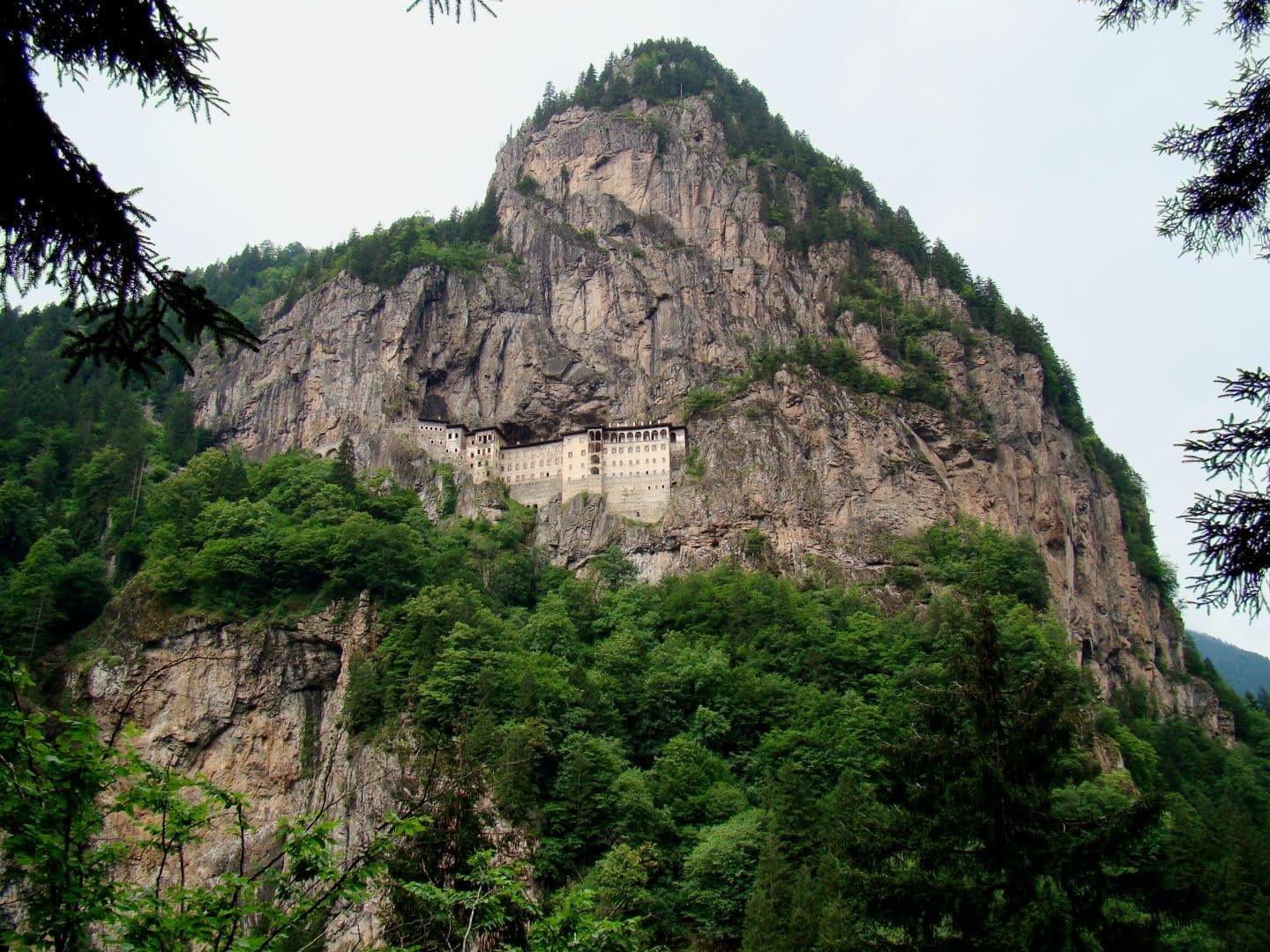 Sumela Monastery – Dedicated to the Virgin Mary, the Greek Orthodox monastery, built in 386 AD, is at an altitude of 1,200 meters (3,937 feet) over the Altındere National Park.
Trabzon Kalesi – Located in Trabzon city, the Trabzon Castle's foundations date back to the Byzantine era. The beautiful and historic structure is composed of three fortresses, and experts believe that the uppermost part dates back to 2000 BC when it served as an acropolis. Alexios II of Trebizond built the middle and lower fortresses, while the tuğra (signature) of Ottoman sultan Mehmed II is visible at one of the gates.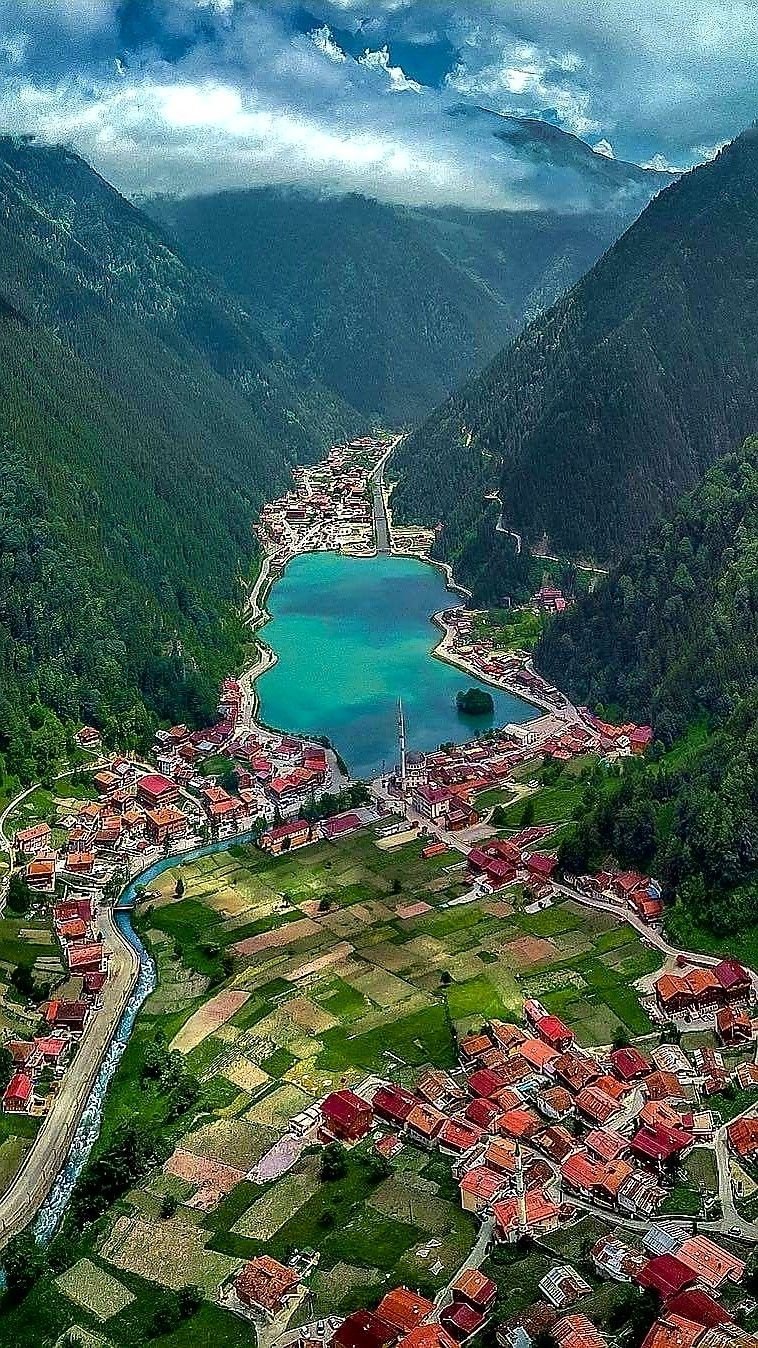 Uzungöl – a lake up in the mountains 99 km from Trabzon, 19 km from Caykara and at an altitude of 1090 m. A great number of broken rocks from the slopes filled up Haldizen stream and Uzungöl was formed in this way. The lake is 1000 m long, 500 m in width and 15 m in depth. It is surrounded by forests. Uzungöl has an interesting view with the village houses around it. And there are some other small lakes on the mountains which are 15-20 km. from Uzungöl. The lake is also surrounded by convenient tracks for hiking.
Stop 5: Giresun (162 km from Trabzon)
Things to do in Giresun
Giresun Castle – The Castle was built in the 2nd century BC and overlooks the coast so people can see Giresun Island (one of the two islands in Black Sea). On the grounds of the castle you will find the tomb of the National Strife Hero-Topal Osman Aga, caves and fortifications.
Giresun Island – One of three of the islands in the Black Sea in Turkey and is situated at a distance of 1 mile from the coast. The island with a total area of 40000 square meters can be accessed by private boats and is especially a treat during the Aksu festivals.
If you are visiting between 20 – 23 May, attend the weekend-long annual Aksu Festival with concerts, traditional dance performances and other open-air events.
The Seyyit Vakkas Mausoleum – This 19th century structure is dedicated to the memory of a 15th century territorial governor, Seyyit Vakks, who sacrificed his life in the service of Fatih Sultan Mehmet but was built in the 19th century.
Stop 6: Terme (137 km from Giresun)
Terme is the ancient Themiskyra founded by Amazon warrior women in 1200 BC, and it has a number of natural beaches and lakes. It's located in the province of Samsun where Atatürk landed in May 1919 to organize the defence of Anatolia. Samsun became popular due to its commercial importance and today Samsun is also famous for its tobacco and beautiful lakes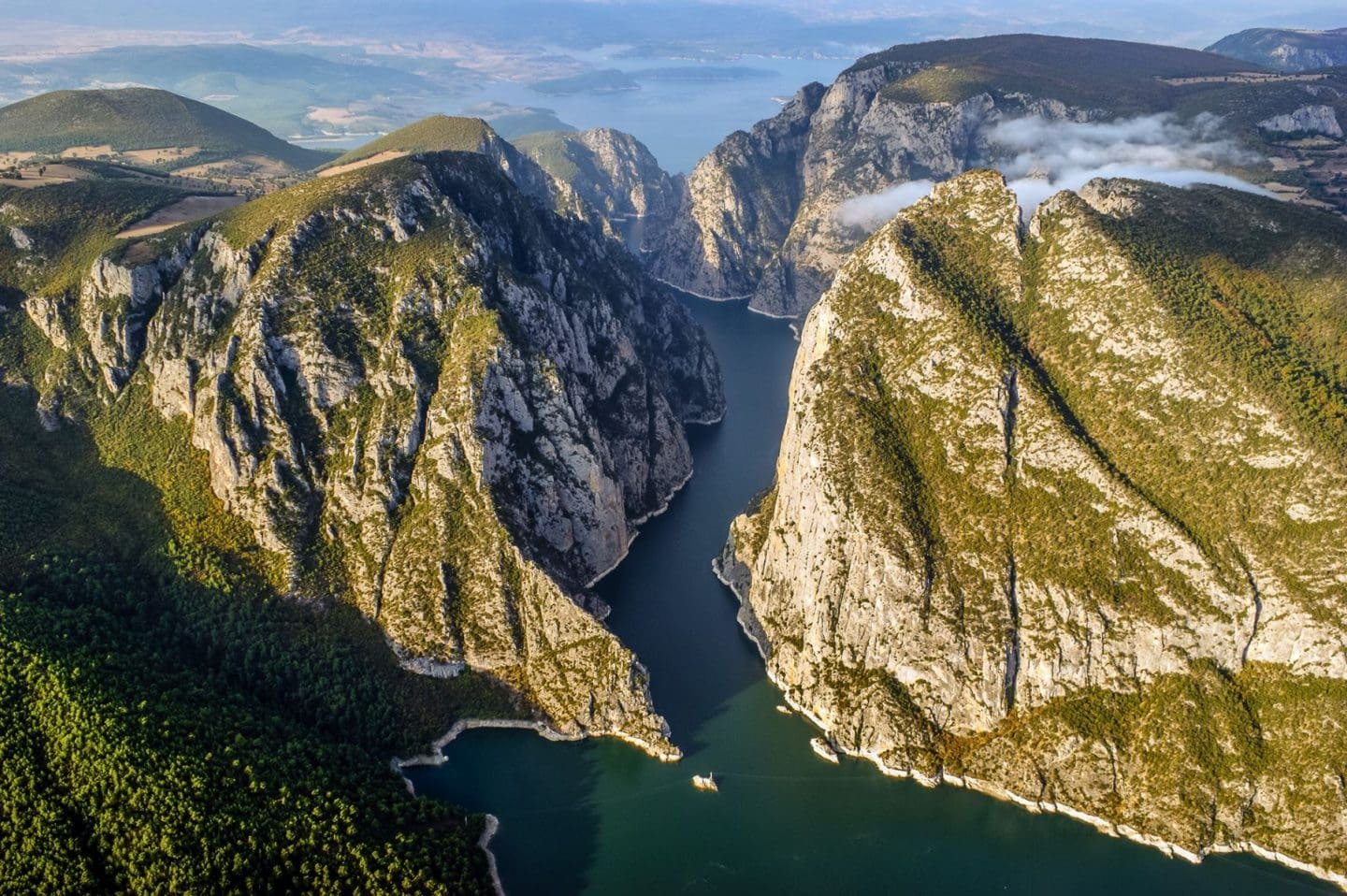 While driving to Mezifon stop at Şahinkaya Canyon In Vezirköprü for stunning views!
Stop 7: Mezifon (175 km from Terme)
The region of Mezifon in the province of Amasya covers a territory of 970 square kilometers 370 sq m. The town has a population of 70,000. There isn't much to do. I'd suggest spending an hour to refuel your vehicle and walking around and having coffee before proceeding with the trip.
The drive from Mezifon to Bolu is a little over 4 hours long. I would suggest exploring Terme and Mezifon then driving to Bolu to rest for the night before a full day of exploring.
Stop 8: Bolu (369 km from Mezifon)
The city of Bolu is one of the most important cities of Hittite civilization. It dates back to 2000 BC and the name of the city in the Byzantine period is blamed as "Claudiopolis". This Black Sea province of Turkeyis a famous destination for nature lovers with lakes and forests that cover 65 percent of the city, and it has more to offer in thermal and health attractions. With 30 thermal springs in Bolu province's Seben, Göynük, Mudurnu, Karacasu and Taşkesti districts, and the heat of the spring water is between 20 degrees Celsius (68 degrees Fahrenheit) and 90 degrees Celsius (194 degrees Fahrenheit).
Things to do in Bolu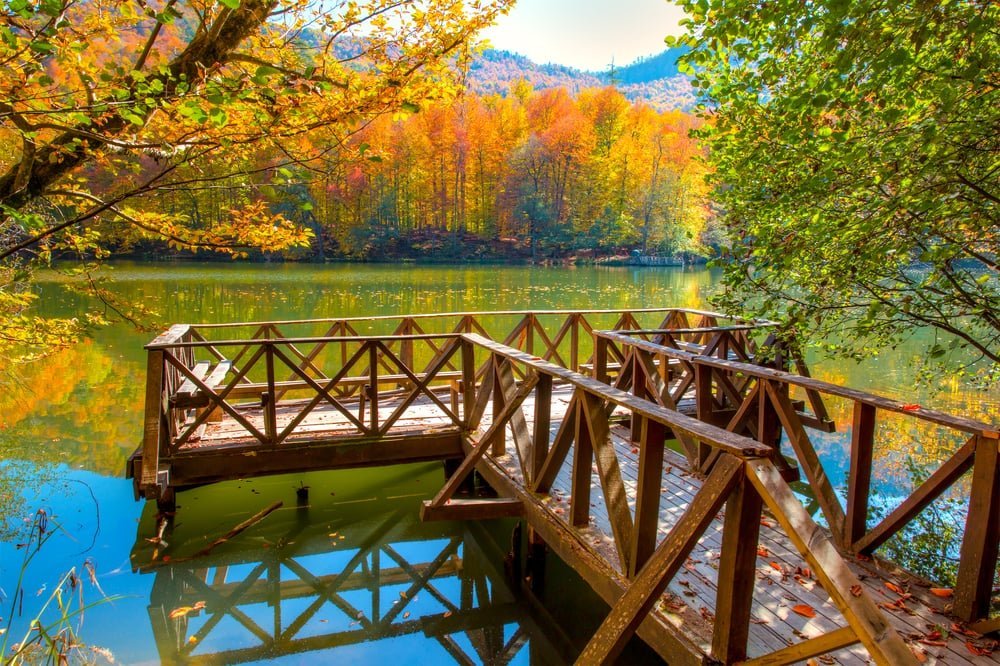 ---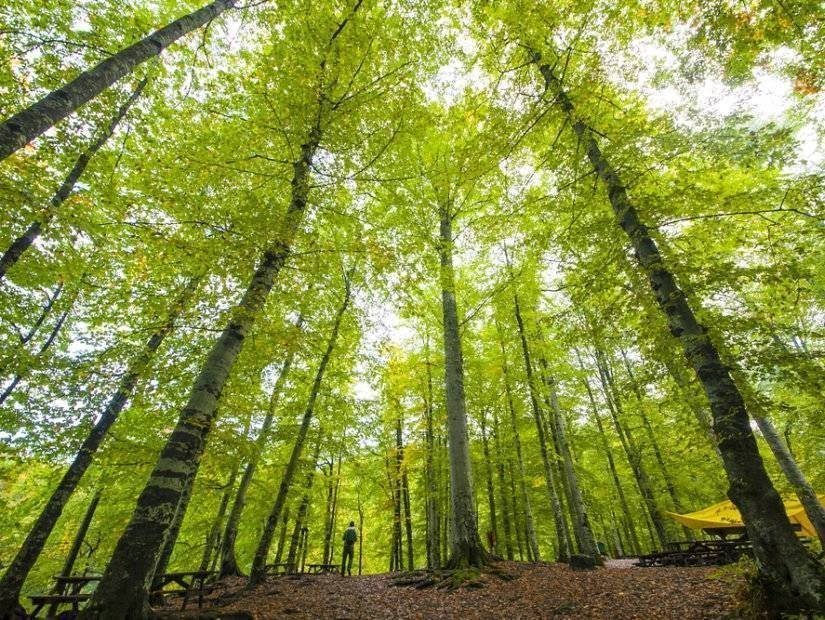 Yedigöller National Park – The park was named after seven large and small lakes formed by landslides. The lakes and the surrounding green area is an ideal escape from the hustle and bustle of the city. Nature lovers can enjoy the tranquillity of the view of the monumental trees, bubbling waterfalls, hiking trails and picnic areas.
Bolu Archaeology and Ethnography Museum – See artefacts from the Hittite, Roman, Byzantine, Seljuk and Ottoman periods. It is also on the historical Silk Road.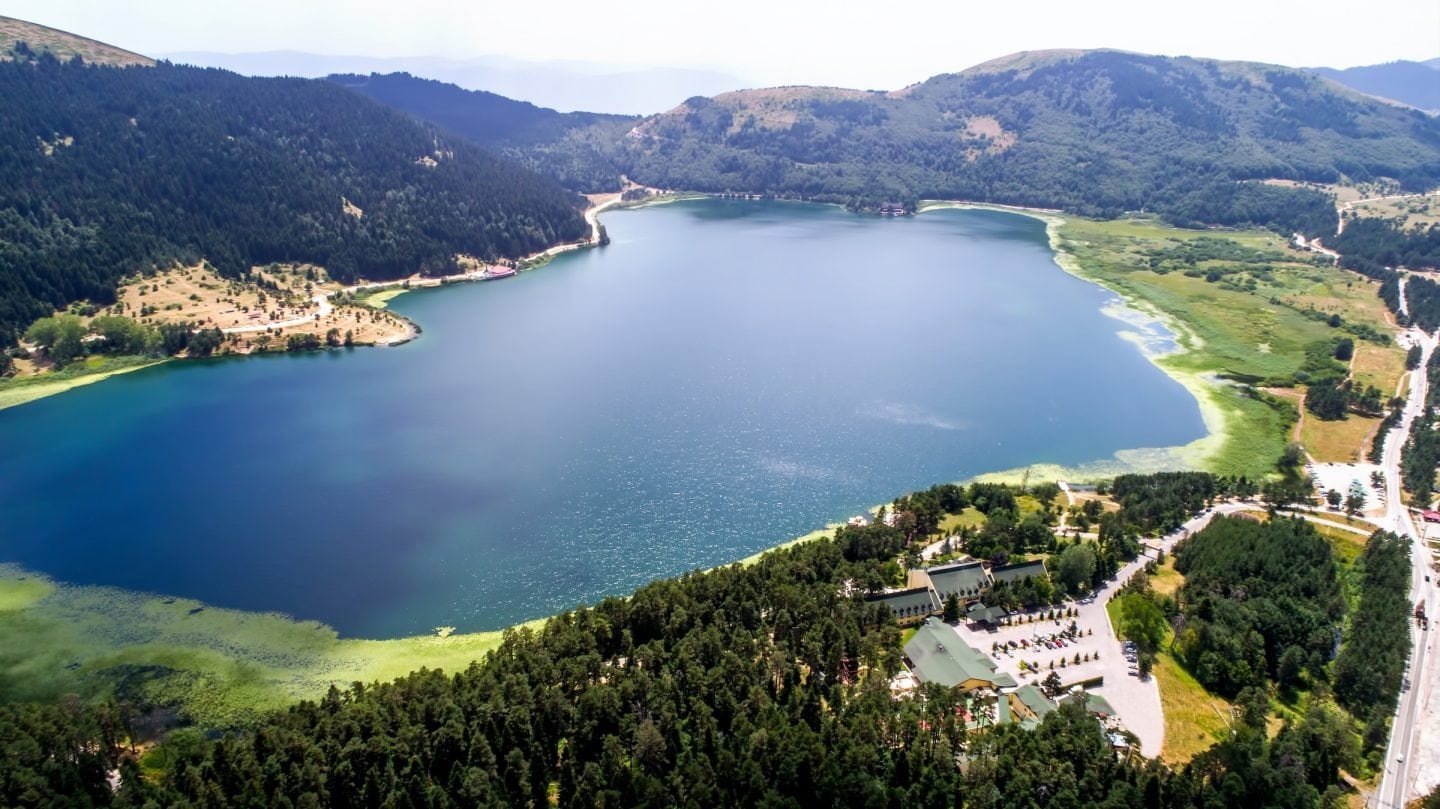 Lake Abant Nature Park – Set in lovely alpine surroundings at an altitude of 1500 meters, 34 km southwest of the city centre. Offering many opportunities for visitors to enjoy a perfect day in nature, Lake Abant is charming in all seasons. Picnicking, camping, fishing, hiking, horseback riding and cycling are some of the outdoor recreation activities.
If you're visiting in August, attend the annual Chefs' Festival featuring traditional Turkish specialties in Bolu's Mengen County. The region has a reputation for its good cooks and some cooking schools trains chefs in the art of Turkish and world cuisines.
After a 265km (approximately 3 hours and 30 minutes) drive. You will reach your destination – Istanbul.