As we all know, Ireland is spoilt with miles and miles of gorgeous scenery, sprawling landscapes and awe-inspiring natural formations throughout every county and countryside village. However, when it comes to camping, we're also all too familiar with all the hiccups, headaches and plain old mishaps that occur when you're roughing it out in the wilderness.
Glamping is our all-in-one answer to camping, nature, luxury, and comfort without any of the hassles of regular old camping. It's one of the best ways to step up your camping experience making it more fun, relaxing and stress-free than is usually possible (especially if you've left the hammer and tent-peg bag behind). It's also a great way to convince an anti-camper to spend a night under the stars with you.
Let's take a look at some of the latest and greatest in glamping spots in Ireland, in all four corners of the island.
What is Glamping?
Glamping is a very creative combination of the words "glamorous" and "camping". This alone should tell you most of what's going on here. While the word might be a new invention, luxury camping isn't, with some trendsetters setting themselves up with humble yet luxurious abodes in the wilderness for a good number of years now.
The general principles of glamping usually consist of a yurt, teepee, or some other form of semi-permanent tent or pod that's a lot more spacious, comfortable and weather-resistant than your usual trek tent. Glamping sites often work on a B&B style, where a meal is provided by the host, as well as some (luxurious) ablutions with lots of little frills and treats in between.
Ireland is no stranger to glamping, hosting a wide number of sites of different styles all around the country. Let's take a closer look at all the teepees and yurts Ireland has to offer.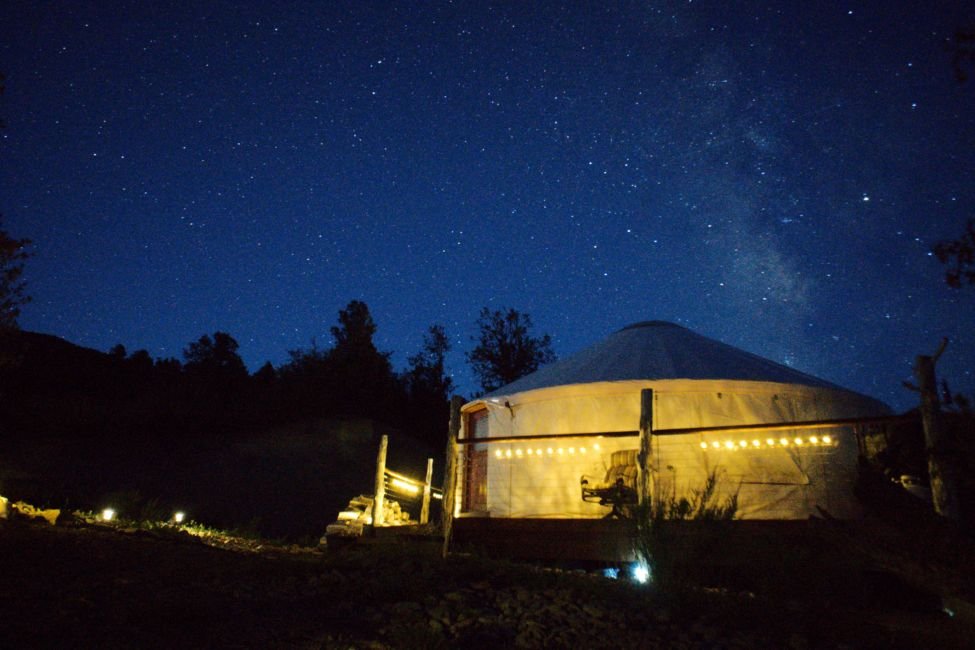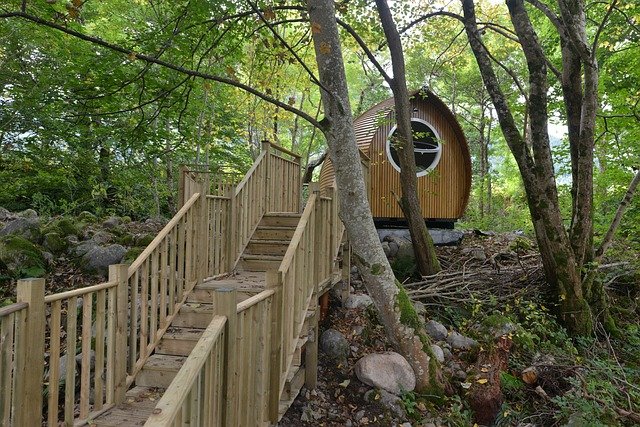 Where to go Glamping in Ireland
To find the best glamping in Ireland, you have to look not only at the glamping site itself, but also consider who you're going with, for how long, and how much you want to spend. Glamping is usually reasonably priced, around the same as a Bed and Breakfast, however, if you're stepping into the true lap of luxury, expect to spend a buck or two.
Most Romantic Glamping Site in Ireland – Killarney Glamping at the Grove
County Kerry is known for its wild Atlantic coastline, with rolling rocky mountains, lakes and hills straight out of Into the West, and is one of the most scenic counties in Ireland without a doubt. With great spots for hiking and cycling all around its gorgeous countryside, it's no wonder that some of the best romantic glamping in Ireland can be found here.
Glamping at the Grove in Killarney is a beautiful little spot situated just a five-minute drive from the town center, and about fifteen minutes from Kerry Airport. It's a lovely little campsite trying its best to show off the most beautiful and peaceful side of Irish nature. Glamping at the Grove offers couples a romantic, secluded and private getaway in comfort and luxury.
Glamping at the Grove has some beautiful, award-winning romantic glamping suites for couples (open March to November), which comes with some nice bonuses like a reduced rate at the Zen Day Spa, and a private Outdoor Kitchen with BBQ. However, it's the luxury suites that really caught our eye.
Freshly opened in 2019, the luxury lodges are also aimed at couples, with a focus on intimacy, privacy, and calm. With gorgeous views of Killarney Mountain and the River Flesk at your feet, you'll quickly lose yourself in the peace and beauty of the Irish countryside. The Luxury Lodges include a spacious bedroom, bathroom, and mini kitchen, as well as central heating all throughout the tastefully furnished room. Here you can enjoy complimentary marshmallows with some tea and coffee, or take a relaxing strong power shower, and even park off on the patio with a board game.
Glamping at the Grove is not only very sweet and beautifully presented, but their emphasis on romance also shines through in a very genuine way. It's a humble spot, and one of the best for couples in Kerry, if not the whole of Ireland.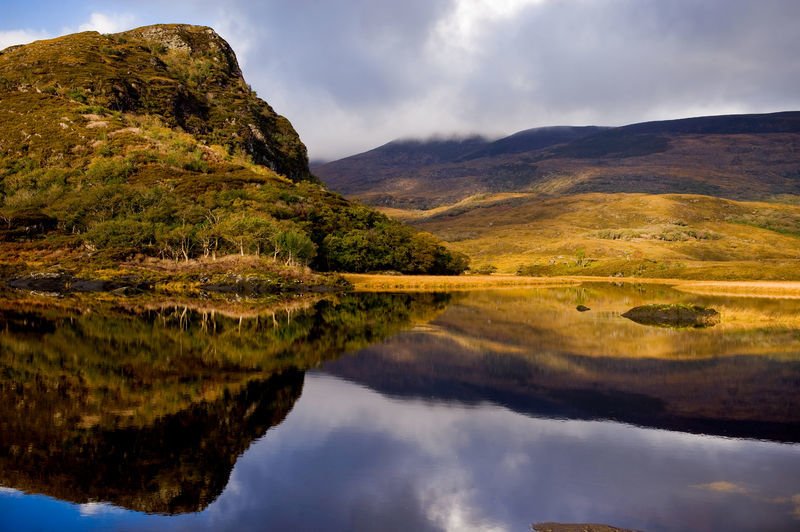 Luxurious Glamping in Ireland – Dromquinna Manor
Dromquinna Manor is a gorgeous 40-acre waterside estate also situated in County Kerry. The manor was built in the 1890's and is mostly used nowadays for weddings, events, and performances. Located on the shores of the water nearby is the Boathouse Bistro, where you can treat yourself to a great selection of wines and some fine cuisine. All in all, this is a one-stop-shop for a luxurious stay in the Irish countryside – and we haven't even got to the glamping yet.
It's no surprise that a sophisticated Manor like Dromquinna offers some of the most luxurious camping in all of Ireland. Their custom-made Safari tents, created specifically by expert tentmakers for Dromquinna Manor, are the true lap of luxury. Looking out onto the wild Irish countryside over a slowly bubbling river where you might spot the local heron going for a fish, you're treated to all the luxuries of a hotel suite, inside a cute and private luxury tent.
The tents have no center poles, plenty of headroom, and doors flung open wide so you can feel the cool breeze throughout. They're decked out with double-skin roofs to keep you cozy come rain or shine, as well as a wooden deck giving you someplace to sit and relax out in the open. Each room has a 5-star King Size mattress, with some of the softest bedding known to man, with a breakfast delivered each morning to get your day started right.
If you're interested in an extra little dose of luxury glamping in Ireland, try the Hideaway tent. This couples tent offer a step up in luxury and looks quite literally as if you've stepped inside someone's Pinterest mood board. With a library, private gate and veranda, breakfast delivery and furnishings out of a 1700's manor, this little clifftop tent overlooking Kenmare Bay is the perfect spot to take your special person for a luxurious break.
All in all, whether you're a family traveling together, a solo traveler or couples on the road, if you're looking for luxury and comfort, then Dromquinna Manor is the spot for you. If you're ok with the occasional wedding or humble afternoon family music event, then you'll be more than at home here at the Manor. Don't forget to book yourself a boat ride at the manor if you're keen to spend a day out in the sun, on the water!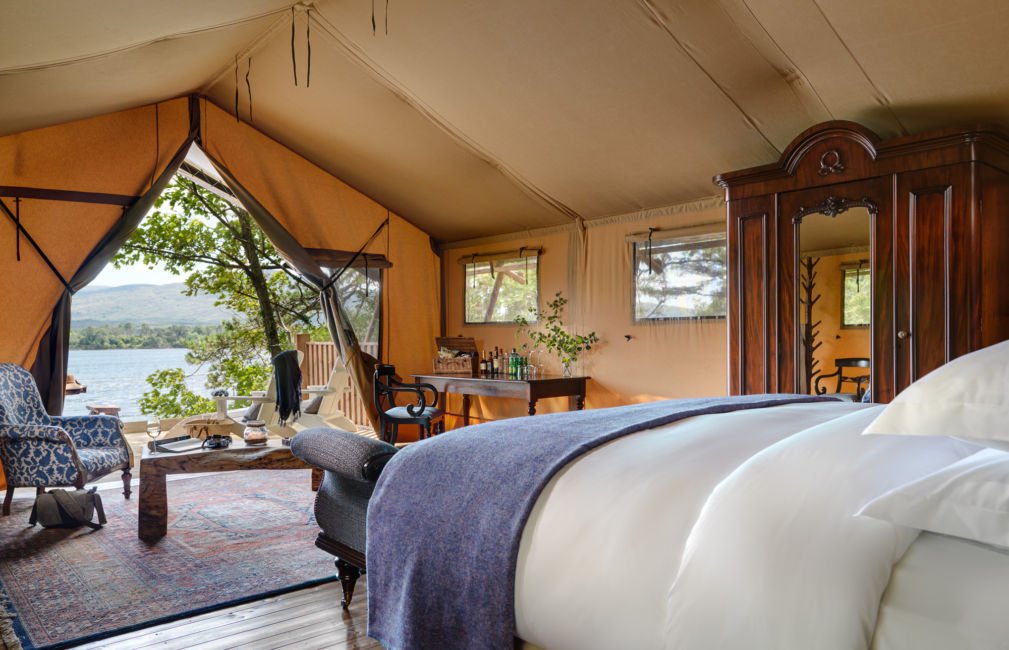 Family Glamping in Ireland – Pure Camping Eco Campsite
Pure Camping is an Eco Campsite in beautiful Co. Clare owned and run by Kevin and Trea, with their two children, some dogs, cats, hens, and donkeys. The site is situated on a farm in the village of Querrin, surrounded by sprawling woodlands and an ancient ring fort. It also has a clay pizza oven, which was a huge bonus that stuck out to us.
They sought to create a peaceful retreat in the Irish countryside and most certainly succeeded. Trea is a yoga teacher who is part of the community of Satyananda Yoga teachers around Ireland. She teaches classes in the area, which you as a guest are more than welcome to join. Kevin is a neuromuscular therapist, and together they renovated their cottages and lodgings in an eco-friendly and heritage sensitive process, using materials like lime plastering and hemp.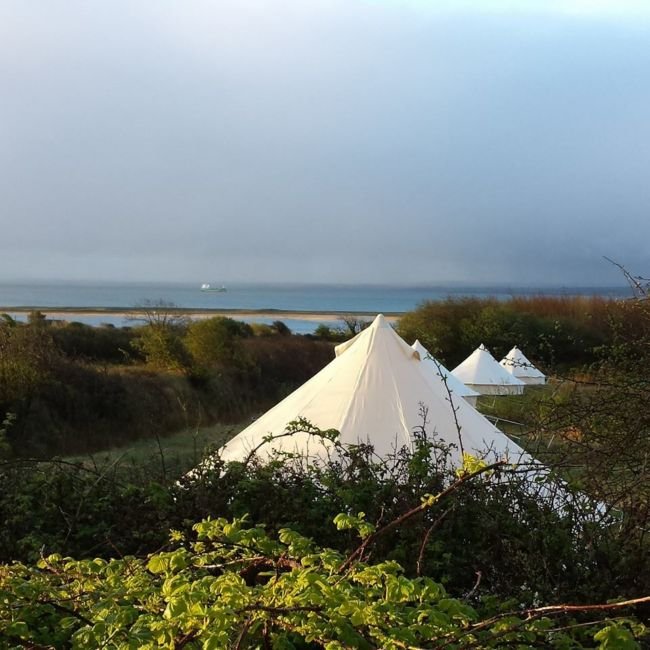 Pure Camping offers regular camping, bell tent glamping, as well as off-grid cabins. We'd highly recommend Pure both as a camping spot, and for their cabins, however today we're going to focus on the bell tents. Each is a five-meter tent which sleeps up to four people.
These tents are in pristine condition, treated and replaced accordingly after weather and wear. They're a great way to ditch all of the frustrating parts of camping, allowing you to simply rock up and enjoy being in the countryside.
Each tent has a deck and fire pit, and there's a bright and clean communal kitchen for all to use – don't forget the pizza oven, for which you can buy dough balls from Trea and Kevin. Discounts are offered to those staying longer than three nights, so make sure to plan ahead accordingly, as there's plenty to do in Clare.
The combination of ease, farm animals, and places to run and play make this the perfect spot for a family with children to go glamping. While we don't want to harp on even more about the pizza oven, if you've ever made pizza with kids you'll know why this is a winner.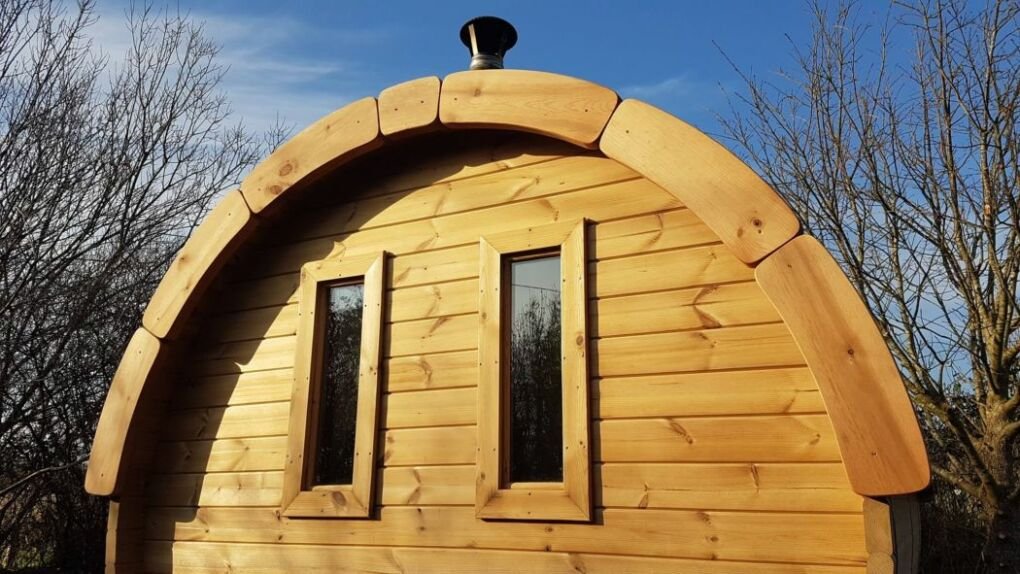 Glamping in Cork – Ballyvolane House
In 1728, Sir Richard Pyne, a retired Lord Chief Justice in Ireland had the Ballyvolane House built for himself. The house was then expanded upon, rebuilt, pulled apart, modified, changed, broken and fixed again by various Pynes over the next few hundred years, until it changed hands out of the Pyne family in 1953. What remains today is a beautiful, humble Irish country house, with gorgeous grounds surrounding it in a quiet corner of North Cork.
While the house is somewhere between a hotel and a B&B, it's their glamping that we're going to be taking a closer look at today.
Ballyvolane is home to 4-meter bell tents, designed to accommodate 2 sleepers, as well as a host of 5-meter bell tents sleeping two adults and two children. They also have a glamping ark on offer, which is a small wooden cabin similar to the shape of a cover for pigs on a farm (it's also known as the pig ark).
Each tent is kitted with raised timber beds, with eco-friendly mattresses made of recycled jeans and organic lamb's wool and washable cotton. There's a tea-light chandelier hanging from the center poles, as well as bedside tables, chairs, and coir carpets. All in all, they're pretty damn luxurious, and you'll surely agree when you find a hot water bottle waiting at your feet after the evening turn-down service.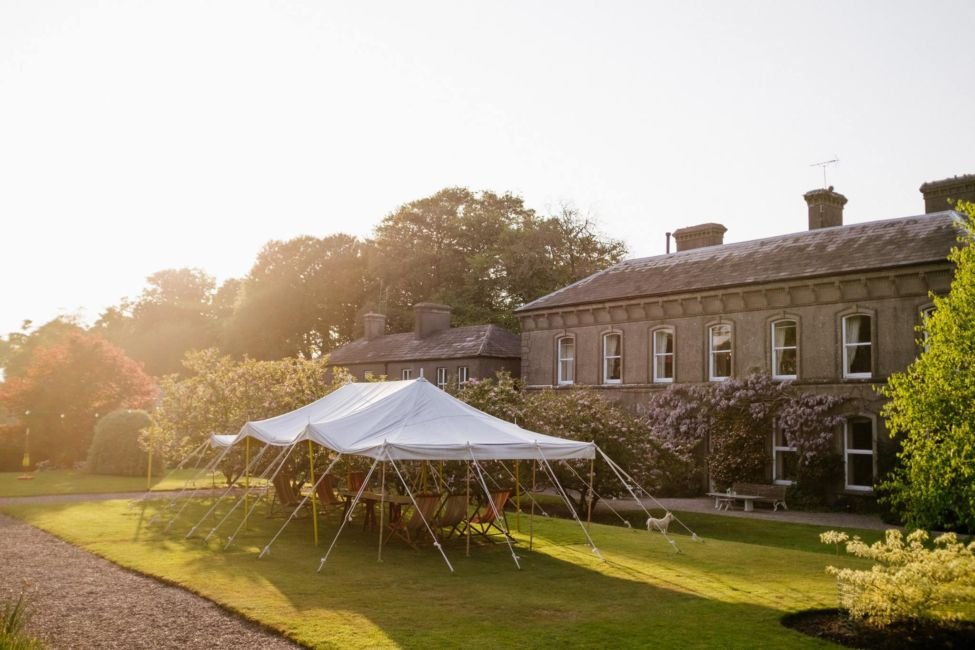 There's a full Irish breakfast served at the main house until noon, as well as a heated wash house for all your shower and ablution needs, as well as hosting hairdryers. On the grounds, you can also find spots for great Blackwater Salmon fishing, which is a huge reason people flock to Cork. There are various times of year suited to fishing, but generally, March to August will host great fishing conditions all the way through. There's also game shooting available on the estate, with a host of wildfowl all around – and an alternative of clay pigeon shooting if that's more your speed.
Ballyvolane House really is a lovely spot to go glamping no matter the size of your group, and even more so if you're a fisherman, game hunter, or even just a fan of the Cork countryside. It's our runner up for one of the most luxurious glamping sites in Ireland, so if Dromquinna Manor is too much for you, Ballyvolane is a great second choice.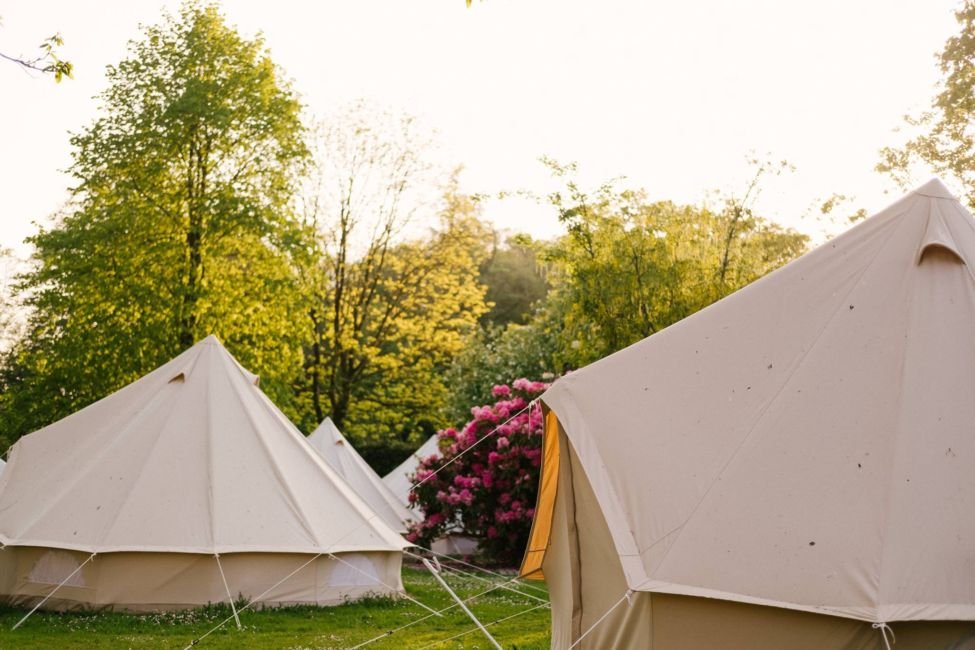 Glamping in Wexford and Surrounds
Unfortunately, there's not much in the way of glamping in Wexford. While there are plenty of caravans, camping and motorhome parks all along the coastline, not very many of these shout 'glamour'. This is really unfortunate, as there are some lovely spots around Wexford, and near nowhere better to spend a summer holiday in Ireland.
Just under two hours' drive outside of Wexford is the Old Forge, and Glamping Under the Stars, which is just about the closest you'll get to glamping near Wexford. The Old Forge is a humble little spot in Wicklow, far out in the countryside surrounded by wilderness. It's a great spot if you're looking to visit some historic farmland, as well as perhaps go on a horse ride somewhere nearby.
Glamping Under the Stars, on the other hand, is a very trendy and Instagram-friendly looking spot in Laois, in the Irish Midlands. They offer bell tents, wood cabins, and a shepherd's hut, and are the perfect spot to go if you want to glamp under the stars (as their name suggests), as well as being a great spot for a hen party.
We hope that before long, we'll see more sites similar to these closer to the coastline of Wexford, as there's really nowhere better.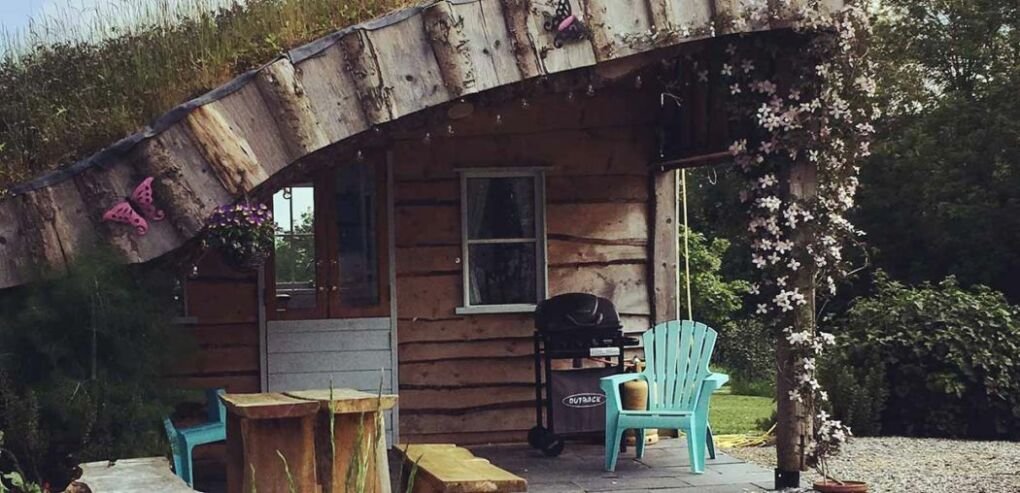 What to know before booking Luxury Camping in Ireland
While glamping is meant to take all the headache off your hands, it's still good to double check some things before making your booking, and again before embarking on the trip. There's nothing worse than packing something that's been provided for you already (or god forbid, forgetting something that isn't being provided).
Here's a little checklist of things that you'll want to look at to make sure you've got your ducks in a row:
Bedding / Sleeping Arrangements

Heating / Aircon

Is there a kitchen / cooking facilities

How do the bathrooms and showers work?

How far is the site from nearby activities?
In terms of sleeping arrangements, most glamping sites provide 90% of the bedding arrangements, however, every now and then you'll find one where you've got to bring your own bedclothes. Heating and aircon are also important if you're going glamping in less temperate times of the year – take a look at what's happening, and pack some extra warm or cool clothes accordingly.
Kitchens and cooking facilities are important too – if you're planning on cooking for yourself, take a look and see what you have to bring. Some facilities will offer a kitchen fully stocked with equipment, and others will simply offer a hotplate to do with what you will. This goes for bathrooms and showers too – while there's not much to prep for, you'll probably want to have an idea of how many people you're going to be sharing these facilities with.
Lastly, check how far you are from the city center, or from any activities or sites you plan on visiting. There's nothing worse than arriving at a camp / glamp site, and realize you're going to have to spend ages in a car or taxi getting to all the places you want to go. Another way of getting around this issue is to drive yourself around, but that still isn't ideal.
Conclusion
You should now be more than adequately up to date on glamping, as well as where to go glamping in Ireland, and who to go with. These spots are all really gorgeous and idyllic and are definitely worth your time and attention, so be sure to choose carefully as you can't do them all at once!