The Ring of Kerry is one of the most scenic driving routes in the world, and if you want to enjoy amazing views of natural wonders and stop by castles, chapels, charming villages, and parks, there is hardly a more convenient way to do it.
The 180 km circular road is easy to follow, and the wide range of sights and landmarks can easily fill a day or two. With dozens of tour buses making the ritual loop around the ring on a daily basis, most blogs recommended driving counterclockwise to escape the tour-bus procession. But we decided to leave the hotel early and work our way clockwise.
I've recapped where we stayed, where we ate, and what we did during our brief time in this beautiful county. I can't wait to visit again!
12 Reasons to visit County Kerry
Kerry is one of the best places for stargazing in Europe because some areas of the county have no light pollution whatsoever. The local authorities have even set up a Dark Sky Reserve, stretching from Kells Bay to Caherdaniel, which marks the best stargazing spots. On moonless nights, the Milky Way is clearly visible.

In Killarney National Park, visitors can find the beautiful Muckross Abbey, a 15

th

-century Franciscan friary, with a history going back to the 6

th

-century and the early days of Christianity in Ireland.

Besides Christian sites, there are plenty of ancient monuments in Kerry, a testament to the region's Celtic heritage. The most spectacular are the stone circles in Uragh. Many other stone ring ruins can be found throughout the county, along with Iron Age forts and hamlets.

Kerry is one of the counties that the superb

Wild Atlantic Way

travels through. This is the longest coastal route in the world, and surely one of the most scenic. Traversing Kerry from north to south or vice-versa on the Wild Atlantic Way takes you by numerous attractions, such as historic abbeys and castles, remote beaches, and charming towns, climbing up to the highest asphalted mountain passes in Ireland.

Kerry hosts a number of interesting festivals each year. The town of Listowel celebrated every year Writers' Week, the longest-running literature festival in Ireland. Tralee has the Rose Festival. The most unique festival, however, is the Puck Fair, in Killorglin. A Pagan festival with a history of 3000 years, Puck Fair takes place every August.

A visit to the Bally Carbery Castle ruins is the best way to immerse yourself in the glorious past of the region. Nearby, you can find Cahergall Fort and Leacanabuaile Fort. The perfectly preserved historic ruins are lit by torches at night, and the atmosphere is truly magic and can feel easily like a journey through time.

Kerry Geopark is a unique landscape of immense geological, historical, and archaeological value.

Conor Pass is the highest mountain pass in Ireland and offers wide views of the dramatic scenery of Kerry.

Waterville is a small coastal village in Kerry, which was a favorite spot of actor Charlie Chaplin. A statue dedicated to his memory can be found in the village, and there is also an annual festival celebrating his life and career.

Ten of the highest peaks in Ireland are located in Kerry, the county is a top hiking destination and outdoor activities are a big thing among locals and visitors alike. Watersports, hill walking, and mountain climbing are the most popular activities in the region.

A great local experience in Kerry is to get acquainted with one of the county's national sports and watch a Gaelic football match. Football is a major local obsession and is a great topic of conversation if you want to befriend some locals.

An intriguing legend surrounds

Ross Castle

in Killarney National Park. The castle was built in the 15

th

-century by O'Donoghue Mor, and many believe that on the first morning of May every seven years, the ghost of O'Donoghue rises from the nearby lake on a white horse and circles the castle. If someone catches a glimpse of the ghost, they can be assured of good luck in life.
First Ring of Kerry Stop: Killarney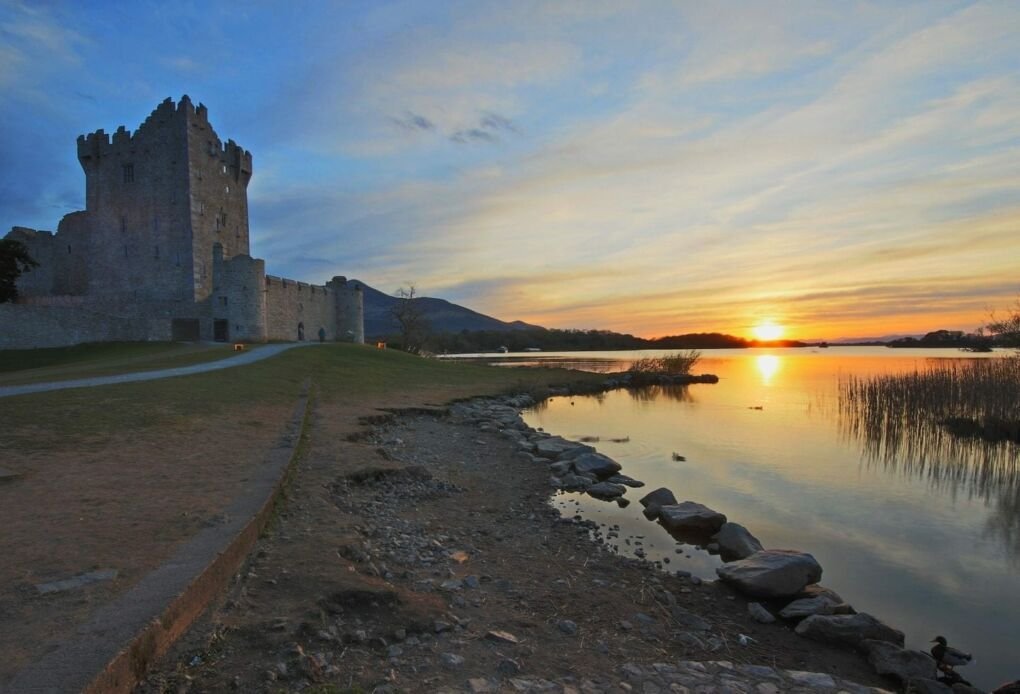 Out of all the towns I visited in Ireland, Killarney was my favorite. We arrived the previous night after a 4-hour drive from Dublin and we spent the night at the newly renovated Heights Hotel in Killarney. In the morning we opted to walk around the town and started the day with breakfast at Café du Parc.
We went to Killarney National Park, a great place to start if you want to see the expansive and scenic land. Killarney Lakes and National Park are probably the main attractions that bring visitors to Kerry. Depending on the season, Killarney offers an abundance of walking and hiking opportunities. Hiring a boat for a tour on the lakes is a charming way to explore the beauty of the place.
If you want to have a good perspective of the mystical landscape of Kerry, some of the highlights are the magnificent Ross Castle on the shore of Lough Leane (one of the lakes of Killarney). The castle was built by O'Donoghue Mór in the 15th century.
The Castle came into the hands of the Brownes who became the Earls of Kenmare and owned an extensive portion of the lands that are now part of Killarney National Park. Tours of the castle are available for €5 per adult (price in March 2019). No videos or photographs are allowed inside the castle.
Across the road lies Torc Mountain where you will find Torc Waterfall, a 20 meters high, 110 meters long cascade waterfall formed by the Owengarriff River as it drains from the Devil's Punchbowl corrie lake at Mangerton Mountain. The waterfall is 200 meters (uphill) from the car park, I'd advise wearing comfortable shoes and bringing a water bottle.
Go for a stroll or tea at Muckross House, a Victorian mansion where Queen Victoria spent three nights in 1861. Adjacent to Muckross House is a fascinating open-air folk museum that covers Irish Farm life from the 1920s to the 1950s.
The entire area is suffused with cultural and historical sights, which adds more qualities to the impressive nature. From Killarney town center, visitors can take a hop-on-hop-off tour bus to explore various areas of the Killarney National Park. Around the lakes, there are many top-class golf courses, and visitors find here everything they need for a pleasant stay, from accommodation to restaurants.
If you don't feel up for walking when visiting Killarney National Park, you can hire a horse-drawn carriage (jaunting car) so you can explore the area in a more relaxed manner.
While driving through Kenmare, stop at The Meeting of Waters where The Upper lake, Middle Lake (also known as Muckross Lake) and Lower Lake (Lough Leane) converge.
Second stop on Ring of Kerry: Sneem
The drive to Sneem was filled with a scenic mountainous chunk of Killarney National Park (great views at Molly's Gap). We arrived in the picturesque village of Sneem and went through a serene walkway down the banks of the Sneem river is the location for The Garden of the Senses. The gardens, while small, are awash with flowers and trees, a picnic and barbecue area. We bought a cone of ice cream and enjoyed it while we sat in the Sculpture Park.
Third stop: Waterville
The small coastal village located between the Atlantic Ocean and Lough Currane is known for its game angling and its 18 hole championship golf links, Waterville is also a paradise for the hill walker, cyclist, pony trekker, ornithologist, astronomer, archaeologist, fishermen, water sports enthusiast.
With so much to do in Waterville, visit the Sea Synergy Marine Awareness Centre and discover Ireland's Marine Life or attend a workshop. Stop at the St. Michael's Church and Visitor's Centre to find out about Waterville's rich history.
Fourth Stop:

Portmagee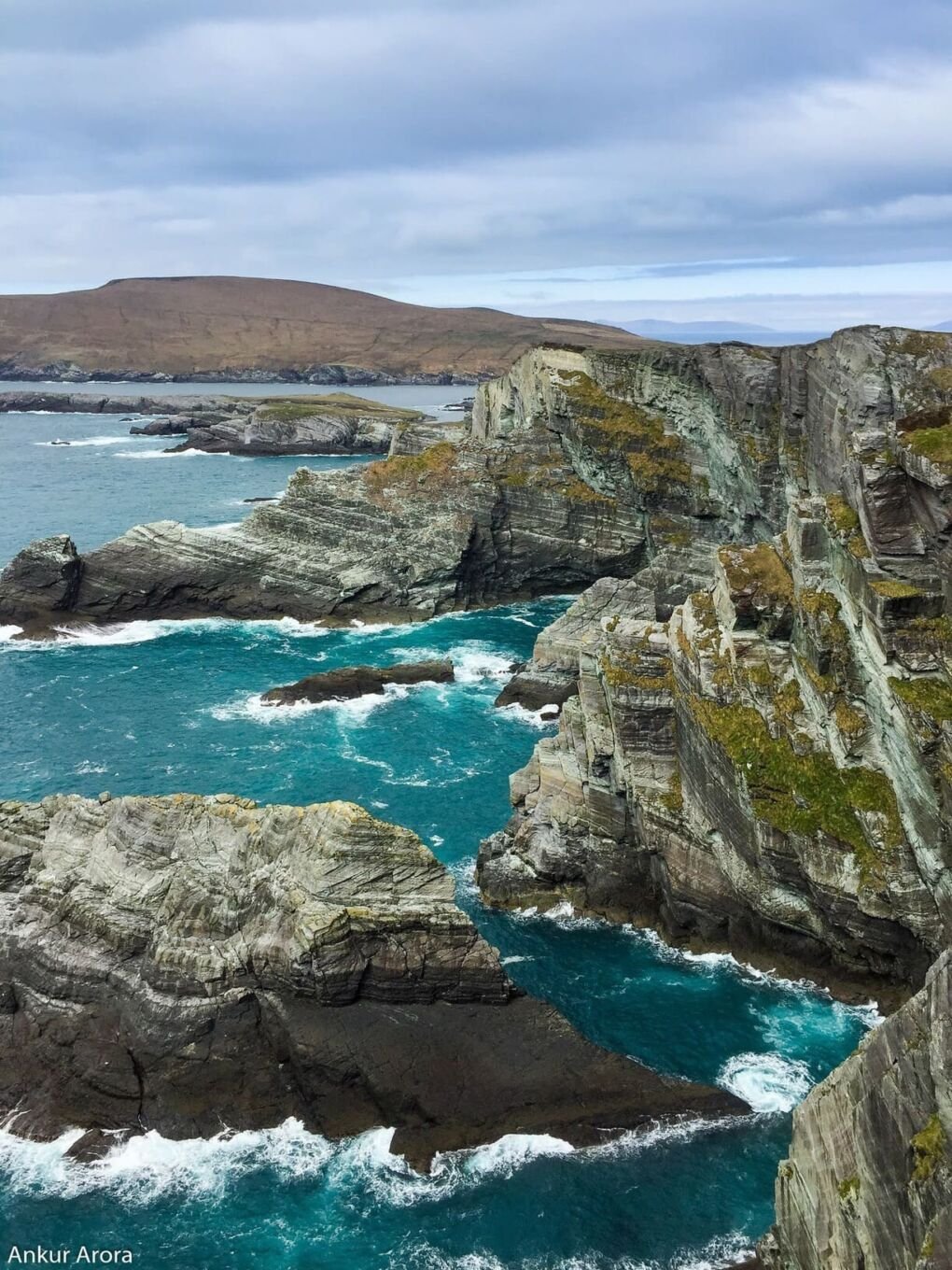 For the most stunning view on the Ring of Kerry, Head to Portmagee where you will turn off at the signs alerting you to "Kerry's most spectacular cliffs"!
For €4 per person (price in March 2019), you can see these cliffs that were formed over 400 million years ago at the most westerly point of the headland where once stood two stone build forts.
Today all that survives is a stone wall a few feet high is with sheer 60ft cliffs behind them and acres of wild wind blow bog land in front.
---
Fifth Stop: Valentia Island
Access to Valentia Island is via a bridge from Portmagee. The bridge is called the Maurice O'Neill Memorial Bridge. It was built in 1970 and named in memory of a young farmer captured and judged by a military court before being executed in 1942.
After you cross the bridge you will see The Skellig Experience Centre on the left-hand side where visitors can learn about the history of the monks on the Skellig Islands. A visit here is highly recommended.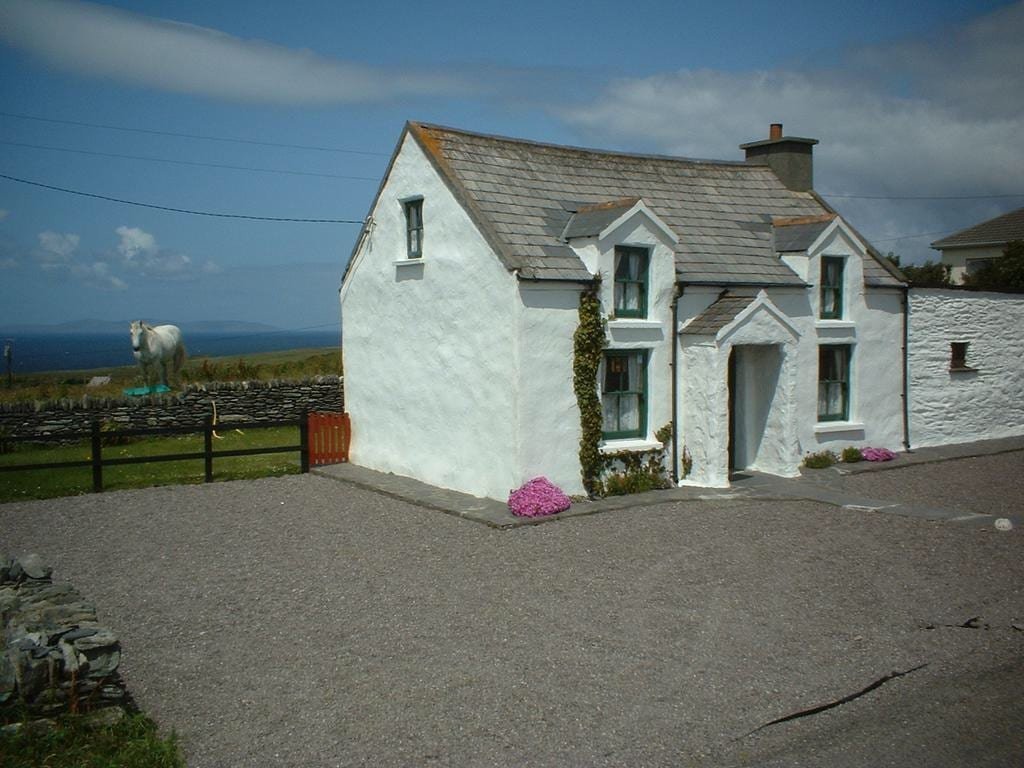 We opted to spend the night at Cul Cottage, a 200-year-old Irish Cottage that overlooks Dingle Bay and the Blasket Islands. It has been restored to maintain its old-world charm and echoes memories of years gone by. This cozy cottage with open turf fire and original settle seating is available to rent throughout the year. Inclusive of all the mod cons, it comprises of two bedrooms, sleeping four.
[maxbutton id="1″ url="https://www.booking.com/hotel/ie/cul-cottage.en.html?aid=1558524&no_rooms=1&group_adults=1″ ]
Sixth Stop: Cahersiveen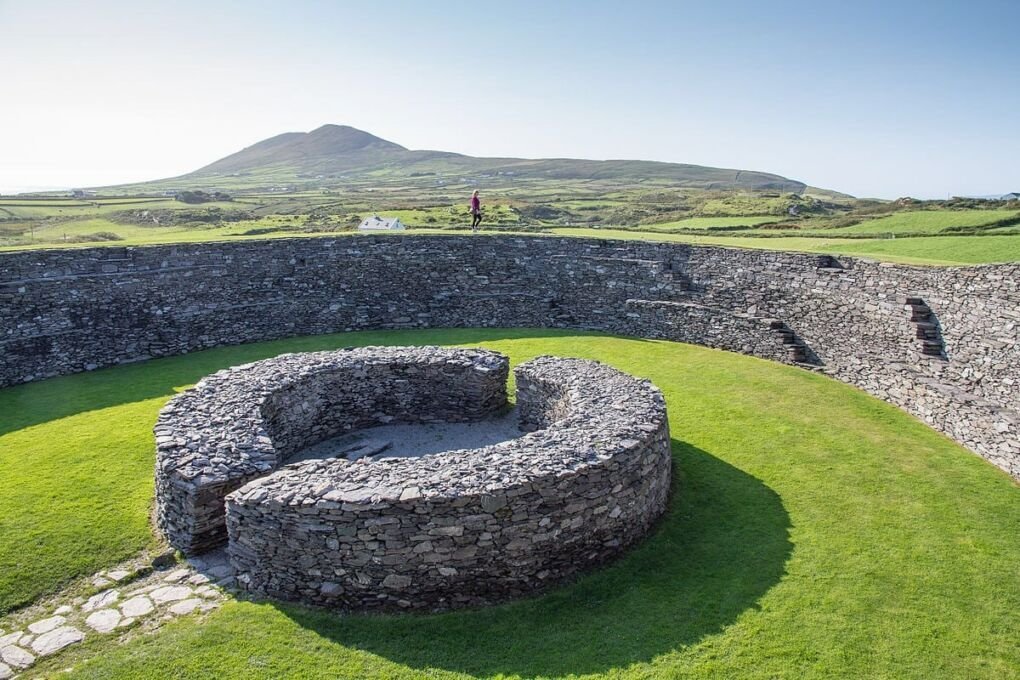 We left our cottage and went to see the ruin of what was once a 15th-century castle of MacCarty Mor. A few hundred meters on from Ballycarbery Castle is Cahergall Stone Fort, The 2,000-year-old walls of Ireland's Leacanabuaile Ring Fort have withstood the test of time – without the aid of mortar or cement.
Stone forts are believed to have served as protection for farmsteads. Visitors can walk up the stone stairways inside Cahergall Stone Fort to access the top of the structure. It was reconstructed and is in very good shape. Access is free.
Seventh

Stop: Tralee
Tralee is the county town of Kerry and is a great introduction to the area's massive touristic potential. The city boasts beautiful historic buildings and many great hotels, restaurants, and pubs. A visit to the Kerry County Museum will take you through thousands of years in the history of Kerry and Ireland. A show at Siamsa Tire, the National Folk Theatre of Ireland, is also a unique experience that you can only have here.
The town is known for the Rose of Tralee International Festival so you could plan your visit around it. If your budget allows it, Ballyseede Castle Hotel could be the most authentic and romantic place to stay in Kerry. Set in a 16th-century castle, with 30 acres of forest and lawns, the hotel is located a few kilometers away from Tralee town. The rooms have individual, classy designs with plenty of amenities. The hotel also includes a library bar and a chandelier-lit restaurant, besides several elegant lounges.
Our Last Ring of Kerry Stop: Carrauntoohil
Carrauntoohil is Ireland's highest mountain and since it is located in Kerry, it is the best place for some spectacular views of the county and the surrounding areas. While a hiking trip to the top is more for the experienced rather than amateurs, there are local guides who organize daily trekking tours.
At the top of Carrauntoohil, a fascinating view opens up over other glacial peaks, revealing the unique geology of Kerry. Even if you won't have time to reach the top, a short hiking trip can take you through gorgeous woodlands and you will still get a chance to see fog-shrouded mountains, beautiful ridges, and peaks, and pass by glacial lakes or old Celtic ruins.
We wanted to visit Skellig Michael, but unfortunately, the tours operate from May – October and their weather dependent. Skellig Michael or Great Skellig is an island in the Atlantic, part of County Kerry. The otherworldly scenery of the island and the range of natural wonders are an excellent reason to visit it. An abandoned Christian stone monastery from the 6th to 8th –century adds to the charm of the place, but Skellig Michael has plenty of other historical sites and it is a UNESCO World Heritage Site.
From April to August, the island is inhabited by thousands of Atlantic Puffins so if you plan your visit then, you can see the world's cutest birds in their natural habitat. This is a one-of-a-kind Experience and definitely something you should do in Ireland!
Travel Insurance for Ireland
Use travel insurance while visiting Ireland so you are covered for theft and medical expenses. There are a lot of adventurous activities to do in the Emerald Isle, and it's best to have peace of mind while driving, hiking, and trying some of the best food in the world.
Find out why I recommend World Nomads, check out my World Nomads Insurance Review.
Disclaimer: This article contains affiliate links. This means that if you make a booking after clicking on a link, I may receive a small commission at no extra cost to you!