Until a few years ago, the island of Nusa Penida off the coast of Bali was a fairly undiscovered gem. Thanks to Instagram (whether you love it or hate it!) the islands popularity has skyrocketed with ferry loads of day trippers and adventurers sticking around for a little longer making their way to this adventure paradise.
Following two brilliant trips to Nusa Penida so far, and encountering endless groups of lost travellers attempting to explore the island independently, followed by endless questions thrown my way by friends looking for advice about visiting, i thought it's about time someone put together a comprehensive guide on visiting the island, how to get there, where to stay and some words of warning.
I've put a lot of time and effort into this guide and hope you will find it helpful!
Nusa Penida: Know Before You Go
There are only 4 ATMs on the island and often up to 3 of these will not be working. It's advised to take out enough money to last you for a few days on the islands before leaving Bali.
While some of the biggest hotels and western-style restaurants will accept credit card, most warungs, local attractions and cafes will only accept cash so keep that in mind.

The roads on Nusa Penida are truly terrible so be sure to get a good helmet if riding a bike, and it's easier without someone on the back of your scooter so if everyone in your group is capable of driving a scooter, it's recommended to rent one per person.

This is a small and rather undeveloped island, with a sprinkling of accommodation and restaurant options. Don't expect luxury in any shape or form, this is an adventure island!

There are MANY ferry companies that travel here. You can either book in advance from anywhere in Bali or rock up at the ferry port / beach in Sanur and buy your ticket.

BARGAIN HARD for ferry tickets – you can easily get them down from 600,000 to 400,000 return. If you go through an agent in Canggu, you can often get return transfers to Sanur plus return ticket for about 500,000 or 600,000.
Taxis can charge a lot on the island so its best to rent a scooter (cost is 70,000 per day) the minute you step off the boat in Nusa Penida. You will need a your passport or ID card to rent the scooter and you pay upfront.
There's a lot of new accommodation options, some not even listed online yet. So you could book 1 night online then drive around and find a cool, new place to stay at including eco resorts or treehouses overlooking secluded beaches.
There is little to no phone reception on the entire island and WiFi, even in top resorts, is very weak. Try take a digital detox while here.
This is not a party island so don't expect to find much interns of nightlife. More about that later in the guide.
You could easily spend 5 days here and still not see everything. There are so many hidden gems, waterfalls, beaches, drives, view points and snorkelling and diving trips to check out.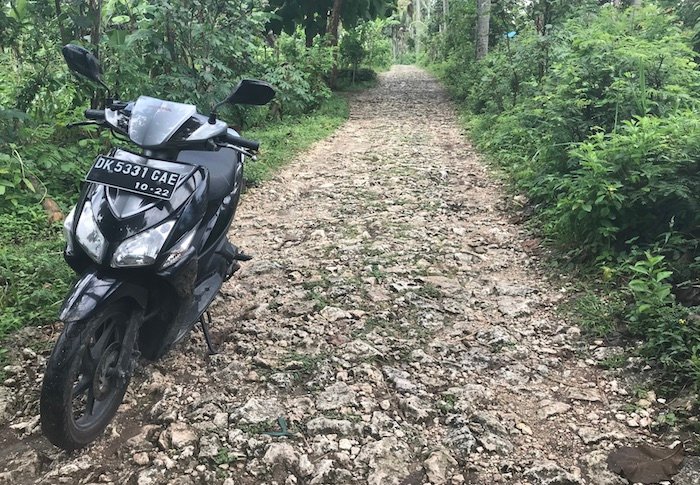 Getting to Nusa Penida
Getting to Nusa Penida from Bali is fairly straight forward. If you opt for a day tour, your driver will pick you up from virtually anywhere in Bali (Ubud, Nusa Dua, Canggu etc) and take you over to Nusa Penida.
There are fast boat transfers from Sanur Beach and there is also a once-daily car / bike ferry that leaves from Padang Bai to Nusa Penida each day.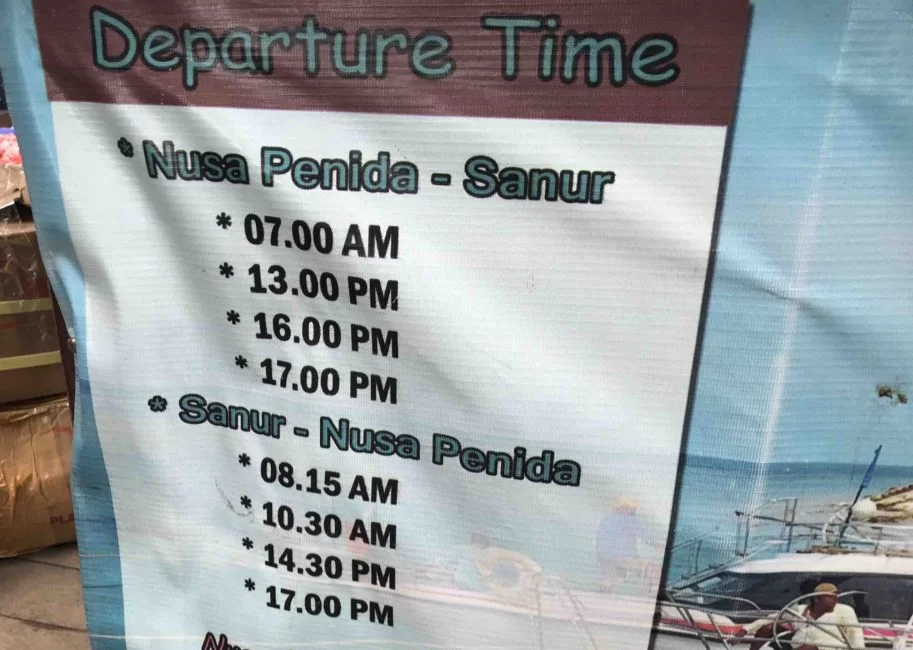 Most people will take the fast boat from Sanur. If travelling independently / staying a few nights, you can either book your return boat ticket and transfer from your hotel in Bali to the pier through a travel agent – you'll find their little wooden huts on the side of the road in most tourist areas.
Alternatively, you can just rock up to the beach in Sanur, park your bike and bargain hard with a few different speed boat companies until you're offered a rate of 400,000 per person return, or hopefully less. They start at 600,000 but that is outrageous so never agree to pay that much!!

Most ferries leave in the morning, with a ferry leaving almost every hour between 8am and 1pm, then perhaps one or two ferries in the afternoon. Coming back to Bali it's almost the same with the last ferry leaving Nusa Penida at 5pm.
If you're nervous about booking tickets direct on the beach, you can actually search and buy tickets online here.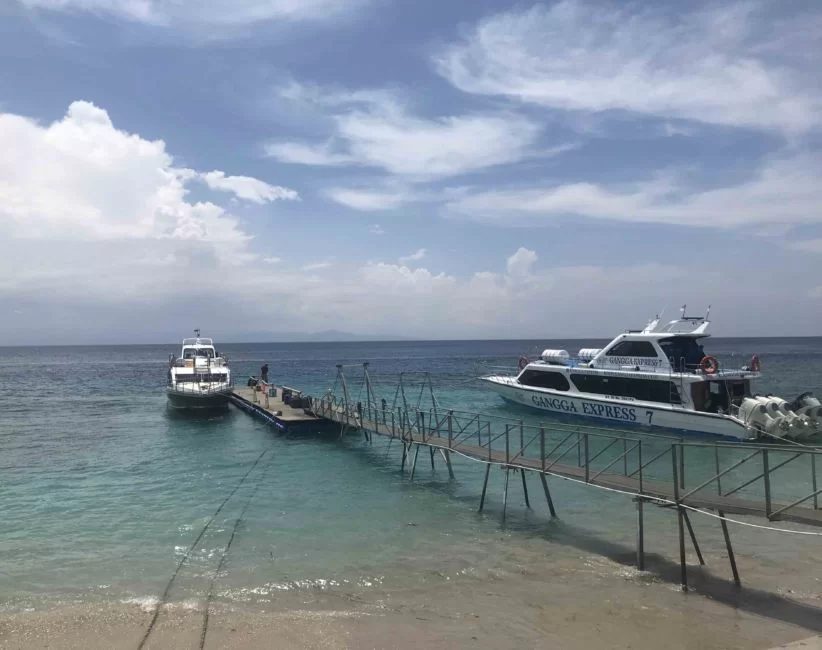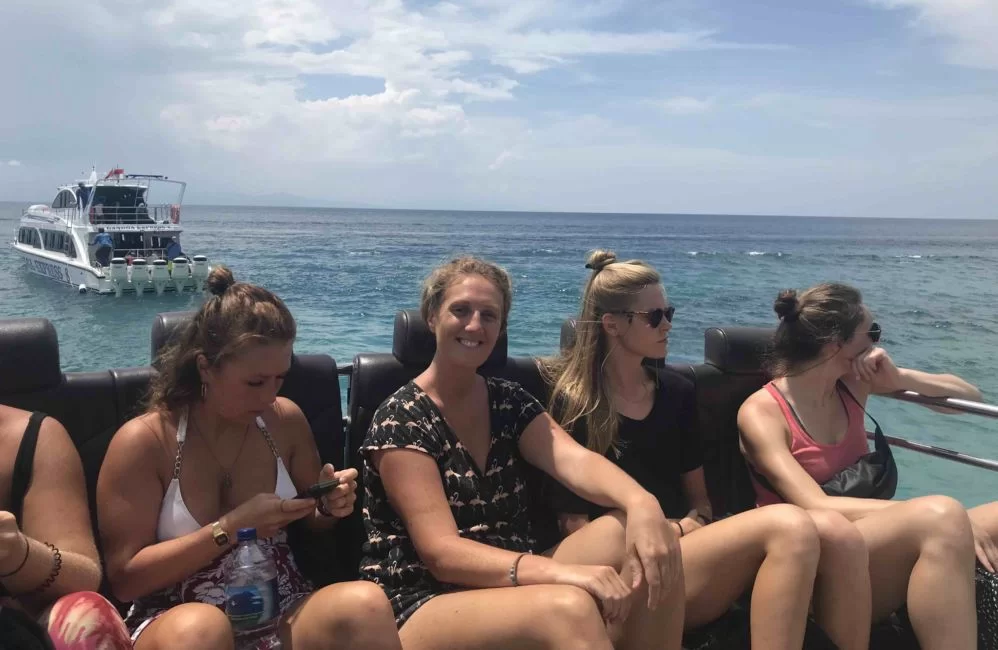 Getting around Nusa Penida
There is no public transport in this island and there are no taxis in the normal sense of the world. You really only have two choices for getting around the island, either renting your own scooter or hiring a driver to take you to all the sites. If you only have one day on the island, or you're doing a day trip from Bali, then hiring a driver / joining a tour is the best and easiest option.
However if you plan to stay 2 or 3 days, which is highly recommended as there are so many fun things to do in Nusa Penida, then I would recommend renting a bike. You can rent one right at the port when you get off the ferry.
It costs 70,000 per day including helmets, and they will ask for the money up front as well as taking a photo of your passport or ID card. It was all sorted in less than 5 minutes and off we rode on our flashy scooter in explore the island.
Where to stay in Nusa Penida
Famous Nusa Penida Treehouse
I'm including this first as it's the most famous place to stay on Nusa Penida and probably one of the most famous Airbnbs in Bali, alongside that famous Ubud treehouse with the hammock! The Nusa Penida treehouse itself is very simple, with a mattress, pillow and blanket and a small toilet outside down the steps.
People stay here for the "wow" factor and to wake up to the epic thousand island viewpoint. Oh, and to get that famous "Insta shot" I guess. You can book the Nusa Penida treehouse on Airbnb here, and if you sign up with my link here you get $35 off your first stay.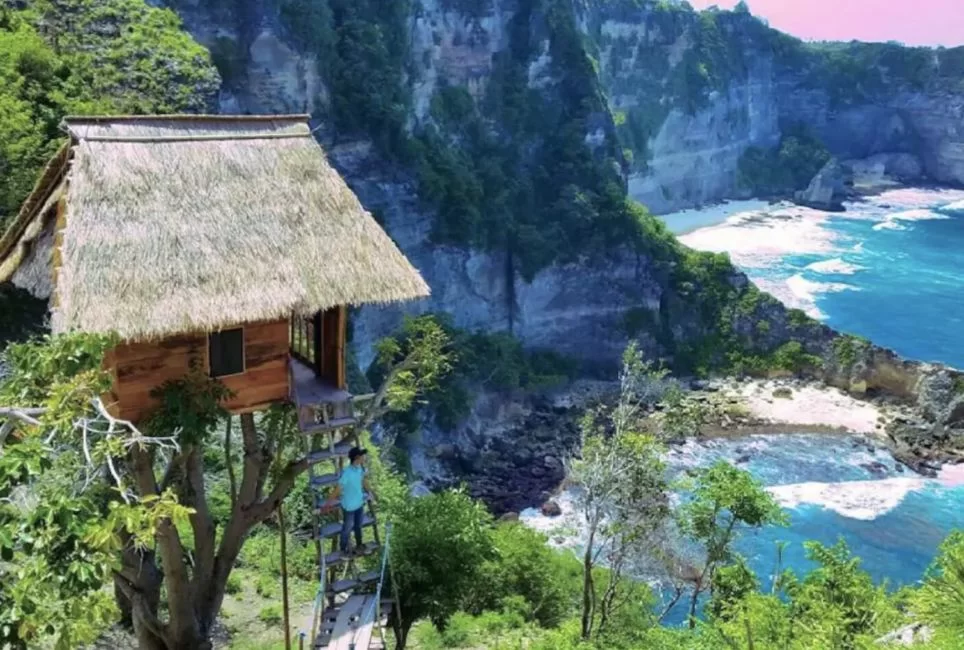 Nusa Penida Eco Treehouses
Realistically, unless you book far in advance, the above Rumah Pohon treehouse will probably be booked up. It certainly was for both my trips, which is pretty mad considering you have to pay almost $80 a night to sleep on a mattress in a tiny treehouse. Anyway, if you want to stay in a treehouse but the main one is booked, I came across two more treehouses with SPECTACULAR views next to Suwehan Beach in South East Bali – not to far from the original treehouse.
The cost is about $30 a night, so half the price of the famous treehouse but just as charming in my opinion! I met the owner last week and him and his friends were sitting down the road doing roadside Karaoke – pretty funny!
Pandawa Resort and Spa
My friend and I booked into Pandawa Resort and Spa last week (April 2019) and had a really nice stay there. The rooms are probaly the highest quality you can get on Nusa Penida and would rival some hotels in Bali. The pool and bar area is nice, with beautiful views of the ocean and looking back at Mount Agung in Bali.
That said, the food in my opinion wasn't great. They provide a free breakfast which we ate the first morning and skipped the second morning. They can make omelets to order but everything else sucks. I found this pretty common on Nusa Penida, with a lot of top hotels failing to provide a high standard of food. Don't worry though, there are lots of great cafes nearby and it's nice to explore some place new for breakfast each day.
The Angkal Villa
I stayed here back in January with my friend after discovering their cute little villa rooms and infinity pool on Airbnb. The standard was very high with an amazing outdoor bathroom, gorgeous pool area and one of the most comfortable beds I've ever slept in – in my life!
Again the food was nothing to write home about but we found some good warungs nearby. This place doesn't have any sunset views as it's situated in the north-east of the island. While it's a beautiful place to stay it IS a bit isolated and a long drive from just about anywhere else on the island.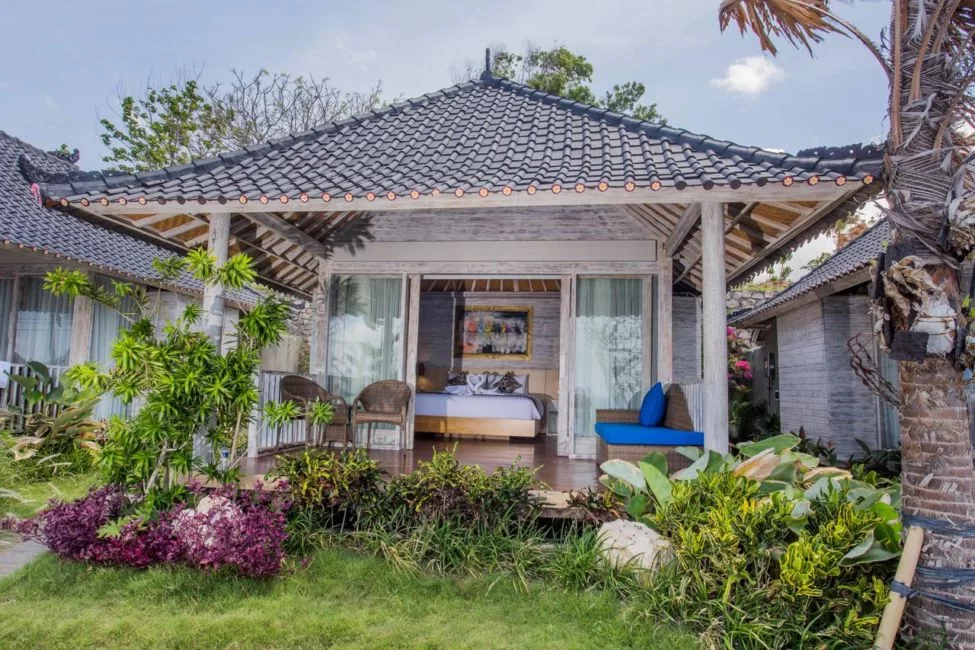 Full Moon Bungalows
A cheaper option than the above two suggestions, and popular with backpackers, Full Moon Bungalows next to the Full Moon Bar are a fun and cheap option close to the port and near lots of the great cafes. This place also has live music at night and a pretty good food menu.
Things To Do in Nusa Penida
I know you will come across lists that are LONGER than this one, with some people listing up to 30 things to do in Nusa Penida, but the truth is that not all places are equal. Below are, in my opinion, the most beautiful places to visit in Nusa Penida and one's you will most definitely want to make time to visit and most likely photograph.
Drive to Broken Beach
One of the most iconic places to visit in Nusa Penida is Broken Beach. The weird reality is that the beach is hidden from most people's photos and no one can even access this pretty stretch of sand that the area is named after.
What you are really coming to visit is the beautiful rock arch or bridge which you can walk over and around, taking in gorgeous views of the nearby cliffs, turquoise waters and the hidden beach behind the arch.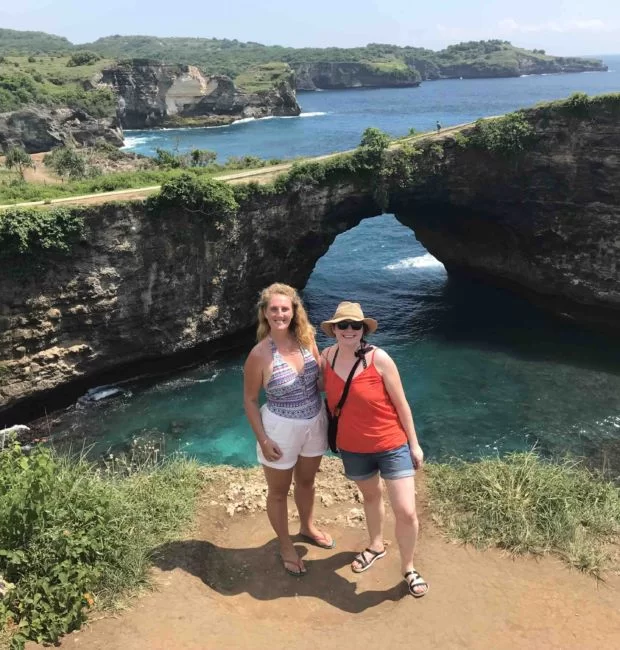 Drone images of this place are pretty epics it shows what was once a simply blow-hole became so powerful that there is now a huge hole in the rock that had created a secret bay, secret beach cut off from the rest of the coastline and this formidable rock bridge.
It should be noted that the road to get to Broken Beach is THE worst on the entire island. The 4km stretch will take you up to an hour to drive down and I've seen many people either fall off their bikes, slip or get punctures on this road. Take it easy, drive slowly and if you have someone riding in the back, suggest they get off and walk for the difficult parts!
Once you make it to Broken Beach, you must pay a small parking fee of 5,000 rupiah. There are some small roadside stalls serving up basic Indonesian fare as well as selling cold drinks and snacks.
See Mantas at Manta Ray Viewpoint
Once you've made it to Broken Beach, you can follow the cliffs and coastal oath to the right and this will take you to Manta Ray viewpoint. Nusa Penida is actually very famous for its snorkelling and diving trips, mainly thanks to all the magical manta rays than can be spotted swimming around this island.
At Manta Point, chill out for a few minutes and try to spot them in the water at the base of the cliff. While they're not always there, you might get lucky!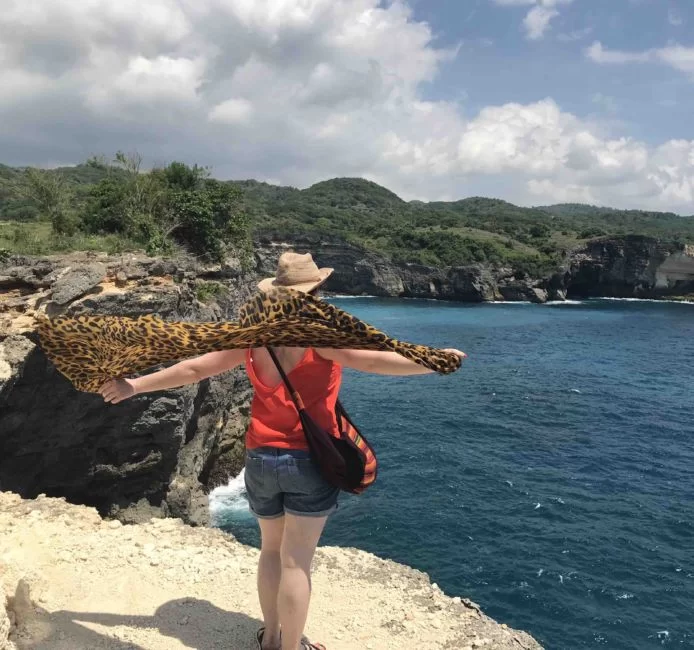 Float in Angels Billabong
From Manta Point, follow the signs towards Angels Billabong, another one of the most famous things to do in Nusa Penida. This stunning tidal pool is only accessible at LOW TIDE so try to plan your trip accordingly.
I visited as the tide was coming in and saw some people climbing down into the pools just as massive waves crashed over and nearly dragged them out to sea! It's so so dangerous down there when it's not low tide and I almost had heart attack just watching people.
At low tide, things are quiet and calm and you can climb down into the tidal pool and take some pretty cool pics of you floating in a pool as water cascades over the cliff into the ocean.
Be sure to follow the pathway to the end so you can look down at Angels Billabong from a different angle and get some nice pics – especially as the water is clear enough to see the unique rock. formations underneath.
Hike to Kelkingking Beach
From Broken Beach, Google maps will tell you it's a 30 minute drive to the famous T-Rex cliff and Kelingking Beach. I'm guessing Google Maps hasn't quite realised how bad this road is!! Anyway, maybe give yourself at least 45 minutes for this painful drive, and you'll praise the Gods when you see the smooth tarmac leading up to Kelingking Beach.
This is BY FAR the most famous place to visit on the island and I'm sure you will have seen plenty of photos of this spectacular viewpoint. It's hard to put into words how beautiful it is – you really do have to see it for yourself.
While the famous T-Rex Viewpoint is where most people take their photos, the hike down to Kelingking Beach is pretty strenuous but totally worth it. You need to wear decent shoes like trainers and bring plenty of water and sun screen as it's at least an hour round trip and there's nothing down on the beach once you get there. The hike is very beautiful and the beach is paradise at the end!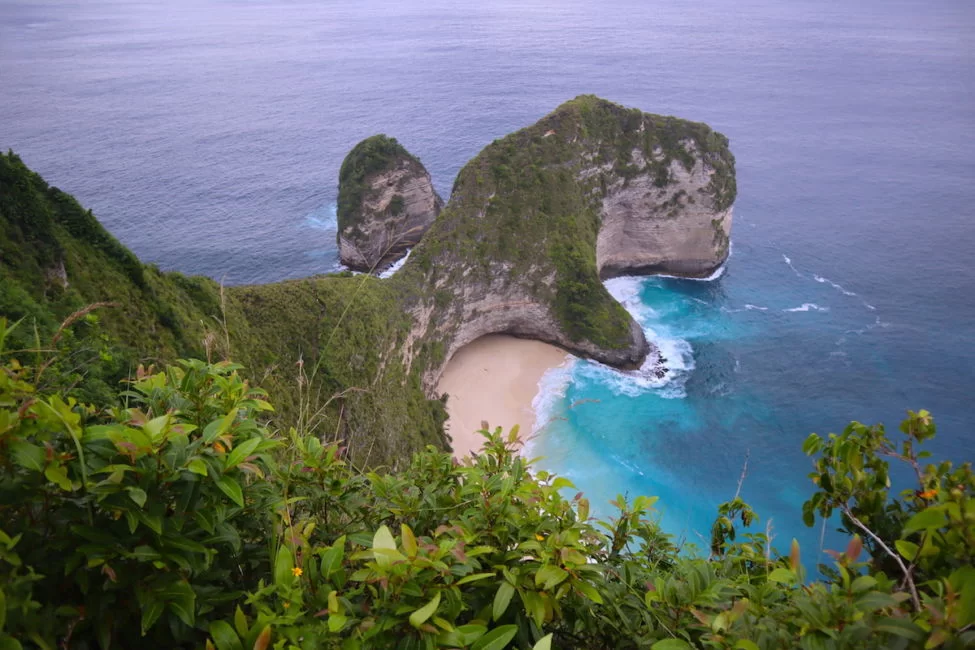 Hike up Teletubbies Hill
If sticking to an anti-clockwise Nusa Penida itinerary, the next stop on your adventure would be Teletubbies Hill in the central part of the island. I thought this was a joke but it actually comes up on Google maps and these bizarre, cone-shaped hills are actually very beautiful and are a fun place to stop off and take some fun pictures en route to the south-east of the island.
I visited these hills twice, and found the best time to visit was about an hour before sunset during that dreamy golden hour. The views from up here are pretty spectacular!
View this post on Instagram
Trek down to Suwehan Beach
The next stop on your Nusa Penida itinerary should be Suwehan Beach, although he road to get down here was pretty challenging and it IS kind of off the beaten track. If you're short in time I would probably skip this stop, but if you're in the island for a few days that it's a beautiful beach and the hike down (while very steep) is quite the adventure!
You will most likely have the entire beach to yourself with some of the whitest sand I've ever seen and spectacular cliff views. There are some eco treehouses along this road too, so could be a could option for some place unique to stay.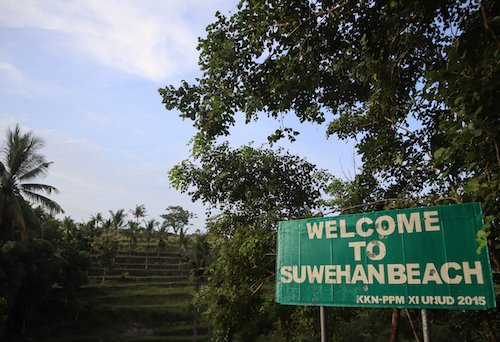 On the walk down to the beach you'll pass a very pretty community temple which is worth stopping by before continuing with your steep hike down the cliff face. Behind you you will some stunning rice fields and rice terraces – which is pretty unusual to see right next to a beach!
WORD OF WARNING: This beach was closed in the past and the pathway can be slippy and dangerous so be super careful when visiting.
Drive to Atuh Beach and Thousand Islands viewpoint
Atuh Beach and Thousand Islands viewpoint are pretty much in the same place with the same parking lot, so I'm putting them together as one listing.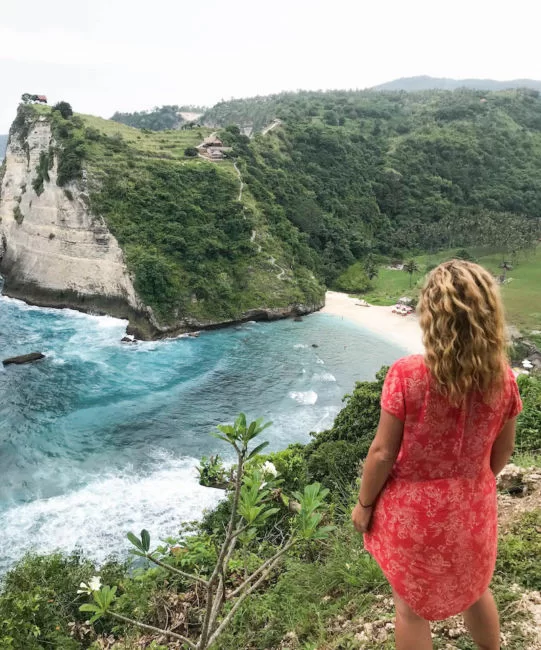 Once you get to the parking lot you can either walk down the steep but secure steps to the left to get down to Atuh Beach or walk down the steps to the right to get to Diamond Beach and the spectacular Thousand Islands viewpoint.
These two places feature in A LOT of Nusa Penida photos on Instagram – from hanging baskets and swings to girls in float dresses walking down the steps!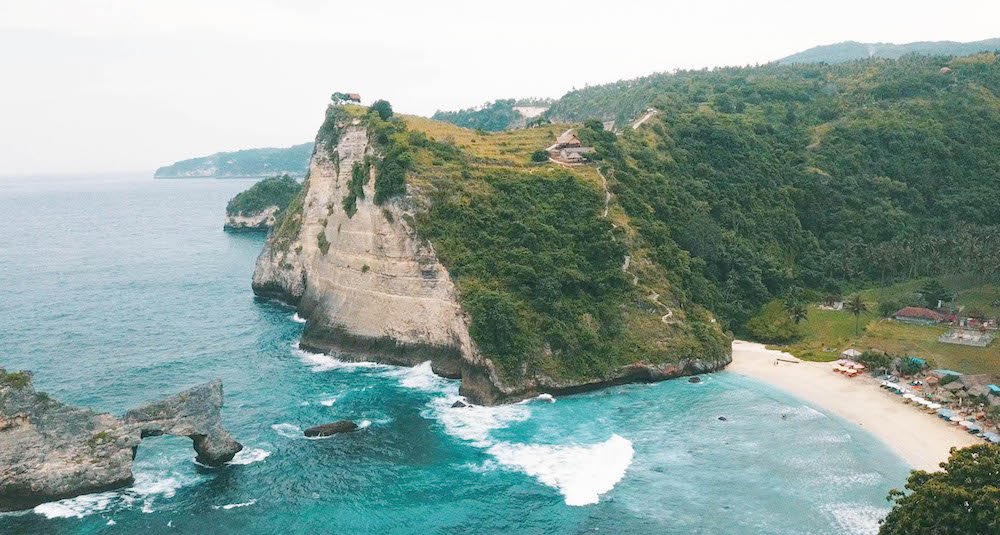 Scoot around the island
From Atuh Beach, the road is actually pretty amazing all the way along the West of the island heading back towards the port and where most hotels and guest houses are located. I loved just taking in the views, stopping off in small fishing villages or empty beaches or just enjoying the view from quiet clifftop warungs.
On this side of the island it's very sheltered with shallow waters and no waves, which means they have lots of fun water sports like jet skis, banana boating and of course opportunities to go snorkelling along the reefs.
Relax in Crystal Bay
Many day trips to Nusa Penida end with an hour chilling out in Crystal Bay. When I visited first I thought Crystal Bay was drop dead gorgeous BUT after visiting again I was saddened to see it's now probably one of the busiest beaches in Bali.
There were AT LEAST 100 cars parked on the road, on the car park, in nearby fields. There were tour groups EVERYWHERE. There was music, trash, drinking. I've never been so disappointed to return to a beach I once thought was paradise. Maybe I got unlucky, but my guess would be that because the road here is so good and it's so near to where the ferries come in, this beach will just get busier and busier.
There are SO MANY nicer beaches in the island – unless you're on a tight schedule, I'd actually go ahead and skip this.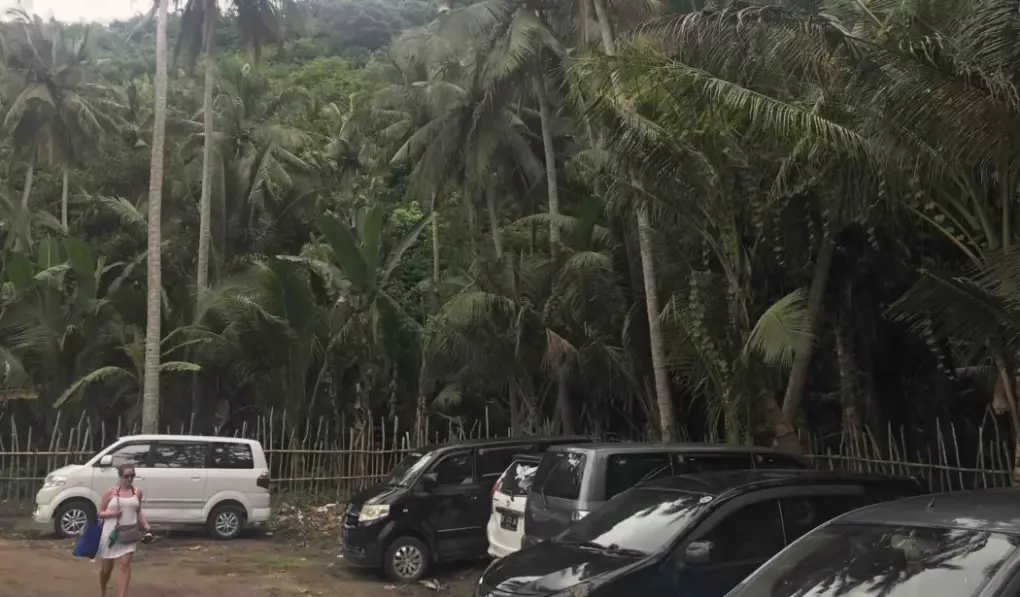 Interesting places to visit in Nusa Penida
I have not been to the below places so I cannot give first hand knowledge but I have heard good things about the two small waterfalls that can be found in Nusa Penida, the cave where they often have religious ceremonies and of course diving and snorkelling trips to Manta Bay and Crystal Bay (apparently it's nicer if you don't actually go onto the beach!!).
I also saw some signs for secluded beaches in the south of the island that could be worth exploring, so if you have spare time and are just scooting around you could take some detours.
Best Nusa Penida Restaurants
Secret Penida Cafe
This is one of my favourite places to have breakfast on Nusa Penida. I've eaten here 3 times and always leave with the biggest smile on my face.
It looks like one of those fun "Instagram cafes" in Canggu, with pink walls, cute cushions and photo-perfect swings and a lush garden area – definitely a popular spot with passing backpackers and photo lovers.
The food is also amazing with delicious coffees,juices and the all important smoothie bowls. Best of all, the staff here are wonderful and will welcome you, chat to you and maybe even ask you to tag them on Instagram! 😀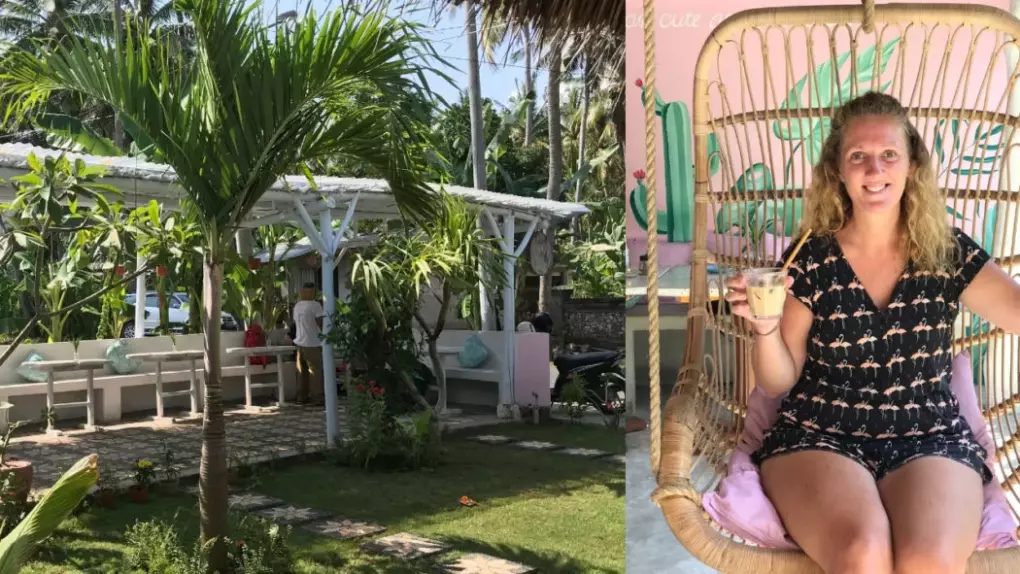 Papilas Coffee House
While probably more known for their breakfast, we stopped off here for dinner after a long day of adventure and were pleasantly surprised by both the menu and the food. Lots of western options on offer such as delicious pizza, wedges, chicken wraps etc and also some good drink options.
Papilas Coffee House, as the name implies, is also home to probably the best iced coffee on the island, this is definitely one of the best places to eat in Nusa Penida.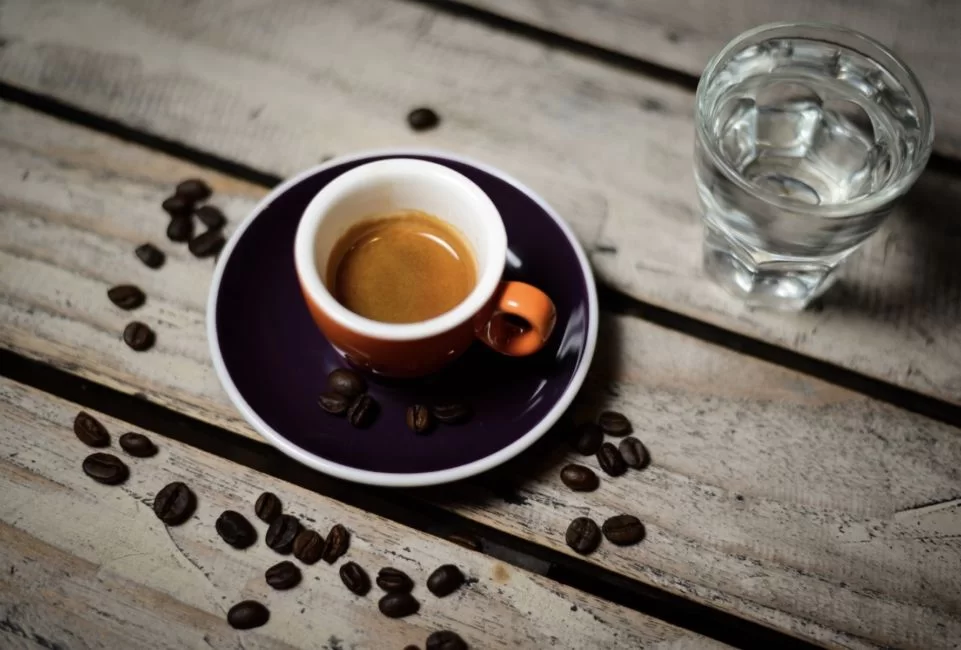 Art Rolling Pizza
My friend and I loved the dinner we had at Art Rolling Pizza and found it was one of the only restaurants on the island that had a genuinely nice atmosphere, with lots of people having dinner, nice music, people enjoying beers etc. As the name suggests, the pizza here is by far the best option but there are other things on the menu too!
Ogix Warung
My friend and I ate at this simple, but highly-rated, warring twice on my first visit to Nusa Penida in January. The menu is very small and very simple, with a choice of about 5 or 6 Indonesian dishes. That said, the meals are absolutely delicious, the portions are large and it's one of the cheapest Nusa Penida restaurant options – with great quality guaranteed!
There are also some epic sea views from the seats at the very front of the warring, making it a fun place to eat during the day too.
Nusa Penida Nightlife
People don't travel here to party. In terms of Nusa Penida nightlife, there really isn't much going on. No matter how hard you look, I doubt you'll find a single bar open past 11pm and even if you do, it's likely you'll be the only customer!
That said, there are one or two fun bars on the island with cheap beers, good cocktails and a bit of live music.
Penida Colado Beach Bar
Penida Colado is probably the best known bar on the island. During the day it's a fun bar and restaurant with beach views, and a great place for some cocktails. At night, they often have live music from local bands and many young backpackers will come here for a few hours until exhaustion kicks in from a bust day exploring.
Full Moon Bar and Restaurant
Similar to Penida Colada, this bar often has live music or even open mic nights, decent food on offer and people come here in the evenings to chill out. This one is connected to a cheap guesthouse, but comes without the Penida Colado beach views.
Nusa Penida Tour Options
If renting a scooter sounds both exhausting and scary (which it kind of is!) then your best option might be to book a Nusa Penida tour – be it a one day tour from Bali or a 2 night Nusa Penida tour that includes transport on the island and a fun place to stay.
I always use Get Your Guide when booking tours – safe, reliable and they're a big international company that works with local tour guides on the ground.
They also have longer tour options, as well as snorkelling and diving trips listed on their site so it's maybe best for you to browse and see what suits you best.
I've also contacted a few local tour operators, who charge much less for these days trips. If you want to book direct you can simply search "Nusa Penida tour" on Instagram and DM the first few you find. Nusa Penida tours from Bali are suddenly BIG BUSINESS and everyone wants a slice of the pie!