Are you planning a trip to are one of Turkey's most popular natural wonders and not sure what are the best things to do in Cappadocia? Famous for its unique rock formations and amazing hot air ballooning opportunities, the otherworldly landscapes of Cappadocia.
When visiting Cappadocia, the most important thing to know is that, because Cappadocia is a "cave city", It's extremely hot in the summer and also extremely cold in winter, so you need to find out whats the best time to go to Cappadocia based on the activities you want to do in Cappadocia.
There are many things to know before visiting Turkey for the first time: this includes safety tips for travel in Turkey, The BEST Places to visit in Turkey, How to get there and so much more that I've shared on my blog after living in Turkey for a year.
Interesting facts about Cappadocia
Cappadocia is pronounced with a hard "K" sound – "Cap-a-dok-ya." In Turkish it's actually Kapadokya.
The name derives from the Persian word Katpaktukya, which means 'the land of beautiful horses' for in ancient times the region was known for its equine offering.
Göreme vs. Cappadocia: Cappadocia is the name of the region, but Göreme is the place you've probably seen in pictures on Instagram – with all the hot air balloons and fairy chimneys.
Where is Cappadocia in Turkey?
Cappadocia is located in the center of Anatolia in the southwest of Turkey. The town is best known for its unique moon-like landscape, underground cities, cave churches, and houses carved in the rocks. Depending on where you are traveling from you can travel to Cappadocia by air or road.
Traveling from Istanbul to Cappadocia
From Istanbul to Goreme by bus – It takes 10 hours and costs approximately €15 (90 Turkish Lira) for a one-way trip.
From Istanbul Airport (IST) to Cappadocia by plane – it will take 1.5 hours and cost approximately €40 – €100 depending on the day, time, and season. There are two main airports that you can use to reach Cappadocia.
One of them is Kayseri Erkilet Airport (ASR) located in Kayseri and nearly one hour driving to the center of the Cappadocia region. The most popular and closest airport to Cappadocia Turkey is Nevşehir-Kapadokya Airport (NEV).
Tip: Before booking a hotel, call or email and ask if they can arrange a FREE shuttle to pick you up from the airport or you will have to spend €20-€30 to get to Goreme (depending on which airport you're traveling from).
The best time to go to Cappadocia
The best time to go to Cappadocia is from the end of April to June, as the days are warmer and the nights are cool. Another great time is just after Autumn ends in September and October. It will be cooler but not windy or snowing, so this won't affect the balloons.
How to get around in Cappadocia
While In Cappadocia you can make use of public transport: buses and taxis or rent a car or bike for approximately 10TL per hour or 50TL per day. There are other methods of transportation like horses, ATVs, and cooter rentals available.
Things to do in Cappadocia
I went on the Red Tour which starts from 9 am till 4 pm. The tour included transportation from my hotel and back, lunch, and entrance fee for all the attractions listed below:
Göreme Open Air Museum
Learn more about Cappadocia's history by visiting UNESCO World Heritage – Göreme Open Air Museum. Once there you can check out the medieval cave churches, with beautiful frescoes (wall paintings) whose colors still retain all their original freshness. (Entry Price In 2019: 25TL / €4)
Uçhisar Castle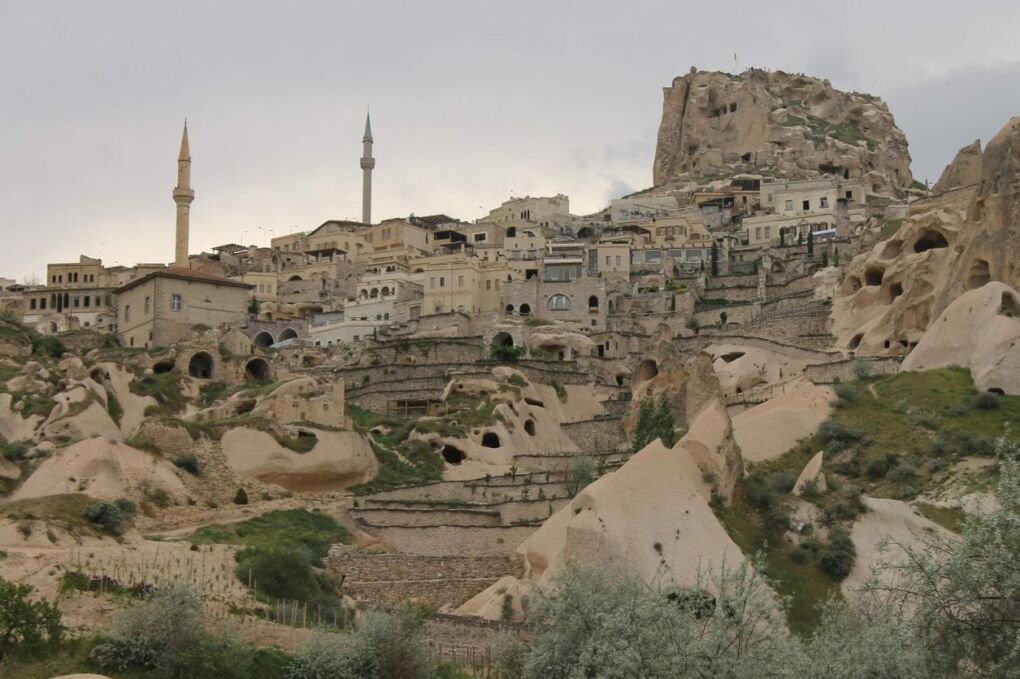 Open from 8am – 7pm. This castle is the tallest point accessible in Cappadocia and was used for centuries by villagers as a place of refuge when enemy armies overtook the surrounding plains. You can make way up the stairs to its peak for panoramic views over the rock valleys of the Cappadocian countryside. (Entry Price In 2019: 8TL / €1.50).
Love Valley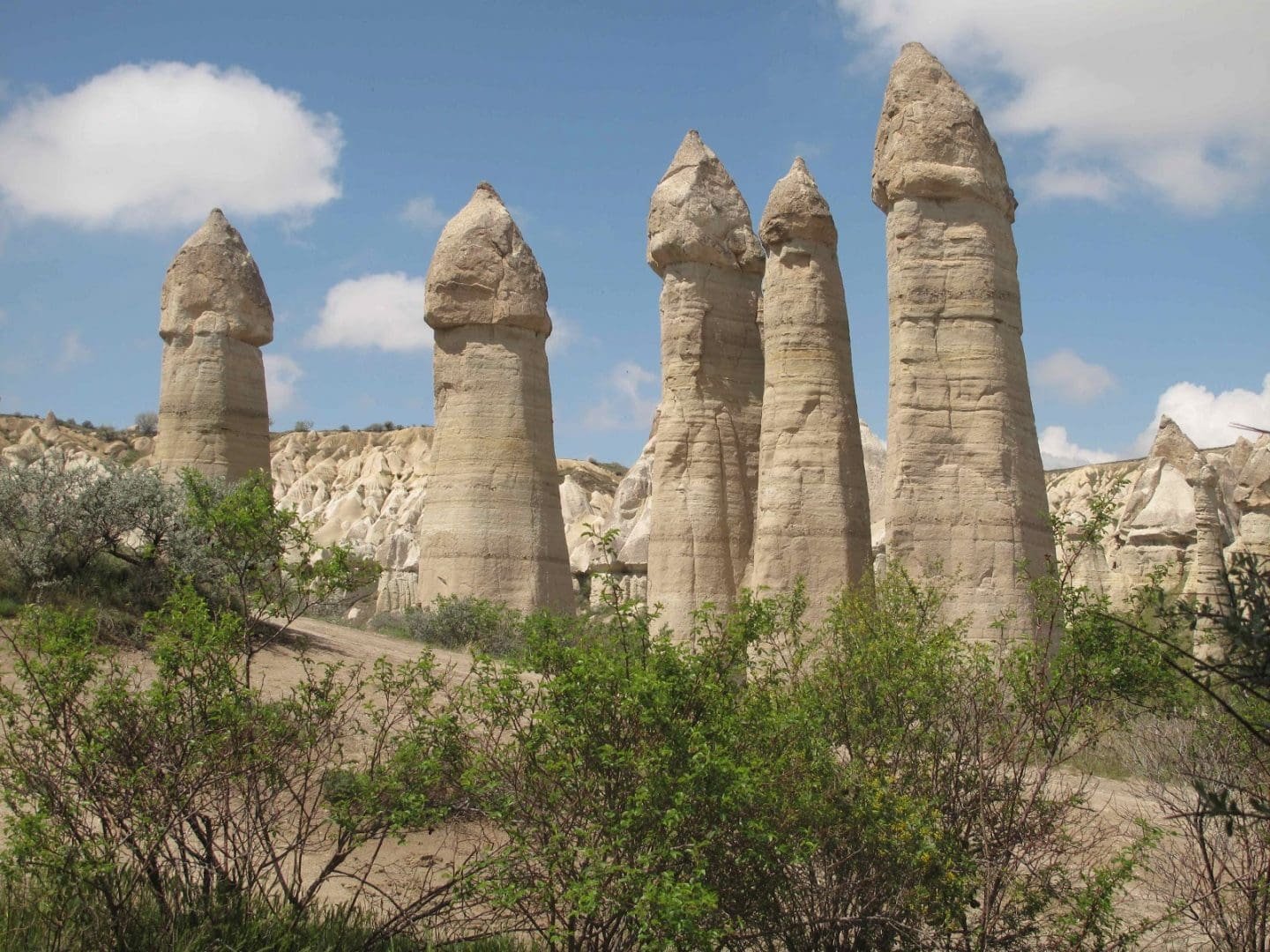 Located about 10 minutes from Goreme, this hidden valley with scenic formations gets its name from the penis-shaped fairy chimneys. The entry is free.
Pasabag Valley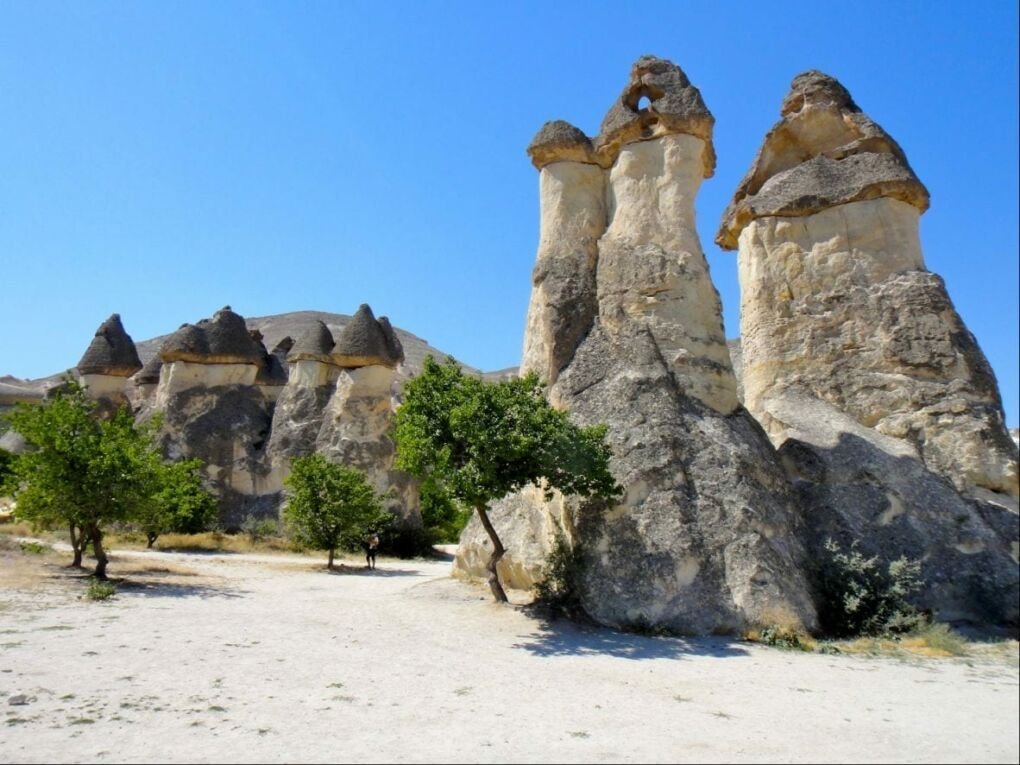 Formally known as Monk Village as a reference to the Byzantine hermit monks that carved their shelters in the tall rocks. Pasabag Valley is where to go to find mushroom-shaped fairy chimneys. The entry is free.
Deverent Valley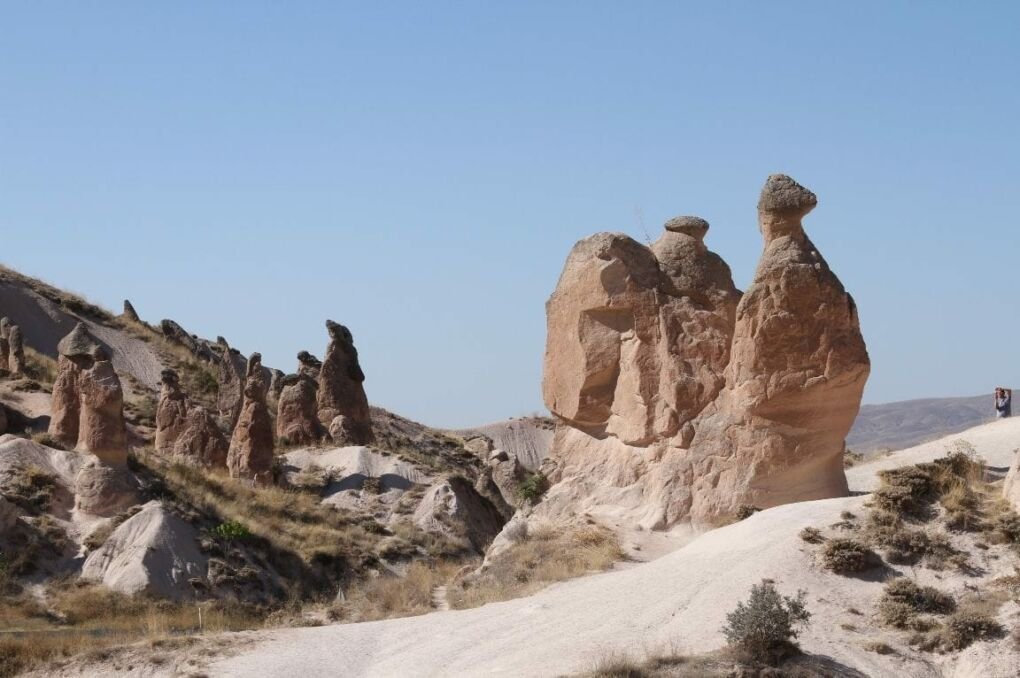 Devrent Valley, also known as Imaginary Valley Is where you go to let your imagination run wild. Unlike the other valleys in Cappadocia, this one was never inhabited. It doesn't have cave churches, Roman castles, or even tombs. It's special because it resembles the moonscape. The entry is free.
Ürgüp Fairy Chimneys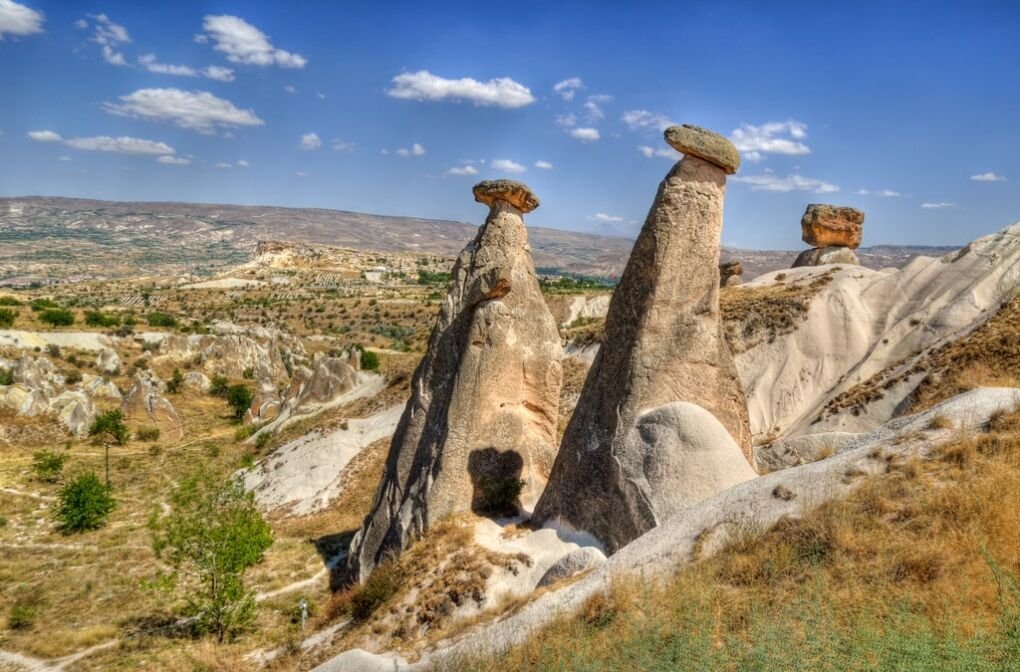 A marvel formation with its undulating caves and chimney-like rock formations. Volcanic eruptions created this surreal moonscape: the lava flows formed tuff rock, which wind and rain sculpted into sinuous valleys with curvy cliff faces and pointy fairy chimneys.
Avanos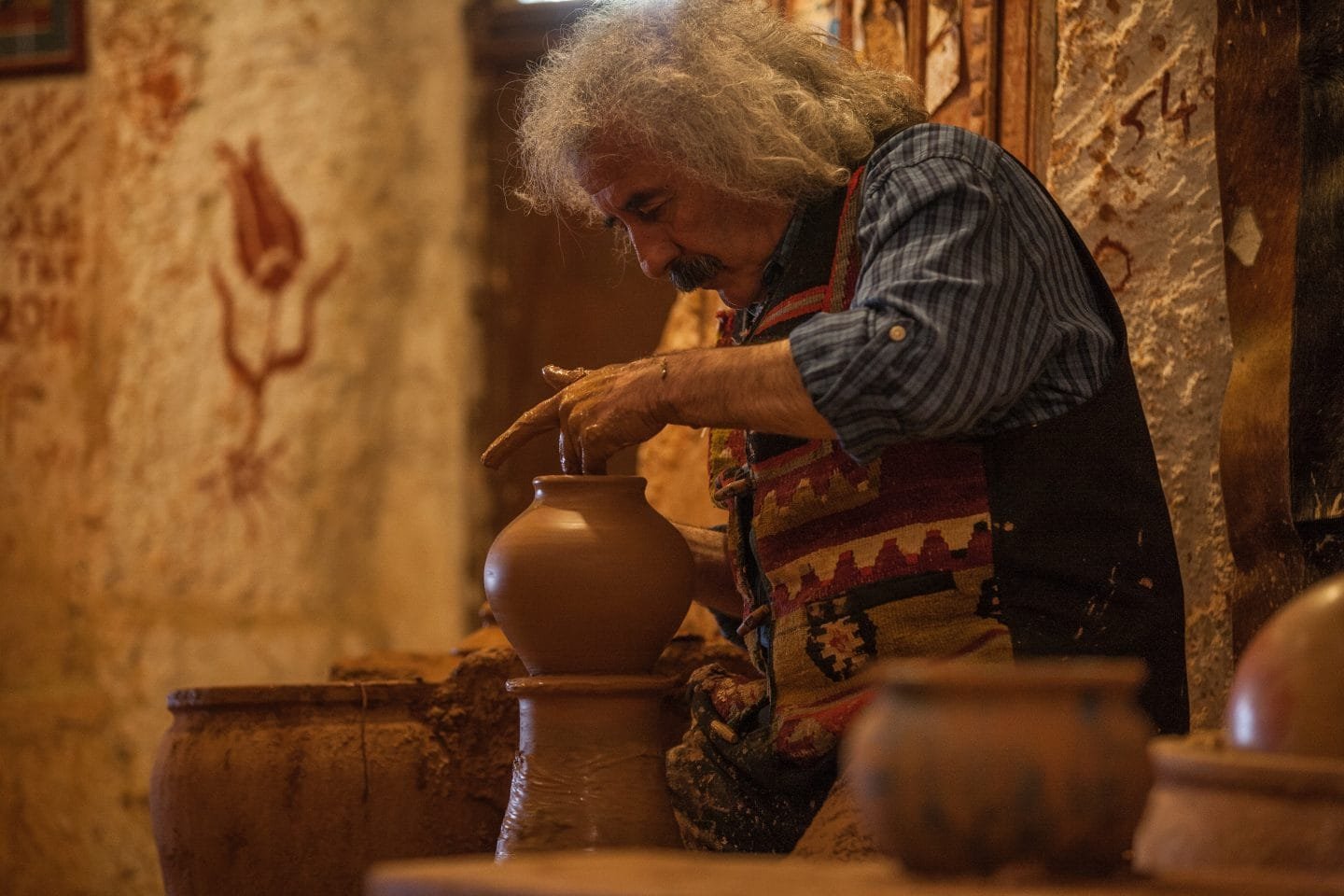 Avanos is the center of pottery since the Hittites. Located on the shore of the Red River, the longest one in Turkey. The reddish-brown clay that is harvested from this river is used in the workshops to make exquisite handmade ceramics. Our tour stopped at one of the workshops where we learned about the process of making pottery and we went into the showroom to see the artwork.
More places to see (not included in the Red Tour):
Underground Cities
The local Christians were persecuted, first by the Romans, and then raiding Muslims, and they often had to hide from hostile forces. When they heard hoofbeats, they would abandon the cave churches and go underground – quite literally. Beneath Cappadocia's rock formations is a network of subterranean cities, which housed up to 10,000 people each. The largest discovered are almost ten levels deep, with narrow passages connecting the floors like hamster tunnels. Kaymakli is the largest underground city and Derinkuyu is the deepest underground city.
Zelve Open Air Museum: an empty cave town with churches
Ortahisar: Roman rock-cut castle. Similar to the one in Uçhisar.
Gulsehir: The first settlements in Cappadocia
Caravanserais: 13th-century hotels on the Silk Road
Take a Hot Air Balloon Ride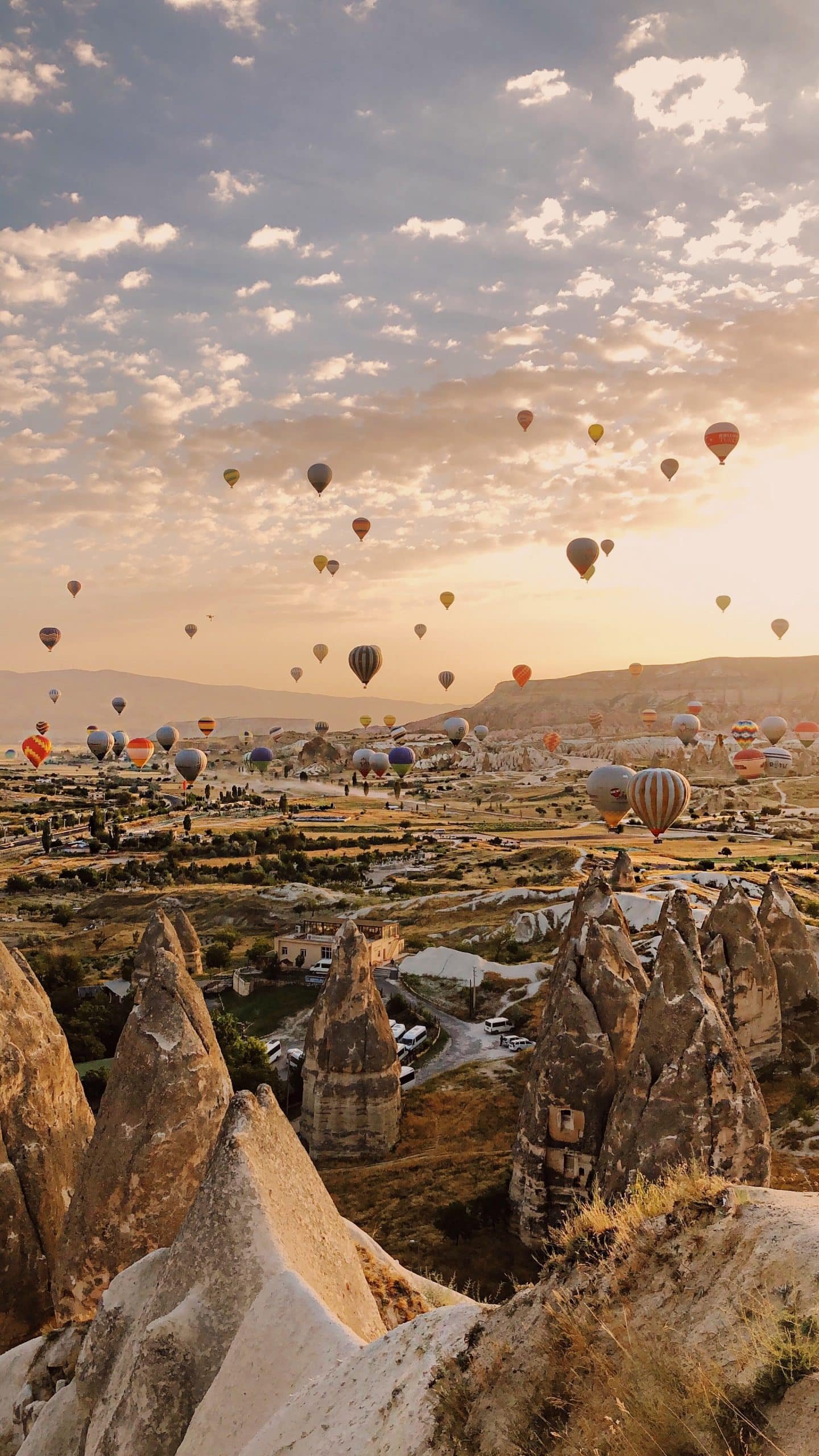 The best time to go to Cappadocia for the hot air balloon experience would be from mid-April through October when the skies are clear, the days are warm and the nights are cool. I booked my balloon experience here. Price ranges from €150-€200, per person depending on the season, number of people, and duration of the trip. You have to pre-book early and you pay on the day of the tour. Each balloon accommodates 10-20 guests. Also keep in mind that the cheaper it is, the more people will be on it.
What to expect when Hot Air Ballooning in Cappadocia
A hotel pick up at around 4-5 am and drop off at around 7-8 am. When you arrive on-site you will be treated to a Turkish breakfast before an hour-long hot air balloon ride where you will see Cappadocia and its marvelous landmarks from above. After an hour of sightseeing from the sky the hot air balloon will land and guests will be treated to a glass of champagne before departing for the hotel.
Note: Not all hot air balloons take flight. It is weather dependent. Also, remember to bring cash, preferably EUROs to pay for your ride.
Horse Riding in Cappadocia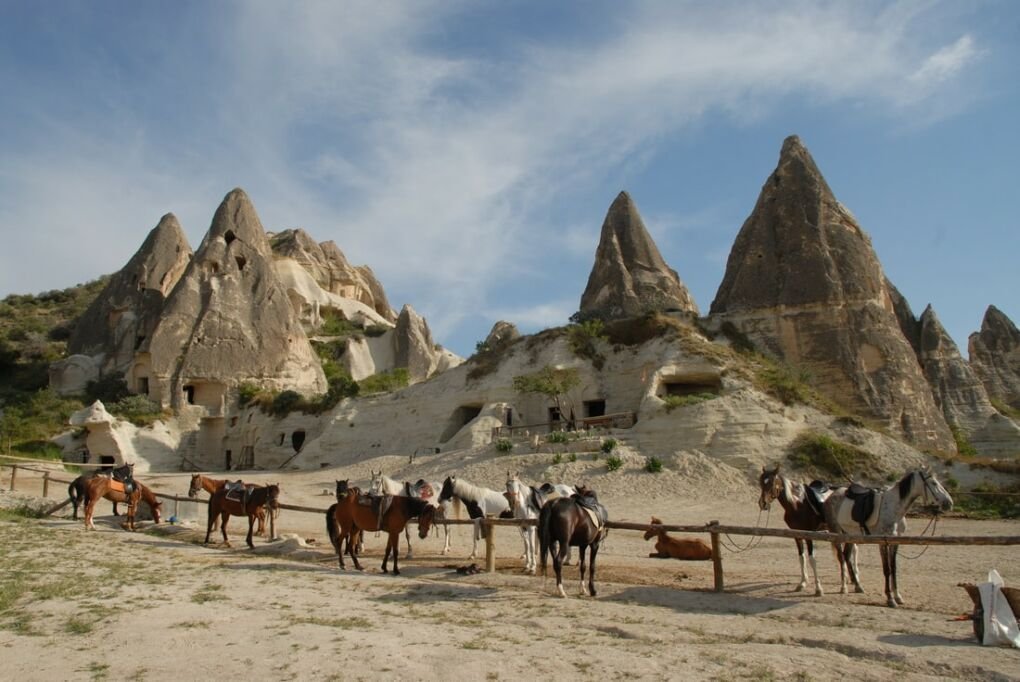 Riding on horseback through the valleys is another unforgettable way to explore Cappadocia's unique landscape.
Hiking in Cappadocia
The landscape of Cappadocia is so incredibly expansive and varied, and hiking is the single best way to explore it all. The best places to go for a hike takes about 3 – 4 hours from Pigeon Valley through to White Valley and ending at Love Valley.
The Best Cappadocia Instagram Spots
Photo opportunities in Cappadocia are endless. If you love Instagram and use it as inspiration for your own travel photos, you will love this post. Here you will find all the instagrammable locations in Cappadocia.
Love Valley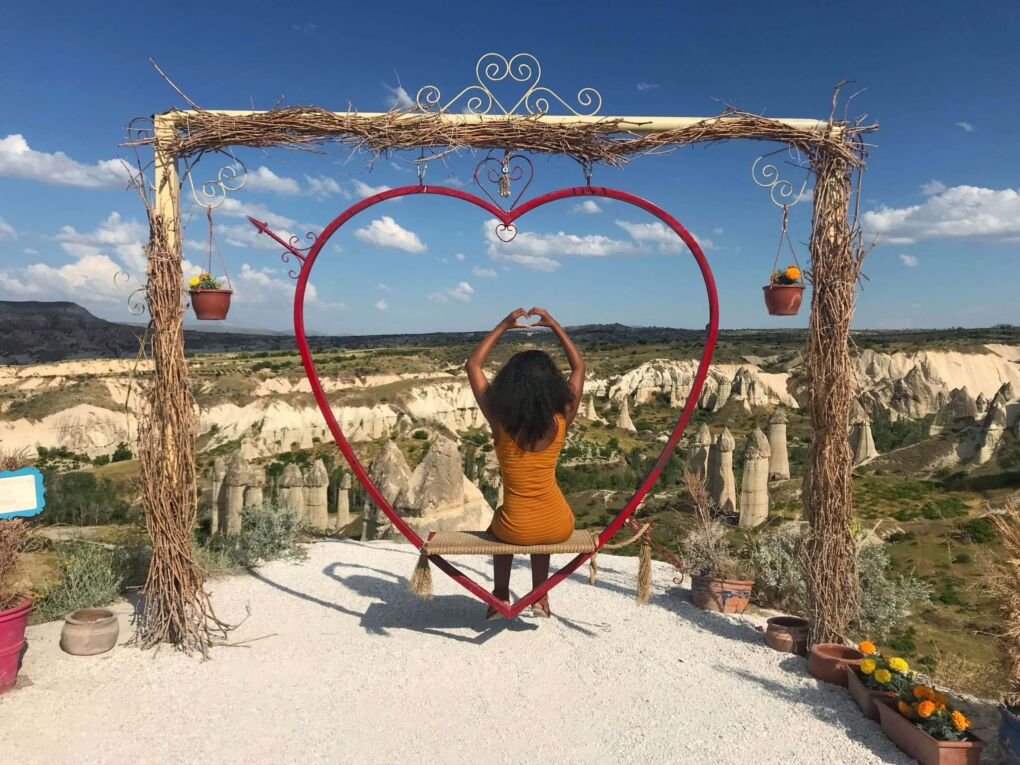 The valley gets its name from the unique phallic-shaped rock formations. There are a lot of amazing photo opportunities like the Evil Eye tree or the heart bench.
Mithra Cave Hotel Rooftop Bar
If you don't want to stay at the hotel, you can visit the popular rooftop bar and restaurant with several seating areas to watch the hot air balloons with an [almost] equivalent view. The hotel sits on a hill which gives you one of the best views in all of Goreme at any time of the day.
Galeria Ikman
We went to the famous carpet shop and I was surprised to find a long line of people wanting to take pictures. I also learned that they charge 50TL ($9) to take pictures for 10 minutes and 700 TL ($120) for drone photos. It's totally understandable to charge as most people probably go there for pictures and not to purchase carpets but I thought it was ridiculous and just didn't see the point.
Museum Hotel in Cappadocia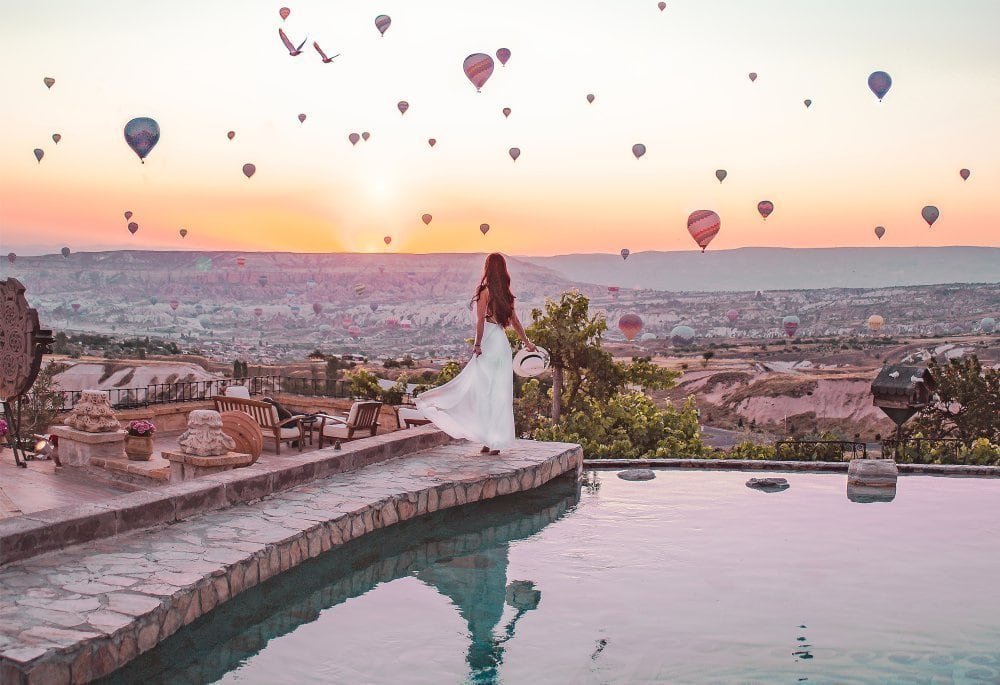 Famous for its infinity pool – it offers many unique compositions and reflections. This popular Instagram location has an amazing bar and restaurant that is open to people who aren't staying at the property.
Sunset Point in Cappadocia
Cappadocia's infamous panoramic viewpoint is the perfect place to capture the dramatic Cappadocia landscape and it's also a great choice for watching the balloons take off at sunrise. The Sunset Point is near Ortahisar and the Red valley's sunset point overlooks the entire valley and you can find your own spot up on the rocks.
Unfortunately– you can't really reach here on public transport. Get yourself a rental car or hire a taxi to reach here. Find the address HERE.
The Balloon Launch or Landing Site
Hundreds of people come out between 4 am – 7 am to capture shots of the balloons. If you don't want to fork out €200 – €300 for a balloon ride, this is the perfect place to capture the perfect balloon pictures.
Where to stay in Cappadocia?
Cappadocia cuts across 3 central Anatolia provinces including; Nevşehir, Kayseri, and Niğde. It covers an area of about 5,000 square kilometers. When visiting Cappadocia, there are 3 areas where you should stay: Goreme, Uçhisar, and Ürgüp.
The village of Göreme serves as the region's main tourist center and is also one of the few Cappadocian settlements still inhabited today. Christians gave the town of Göreme its name meaning 'you cannot see here, as they hid in the area during the Arab invasion.

The village of Uçhisar has some of the best views as its highest point in Cappadocia and commands panoramic views across Cappadocia and its valleys. Göreme is busier and more tourist-focused while Uchisar has a more boutique and quieter feel.

Ürgüp is one of the region's largest towns and has many upmarket hotels and fine restaurants.
Best Hotels In Cappadocia
There are many amazing hotels to stay in Cappadocia to get the best balloon pictures.
The hotel is set in 8 original Fairy Chimneys, with more than 500 historical artifacts such as pots, tiles, and cases are featured in this art concept property. It boasts a moat-style outdoor pool and an indoor pool resembling ancient Roman baths. In the garden, there is a free wine tap one for white wine one for red wine. Free private parking and free WiFi are available on site.
[maxbutton id="1″ url="https://www.booking.com/hotel/tr/mithra-cave-cappadocia.en.html?aid=1558524&no_rooms=1&group_adults=1″ ]
Mithra Cave Hotel has cave rooms and rooms with Ottoman and Greek styles. They are all traditionally decorated with handicrafts, carpets, and curtains. Each morning, a rich breakfast buffet is served at the terrace accompanied by a beautiful sunrise. The best part is the rooftop pool and bar where you can take incredible photographs, and see hot air balloons rising over the valley.
[maxbutton id="1″ url="https://www.booking.com/hotel/tr/mithra-cave-cappadocia.en.html?aid=1558524&no_rooms=1&group_adults=1″ ]
The best part is the rooftop pool and, if you're after incredible photographs, the balloons and the pool make for the perfect combination.
[maxbutton id="1″ url="https://www.booking.com/hotel/tr/mithra-cave-cappadocia.en.html?aid=1558524&no_rooms=1&group_adults=1″ ]
Budget for 2 days in Cappadocia Trip (for one person)
This is how much I spent in Cappadocia:
Return flights from Istanbul to Cappadocia with Turkish Airlines: €80
Hotel for two nights at Mithra Cave Hotel: €165.
Red Tour: €29
Hot Air Balloon ride: €200. Book HERE
Meals: €30 (1 lunch and 2 dinners)
---
Are you planning a trip to Turkey?
---
Travel Insurance for Turkey
Use travel insurance while visiting Cappadocia so you are covered for theft and medical expenses. There are a lot of fun things to do in Turkey, and it's best to have peace of mind while driving, hiking, and trying some of the best food in the world.
Find out why I recommend World Nomads, check out my World Nomads Insurance review.
Disclaimer: This article contains affiliate links. This means that if you make a booking after clicking on a link, I may receive a small commission at no extra cost to you!