There's no denying the growing popularity of digital nomadism and the avenues it has opened up for those looking to see the world while advancing their careers. Being able to work from anywhere with a WiFi connection, the freedom remote work offers is arguably its biggest perk.
But with this freedom, you'll find that many nitty-gritty details come down to your planning. Hurdles like finding reliable accommodation with unwavering WiFi, dealing with transportation and travel logistics, and finding your place in this new global community can seem daunting.
Enter remote work programs and companies. These unsung heroes take care of potential hassles, making heading out into the world much easier. As diverse as the digital nomad community is, each of these programs offers something unique.
So, let's dive into everything you need to know about the 20 best remote work programs that genuinely make the world your potential playground.
Read Next: How to make a new city feel like home.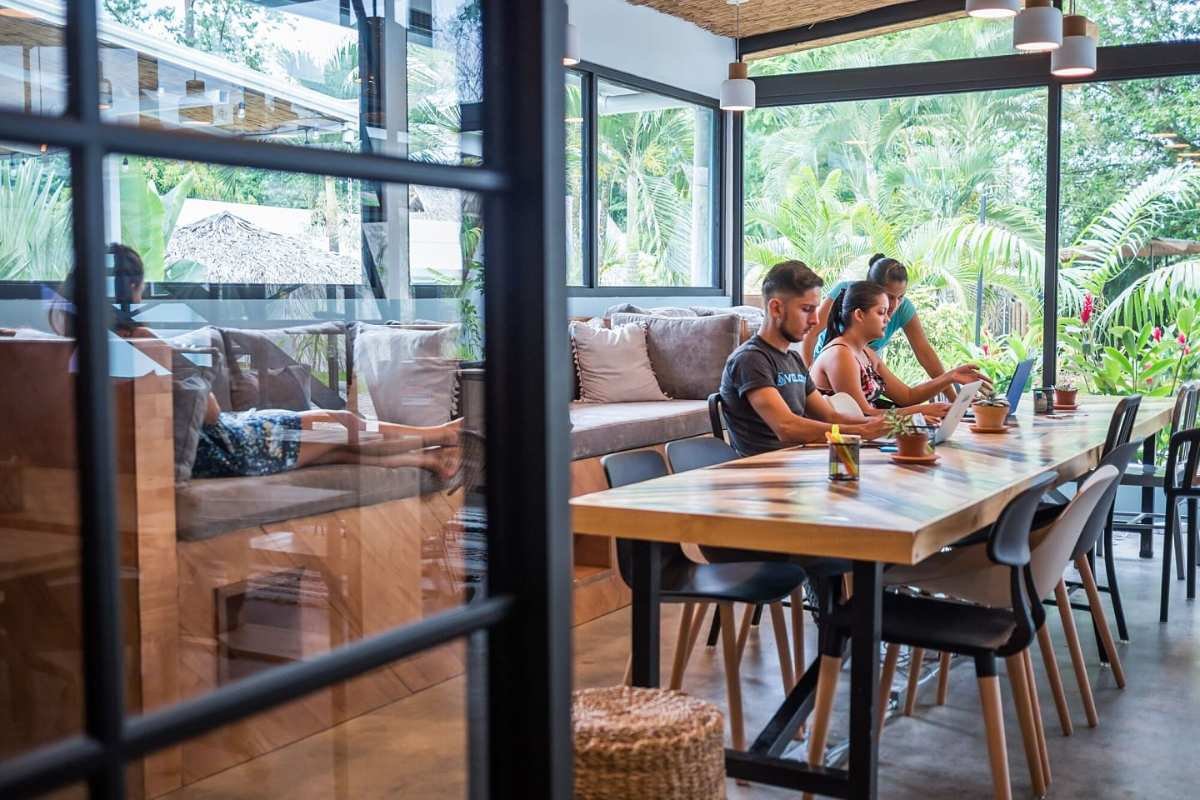 Image by Selina.com
What are Remote Work Programs?
Although you'll find that every remote work and travel program has a distinct flair, they all share some common fundamentals. The most important are the three main types of programs each one falls into, and they are:
Extended-stay work and travel programs: With these companies, you'll reside abroad for an extended period. You can engage in arranged social activities to meet like-minded digital nomads as you work remotely.
Learning programs: These programs usually include a number of workshops to advance your skills. Offering excursions, you can immerse yourself in the local culture of whichever country you're in.
Digital nomad retreats: These organized, unique wellness retreats focus on blending remote work with rest and rejuvenation. Usually, they are held in isolated places to allow for mindful reflection and career advancement.
Image by Selina.com
Benefits of Remote Work Programs
If the many obvious pros to settling into a remote work and travel program aren't motivation enough, these experiences also hold numerous other benefits. These programs allow you to see the world while you work on your terms with flexible working conditions.
Beyond that, you can explore many cultures that broaden your diversity awareness thanks to coworking and coliving opportunities. This means working and living alongside locals and other foreign travelers.
Plug into a network from day 1 and meet like-minded individuals, so you have a cool little crew to explore and experience the city with.
Meet other people who may work in the same industry as you or even other industries and get perspective on how other people and companies work.
Make possible life-long connections with people who share a similar outlook as you, who have the travel bug, and you may meet again in another country.
A location-independent career also relieves a few everyday stresses of office or home working environments. That, paired with the potential of professional development events and networking opportunities, creates an itinerary aimed at advancing your career.
Image by Remote Year
Downsides of Remote Work Programs
As glamorous as working remotely and traveling sounds, some downsides often come up that you need to be aware of.
Some extended-stay programs require a long-term commitment, meaning your home life takes a back seat. Personal responsibilities like having a pet or family make enrolling in these a bit tricky.
Although sharing a coworking space holds many advantages, they could do more harm than good if you're easily distracted or struggle with productivity. Finally, each program comes with unique costs, so if you're on a tight budget, they are potentially only a luxury you might not always be able to afford.
You grow connections with many wonderful people, but there comes a time when you need to leave and go on your next adventure. This sometimes takes a toll on your emotions, but the good news is you may see them again.
Read Next: The best bank for digital nomads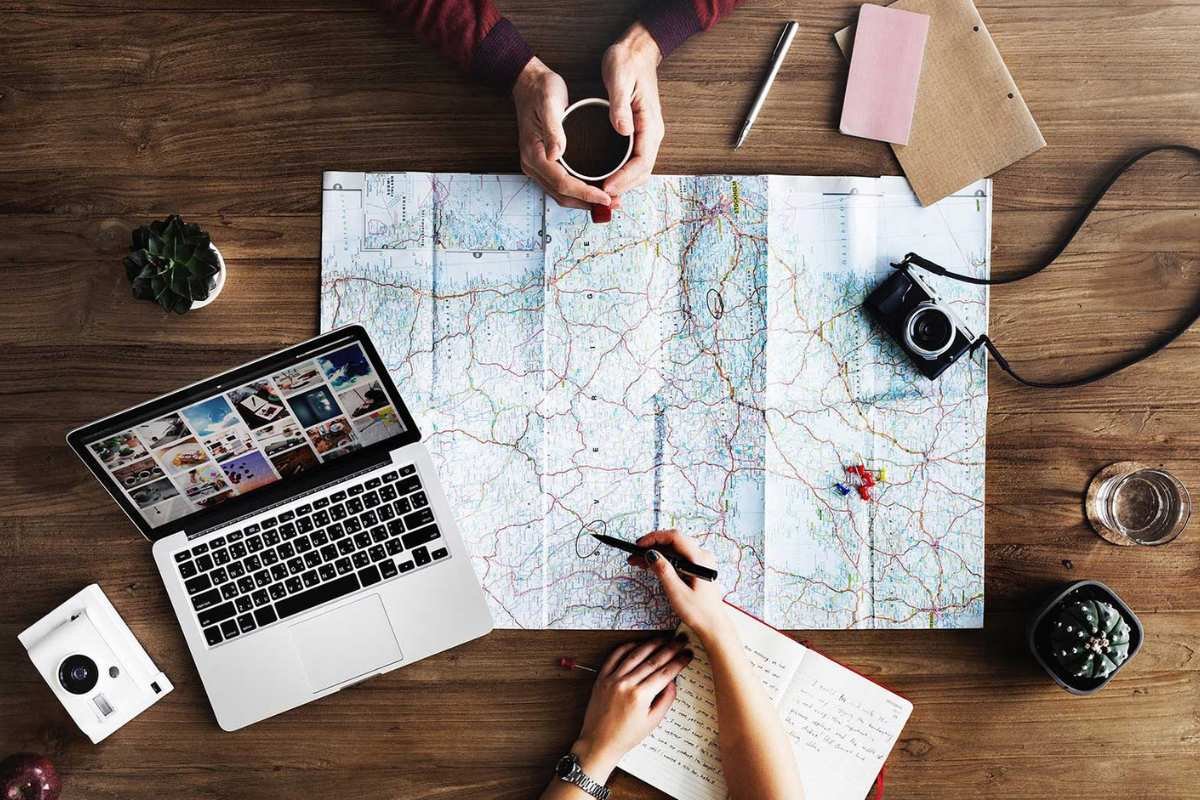 Image by Nomadize
The 20 Best Remote Work Programs
With the groundwork of what exactly remote working programs are and pinpointing their pros and cons out of the way, here's a closer look at some of the best out there.
Remote Year
Costs: $$$
Inclusions: Housing and utilities, travel between itinerary locations, coworking spaces, and professional and social events
Hands down one of (if not the) most popular remote work programs, Remote Year offers a variety of preplanned world-spanning journeys. You can choose from one-week retreats and one, four, or 12-month itineraries based on your preference and available budget.
The company began life in 2015 and has since created an ever-expanding community of like-minded travelers that work and live together as they make their way around the globe.
The flagship program is a year-long experience where you'll spend 12 months in 12 cities. With fixed travel routes, you can explore the world as part of a group of between 50 and 80 other digital nomads. These itineraries span Asia, Africa, Europe, and The Americas, providing the chance to explore while you integrate into a lifelong community.
Regardless of your choice, Remote Year takes care of accommodation, coworking spaces, transportation, and professional and social programs.
Choose Remote Year if: You're a well-seasoned digital nomad and want to minimize hassles while seeing as much of the world as possible.
WiFi Tribe
Costs: $$
Inclusions: Housing and utilities, coworking spaces, weekend trips, social and professional programming
If you want to work remotely and travel as part of a warm, welcoming, and inclusive digital nomad community, WiFi Tribe is an excellent choice. Roughly 20 nomads make up each grouping of the tribe that spends four to six weeks in different countries throughout the year.
Few travel work programs emphasize community, quite like WiFi Tribe, and its community-based approach to membership experiences makes this clear.
What makes WiFi Tribe stand out is its flexible live-around-the-world membership, allowing you to choose different locations to live and work from for a month. These month-long adventures are referred to as "chapters", and you can either be an on-and-off tribe member or continuously for the whole year.
Travel destinations and plans are discussed and decided on by the entire tribe beforehand, while, during chapters, skillshares are hosted by fellow tribe members. These range from individuals' professional expertise to shared personal passions.
Choose WiFi Tribe if: You want to be a part of a close-knit community working remotely and traveling the world but with the freedom to choose how you want to do it.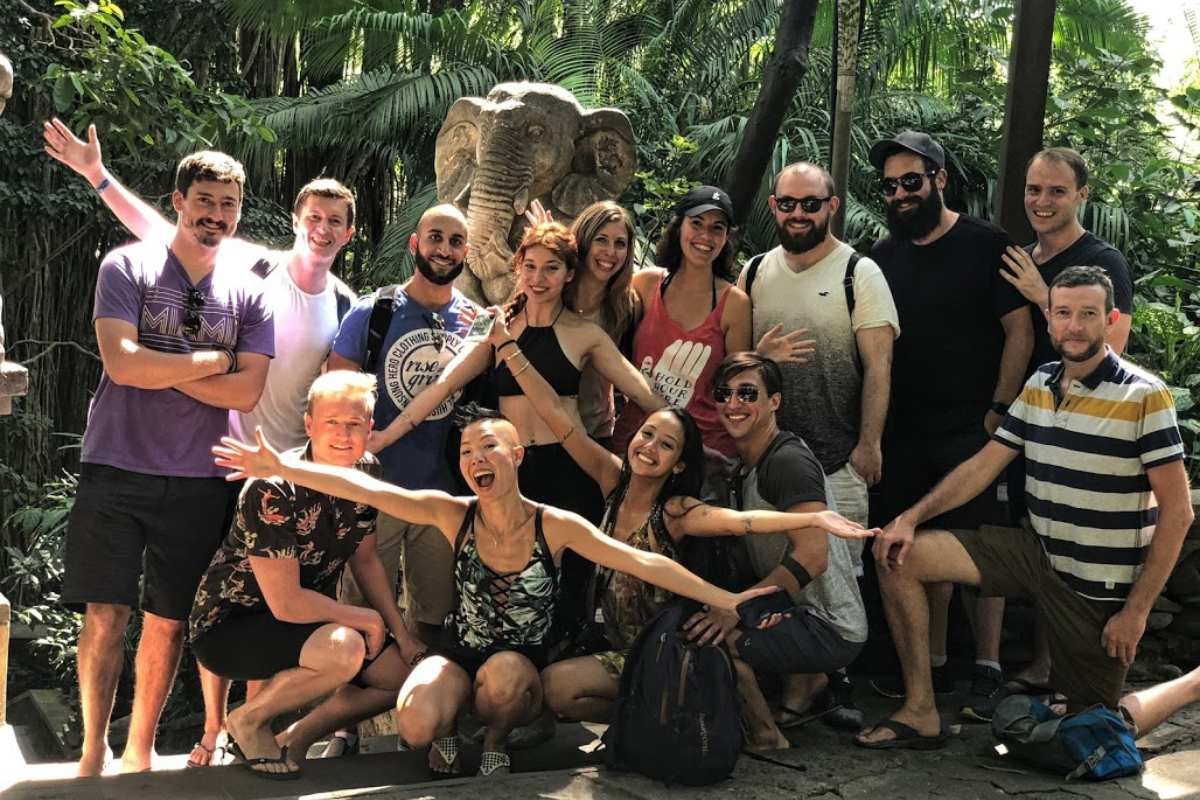 Image by WiFi Tribe
Unsettled
Costs: $$$
Inclusions: Housing and utilities, coworking spaces, local events and excursions, local SIM card, and airport pickup
In the coliving and coworking business since 2014, Unsettled has been hosting in-person retreats in destinations around the world for almost a decade. They offer curated month-long retreats and getaways to inspire personal and professional growth.
Unsettled's philosophy is all about guiding you on a quest for life, meaning, and adventure as you travel the world, "embracing the unknown", and creating meaningful connections.
With Unsettled, you can visit unique destinations on one-week, two-week, or monthly experiences. Imagine blissfully disrupting your working norms on the shores of Costa Rica or in the depths of the Peruvian Amazon, and you get the picture. These adventures brim with what the company calls transformational travel experiences based on peer-to-peer learning.
While venturing through amazing parts of the world, you'll have access to workshops, guest speaker events, local excursions, and activities formed by the group's collective interests. You can even arrange additional gatherings during your trip.
Choose Unsettled if: You're a remote worker who doesn't fit the usual business mold and looking to break your daily routine.
Nomadize
Costs: $$$
Inclusions: Housing and utilities, coworking spaces, professional and social events, pre-selected adventure excursions
When you're looking to work and travel abroad and fancy yourself an adventure seeker, Nomadize is the ideal booking platform to use. Pooling together retreats and excursions from around the world, its main draw is the diversity of destination-specific experiences you can indulge in.
Its roster of available adventures is continually expanding and changing, guaranteeing you a different experience with every trip you take.
Taking a unique approach to remote work, you can choose from a variety of programs that differ in duration, destination, and activities. Nomadize aims to help you learn and develop hobbies while you work and travel. So if you want to head out on a wellness retreat, explore hidden gems, or immerse yourself in local culture, there's something for everyone.
After choosing the program best suited to your tastes and needs, Nomadize even has its own dedicated app that helps you book your travel at discounted prices.
Choose Nomadize if: You want to pursue a new hobby or discover a new passion while working remotely and traveling the world.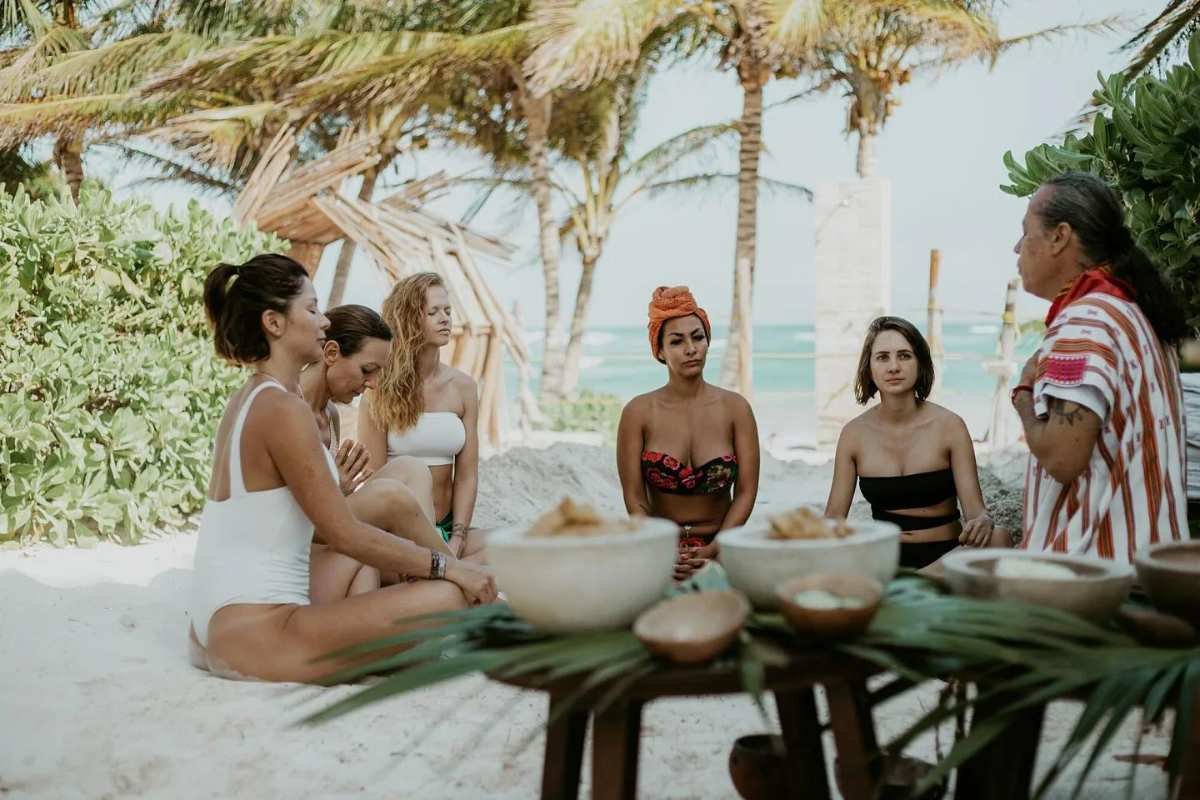 Image by Selina.com
Outsite
Costs: $
Inclusions: Housing and utilities, coworking spaces, dedicated community manager, fully-equipped accommodation, social events calendar
Similar to most remote work travel programs, Outsite features a wide range of coliving locations worldwide that cater to international workers and entrepreneurs. Where it makes its mark is its offering of stunning accommodations and cutting-edge coworking spaces.
Blending work and play perfectly, their available destinations make it easy to experience surfing during your lunch break or settling down by a cozy fireplace in an alpine lodge.
Outsite is aimed at remote workers who want to travel on their own terms, meaning you have much more flexibility as pre-planned itineraries do not lock you down. Beyond that, group choices don't dictate your experience, unlike other programs. Instead, each destination has a community manager tasked with organizing gatherings and events.
Regardless of where you choose to head, every Outsite location promises comfortable, spacious, and private accommodation. Each has out-of-this-world fast WiFi and numerous social and private working spaces.
Choose Outsite if: Working remotely to you is all about the destination, and you want a pace of life to match your individual needs.
Sun and Co.
Costs: $
Inclusions: Housing and utilities, coworking spaces, professional development programs, social events, local excursions
Sometimes you're on a budget, and as a digital nomad, you don't want to spend more than absolutely necessary. This is where Sun and Co. shine with its take on travel options for budget-conscious nomads, making it easy to see the world as you travel and work without breaking the bank.
Sun and Co. have a unique calling card, though, as it is only based in one location, the Spanish town of Javea along the Mediterranean Coast.
Aside from that, they're also the only coliving and coworking remote travel option in the region, and the historic seaside town is an epic choice for exploration and adventure. Your calendar will include social and professional events, including Masterminds, skillshares, and movie nights.
Offering shared and private rooms at a fraction of the cost, your budget will thank you. Now top that off with authentic Spanish nightlife and Mediterranean water sports right outside your doorstep, and you've got a pretty sweet deal.
Choose Sun and Co. if: You want to experience the best remote working experience off the Mediterranean Coast without spending a fortune.
Image by Outsite
Hacker Paradise
Costs: $$
Inclusions: Housing and utilities, coworking spaces, professional and social events, skillshare workshops, speaker sessions
Hacker Paradise is well-known for its offerings aimed at a vetted global community that regularly travels and works remotely. Aimed at the organization of adventures for web developers, web designers, and entrepreneurs, they have various options.
On the other hand, Hacker Paradise provides much more flexibility for digital nomads, thanks to you choosing for how long and where you'd like to travel.
What makes Hacker Paradise special is the freedom they provide to join for a week or two, up to months at a time. Although more aligned with techy nomads, you'll find a variety of travelers along for the journey. That said, you'll have ample chances to develop your professional goals as they hold talks, networking events, and goal-setting sessions.
To cap things off, Hacker Paradise features a range of itineraries with flexible start and end dates, and you can organize your own housing based on preference.
Choose Hacker Paradise if: You're in the tech industry and want to live, collaborate, and grow alongside other like-minded travelers.
Venture with Impact
Costs: $$$
Inclusions: Housing and utilities, coworking spaces, day trips, language support, professional development sessions, local nonprofit volunteering
If you're passionate about volunteering and taking part in advocacy opportunities while you travel and work, Venture with Impact is the ideal option. They aim to connect digital nomads with local culture by providing the chance to immerse rather than just observe.
They prioritize support and socialization that allows you to integrate with communities through various philanthropic-based experiences.
Hosting four-week coworking retreats in locations spanning Asia, Europe, and Latin America, Venture with Impact makes advancing your career as you travel an impactful (pun intended) adventure. While you share knowledge with your fellow travelers, the aim of remote working here, however, is taking part in skill-based volunteer projects.
This means you can use your already existing skill base in a chosen city or country to make a difference, something, not many companies offer. Their retreats include numerous social programs, language support, and participation in local events and nonprofits.
Choose Venture with Impact if: You want to work remotely, travel abroad, and make life-changing positive improvements in the lives of local communities.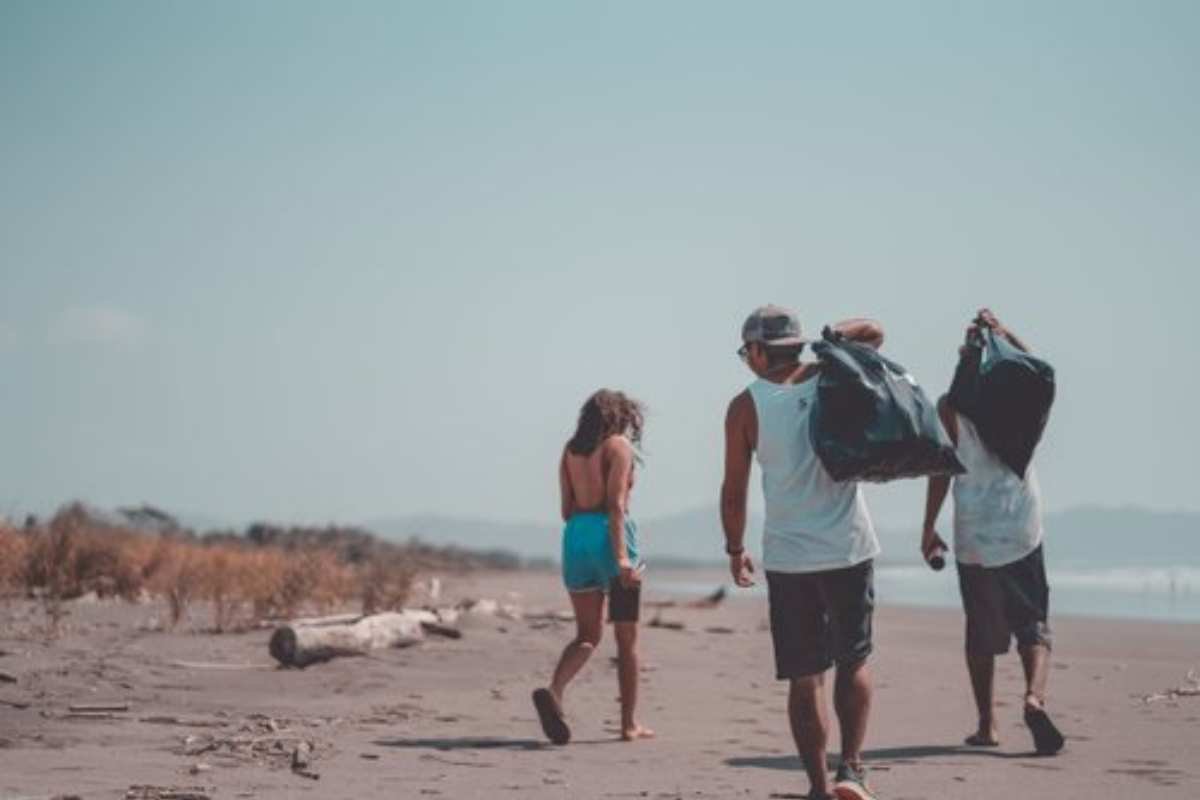 Image by Selina.com
WiFly Nomads
Costs: $$$
Inclusions: Housing and utilities, coworking spaces, social and professional programs, development activities, one-on-one tutorials, local excursions
Who could say no to living it up in the lap of luxury as you participate in a remote work and travel program that aims to empower your knowledge base? Well, that's precisely what WiFly Nomads offers and then some. Based in Bali, this is a coliving and coworking retreat unlike anything else.
Its positioning as a kickstart platform for fledgling digital nomads makes WiFly Nomads a unique addition to the remote working landscape.
In contrast to most other programs, they will actively help you find the career of your dreams from the comfort of an opulent five-star villa in Bali. Located on Reunion Island, you'll taste the finer things in life while participating in mentoring programs and workshops.
Placing a big emphasis on teaching digital nomads the vital skills needed to transform their online businesses, you can look forward to a guided journey to master a nomadic lifestyle. During the two-week program, there are numerous personal and professional development activities, one-on-one tutoring, and local excursions.
Choose WiFly Nomads if: You're on a journey to achieve extensive professional growth with a touch of premier luxury.
Remote Life
Costs: $$$
Inclusions: Housing and utilities, coworking spaces, impact projects, social events, professional development workshops, and community events
Not to be confused with Remote Year, Remote Life takes a page from the former's playbook by bringing the style to remote work and travel. That said, Remote Life offers an equal level of glamour, with the most noteworthy difference being in destinations.
Their programs run for three months at a time, although their goal of flexible remote working trips means you can join on any week or month of an already ongoing trip.
In keeping with the essence of remote work, Remote Life strives to create a deeply connected and long-lasting community of digital nomads. Their approach is based on more interpersonal experiences, and traveling groups are usually at most 20 people at a time.
This coliving and coworking program is all about group diversity, and you'll find different backgrounds and cultures working towards the same goal. Beyond this, during your travels, you'll take part in impact projects, workshops, community events, and skillshares.
Choose Remote Life if: You appreciate a closely-knit community experience while working abroad in several stunning locations for short periods.
Read Next: The best remote working jobs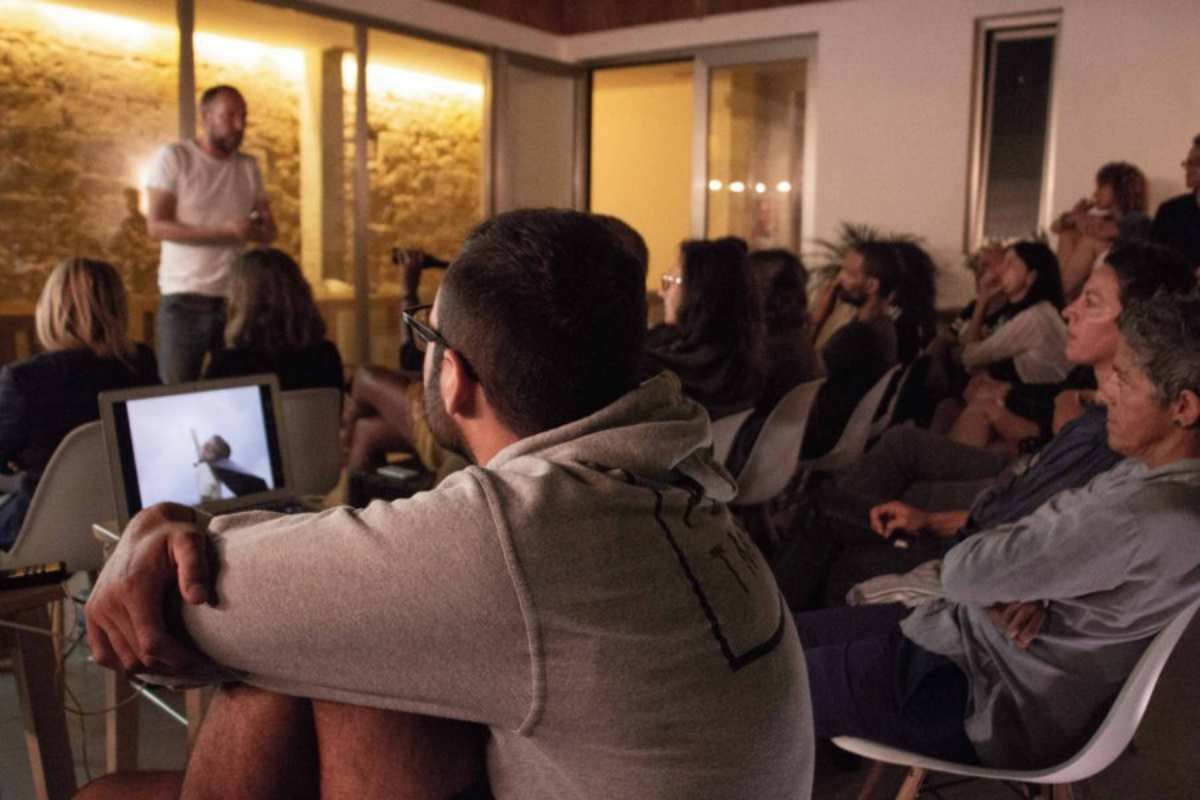 Image by Sun & Co.
Selina
Costs: $ – $$$
Inclusions: Location-dependent, coliving packages include housing and utilities and coworking spaces at select destinations.
My experience with Selina has been quite terrible as they missed scheduled meetings with me and had an attitude of being too great and big. I've heard from others that they dont take feedback very well, and their locations or venue range in vibe from party places to more backpacker style. So it would depend on what you are after.
Not every digital nomad is like the other; with that in mind, Selina puts a spin on the usual travel and work programs. Specifically aimed at offering the same excitement as other companies, Selina allows you to travel at your own pace with many coliving and coworking stations worldwide.
The genius behind this is that with Selina, you'll find a home-away-from-home spot in nearly every country where the main goal is effective and enjoyable coliving and coworking.
Aimed at those of you who want to immerse yourself in the location-independent lifestyle but don't want to commit to a long-term structured program. Their membership options are varied, and you can even opt for a month-by-month colive option which allows you to spread your stays out around all of their locations.
The brainchild of two surfers, you'll find most Selina outposts showcasing a hippy-chic atmosphere with the benefit of cohesive coworking. Depending on your chosen destination, you can look forward to local activities and social and professional events.
Choose Selina if: Location independence with the freedom to travel at your own pace and create your own community sounds good to you.
Nomad House
Costs: $$
Inclusions: Housing and utilities, coworking spaces, local excursions, adventure activities, social support systems, mentoring, professional development workshops
Boasting a tagline that promises to help you jumpstart any idea in just 30 days set within gorgeous destinations. Nomad House offers a step-by-step travel and work program to get your vision or nomadic lifestyle off the ground.
Eager digital nomads and those of you who are keen to dip your toes into a location-independent future will love Nomad House and their take on coliving and coworking.
Hosting groups of 50 people at a time, your provided accommodation is one of the main points of Nomad House, as you'll share an apartment with between three and four other nomads. This means you'll be in a prime position for networking, and the best bit is you don't need to be already employed.
Groups typically consist of people from various backgrounds, and with the addition of a social support system, you'll find a community all your own in no time. Nomad House trips include packed itineraries with a range of skill-improvement opportunities and workshops.
Choose Nomad House if: You are a fresh-faced digital nomad looking for entrepreneurial empowerment and a supportive community.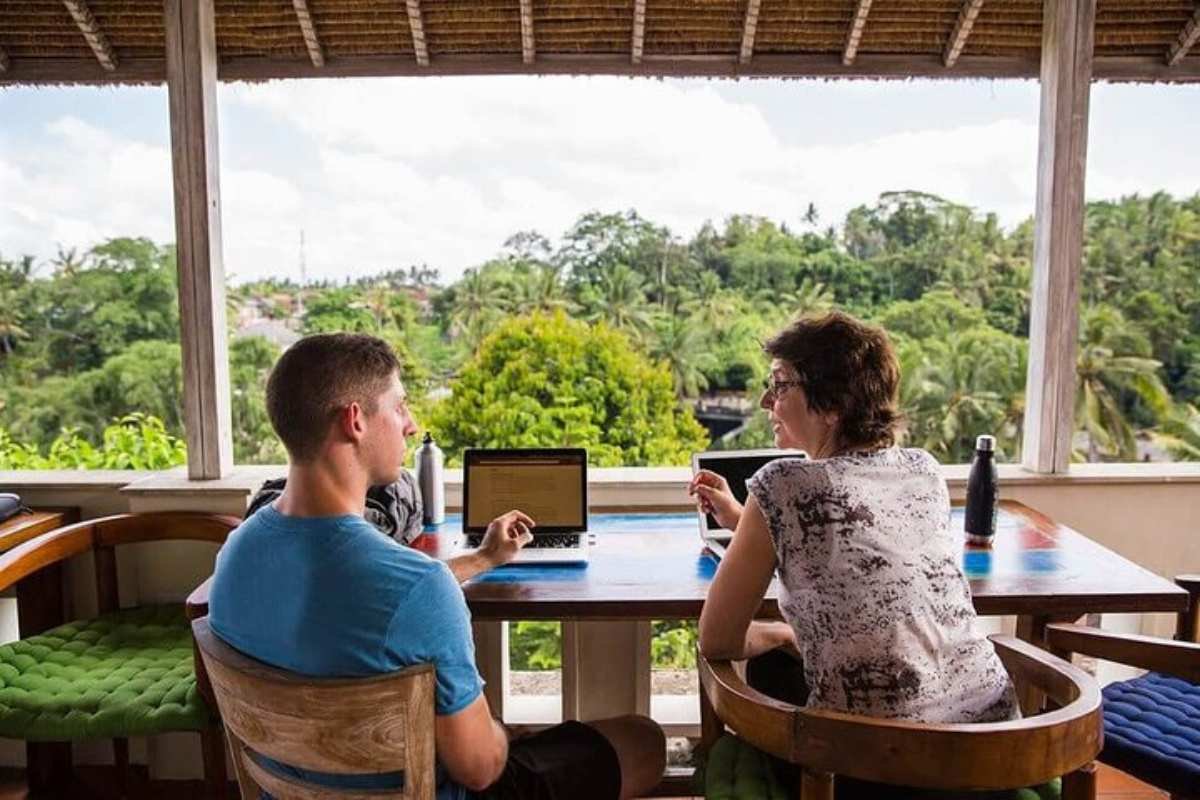 Image provided by Unsettled.co
Project Getaway
Costs: $$
Inclusions: Housing and utilities, coworking spaces, entertainment spaces, three meals daily, social and professional programs, and speaker sessions
Project Getaway is a not-for-profit initiative offering a month-long tropical escape. Focused on bringing together a group of 20 adventurous entrepreneurs, it's a perfect chance to improve your skills and connect with others.
Providing all meals, excellent coworking spaces, and a wealth of amenities, Project Getaway is about much more than simply remote work.
This is equal parts escape and learning experience, and the program you'll participate in consists of speaker sessions, workshops, and networking events. So take your yearning for a relaxing vacation and your aim to advance your skills and career, blend them together, and you have Project Getaway.
A definite feature is that you can choose between group or private accommodation and even select either a chalet or lodge stay. Paying an ode to the lush and serene destinations their retreats are held in, your time with Project Getaway will be peaceful, enriching, and empowering.
Choose Project Getaway if: You want a tropical breakaway that provides a fantastic balance of professional and fun events.
Digital Outposts
Costs: $
Inclusions: Housing and utilities, coworking spaces, private office spaces, social activities, professional support infrastructure
Hosting groups that consist of digital nomads and graduate students in locations such as Bali, Thailand, Mexico, and Columbia, Digital Outposts shine with great flexibility and an inclusive community experience.
This means you'll rub shoulders with a variety of working and established professionals and up-and-coming entrepreneurs on a number of different trips. It's the perfect choice for those who want to broaden their circle while advancing their careers.
So if your passion is travel and your ambition to network with people from around the world, this is the one for you. Their offerings come in three types of programs, ranging from two-week, one-, and two-month options. These retreats take place in their "outposts" that feature state-of-the-art coworking spaces.
Signing up for a Digital Outposts excursion is done on a first-come, first-served basis, and spots fill up quickly. Considering you'll have private accommodation, curated office spaces, social events, and numerous networking and skill improvement workshops, that's no surprise.
Choose Digital Outposts if: You want a similar experience to other programs but at a fraction of the price and alongside people from varying backgrounds and professions.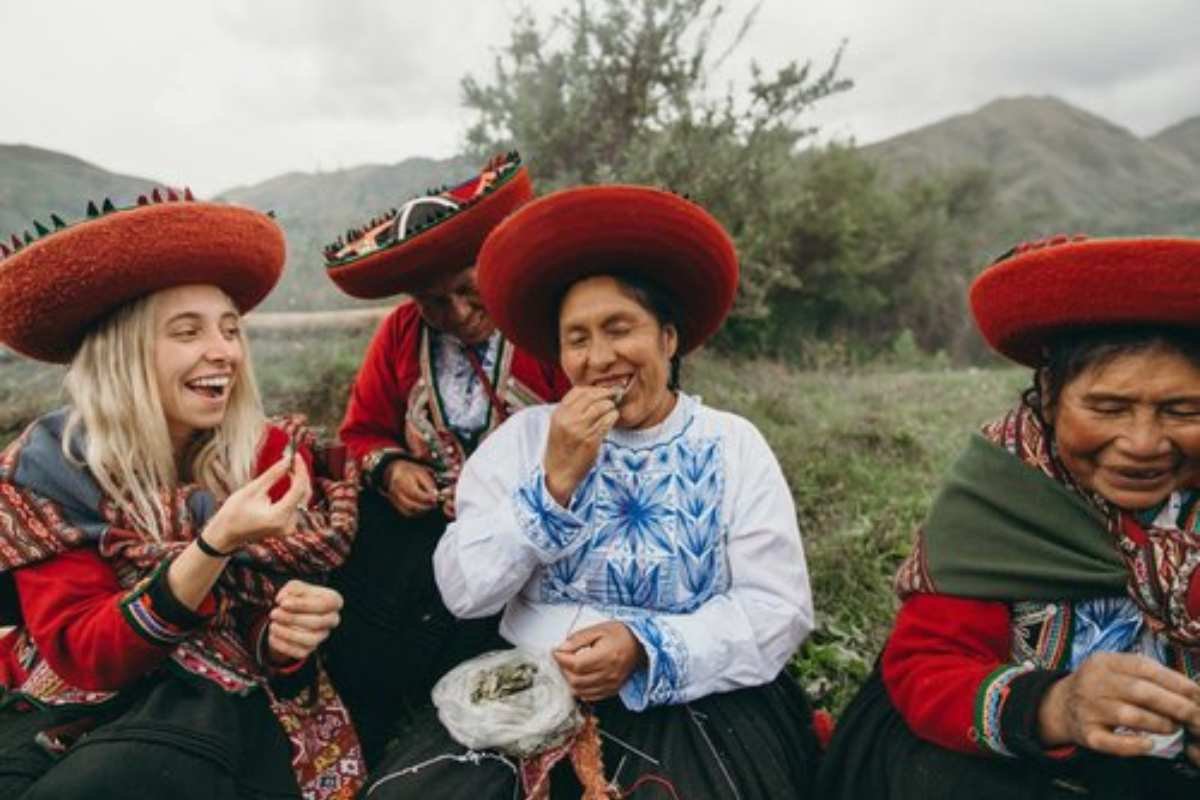 Image provided by Selina.com
CoWorkParadise
Costs: $$$
Inclusions: Housing and utilities, coworking spaces, professional development workshops, goal-setting sessions, skillshares, scooters, local SIM card, adventure activities
Marketing itself as a mastermind retreat for business owners, CoWorkParadise annually takes a group of 12 highly successful entrepreneurs out to a luxury destination. Here, a remote work program aimed at business coaching awaits.
Work travel programs like this are not that common, adding a flair of exclusivity to it, and with the price tag, that's an essential element. It's not on the cheap side, but then again, a few other programs for coliving and coworking offer what CoWorkParadise does.
Every aspect of your trip is pre-planned, including all the bells and whistles, with the main feature being your luxury five-star accommodation. The thing with CoWorkParadise, though, is that it's entirely tailored to professional entrepreneurs whose businesses have a minimum annual revenue of $250,000.
So if that's you, the curated program with daily two-hour business coaching sessions, expert workshops, and networking socials is a no-brainer. Skipping the basics many other programs focus on, here it's all about in-depth, high-level insights into business growth.
Choose CoWorkParadise if: You're an established professional looking to take your business plans and ideas to the next level while enjoying location independence.
Nomadbase
Costs: $ – $$$
Inclusions: Housing and utilities, Nomadbase Academy access, coworking spaces, social events calendar, group discussions, professional development events, and local excursions
Formerly known as Nomad Cruise, Nomadhouse is now a global community of digital nomads that offers the chance to cowork and colive in some of the best destinations around the world. Although it does this with a twist. Nomadbase is more than just a remote travel company as they focus more on being a travel club.
Offering a variety of short-term excursions, these global events and retreats happen periodically throughout the year with a focus on giving you the chance to grow your business.
What sets them apart, though, is that once you sign up, you get access to the Nomadbase Academy — a massive collection of workshops and talks. These cover everything you need to know on topics such as nomad life, remote work, mindset, and entrepreneurship.
Taking things a step further, if you're unsure before joining, you can attend member gatherings that take place in cities around the world. Here, you can pick the brains of other members and form part of discussions about upcoming excursions.
Choose Nomadbase if: You want to be a part of a growing global collective that offers a vast library of learning materials and shared group experiences.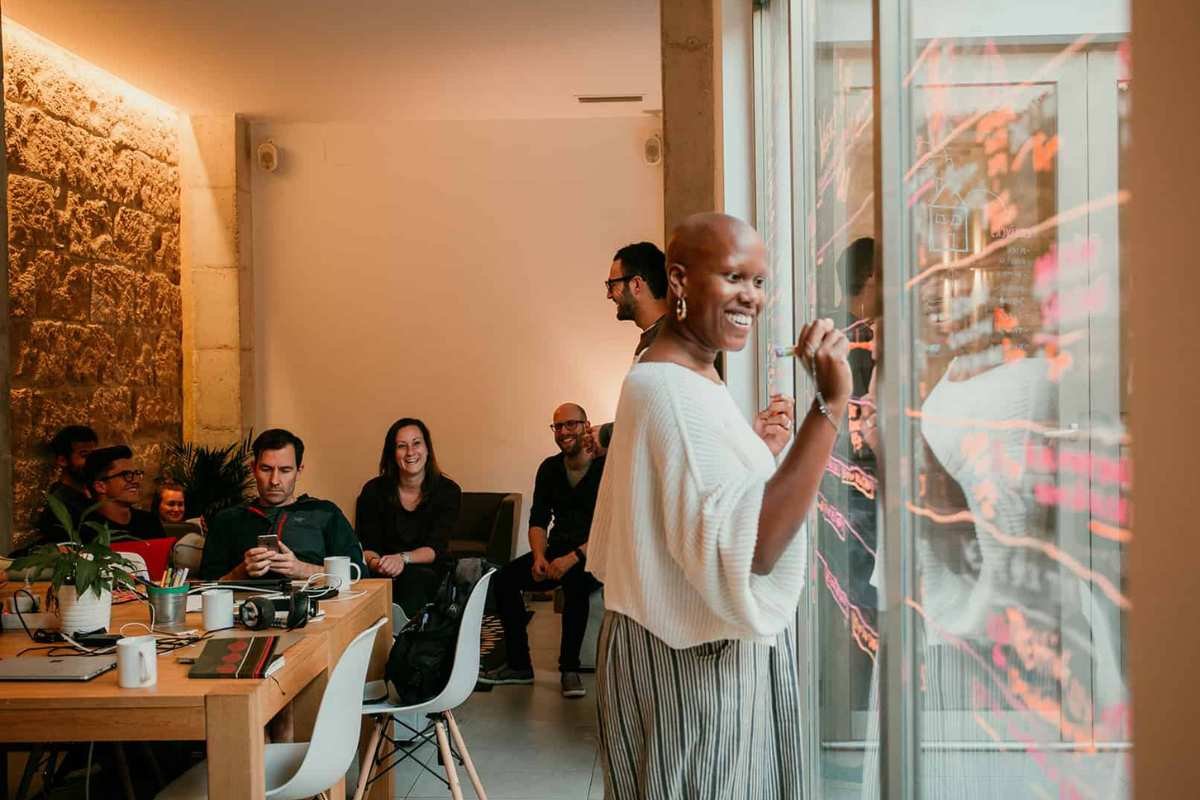 Image provided by Sun & Co.
Nomad MBA
Costs: $$
Inclusions: Housing and utilities, coworking spaces, industry-based course access, local excursions, pre-planned monthly itinerary, professional development workshops
Another unique perspective on remote work and travel, Nomad MBA, revolves around the principle of personal growth through discovering new cultures. That paired travel routes that span the globe and numerous skill improvement opportunities make it a standout.
On offer is a three-month course that sees an average of 24 digitally nomadic professionals travel the world learning as they go. To get in, you must prove yourself a participant with extreme drive, business acumen, and imagination-defying curiosity.
As you embark on a global coliving and coworking adventure, you'll partake in an online course primed to kickstart your dream career. You can select from three industries to undertake the course in, namely marketing, UX design, or entrepreneurship. This course features workshops, learning modules, and skillshares.
With each month designated a focus area, month one is fitness month, your second month delves into focus and skills expansion, and finally, month three is about career advancement. Of course, in between social events and local excursions, fill out your itinerary.
Choose Nomad MBA if: Your digital nomad life is about change, challenges, and personal growth as you learn vital skills and level up your career.
WiFi Artists
Costs: $ – $$$
Inclusions: Housing and utilities, local SIM card, coworking spaces, transport between itinerary locations, airport transfers, on-site community manager, social activities
If you're after a more curated group experience as you tackle the world of being a digital nomad, look no further than WiFi Artists. This travelers community comprises (you guessed it) artists, entrepreneurs, and digital nomads.
With programs that include one-, four-, and twelve-month options, each itinerary is carefully planned and executed based on group dynamics. When you apply to work remotely with WiFi Artists, you go through an interview process that indicates which trip around the globe and which group will best suit you as an individual.
If you opt for their long-term program, you'll have a packed itinerary that includes destinations in South America, Central America, and Europe.
Thanks to your group being chosen for you after the interview process, your entire trip will be more tailored than those offered by other companies. Of course, each group consists of people from all walks of life, and cultural diversity is a key aspect of WiFi Artists.
Choose WiFi Artists if: You want to experience a curated digital nomad trip that focuses on your unique interests and pairs you with a group that focuses on the same careers and passion projects.
Image provided by Selina.com
Sunny Office
Costs: $$
Inclusions: Housing and utilities, coworking spaces, local excursions, social events, professional development workshops, skillshares, adventure activities
When it comes to coworking in Southern Europe, Sunny Office is hands down the one to beat. Work and travel through its seven destinations across Spain and Portugal it's the perfect solution to your remote work vacation conundrum.
Ensuring you get the most out of each destination, Sunny Office takes great care to plan your itinerary to match the optimal time of year for each, making your visit superbly memorable.
You'll stay in fully decked-out accommodation with modern infrastructure to meet any coworking and coliving needs. Here, you'll join other freelancers and entrepreneurs that are specially selected to make your group inclusive of people from different interests and backgrounds.
So while you enjoy the idyllic Southern Europe sun, you can mingle with like-minded nomads during a program that focuses on connecting people and maximizing location-independent career paths. The dominating focus of Sunny Office is to deliver peak relaxation with the best of remote working.
Choose Sunny Office if: You want to join a handpicked group of digital nomads as you travel through Southern Europe and explore the best remote work experiences.
Wrapping Up Your Guide to Remote Work Programs
There are so many options now available to digital nomads that were not there when I started 10 years ago.
All of them are awesome programs and companies that would help you explore an area with great like-minded individuals. A lot of the time, these work out a lot more expensive than just going with a bunch of friends, but often you make lasting connections and will head out on trips with them, but this is one of the great ways to meet people and explore wonderful places!