We've all heard of the big hitters, such as Bali, Boracay, Phuket, and other amazing places to visit in Southeast Asia but what about the lesser-known islands in Asia? There are 48 countries in Asia with many hidden gems.
Ready for an adventure? Here are Asian hidden gems you should visit on your next vacation.
Travel Tips for Asian Destinations
Best Cities to Live in Asia
Lesser-Known Islands in Asia
These are some of the best secret Islands in Asia. All of these unique secret spots in Asia are listed alphabetically:
Belitung, Indonesia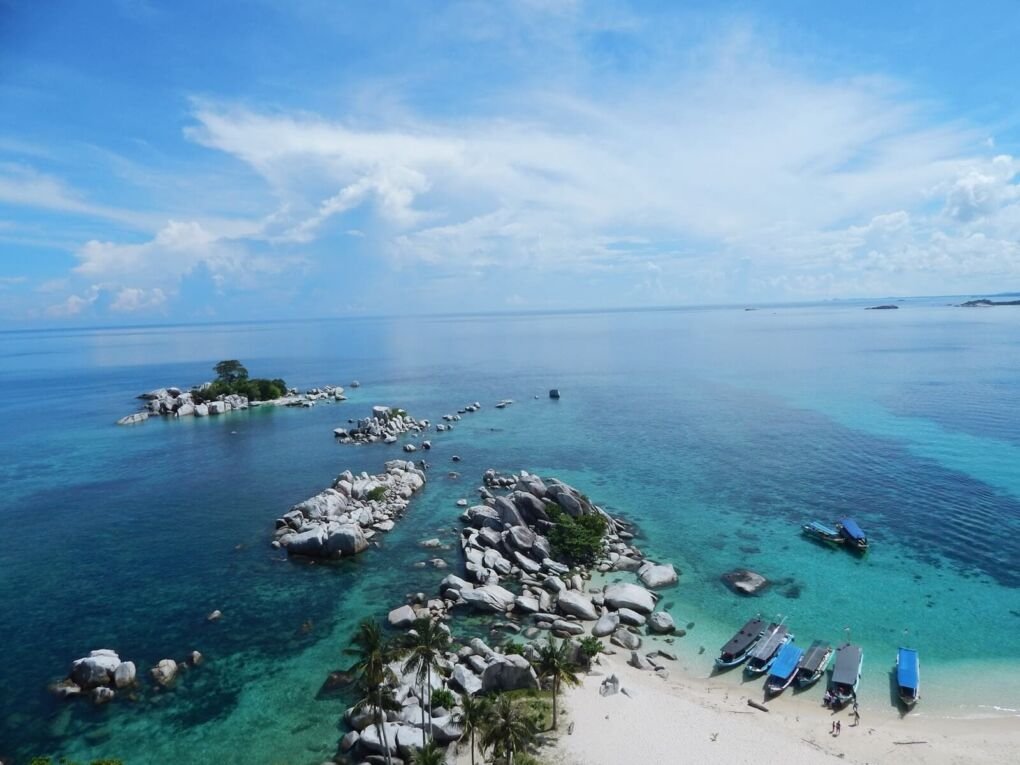 By Marya Sutimi of The BeauTraveler
Indonesia is not just Bali and with thousands of islands in the archipelago, there's a small island called Belitung on the east coast of Sumatra. It's an island in the province of Bangka-Belitung Islands, and prominently known for its mining products from clay to silica sands.
While Belitung island is a popular destination for domestic tourists in Indonesia, it's not quite well-known for international tourists, and that's what makes it even more worth visiting.
The main tourist destinations in Belitung are beaches, including the famous Tanjung Tinggi and Tanjung Kelayang Beach. From Tanjung Tinggi Beach, you can easily rent a boat to do some island-hopping to the islands in its surroundings.
One of the most-visited islands in Belitung is Lengkuang Island. It is the home of a 139-year-old lighthouse that was built during the Dutch colonial era. If you feel adventurous, you can enter the lighthouse and go up to the top of the tower and see the lovely island from above. They have around 18 floors, and you can only rely on the stairs to climb.
If you're more into exploring the sea life, you can also do some snorkeling not so far from Lengkuas Island. After doing some activities, you can also stop by another island called Gede Kepayang to enjoy some local delicacies in the only restaurant on the tiny island.
Bantayan, Philippines
By Megan of Red Around the World
Bantayan is one of the many islands of Cebu in the Philippines. It's near the diving haven of Malapascua but less visited by backpackers. It takes a bit of effort to get there but it's well worth it. To get there, you'll want to get to Cebu City then get a bus to Maya at the North Terminal, but get off at the stop for Bogo. From there, take a bus to Hagnaya Port then a ferry to Bantayan, and finally a tricycle to your final destination.
It may not be brimming with activities, but there is still enough to keep you busy, and really, the best thing to do there is enjoying the beach. If you're feeling really adventurous, you can try skydiving. If you want to enjoy the ocean, join an island hopping tour. Hit the beach early to do some shelling and enjoy a mango juice or coffee on the warm sand. While it may not be the most popular island in the Philippines, it sure does deserve a spot on your Philippines Bucket List.
Hokkaido, Japan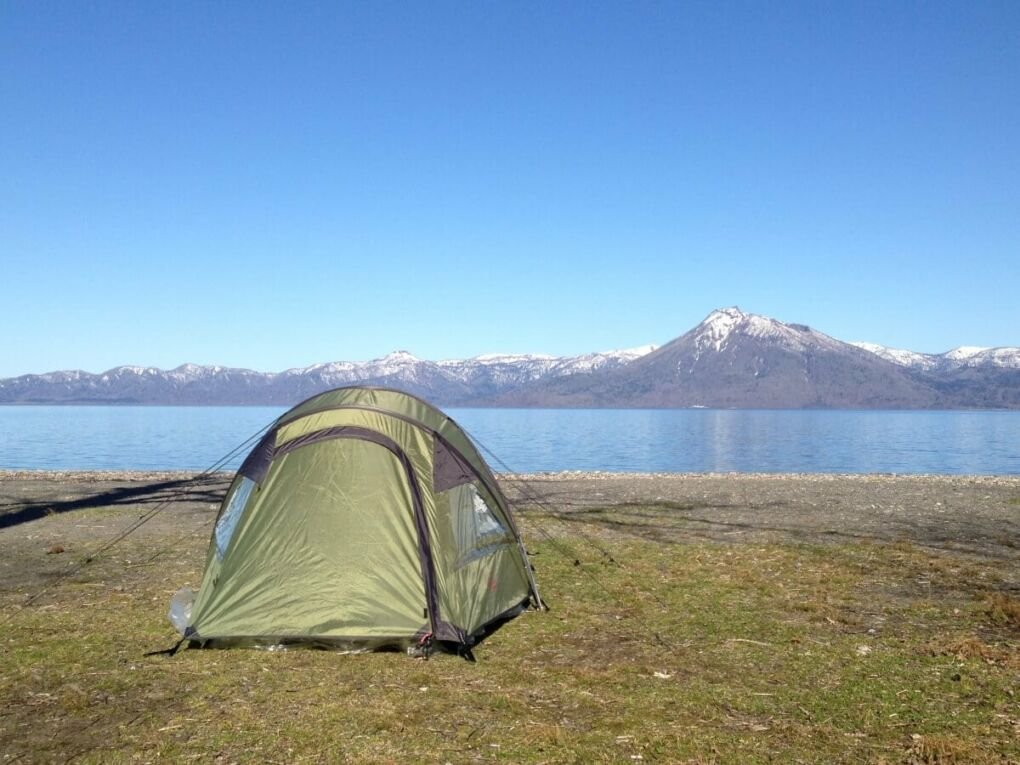 ​​By Lotte of Phenomenal Globe Travel Blog
One of the most beautiful and undiscovered places to visit in Japan is Hokkaido. Hokkaido is the island above the main island Honshu and if you want to get away from the crowds, this is the place to be.
You can get to Hokkaido by train, plane, or ferry. Once you've arrived on this amazing island, the best thing to do is rent a car. This will give you the freedom to explore Hokkaido at your own pace.
While public transport on the island is available, it's limited (especially compared to Honshu) and you won't be able to reach trailheads or smaller towns (that are highly worth visiting).
Hokkaido is wild, rugged, and absolutely breathtaking. Give yourself at least a week for your Hokkaido Road Trip, though 2 weeks would be better. Don't underestimate the distances, Hokkaido is a big island and driving is relatively slow.
Furano is one of the places that must be included in your Hokkaido itinerary, as is visiting Lake Shikotsu and Lake Toya. Jigokudani, also known as Hell Valley, is another highlight. Here you can see bubbling mud pools and a kaleidoscope of colors, caused by the volcanic activity.
Ishigaki, Japan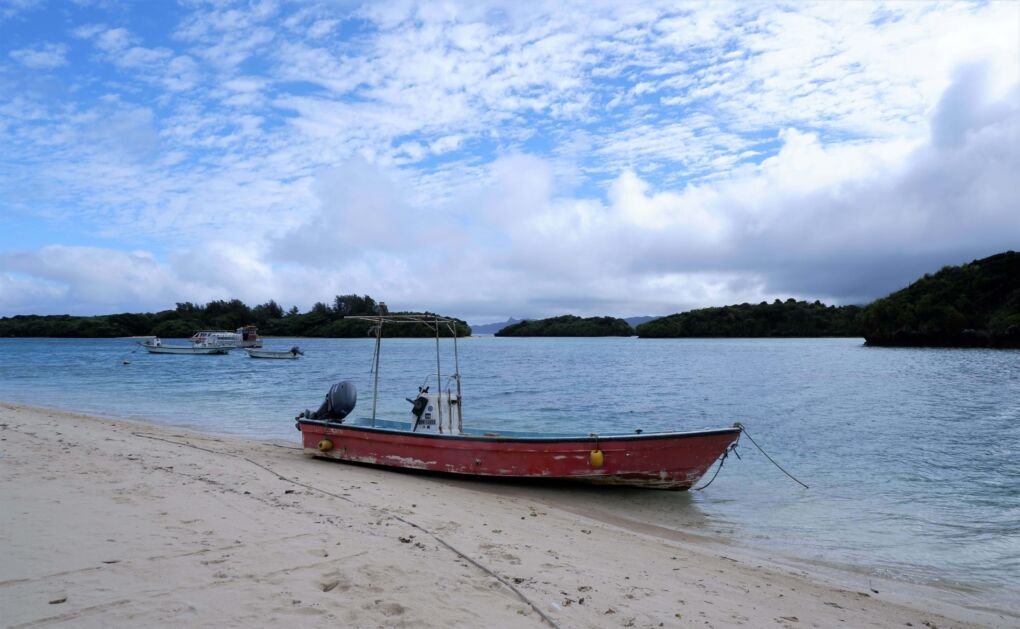 By Mia of Walk a While with Mia
While Japan is a popular and flourishing island in Asia, typically attracting swarms of tourists, there are many secret gems–beautiful, lesser-known islands scattered around Japan that are worth visiting. One of these islands is Ishigaki Island.
Distinct from the futuristic and metropolitan vibes of Tokyo, ancient temples and shrines of Kyoto, and the thriving food scene and nightlife of Osaka, Ishigaki is a charming and remote island located in the Okinawa Prefecture. Situated in the East China Sea and closer to Taiwan than the mainland of Japan, Ishigaki enjoys a warm, tropical climate year-round.
Due to its remote and southern location, the best way to get to Ishigaki is by plane. There are frequent flights bound for Ishigaki departing from all of Japan's major cities, including Naha (the capital of Okinawa located on the Okinawa Main Island).
So why should you visit Ishigaki? Well, Okinawa, in general, is a fascinating travel destination rich in history and culture. But Ishigaki Island in particular is one of the most breathtaking islands in Okinawa; with pristine beaches and lush jungles, it truly is a tropical paradise (perfect for beach lovers and hiking enthusiasts alike).
While you're in Ishigaki, there are numerous incredible things to do, from taking a glass boat tour around Kabira Bay, trekking through the Yonehara Palm Tree Groves, and relaxing on Sunset Beach. You can do all of this using the public bus, or by renting a car and driving around the entire island!
Koh Mook, Thailand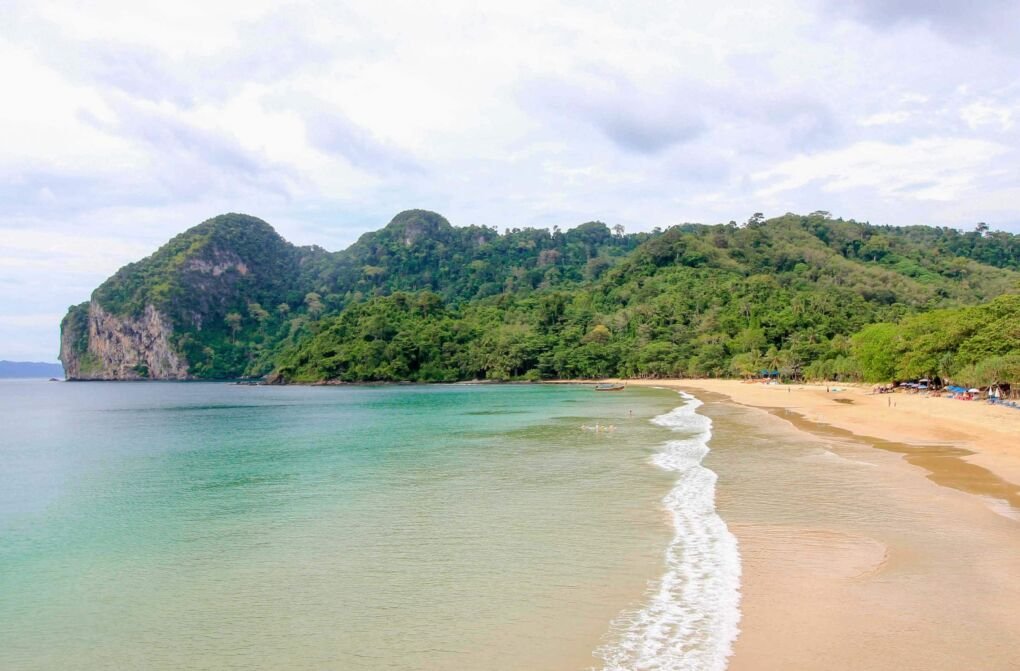 By Jürgen & Martina of Places of Juma
Koh Mook Island is one of the hidden gems in Asia. This idyllic island in the south of Thailand fascinates especially with its extraordinary beauty. It is really tiny, car-free, there are no parties and no large supermarkets. Instead, you can expect a lot of peace and relaxation! Most of the island consists of deep jungle and part of it even belongs to the Chao Mai National Park. Far away from mass tourism, Koh Mook is a rather little-known island and therefore the ideal place to spend an unforgettable holiday.
One of the most important attractions is definitely Sivalai Beach, one of the most beautiful beaches in the country. Fine white sand, a striking sandbank, and tall palm trees await you here – a panorama like straight out of a postcard! Another must-visit is the Emerald Cave on Koh Mook. This is an 80-meter long and pitch-black cave that can only be crossed by swimming. In the end, an emerald green lagoon with a white sandy beach awaits you.
The island Koh Mook is located in the Trang region in the south of Thailand. The city on the mainland has its own airport and the island can be easily reached by small ferry or speedboat. Go there, you won`t regret it!
Nusa Cenningan, Indonesia
By Victoria of Guide Your Travel
Nusa Cenningan is a tiny island located off the shore of Bali in Indonesia. It sits between Nusa Penida and Nusa Lembongan which are both much larger and popular among tourists. Nusa Cenningan is actually connected to Nusa Lembongan via a yellow bridge.
The bridge is so narrow that only one scooter can pass it at a time and it's quite an experience to cross. Nusa Cenningan consists mostly of a handful of small hotels and vacation rentals as well as some restaurants and small beach clubs. It's not a very crowded island though and even during the high season in Bali, you can relax here without being bothered by large numbers of other tourists.
You can get to Nusa Cenningan via speed boat from Nusa Penida or Bali. Many visitors also go to Nusa Lembongan first and then drive across the bridge. You can stay on Nusa Cenningan and it also works well as a day-trip destination.
One of the most popular attractions on the island is the Blue Lagoon. This beautiful little bay has an incredible blue color that you can't see anywhere else in the area. The waves are quite strong though so be careful if you want to swim. Nusa Cenningan is also a lesser-known Island in Asia that's perfect for surf break although it's not suitable for beginners.

Nusa Lembongan, Indonesia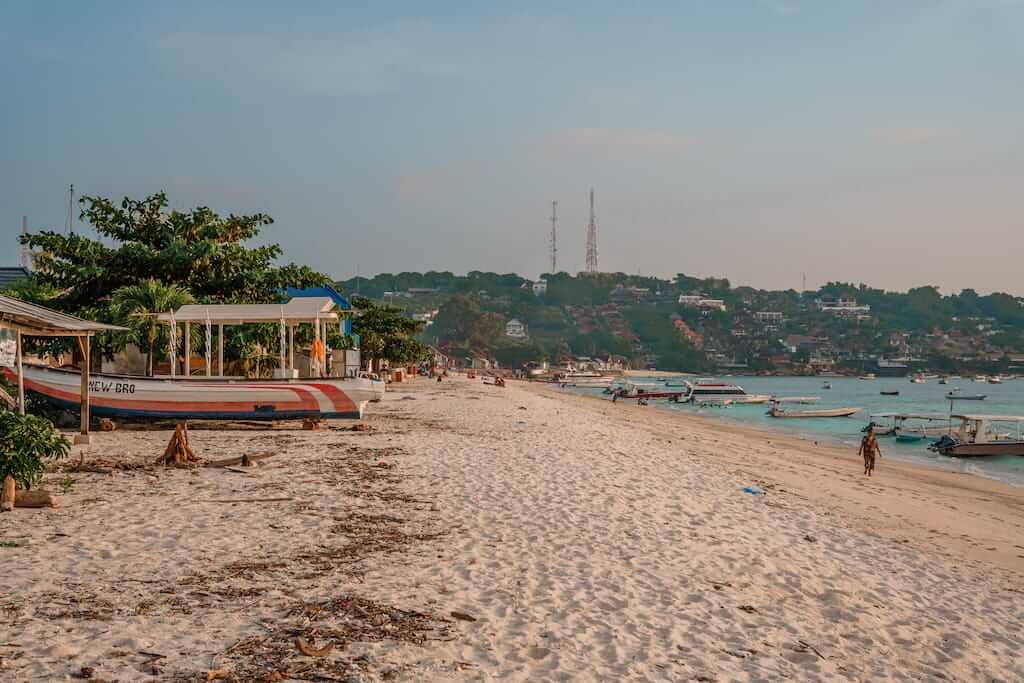 By Mal from Raw Mal Roams
Everyone knows the paradisical island of Bali for its lush rice fields and great beaches, but if you're looking for an island that is more off-beaten track, you should visit Nusa Lembongan. Imagine chilled island life where nobody is rushing anywhere, pristine clean beaches, and plenty of exciting activities for you to get adventurous.
Visit Mangrove Forest and find out how seaweed is farmed in the area. Explore the ocean surrounding the Nusa Islands that are teaming with wildlife and different species, including the gentle giants – manta rays! Snorkeling with manta rays is a lifetime experience, and Nusa Lembongan is an excellent base for that. You can hire a boat from the Mushroom Bay beach that will take you on a snorkeling tour. After a day of exploring the underwater world, chill out in one of the beach bars in Jungut Batu Beach, which is also one of the best areas to stay in Nusa Lembongan. This beach is particularly magical because the mighty Mount Agung can be seen from a distance.
Lembongan island is situated about an hour boat ride from Bali's port Sanur. Most speed boats go to Nusa Penida first, where you can catch a smaller boat to arrive at your final destination that is another 10 minutes ride by boat.
Penghu Islands, Taiwan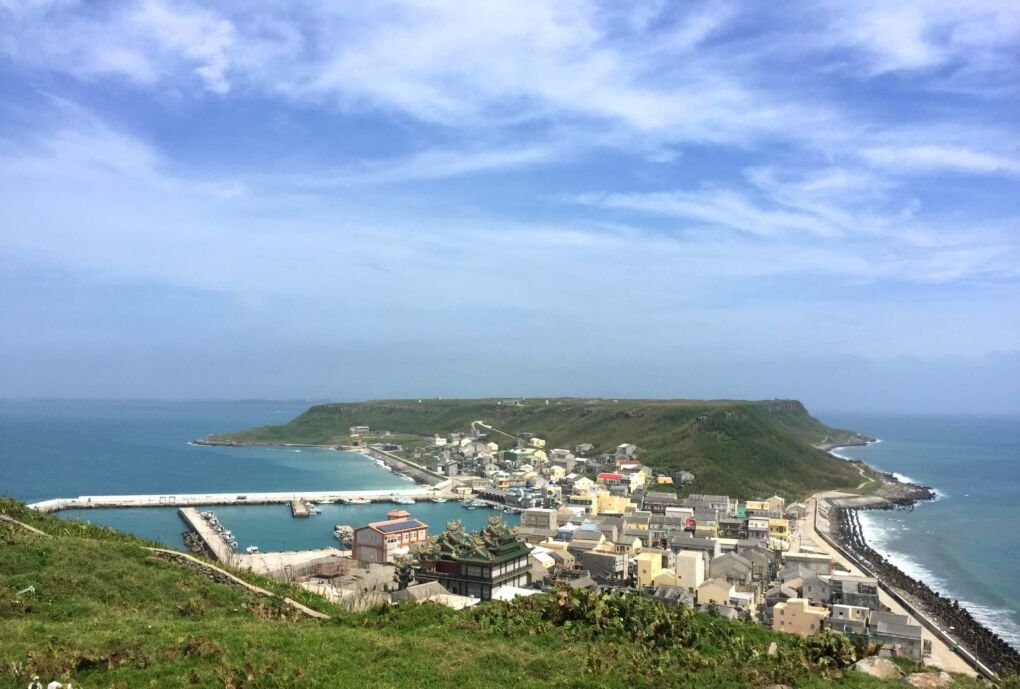 By Sarah of Last Minute Wanders
If you're looking for the culture and food of Taiwan, but prefer the slower pace that comes with island life, the Penghu Islands could be the ideal solution that you probably haven't considered yet.
Located off the southwest coast of mainland Taiwan, this archipelago of 90 islands is still relatively unknown to foreign tourists, although it is a popular vacation spot for locals.
Penghu Airport is in the center of Magong, the largest of the islands, and you can fly there from Taipei, Taichung, Tainan, Chiayi, or Kaohsiung.
The best way to make the most of a trip to these beautiful islands is to hire a scooter or a car from Magong City and drive to the many temples and beaches located on the four main islands, which are all connected by road via the Penghu Great Bridge.
Catch a boat tour from Magong City and explore some of the outer islands; visit the Erkan Old Village, marvel at the incredible natural basalt columns, stand on the Tropic of Cancer and try the bright pink cactus ice cream!
And what better way to end the day than with some delicious traditional Taiwanese food? Stop by one of the open-air self-serve barbecue restaurants in Magong, where you can collect your uncooked food from a buffet and barbecue it yourself at your table!
Perhentian Islands, Malaysia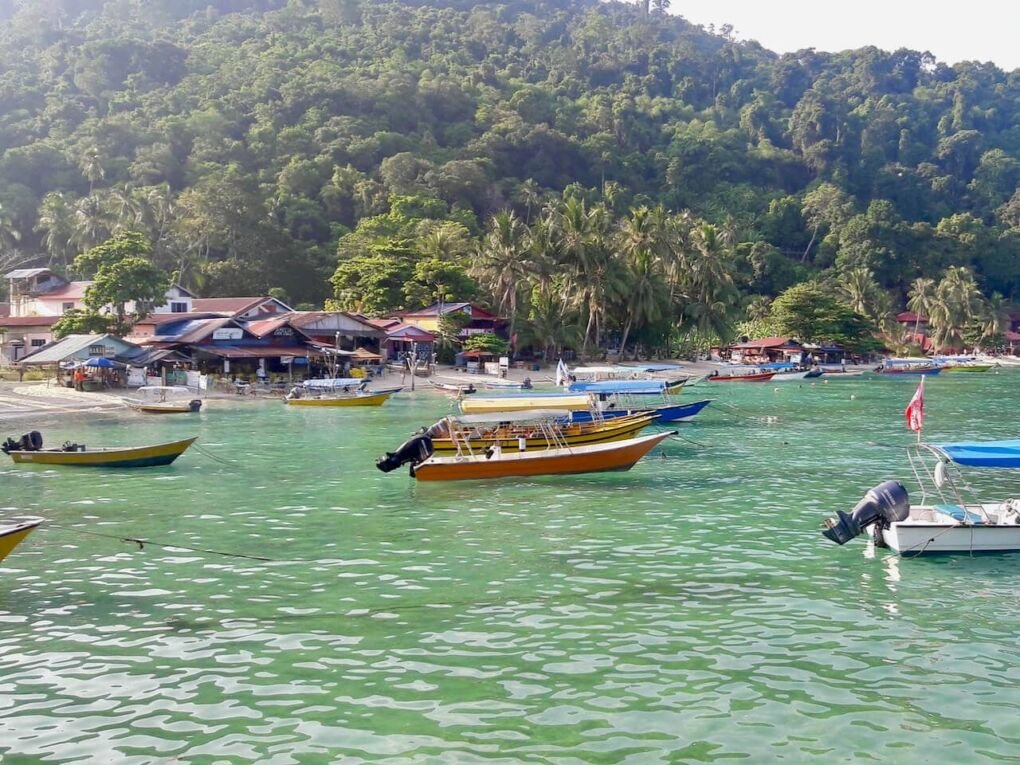 By Hannah Dawn, All About the Après
The Perhentian Islands is a small archipelago situated off the eastern coast of Malaysia. Perhentian Besar and Perhentian Kecil are only inhabited by the cluster, and you can opt to stay on Kecil for the most affordable accommodation or Besar if you want to splash out. Access to either island is via a speedboat from Kuala Besut which takes around one hour. You can purchase your ticket at the pier. Kuala Besut is accessible from Kuala Lumpur by public bus.
These idyllic islands are blessed with soft white sand, verdant rainforest, and a laid-back vibe. Outside the larger resorts, Wi-Fi is extremely limited, which means it's the perfect destination for unplugging and recharging among pristine nature.
The main lure of the Perhentians is the quality of scuba diving and snorkeling the area offers. Reef sharks, turtles, and tropical fish including 'Nemo' are typically sighted at dive spots. The Perhentian Islands is one of the more affordable places to dive as well as to get Open Water qualified. When you're not in the water, you can sunbathe on the gorgeous beaches, hike around the island, and catch fire shows on Long Beach. One other exciting thing to do while Perhentian Besar is to sleep wild at the jungle campsite by Rainforest Beach. At least venture down to eat at their restaurant for a homecooked meal if you decide not to camp.
Shikoku Island, Japan
By Mayi of Secret Moona
Shikoku Island is one of Japan's best-kept secrets. Rich in history and culture, the smallest of Japan's main islands is filled with breath-taking scenery; the varied landscape offers mountain views, small fishing villages, and many more. Anyone looking to experience a different side of Japan should go to Shikoku where nature and traditions still live on.
Located between the Seto Inland Sea and the Pacific Ocean, Shikoku is the least known and visited of the major islands. It is made up of four prefectures each with its own appeal: Ehime, Tokushima, Kochi, and Kagawa.
Getting to Shikoku is easy and depending on your main base, you can either travel by plane, train or boat. If you start your trip from Tokyo, the flight will take about 1h25 minutes from both Haneda and Narita airports. Once on the island, getting around is done via public transport. Do note, however, that public transport is sparse between the most remote villages.
As mentioned, the island is packed with things to do and places to explore. One of the top things to do in Shikoku is "village hopping". The island has many villages waiting to be explored. From exploring the castle town of Ozu with its Garyu Sanso (tea house) overlooking the Hijikawa River to the mountain village of Motoyama, visiting one of the villages will give you a unique opportunity to discover the lifestyle of the locals.
The island is also home to one of the most beautiful Japanese gardens in the country, Ritsurin Garden, in Takamatsu. The incredible garden, which took 100 years to complete, is perfect for a relaxed walk or for cherry blossoms/autumn leaves viewing.
Finally, a trip to Shikoku means eating delicious local foods. Japanese food is amazing no matter where you are, as they pride themselves on offering quality food with the best products. Sanuki udon, tai-meshi, katsuo no tataki, and mikans are among some of the delicacies to try in the region.

Taiwan
By Anne Betts of Packing Light Travel
Taiwan is one of the most underrated destinations in Asia. At least, this seems to be the case for travelers from Western countries. This could be related to the fact that so few United Nations member states recognize Taiwan through formal diplomatic relations. It's complicated, related to a political landscape where China insists that countries can't recognize both China and Taiwan.
What makes Taiwan a visit-worthy destination? It's beautiful. A clue to Taiwan's natural beauty can be found in "Formosa," a former name of Taiwan. It comes from early Portuguese sailors who called the island Ilha Formosa meaning "Beautiful Island." Thermal hot springs, lush tropical forests, waterfalls, lava rock coastlines, and towering sea cliffs help create a diverse natural landscape.
Another standout concerns the people. Friendly, helpful, considerate, and honest come to mind. Taiwan is one of the safest countries on the planet. It's one of those rare places where threats to personal safety or property don't need to be constantly considered in a daily routine.
The public transportation system is amazing. High-speed rail service runs down the western side of the island, and the immaculately clean MRT in Taipei is up there with the world's finest subway systems.
Taiwan welcomes tourists and makes it easy for English-speaking travelers with bilingual signage and access to tourist information services throughout the island. This Asian hidden gem is a dream destination for foodies! A plethora of street vendors and vibrant night markets offer a variety of culinary delights at budget prices.
Varkala
by Nilu of TheTravelingCA
Varkala town in Kerala has the only beach in the state where you will find cliffs and sea located adjacent to each other. One of the best things to do here is to enjoy the romantic sunset at the stunning Papanasam beach in Varkala. This beach is also famous for water sports like surfing and parasailing because of its favorable tides and weather.
English is spoken widely here & this town is also very safe for solo travelers. You will find many backpackers & foreigners here for a long stay. Varkala can be reached by air from Thiruvananthapuram International Airport, which is 45 km away. It has connectivity with major countries. Taxis are easily available till Varkala town. Varkala Railway Station is at a distance of less than 5km & Thiruvananthapuram Railway Station is around 48 km or 1 hour away.
Varkala beach is famous for its white sands, clear waters & rock cliffs overlooking the Arabian Sea. Watching the sunrise and sunset from Varkala beach are a treat. Just the right place for adventure junkies, water sports is the most enjoyable in Varkala. Surfing, parasailing, jet skiing & banana boat rides are some of the most enjoyable & thrilling things to do in Varkala for a great experience.
Janardhana Swami Temple is an ancient temple reflecting the traditional temple architecture style followed in olden times. Varkala is an important Yoga center in India. There are popular yoga ashrams here that let tourists attend their yoga sessions for a day, week, or month.
There are all types of stay options here- budget & luxury. Varkala also has many hostels like Zostel, Piggys, Lost Hostel, etc. There are also many homestays that give you a local experience.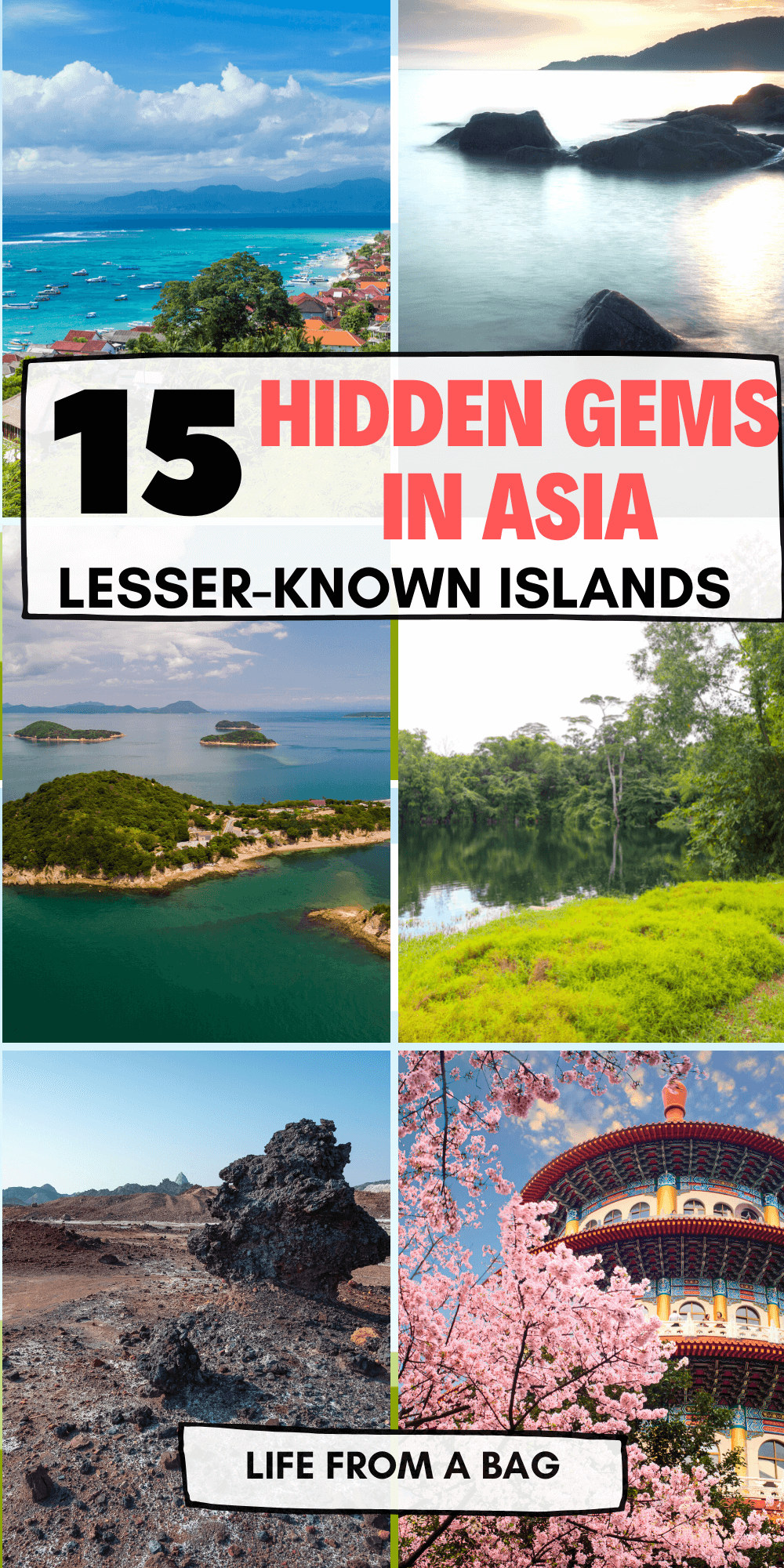 Disclaimer: This article contains affiliate links. This means that if you make a booking after clicking on a link, I may receive a small commission at no extra cost to you!