A trip to NYC would be incomplete without visiting the icons of New York City. There are many things to do in New York City, in most cases it can be a bit overwhelming especially for first-time visitors.
Not only is New York one of the best cities to live in the US but it tends to also be expensive hence I included some tips on saving money in the Big Apple.
You will feel like there is so much to do and not enough time, so I've put together a list of things to do to help you decide.
With famous attractions like Times Square, Central Park, the Empire State Building, and Yankee Stadium—to name just a few—NYC packs more to see and do into one compact area than any other place on earth.
This guide shares how to dave money in NYC, what to do in New York City and which is the best neighborhood to stay and visit based on your interests.
Travel Tip: Since New York is known as the city that never sleeps, how about checking out this guide on exploring NYC at night. It contains all the best things to do – straight from a local!
The Best NEIGHBORHOOD in New York?
The Best New York City neighborhoods for nightlife – Meatpacking District, East Village, West Village, Lower East Side, and Williamsburg
Best New York City neighborhoods for foodies – Chinatown, Little Italy, Union Square, and West Village
Where to go shopping in New York City – Soho Area and Century 21 mall.
Trendy New York City neighborhoods – Highline Park in Chelsea, Brooklyn Bridge, West Side Highway, and Union Square area.
Icons of New York City
The best things to do in New York City, including attractions, museums, kid-friendly activities, food, and sightseeing tours:
1. Attend a TV show recording
Did you know The Daily Show with Trevor Noah, The Tonight Show Starring Jimmy Fallon, The Wendy Williams Show, The Dr. Oz Show, Good Morning America, The Late Show with Stephen Colbert, The Rachael Ray Show are taped in NYC? You can request tickets to attend on their websites, but tickets are very limited. Some shows have standby tickets to fill extra seats so if you miss tickets you can give that a shot!
2. Take a ferry to the Statue of Liberty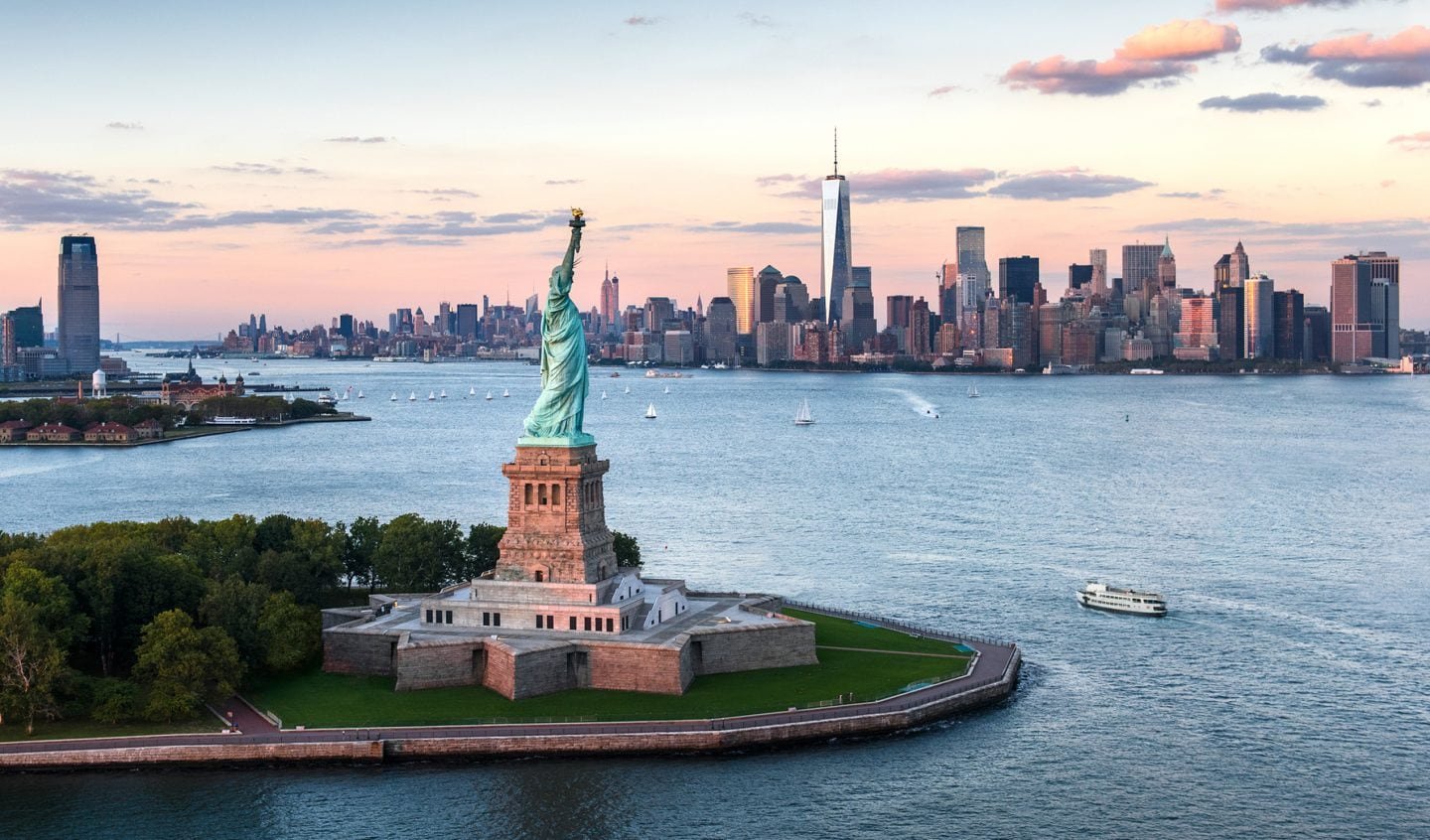 A trip to New York City is not complete without visiting The Statue of Liberty. Lady Liberty is one of the most famous Icons of New York City.
For the many immigrants who flocked from European countries like Ireland during the famine, the Statue of Liberty was the first image they saw of the USA. With so many amazing things to do in New York City, the iconic Statue of Liberty should be added to the lists.
Approximately 5 million people visit this statue every year.
Interesting facts about the Statue of Liberty
Lady Liberty was a gift from France, given to America in 1886.
The statue is formally known as "Liberty Enlightening the World."

She holds a torch and tablet upon which is inscribed on the date of the American Declaration of Independence (July 4, 1776).

From the

ground to the top of the torch the statue measures 93 meters and weighs 204 metric tonnes.

Lady Liberty was sculpted by Frederic Auguste Bartholdi. The framework was designed by French engineer Gustave Eiffel.

The robed female figure represents Libertas, the Roman goddess of freedom.

The seven spikes on her crown represent the seven oceans and the seven continents of the world.

Her shoe size is 879.

Speaking of shoes, if you look closely by the feet of the statue you will see broken shackles symbolizing the country moving forward from oppression and slavery.

The site was added to UNESCO's World Heritage List in 1984.
How to get to the Statue of Liberty from New York City
I took the Statue Cruises ferry from Battery Park to Liberty Island. The ferry leaves every 20 minutes and tickets are included in the New York CityPASS (a good value way to see lots of attractions). It's actually advisable to purchase this pass to skip all the long queues.
The first stop of the tour was the Liberty Island first where your ticket grants you access to the pedestal, a viewing platform halfway up the monument.
The statue is green because of the oxidation of copper. It's not painted! The metal is slightly damaged and corroded.
You have to climb 154 stairs from the pedestal to reach the crown which has a total of 25 windows. To access the crown you also have to pay an additional $3.
3. Ellis Island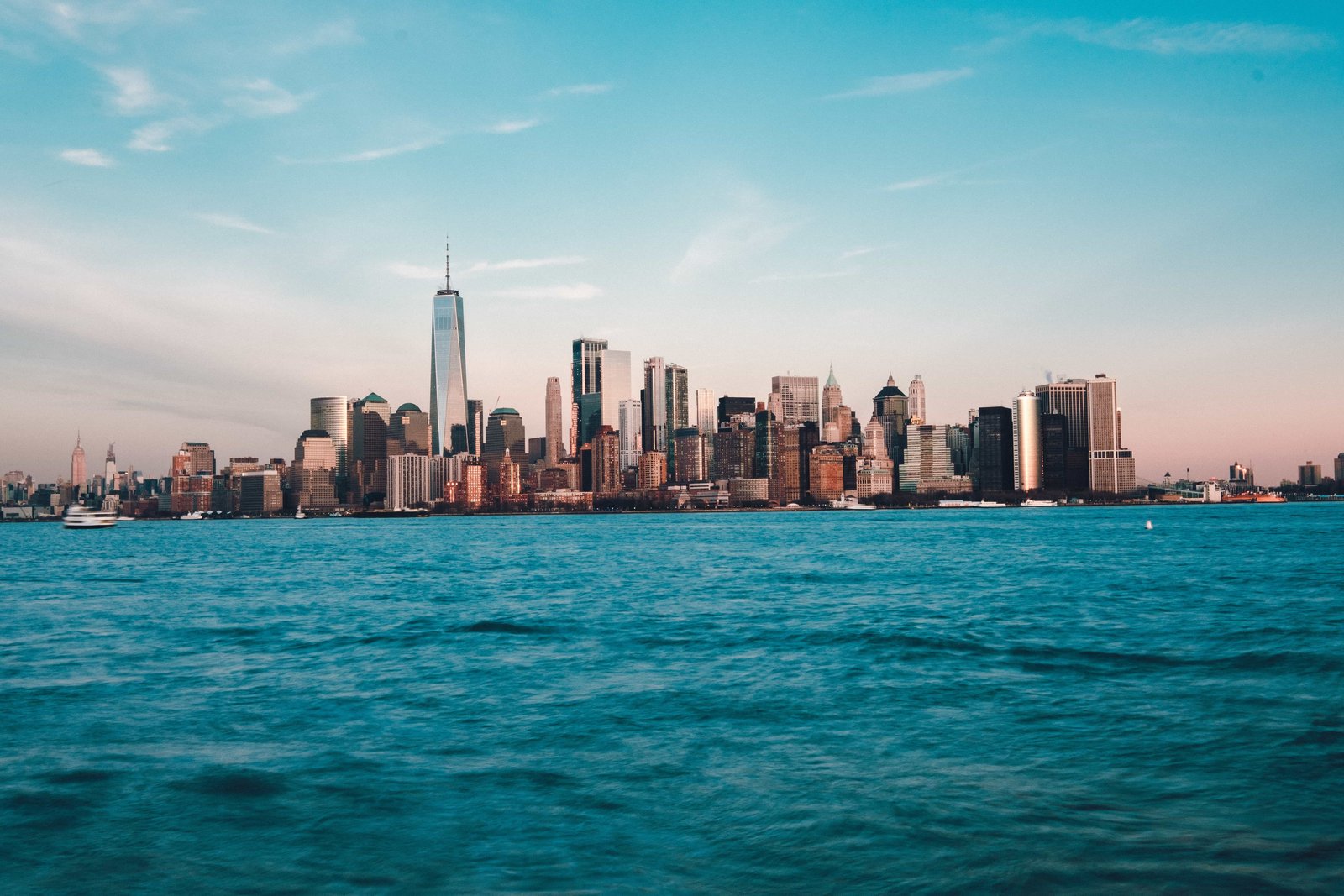 There's no time limit as you can stay on the island all day long and even have lunch at their cafe. When you're ready to leave, you can hop on and visit the next destination – Ellis Island.
Ellis Island is one of the most historic icons of New York City. Known as the nation's premier federal immigration station. Ellis Island was in operation until 1954, the station processed over 12 million immigrants and The island was made part of the Statue of Liberty National Monument in 1965 where there has been a museum of immigration since 1990.
4. Stroll The Halls Of The Met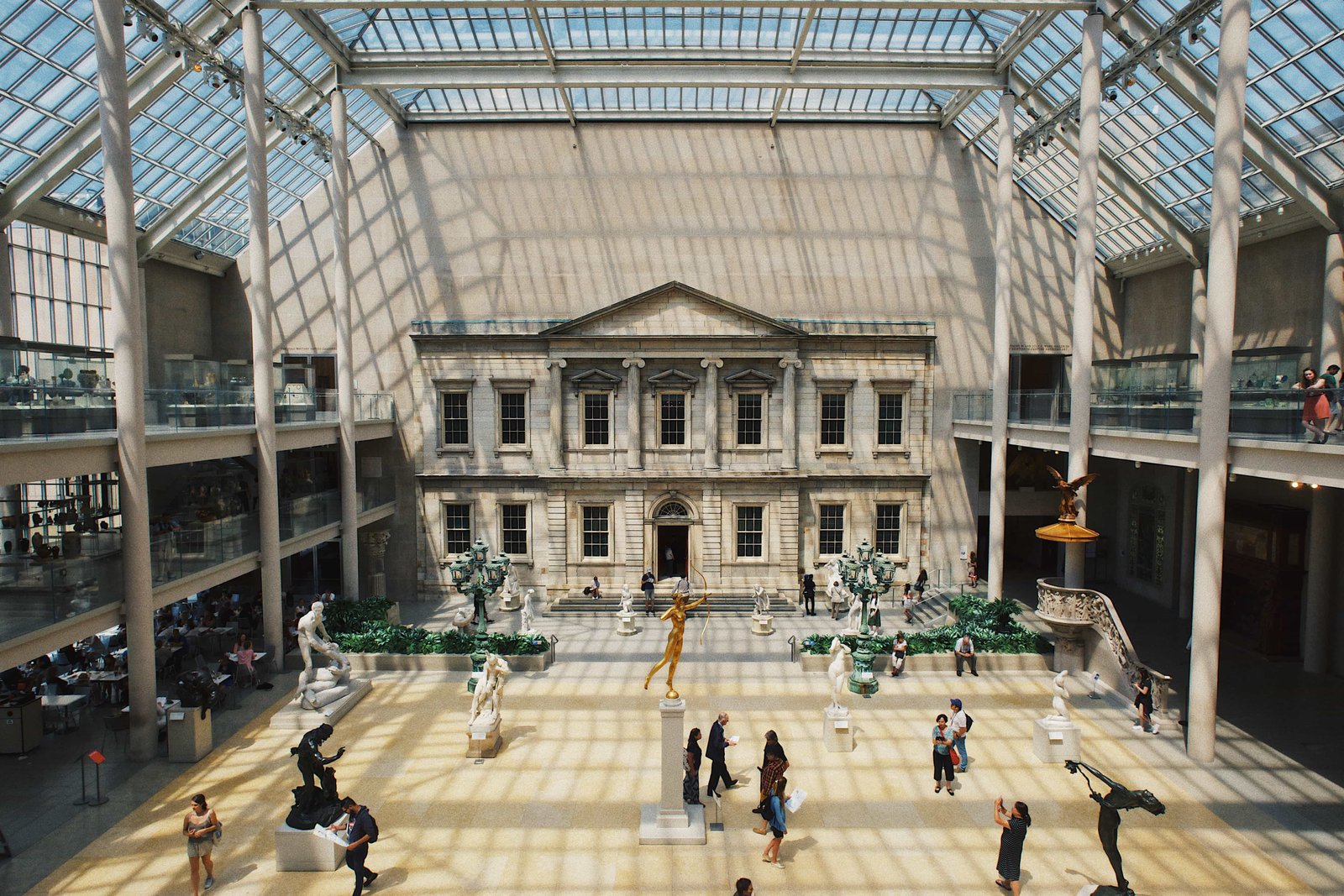 The Metropolitan Museum of Art is the place to visit for a dose of history, art, and culture in New York City. For anyone that's been, you know exactly what I'm talking about.
The Met is the largest art museum in the United States and one of the ten largest in the world. The Met houses one of the largest art collections in the world and you can easily spend the entire day there.
It's such a beautiful space with its magnificently high ceilings, white walls, and fantastically laid-out exhibits. I always felt that whatever installment was in there, the pieces were there to blend in (the more experimental, newer, and special collections at the very least) and to become a part of the museum.
The Met's curatorial departments are as follows:
African

Asian

Oceania

Byzantine

Islamic art
The Met is one of the most popular icons of New York City, it is always featuring a variety of limited-time exhibitions, events, and performances like the annual Met Ball.
Their $25 entry fee is only 'recommended' and not mandatory.
5. The Whitney Museum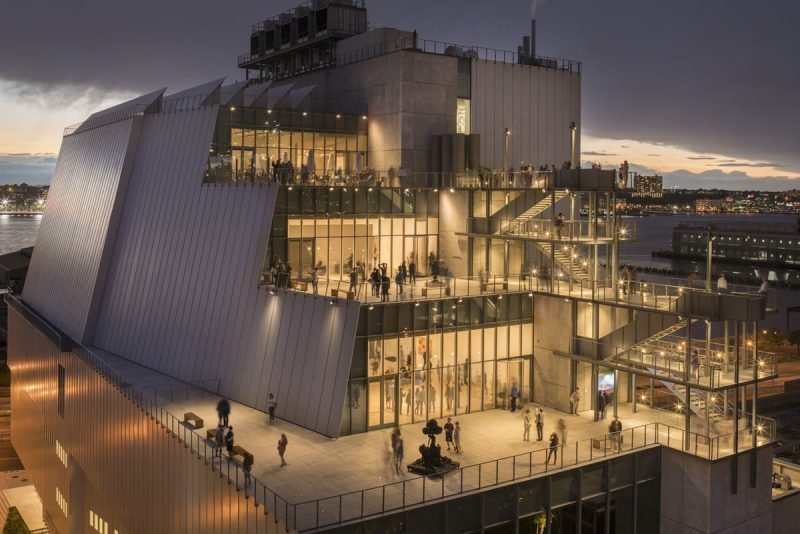 Designed by architect Renzo Piano and situated between the High Line and the Hudson River.
The Whitney is dedicated to collecting, preserving, interpreting, and exhibiting American art, and its collection—arguably the finest holding of twentieth-century American art in the world—is the Museum's key resource.
6. The Brooklyn Museum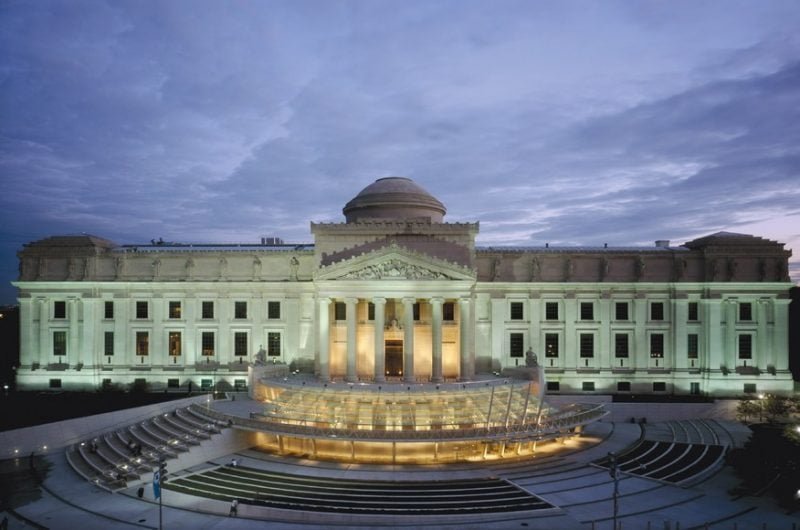 The Brooklyn Museum exhibits collections that seek to embody the rich artistic heritage of world cultures.
The museum is well known for its expansive collections of Egyptian and African art, in addition to 17th-, 18th-, 19th-, and 20th-century paintings, sculpture, and decorative arts throughout a wide range of schools.
The first Saturday of every month is free after 5 pm and features live music, libations, and special programming.
7. The MoMA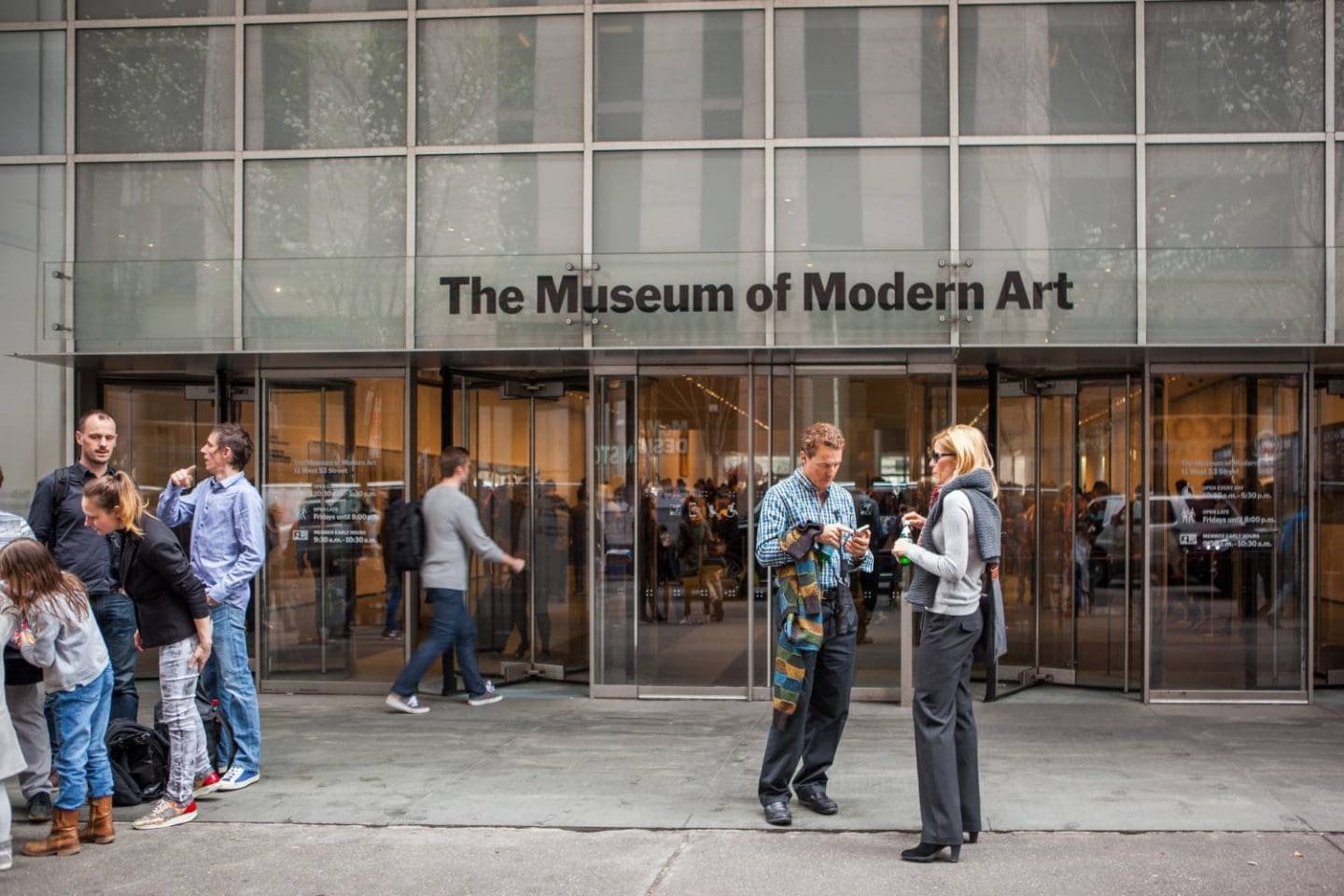 The Museum of Modern Art (MoMA) has been important in developing and collecting modernist art and is often identified as the most influential museum of modern art in the world.
It is also one of the largest. The museum's collection offers an overview of modern and contemporary art, including works of architecture and design, drawing, painting, sculpture, photography, prints, illustrated books and artist's books, film and electronic media.
The Museum is open 7 days a week 10:30 am – 5:30 pm (8 pm on Friday); closed on Thanksgiving Day and Christmas Day.
8. Visit the American Museum of Natural History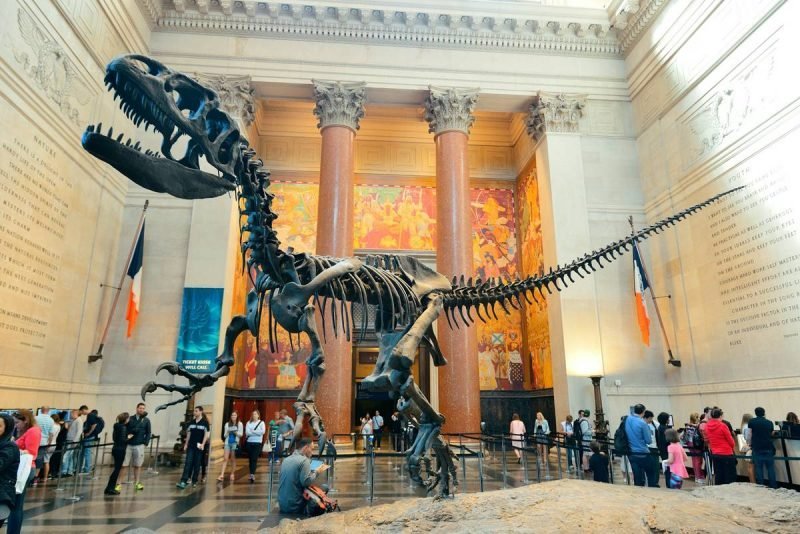 One of the world's preeminent scientific and cultural institutions.
9. The Intrepid Sea, Air & Space Museum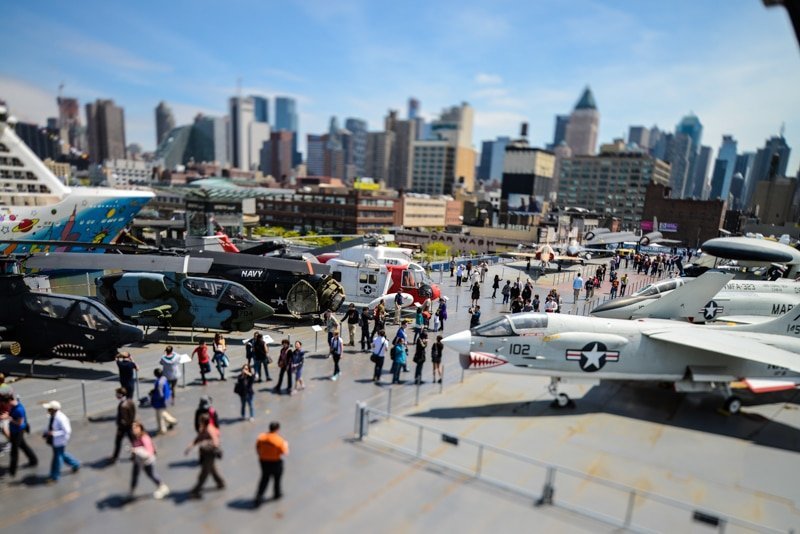 Dedicated to the exhibition and interpretation of history, science, and service as related to its home aboard the aircraft carrier Intrepid. This is one of the best icons of New York City to visit with kids!
10. Hit The Books At The New York Public Library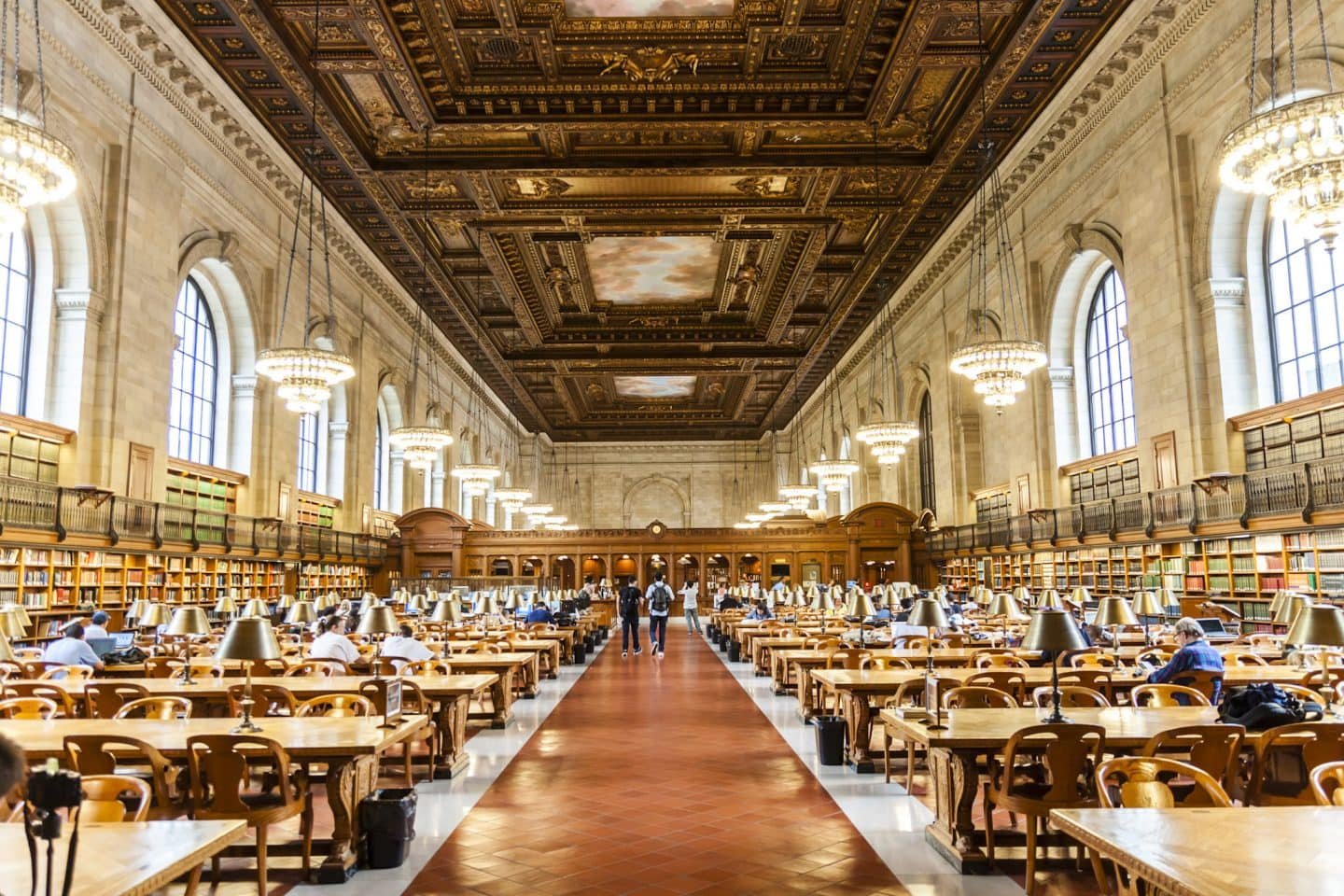 11. Shop at the Strand Bookstore
New York City's legendary home of 18 Miles of new, used, and rare books. featured in films such as Six Degrees of Separation, Julie & Julia, and Remember Me, starring Robert Pattinson, who played a Strand employee.
12. People Watch at Washington Square Park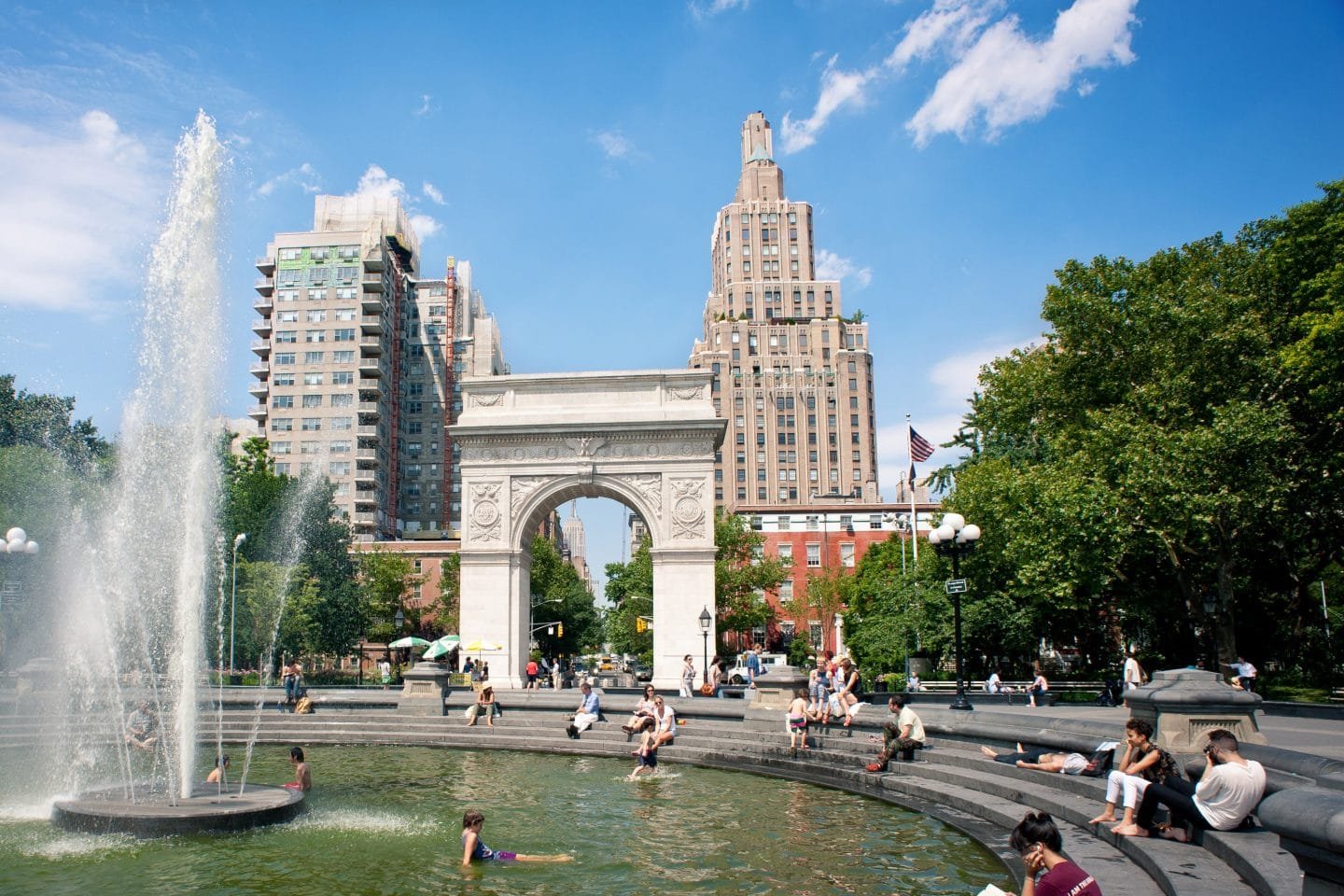 Take a picture at the iconic 1895 Washington Arc and spend some time at the park watching people skateboard and walk around.
13. Catch A Game At Yankee Stadium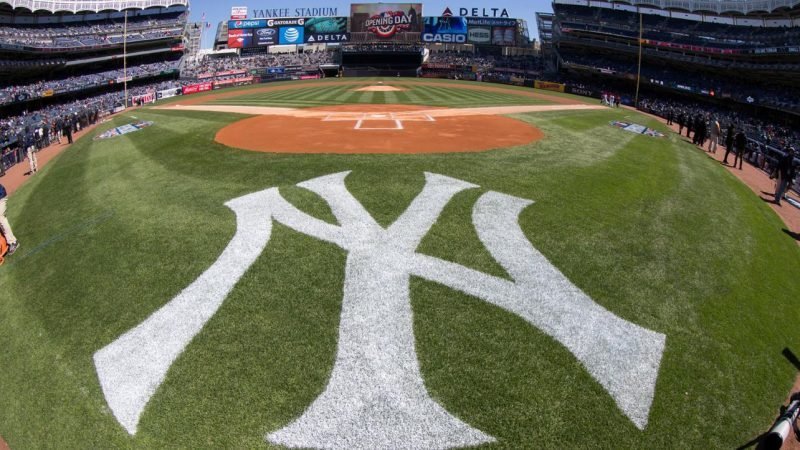 Yankee Stadium, home to the 27-time World Series champion New York Yankees, was built in 2009 across the street from the old stadium. The new stadium has hosted numerous events including the most recent Yankees World Series in 2009, international soccer, college football, and concerts.
14. The Mets Stadium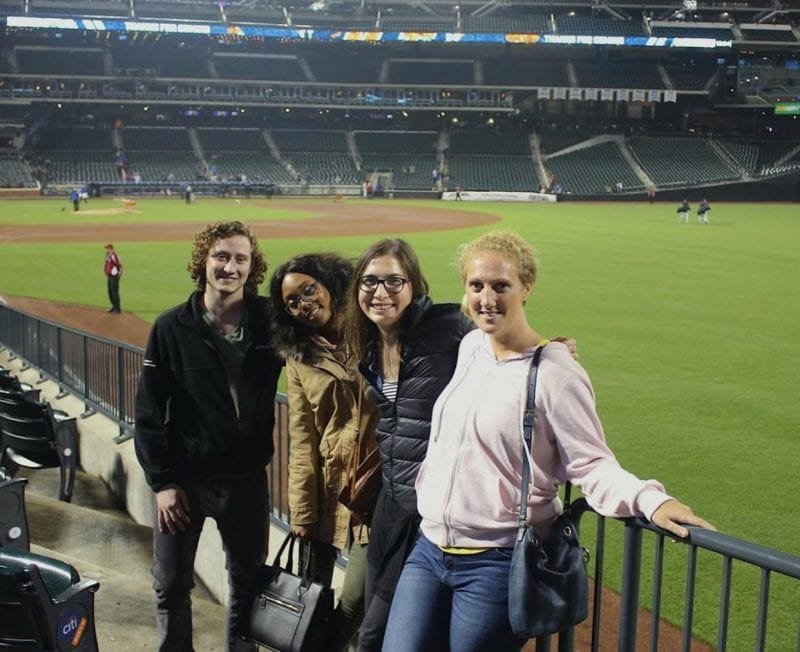 MetLife Stadium, home to the New York Jets and New York Football Giants. It's the only active venue to serve as the home stadium for two NFL teams, MetLife Stadium hosts 20 NFL games per season, more than any other Stadium.
15. Ride The Wonder Wheel At Coney Island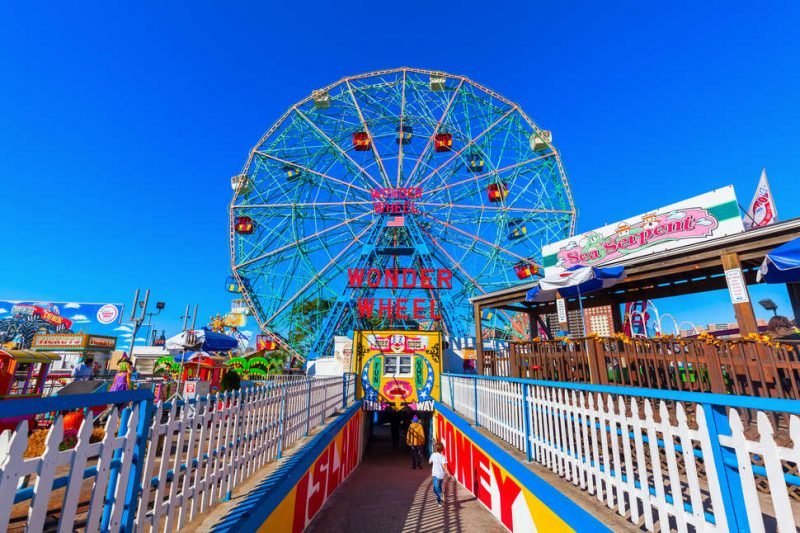 If you've seen Beyonce's "XO" video you'll see her enjoying a day, driving bumper cars, and riding the Cyclone roller coaster at Coney Island.
They have an amusement area along the water with more than 50 rides and attractions." You can stroll the beach any time of year but the rides and attractions are generally open weekends from Easter until Memorial Day, all week long from Memorial Day until Labor Day, and then weekends from Labor Day until the end of October.
16. Watch the sunset from the Empire State Building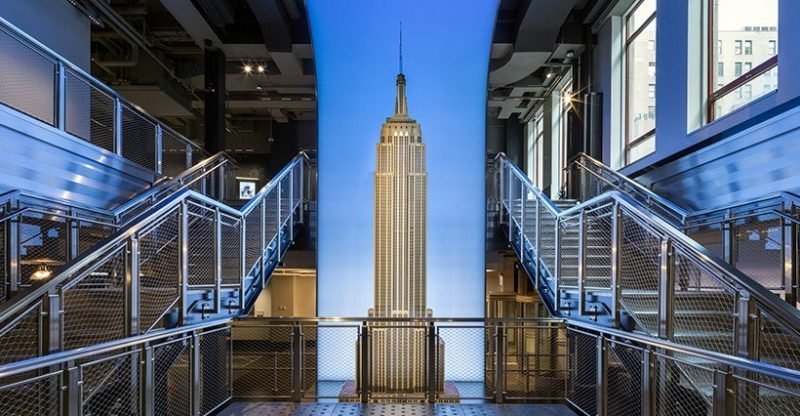 This tower is one of the most recognized icons of New York City. It stood as the world's tallest building for nearly 40 years, from its completion in early 1931 (102-story skyscraper). The observation deck offers an incredible view of the city, both during the day and at night.
17. Top of the Rock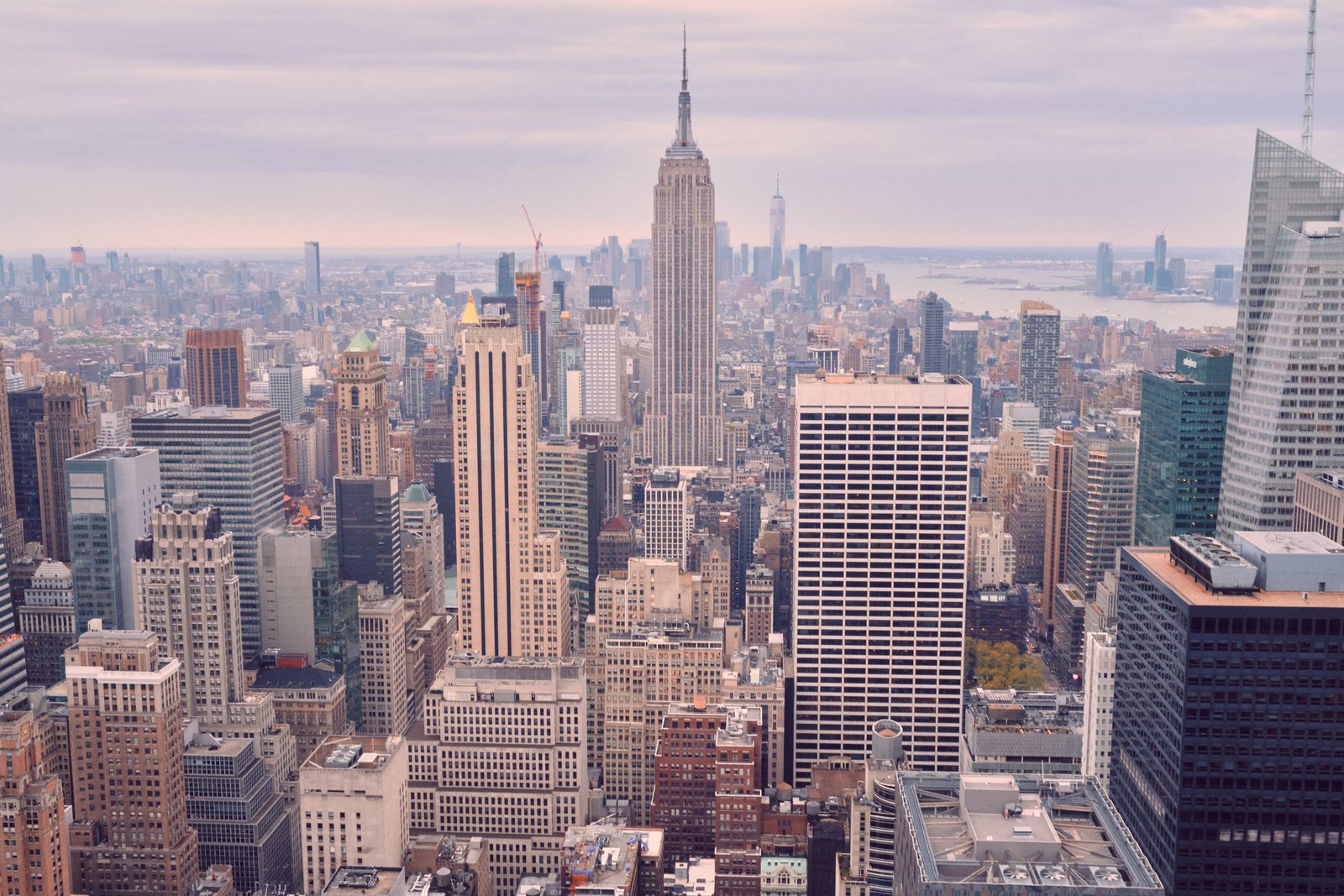 Rockefeller Center's multi-floor observation deck, the Top of the Rock, on the 69th and 70th floors of the building. Notably one of the most famous icons of New York City, The Top of The Rock is the best place to see all the amazing NYC views.
18. Wander around Central Park
Central Park is the first landscaped public park in the U.S. It now draws around 35 million visitors every year.
19. Grand Central
Grand Central is not only the world's largest (76 acres) and the nation's busiest railway station—nearly 700,000 commuters and subway riders use it daily—but also one of the world's most magnificent, majestic public spaces.
Past the glimmering chandeliers of the waiting room is the jaw-dropping main concourse, 200 feet long, 120 feet wide, and 120 feet (roughly 12 stories) high, modeled after an ancient Roman public bath.
Overhead, a twinkling fiber-optic map of the constellations covers the robin's egg–blue ceiling. To admire it all with some sense of peace, avoid visiting at rush hour.
20. Walk across the Brooklyn Bridge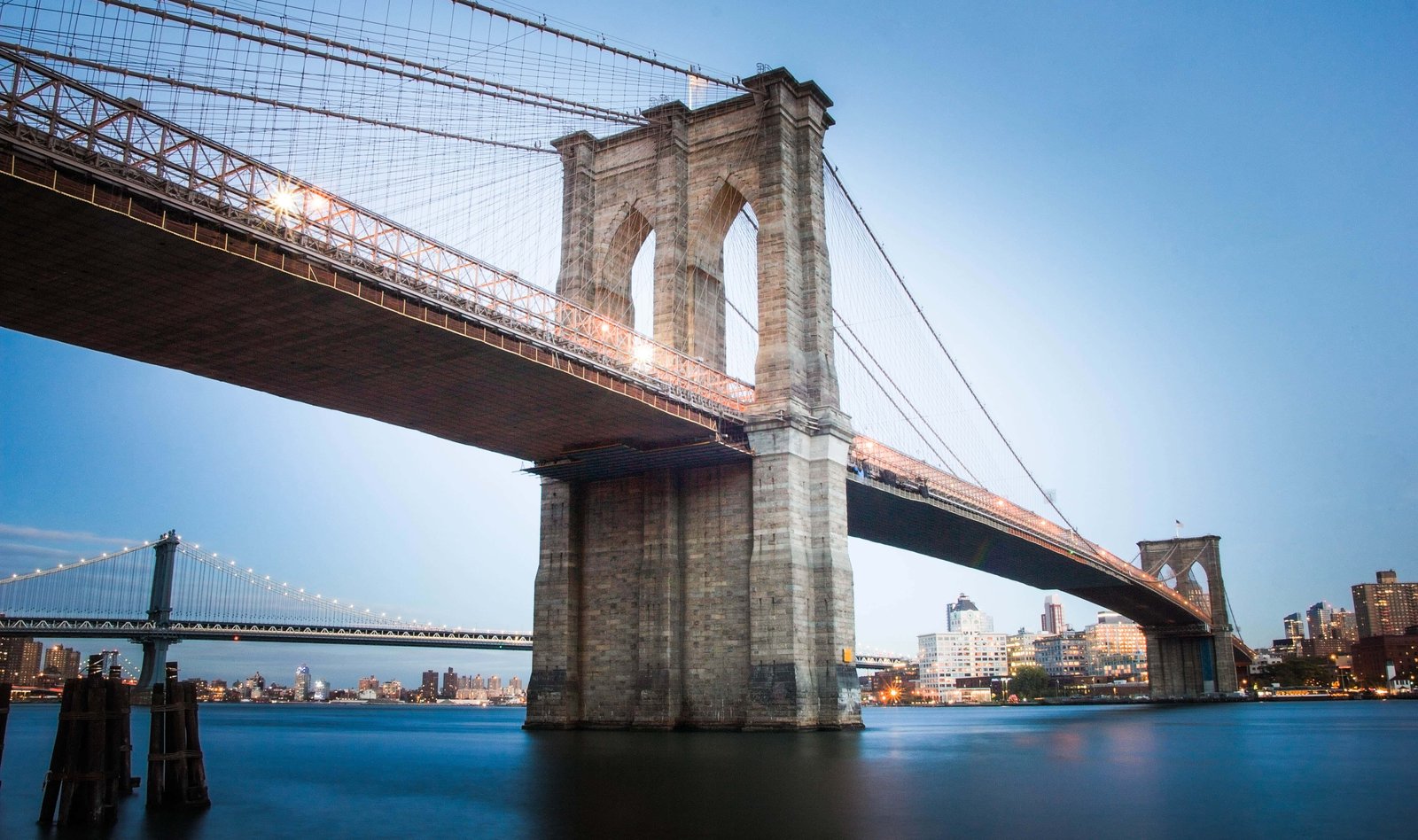 The Brooklyn Bridge is a suspension bridge spanning the East River from Brooklyn to Manhattan in New York City. A brilliant feat of 19th-century engineering, the Brooklyn Bridge was the first bridge to use steel for cable wire, and during its construction explosives were used inside a pneumatic caisson for the first time.
If you take a boat trip from New Jersey, you'll get a stunning view of the Brooklyn Bridge and the stunning NYC skyline.
21. Cinema and Cocktails?
Watch a movie while you drink, check out the showtimes at Williamsburg's Nitehawk Cinema, Bushwick's Syndicated, or Downtown Brooklyn's Alamo Drafthouse, all of which show both new releases and classic movies with chef-created menus (not just butter-sauce covered popcorn) and cocktails served while you watch.
22. Flatiron Building
The Flatiron Building is a distinctive triangular shape building designed by Chicago architect Daniel Burnham and built-in 1902. Located at the intersection of Fifth Avenue and Broadway, The building was intended to serve as offices for the George A. Fuller Company, a major Chicago contracting firm.
At 22 stories and 307 feet, the Flatiron was never the city's tallest building, but always one of its most dramatic-looking so this led to the building being one of the most photographed icons of New York City for more than a century.
23. Explore Soho
SoHo (South of Houston Street) is one of the most famous neighborhoods in New York. Known for its historic architecture (particularly the incredible cast-iron buildings), its famous art scene, and the premium shopping.
How to get to Soho?
From LaGuardia Airport: 20 minutes by cab without traffic
From JFK Airport: 30 minutes by cab without traffic
Subway: Take the N or R subway to Prince or Canal St., the 6 to Spring or Canal St., the B, D, F, or M to Broadway/Lafayette, or the C or E to Spring St.
What to do in Soho
Visit the New York City Fire Museum – An active firehouse from 1904 to 1959, this museum is filled with late 18th-century hand-pumped fire engines to modern equipment.
Shop at Prada's $40 million flagship
Shop at the MoMa Design Store
Visit the Phaidon Store with great books on visual arts.
Visit Leslie-Lohman Museum of Gay and Lesbian Art – Founded by Charles Leslie and his late partner, Fritz Lohman, this art gallery is dedicated to showcasing work by LGBT artists.
Tip: Keep in mind that most galleries are closed Sunday and Monday
24. Visit the 9/11 Memorial & Museum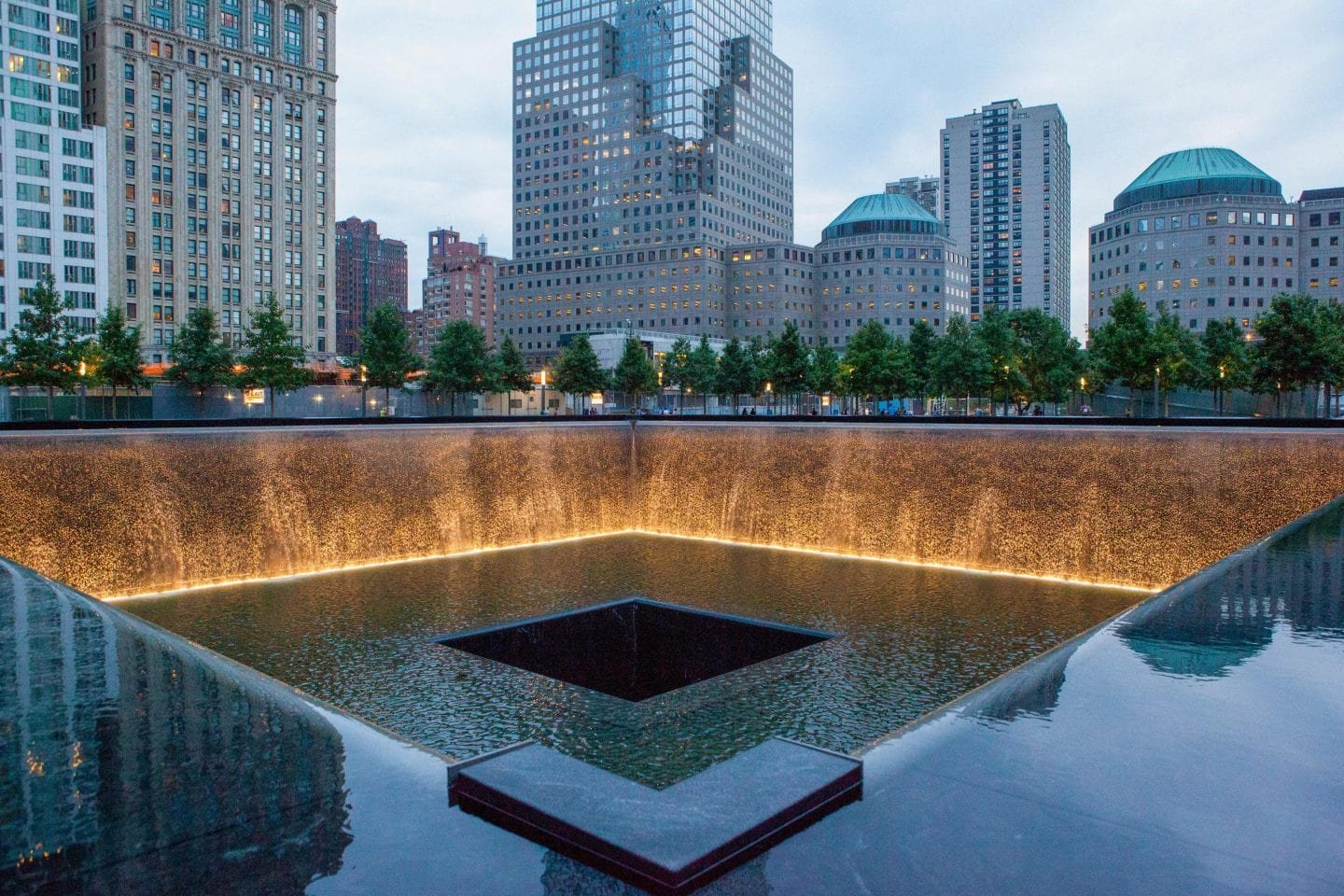 Right next door the World Trade Center, stop by the 9/11 memorial to pay your respects to the heroes and victims of that horrific day. It was an amazing educational experience and for the first time in my life, I cried at a Museum. I didn't even feel this sad when I went to see Nelson Mandela's prison cell at Robben Island. Honestly, just bring a huge box of tissues!
Best weekend trips from New York City
Atlantic City
Head to the Las Vegas of the East Coast for a weekend of shows, slots, and shenanigans. Even if you're not a gambler, you can hit the beach and cruise the boards.
Lake Placid
Home of the 1980 Winter Olympics, this Upstate town offers phenomenal ski slopes and hiking treks, plus a lively downtown.
Litchfield County, CT
It seems like everyone is going to the Catskills these days. Stray from the pack and venture to charming Litchfield County located about 2.5 hours from NYC. In addition to breathtaking scenery, the area has fantastic shops, restaurants, art galleries, and outdoor activities.
The Hamptons
Famous destination featured in TV and movies with some of the prettiest beaches in the country and a happening social scene.
Princeton
More than the locale of an Ivy League university, Princeton features a burgeoning restaurant scene thanks to the diverse collection of people from around the globe.
Tips for saving money in New York City
New York City has a pricey rep. You can spend hundreds on hotel rooms and shopping at 5th Avenue boutiques. You can eat five-course meals, wash it down with expensive wine ($50 and up), then climb the Top of the Rock for a 360° view of Manhattan. This is not the only way to see NYC, and the cheaper alternative need not take you "off the beaten track" in search of "undiscovered gems", and all those other travel cliches.
You can see the same amazing sights as everyone else, if sometimes from a different angle. If you plan correctly (and have a little insider knowledge), then there are plenty of ways you can stick to your budget while visiting NYC. Here are 10 tips on how to save money in NY (without compromising on seeing all of the iconic New York City sites!):
Skip the cab from the airport
A taxi from JFK to Manhattan will cost between $50-$80 depending on the time and traffic. The cheapest way to get into the city is by using the Airtrain then the subway which costs $7.25 per person in total. The AirTrain connects with the E, A, J & Z subway lines. The E is the best bet for getting to midtown. It's not the most convenient if you have a lot of luggage.
Use public transportation
The cheapest way to get around the city is to obviously walk. Alternatively, the subway is the best mode of transportation. It is well connected and for just $2.75 you can go anywhere in all of New York City. You can buy a 7 day pass for $29 or a 30-day pass for $104. Manhattan roads are on a grid so if you plan your days right, you can just walk from one activity to another because there are so many and all of them are nearby.
Use the right hotel search engine
Finding a spacious hotel room for less than $200 in New York City is almost impossible. For discounted rates search on Bookings.com which shows different hotels at different price ranges, this includes all taxes and fees in its results (not all do, which can make for a frustrating shopping experience).
Booking last-minute can be a great savings strategy, as prices sometimes drop in the week before travel as hoteliers scramble to fill their rooms. (Sometimes this doesn't work in New York City, from personal experiences I'd advise you to book months in advance). You should also book a hotel with a complimentary breakfast that can significantly reduce your dining expenses by not having to purchase breakfast. Another option, if you're willing to opt-in for either a spare room or a simple couch in somebody's home, is free (though a gift or paid meal for the host is customary) CouchSurfing.com
Take advantage of all the free activities
One of the best ways to save money in the Big Apple is to take advantage of all the free things. It's important to do a lot of research and have a good plan of action in place before you visit any city. Some of the best free things to do in New York City include wandering around Central Park, a tour of Williamsburg's Brooklyn Brewery, admire art at the American Museum of Natural History.
Avoid Starbucks
Forget about the takeaway coffees. Instead buy a travel stainless steel mug and bring your own coffee from your hotel or Airbnb.
Purchase early bird dinners
The early bird no longer catches just the worm but gets the tastiest meals at a fantastic price also. If you want to enjoy a three-course meal and drinks, but don't enjoy high prices, then make sure to head out for food and drinking during Happy Hour. Many bars throughout the city offer happy hour on a daily basis, with some even offering 'all night long' happy hours.
Buy a CityPASS
The New York PASS is a great purchase as you can save 42% off admission to the best Icons of New York City attractions and skip ticket lines. The pass includes tickets for:
The Empire State Building
American Museum of Natural History
The Metropolitan Museum of Art
Top of the Rock Observation Deck OR Guggenheim Museum
Statue of Liberty & Ellis Island OR Circle Line Sightseeing Cruises
9/11 Memorial & Museum OR Intrepid Sea, Air & Space Museum
Don't shop in New York City
My number one tip for shopping in New York is NOT to shop in New York. Take the bus or train across the Hudson and into New Jersey to malls like Westfield Garden State Plaza or Newport Centre. New Jersey has no state tax!
Get Insurance before traveling to New York City
Use travel insurance while visiting NYC so you are covered for theft and medical expenses. There are a lot of adventurous activities to do in New York City, and it's best to have peace of mind while swimming, hiking, and trying some of the best food in the world.
Find out why I recommend World Nomads, check out my World Nomads Insurance review.