The exotic nation of Costa Rica continues to intrigue global travelers. Not only because of its ecological strides, but also because of its safety perception. Due to its location in Central America, Costa Rica is considered 'dangerous' by those who associate the country with gang violence, crime, and drug trafficking. 
Just how safe is Costa Rica for tourists? Fortunately, it's one of Central America's most stable and peaceful countries and is considered one of the safest countries in Latin America. Many expats and digital nomads live in Costa Rica precisely because of its sense of safety, beautiful towns, and idyllic residential areas. 
In this article, you'll get some travel safety tips and explore some of the must-see and best-to-avoid places on your trip to Costa Rica. 
Why Visit Costa Rica
Costa Rica is a spectacularly unique nation. It's home to 30 national parks that envelop dense tropical jungles, rivers, waterfalls, active volcanoes, and black sand beaches. The country is a Green Destination and a global pioneer in ecotourism, conservation, and sustainability. 
Costa Rica is home to about 5% of the world's biodiversity. The sound of howler monkeys echoes through the jungle, and if you gaze up, you're more than likely to see a sloth or two curled up in the canopies of the treetops. 
The locals here are called Ticos, and they live by the expression 'Pura Vida' ('pure life'), a lifestyle that encompasses happiness, simplicity, and gratitude. Home to some of the best surfing in the world, there's an adventure waiting for everyone in Costa Rica. 
Is Costa Rica Dangerous?
Costa Rica is generally a safe country, and most people who visit have no trouble. However, there are rising cases of pickpockets, petty theft, and tourist scams not only in crowded cities but also in smaller beach towns. The larger cities are known to have higher crime rates, and certain areas are generally not considered safe – especially at night. 
The country has the highest density of wildlife compared to any other country, which could also be dangerous. Whether exploring the lush rainforests, swimming in the tropical rivers, or returning to your jungle cabin, watch out for animals such as snakes, crocodiles, and spiders. 
When visiting Costa Rica, consider its rainy season between the months of May and November, with the heaviest rainfall in September and October. This means mosquitoes can be prevalent and underdeveloped roads can be dangerous. Bring lots of mosquito repellent and avoid driving in heavy downpours, and you should be good to go.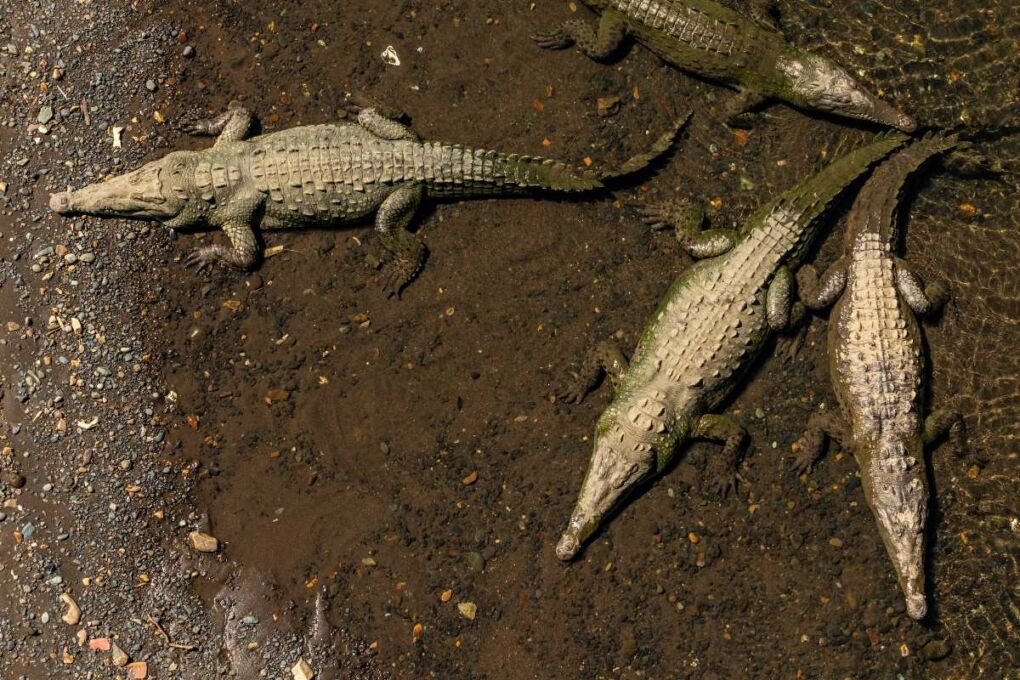 Dangerous Cities in Costa Rica
San José
San José is Costa Rica's capital city. It's generally safe, but as with all cities, certain areas should be avoided. These include El Infiernillo (Little Hell in English), Los Guido, Desamparados and La Carpioé. These are low-income neighborhoods with high crime rates. Additionally, avoid the San José parks at night. 
San José is a popular stop-over point for travelers and locals. Even though parts of San José are certainly safe to explore, Costa Rica's smaller coastal and inland towns offer much more in terms of safety, biodiversity, and natural beauty. 
Limón City
Limón City is not a popular spot for tourists. It has one of the highest unemployment and poverty rates in the country. Its location and port access have played a prominent role in allowing it to become the drug smuggling epicenter of Costa Rica. 
To the north of Limón City is a series of waterways that allows for the movement and transportation of drugs to the city's port. Organized crime and corruption is an issue in Limón City and is only growing. The town is fast becoming a hotspot for small gangs and influential cartels. 
Is it Safe to Live in Costa Rica?
Costa Rica is a safe place to live. In fact, the country is an ideal place to live due to its low crime rate, tropical temperatures, friendly locals, and natural beauty. You'll mostly have to be wary of crossing paths with uninvited guests such as poisonous scorpions or snakes. 
Costa Rica is known for being welcoming to foreign nationals. Once you've established permanent residency (which is not difficult), you will have access to excellent healthcare, a healthy lifestyle, and a lower cost of living than in the U.S.  
Safe Cities in Costa Rica
Puerto Viejo
Puerto Viejo is one of the few seaside towns on Costa Rica's Caribbean side. It's less developed and touristy than most Pacific coast towns.
Puerto Viejo is known for its chilled reggae-rasta vibes, as most of the locals are of Afro-Caribbean descent. Here it's not uncommon to enjoy coconut rice, beans, and jerk chicken dinners while listening to reggae music and practicing your Spanish. 
If you're looking for luxury, there might be a better place for you than Puerto Viejo. Although vibrant and colorful, the town is simple and laid-back. It has stunning beaches, fun nightlife, and an abundance of wildlife.
Tamarindo
Tamarindo is a wonderful place for expats to live. Enjoy access to modern and luxurious amenities such as high-end restaurants and shops, high-speed internet, day spas, and yoga studios. While Tamarindo is well-equipped, it still looks and feels like a small, laid-back beach town. 
Located on the Pacific Coast, Tamarindo is in one of the driest and warmest areas of Costa Rica. Living here means you'll experience less rainfall and more sun than in other parts of the country. 
In Tamarindo, there is a unique sense of community. The town boasts a mix of locals, digital nomads, retirees, holiday tourists, and surfers.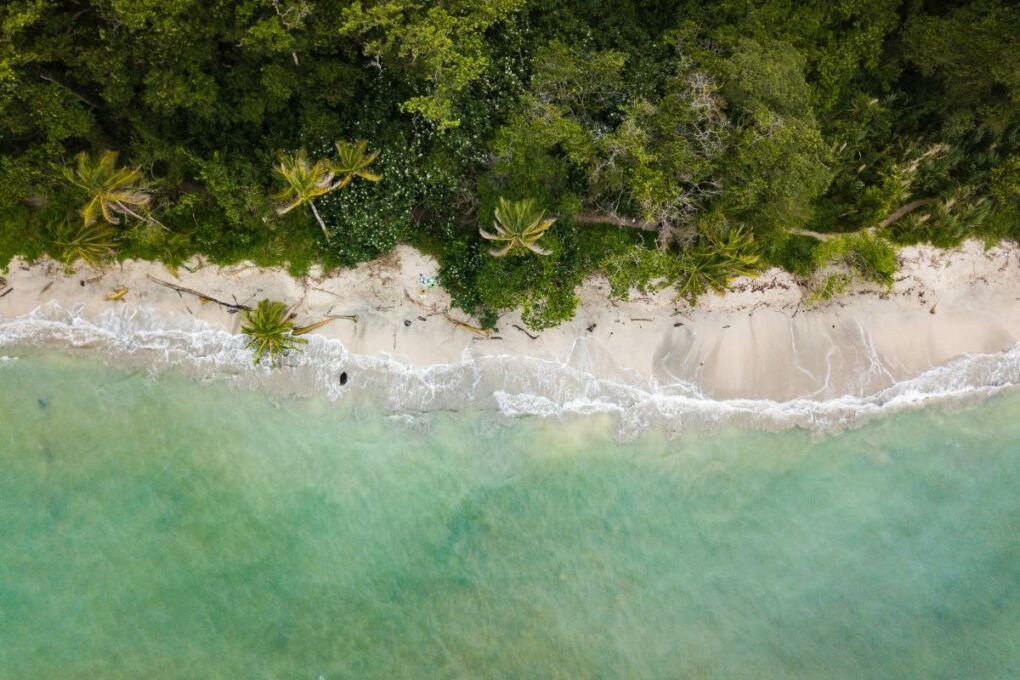 Nosara
Also located on the Pacific Coast on the Nicoya Peninsula, Nosara is an idyllic spiritual place where you'll find many yogis, surfers, meditation centers, and retreats. Nosara is in a Blue Zone, meaning that the people living here are the healthiest and live the longest. There are only five Blue Zones in the world.  
Compared to Tamarindo, Nosara is less developed . If you're looking to rent a home here, it will likely be a house, as apartments are far and few between. There have been successful efforts in ecotourism and protecting the nesting turtles that come ashore to lay their eggs.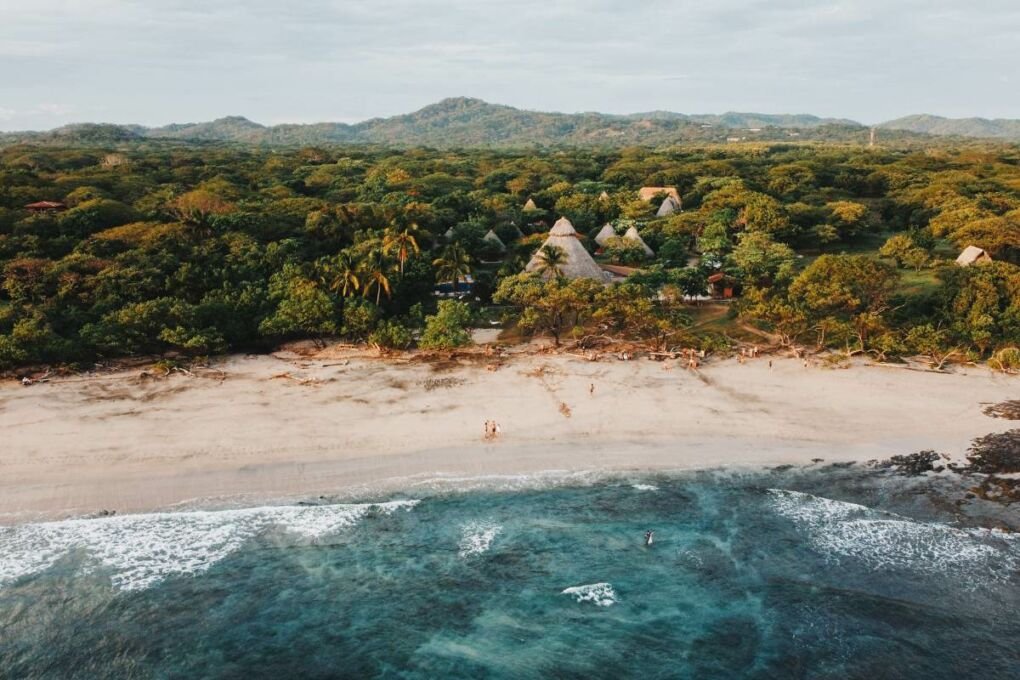 Where to Stay in Costa Rica
From colorful hostels nestled in the jungle to exotic five-star hotels overlooking breathtaking beaches, Costa Rica offers something for every visitor. In order to authentically experience Costa Rica, we advise that you stay away from all-inclusive resorts and instead book from the below range of boutique hotels and hostels. 
Luxury Hotels in Costa Rica
Ocho Artisan Bungalows
Located in the heart of Tamarindo, Ocho Artisan Bungalows is an adults-only five-star boutique hotel with top-notch service. The bungalows are perfect for nature lovers who enjoy cozy and intimate settings. 
Choose from a range of beachfront bungalows and villas to enjoy a sublime balance of coastal and jungle experiences. While the bungalows are centrally located to nearby shops and restaurants, kick back and relax at the on-site beach club bar and restaurant. 
Hotel Boutique Lagarta Lodge
Situated in Nosara, Hotel Boutique Lagarta Lodge's philosophy is based on sustainability and social responsibility. So much so that the hotel has been awarded certification in sustainable tourism. Better yet, a percentage of the hotel's profits are donated to various projects that promote education and conservation. 
Don't forget to book a treatment in the spa or lounge by the pool and take in the magnificent views overlooking the Pacific Ocean. Hotel Boutique Lagarta Lodge is the definition of relaxation and rejuvenation. 
Mid-Range Hotels in Costa Rica
Selina Nosara Hostel
Selina Nosara has the feel of a stylish hotel but with hostel prices. It boasts a swimming pool, A.C., free wifi, and daily housekeeping. The premises offer bike rentals, and an à la carte breakfast is available every morning. 
There's an on-site restaurant, bar, and communal coworking space. The hostel attracts many international travelers and remote working nomads. Selina Nosara is located 1.5 miles from Nosara Beach and just 1.8 miles from Nosara Airport.  
Zulu Surf Hotel
In the vibey little town of Tamarindo and just 300 ft from the beach, Zulu Surf Hotel is a perfect place to wind down. Being centrally located, you can enjoy easy access to the best shops and restaurants the town offers. 
The hotel's units are equipped with A.C., and fresh towels and linen are provided. There are two on-site restaurants where you can enjoy local, American, and Italian cuisine. 
Budget-friendly Hotels in Costa Rica
Hotel Pura Vida
Hotel Pura Vida can be found in a quiet spot on the outskirts of Puerto Viejo and has a comfortable, relaxed, and welcoming feel to it. All rooms are equipped with mosquito nets and ceiling fans.  
It's just a short walk to the nearby beaches and town center. Close-by activities include horseback riding on the beach, canopy touring through the rainforest, taking a boat tour to see dolphins, and visiting a local cacao plantation. 
Tasty Dayz Hostel
At Tasty Dayz Hostel, stay among the dense jungle in Puerto Viejo. The hostel is bright, colorful, and lush. Settle into Caribbean life while you spot howler monkeys and sloths right from your window. 
There's a shared kitchen to cook meals from. The Tasty Waves Cantina also offers tacos, burgers, craft beer, and cocktails. Tasty Dayz has been rated excellent for its friendly staff, value for money, and location.  
Tips for Staying Safe in Costa Rica
Costa Rica has low levels of violent crime. It's a remarkable nation that should be top of your list of places to visit. You'll feel right at home here. Its incredible biodiversity, natural beauty, and friendly locals make Costa Rica stand out as a top destination to visit. 
Even though Costa Rica is generally very safe, here are a few tips to avoid unwanted scenarios to make the most of your trip: 
Always be aware of your surroundings, and always leave your bags or valuables in sight.

 

When hiking, wear appropriate footwear – sandals won't cut it in the jungle!

 

Follow local customs and etiquette. You don't want to come off as disrespectful to the locals, even if you don't mean to be.

 

At nighttime, travel with others and try to avoid isolated areas.

 

Wear mosquito repellent, long-sleeve pants, and shirts at night to deter the little monsters.

 
Is Costa Rica Safe | Frequently Asked Questions
Is Costa Rica Safe for Female Travelers?
Generally speaking, Costa Rica is safe for female and solo travelers. The smaller coastal towns are very safe and relaxed. The public bus system is reliable and inexpensive. Reassuringly, the local police are known for being friendly and helpful. 
For more information on exploring Costa Rica, check out these travel tips and 30-day itinerary for backpacking through the country.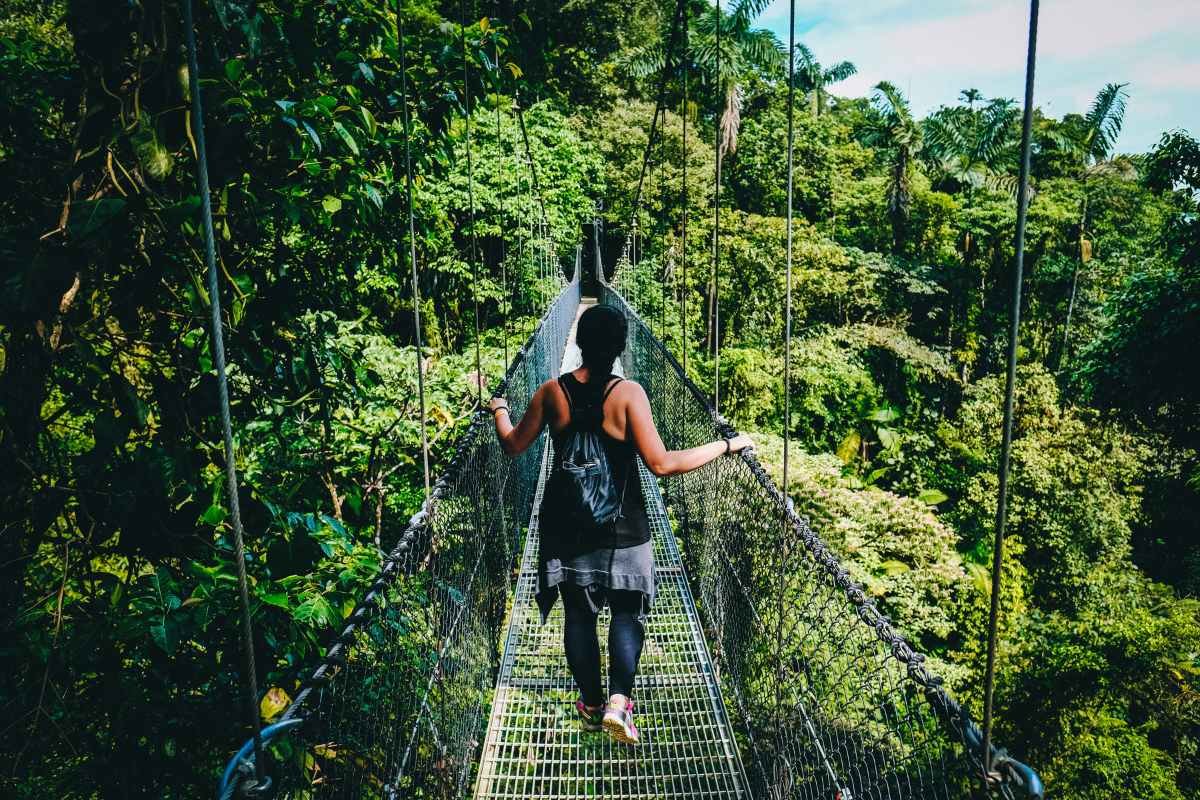 Is Costa Rica Safer than Mexico for Tourists?
Overall, Costa Rica is viewed as safer for tourists than Mexico. Although gang-related crimes and drug trafficking occur in certain parts of the country, the situation is not nearly as grave as in Mexico. Mexico experiences far more violent crimes than Costa Rica. 
Generally speaking, Costa Rica is a peaceful country that prides itself on its Pura Vida lifestyle. It is among 39 countries without a military. 
Is English Widely Spoken in Costa Rica?
The official language in Costa Rica is Spanish. English is less widely spoken in Costa Rica than people assume. English is mainly used in more touristy areas. 
Another tip for a successful visit to Costa Rica? Brush up on your Spanish! Even learning a few basic words and phrases will help you get by. The Ticos are generally friendly, honest, and welcoming people who will be more than happy to help you. 
Is Costa Rica a Rich or Poor Country?
Costa Rica is regarded as an upper-middle-income country. It attracts foreign investors because of its political stability, and it has a reasonably low level of unemployment. It's become renowned for establishing itself as a leading producer of electronic circuitry, pharmaceuticals, and medical instruments. 
Costa Rica is a rich country in terms of biodiversity, ecology, sustainability, and conservation. In fact, it's one of the wealthiest.