Planning a trip and wondering Is Gibraltar a country?
Gibraltar also is known as "the Rock" is a British air and naval base that guards the Strait of Gibraltar, which is the only entrance to the Mediterranean Sea from the Atlantic Ocean.
The peninsula consists of a limestone and shale ridge (the Rock), which rises abruptly from the isthmus to 1,380 feet (421 meters) at Rock Gun, its northernmost summit. Its highest point, 1,396 feet (426 meters), is attained near its southern end.
Where is Gibraltar
Gibraltar occupies a narrow peninsula of Spain's southern Mediterranean coast, just northeast of the Strait of Gibraltar. It is an isthmus to the southwest of Spain facing Tanger in Morocco.
How to get to Gibraltar
Gibraltar is accessible by land, sea, and air. Direct flights services originate from the UK (by British Airways and easyJet) and Morocco (by Royal Air Maroc).
Gibraltar is accessible by driving via Spain. Gibraltar adjoins the southern coast of Spain at the western end of the Mediterranean. In order to be allowed through the border into Gibraltar you will be required to be in possession of a valid passport. If you are unsure as to whether you require a visa to enter Gibraltar please click here:
Gibraltar, with its prime location at the southern tip of Europe, guarding the gateway to the Mediterranean, is an ideal port of call for cruise ships and yachts.
The reasons are not hard to find. Gibraltar is an attractive destination that is being continuously developed, not only economically and commercially, but also from a tourism point of view. The town has modern services available. The airport is only a five-minute drive from the port, with daily connections to London Gatwick, London Heathrow, London Luton and Manchester in the UK.
How big is Gibraltar
It is 3 miles (5 km) long and 0.75 miles (1.2 km) wide and is connected to Spain by a low, sandy isthmus that is 1 mile (1.6 km) long.
Is Gibraltar part of the UK or Spain?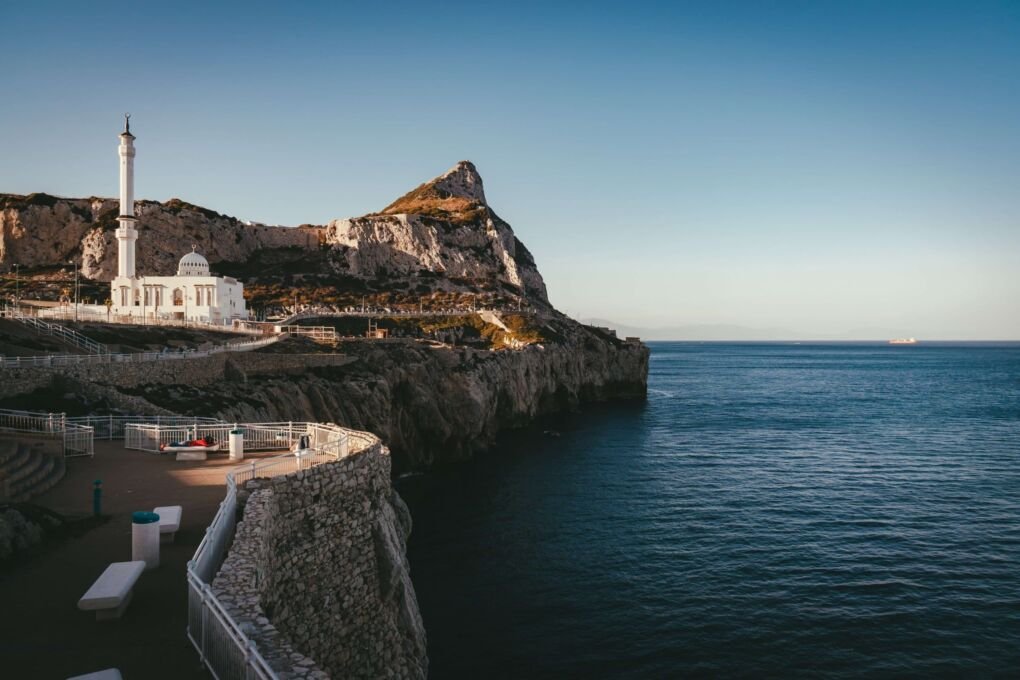 Gibraltar is one of 14 British Overseas Territories. Since the 18th century, Gibraltar has been a symbol of British naval strength. It was captured by the British Fleet in 1704 during the war of the Spanish Succession.
On 4th August 1704, an Anglo-Dutch fleet under the command of Admiral George Rooke took Gibraltar from the Spanish. Under the Treaty of Utrecht in 1713 Gibraltar was ceded to Britain.
Is Gibraltar a country
If you were to spend a day in Gibraltar, you would know that it is located in the country of Spain. This means Gibraltar is not a country but a British Territory located in Spain.
10 Facts about Gibraltar
Europe's only wild monkeys
With over 300 Barbary Macaque monkeys (often erroneously identified as apes) calling the rock of Gibraltar home for hundreds of years, Gibraltar the only European territory where you can see wild monkeys in their natural habitat.
Gibraltar has no springs or rivers
Gibraltar has no springs or rivers or agriculture.
Currency of Gibraltar
The Gibraltar pound is the currency of Gibraltar. It is pegged to – and exchangeable with – the British pound sterling at par value.
Over 500 species of flowers
There are more than 500 species of small flowering plants on Gibraltar. The Gibraltar candytuft is a flower native only to the Rock. Wild olive and pine trees grow on the Upper Rock.
Visa for Gibraltar
If your nationality requires a visa to enter the UK, you need a visa for entry to Gibraltar and you must apply to the Gibraltar authorities for permission to enter.
Rock of Gibraltar
One of the most famous sites is the Rock of Gibraltar, also known as the Rock. This monolithic limestone promontory located in the territory of Gibraltar, near the southwestern tip of Europe on the Iberian Peninsula. It is 426 m high. Most of the Rock's upper area is covered by a nature reserve, which is home to around 300 Barbary macaques.
John Lennon and Yoko Ono wedding destination
Hollywood stars Lawrence Harvey and Margaret Leighton were one of the first high profile couples to say I do in Gibraltar. John Lennon and Yoko Ono also got married in this beautiful location!
---
More Europe Travel Guides
---
Travel Insurance for Gibraltar
Use travel insurance while visiting South Africa so you are covered for theft and medical expenses. There are a lot of adventurous activities to do in the UK, and it's best to have peace of mind while driving, hiking and trying some of the best food in the world.
Find out why I recommend World Nomads, check out my World Nomads Insurance review.
Disclaimer: This article contains affiliate links. This means that if you make a booking after clicking on a link, I may receive a small commission at no extra cost to you!