Marrakech is one of the country's top travel destinations thanks to its colorful attractions and architectural wonders. Although it's a dreamy place, something to consider is whether or not Marrakech is safe for tourists.
Are you looking to add Marrakech to your Africa bucket list? Millions of travelers flock to the city to discover its intricate marvels. Marrakech offers a unique African adventure with delicious cuisine, an energetic Medina, and a gateway to the stunning Sahara Desert.
There are plenty of great reasons to visit, but one thing that may hold you back is if your safety is compromised. So, it's time to find out how the spirited Marrakech might impact your well-being.
Why Visit Marrakech?
Nestled below the Atlas Mountains, Marrakech captivates travelers with its winding Medina where alleys lead to vibrant souks brimming with exotic spices, textiles, and crafts.
The iconic Jardin Majorelle has vibrant blue buildings and lush botanical gardens, offering a tranquil contrast from the busy city center. Marrakech also has detailed Islamic architectural masterpieces, such as the Koutoubia Mosque and the Bahia Palace, embodying historic design and craftsmanship.
The nearby Sahara Desert invites adventurous travelers to experience camel treks along the extraordinary sandy dunes. With its medieval history, warm hospitality, and colorful culture, Marrakech is an irresistible destination.
Is Marrakech Dangerous?
This burning question has a pleasing answer: Marrakech is only a medium-risk destination. The main worry visitors need to consider is the chances of petty theft, particularly in tourist hotspots. Cautious behavior (or an anti-theft travel bag) will resolve this issue and leave you with only happy memories.
Other unpleasantries include scamsters and persistent street vendors, which can make you feel overwhelmed.
Although this is rare, in the past, there have been reports of terrorist attacks and serious crimes against Western tourists. Some travel advisories also mention to exercise a high degree of caution. In truth, no place on earth is 100% safe, but Marrakech is on the lower end of the worry spectrum.
Dangerous Areas in Marrakech
Al-Azzouzia
Al-Azzouzia is a suburb to the northwest of Marrakech and south of the central Medina. The people here live in poverty, and, as a result, some resort to crime. As such, it's best not to wander here as there are higher risks of violent crimes like armed mugging.
The Marrakech Medina is a beautiful place and one of the most visited locations in the city. You'll need to avoid veering too far down the narrow, dark streets — especially if you're a woman alone. Sticking to the busier and public parts of the Medina will prevent danger.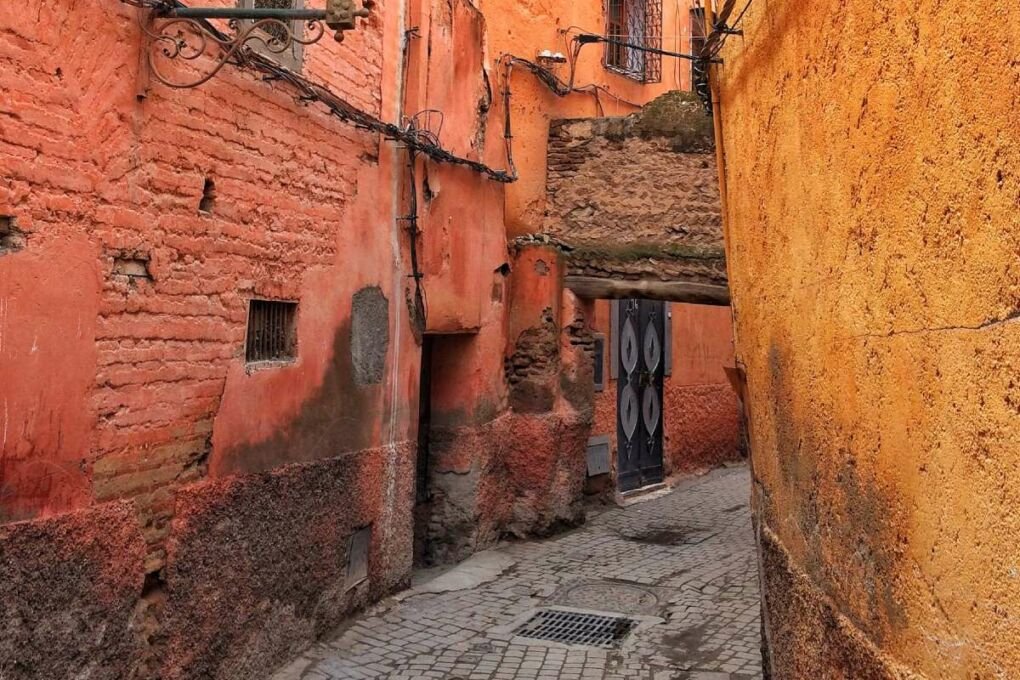 Essalam
Locals might warn you against traveling to the old Jewish quarter in Marrakech as it's considered dangerous. This is true in the case of the Essalam neighborhood, which is south of Djemaa el Fna square. Sadly, this site is subject to greater instances of crime, including violent crime.
This area is home to poverty-stricken families. Like Al-Azzouzia, the poorness of the community results in higher crime levels. Essalam has been reviewed as safer than in the past, but it still has crime issues that are prevalent today.
Is it Safe to Live in Marrakech?
The Red City's leading cause of concern for residents is theft. Violent crimes also occur, mainly where thieves use knives to threaten you for your belongings.
In 2022, Morocco's overall crime rate dropped by 30.22% because the government implemented a nationwide campaign to combat crime by strengthening regional police brigades. These statistics reflect an improvement in Marrakech's safety.
Overall, Marrakech has a moderate crime rate of 41.49 on the Crime Index. One great thing about Marrakech is that it has a lower crime than other major cities in Morocco, like Casablanca.
Top tip: We've also covered Morocco's overall tourist safety.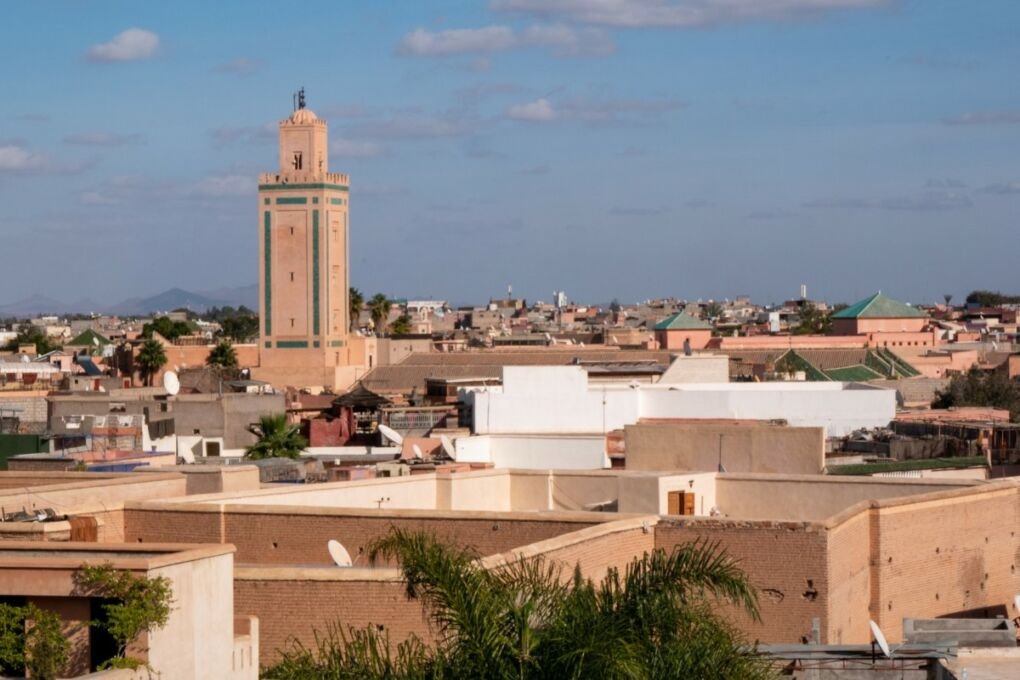 Safe Areas in Marrakech
Hivernage
Hivernage is a wealthy district in the city center and is a convenient 30-minute walk from the main Medina. This modern neighborhood is a prized and ultra-safe tourist area. You can book superb accommodation in Hivernage, such as luxury villas.
The area is the perfect place to go shopping, as Menara Mall is a stone's throw away. The nearby Palais des Congrès and Royal Theater often host events you can attend. You'll also easily find great restaurants and bars in the area.
La Palmeraie
La Palmeraie district is quieter than the bustling city center, allowing for more peace and quiet. You'll also enjoy the safety of the area. This exotic palm-grove neighborhood is also within reach of Marrakech's city center.
The accommodations include boutique resorts and upscale hotels with spacious gardens, private pools, and stunning views of the Atlas Mountains. You can indulge in the local cuisine, enjoy spa treatments, and book one of the abundant nearby tours.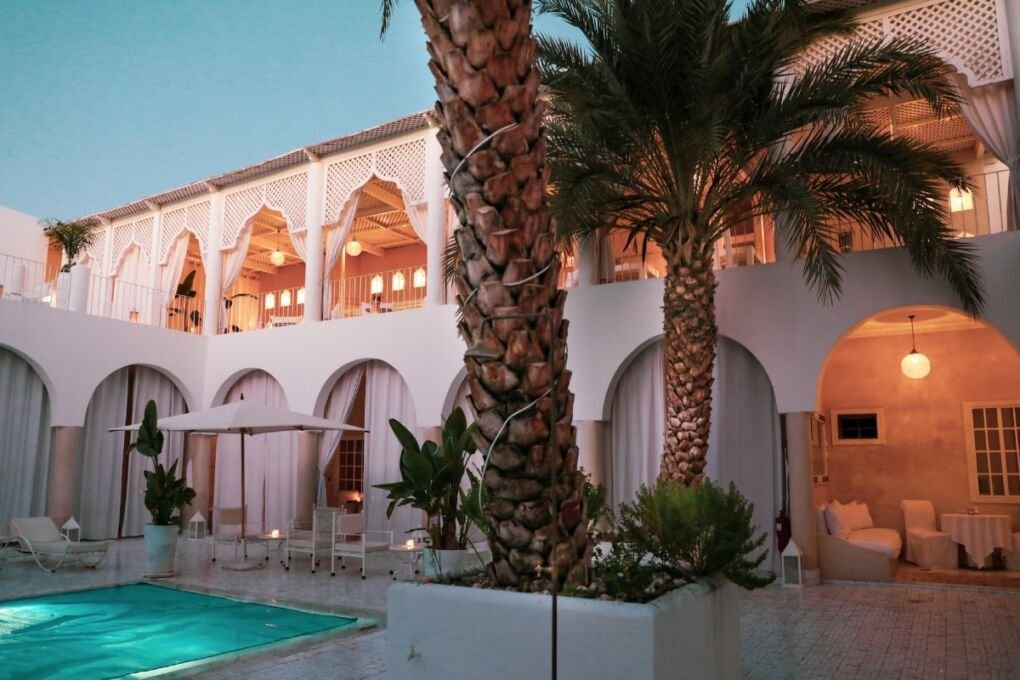 The Northern and Southern Medina
Staying in the Medina offers an immersive experience of Marrakech's history and vibrant culture. The bustling Medina is divided into the Northern and Southern parts, each with its own characteristics. Both are safe for tourists, but a higher degree of caution for pickpockets is necessary because they are busy areas.
The Southern Medina is filled with souk markets and more popular cultural sites such as the El-Bahia Palace. It has a livelier atmosphere than the Northern Medina.
The Northern Medina offers a more peaceful experience but is still central enough for tourist activities. Here, you can revel in the markets and museums like the Musee de Marrakech and Maison de la Photographie.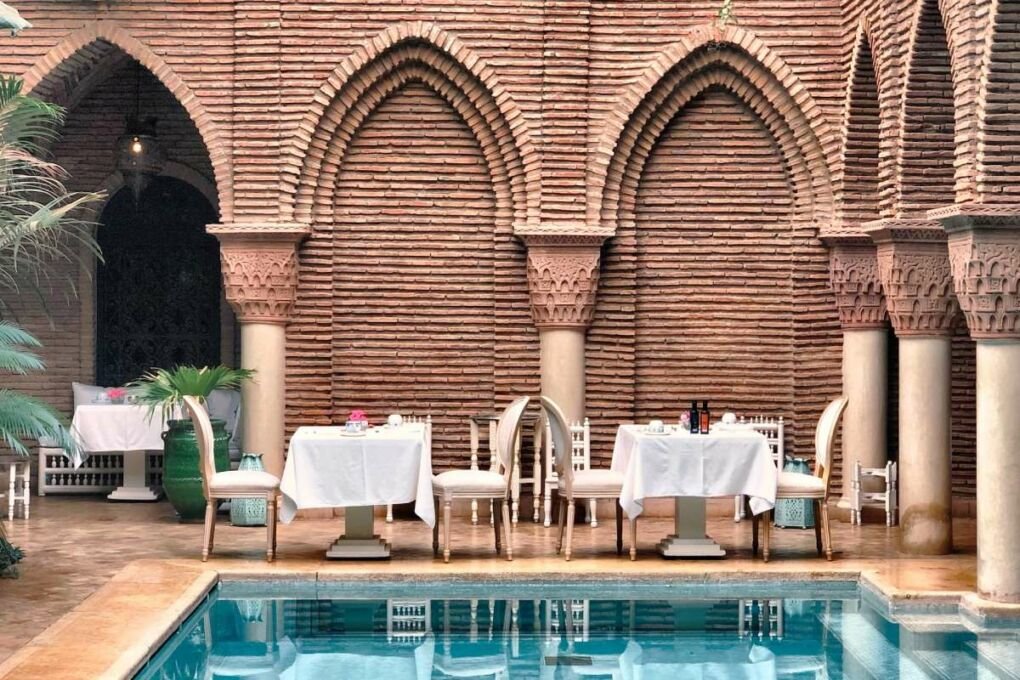 Warnings & Dangers in Marrakech
Marrakech has a fair share of safety concerns and annoyances. Tourists are likely to come across scams, and petty crime isn't a far-fetched scenario. Harassment is another prominent worry, especially for female tourists.
Some travel guides also warn of terrorism. Terrorism is unlikely but possible, as the last attack was in 2011. The government has since knuckled down on certain terrorist groups to improve public safety.
It would be best to avoid any protests that may occur, as they can sometimes become violent. Other dangers include natural disasters like the most recent 2023 earthquake.
Overall Travel Risk (4/10)
Marrakech has a couple of safety concerns, but you can avoid most of them.
As mentioned, the most likely crime is petty theft, which includes pickpocketing and purse snatching. Luckily, staying wary and protecting your belongings will save you from becoming a victim. You'll also want to lock your doors and cars to prevent opportunists from trying their luck.
Scams are rife, from fake directions from locals who then demand payment to paying for car damage that wasn't your fault.
This list of warnings should guide you on the problems that might arise. Once you know how to deal with these scenarios, you'll be ready to enjoy your holiday.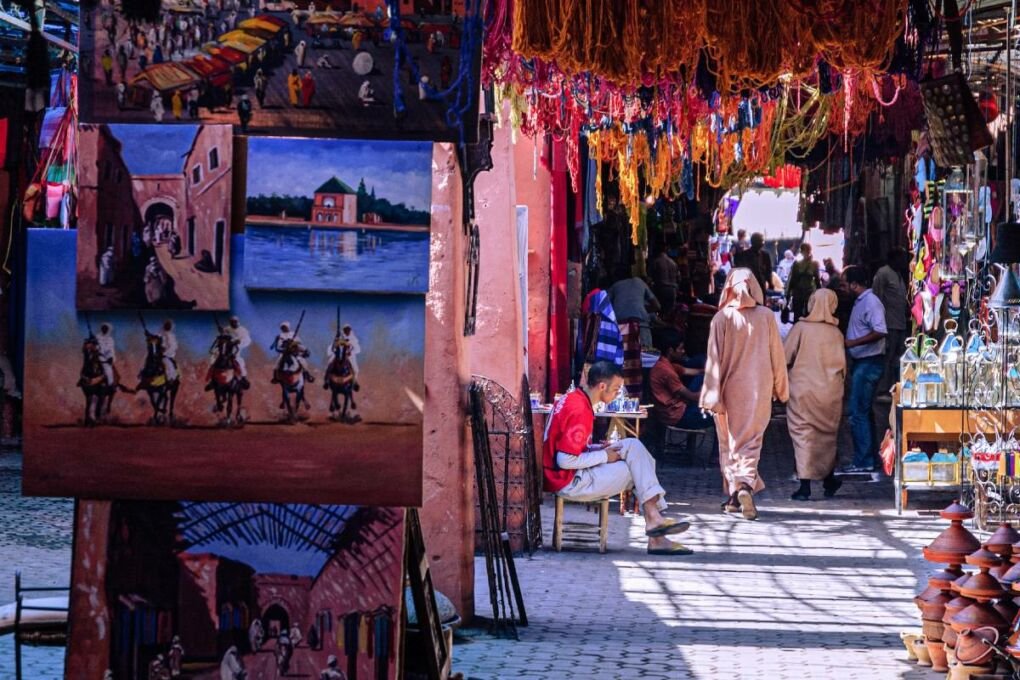 Petty Theft
Pickpocketing and purse snatchings are best prevented by keeping your belongings close at all times, and zipping up bags when you're exploring. You should preferably only carry the necessary valuables and not wear flashy jewelry or watches. Be sure to lock your left-behind things in your hotel safe.
Note that pickpockets sometimes come in twos, where someone distracts you and the other person steals. So, always be wary of approaching strangers.
Although unlikely, armed muggings have happened to tourists, mainly at night. If you face this danger, you should surrender and hand over your belongings immediately. Don't walk around at night, especially if you're intoxicated, as it makes you a target.
Scams
The most well-known scams are when strangers offer directions or offer a 'free' henna tattoo, then demand payment afterward — quite aggressively. Rely on your own navigation, and decline henna tattoos to avoid being pressured out of cash.
Some companies give you empty-fueled, damaged cars only to charge you for it when you return the vehicle. If you're renting a car, always take photos and videos of all the damages and the petrol meter prior to leaving the rental company
Additionally, be aware of locals who try to sell you marijuana hashish. it is highly illegal to use drugs in Morocco, and facing up to 10 years in prison will be the worst extended trip ever.
Natural Disasters
On 8 September 2023, Marrakech faced a fatal 6.9 magnitude earthquake. It was a devastating time, and, to rub salt in the wound, the beloved Kharbouch Mosque minaret and Jemaa el-Fna Square Mosque crumbled in the disaster.
Predicting whether another earthquake will occur after the previous one is difficult. However, the general likelihood for it to happen again anytime soon is a 6% chance. You should check travel advisories and monitor local news to see if there are any natural disaster warnings before and during your visit to Marrakech.
Terrorism
Although Marrakech is considered a generally safe destination for tourists, like all cities, it is not immune to danger. In the past, there have been terrorist bombings in Morocco, with the most notable being the 2011 attack in the Djemaa el-Fna square.
This tragedy happened in a popular tourist area and resulted in several casualties. Morocco has since implemented rigorous security measures, like increased surveillance, that have minimized the risks.
Although it seems unlikely to happen again, terrorism is unpredictable. You'll need to stay informed about current travel advisories and follow the local authorities' guidance.
Tips for Staying Safe in Marrakech
Although there are a couple of pressing things that might affect your well-being in Marrakech, the city remains a safe destination. After all, millions of tourists visit Morocco each year and leave unscathed.
These five tips will help you stay extra safe on your holiday:
Dress conservatively: Marrakech is a religious city, and showing too much skin is seen as disrespectful, especially in holy buildings. Women who show too much skin also get cat-called.
Don't walk through quiet suburbs or wander Medinas at night: This makes you more susceptible to muggings.
It's okay to be stern: People at vendors and scammy locals can be pretty pushy.
Only take licensed cabs and agree on the fare upfront: Drivers take their chances to overcharge you.
Only drink bottled water: Tap water in Marrakech is a stomach bug waiting to happen.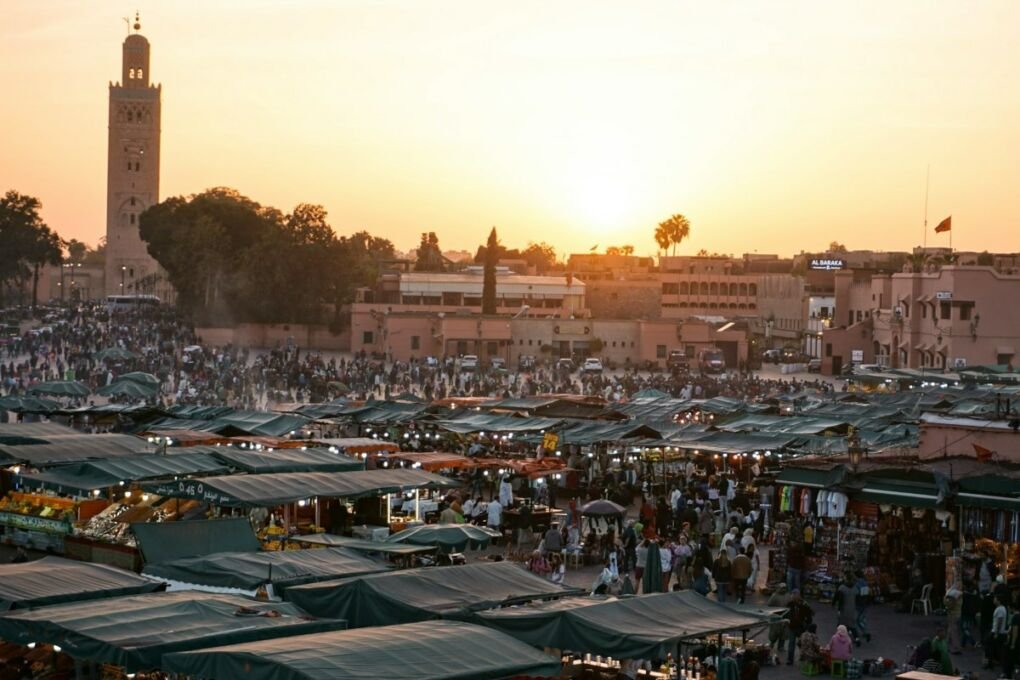 Is Marrakech Safe | Frequently Asked Questions
When Not Go to Marrakech?
The sunny summer days in June through August can end up at a scorching 100°F (37.8°C). If you're someone who can't handle a sweaty adventure, these months would be the worst. The best times to travel are in May and September.
Other reasons to avoid Marrakech are when travel advisories and local news warn against natural disasters and increased terrorist activity.
Is Marrakech Safe for LGBTQIA+ Travelers?
Morocco's laws ban relationships between same-sex couples. As a tourist, you'll need to understand the risks of being in a same-sex partnership and the lack of acceptance from the community.
You'll want to avoid all public displays of affection, including holding hands. Kissing, in general, is frowned upon – no matter your sexuality. All in all, public displays of affection are not recommended when you visit Marrakech.
What is the Best Time to Visit Marrakech?
In terms of weather, the best time to adventure in Marrakech is in the spring and autumn months. During this time, you'll experience the best temperatures that aren't scorchingly hot or unbearably cold.
Spring in Marrakech is between March and June, with an average heat of 77°F (25°C). Autumn runs from September to November, but September still sees high, not-so-pleasant temperatures. October and November average at 82.4°F (28°C). As for Marrakech's tourist season, most travelers visit in March, April, and May.
Is Marrakech Safe At Night?
Marrakech is known to have a vibrant nightlife, and luckily, it's safe enough to enjoy a night out. Wandering the streets after dark isn't recommended, though. Going to bars and nightclubs is bound to be fantastic, but you should stay within an establishment and only leave with a taxi.
Note that taxi drivers also tend to overcharge you, so you'll want to research or ask your hotel for a reputable company. You should also always confirm the fare before the trip starts.
Next read: Want to travel more of Morocco? Here's some info on Casablanca's safety for tourists.