The Indonesia Digital Nomad Visa allows you to work and live in Indonesia for 5-years and not pay taxes on foreign-sourced income. Just like the Mauritius Digital Nomad Visa, this visa has been introduced in 2021 to boost Indonesia's coronavirus-hit tourism sector.
After living in Bali for over a year, I have shared many tips for visiting and things to know if you're considering moving to Bali, Indonesia, one of the most common questions I got was "Is Bali a country" or how can I live in Bali for more than 3 months legally?, what's the cost of living in Bali for 3 monthsand is it illegal to be a digital nomad in Bali? And before 2021 the answer was complicated.
The aim of the guide is to explain the visa options for foreigners in Bali (one of the Indonesian Islands). As an expat its important to understand the rules nd regulations of every country you go to, to avoid legally and tax issues, deportation and ultimately jail time.
One important thing you need to understand is that Living in Indonesia is unquestionably different from holidaying here! If you want to live in Bali permanently there are some bureaucratic issues you'll have to take care of first.
Things to know you move to Bali, Indonesia
Bali is not a country.

Indonesia has a total number of 17,508 islands of which about 6000 are inhabited, Bali is one of them.

Bahasa is the official language and some locals understand basic English.

There is one airport in Bali – Bali Ngurah Rai International Airport, located in Denpasar (a town on the island).

There are two main seasons in Bali: dry season (April to September) and wet season (late October to March).

Don't drink the tap water.

There are geckos, mosquitos, bugs everywhere. Welcome to Island Living!

You don't need a car.

Traffic is horrible 90% of the time. Most people get around using bikes/scooters. You can rent one for USD 30 – 200 a month, depending on the type of bike you get.

Most travel insurance companies don't cover bike/scooter accidents if you don't have a bike/scooter driving license.
Why be a Digital Nomad in Indonesia
Do you want to move to Bali? Are you wondering if Bali is a good place to live and is the island really cheap?
One of the most popular Indonesian Islands to live in Bali and the neighboring Gili, where many spend their days working from their laptops and spend their downtime enjoying the picturesque beaches.
One of the main reasons expats move to Bali is because of the cost of living, if you earn in foreign currency, you can live comfortably compared to life in Western countries.
Despite the cost of living, Indonesia has many islands where you can live comfortably, contribute to the economy and make one-of-a-kind experiences.
Is it illegal to be a Digital Nomad in Bali
No, it's not illegal to be a digital nomad in Bali. At the moment, you need to apply for KITAs (Working Visa and Residency Permit). If you choose to live in Bali "permanently" on another visa and the government finds out, you can be deported.
Can I work remotely in Indonesia
Yes, foreigners can live and work remotely in Indonesia depending on the type of visa they have.
Visa Options for Living in Bali
Visas for living in Bali are different. It's highly recommended that you visit the Indonesian embassy in your country so they can confirm which Indonesian visa you may be eligible for:
Indonesia Digital Nomad Visa
Indonesia's Tourism Minister Sandiaga Uno annouced plans of a Digital Nomad Visa in March 2021. He said the Indonesia Digital Nomad Visa will allow expats to live in the country for five years. No further announcements have been made about applying for the Indonesian Digital Nomad Visa.
KITAS and Work Permit
Foreigners are not allowed to work or volunteer in Indonesia unless they have a work permit (KITAS).
The Indonesian KITAS is a permanent stay permit for foreigners who have already lived in Indonesia with a temporary stay KITAS for a few years. The KITAS is issued for a period of five years, which you can renew as needed.
When you become eligible for permanent residence depends on your KITAS type. Spouses of Indonesian citizens can receive a KITAS after two years of living in Indonesia consecutively, whereas retirees and international workers can only apply for a KITAS after four years.
Once you are eligible for an Indonesian KITAS, you get benefits similar to those of Indonesian citizens such as opening a bank account, getting a loan, and getting a five-year driving license.
If you wish to live in Bali and open a business or get employed by a company you need a KITAS and a work permit.
Business Visa (Multiple and Single Entry)
If you're considering starting a business in Bali then setting up a company would be the best way. There are two types of companies in Bali, Foreign-owned companies (PT PMA) and Locally-owned companies (PT).
It's important to remember that In Indonesia, companies that have even 1% of foreign shareholders are already considered foreign companies. Both types of companies have a minimum investment of IDR 10 billion, different compliance regulations and foreign-owned companies can issue kitas while locally owned companies need to pay a fee for every foreigner they employ.
There are pros and cons to having a business visa.
Retirement Visa for Bali
If you plan on retiring in Bali then you'll need a retirement visa in Indonesia. This visa is initially only valid for one year, but it can be extended annually to a total of 5 years. After this, you can apply for a permanent stay permit KITAS. Keep in mind that you cannot work in Bali with a retirement visa.
General requirements for a retirement visa:
Minimum age 55 years

Copy of your passport that will be valid for at least 18 months
Health insurance
Lease agreement valid for one year and the documents related to the leased property
Having an Indonesian maid
Social and Cultural Visa (B -211)
A B-211 is a single entry visa that enables you to stay in Indonesia for 2 months (60 days) with the option of extending your stay 4 times (an additional 4 months). After your first two months in the country, you will need to go to the immigration office to pay for a visa extension every 30 days. There are also many visa agencies that offer this service, they come to you, collect your passport, get it stamped and return it for a fee. This is one of the most common visas that Bali expats use to move to Bali.
With a B-211 visa, you are NOT ALLOWED to work in Bali nor are you allowed to earn money in the country. The issue with this visa is that although some expats don't earn money from Indonesian companies, they are still "working" from Indonesia and not paying tax to the government. So this is a big issue and causes a lot of debates.
Visa on Arrival (VoA)
The Visa on Arrival is mostly used by tourists. Indonesia allows most nationalities to visit for 30 days visa-free, with a Visa on Arrival you can extend and stay for up to 60 days. You can apply for this visa in advance or at the airport when you arrive in Bali.
Buying Property in Bali as a foreigner
Buying land or property in Bali as a foreigner is not only expensive but a lengthy process. Firstly, in order to rent property in Bali, foreigners must have a KITAS. Some foreign investors opt to use a local individual nominee to buy real estate in Bali, this means they are buying/renting with someone's name and this person charges a fee or gets paid a commission if the real estate is used for business purposes.
This is risky and I personally don't recommend it unless you understand Bali laws and you've spoken to an attorney in Indonesia. The best and safest way to buy property in Bali is by setting up a 100% foreign-owned PT PMA. This way, you can acquire the Right to Build (Hak Guna Bangunan) and the Right to Use (Hak Pakai).
How much money do I need to move to Bali?
I've shared my costs for living in Bali for 3 months. In a nutshell, living in Bali can be as expensive as you want it to be. You can find accommodation for $300 or even $1000 or more per month. You can buy groceries at the markets or normal supermarkets or you can shop at the organic stores. You can rent a normal scooter or a fancy bike. You can choose to eat out every day or cook some meals. It really depends on you!
Moving from South Africa to Bali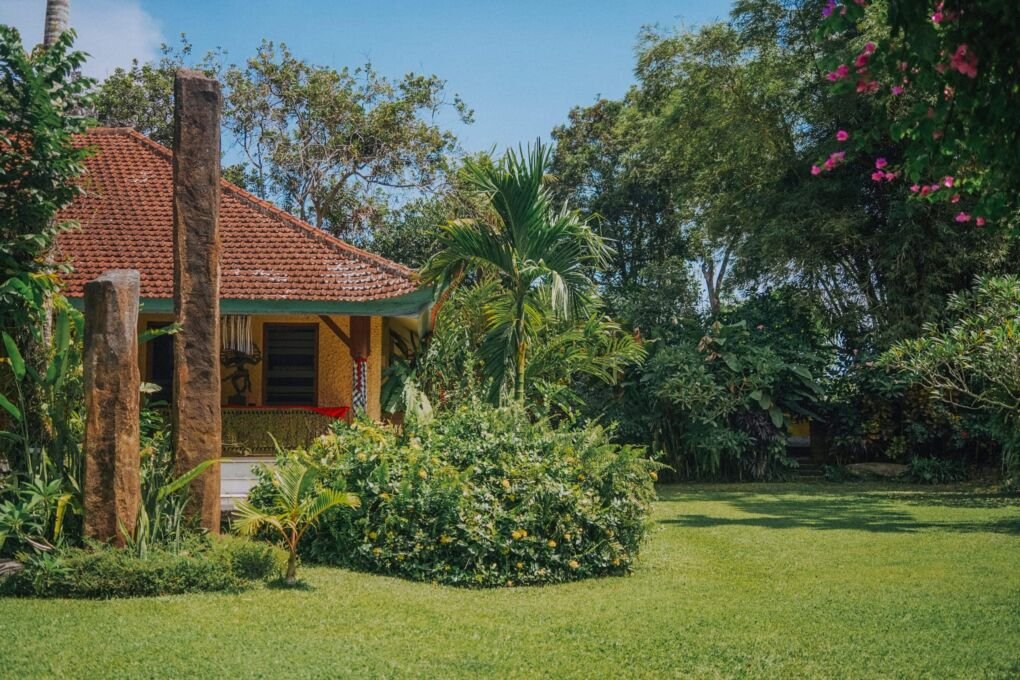 Where to apply for Bali Visa in South Africa
The Embassy of the Republic of Indonesia is located at 949 Francis Baard Street, Hatfield, Pretoria, South Africa.
---
Tips for moving to Bali
---
Can you just move to Bali?
No, you can't move to Bali, Indonesia without the correct visa. If you move without the right documentation you can face deportation or jail time.
Travel Insurance for Bali
Use travel insurance while visiting Bali so you are covered for theft and medical expenses. There are a lot of adventurous Bali activities, and it's best to have peace of mind while diving, hiking, and trying some of the best food in the world.
Find out why I recommend World Nomads, check out my World Nomads Insurance Review.
Disclaimer: This article contains affiliate links. This means that if you make a booking after clicking on a link, I may receive a small commission at no extra cost to you!