What better way to create a list of the top places to visit in Ireland than talking to Ireland's best travel bloggers and writers. This is a collaborative post and I want to thank each and every person who took time out to contribute to this brilliant article about where to go in Ireland. Admittedly, you might need more than a week or two if you plan to tick all these beautiful places off your bucket list and road trip around the country!
Need help with trip planning? Here's everything you need to know about planning a trip to Ireland.
Most Beautiful Places To Visit in Ireland
60. Inishmore, The Aran Islands
Suggested by There She Goes Again
Inishmore, the largest of the Aran Islands, is hands down one of my favourite places in the world and one of the most beautiful places to visit in Ireland. I went in early December, walked around while it was drizzling, I wound up wearing the sole of my cheap boots down so badly that I had to duck tape them, and I still think it's one of the most beautiful places I've been. It's the largest of the Aran Islands in Galway Bay, and you can easily take a ferry from Galway for a day or two.
I feel like, as an American, Inishmore is exactly what we're hoping to find when we visit Ireland — stone structures, greenery everywhere, constant rainbows, and hauntingly stunning coastlines. We actually got lost at some point, but we didn't even really notice because we were too busy taking in all the scenery. Don't miss Dun Aengus, a prehistoric hill fort set up on a cliffside.
59. Lough Gill, Leitrim
Not only is lovely Leitrim one of the most beautiful places to visit in Ireland, it's also one of the most tranquil and peaceful places I've ever visited. While Dublin and the Wild Atlantic Way can be a bit mad and overflowing with tour buses most of the year, Leitrim works at a slower pace and is the perfect place for a relaxing holiday.
Think flat-calm lakes and rivers, canals winding their way through green fields and of course stunning Lough Gill, where W.B. Yeats got his inspiration for his famous poem The Lake Isle of Innisfree. Nothing beats going out on the local tour boat for a trip around Lough Gill and then admiring the view of beautiful Parkes Castle as the boat comes back to shore.
This is a part of Ireland not many people know about….and maybe we should keep the secret just between us. If you want real Irish hospitality and to be treated like a friend rather than a nameless guest, be sure to spend a few nights in Castleview B&B overlooking the lake.
Wondering what to wear? Check out my Ireland packing list.
58. Gougane Barra, Cork
I couldn't write a post about the most beautiful places to visit in Ireland without talking about the little island with the church in Gougane Barra, West cork. By far my favourite place in Ireland, and where my parents travelled to the night they got married, this tiny island and the lake that surrounds it will always hold a special place in my heart. Most visitors love how the church always perfectly reflects on the lake, and of course the history behind the church and how thousands of pilgrims would walk hundreds of miles overland to get here. This is a real special place and a must-visit if you're travelling around the south of Ireland. If you want to wake up to this unbeatable view, then check yourself into the Gougane Barra Hotel – a hotel my parents, grandparents and great grandparents have all stayed in!
57. Carrauntoohil Mountain
Suggested by Wandering On
Standing tall amongst the Macgillycuddy's Reeks mountain range, is Ireland's tallest peak, Carrauntoohil, at a humble 1,038metres. Setting out on the trail, you are quickly engulfed by the surrounding magnificent natural beauty. Stray sheep punctuate the hillside, streams gurgle their way through the approach, flowing down from some of the country's highest lakes and you often have the place all to yourself.
Climbing Carrauntoohil is possible year-round, however, you need to ensure you prepare and plan properly. Reaching Ireland's highest point is an incredible feeling. Break out the thermos, pour yourself a cuppa and drink in those spectacular views – on a clear day, they are simply mind-blowing!
56. Hook Head, Wexford
Suggested by Bumbles of Rice
Standing guard for the past 800 years at the tip of the peninsula that bears its name, Hook Tower in County Wexford is the oldest intact operational lighthouse in the world, named the flashiest by Lonely Planet.
Automated in 1996 it's since been reinvented as a tourist attraction where visitors can enjoy guided tours up the 115 winding steps to the balcony on top with stunning views out to sea and up the Waterford Estuary, or simply take the cliff walk from the lighthouse out to the fishing village of Slade and enjoy the natural beauty and some sea air. Whales have been known to frequent the area and whale-watching tours are available locally.
Credit: HookHeritage.ie
55. Monart Destination Spa, Enniscorthy
Suggested by Etain Living
A place where there are no children, no wifi, no televisions, and newspapers are only permitted in the old manor house? Where you can snuggle into a sofa beside a roaring fire, play a board game in your robe and phone your cocktail order through to the bar? Then wake up the next morning for a dip, perhaps a personalised massage or a mud wrap and a day in the thermal suite? One word. Monart.
Hidden in the hills outside Enniscorthy, it's a spa aficionado's dream. If you're new to the concept of destination spas, then it will feel a little like a sanatorium when you first arrive. No one in the know wears clothes. Just prescription fluffy white robes (yes, even in the garden). Only an hour outside of Dublin but somehow a world away from it all.
54. Powerscourt, Co. Wicklow
Suggested by Willful and Wildhearted
I recently had the opportunity to surprise my mother with a trip to Ireland for her birthday. Since I've been living away from home for nearly a decade (four of them abroad) I knew I wanted to do something special. I teamed up with my step-dad and he booked a gorgeous room at Powerscourt Estate in Wicklow. Not only is the property located in what is often referred to as the "Garden of Ireland," the lavish hotel is by far the nicest place I've ever stayed in my life.
Each of the landscaped sections were completely different from one another and I felt a bit like I was in a fairy tale. The grand, marble floors compliment the rich wooden features on the main floor, and the plush bedrooms made me feel like a princess.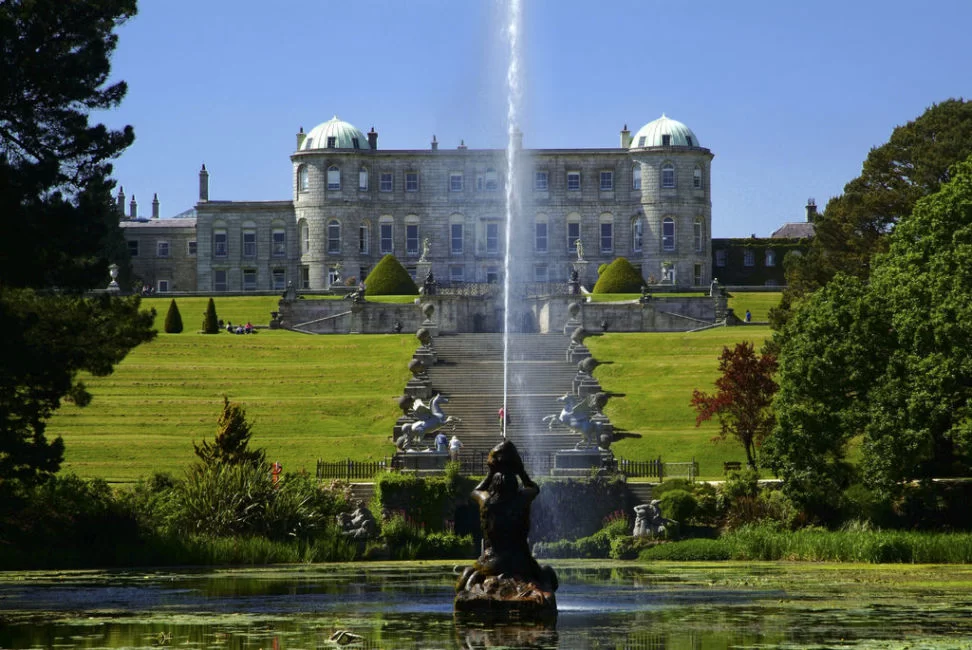 53. Dunluce Castle, Northern Ireland
Suggested by A World To Travel
Located on the edge of a basalt cliff, it is possible to wander through the walls of this landmark originally built in 1500 by the McQuillans, who came from Scotland in the 1200s. If you are nearby, do yourself a favour and try to get there right before sunset, where it gets more dramatic.
And worry not about the weather, Dunluce castle is a great place to visit rain or shine. In fact, it might be even better to visit it after a storm as we did. That way you could get lucky and have it all for yourself as the crowds and bad weather don't get along. In any case, make sure to plan your visit to Dunluce ahead of time. It is really worth it! Find more
beautiful photos of Ireland here
.
Where to stay: Stay in the nearby town of Bushmills, named after the famous whiskey distillery still based there.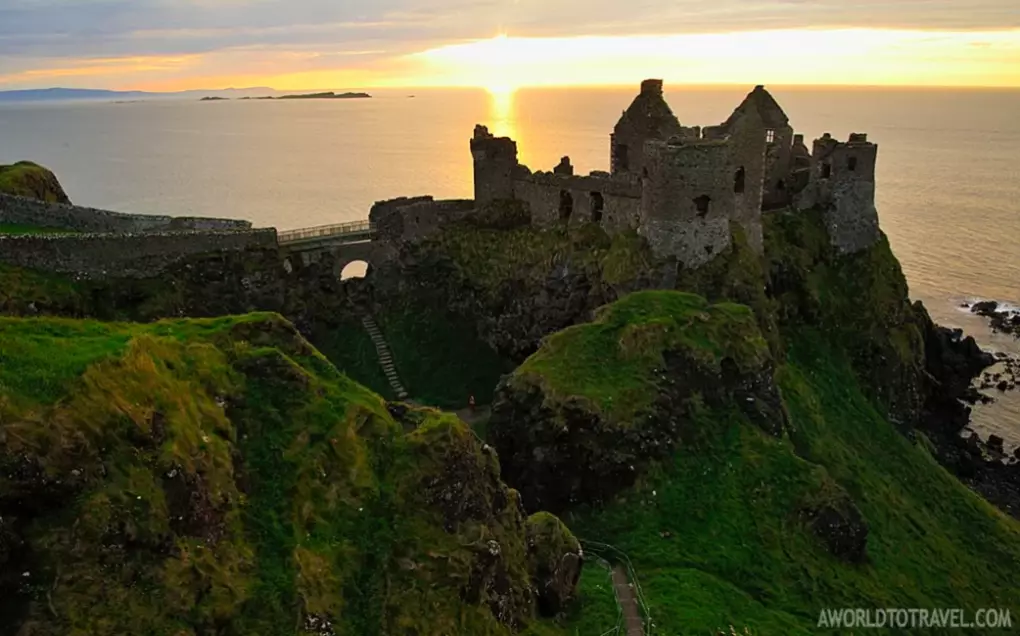 52. Slieve League, Donegal
Suggested by Follow Me Away
Sure, the Cliffs Of Moher are breathtaking, but did you know that Ireland has an even larger set of cliffs to explore? Set in the south of County Donegal, you will find the lesser known but equally as beautiful Slieve League Cliffs. These epic cliffs are actually the highest sea cliffs in Europe, which is a pretty impressive statistic! They are easy to find from Ireland's dames 'Wild Atlantic Way' and you can drive your car all the way out to the end so no hiking required! If you want to climb the cliffs, you can park your car and take a short but steep walk up to the top for fabulous vistas of the ocean below!
51. Killarney National Park
Suggested by The Wandering Lens
Where the MacGillycuddy's Reeks meet the rocky shores of Lough Leane in County Kerry, Killarney National Park needs to be explored! Stretching for over 10,000 hectares, Killarney National Park is filled with lush forests, a maze of walkways and plenty of cycling tracks. You can hire a bicycle in Killarney and spend the day peddling past woodlands, cottages and waterfalls. Further into the park don't miss Muckross House and Gardens and Muckross Abbey with its historic beauty. There's also Torc Waterfall that's a must see or for those who are a little more adventurous you can tackle the treacherous Devil's Ladder trail to reach Carrauntoohil, the highest point in Ireland.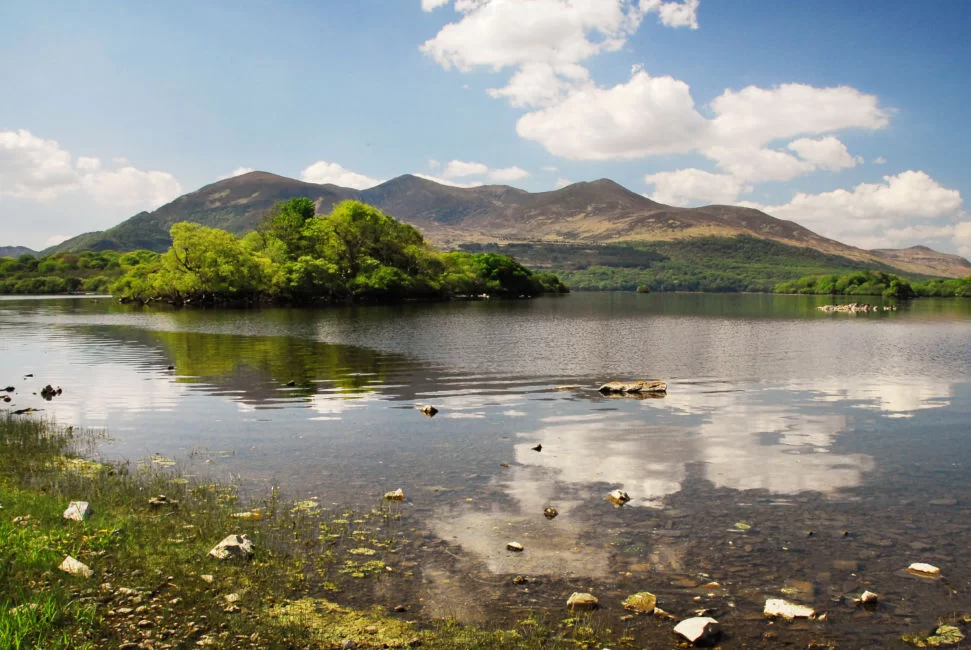 50. Kylemore Abbey
Suggested by WeirdfulStar
A perfect day in the west of Ireland for me is a cruise in the Killary Fjord followed by a visit to the beautiful
Kylemore Abbey and
its Victorian
w
alled
g
arden
. You can do these two visits in one day and you only need to rent a car as these places are a bit remote otherwise.
The Kyllary Fjord cruise takes only 90 minutes and you can even have lunch in the boat if you want. It is one of three glacial fjords that exist in Ireland and you can see dolphins sometimes swimming around the boat.
After that you can go straight to Kylemore Abbey. This great place was a c
astle until
the when the owner had to sell the property to
the Benedictine nuns
who were running the
Kylemore Abbey Girl's school until 2010.
49. Dingle, Kerry
Suggested by OkayBee
If you haven't been to Dingle in Kerry, then you haven't experienced one of the most wonderful parts of Ireland. I used to spend every summer in Kerry as a kid, wandering around Dingle and just enjoying the town. There really is no place like it. Last year, my cousins and I went back for a long overdue visit. We spent a weekend enjoying the most incredible weather, sipping beers on the beach as the sun went down, walking along the pier in Dingle. It really was bliss.
You can expect stunning scenery, the most mouth-watering fish restaurants, Bean in Dingle for coffee, the home of Murphy's ice cream, Fungi the dolphin, artisan shops like Crinkle, the Dingle Walk of Fame… Seriously, you need to pack your bags and go! Watch a video about travel in Dingle here.
Where to stay in Dingle: Dingle Skellig Hotel and Peninsula Spa – there's an outdoor hot tub with a view!!
48. Cliffs of Moher
Suggested by Travel Nuity
Towering mid-way along the western coastline of Ireland, the Cliffs of Moher are an unmissable stop on a trip to Ireland. Stretching for over 8km along the coast and soaring over 200m high at their tallest, there are many ways to explore this remarkable natural feature. Visit the viewing platforms at their top, get up close down below on a cruise from Doolin or go for a hike along the walking trails. But I have a single word recommendation: sunset! Facing westwards above the sea, I came across images of how the cliffs glow a magnificent red as the sinking sun's rays hit them.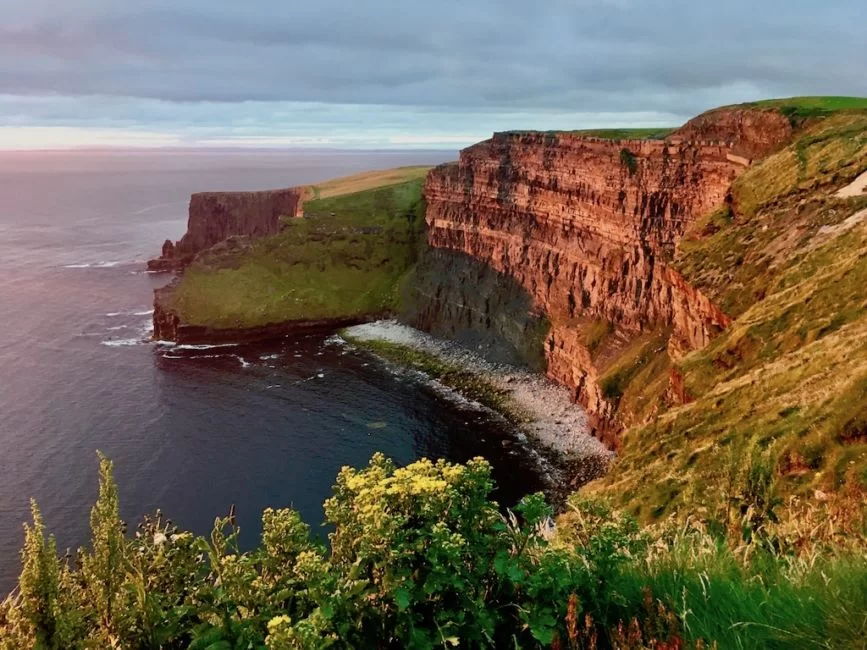 47. Glendalough, Wicklow
Suggested by Lynn Jo Chaney
If you are looking for somewhere to adventure, that isn't too far outside the city, Glendalough is the one for you. The journey down only takes about an hour (depending on where you are based in Dublin), and it can be quite a scenic one at the same time. Whilst Glendalough is an area rich in history, it is also well known for it's stunning walking trails. These trails are popular with people of all ages; you'll often see school children completing the hikes for their Gaisce awards. The Monastic City is located beside the Visitor Centre, but there are some hidden monuments dotted along the trails, along with stunning Geographic features.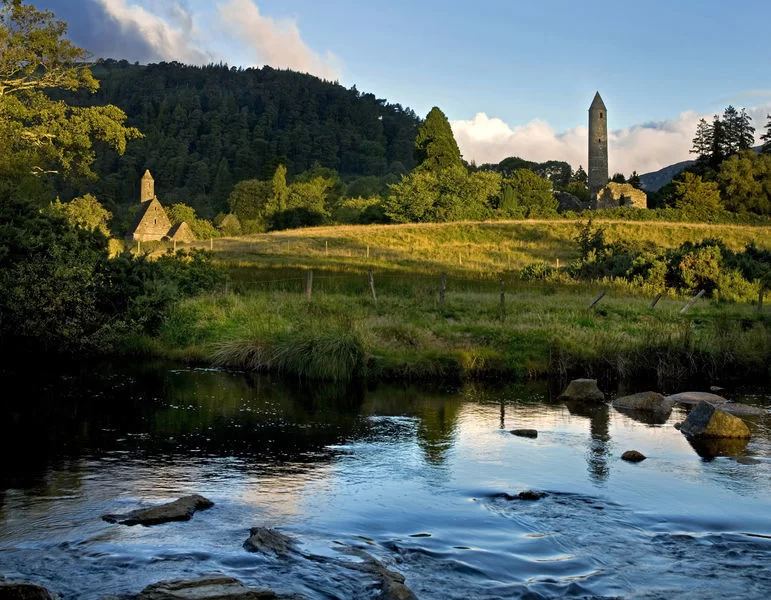 46. Croagh Patrick, Mayo
Suggested by Victors Travels
Along the rugged but beautiful west coast of Ireland you'll find an equally rugged and beautiful mountain called Croagh Patrick. Every year on the last Sunday of June, thousands of pilgrims walk up this mountain (some even barefoot) to honor the famous Saint Patrick who, as the legend goes, climbed it and fasted on its summit. The hike to the top is quite steep and even though the peak is (only) at a height of 764 meters (2.507 feet), the path goes pretty much straight up. The rocky hiking path cuts right across colorful fields of green and brown and gets slightly trickier at the top as the underground gets more unstable. The stunning 360-degree views make climbing Croagh Patrick a must-do if you plan to visit the amazing west coast of Ireland.
45. Carlingford, Louth
Suggested by The Digital Crusader
When it comes to the Ancient East coast, there are few locations that encapsulate Ireland's reputation for picturesque beauty quite like the medieval town of Carlingford, County Louth. Idyllically set close to the Irish border, the coastal town is surrounded by the waters of its synonymous Lough and is just a stone's throw from the beautiful mountains of Slieve Foy, making it a perfect stop on any road trip of Ireland. With a name harking back to the Norse moniker for 'fjiord of Carlinn', the town retains much of its Viking roots through centennial architecture and charming cobbled streets.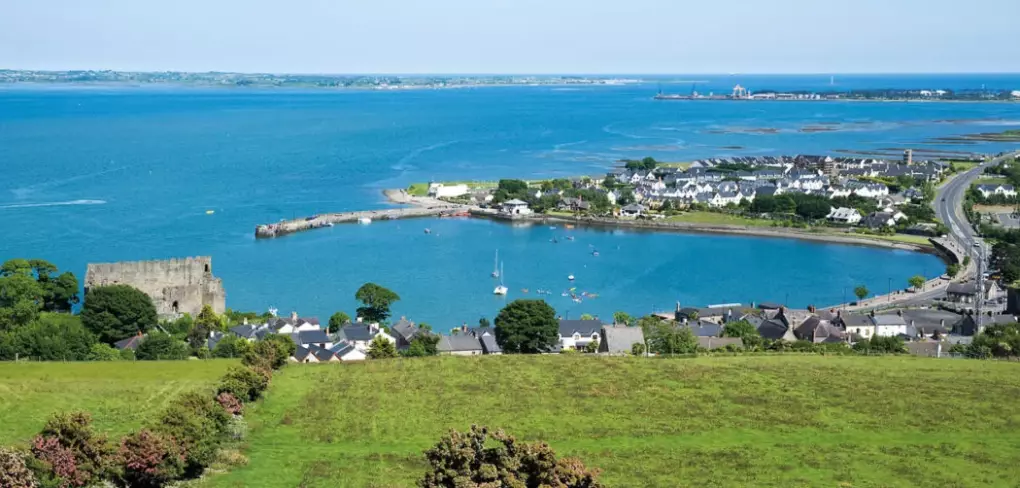 44. Blarney Castle, Cork
Suggested by Fill My Passport
No trip to Ireland would be complete without a stop at one of the most famous castles in the Emerald Isle – Blarney. Although the castle's medieval history of destruction, rebuilding, and being captured in war is fascinating, most travellers make the pilgrimage to pucker up to the stone that legends state will give the gift of eloquence. To kiss the stone, you must climb to the top. Do be careful and wear proper shoes and carry few personal belongings. At the top you will be escorted to the stone and assisted by staff as the stone is difficult to access safely without being held. Lean down and smack the big smooch. One of the best places to visit in Cork and a top on most people's Irish bucket list!
43. Belfast, Northern Ireland
Suggested by Connolly Cove
Belfast is definitely buzzing and becoming a perfect destination for a fun staycation or weekend break. With the rejuvenation of the Cathedral Quarter and The Titanic Experience being crowned the 'World's Leading Tourist Attraction' at the prestigious World Travel Awards there has never been a better time to visit. However with so much going on sometimes the little gems can be easily missed and one such gem is the Crumlin Road Goal. Opened in 1845, the jail has witnessed everything from escapes to executions. You can book a tour of the jail itself which actually only closed in 1996 and you definitely won't be disappointed.
READ: Where To Stay in Northern Ireland
42. Lahinch, Co Clare
Suggested by Patrick Mungrovan
Lahinch is a seaside resort on the northwest coast of county Clare. It is just south of Liscannor and also the Cliffs of Moher. Lahinch is famously known for its lively nightlife and also it's 2km long beach of golden sand, which is renowned worldwide for many watersports, such as fishing, sailing, kayaking, and surfing. Lahinch is a holiday resort with numerous bars, clubs, cafés, and restaurants, along with an indoor swimming pool and playground for the kids. Whether you are looking for a party, some surf lessons, or some fabulous food, there is something for everyone. A trip to Lahinch is definitely one for the bucket list.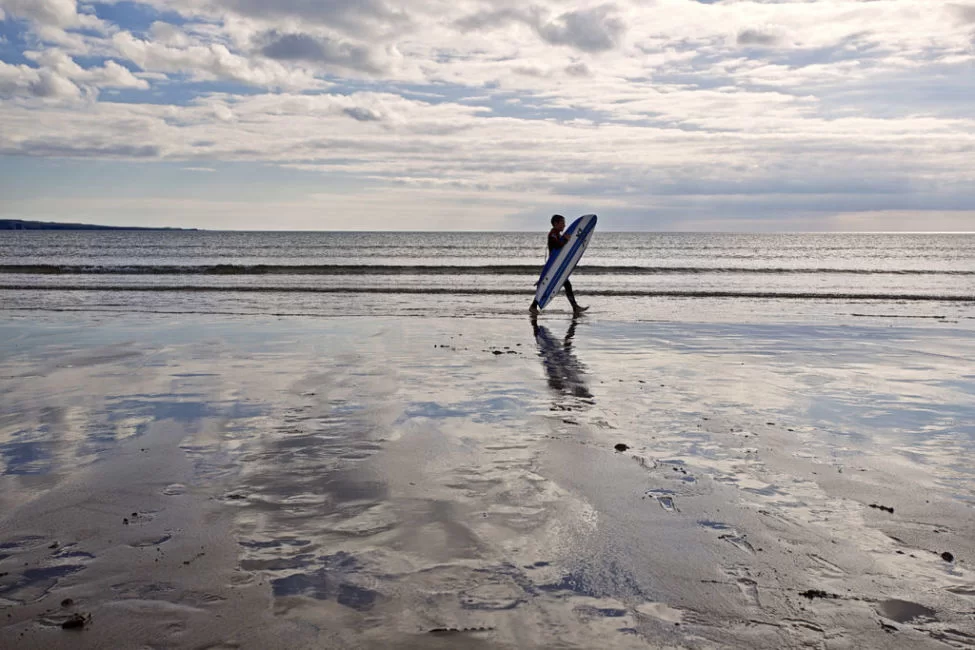 41. Kilkee, Co. Clare
Suggested by Through Irelands's Eye
Spend a week in the beautiful West Clare town of Kilkee. Located right on the Wild Atlantic Way, it can be used as a base to see magnificent coastal areas such as The Loop Head Peninsula, Carrigaholt and even North Clare, The Burren and The Cliffs of Moher. The main attraction is the cliffwalk in the West End of the town for some incredible views and the pollock holes, which are fantastic for taking a dip and not worrying about being out at sea. You can also take a drive or a cycle further up the coast from here to see even more spectacular scenery. This takes you right out to The Loop Head Peninsula and Bridges of Ross. You can get some great food in Keating's, take a walk around the lighthouse or enjoy views of North Kerry on a clear day.
40. Termonfeckin – An East Coast Sanctuary
Suggested by Jake McCabe
Although the hilarity of its name often takes precedence during conversation, Termonfeckin stands as one of Ireland's great treasures. A tiny place with a funny name and even funnier people living there, the east coast village sits around 8kms from Drogheda (Ireland's largest town). The humble setting of seemingly endless fields plays host to a hub of local activity, from a bustling farming community to loyal GAA fans and even an artisanal farm shop come café. There is an innate sense of pride and life that emits as you cross the threshold. You're in the real country now…
An ever stretching beach draws you from Baltray to Clogherhead where you can clear your mind and step away from the madness and even enjoy some incredible fish and chips. The Sanctuary of Saint Fechin, and what a feckin sanctuary it is…
39. Doolin, Clare
Suggested by Our Escape Clause
The moment we set foot in Doolin, we knew that we had found the Ireland we were looking for. This tiny village is set on the west coast of Ireland, the perfect base for exploring the Cliffs of Moher, the Aran Islands, and the Burren Way. Even given its amazing location, though, the village felt purely Irish, with little to no influence from tourists: a couple of B&B's and one hostel were all that clearly revealed the presence of tourism in the area. After you're done adventuring for the day (horseback riding through the Burren Way, visiting the small island of Inisheer, and hiking along the Cliffs of Moher all made our list of amazing experiences near Doolin), be sure to head to one of the two pubs in town: McGann's and Fitzpatrick's enjoy a spirited rivalry, and both are worth stopping into. Doolin is one of the most picturesque villages on the west coast, and one of the most magical places to visit in Ireland for sure.
Credit: Tourism Ireland
38. Fanad Head, Donegal
Suggested by Learning Escapes
Fanad Head is a small promontory in County Donegal, in the North West of Ireland. It is a remote area and few international tourists take the time to venture here but if they did, they would discover beautiful, unspoilt and quintessentially Irish landscapes. As you drive along the head, you first see its large, windswept beaches. Farther on, the scenery changes and through winding roads you get to the northernmost point of the promontory, guarded by the Fanad Lighthouse. The lighthouse, which was first lit in 1817, overlooks Mulroy Bay and Lough Swilly which is one of the few glacial fjords in Ireland.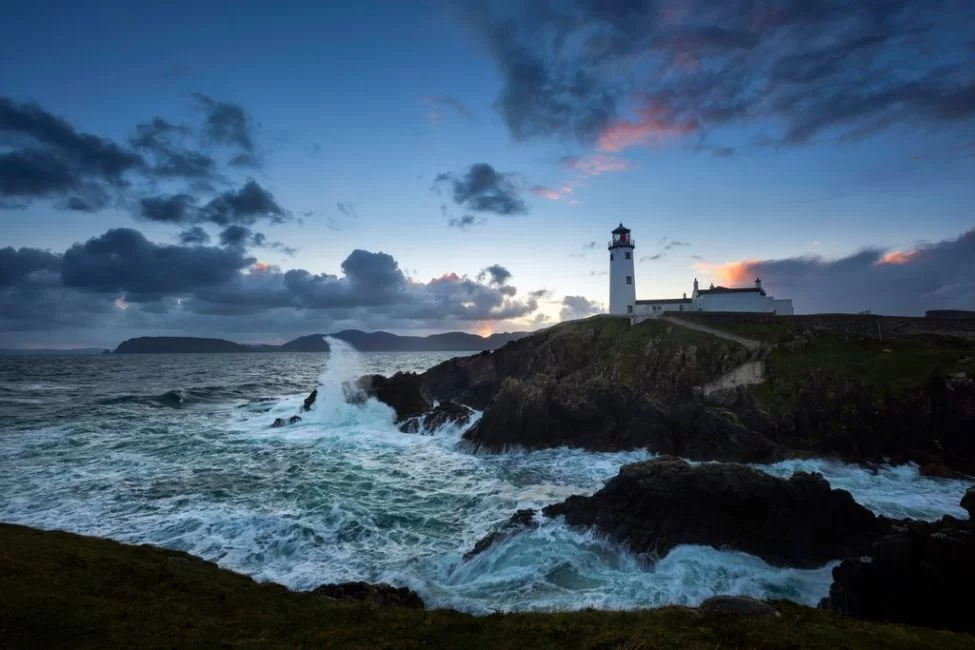 37. Cuilcagh Mountain, Fermanagh
Suggested by Rushe Fitness
Situated near the Marble Arch Caves in Fermanagh, the Boardwalk which stretches to the top of Co. Fermanagh's highest point – Cuilcagh Mountain – is breathtaking. Rated as 'difficult', it is a challenge, but very doable. There is a 3.75km walk up to the boardwalk. The boardwalk is an impressive construction and is just under 2km long in total. There are 450 steps over 36 flights of stairs in total. Some of the flights are quite steep but there is a handrail for safety and chicken wire adds grip to the boards. At the top, the views are fantastic. The landscape is vast and breathtaking. The top leads onto marsh land at the top of Cuilcagh Mountain, and there is another short walk to the highest point, which is 666ft. The complete walk, from start to finish takes approximately 3 hours.
36. Ashford Castle, Mayo
Suggested by The Bellephant
If you're visiting Cong you cannot miss Ashford Castle; a fairytale-esque medieval castle surrounded by beautiful grounds and overlooking Lough Corrib. I visited in the Autumn so had the pleasure of bursts of yellows, oranges and reds as I wandered the grounds. The castle offers a variety of activities for it's guests including Falconry, cycling and sailing. If you fancy spending the day there – book a meal at one of the restaurants so you can explore the castle itself. The library holds a collection of interesting books, paintings and letters from famous visitors.
35. North Mayo
Suggested by An Cailin Rua
Are you a bit of a history nerd? Like your landscapes wild, rugged and exposed? Like the odd walk in the rain? Get yourself to the Céide Coast, stat. Stretching from Ballina in North Mayo to remote Belderrig, the Céide Coast tells a tale of 6,000 years of settlement. Overlooking spectacular cliffs, boglands blanket the remains of the world's first field systems, mapped out over 6,000 years. Along this route, you'll find yourself tripping over monuments at every turn. You like abbeys? We got 'em. Round towers? Check. Megalithic tombs, holy wells, non-holy wells, ring forts, stone circles, Ogham stones, graveyards, souterrains – we have 'em all. Be sure to stop by On The Way Café for the scones. Thank us later.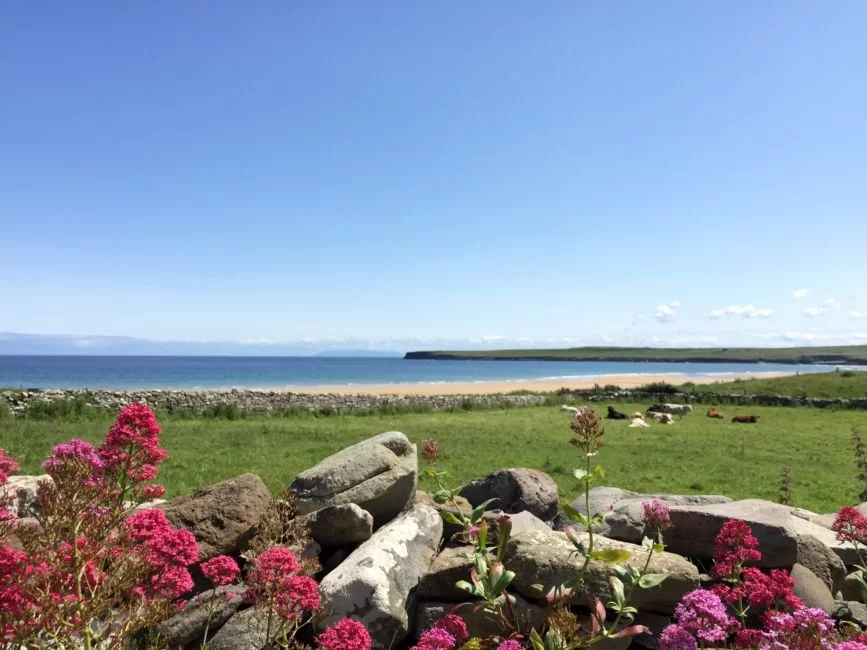 34. Saltee Island
Suggested by The Geocaching Junkie
Just a few miles off the coast of County Wexford lie the privately-owned islands of Great and Little Saltee, a micronation founded by Michael Neale (also known as Prince Michael the First) in 1943. After Neale realised his boyhood dream of owning the islands, he quickly set to work planting 34,000 trees and plants on the island, turning it in to a huge wildlife haven, as well as his family's sometime residence. In addition to the island's long and fascinating history, Great Saltee has a huge appeal for birdwatchers as Ireland's largest bird sanctuary, seasonally home to thousands of gannets, razorbills, guillemots, Manx shearwaters and puffins. There is something magical about the puffin with its flamboyant beak and waddling gait and there is no better place to get up close to the enchanting birds than when they're nesting on the island's cliffs between April and July.
33. Derry, Northern Ireland
Suggested Brogan Abroad
Derry / Londonderry has for a long time been associated with conflict, and a lot of people will think of Bloody Sunday and Troubles when they hear the city mentioned. These tragic events are part of Derry's identity today and but this historic walled city has so much to offer to visitors. A city full of powerful history, a foodie's paradise, with quaint Georgian architecture and a vibrant cultural scene, it is ready to be discovered by the outside world. It's definitely worth spending a couple of days in Derry. Take a walking tour around the city walls and learn about the sieges, or visit the Bogside to see the political murals on the People's Gallery. Wherever you look there's a lot of history, both ancient and recent. But the foodie scene is the highlight here. A lot of the local restaurants focus on working directly with the local suppliers to ensure the best quality ingredients. And it shows!
READ: Where to stay in Northern Ireland.
32. Mourne Mountains
Suggested by Pikalily
Home to the highest peak in Northern Ireland (Slieve Donard), the Mourne Mountains is a designated area of outstanding natural beauty, and a wonderful place for visitors seeking an outdoors break. With several walking routes to explore, there are peaks to suit all fitness levels, whether you're a seasoned hiker, or someone just looking to take in the wonderful scenery of this part of County Down. This ideal location along the coast allows you to explore some stunning beaches when visiting 'The Mournes', with Murlough Beach & Nature Reserve and Cranfield Beach both along the stunning Mourne Coastal Route. With Donard Park, Kilbroney Park, Castlewellan Forest Park and Tollymore Forest Park (famous for appearing in hit TV show Game of Thrones), there is lots to see and do when exploring 'The Mournes'. For more Game of Thrones filming sites, check out this post.
31. Portavogie, County Down
Suggested by Jonny Blair
The seaside fishing port of Portavogie is a somewhat undermined gem on the tranquil and peaceful Ards Peninsula in Northern Ireland. It is a small village housing just over 2,000 people yet has some very quirky and interesting things to see and do. Firstly, the harbour at Portavogie is one of Ireland's best fishing ports. Daily, local fishermen go out into the Irish Sea, returning back to Portavogie with their best catches. Portavogie scampi is not just famous in Portavogie, it is widely known for providing one of the best seafood dishes in Ireland. And while you're touring the harbour, there is no better place to eat this scampi (and other Portavogie fresh seafood) than The Quay's Restaurant.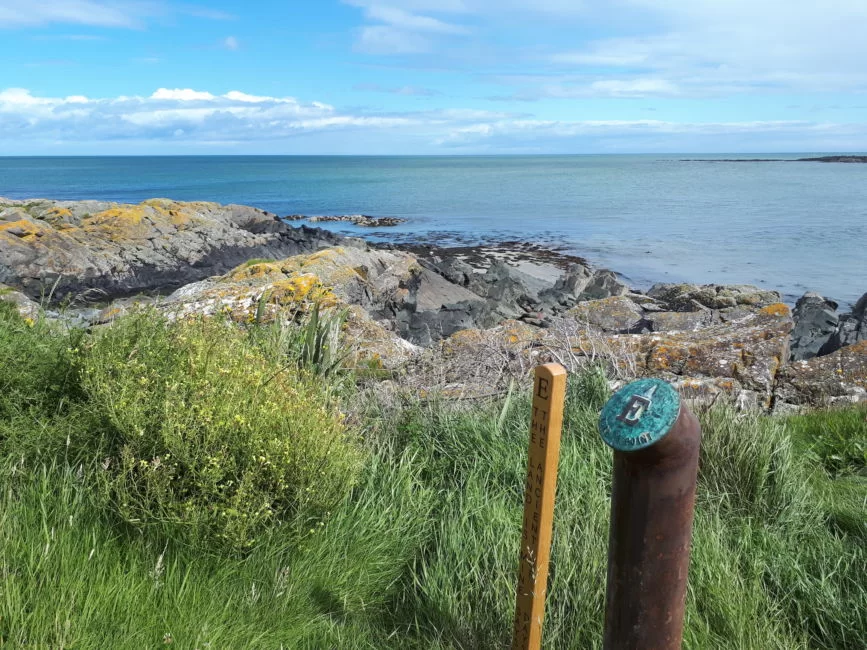 30. Glenveagh National Park, Donegal
Suggested by The S-Mum
Glenveagh National Park is a firm favourite in our house. It's only 24km from Letterkenny, and has THE most stunning landscape in the country. Nowhere beats Glenveagh for beauty. The fact that phone coverage is limited makes it perfect for family time. Entry to the park is absolutely FREE. There is a Visitor Centre at the carpark. The Lakeside walk to the castle and gardens takes 40 minutes. The scenery is incredible, changing colour and shape with each visit. It's just as beautiful on a cold winter's day as it is in its summer glory. Glenveagh is a must see for all visitors to Donegal.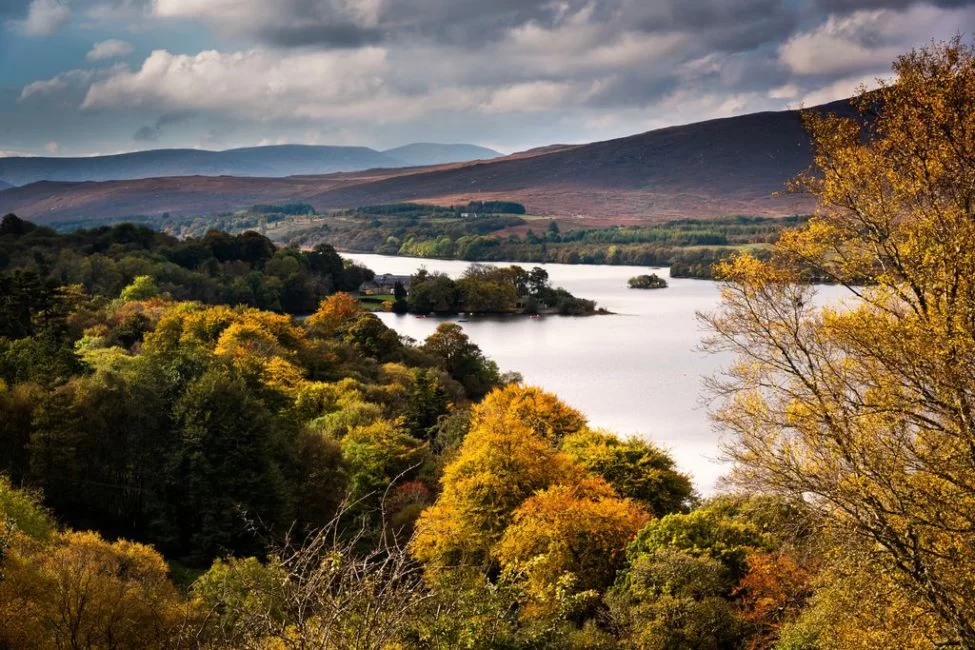 29. Waterford Crystal
Suggested by Bottlecap Travels
Founded in 1783, Waterford Crystal is Ireland's leading master in the art of crystal making. For generations the craftsmen at Waterford Crystal have been shaping, cutting and designing masterpieces of crystal, famous the world over. Watch as red-hot molten crystal is shaped, and sculpted right in front of your own eyes in a display of light, heat and skill. Tours of the factory floor allow visitors to witness first-hand the traditional style of crystal shaping still used in the factory today. Watch as master blowers create masterpieces of crystal stemware, giftware, trophies and more.
28. Historic Steam Train Journey
Suggested by Gail O' Connor
Step back in time and experience rail travel the old fashioned way! Journey via historic Steam Train from Dublin to Wexford on one of the most scenic railway lines in Ireland, so revered for its beauty that it has seen renowned train enthusiastic Michael Portillo take his programme "Great British Railway Journeys" to Ireland and grace the line with his presence. Departing one of the oldest train stations in Ireland, Connolly Station, travel south from Dublin to enjoying breath-taking coastal vistas & mountainous, countryside scenes along Ireland's Ancient East. Listen for the nostalgic train whistle and watch the gush of steam from open carriage windows, whilst enjoying the sea salty air along Ireland's 'riviera'. On your journey take in the picturesque Killiney Bay, with the Wicklow mountains in the distance.
BOOK NOW: Steam Train Ireland website.
27. Gap of Dunloe, Killarney
Suggested by Dearpasserby
One of my favourite things to do during the summer is "the Gap trip" through the Gap of Dunloe in Killarney. The Gap of Dunloe is a narrow mountain pass between the MacGuillycuddy Reeks and Purple mountain. Start off at Ross Castle in Killarney where you can get a boat tour. This will take you through the beautiful lakes of Killarney where you will be dropped off at Brandons Cottage. From there you can either walk the 6 miles between the mountains or get a traditional horse and cart. To take full advantage of the beautiful scenery and views give yourself the full day if you plan to walk it. Bring a few sandwiches and stop along the way for a picnic.
Also suggested by My Five Acres
There's no shortage of wild and shockingly beautiful places to visit in Ireland but of all those places, the Gap of Dunloe, just 20 km from Killarney, is my favourite. This 11 km stretch of narrow road follows the winding path of the river Loe between the MacGillycuddy Reeks and Purple Mountain. Every twist and turn of the road reveals a new vista, each more awesome than the last. The snake-like tarmac road is ideal for cycling, while the surrounding hills offer plenty of outstanding hikes and rock climbing. Less active visitors can hire a horse-drawn trap to enjoy the ride, just as tourists have been doing since the 1920s.
Driving the Gap of Dunloe
in a private car can only be done during off-season and should only be attempted by the brave! The single lane road leaves little room for passing and blind corners will test the steeliest of nerves.

26. Strandhill in Sligo
Suggested by Saucepan Kids
For those visiting the Northwest of Ireland, you just have to visit the jewel in Sligo's crown, Strandhill. What was once a small seaside village when I was growing up, is now a thriving tourist hotspot. People come to Strandhill for a variety of reasons including a walk along the miles of stunning sandy beaches, to visit Queen Maeve's grave at the top of Knocknarea or 'the hill' as it's affectionately known to the locals or to chill out in a seaweed bath at Voya seaweed baths on the seafront. Be sure to enjoy a delicious lunch at the award-winning Shells cafe or cool down with an authentic gelato at the popular Mammy Johnston's. Another highlight of Strandhill is visiting Ireland's largest megalithic tombs at Carrowmore. For more inspiration, check out this post about
a perfect weekend in Sligo.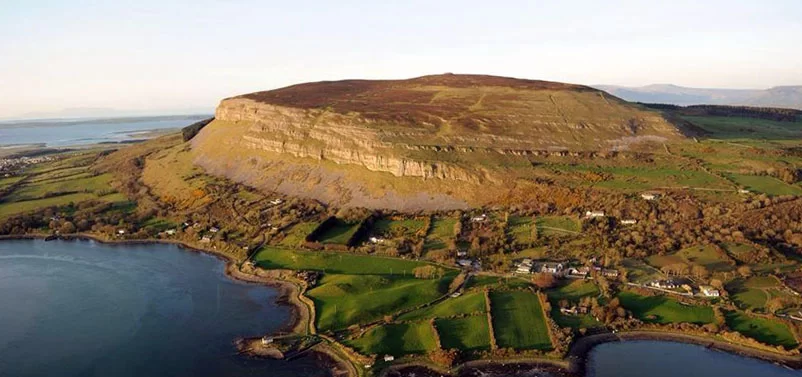 25. Bunratty Castle, Co. Clare
Suggested by Lorraine's World
I have been going to Bunratty Castle since I was a child and absolutely love it down there. The smell of a turf fire always brings back memories of childhood summers wandering around the castle and gardens . It has under gone many changes over the years and has had some new little touches added for kids and they really enhance the overall experience . It also still has the best scones, cream and jam in the country! We really wanted to go to see the new Fairy walk and it was so worth it, in fact the entrance fee alone was worth it just for the Fairy Walk and the Playground! They guys were so excited and it was so exciting to see their little faces light at the sight of the little wicker walk through and fairy lights strung up on all the trees . We spent a good hour discovering all of the little fairies and their houses. Great place for both adults and kids!
24. Westport, Mayo
Suggested by Mums Makeup Bag
When you think of Westport you think of many things; hen and stag weekends, Croagh Patrick (The Reek as its locally known), Westport House, greenway and tidy towns! It's true Westport has a point of interest for any type of traveller no matter what your age or interest. Historically Westport was the home of the pirate Queen Grace O'Malley. The dungeons from the ancient O'Malley fortress can still be seen in Westport House. The 18th Century Westport House is a privately owned historic home and Pirate Adventure Centre. It is a must see for families. The restaurants and pubs in Westport range will suit any taste, those who are looking for a genuine pint of the black stuff to those who want to try the freshest oysters caught locally. If you have relaxed enough, there is plenty of hiking, cycling, water-sports and fishing to pass an afternoon or two.
23. Skerries, Co. Dublin
Suggested by Lesley Goulding
Located just north of Dublin, the picturesque fishing village that is Skerries, is only a short train journey away from the hustle and bustle of city life, making it an ideal spot for a staycation. Whether you're visiting Skerries for a peaceful getaway, or have adventure on the brain, the coastal town ticks all the boxes. The lads at Outdoor Dublin will supply your weekend with surfing, kayaking, canoeing – pretty much anything you can do on the water they do! In the evening, head down to the harbour for some dinner. Skerries has it all, seaside walks, water sports legends to learn of, and an unholy amount of restaurants to choose from, it's sure to make your list of top places to visit in Ireland.
22. Curracloe Beach, Wexford
Curracloe is a tiny town just a few miles from Wexford town and is home to one of the most visited beaches in Ireland. The minute summer hits cityfolk (like me) flock to the countless campsites and holiday homes in the surrounding area to make the most of the great weather and nearly tropical surroundings. Curracloe each is a 7mile long stretch of soft sand mixed with colourful shells of all shapes and sizes discarded by the sea bordering it on one side. On the other side dunes roll into the forest where locals jog or walk dogs. It reminds me a lot of New Zealand. You may recognize Curracloe beach from the movie "Saving Private Ryan". After a long day of sunbathing, swimming and sandcastle-building it's always a good idea to grab a coffee and a snack in the Surf Shack just beside the main car park.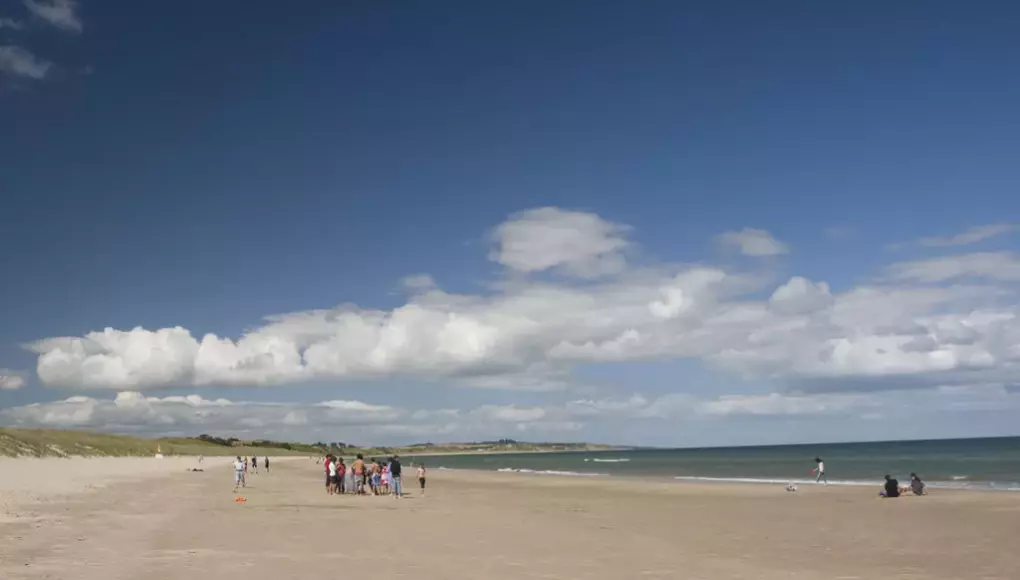 21. Portstewart, Derry
Suggested by Passions and Preening
Portstewart, is one of the most beautiful seaside towns to visit if you come to the North Coast. With miles of sandy beach, a championship golf course, beautiful coastlines and my favourite, the most beautiful coffee and ice cream shops, it is without a doubt the jewel of the North Coast.
Sometimes it is unfortunately overlooked for some of its bigger neighbours, but without a doubt I can assure you if you have a chance to visit you will leave feeling relaxed and full of love for the town.
Come and spend the day wandering down the promenade, browsing the multitude of independent shops, climbing the steps up to the awe inspiring Dominican College, grab an ice cream from the world famous Morrellis, and end the day in the famous Harry's Shack eating some amazing food and watching what I consider to be one of the most stunning sunsets in the world.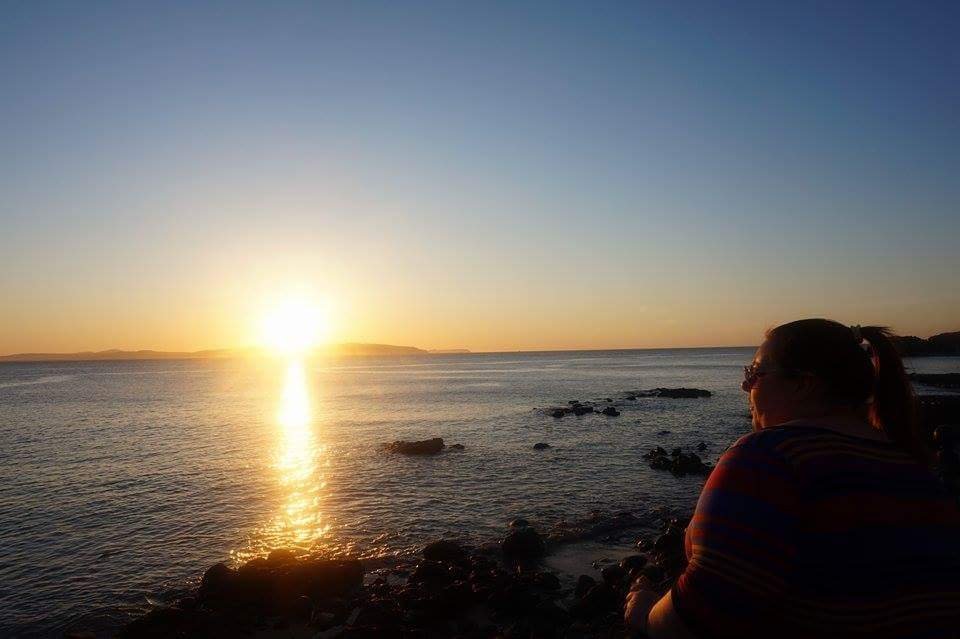 20. Irish National Stud
Suggested by Jetsetting Bombshell
Ireland is known for its beautiful scenery, Guinness and love for Horse racing. Combine quality family time with the latter and you're onto a winner! Located 1 hour's drive from Dublin by N7/M7 Irish National Stud & Gardens in Co. Kildare is the perfect mix of tranquillity and family fun. The stud offers an insight to past & future of horse breeding and it's racing Champions all the way to Cheltenham.
If you're lucky enough the stables will be open and you get to see one of those beautiful animals in the flesh. The Japanese Gardens offer a scenic walk along with variety of wildlife to be seen all around. You can enjoy a cuppa & a treat in the local café afterwards or if you need to hideout from the rain. It's a great day out for families as well as couples. You will find admission prices & opening times on their website here.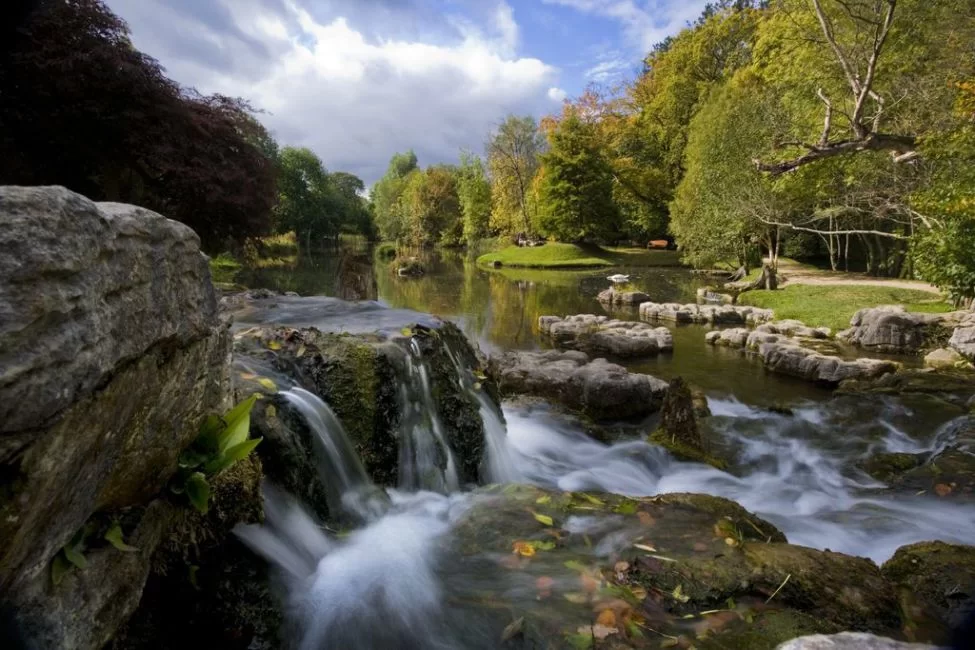 19. Howth, Dublin
Suggested by Hannah Byrne
You don't have to venture far from Dublin to catch some of the amazing views this country has to offer. A popular spot for those who want to get out into nature but don't want to have to travel far to do it is Howth, a seaside fishing town in North County Dublin. Howth is a great place to visit, with tonnes of great pubs and restaurants, a vibrant market, a harbour where you can stroll around, and of course, Howth Head.
The coastal cliff walk up Howth Head is a looped walk, around 6km and suitable for all levels, with amazing views every step of the way. You might even meet some seals! If you want to visit Howth, I say make a day of it so you can fully enjoy the walk and all this vibrant town has to offer. Don't forget to stop at Beshoffs for your fish & chips, just watch out for the seagulls, they will want your food!
Credit: Tourism Ireland
18. Malin Head, Donegal
Suggested by Live Lavishly
Malin Head is located on the west side of the Wild Atlantic Way, in the Inishowen Peninusula, Co.Donegal. If you'd like to be able to say you've stood at the top of Ireland, then this is where you need to go, as Banba's Crown in Malin Head, is the northern most point of the country! This rugged coastal location has serious Game of Thrones vibes and is home to some of the most stunning scenery the Emerald Isle has to offer!
It really is so breathtaking; it's like a scene from a movie (Star Wars Episode VIII to be exact). On a clear day, you can see the 1.7 billion year old rock formations of Inistrahull Island, at least 6 other Irish counties and even the Scottish Hills if you're lucky!
Credit: Tourism Ireland
17. The Liberties, Dublin
Suggested by Dirt in Your Fries
When planning a visit to Dublin, Christchurch Cathedral and the Guinness Storehouse should be on your list. What you may not know is that on the walk from one to the other, you'll pass through one of the oldest and most interesting neighbourhoods in Dublin. Horse and carts, stallholders shouting, and cobbled laneways to explore await you.
Hungry? Arguably the best chips in Dublin are served in Fuscos Chipper, and the cakes in Mannings Bakery are incredible. For music fans, a pint at The Thomas House is a must do. One of the legends about how The Liberties was named is that it was a tax free zone, so prices were cheaper. The area's market tradition continues today. Rummage amongst the stalls on Meath Street and in the recently revamped Bull Ring, where all kinds of everything are for sale.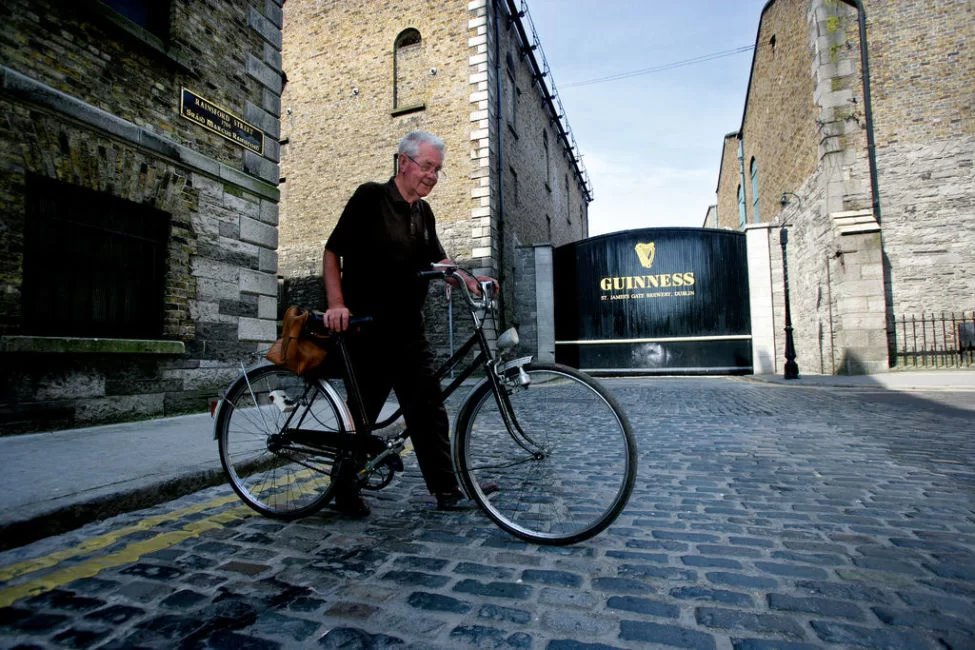 16. Dunbrody Famine Ship
Suggested by Wandering Carol
If you're traveling to County Wexford, the Dunbrody Famine Ship on the New Ross quay is an evocative stop. This authentic replica of an emigrant ship from the 1840s highlights a desperate era when the potato blight triggered devastation in Ireland. Without this staple crop, and with bungled political handling, unrest and starvation ensued. The result? A million people died and a million and a half emigrated.The Dunbrody, a magnificent three-mast barque, re-enacts the month-long trip to New York, with guides and costumed actors revealing the stifling conditions onboard as well as the hope and despair of the brave emigrants willing to sacrifice everything for a new life. The Dunbrody Famine Ship and Irish Emigrant Experience is rounded out with an Irish Hall of Fame (hello, JFK!), and a restaurant overlooking the River Barrow.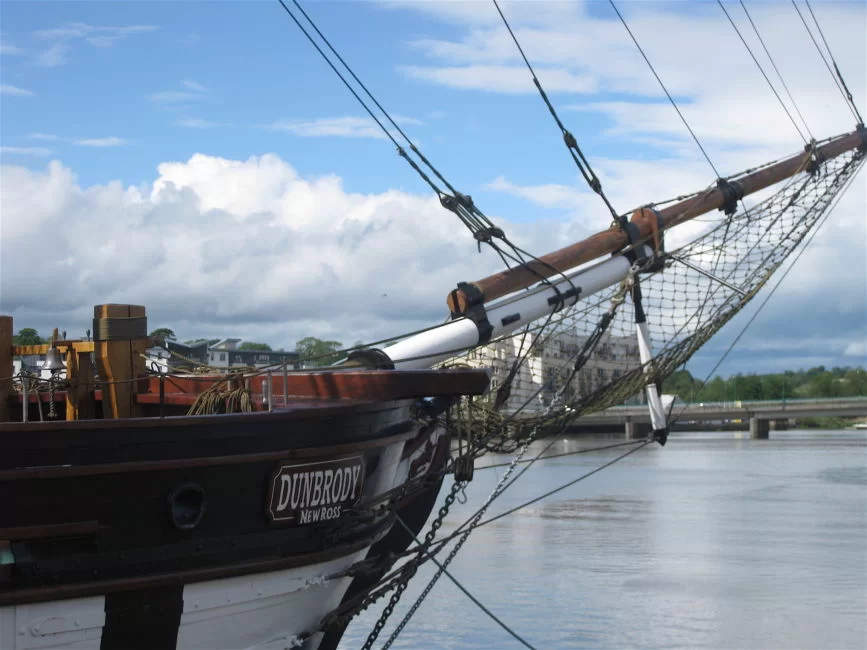 15. Tullynally Castle, Co. Westmeath
Suggested by Behind Green Eyes
Tucked away just outside Castlepollard in Co. Westmeath, Tullynally Castle is a 300-year-old country house. With 12 acres of gardens accessible through a quaint tea room and courtyard, it's open to the public from April through September. There are also seasonal events including a Halloween Terror Tour and Christmas Market. Passes begin at €3 for a child (a pass for family of 2+2 is €16) – this will grant you access to most of the grounds.
Attractions include Llamas, a treasure trail for children, stone gargoyles, wood carvings, a grotto, fountain, and one of the largest kitchen gardens in Ireland. Tea and baked goods are available at the tea rooms, but you can bring a picnic (and walking shoes) and make the most of the picturesque surroundings.
14. Glencolmcille
Suggested by The Mamma Fairy
Glencolmcille is beautiful historic Gaeltacht town located in South West Donegal. As you descend down the twists and turns along the road into the town its hard not to be wowed by the spectacular view of the outline of the coast of Donegal that immediately hits you.
The town might be small but there is still plenty to do. Top of the list for me are the 2 spectacular sandy beaches. One located in the town itself and the second is a couple of miles along a narrow coast road, accessed by 100 or so steps down to it. It is really beautiful and sheltered, with incredible views, perfect to wile away the hours listening to the sound of the Atlantic. Also in the town itself is the well know Folk Village which celebrates 50 years open this year.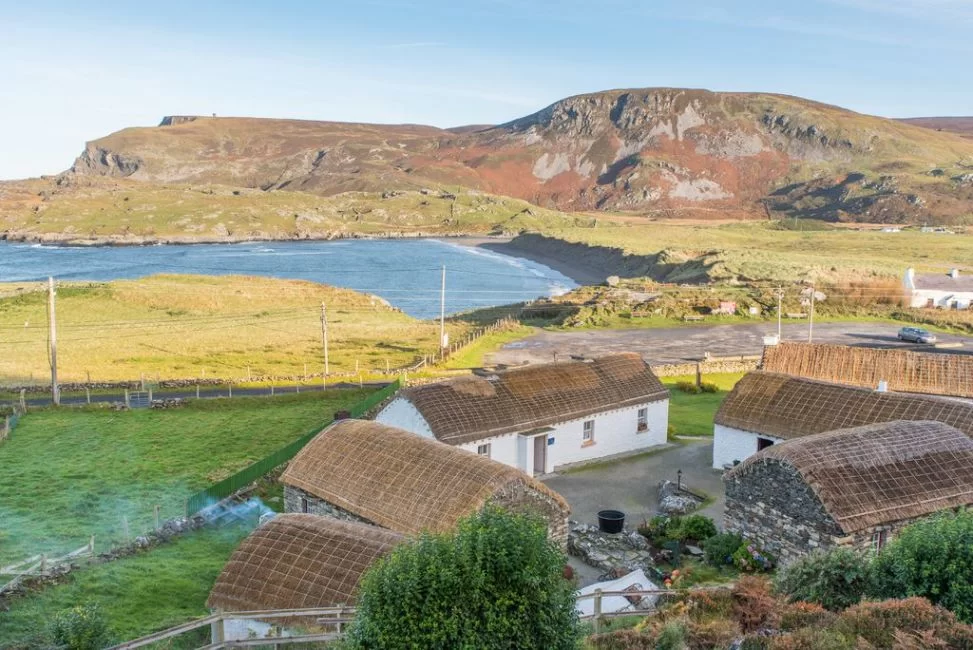 13. King John's Castle, Limerick
Suggested by Adelle Kenny
Both young and old will enjoy experiencing medieval Limerick in King John's castle dating back to the 13th century and is one of the best preserved Norman castles in Europe. The interactive visitors centre offers pull out drawers filled with artefacts including weapons and coins (minted in the castle) to dress up areas for children and cannon ball games. A personal highlight was walking through and seeing the ruins of the Viking settlement.
You then enter the main courtyard of the castle and can watch a blacksmith at work in his forge from the side-lines of a 17th century siege. The castle itself has been restored beautifully which allows you to climb several viewpoints which offer a 360 degree view of Limerick, the Treaty Stone across the River Shannon, with Thomond park ( home to Munster rugby) in the background.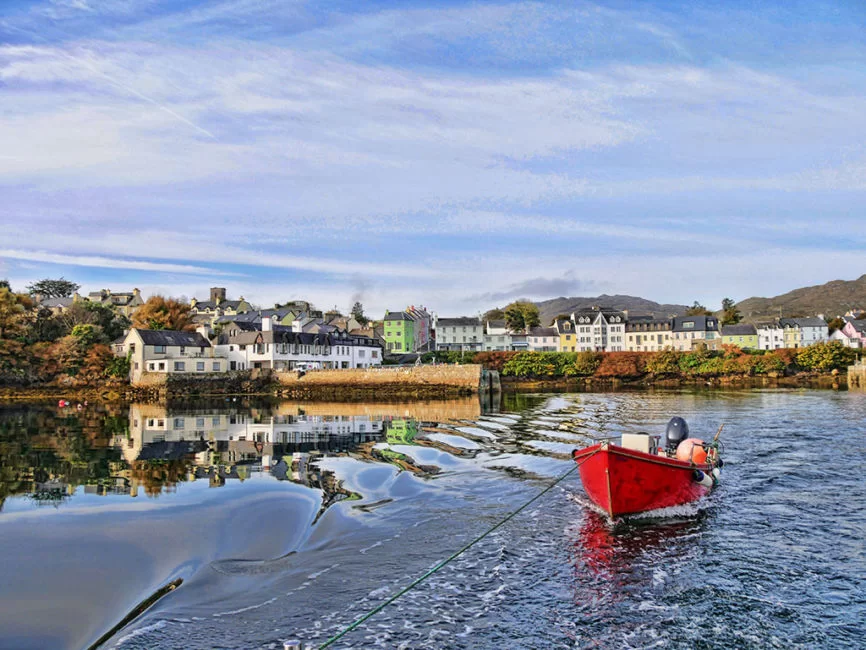 12. Lough gur, Limerick
Suggested by Passing Thru
Lough Gur, in Ballyhoura close to the village of Bruff, is a beautiful little lake with adjacent archeologically significant sites. At the Heritage Center there is evidence that humans have inhabited this region over six thousand years. When the lake level was lowered in the mid-19th century, hundreds of ancient objects emerged, including a bronze shield, pottery fragments and spear heads.
The Lough Gur Stone Circle, located on private land, can be seen from Route 512 a short distance from Bruff. The circle, 46 meters in diameter within a perimeter mound, is the largest of its kind in Western Europe, estimated to be over 4000 years old.
11. Downpatrick Head, Mayo
Suggested by Melcoo
One stop on the Wild Atlantic Way which should be on your must see list is the breathtakingly beautiful coast at Downpatrick Head in north county Mayo. Dun Briste is a magnificent rocky sea stack which is said to have broken off from the mainland during a violent storm which hit the west coast of Ireland in the 14th century.
View the cavernous blowhole and learn about the different legends and stories that surround how these wonders were formed, you decide is it a geology or mythical wonder or perhaps a little of both. This area was also a cliff marker during World War II and you can view the World War II watchtower and the large EIRE aerial sign. This landmark is not for the fainthearted, it puts the wild in the Wild Atlantic Way!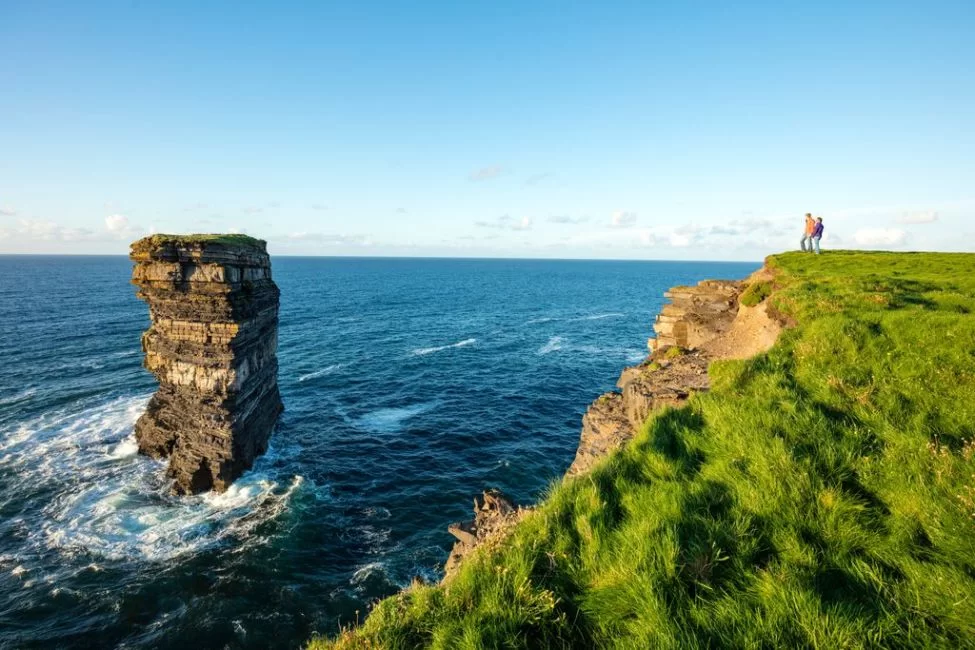 10. Connemara, Co. Galway
Suggested by 2FoodTrippers
Located in County Galway, Connemara is a top destination during a Western Ireland road trip. The word Connemara literally translates to Inlets of the Sea, which makes perfect sense based on the twisty coastline along the Connemara portion of the Wild Atlantic Way. Once you see this stunning coastline, you'll understand why people refer to Connemara as the Jewel of the Emerald Isle.
Any visit to Connemara would be incomplete without a stop at Connemara National Park. Lush and green, the protected park has 2,957 hectares filled with rolling hills and hiking paths. As an extra bonus, you will likely see more shaggy Connemara black head sheep than humans during your hike. Looking for more Galway travel inspo? Check out this post about top activities in Galway city.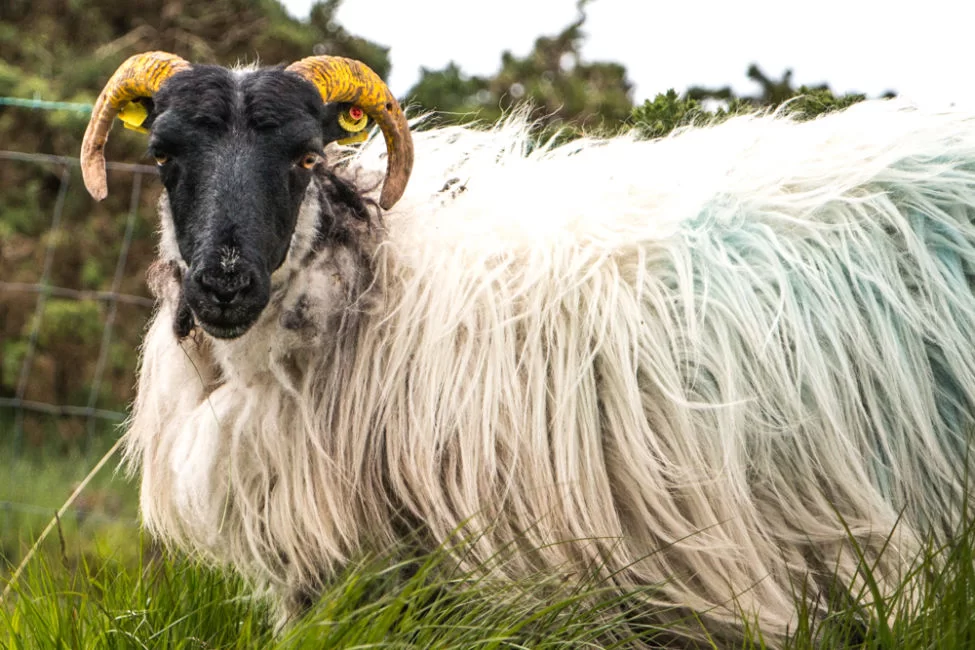 9. Kilkenny Castle
Suggested by Travelling Dany
Kilkenny Castle, located in Kilkenny, was built in 1195 in a strategic point, to control the main roads and the Nore River. A symbol of Norman occupation, Kilkenny Castle has been an important element of the city defenses for a really long time. What many people don't know is that Kilkenny Castle is one of the most haunted places in Ireland. Inside, along the corridors, there are spooky photographs of haunted houses and castles.
Paranormal stories about this castle have increased in numbers over the years, passed over from generation to generation. They all have a common denominator: each one is based on tragic historical facts that have actually happened on the castle grounds.
8. Tory Island
Suggested by The Travel Two
Tory is a small island off the north-west coast of Donegal but unlike the hugely popular Aran Islands, this gem receives very few tourists and has managed to retain a very isolated feel to it.
There isn't a whole lot to do on Tory but that's the whole point, lash on some hiking boots so you can embrace the barren landscape and rejoice in the fact that nobody on the island of Ireland is further north than you are. Top tip – do not leave without meeting Patsy, the reigning king of Tory Island. Yes, an actual king who on every other day will be waiting to greet you when you get off the boat. ITory feels like the land that time forget, a slice of rural Ireland in it's most perfect form.
7. Castlefreke, Cork
Suggested by West Cork Fit
The first day I walked through the grounds of Castlefreke, I pinched myself to see if I was dreaming. It was late May, the ground was carpeted in a thick layer of bluebells and the air held a heady mix of woodbine, honeysuckle and wild garlic. We had the wolfhound with us. She bounded with utter excitement through the knee high flowers and it looked like she was chasing fairies as the butterflies rose around her.
We walked the 1 mile loop through the woods around the castle. Renovations have been started by the owners so the castle grounds are off limits. Although, with legend telling of a woman standing in the windows at dusk, I'm not sure I would want to be there anyway.The view at the top is exquisite and all of the 'Long Strand' can be seen along with our Sunday special, The Puffin Cafe (best beachside pizza in town).
6. Inchydoney, Cork
Suggested by TravelThe Globe4Less
Just outside the heritage town of Clonakilty in West Cork, Inchydoney Island is an oasis of tranquillity, a true escape from the bustle of daily life. As you drive out to the peninsula, admiring the rugged coastal inlet, the spectacular coastline hypnotises you into a state of calm, as though welcomed by mother nature's embrace.
You can take long walks along the sandy beach, learn to surf or simply indulge in the spa at the Inchydoney Island Lodge and Spa. The swimming pool and relaxation rooms offer panoramic views of crashing waves, and even though the weather was not kind during our stay, it simply added to the drama. Crackling fires, oysters and wine, fresh smoked salmon breakfasts gluttonously consumed overlooking the raging sea, and the best sunset I've seen in Ireland. Inchydoney Island is heaven!
5. Slane Castle, Meath
Suggested by Tuoyo Memuduaghan
Almost as if it were our very own home, we drove unbothered through the gothic gates of Slane Castle, parked up on the tarmac just inside the walls and stared quietly at the grey stone building in the distance.
Enormous green fields surrounding the castle would fool you into believing that the grounds had never heard more than a whisper in its lifetime. I found it hard to believe this very site transforms itself into an amphitheater hosting up to 80,000 concerts goers in one go. I've travelled the world and spoken to new friends who long to see the "castle's in Ireland", I nod along as if I'm supposed to know all about them or be a regular visitor because they are on my doorstep.
Well, Slane castle is on our doorstep, where the old age meets the new generation, it's the backdrop to our making memories surrounded by such history.
4. Toonsbridge Dairy
Suggested by My Suitcase Diaries
Toonsbridge Dairy is, in my opinion, a hidden gem in the Macroom countryside. Anyone who has visited The English market in Cork city knows about the olive stall that sells succulent stuffed olives, tasty tapenade and my favourite, feta and basil dip. How about going to the very dairy that supplies the mozzarella and fresh cheeses.
The shop sells a selection of goods from the market as well as local cheeses, cured meats, eggs, and a plethora of canned goodies of varying contents. The restaurant, with outdoor seating, terraced covered seating and indoor tables has the most delightful menu to tickle your taste buds. All made freshly in house.
The pizza oven is right beside the shop and the mezze board is utterly yum, Try their handmade traditional Italian pizzas, a 3 salad mix and the fig, ricotta and date cake and I dare you to say it wasn't the most delicious lunch you have ever eaten.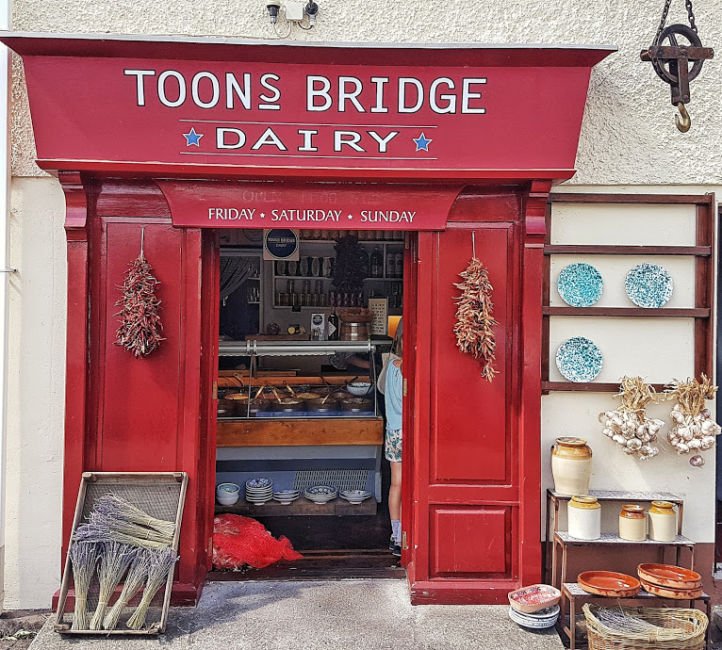 3. Roundstone, Galway
Suggested by Luxury Columnist
Roundstone is a charming fishing village near Connemara in County Galway, West Ireland. It was founded by a Scottish engineer, Alexander Nimmo, in the 1820s.
A Franciscan monastery was built in 1835 and the village grew to a population of over 400. It has featured in quite a few films including The Mackintosh Man by John Huston. You can see what attracts them to Roundstone as it's set in a designated Area of Outstanding Natural Beauty. It's also the departure point for some great boat trips and has some charming craft shops including Connemara Pottery.
There are several great restaurants where you can sample seafood caught by the local fishermen. O'Dowd's Seafood Bar and Restaurant has won quite a few awards and serves up fantastic Irish food. If you're staying in the area then definitely pay Roundstone a visit – you'll be wowed by its natural beauty.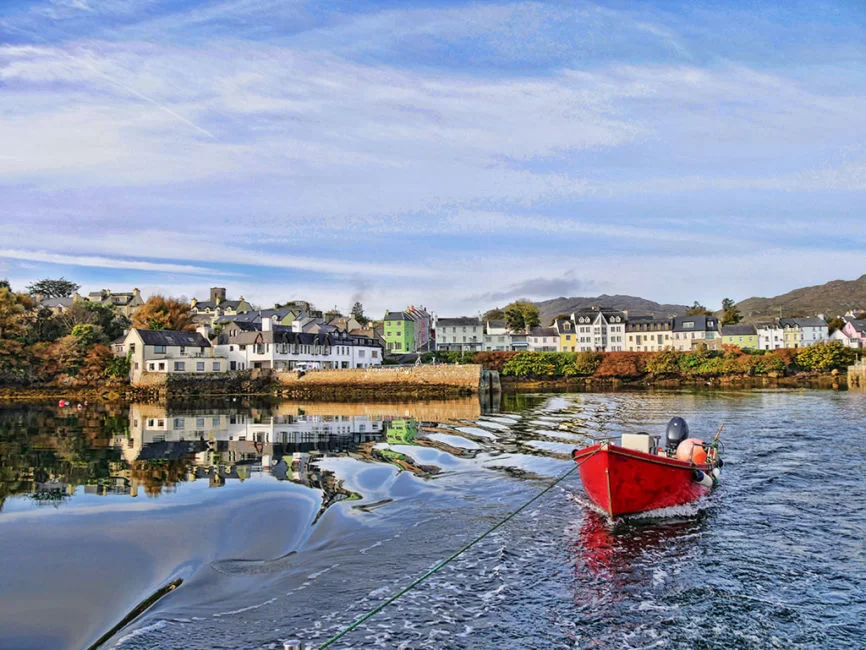 2. Ring of Beara, Cork
Suggested by A Luxury Travel Blog
The Ring of Beara is a stunning circular drive in south-western Ireland, lesser known than the Ring of Kerry just to the south. The trail around the Beara peninsula begins in Kenmare and takes in some beautiful panoramic views.
Stop off at Glengarriff and enjoy the short boat trip to the Italian gardens and Martello tower on Garinish Island, keeping your eyes peeled for wildlife on the way. We saw a magnificent white-tailed sea eagle as well as a number of seals. Further along the route, call in at McCarthy's bar (featured in the best-selling book fo the same name) in Castletownbere for a quick half before heading on towards Dursey Island at the south-western tip of the peninsula, connected to the mainland by Ireland's only cable car.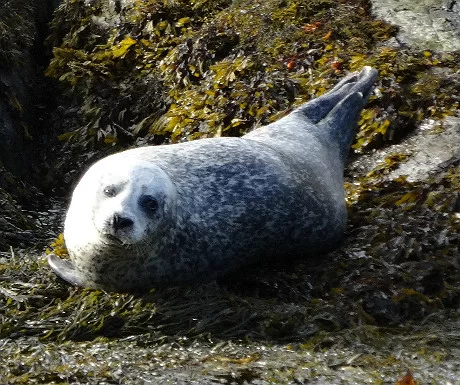 1. Causeway Coast
Suggested by SnazziYazi
Unless you have lived under a rock for the past 6 years, you will be aware of the teeny tiny show called Game Of Thrones. You will also probably know that said show is filmed in beautiful Northern Ireland Luckily for me, I'm only the length of a show away from some of the beautiful filming locations.
So last weekend me, my boyfriend, my bestie and her boyfriend ventured off in search for Jon Snow. From Downhill Strand and Mussenden Temple, which is something straight out of a fairytale to beautiful Dunluce Castle – Castle Greyjoy in Game of Thrones. Dunluce Castle is probably my favourite Castle in NI. Over looking the sea, the view is phenomenal. It's free to walk around the outside grounds but there is a fee if you want to go in to the castle grounds.
The Dark Hedges – Arya's Escape was the last stop on our tour and is possibly the most famous Game of Thrones Landmark in NI.
READ: Things To Do On the Causeway Coastal Route
Bonus Destination: Corcomroe Abbey, County Clare
Suggested by Santa Fe Travelers
In the summer of 1997 I visited Ireland for the first time. Although it first time in the country I felt as if I'd come home. I kept having a series of déjà vu moments. One of the most powerful was at Corcomroe Abbey, dating to the 12th century, now nothing more than a stately ruin. I just began to sob. I couldn't stop. I've been back twice more and had the same experience.
While you most probably won't have my emotional reaction, Corcomroe Abbey, down a quiet country lane is worth a visit for the architecture, the history and the brauty of its pristine country setting, It's also a great western gateway to The Burren, an ancient and magical place, home to Poul Na Brone dolman, the Cliffs of Moher, countless other ancient churches and magnificent ruins.