Are you wondering where are the best places to visit in Vietnam?
Vietnam is a huge country well known for its ancient history, diverse culture and quintessential natural landscapes. With places of interest in almost every province. Figuring out where to begin can be a daunting experience!
Vietnam has it all, from the fast and easy immigration process, breathtaking landscapes, hospitable locals, food and affordability- Prices of things in Vietnam are one of the reasons to visit the country.
Where is Vietnam?
Vietnam is a country in Southeast Asia. Bordered by China in north, Laos, and Cambodia in the west. Vietnam has one of south-east Asia's fastest-growing economies, Vietnam has set its sights on becoming a developed nation by 2020.
What to do in North Vietnam
The North is home to some of the most beautiful best places to visit in Vietnam.
North Vietnam has miles of coastline to the east and rugged mountains to the west provide endless opportunities for photographers and nature lovers, while brilliant green rice paddies stretch throughout the coastal plains, the Red River Delta, and the Mekong Delta regions.
The best places to visit in North Vietnam:
Hanoi
Halong Bay
Sapa
Ninh Binh
Ha Giang
What to do in South Vietnam
There's a huge contrast between North and South Vietnam. In terms of fashion, language, things to do and even food.
People in the South prefer noodles to rice. In the South, there is a huge coffee culture compared to the tea culture in the North.
If you're the type to stay out until the sun comes up, the South one of the best places to visit in Vietnam!
Ho Chi Minh City
Phu Quoc
Nha Trang
Mui Ne
Da Lat
Places to visit in Vietnam – Advice From Travel Experts
Vietnam can easily be explored in 10 days or even three months!
To help make planning your Vietnam trip a whole lot easier. I've enlisted the help of travel bloggers who have either live or have traveled extensively in Vietnam to bring you the very best places to go in Vietnam, meaning that you can stop sweating the planning and start looking forward to your fantastic vacation.
Add these best places to visit in Vietnam to your bucket list and you're sure to have a great time!
Ninh Binh
Previously unknown to foreign tourists, Ninh Binh in northern Vietnam has been gaining popularity in recent years.
It's an ideal getaway for solo travelers because it's easy, quick and affordable to get to Ninh Binh from Hanoi by bus. The journey takes around 2 hours. There are some great accommodation options in Tam Coc, including rustic over-water bungalows and family-run guesthouses.
Ninh Binh doesn't have much of a backpacker vibe (although you can find some bars on the main street). Instead, it's the perfect place for some rest and respite. It's tempting to just plonk yourself in the nearest hammock and settle into a good book. But there is plenty to see in Ninh Binh as well, so make sure you give yourself enough time for both.
Rent a bicycle or a motorbike to get around – all the major attractions are within cycling distance. This part of Vietnam is often referred to as 'Ha Long Bay on land' because of its limestone karst formations. These, paired with glistening rice fields and shallow waterways, give Ninh Binh a mystical feel.
To get a better look at the landscape and access pagodas and royal palaces hidden deep in the forest, you can take a boat ride at either Tam Coc or Trang An (I personally prefer the one at Trang An). Everything is very well organized – just line up and grab a ticket. At sunset, you can climb the stairs to Lying Dragon Mountain for the best views of Ninh Binh.
Recommended by Emily of Wander-Lush
Where to stay in Ninh Binh
Best hotel in Ninh Bin for Solo Female Travelers: Ngoc Anh
Ngoc Anh Hotel offers affordable rooms with city views and complimentary WiFi. It is located 9 km from Tam Coc and Bich Dong Pagoda. The hotel also provides a pick-up service from the train station and bus station at a surcharge.
Each air-conditioned room is fully furnished with a private bathroom with amenities, a work desk, and satellite TV. An in-room safe, minibar and hairdryer are provided as well.
Check for availability and rates for Ngoc Anh Hotel
---
Hanoi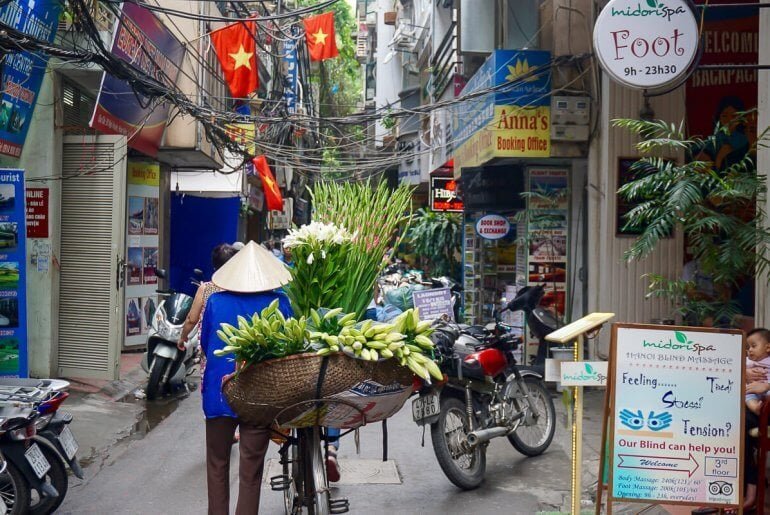 A trip to Hanoi has got to be at the top of the list.
Hanoi is a magical city and one of the best places to visit in Vietnam for the first time. You could fill your entire days by just wandering around the bustling streets and taking in your surroundings. If you get bored just wandering the streets, we highly suggest taking a guided street food walking tour.
Food tours are one of our favorite ways to get to know a city and you get to taste all the delicious food that that city is known for! If you are looking for some free activities, you can always go on a free walking tour of the city.
On free walking tours, you will learn a ton about the history of the city as well as different places to eat or different things you should do later on during your stay. Because of all the free activities and the extremely cheap, but awesome hostels scattered throughout the city, Hanoi is a great place to visit if you are on a budget or looking to meet other people traveling.
There are a ton of hostels that host parties on their rooftops, as well as tours, put on by the hostels where they will take you around the city to try different drinks or food with other travelers. Hanoi is a relatively safe city, just make sure you are always aware of your surroundings and don't walk alone at night.
Recommended by Jessica of Unearth the Voyage
---
An Binh
An Binh is situated on the Mekong Delta, close to Vinh Long in the southern part of Vietnam.
Thanks to its relatively large distance from Ho Chi Minh and other touristic hotspots, this part of the country isn't too busy or touristy. An Binh is an island with lush vegetation and very narrow paths that are too small for cars. The best way to explore the island is to hire a bike (ask your homestay to arrange it for you) and cycle around without an itinerary.
Along the way, you'll meet friendly locals and smiling kids. We even got invited by random strangers to join them at their party and share some food and drinks. (Later, we found out that the reason for this get-together was actually the funeral of one the men's wives).
Apart from cycling around, you can also join a boat tour on the Mekong river, which is the fourth largest river in Asia. The highlight of this trip is the floating market of Cai Bei, but make sure to get there early when the market is still booming. Your homestay can help you arrange this tour.
An Binh is a great place to unwind and relax from your intensive travels. Find yourself a nice homestay, which usually comes with a relaxing porch, hammocks and a garden. The owners will be happy to help you arrange anything you need and prepare some delicious meals for you.
Wondering how to get there? Take the bus to Vinh Long. From the bus station, you'll have to grab a taxi to the ferry, which will take over the river for free.
Recommended by Sophie of Bitten by the Bug
---
The Mekong Delta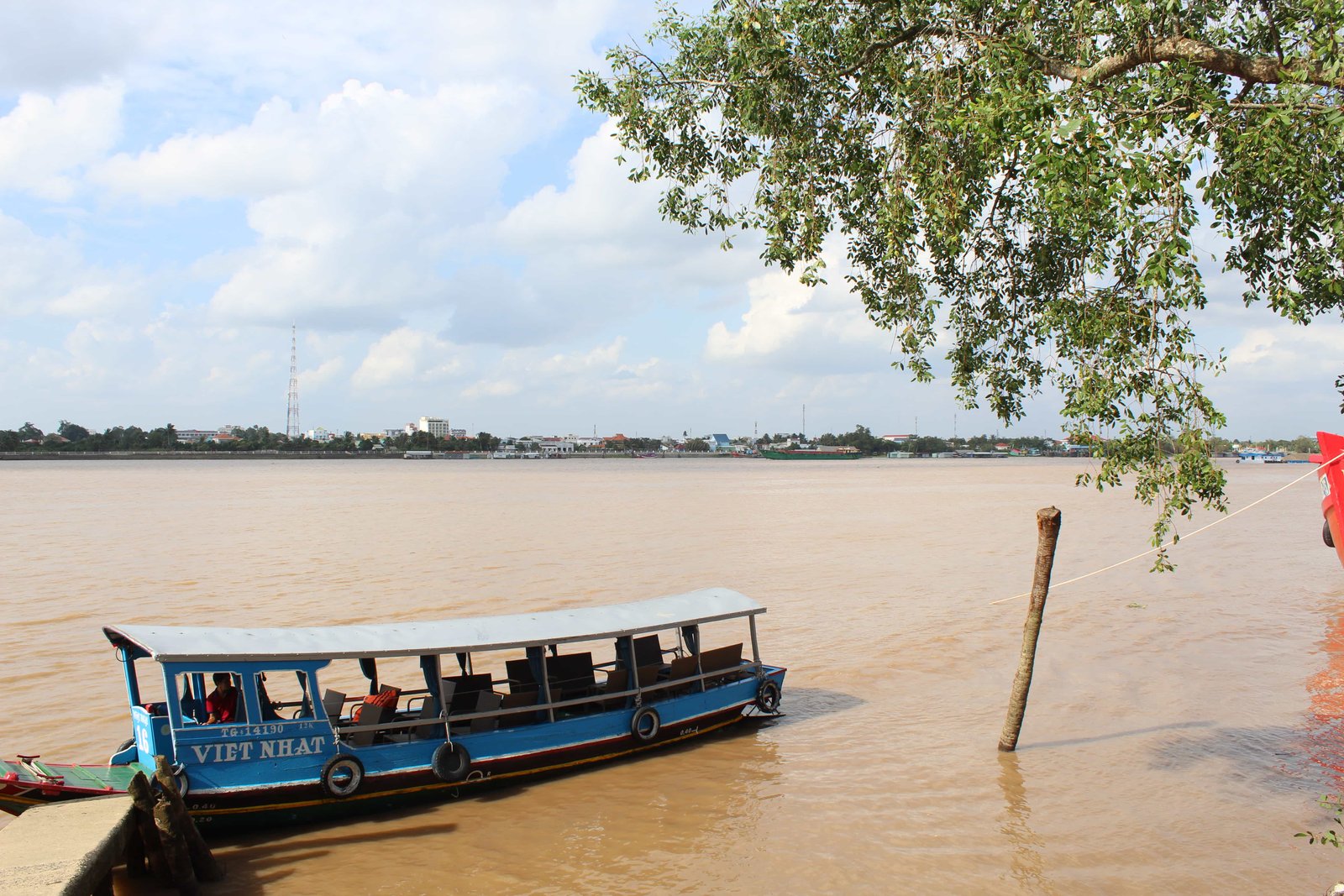 As part of the economically important Mekong River, which runs across mainland Southeast Asia, the Mekong Delta is teeming with river life that has fueled the indigenous peoples of southern Vietnam for centuries. It's absolutely massive and has become known for its intense greenery and the colorful boats which take visitors down the river.
There are daily tours for those looking to do a day trip from Ho Chi Minh City. Some agencies also offer 2-day trips including a homestay, but if you plan to stay overnight around the Mekong, try to do it without an agency. The Delta is big and beautiful, but as with any developing country there are plenty of people willing to exploit others for a quick buck, so be discerning.
Many trips will take you south of HCMC for about 1.5 hours to My Tho, but the more popular destination in Can Tho, a city that sits at the center of the river.
From either city, visitors can take a boat tour down the Mekong, and head to a local restaurant to enjoy some Delta-based dishes, like elephant ear fish or snakehead fish.
You'll see local performances, try some fruit grown along the Mekong Delta, and take a boat ride down one of the narrow canals off the main waterway. It's a truly beautiful area, but precious few visitors to Vietnam ever come for a visit.
Recommended by Max of damecacao.com
---
Ho Chi Minh City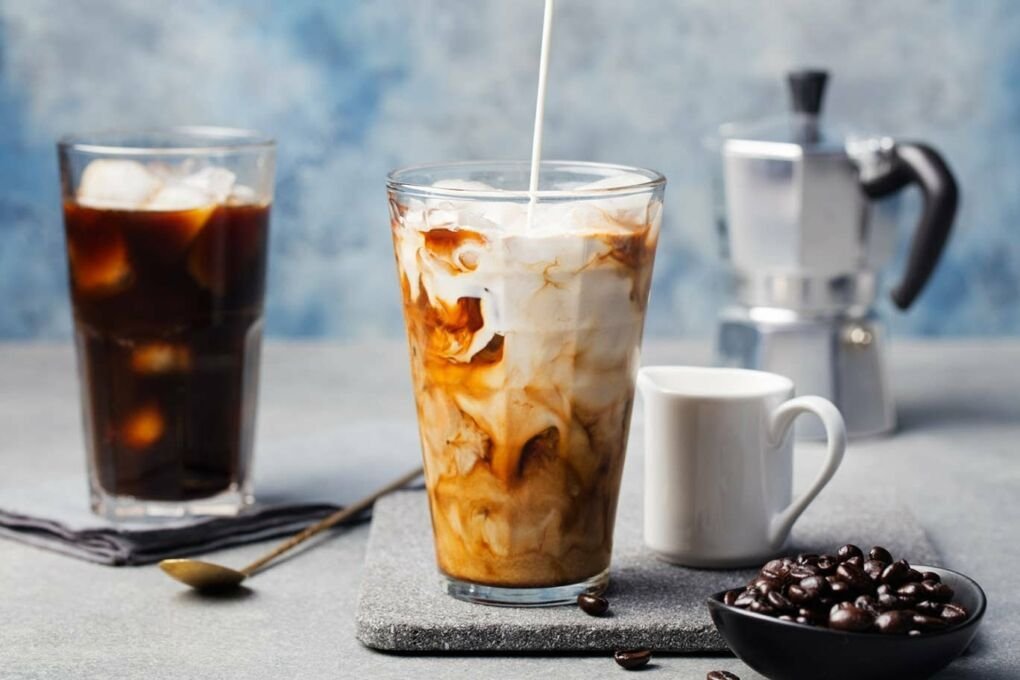 Want to know where is one of the best places to visit in Vietnam that's chaotic, noisy and downright fun?
I'm talking about Vietnams largest city, Ho Chi Minh, which should be high on any Vietnam bucket list. With as many motorbikes as people and the lure of street food at every corner, you'll be thrown right into the midst of Vietnamese culture.
Formerly known as Saigon (and often still called this by locals), the city was renamed after Ho Chi Minh, a former politician who lead Northern Vietnamese forces to defeat the Americans in the war.
The best area to stay in Ho Chi Minh is Pham Ngu Lao (in district 1), with an abundance of hostels and close proximity to the nightlife which centers around the nearby Bui Vien Street. For a bite to eat, head to Bến Thành market where you'll find a food court with cuisines from around the world. As a self-confessed history nerd, my favorite activity was the War Remnants Museum, full of moving stories from those impacted by the war.
The real gems, lie outside the city limits. The Cu Chi Tunnels offer a glimpse at the minuscule tunnels used by Northern Vietnamese forces during the war to move around without trace and transport supplies, these can be visited on an afternoon trip from Ho Chi Minh City.
The city is also a great base for a visit to the Mekong Delta. A number of companies offer full-day tours where you'll see local markets, visit a coconut candy factory and a bee farm. Longer excursions to the Mekong Delta are also available where you can spend a night or two in a local homestay to get a little closer to traditional life.
Recommended by Kieren from Got My Backpack
---
Cao Dai Temple
A visit to the Cao Dai Temple makes a fascinating day trip from Ho Chi Minh City.
Caodaism is a religion that is uniquely Vietnamese, and yet it also draws from many world religions at once.
First established in 1926 after its founder and prophet, Ngo Van Chieu, received a divine message from the supreme deity, Caodaism has had a turbulent history. Once suppressed by the government, it is now legalized, and there are reportedly as many as 6 million followers of the religion.
These followers promote tolerance, unity, and peace among all peoples, and they believe in the five virtues of Confucianism as well as the Buddhist concepts of karma and reincarnation. In their view, all religions are the same.
Western influences can also be seen in religion. Its saints include Julius Caesar, Joan of Arc and Victor Hugo. As part of their attempts to avoid killing living beings, Caodai followers practice part-time vegetarianism for at least 10 days per month.
The main Cao Dai temple, which is often called the Great Divine Temple or the Cao Dai Holy See, is located just outside of Tay Ninh City, near the border with Cambodia.
Visitors are welcome to watch the daily ceremonies, which involve chanting, music, prayer, and incense burning. Entrance is free, and you're even allowed to take photos from the upstairs galleries. There are some fantastic photo opportunities here, as the priests and followers dress in colorful gowns that create beautiful patterns when they all kneel in prayer together.
Ceremonies are held four times a day, at 6 am, at noon, at 6 pm and midnight. If you visit, be quiet respectful during the worship service, and wear long pants or a long skirt.
Recommended by Wendy of The Nomadic Vegan
---
Sapa
The town of Sapa can be found in the north of Vietnam just a short distance from the border with China.
It's a popular place for tourists wanting to experience a bit of Vietnamese life while hiking around a beautiful area. Sapa is where you'll find endless rice paddies, dense bamboo forests, and mountains as far as the eye can see.
There are plenty of organized tours from Hanoi usually lasting two or three days but you can make your own way around if you prefer. If you travel from Hanoi, you'll need to take an overnight train or bus to Sapa. Walking tours will often be in small groups of around ten tourists all led by a local tribesperson.
Although the area is popular with tourists, there are several guides who avoid the more crowded routes. Some of the walks can be hard going at times so you'll need to be prepared, especially with decent shoes! No matter how tough it gets, it's all worth it for the incredible views of the villages from up along the hillsides.
On our tour of Sapa were couples, groups, and many solo travelers so there were always people to talk to during the long hikes. A lot of the tours from Hanoi give you the option to stay in a local homestay as well.
Although it might not be as comfortable as a hotel or hostel, homestays are a nice way to spend time with the locals and see how they live.
Recommended by Oli of Not Brits Abroad
---
Nha Trang
Nha Trang is a beautiful coastal town that has something for all budgets and all types of travelers.
It's located in Southern Vietnam, about 7 hours (by bus) from Ho Chi Minh City. The biggest draw to Nha Trang is the Tran Phu Beach, which is lined with palm trees, has beautiful white sand, and stretches for miles. That said, it can get pretty busy. If you're looking for solitude, there are plenty of day trips to other beaches and islands in the nearby area.
In addition to the beach, some other fun activities include island hopping, scuba diving, souvenir shopping at the local markets, relaxing in a mud bath at the Thap Ba Hot Springs, and enjoying freshly-caught seafood. Nha Trang is safe for solo female travelers. But as always, be sure to take normal precautions that you'd take anywhere else in the world (i.e. don't walk around alone at night).
Lastly, if you have a remote job where you can travel, Nha Trang is a digital nomad friendly destination, and you should have no problems finding fast wifi in hotels and coffee shops.
Recommended by Mitch of Project Untethered
Where to stay in Nha Trang
Best Luxury Hotel in Nha Trang – Royal Beach Boton Blue Hotel & Spa
Royal Beach Boton Blue Hotel & Spa is a beachfront property in Nha Trang and features an outdoor pool, a restaurant, a fitness room and a free shuttle bus to the city center. Free WiFi access is available in the entire area.
The hotel an outdoor pool and bar. Sauna and the spa bath are free of charge for certain room types at the property. Spa services include massage therapies, body therapies, and a steam room.
Check for availability and rates for Royal Beach Boton Blue Hotel & Spa
---
An Bang
This might not be your average tourist attraction but this place will certainly amaze and surprise you. An Bang Cemetery or the City of Ghosts is the biggest cemetery in Vietnam but what makes it really special are the huge tombs covered in colorful mosaics.
Nothing can prepare you for what you'll find at An Bang Cemetery. Not onlly is it one of the best places to visit in Vietnam but…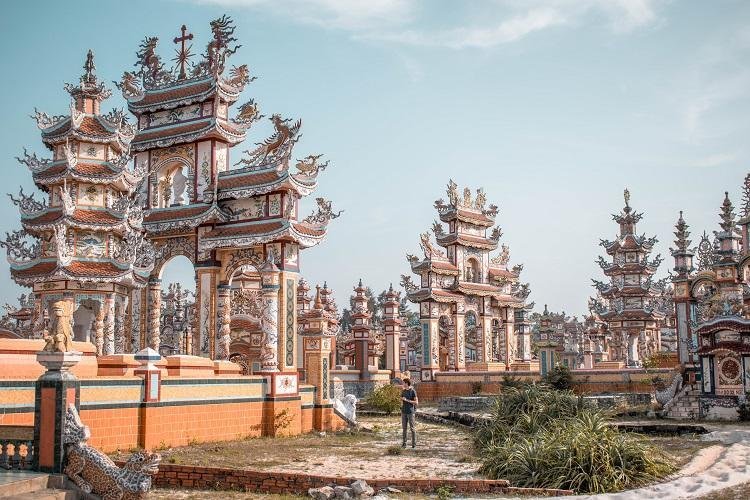 With intricate designs and beautiful details, each tomb is a unique piece of art. It is said that some of the tombs here are valued at more than $70,000. Although most of the cemeteries are a bit creepy, An Bang is very different.
Due to all the colors and its architecture, this cemetery looks like a happy place. Don't hesitate to walk inside and explore it! To get to it, you will have to rent a motorbike from Hue and drive for about 30 km.
This creepy yet fascinating place is truly incredible and worth visiting. My only advice is – don't get lost!
Recommended by Aurelia of Daily Travel Pill
---
Danang
Danang was a sleepy seaside town that is now home to more than a million Vietnamese. New hotels, restaurants, and infrastructure make this a lovely and simple place to visit with a truly beautiful beach!
Top 3 things to do in Danang:
Hit the beach – It's spectacular, day and night.
Admire the Dragon Bridge – a 666-meter-long (2,185 feet) dragon-shaped bridge that breathes fire and spouts plumes of water.
See the Museum of Cham Sculpture – the largest exhibit of its kind in the world.
The beaches in Danang are laid back, long, with white sands and are still used for fishing in many kinds of traditional craft. Ba My An beach that fronts some of the five-star hotels and Non-Nuoc which ends at the Marble Mountains are my favorite beaches in Danang. There are many more, however, and they each look quite different.
The Dragon Bridge over the Han River is the globally recognized image of Danang and it is a spectacular site lit up and night. At 9 pm on weekends, it breathes fire and light! The Kingdom of Champa existed from the second to the seventeenth centuries in central Vietnam.
The Museum of Cham Sculpture has 300 exhibits from this sophisticated culture. The Cham culture is distinguished by the number of indigenous, and foreign political and religious influences upon its architecture and sculpture.
Danang is a safe and beautiful destination with quality accommodation, perfect beaches and numerous interesting things to do and see.
Recommended by Monique of Trip Anthropologist
---
Halong Bay
Halong Bay is one of the most scenic regions in Vietnam and is a must-see for anyone visiting the country!
The bay is filled with thousands of giant limestone cliffs that jut from the water and are covered with lush rainforests. Halong Bay is best visited by a 1 or 2-night cruise.
There are some great Halong Bay cruises to choose from, whether you prefer something a little low key and relaxing or are looking for some other fun singles to hang out with. During the day most cruises provide the opportunity to go kayaking among the spectacular scenery and during the warmer months you can even jump right off the boat for swimming.
Most of the boats follow a similar itinerary which includes a stop to explore some caves as well as climbing to a lookout where you can get a fantastic view across the bay – perfect Instagram photo opportunity!
All meals are provided onboard and most boats host a karaoke party and disco. Other activities during the cruise include night squid fishing and if you can manage to get up early enough, Tai Chi.
Some boats even have cooking classes. For those that like some downtime, it's fantastic just sitting on the deck and watching the gorgeous scenery pass by.
There is a range of cruise boats to choose from, but I recommend looking for a mid-range one – as these boats usually have great rooms, facilities and itineraries – but having said that, there are still some great super cheap options too.
Cruises depart from Halong Bay, but the cruise operators will arrange transfers for you from Hanoi, around a 4-hour drive from Halong Bay. For anyone visiting Vietnam, an overnight cruise on Halong Bay is an absolute must and will be something you'll remember for a lifetime.
Recommended by Melissa of Thrifty Family Travels
---
Monkey Island in Cat Ba
Monkey Island was never on our list of places to visit when we were traveling through Vietnam.
During our time on Cat Ba island, we found ourselves on a cruise that took us through Halong Bay. Monkey Island was one of the stops on the cruise. The island is named after the numerous monkeys that occupy it. Be careful when you interact with the monkeys since they can get quite aggressive when they spot food.
Ironically, you will find that it is part of different tours around the bay. We were rather surprised when we finally set our feet down on the island at the end of the day.
There is a short trek up to the hill at the center of the island. One of the people manning the boat came along with us and guided us up. If you don't mind hiking, you should really head up since it offers you a panoramic view of Halong bay. Just make sure that you carry proper footwear for the trek.
Another thing that we enjoyed about Monkey island was watching the sunset on the horizon. It was a surreal feeling to be on a tiny island surrounded by the golden light of the sun. It was a perfect way to end the day.
Recommended by Penny of Globe Trove
Where to stay on Monkey Island
Best Cat Ba for couples – Monkey Island Resort
Enjoy beautiful views of the sea and surrounding greenery from Monkey Island Resort – they offer relaxing stays in wooden bungalows.
Featuring a beach-side restaurant, it provides WiFi in the lobby and restaurant. All units feature air conditioning and hot shower facilities. Certain units come equipped with a refrigerator. Resort transfers are also offered at the property.
Check for availability and rates for Monkey Island Resort
---
Cat Ba
I first learned about Cat Ba Island when I was researching Halong Bay. The latter is, of course, an incredibly popular backpacker stop in Northern Vietnam. Many people will take a tour from Hanoi to Halong Bay, perhaps spending a few nights on a boat, and head back inland. As anyone who's visited Cat Ba Island will tell you, however, this is a mistake!
Instead, hop a bus from Hanoi to Cat Ba—there are many of them, easily booked through your hostel in Hanoi, which includes the ferry ticket as well. They will drop you off in front of your hotel or hostel!
I highly recommend Cat Ba Oasis Bungalows. They have nice, hotel-style private rooms as well as ridiculously affordable dorms. The pool is stunning and the restaurant actually has awesome food. Best of all, you can book your Halong Bay, Cat Ba National Park, or rock climbing tours through their helpful staff.
Besides its convenient proximity to one of Vietnam's most wonderful tourist destinations, Cat Ba Island is a delightful gem in and of itself. Yes, it's quickly developing and resorts are already popping up, but I didn't feel this hampered my experience (plus, it's hard to avoid in Southeast Asia these days).
Some activities I'd recommend are hiking in Cat Ba National Park, eating seafood hot pot (head a few blocks inland for better prices), and night swimming with the bioluminescent plankton! You can choose your vibe on Cat Ba so it's great for any kind of solo female traveler, whether you want a peaceful nature-filled experience or bar-hopping—or both!
Recommended by: Kaisa of Glam Granola Travel
---
Mui Ne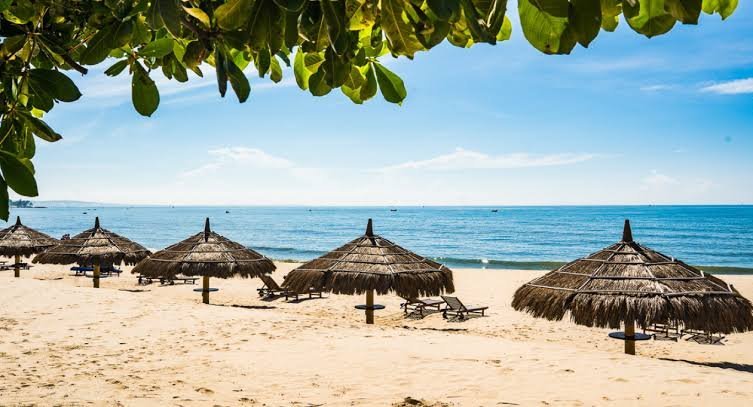 Visiting Mui Ne during your first trip to Vietnam is a must.
Not only is it one of the best places to visit in Vietnam, you will find a unique culture and local traditions, but also have enough time to relax and discover the local adventure scene. There are so many things to do in Mui Ne, the city has it all!
First of all, Mui Ne has a wonderful fishing village which you can visit in the morning to get a feel of the local atmosphere. Whilst fishermen are bringing to the shore the catch of the day, their wives are sorting, cleaning and selling it to the restaurants, so you can eat it fresh in the evening.
The constant buzz and haggling make the fish market a must-visit during your trip to Mui Ne.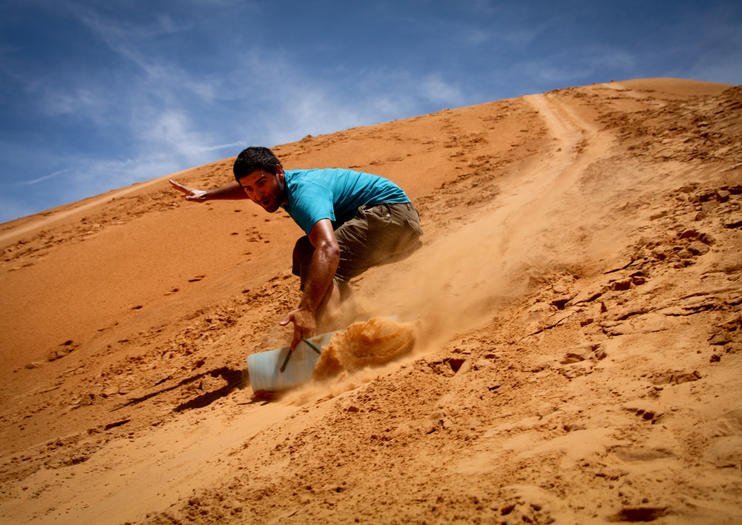 For adrenaline seekers, the nearby sand dunes are the perfect place to get your levels rising. Here you can rent a quad bike and go on the dunes on your own or hire a driver in a jeep, for a proper dune bashing.
It is so much fun! On the red dunes, which are closer to the city, you can rent a board and slide down the sand, whilst watching the sunset. If you are a person who likes to relax as well, head over to one of the beachfront hotels to sunbathe.
If you booked a hotel that is not next to the sea don't worry, for the price of a drink most of the beachfront accommodations will allow you to use their facilities and the beach in front.
Recommend by Joanna of The World in my Pocket
---
Hoi An
There are so many incredible things to do and explore in Hoi An.
Located in central Vietnam, it is a city that definitely should not be missed. Hoi An is the perfect mix of action and relaxation, a slice of paradise outside the hustle and bustle of the hectic cities. Hoi An is an ideal destination for solo female travelers, as it is smaller than some of the larger cities, yet still, have endless activities to fill your days.
One of the best things to do in Hoi An is to rent a bike and take off exploring the city! You can explore the winding yellow alleyways, along the river bends, through the rice fields, and down to the beach! It is definitely the most efficient means of transportation. That being said, you should definitely hop off your bike at times and get lost among the brightly colored buildings of the old town.
Spend your days wandering the yellow city walls of the old town. Find hidden temples and local street vendors and markets.
Another great thing to do is to visit one of the local tailors to create some custom made outfits. A tailor-made dress or jumpsuit is the perfect souvenir from your adventure.
Recommended by Taylor of Taverna Travels
Fun tours in Hoi An
---
Hue
Hue is a city with a lot of history and some fascinating relics from times gone by. Nicely situated on the banks of the Perfume River, the modern city of Hue may not be the most beautiful place in Vietnam but it should definitely be included in any Vietnam itinerary.
One of the best things to do here is to visit the impressive, Chinese style Imperial City which is a stunning collection of buildings that date from 1804. It is a big complex full of pavilions, moats, and ornate gates. (https://teledentistry.com)
Another nice thing to do is to rent a boat to head up the Perfume River and visit the tombs of the Ancient Emperors. These are pretty impressive and ornate structures, and the trip along the river is interesting too.
Those with an interest in more modern history can head out to the nearby DMZ to see some relics from the American war in Vietnam and see some tunnels used by the Vietnamese guerilla fighters.
Hue is famed for its food and you will find many great restaurants in the city as well as lots of street food. We like to stay in the old quarter where there are some characterful tree-lined streets and it is not too far from the river which is the main focus of the city and a nice place to take a walk or catch a boat.
Recommended by Chris of More Life in your Day
Add these AMAZING activities to your MUST-DO list in Hue
---
Ha Giang
Ha Giang province is tucked away in a remote, unspoiled corner in the North of Vietnam. It's what I imagine SaPa would have been 20 years ago. Small minority villages cling to the sides of the mountains, and people wearing beautiful traditional clothes can be seen leading cattle and carrying firewood along the side of the road.
Life moves slower here, it's unrushed and not touristy. The local markets teem with brightly colored fruits and vegetables, hand-picked that morning before coming into town. Live chickens huddle together underwire baskets waiting to be sold, and there's always someone nearby selling delicious noodle soup made with ingredients bought fresh from the market.
The best thing to do is rent a bike (preferably with an engine as there are a LOT of hills) and set off exploring the countryside. The Sunday market in Dong Van brings hundreds of people from the surrounding villages. However, unlike the market in SaPa, it's still a necessary activity for weekly shopping and visiting rather than an opportunity to make money off tourists. Here you're an outsider, an observer, watching what's happening without being a part of it, just as it should be.
Ha Giang isn't easy to get to (it's an 8hr bus ride from Hanoi), but the effort is well rewarded with the experience. If you're looking for authentic, unspoiled Vietnam, you're sure to find it here.
Recommended by Kyla of Where Is The World
---
Phu Quoc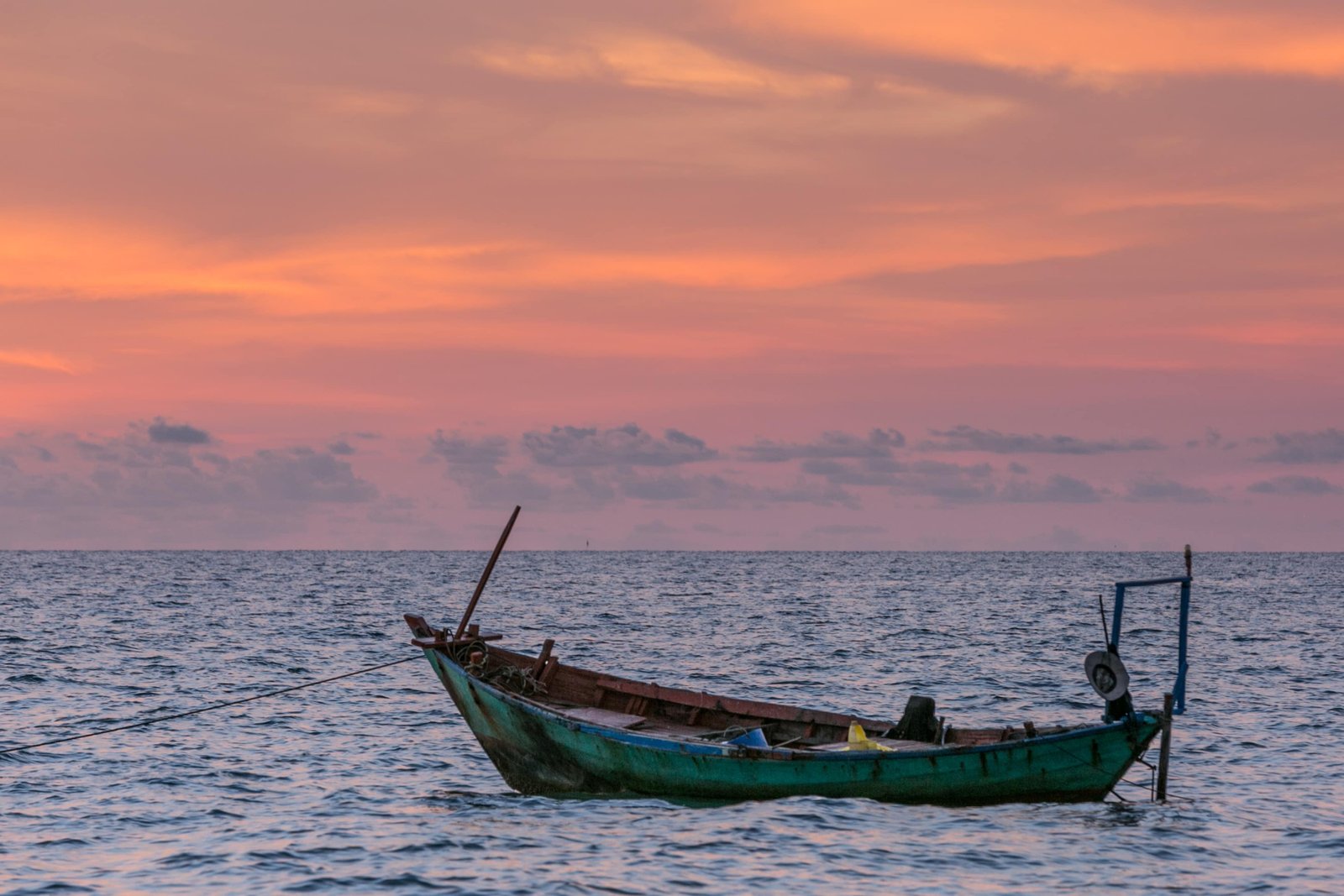 Phu Quoc is a tropical island just off the south coast of Vietnam. It's famous for its beautiful beaches, and a popular holiday destination for locals as well as travelers. The beaches here are genuinely stunning.
Long Beach is the most popular tourist area, and it's lined with hotels and beachside bars where you can sip smoothies or cocktails and watch the sun go down. But my favorite is Bai Sao, or South Beach, which has bathwater warm, baby blue water and bright white sand – the most naturally perfect beach I've ever been on.
Visit the night market for incredible street food, do a boat trip and go snorkeling, and take the most epic cable car ride you'll ever experience. Phu Quoc is home to the world's longest cable car journey, which soars over the sea to Pineapple island with breathtaking views of the coral reefs, islands and fishing boats below. The water is so clear you can see the shadows of the boats on the ocean floor.
Phu Quoc is also known for its seafood and for making a fish sauce – pungent on its own but a crucial ingredient in many Vietnamese traditional dishes. You can visit a fish sauce factory and see the sauce being made in big wooden barrels, like wine.
Recommended by Marie of Temples and Treehouses
Where to stay in Phu Quoc
Best hotel in Phu Quoc with ocean views: Seashells Phu Quoc Hotel and Spa
If you're looking for the best place to stay in Phu Quoc – the largest Island in Vietnam, I highly recommend Seashells Phu Quoc Hotel and Spa -with contemporary rooms with free WiFi access in Duong Dong town. Boasting an outdoor swimming pool, the hotel also has an on-site restaurant and bar. Guests can enjoy free private parking on site.
Check for availability and rates for Seashells Phu Quoc Hotel and Spa
---
Get Insurance before traveling to Vietnam
With so many places to visit in Vietnam, make sure you get travel insurance so you are covered for theft and medical expenses. There are a lot of adventurous activities to do in Vietnam, and it's best to have peace of mind while swimming, hiking and trying some of the best food in the world.
Find out why I recommend World Nomads, check out my World Nomads Insurance review.
Disclaimer: This article contains affiliate links. This means that if you make a booking after clicking on a link, I may receive a small commission at no extra cost to you!